Congratulations! Here's a Chicken Coop
This post may contain affiliate links, please read my disclosure policy.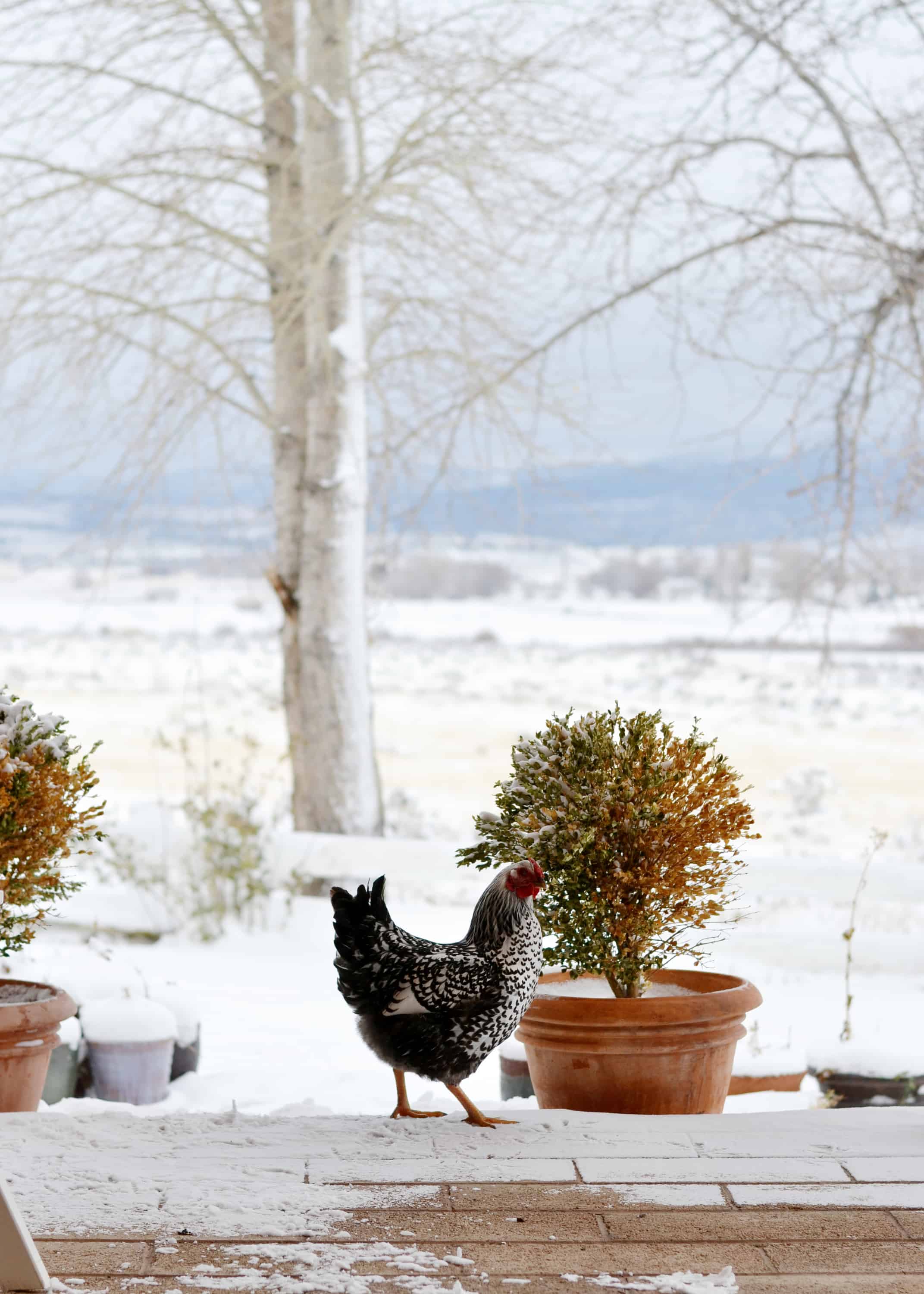 Greg and I spent 14 amazing days in Hawaii for our honeymoon. It was beautiful! We stayed at the Westin in Maui, and the Andaz. We'd never stayed on the Wailea side of the island before, so it was fun to get to see more of the island. However, this post is not about Hawaii, this post is about my new chicken coop. Or should I say a 50 year old shack that has been given the new title of 'chicken coop'.
Let me give you the preface:
We've been in need of a proper chicken coop for our girls, but of course, I didn't want any ol' coop. I wanted an old building that I could renovate into a garden shed / coop.
The problem with this is that perfectly old buildings are hard to come by, and they are also hard to move. So when I did find the *perfect* one – I was terribly let down when Greg informed me that, "no, we could not in fact relocate a 100 year old stone building 30 miles". So RUDE! I wasn't going to settle though, so I continued my hunt.
In the midst of my hunt, Greg's uncle suggested I go look at a small barn near the golf course (kind of funny we have an 18 hole golf course here, but no longer have even an elementary school). So I hopped in my car, and went to find the barn he was talking about. I drove right by it, and as I whizzed past it, I slammed on my brakes.
That. Cannot. Be. What. He. Is. Talking. About.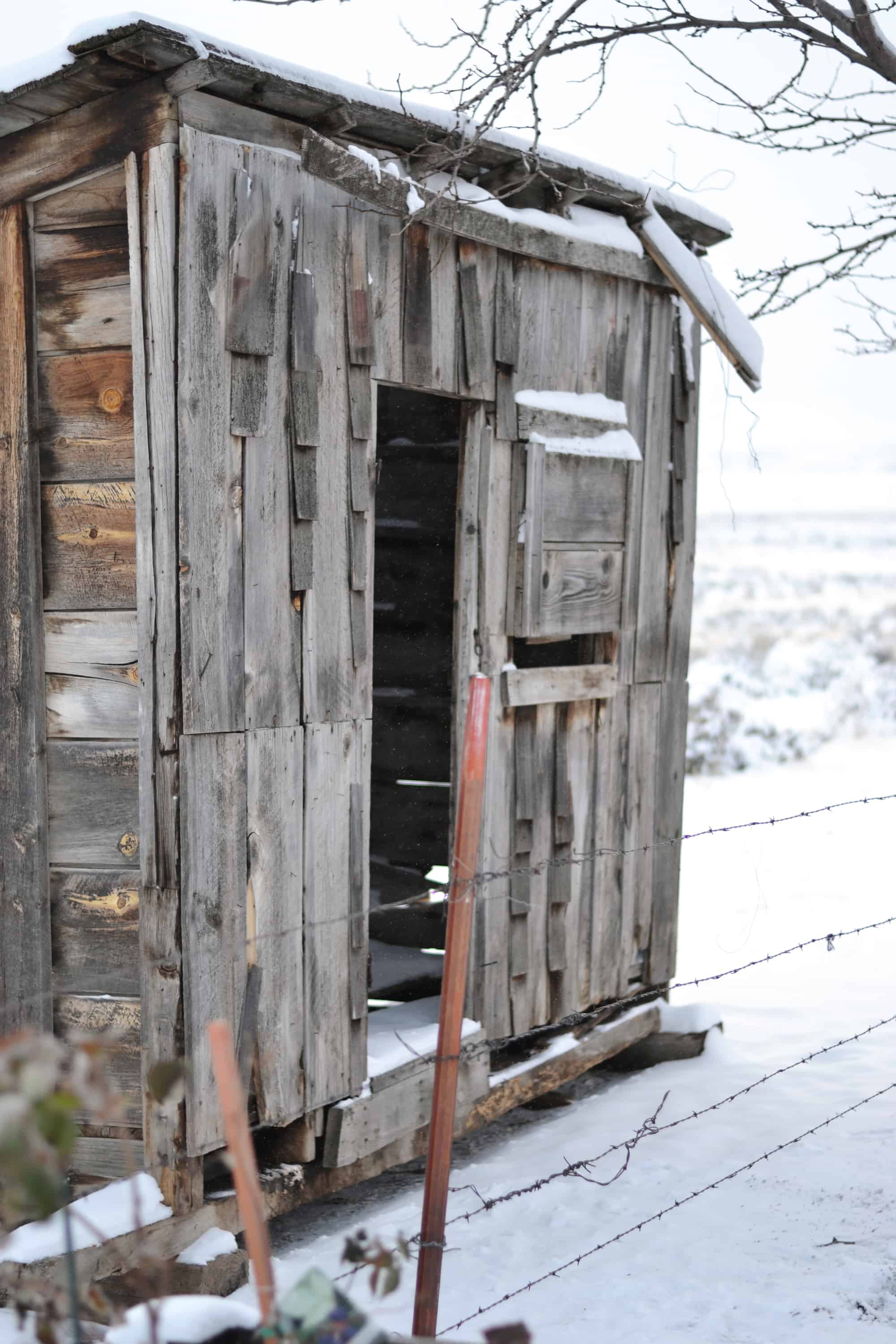 See … literally falling apart.
Haha, yes, indeed – "that" is what he was talking about. A shed about the size of a small bathroom. Roof falling in, floorboards rotting, rats inhabiting. It was the exact opposite of what I had in mind (aside from being old). So, the hunt was still on.
We left for our honeymoon, spent our 14 days in paradise, and breathed out a happy sigh as we drove up our driveway home. As we passed over the first cattle guard, I looked up towards our house.
"Hey babe, what is that thing up there?"
"Huh?"
"That building thing on the hay…."
"Oh no he didn't."
"Oh yes, he did."
…His uncle had given us the "roof-falling-in-shack" mentioned above as a wedding gift.
As I walked up to it, it was even worse than when I saw it near the golf course. The walls were falling apart, there was no door, it looked like Rat War III had taken place. It was a nightmare.
Well, it's my nightmare now. I couldn't exactly be ungrateful and say, "no, this isn't good enough for me, please take it back." I mean I could, but I am trying to be gracious here. To make matters worse, our new coop also came with three new chickens – one of them is a rooster. Something I DID NOT WANT, under any circumstances.
I suppose this is a metaphor for life, we all want the shiny new toy (be it furniture, a car, our dream house), but we rarely get what we envision. Accepting our reality, and making the most of it is all that we can do. I am working hard on seeing this situation as a glass half full type of scenario.
I at least have a chicken coop now, and Greg has promised to remodel it for me (ie: new walls, floors, and roof…yeah, put all that together). In the meantime, I am still dreaming: