An Update on our Moody Foyer
This post may contain affiliate links, please read my disclosure policy.
I have been a fan of deep, dark jewel tones for a long time. Actually, one of the first projects my dad and I ever worked on together in my house was simply painting our wood-paneled moody foyer a deep eggplant color. His favorite color is purple, and he is also great at painting, so it was a win-win for us.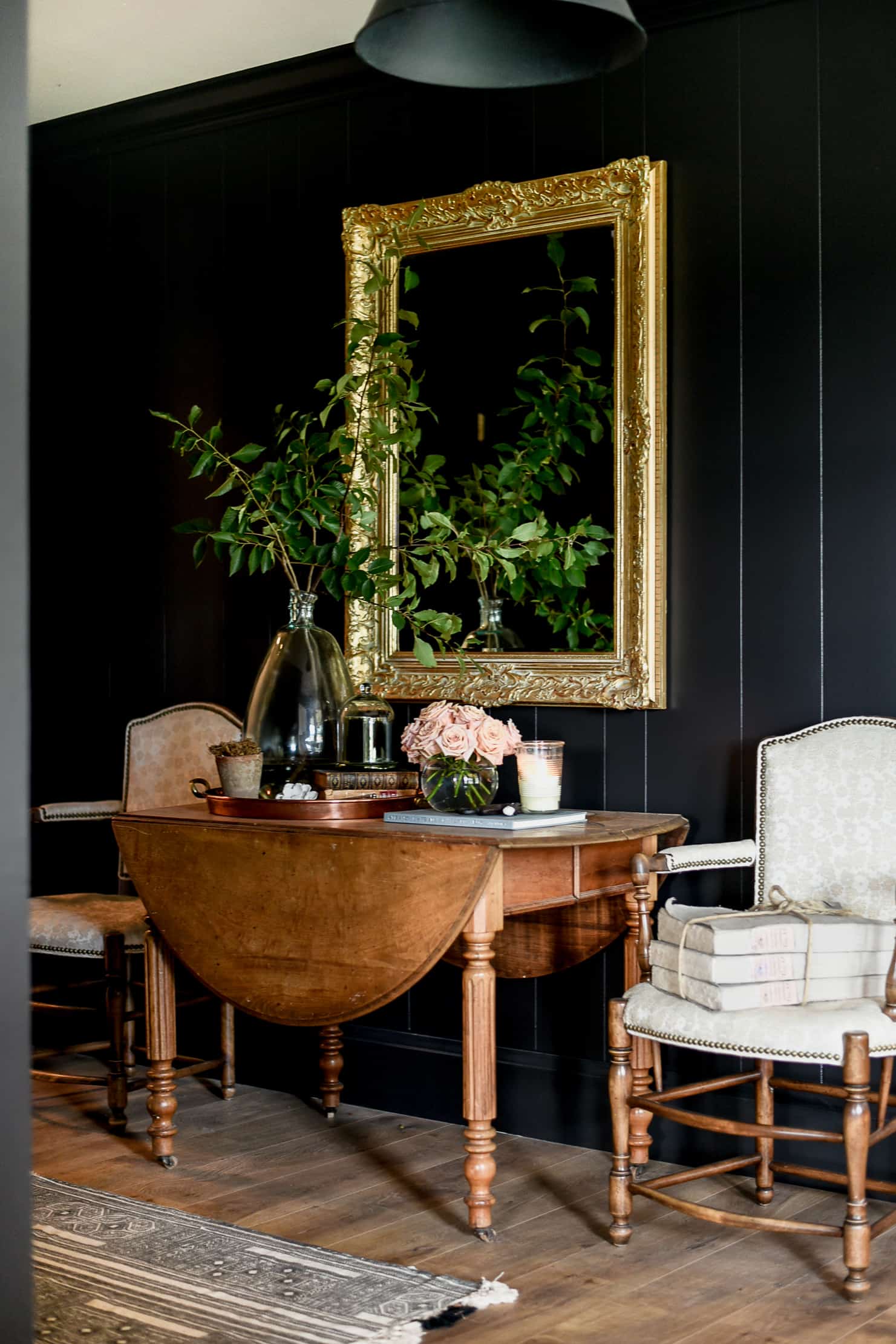 During phase one of our remodel, which is just about wrapped up, we replaced the windows and doors in the living room and entryway. This included a new front door and new windows beside it. Our entryway houses original 60's wood paneling, but I decided that the texture was something I really wanted to keep – so we ended up simply painting the entire room.
We also added a thick 7″ baseboard, and a chunky crown molding from Metrie. Selecting the paint was enough to send me over the edge. I have told you about my love affair with Bistro White enough times to make your head spin, but I'm not sure if you remember that I didn't even test it before we slapped it onto our walls? I am not one to be fussy about paint, really, I don't think it makes much sense to pull your hair out over. However, selecting the paint for our foyer was a different story.
I wanted something ultra-chic and moody, but something that would also flow with the rest of the house. I ended up selecting black (much to my dad's avail, he isn't a fan of black or white). But picking out the right black was harder than picking out a solid white.
We ended up going with Midnight Stroll. I wasn't sold on the color even when they were painting the room, because I wasn't sure if it was going to be dark enough (#drama), but we had already bought the paint, and the guys were already painting, so I distracted myself with weeding and hoped for the best. The results were fantastic and exceeded my expectations. The color is the perfect depth, and I am so happy with it.
One thing I might mention to you about black paint: it's like a black car. Fingerprints, smudges, dust, dirt, etc… are prevalent. I don't even have children yet, and I find myself wiping this room down constantly. It doesn't really bother me, because I enjoy looking at all the beautiful molding, but if you have small kids rubbing their hands up and down walls all day, you might want to get rid of them before you paint your foyer black.
---
moody foyer before & after
Primarily shown is the new front door, windows, paint, and moldings.
---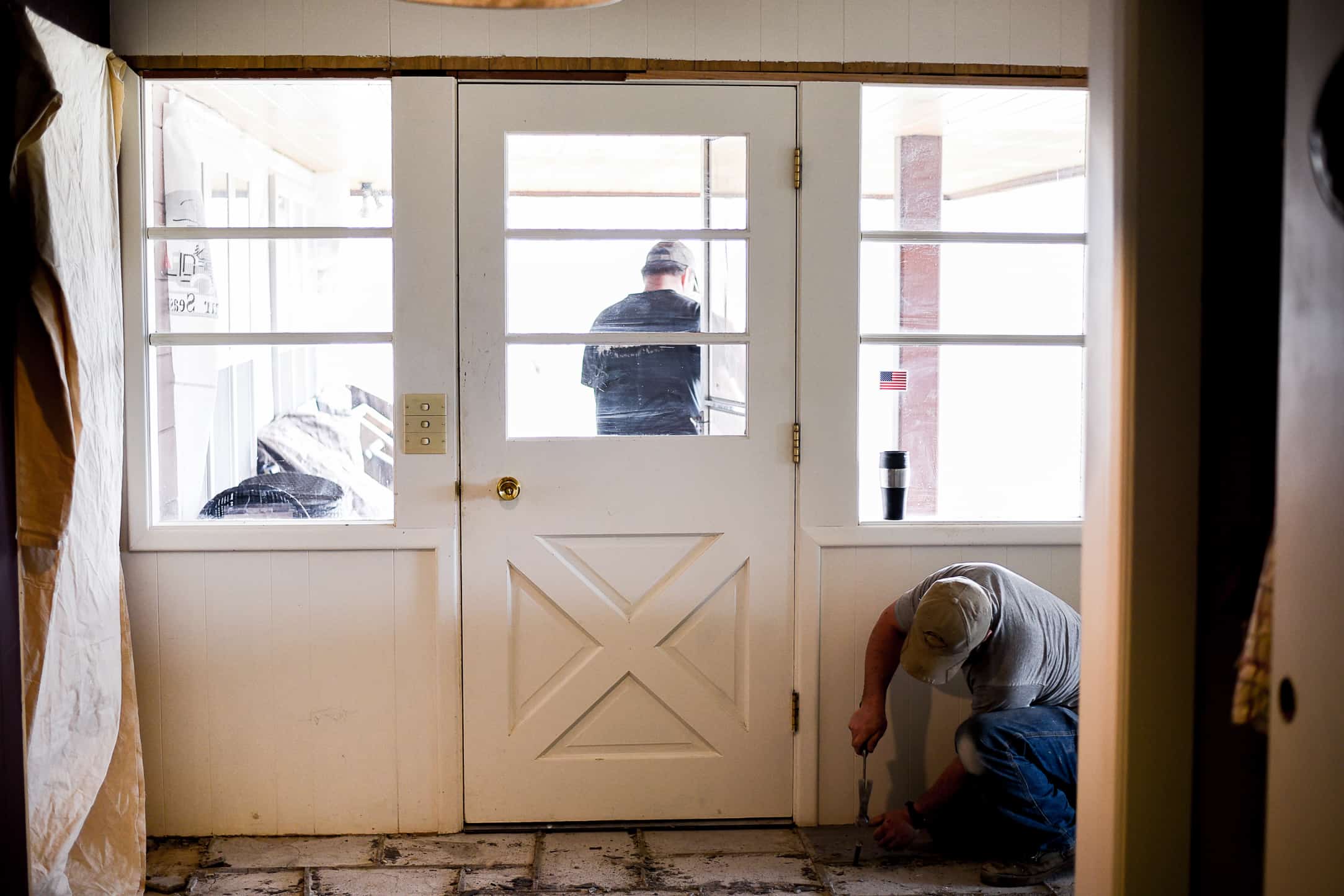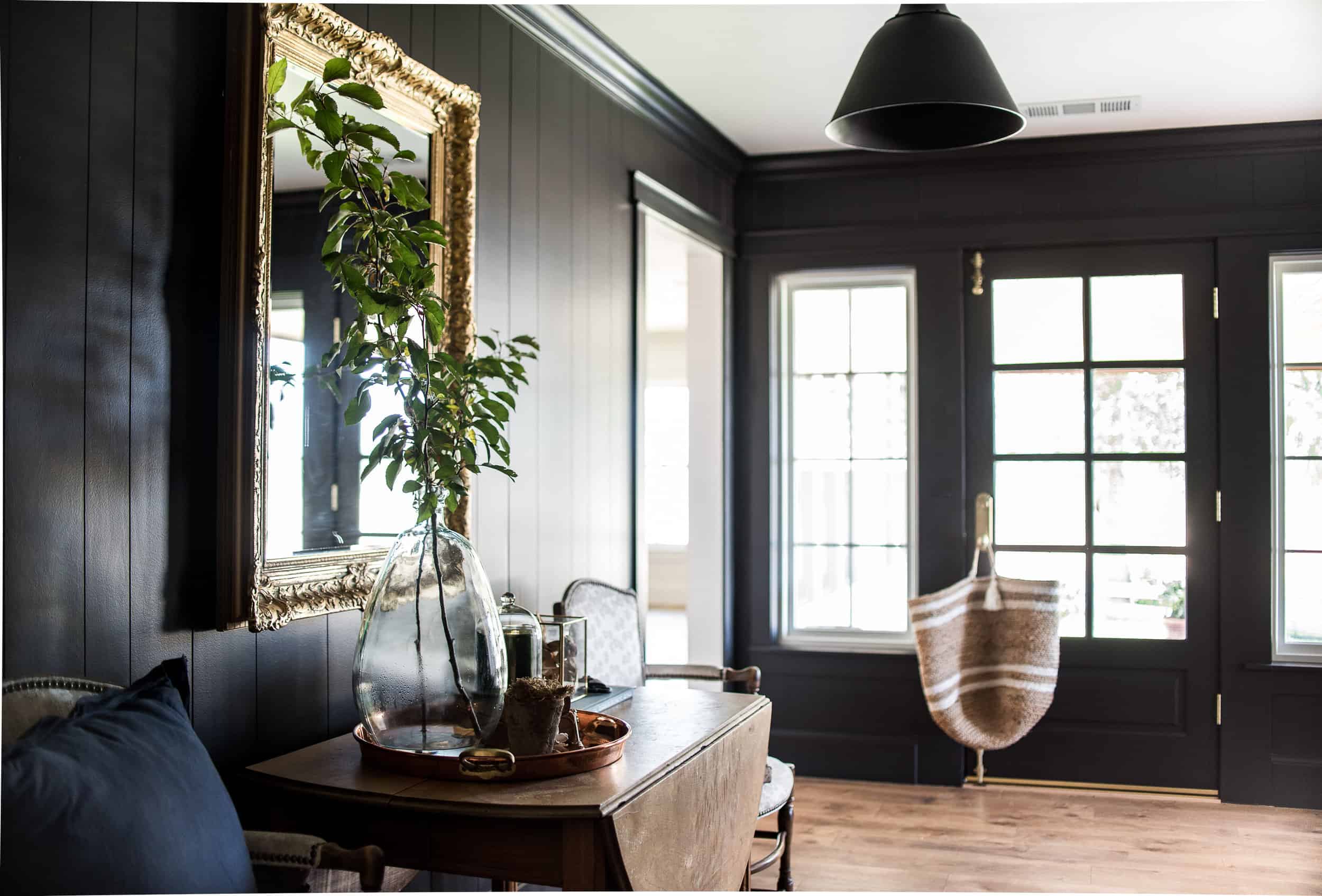 ---
Something else I haven't mentioned is that all of the furniture in our moody foyer was found in a storage unit in our backyard. The chairs, the table, and the mirror were covered in dust and pigeon poop – since I didn't have anything to put in this room, we cleaned everything up, and here it has sat since we moved in. Eventually, I think I'd like to get a nice bench with hooks; however, my furniture budget is a big goose egg at the moment, so I am making what I found work.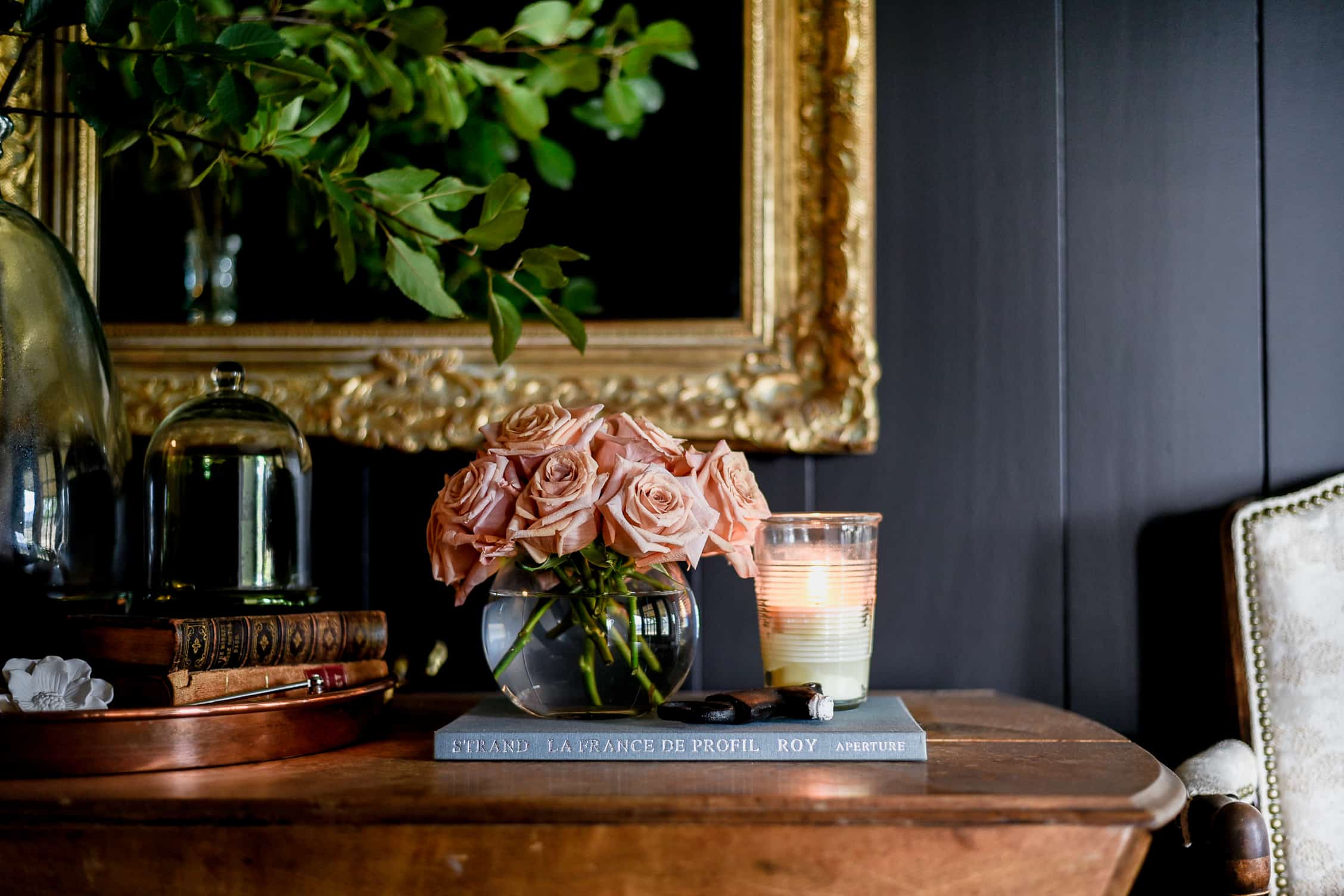 I happen to really love the gilt mirror in this space, it adds so much drama to the black walls. If I ever replace the table with a bench, I think I will leave the mirror there. I also want to mention the small piece of artwork hanging above the rubber boots… While we were renovating the kitchen, I decided to frame the "Likely Phone Book" which had been taped to the inside of a cabinet above the phone for years and years. Greg's grandmother added to it and edited it over the years, and her handwriting all over the page is so special. Most of the numbers are only 4 digits, and still to this day, people will recite another's phone number by saying that last four digits rather than all seven.
I think a meaningful piece of art like this adds so much soul to a space, and is much more meaningful than a cheap painting from Homegoods. If, like me, you are pinching pennies when it comes to decorating, you can always find ways to add something special to a room just by looking around your house and sourcing something seemingly unusable…like a page from the phonebook with handwriting on it. ;)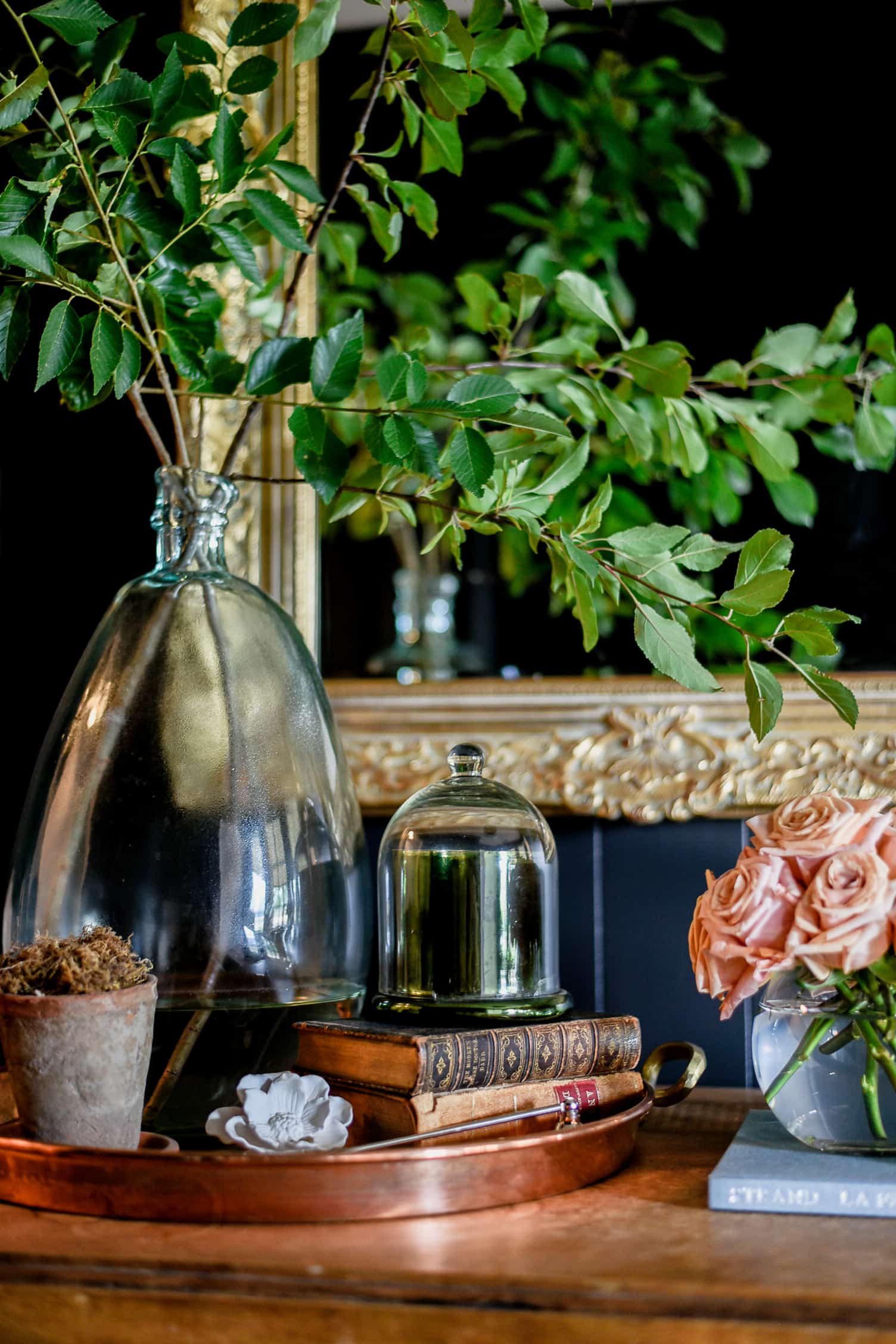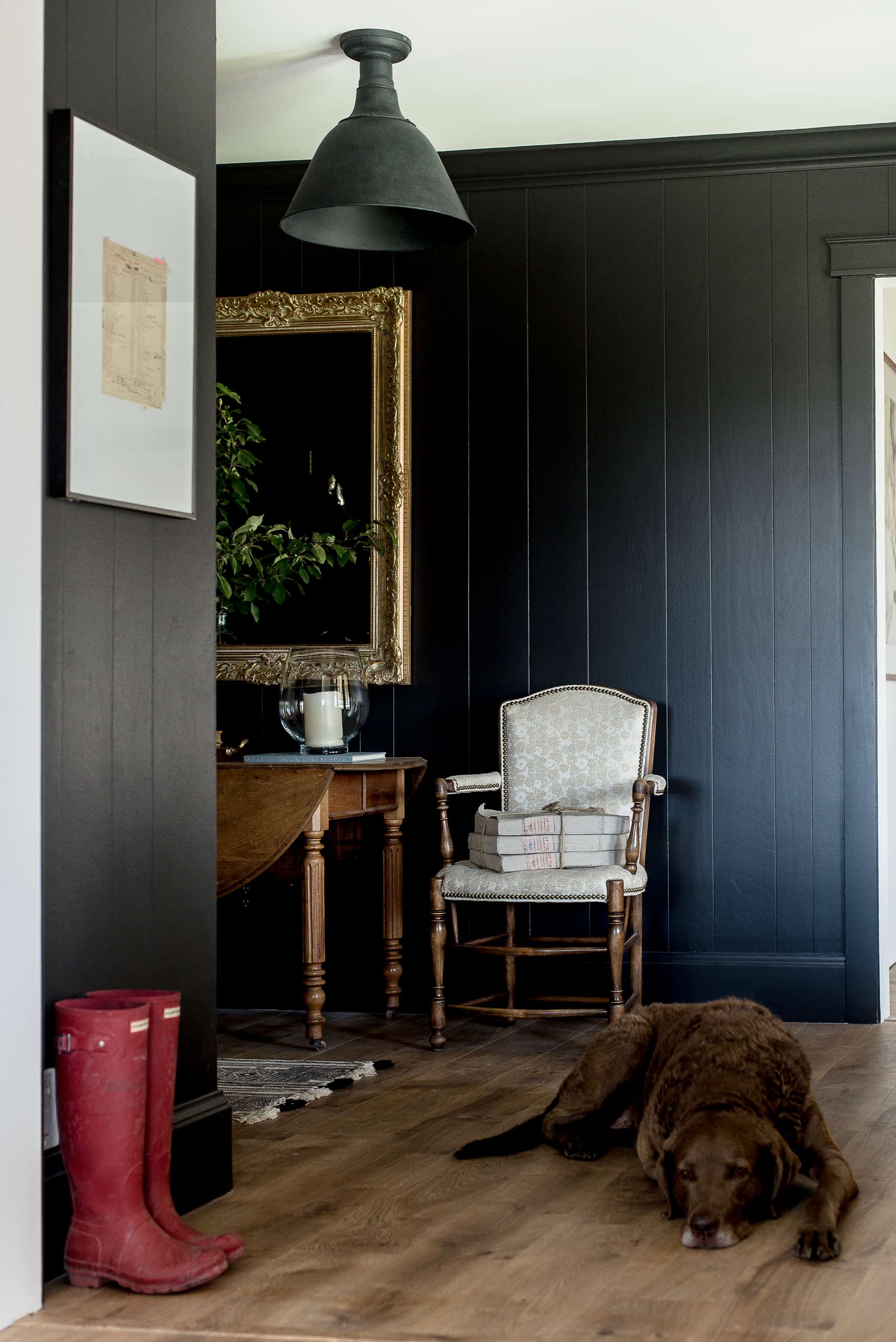 I hope you have enjoyed reading about our new moody foyer – the black paint is well loved and the perfect shade!
As always, thank you for stopping by!