Why do we Brand Cattle?
This post may contain affiliate links, please read my disclosure policy.
"This Week on the Ranch" is a weekly series sharing snippets and stories from life on the range. This week we're talking about cattle branding!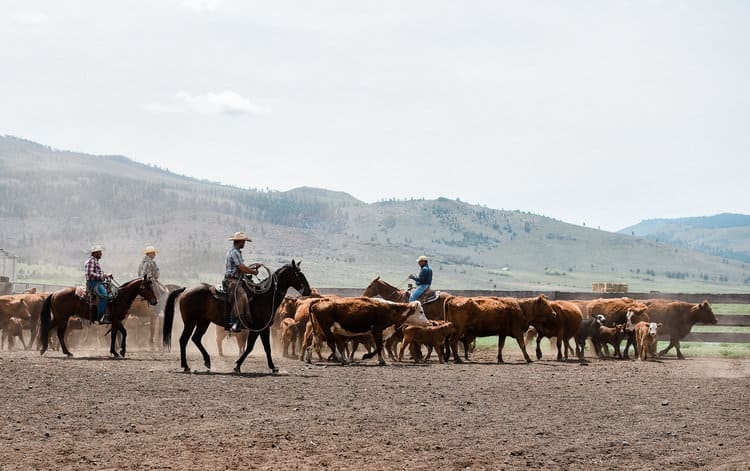 I'm on the move again! After staying home for what seemed like longer than I've been home in a while, I am off to Sonoma and Missouri for the week. I had planned to button up the house, but when Greg told me they were branding on Thursday, I couldn't resist heading out to 'help'.
I usually do help with brandings, I've learned how to cut and vaccinate, but this bunch of cows didn't need to be cut, so instead, the guys taught me how to flank. In reality, I wasn't all that helpful, because I was learning and honestly, making things go slower than if I weren't there.
Flanking went a little something like: grab the flank, lay them down on their sides, reach with your left hand (or was it right hand?), pull the foot through the loop, and so on. Isn't it funny that each job has such a distinct way of being done? One doesn't simply "flank a calf".
This branding was particularly fun because it was a morning branding and the crew stayed after for dinner. At most ranches, the visiting crews always stick around for food and thanks after a branding, but we don't always do that. Greg's uncle has a strict no-alcohol and no-eating-after-noon rule, so we usually offer sodas and waters and then send everyone back on down the road.
I was excited to get to have everyone stay for dinner because breaking bread together is really the best form of community. Sitting down to share stories and catch up was the perfect way to give thanks for everyone's help at the branding.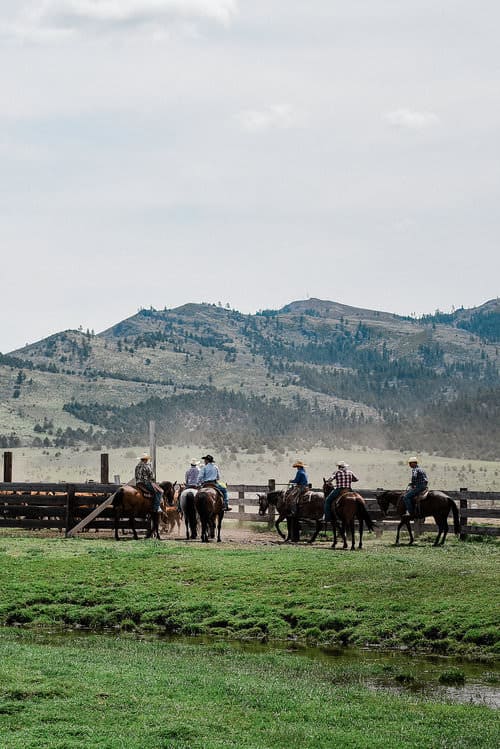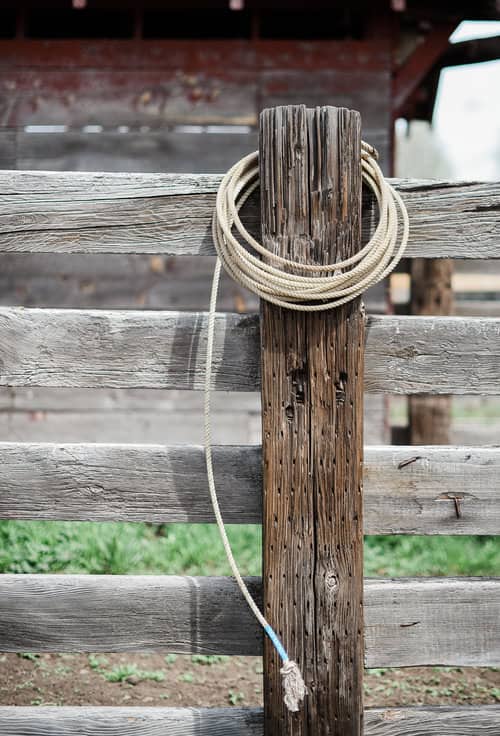 I had someone ask me, "Why do you have to brand the calves?" Which got me thinking…I didn't know! Why do we brand calves?
I knew that it is important, and that it must be done. I also knew that there is a government position of "Brand Inspector", but that's about where my knowledge ended. So I decided to look into it a bit so that I could share why we brand, and why cattle need to be branded.
First, here is the job description of "brand inspector" in the state of California:
"…the Brand Inspector independently performs brand inspections of livestock at stockyards, shipping points, ranches, slaughter houses, feedlots and facilitate livestock transfer of ownership transactions; and assures lawful ownership, enforce brand registration and inspection laws. Must have knowledge of methods of branding and marketing cattle; principles and practices of animal husbandry and the operation of livestock ranches; methods of operation use by cattle thieves; apply provisions of laws and regulations designed to prevent the theft of cattle. Ability to detect altered brands; assist in theft and estray investigations; and should be familiar with animal care standards."
Branding the cattle is a way to show proof of ownership of the animal. Since the animals are either sold or taken directly to be processed, one must show proof of ownership before any transaction can take place, and this is done with a brand.
When the Spanish brought their cattle to Mexico in the 1800's and began allowing the animals to range freely, they developed a branding registry to show proof of ownership. This practice traveled up through Texas, and then spread throughout the West (primarily), and is still used to this day because it is effective and necessary. I learned throughout all of this reading that unbranded cows are called "Mavericks" which is how Tom Cruise's Top Gun character got his name, and how the political term originated.
My friend Cain (who works for Harris Ranch) said, "Trust your neighbor, but brand your cattle."I know this sounds crazy, but cattle thievery is a very real thing. Cattle are quick and easy to round up in the middle of the night with no one the wiser, especially when they are turned out in a 500 acre field in someone's range land. Even with branding, a cattle raider can alter the brand to appear to look like his or hers – thus, a brand inspector is needed.
Also, cattle are really great at breaking fences, getting through fences, tearing up fences, finding their way around a fence, finding their way under a fence… It seems that at the end of the summer, we are either rounding up someone else's cows, or sending a trailer to go get some of our cows daily. One of our neighbors always seems to end up with a bunch of their cows on our side of the fence, and we always joke that they should come over for a tri-tip dinner!
The point being though, that without the brands, we wouldn't be able to distinguish our black angus from their black angus.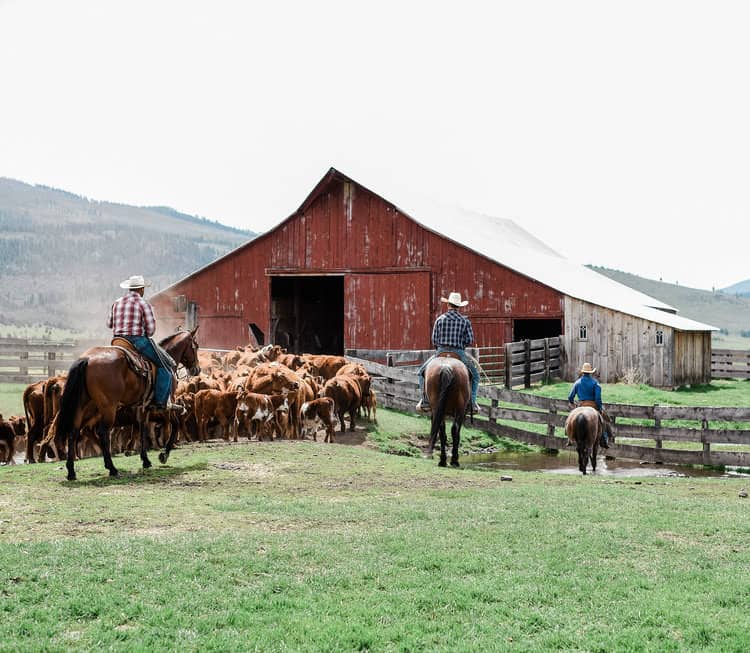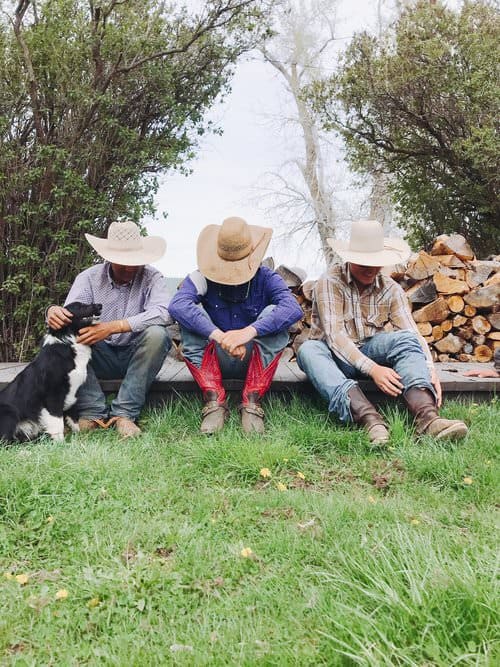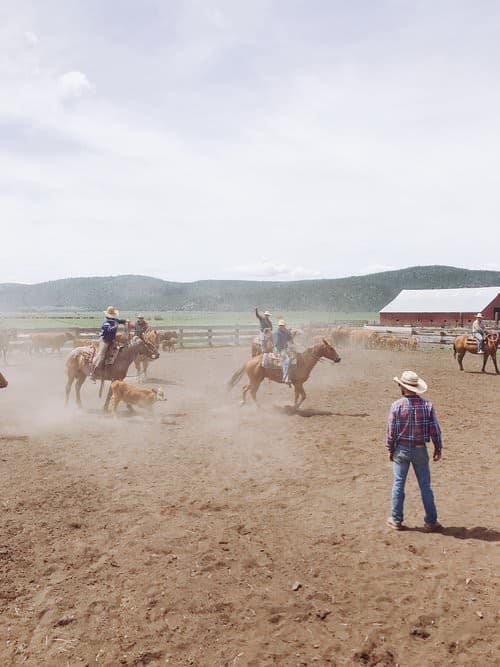 Branding may seem like just a tradition, but is much more important than that. While a brand absolutely shows a sense of pride, it is also required to be on the animal in order to transfer ownership or harvest. In fact, in the state of Nevada, branding is legally required (when running on open rangeland). We use the traditional burning method; however, there are alternative methods like tattooing (can be cut out / fade), freezing (more about that here), or ear tagging (can fall off / be removed, but are used often in addition to branding).
Brands must be registered and recorded with the state, along with any ear markings that distinguish the cattle. I wanted to check out some of the brands in California, and was excited when I saw our brand on the first page of the F category.
We've had our brand registered in our family for over 160 years, pretty neat! I loved looking over all of the brands, and wondering what the history of each ranch is. How many kids do they have? How has the ranch grown over the years? I wish I could connect with all of them!
I also want to mention that I counted as the calves were branded this week, each calf took 20-30 seconds from start to finish. They are roped, flanked, vaccinated, branded, and castrated if needed, then sent back to their mom.
Sometimes people ask me if it's hard to eat meat after being around all of the animals, but I believe that if we provide the best life for the animal that we possible can and honor the meat by using it for fuel to be the best human being we know how to be, then we are doing alright.
Brands are something sacred amongst families as they are passed down from generation to generation. This is especially true since many ranches are no longer fully working ranches – to be able to use a brand that was passed down from your grandfather or grandmother is quite special. Knowing that you are carrying on their legacy with something that they spent their lives invested in has so much meaning.
…but to circle back around to the original question: why do we brand? The answer is really, because we have to in order to sell our cattle. We would never want to put an animal through unnecessary stress, so if we didn't have to, we wouldn't do it.
To me, brandings become a wonderful display of community. Your neighbors show up to help you with your herd, knowing you will return the favor, but also knowing that the fence that needs fixed or the tractor that needs its oil changed will have to wait. It shows so much commitment to helping each other, and that is one of the things I love most about getting to experience this life!
I hope you have enjoyed reading a bit about why we brand cattle. As always, thank you so much for stopping by!
Want to learn more about starting a modern homestead?