Celebrate Summer Home Tour
May 23, 2016
Welcome to the Celebrate Summer Home Tour series hosted by Julie Blanner! I am so excited to be kicking the week off with some amazing friends. We will be sharing our summer homes through Wednesday, so be sure to check back in all week over on Julie's blog!
Truthfully, I was pretty hesitant to agree to participate in a home tour. Our home was built in the 60's, and the only upgrade we've completed so far is paint. So, for the most part, our house looks like it is straight out of a bad movie.
The paint helped immensely – but there's no hiding that linoleum. This summer we have plans to begin remodeling starting with the living room; adding hardwood floors, and removing the wall that divides the kitchen and living room. These photos are going to serve as great before pics!
I hope that my not-so-perfect home will bring anyone who is on the 60's era struggle bus some comfort knowing that A) you're not alone, and B) you can create a space you love. (If you're suffering with the reality of dark wood paneling, 'love' might be stretching it… but we'll go with it.)
I recently read a quote from Eurotrash Annie saying that she despises recreations – meaning she hates faux. It really struck me, and since then, I have been shopping my own home for inherited, found, and antique items to display rather than binge shopping at TJMaxx. I couldn't be happier with the way it's starting to look, and I am finding that my style is very old-world European. I have been slowly purging myself of le faux, and incorporating more antique pieces into our home.
---
Living Room
---
I picked up this tortoiseshell vase from Pottery barn, it sits in a blue & white dish I found in our home, and on top of a wedding album & a book about France that I inherited from my great aunt.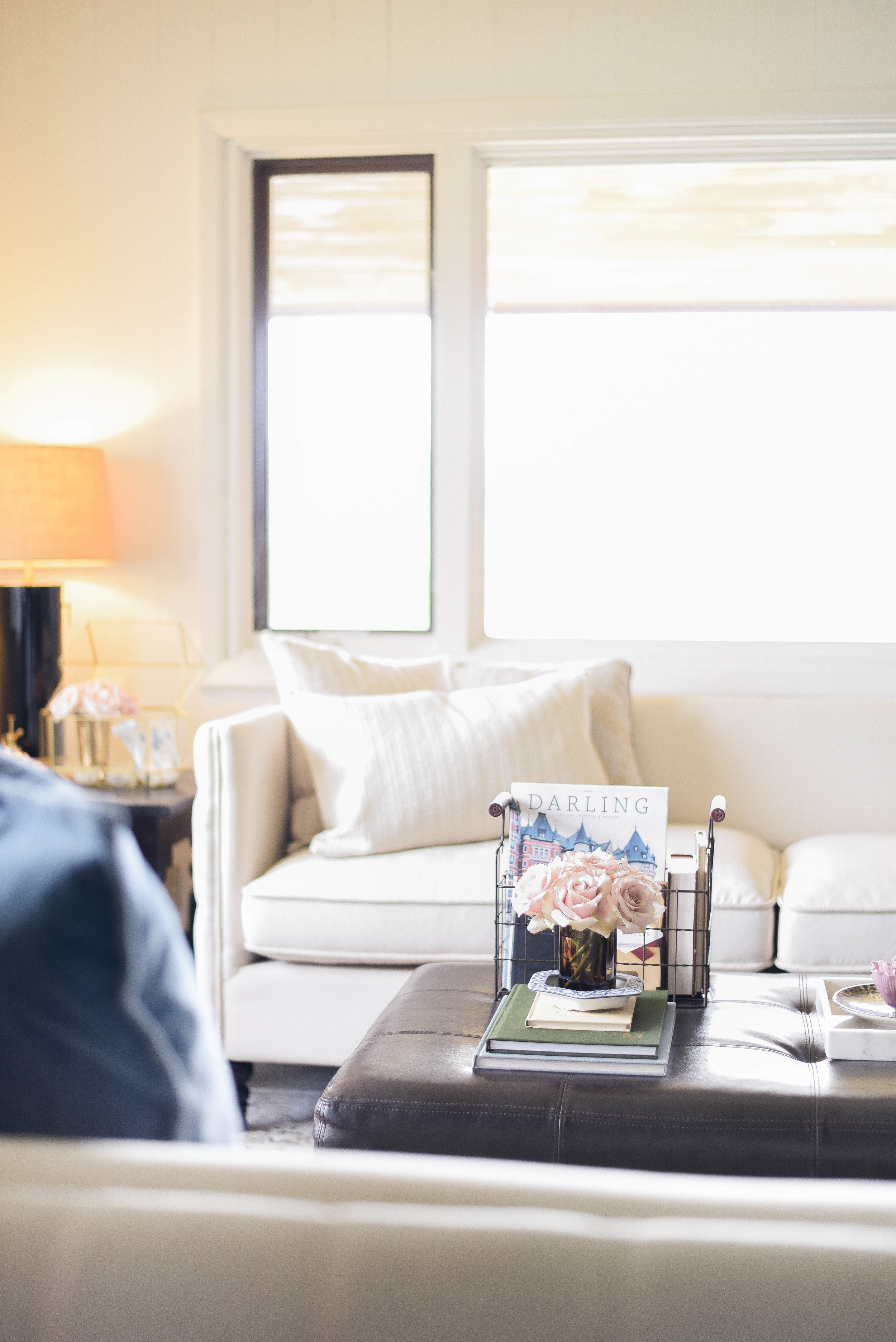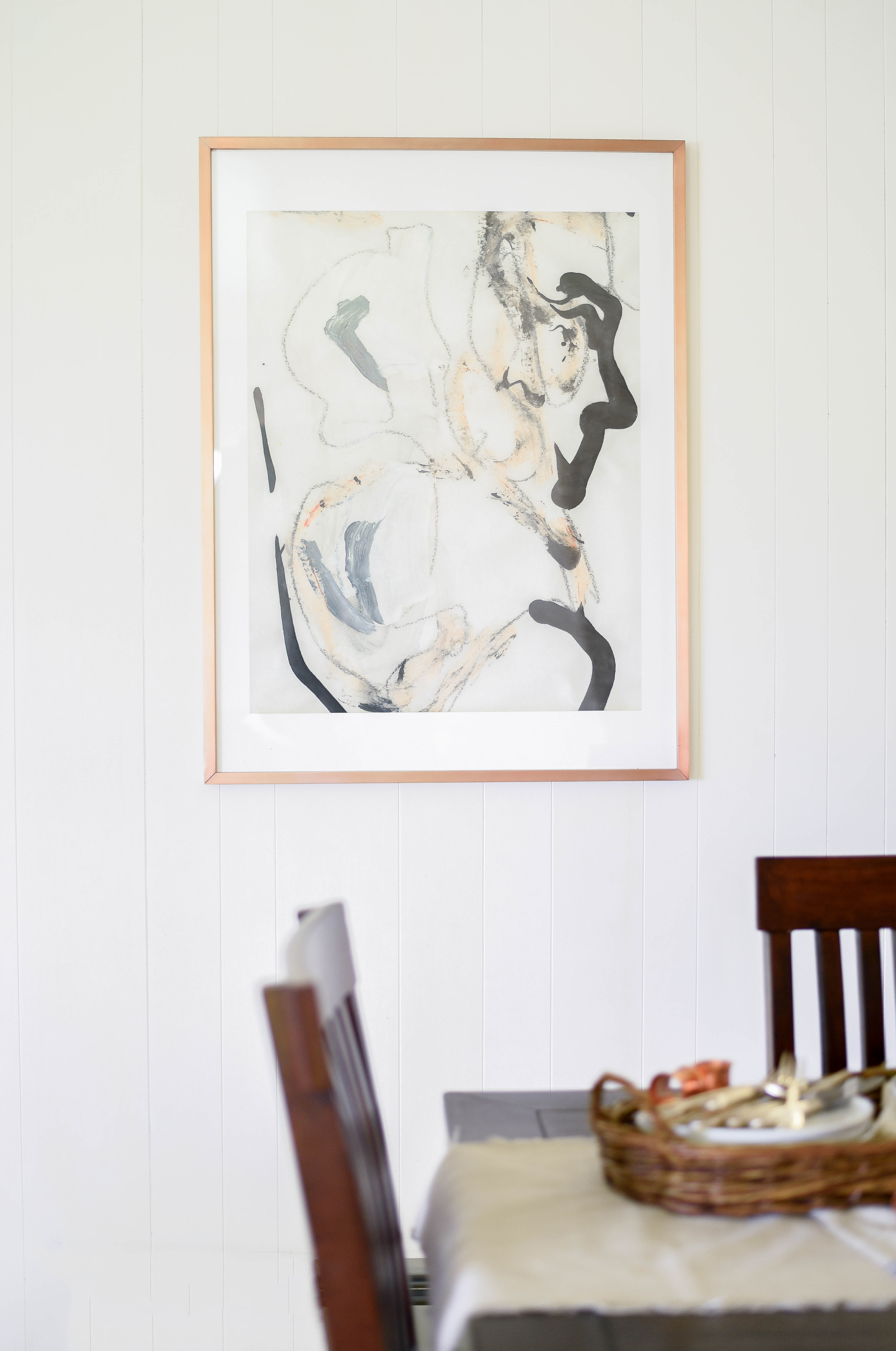 I ordered this print from Minted who so graciously sponsored it to be in the home tour. I debated over many of their pieces, but ultimately ended up with this beautiful print because of its colors.
This past winter I took a series of photos of one of the work horses, Archie, and recreated Julia's project with them. They are simply $3 engineer prints placed into Ikea frames – it cost less than $100 to make!
The goats knocked this peony bud over, so I snipped it and placed it into a bud vase. The painting is a watercolor done by my aunt.
---
entryway
---
A few of the blue & white pieces are from Homegoods, and a few are antiques. The table was Greg's grandmother's as well as the chairs and mirror. The copper frame was a gift from my husband from one of my favorite shops Found & Co.
---
bed room vanity
---
The wall paper in our bedroom is original from the 60's, but it seems to be coming back into style. It's absolutely gorgeous – one of the few original elements of the house that I love! The gold frame matches the mirror in the entry way, I added the chalkboard back and dried floral wreath from Williams-Sonoma.
I usually do my hair or makeup at this table, and like to keep fresh flowers here as I begin my morning (which is usually after noon). Wedding photos and my favorite perfume make waking up much easier as I am not a morning person in the least bit!
I hope you enjoyed seeing a few snippets of my home, it's far from perfect, but we are doing our best with what we have! All photos were taken by Rachel L'Antigua, who is one of my newfound friends up here on the ranch. She is incredibly talented! I also would like to thank Minted for the beautiful artwork.
Thank you so much for being here, if you have time, take a minute to check out the rest of the homes on the tour, I am sure you will be inspired.
see the rest of the homes!
Restoration House
Chris Loves Julia
My Sweet Savannah
City Farm House
Craftberry Bush
Julie Blanner
French Country Cottage
The Zhush
Finding Home
Thistlewood Farms
House 214 Design
Love Grows Wild
Rooms for Rent
Beneath My Heart
 
---
subscribe to boxwood avenue
---