Our Ranch isn't Certified Organic, and That's Okay
This post may contain affiliate links, please read my disclosure policy.
Learn the differences between organic, grass-fed, and grain-fed beef, and why all of them are okay to eat!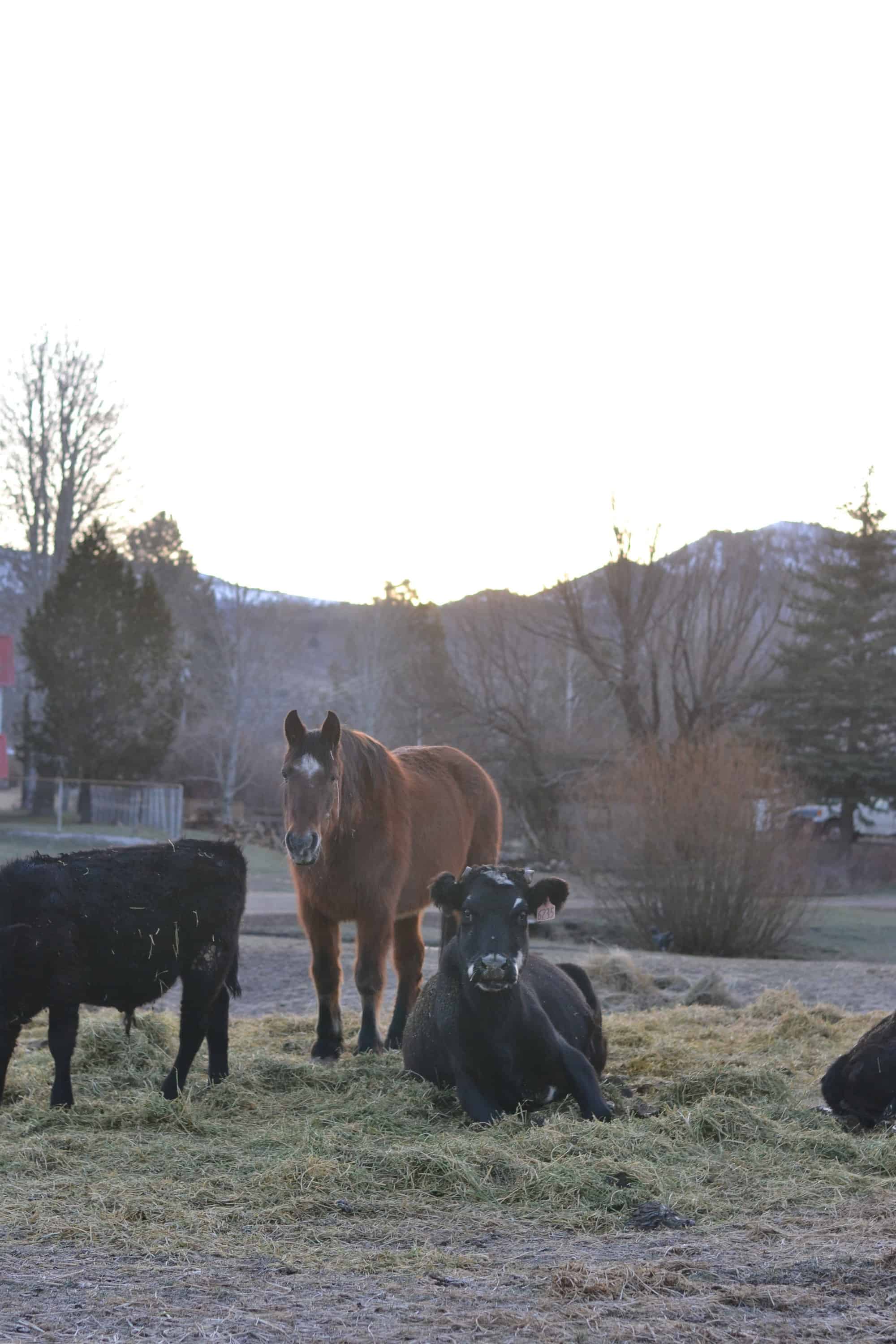 Whenever I visit Reno, I stop into Whole Foods for the staples: champagne, premium Parmesan, and a great salad. While checking out, I always ask for a sack of ice in my bags because it's a long drive, and I don't want to risk my meat growing anything questionable on the way home. It's at that time that the checkout clerk usually asks me, "Oh, you have a long drive home? Where do you live?"
My response: "I live up north on a cattle ranch." Which is almost always followed up with, "Oh wow! That's so neat! Is it organic?"
When I reply with, "No. We're just a regular old cattle ranch, but we do sell to a grass fed beef company," the checkout clerk usually goes blank, into a deep sea of judgment. I imagine they are envisioning a PETA video circa 1983 from Guatemala.
While we don't always eat beef from the ranch, and I almost always buy organic chicken, I am a firm believer that the food industry has conditioned us to believe that 'grass fed', 'organic', and 'antibiotic free' translates to: 'better for you'.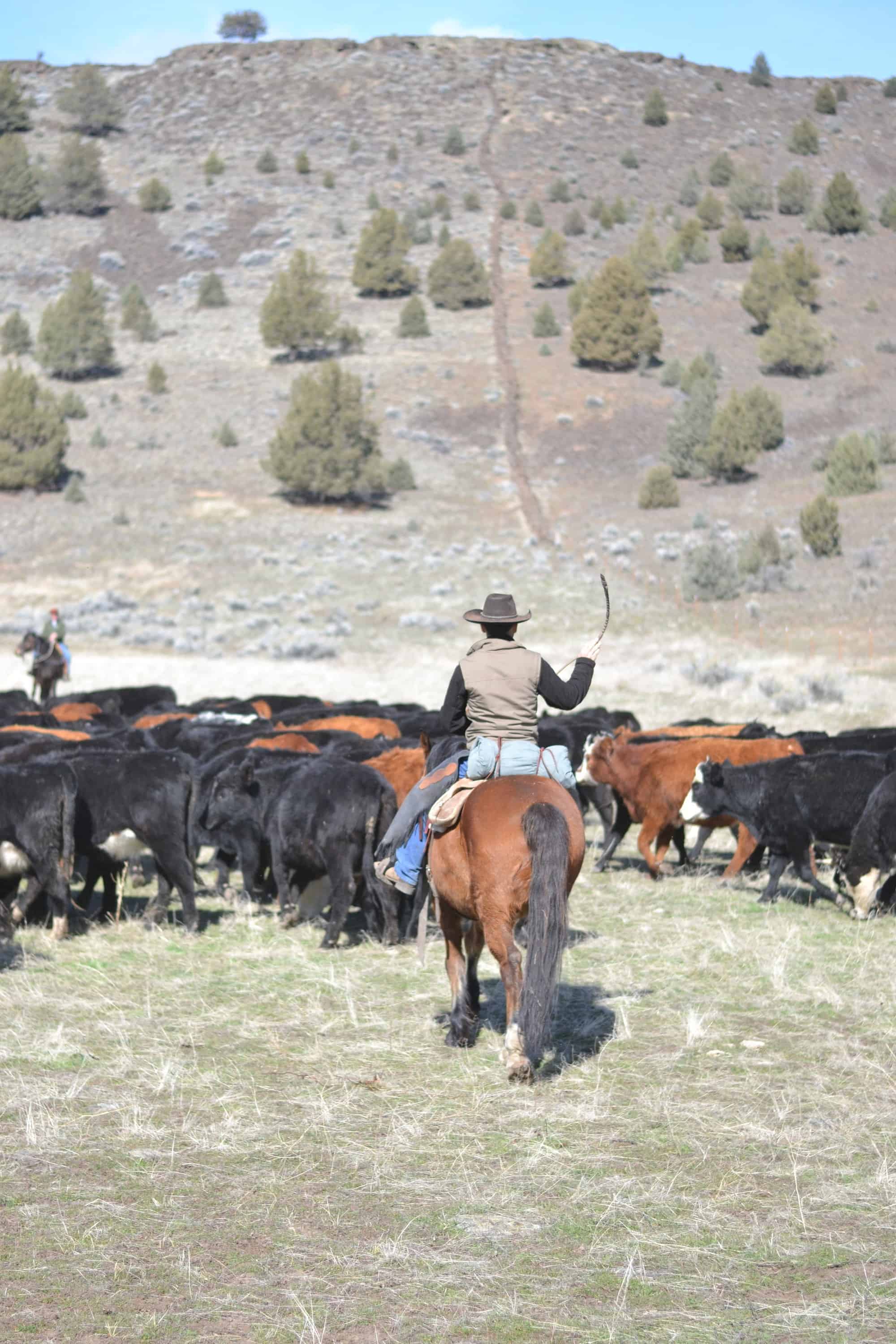 I knew I wanted to write a bit about this topic, but I am the first to admit that I am very ignorant regarding the beef industry. Lucky for me, I have a few very educated friends. I turned to Cain Madrigral, one of the most passionate young people I know in the beef industry. He was raised in Likely, and found his passion for agriculture & beef while working at Likely Land & Livestock. He graduated from Chico State with a degree in animal science and a high level of involvement in the Young Cattlemen's Association. After graduating from Chico State, Cain began working at Harris Ranch and remains involved in the California Cattlemen's Association.
Cain was nice enough to break things down for me and explain the whole grass fed/organic debate. I am sure many people, whether in the beef industry or not, have their own opinions about their meat, I trust Cain's judgment and value his opinions. If you have any specific questions, leave them in the comments below, I will be sure to ask Cain for help answering them!
Is grass-fed beef better for you?
Beef labeled 'grass-fed' means the animal was finished on grass rather than grain, it never consumed grain during its life. All cattle begin their lives with milk, ideally from their mothers, and then slowly switch over to grass. Cattle in warmer climates will eat mostly grass, and cattle raised in harsh winter climates will eat hay during the winter months where grass is not available. The difference is that some cattle also eat grain.
You see, once the animal leaves the ranch, it either goes to a feedlot (grain), another ranch to be butchered/sold, or to a harvesting facility to be butchered. We sell to both feedlots and to a grass-fed beef company. The beef sold to the feedlot – Shasta Livestock – is finished with grain before it is either resold or butchered, but the beef sold to the grass-fed beef company is sent to their ranch to be finished with more hay, and is butchered when it reaches about 1200 pounds.
The finishing period is a time of rapid weight gain for the cattle, which is where the debate of grass-finished vs. grain-finished gets heated. Some are passionate about their beef being grass finished, and some are firm believers that a grass-finished animal isn't any better than a grain-finished animal. In my opinion, both produce great meat.
Grass fed beef takes quite a bit longer to reach the finish line (1200-1400 pounds), which could play a factor in the cost because grain is cheap and easy to feed. It's really a matter of opinion as to which kind of beef you prefer: grass fed or grain finished. I personally cannot tell, and Cain says he prefers grain finished beef saying, "grass fed beef isn't as tender and the meat is darker and stringier. Fat (marbling) is what gives meat its flavor."
I am sure you could pull up studies that highlight the benefits of each kind of meat; I'd say that the best kind of meat is simply the kind that you enjoy!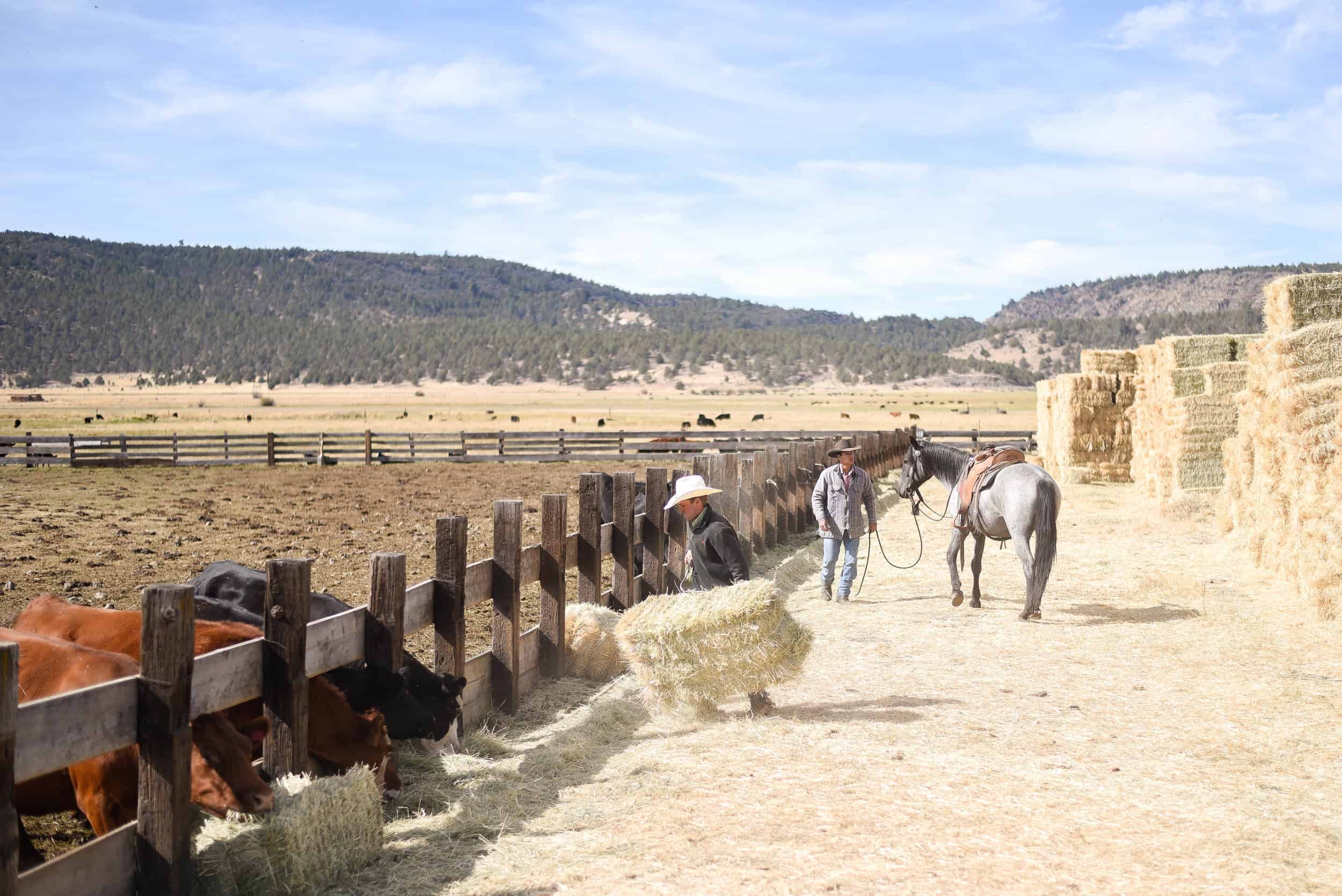 Is organic really better for you?
First things first, organic meat is meat that has never been treated with any sort of chemical medication. Meaning, if the animal was sick, it either died because of it, or recovered on its own. Think of the last time you were sick; did you take medicine for it? If you did, you aren't organic anymore ;). There are many other factors that go into organic certification, but medication is one of the most important.
I asked my neighbor-cousin Gabby, also a bovine expert, to chime in here, this is what she had to say, "I haven't personally worked for an organic operation, but from what I understand, a lot of the medications they can use are garlic based. I feel like that type of medication is more effective for smaller operations where they have fewer animals to look at and they are each seen more than once a day. The most important thing is to keep that animal alive though, so a rancher would want to treat that animal, and then add that animal to its conventional herd or potentially sell that animal."
Does that mean if an animal was treated with medicine, it's bad for me?
No. Do you think that the antibiotics you took 2 years ago are still in your system? There is a withdrawal period that all medically treated animals go through before they are eligible to be considered for harvesting/consumption. This type of meat is usually labeled all-natural, and perfectly healthy for you. Cain relates this to drinking a beer, "You feel better after a long day of hard work, but by next week there is zero trace of it in your body."
At Harris Ranch, where Cain works, they treat cattle if they are ill, and there is a withdrawal period before they can be shipped to the harvest plant. At our ranch, we use an earmarking system to signal if an animal has ever been doctored. If the animal has been doctored, we put them in the feedlot sale bunch (because the grass fed beef company does not purchase any doctored animals). We sell these animals because we want to cull out any bad traits from our herd.
I'll admit, I am intrinsically cautious of meat that has been treated with antibiotics. Not because it's bad for me, but because it's been beaten into my head by the food industry for years. It's taken me moving to the ranch, seeing a sick animal, doctoring it, watching it heal, and realizing that I'd do the same for myself. Antibiotics aren't the devil. I know, it's hard for me to believe too ;).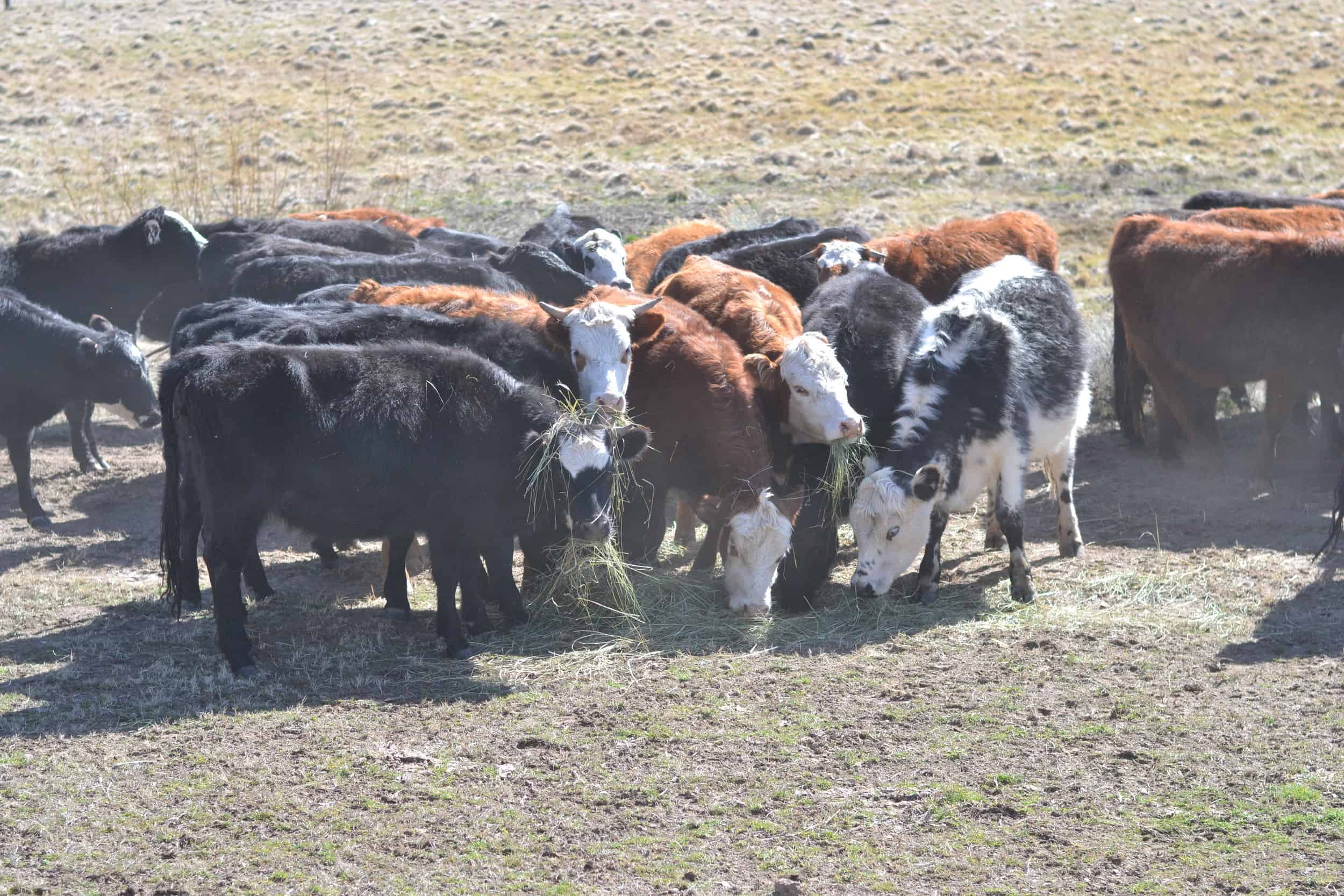 So, it's okay for me to buy non-organic grain-fed beef?
Absolutely! It's also okay for you to buy organic beef, or grass-fed beef. I think knowing where your beef comes from is a great way to determine if the welfare of the animal was above standard. If in doubt, buy from a local farmer. Don't worry too much about 'anti-antibiotic' labeling; it's not in any meat you'd ever consume anyways. Weigh the benefits of each type of meat for your family; whether your family is Paleo, on a tight budget, or looking to splurge on a great cut, beef is there for you.
I hope you enjoyed this post! I think I would like to print it out and hand it to the checkout people at Whole Foods the next time I am judged for living on a non-organic ranch. If you have any other questions, or any articles you think I should read, I'd love for you to leave them in the comments below!