This post is sponsored by The Home Depot
After months without it, we finally have cabinet hardware! We are loving these classic brass pulls from The Home Depot!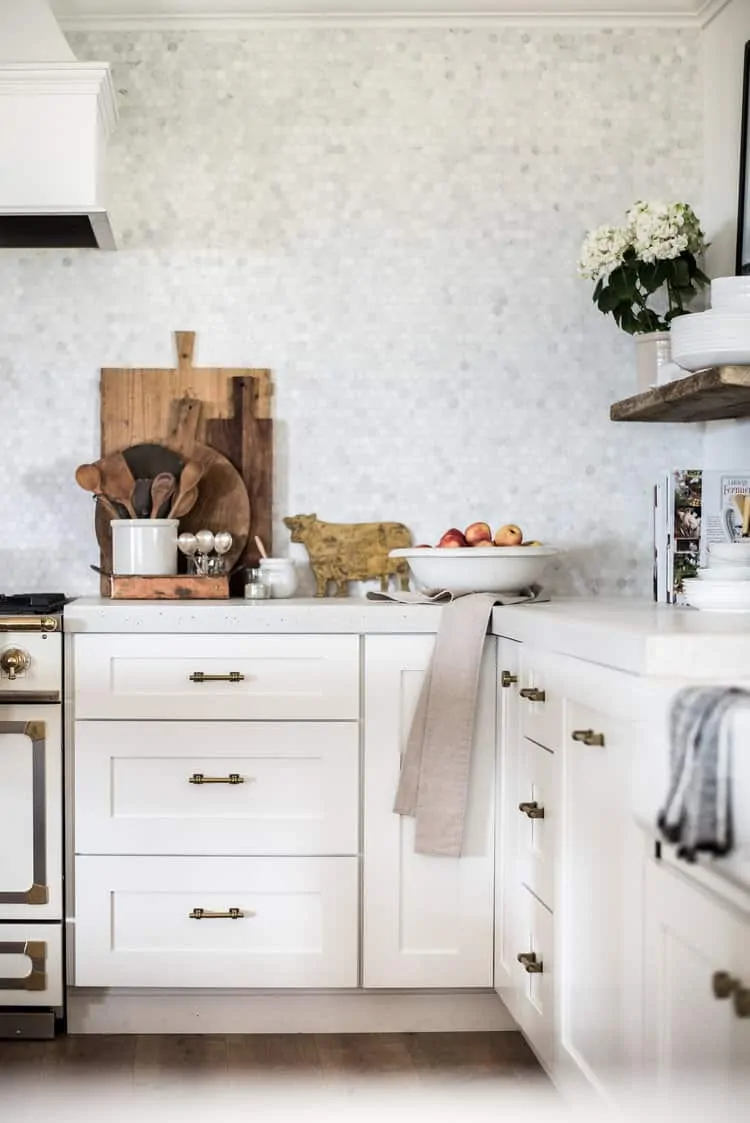 We lived for a few months without cabinet pulls due to my fear of "something better coming along". I forced us to use our fingers to open and close our cabinets, which annoyed everyone, including our friends who would ask, "When are you going to install pulls!?" I just couldn't pull the trigger on anything.
I knew I wanted something brass, antique, and classic, but there were so many options. Truth be told, I had found the perfect pulls, but they were over forty dollars per pull. So that was out.
One day, I got an email from my friends at The Home Depot asking me if I'd be interested in sharing some of their Martha Stewart cabinet hardware with you guys. It was like they had come to the rescue.
I was excited to work with The Home Depot again, I have enjoyed partnering with them in the past, and have come to feel right at home whenever I visit one of their storefronts. I was also excited to have a selection of Martha Stewart products to choose from. Martha is just one of the brands you can trust, ya know?
You know you're going to get a quality product, and you know it will be designed well.
It was time to finally decide on cabinet pulls….
I selected these pulls and these knobs because I loved the antique finish and classic design. With our shaker style cabinets and varying length drawers, I wanted something that could either be used singular or double (for our longer drawers).
When they arrived, I was surprised with how heavy they were. I was expecting them to be a bit lightweight because they have a fairly low price-point, but they are very durable and quite heavy. I also had my fingers crossed that I would like the color of the brass – there's a fine line between aged and 80s – so when I began unpacking them, I was relieved to see that they were the perfect color of aged brass.
I decided to install single pulls on all of the drawers except our long drawers on the breakfast bar, where we installed two. I had a small moment of panic on the decision of the placement of the pulls (so. many. decisions.) – but ultimately opted for "inside" the shaker, with the top pull in the center, and bottom pulls about 1/3 of the way down. This is personal preference, but I'm sharing that with you in case you are facing the same decisions.
So what do you think of the hardware? Do you love the color like I do? What do you think about the placement? Let me know in the comments! As always, thank you so much for stopping by and for your support of Boxwood Avenue!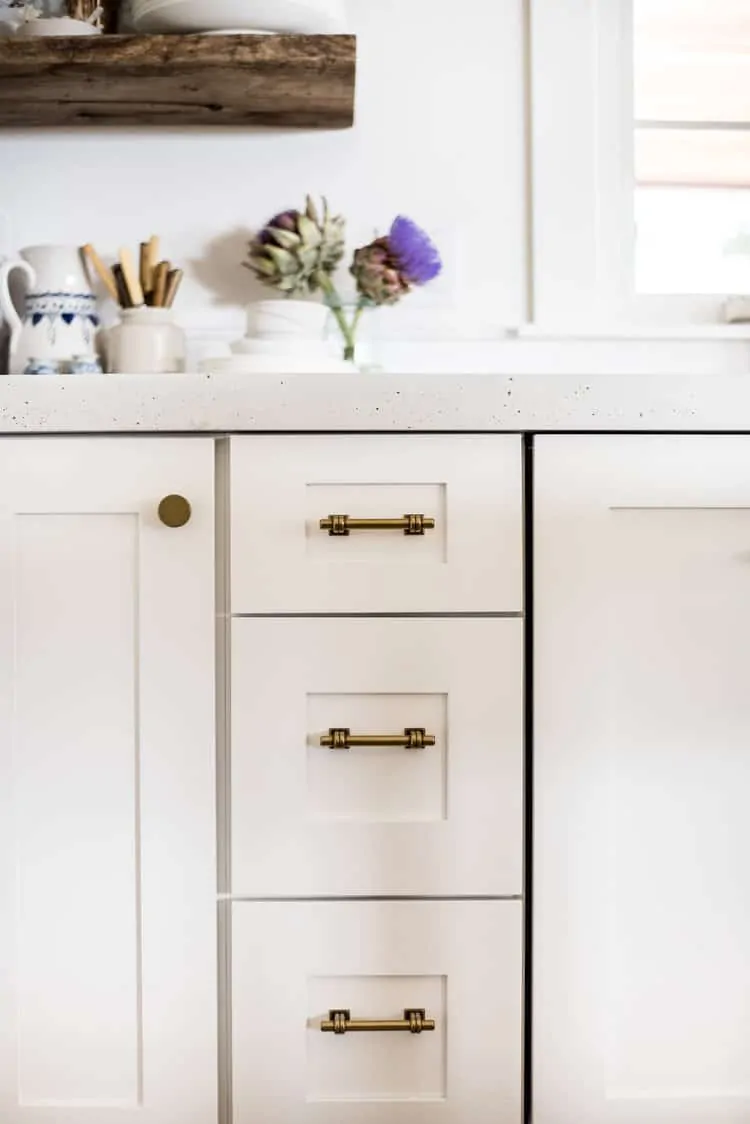 Tips For Installing Cabinet Hardware
I asked for help installing the pulls not only because these cabinets are brand new, leaving me no room for creative placement ;), but also because I've been working on delegating. Know your strengths.
Anyways, I was so grateful to have professional help for the installation of the hardware. I picked his brain as he worked so that I could share some information with you in the case that you plan on installing cabinet hardware yourself. He gave me two really great tips:
Number one: take the time to create a jig. This might take 30 minutes to make from scratch, but it will save you so much time throughout the installation process. Here is a helpful video showing how to make a jig, alternatively you can purchase one. Either way, using a jig will help you have precise placement of the hardware on the cabinets.
Number two: Use a brad-point bit to drill your holes. Brad-point bits have a sharp point at the tip so that the bit enters the wood perfectly straight even if there is a knot in the wood. These bits also have very sharp edges which prevents wood tear out. Using a brad-point will leave you with professional, clean results.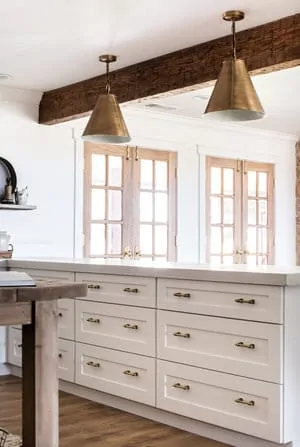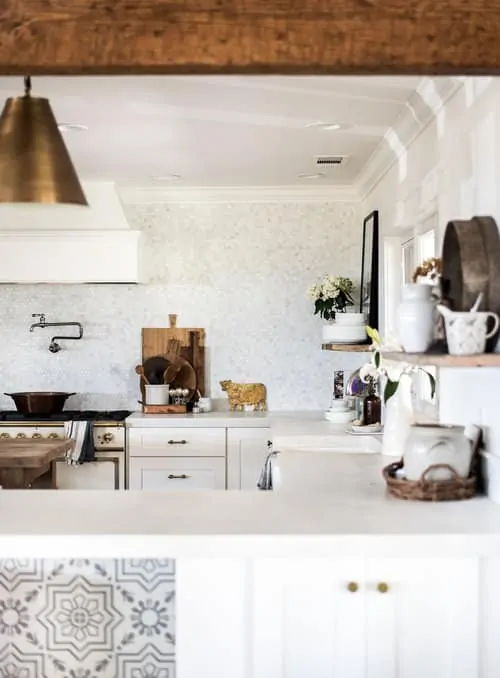 MORE BRASS HARDWARE
from the home depot

---
I acknowledge that The Home Depot is partnering with me to participate in the promotional program described above (the "Program"). As a part of the Program, I am receiving compensation in the form of products and services, for the purpose of promoting The Home Depot. All expressed opinions and experiences are my own words. My post complies with the Word Of Mouth Marketing Association (WOMMA) Ethics Code and applicable Federal Trade Commission guidelines.