DIY Threaded Earrings with Ann Revere Jewelry
February 22, 2016
When I connected with Allie, owner of Ann Revere Jewelry, I knew we were going to be friends. I'm pretty sure my text went something like, "so tell me more about yourself, I want to know everything." And when she didn't call Verizon and report me as some sort of stalker, my feelings were confirmed: we were going to be friends.
Since then, we have gone back and forth joking about our husband's photography skills (often times cringe worthy), and remodeling ideas (see her awesome kitchen here).
Throughout our conversations, Allie shared with me how Ann Revere Jewelry was born: from a Pinterest project. While taking a bit of time off work, she decided to try out jewelry making, and since then, it has become her passion. Named after her grandparents, whom she calls her greatest inspiration, Ann Revere Jewelry can be seen on the likes of some of my favorite instagram friends (Savannah Larsen, oh and did I mention Mindy Kaling!?)
When Allie approached me about working together, I knew I didn't want to do the same old thing, so I pitched her the wild idea of creating a DIY project – she happily agreed, remembering it was Pinterest that once inspired her. With this collaboration, we hope to inspire you to create your own art, whatever it may be. These earrings are quite easy to make, and come in both blue and red. I hope you love them as much as we do. We had so much fun working on this project together, and are humbled by your support!
DIY Boho Earrings
Materials: Included in kit:
(3) 14k gold filled or sterling silver wires – one is a practice wire
(2) Long magnesite spikes
(2) Short magnesite spikes
(6) Onyx faceted gemstones
Additional Tools Needed:
Metal nail file
Needle nose pliers
Sharpie marker (standard size)
To start: Grab one of the metal wires out of the kit, this is your practice wire! You do not need to file your practice wire, this wire is to allow you to try making the shape of the earring a few times before you commit. Go through the steps below, and practice bending the wire into shape, get the feel of things, then once you're ready you can begin with the real deal…
1. Start by filing the two wires left in the kit with your metal nail file, and begin to finish the ends of the wire so that it is smooth, slides in your ear well, and does not cause discomfort. Begin by working the file of the end in straight motions to try and create an even, flat top to the wire. Once it is a flat surface, angle your file downward and begin all around the wire to form a rounded top. Continually check the wire on the back of your hand to see if it is still sharp. It can take a few minutes to get it filed perfectly, but it will be round and smooth once it is done.
2. Work the wire gently to even out any curves or bends. It's always easier to add curve at the end than to try and remove it! The easiest way to do this, is to start at the top of the wire, and slowly work your way down, bending it against your finger or nail in the direction you need. Your needle nose pliers can be used for this also, but you risk marring the metal, so I try to use them only as a last resort if a particular bend cannot be worked out. The wire doesn't need to be perfect, just straight.
3. Measure to the 1.25″ (1 1/4 inch) point on your wire, grab the wire between your finger at this point with your left hand and place your sharpie marker with your right hand and place it under the 1.25″ point on the wire, holding it down with your right thumb. Your wire will be sitting across the top of the marker, with your right thumb holding it down, and the rest of your hand grasping the marker. Place your left thumb and forefinger on either side of the top of the wire and press down, bringing the two sides down so they are parallel to one another. When you release, your wire will now be in a hook shape. You may need to pinch the two sides together further around the marker until the wire is in a nice "candy cane" shape.
4. This is a great time to get an idea of whether you allowed your practice wire to scoot too far in either direction on top of the marker. With the rounded portion of the wire at 0″, your hook end should stop around 1.25″. If it is way off, straighten the wire back to the start and try again, I don't recommend doing this on your actual earrings as it weakens the wire and may break, but you can straighten and curve your practice wire as much as you need to, until you get the hang of it. Use that practice wire until you feel comfortable starting with the real ones.
5. The hook end of your wire should measure around 1.25″ inches (if it's off by a couple of mm is ok), flip it over so that the straight end is against the ruler, the rounded top should still be at 0″. Measure the straight end to 1.5″ and grasp it between your fingers. Take your needle nose pliers and place them where your fingers were. You want this to be as close to 1.5 as possible so keep an eye on that spot. Now, bend the wire towards your hook end, until it makes a 90 degree angle. When you finish, you will have a little archway with an opening.
6. Now it's time for the fun part, add your magnesite spikes, first the long spike, then the short. Making sure the long spike is flush against the straight end of your wire, you will now bend the wire to the right of short spike. In order to not distort any other parts of the wire, hold the spikes with your left thumb and fingers and brace the straight end with your left forefinger so that everything but the wire is staying in place. With your right hand, grab the wire to the right of the small spike and turn it upwards, facing the top curve. Be sure that there is not extra space on either end of the spikes, they don't need to be crushed inside the wire, but you don't want extra wire on either end. Next, bend the end that is pointing towards the top curve back to the straight end, creating a triangle over the top of the spikes. The triangle you created should be closed, with the wire sitting flush against the straight end. If it isn't, it just means the wire was bent at the wrong place somewhere, straighten up that practice wire and give it another go!
7. Take some time to look at the earring from all angles before moving forward, does the hook end need to be brought in closer to the straight end? Pinch the two sides together gently until it looks right. Wire always needs to be SLIGHTLY overextended before it goes where you want it to. Always go in small increments though. Try pushing it to where you think it should go, if that isn't enough, try pushing it a millimeter beyond that point, then two, until it rests in the spot you need it.
8. Once you are satisfied with the shape, pull back the triangle portion just enough to slide on the onyx beads. You may need to push the triangle back towards the straight end once this is done to ensure the metals sit flush against one another and the onyx beads cannot escape. Optional – use your needle nose pliers to bend the tip of the triangle backwards, to create a 'stop' so that the beads cannot fall off.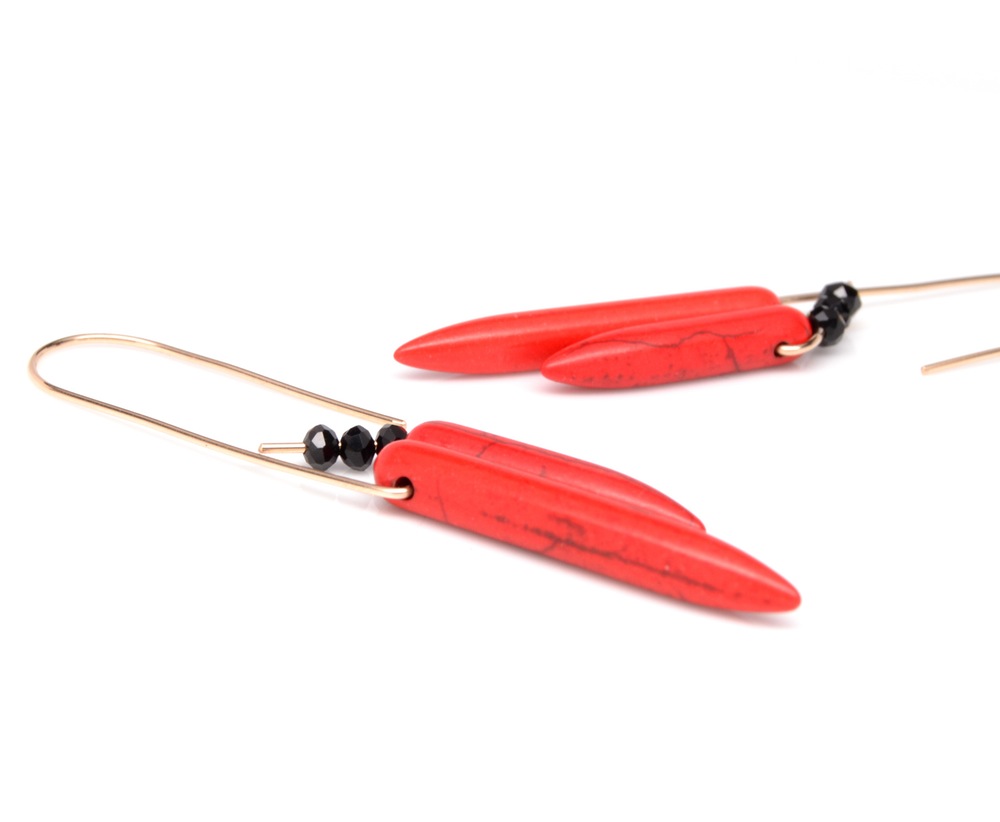 Some of my favorite Ann Revere Pieces!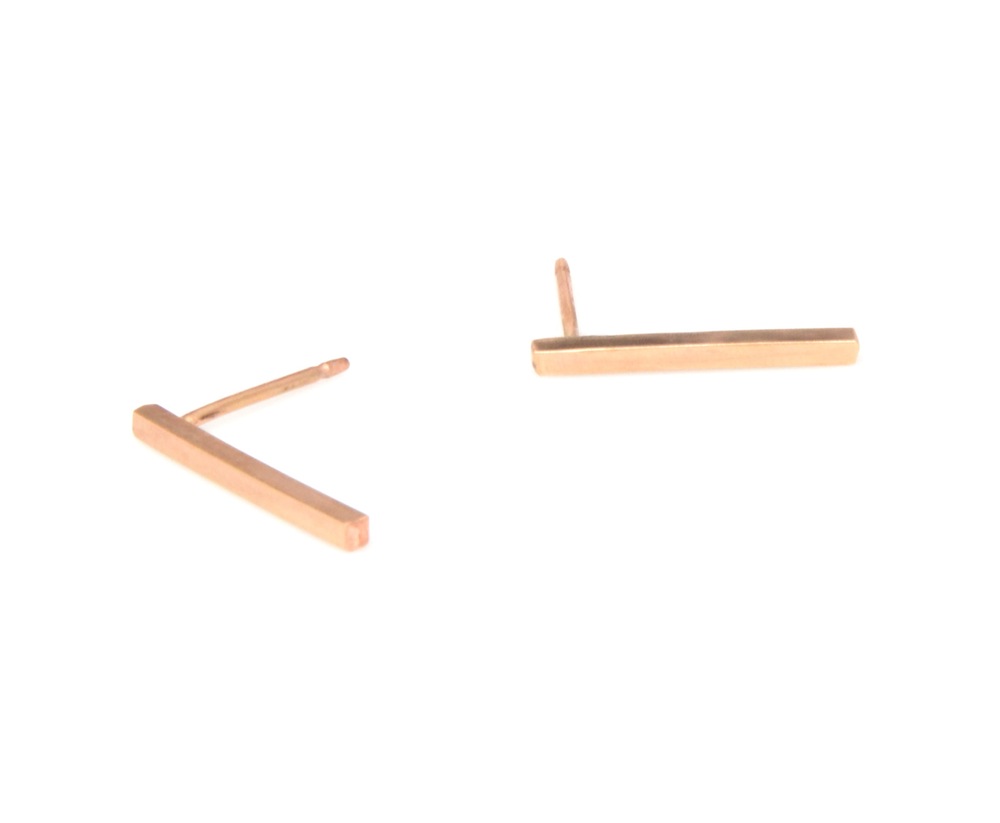 ---
subscribe to boxwood avenue
---