A French Country Inspired Dining Room | ORC Week 3
October 18, 2017
Hi friends! How are you this week? I know some of you are designing spaces as well – leave me a link in the comments so I can visit you to see your progress! Today marks week 3 of the One Room Challenge and everything I have ordered from various vendors and shops is beginning to arrive. I have loved seeing all of the pieces together as what I've envisioned comes to life. If you're new to the ORC, it is a 6 week series sharing the transformation of a single room, start with Week 1 >> here!
We are currently waiting on curtains which are being provided by TonicLiving. Since these are being custom made, they won't be installed until the last minute. I will share more about them next week when I can post photos of the fabric options. Just waiting on those to arrive. Since the view out of the west window is one of the main focal points of the room, the custom curtains are going to be a game changer.
I am also still waiting on the rug to arrive, I can't wait to see it alongside the paint – to see the blue and pink tones play off of each other. Lastly, I've got a few beautiful prints on order, but they are being framed by SimplyFramed, and like the curtains, won't be here until the last minute.
But enough about what isn't here, let's talk about what is here, because there's an elephant in the room that I think I should address.
The light fixtures…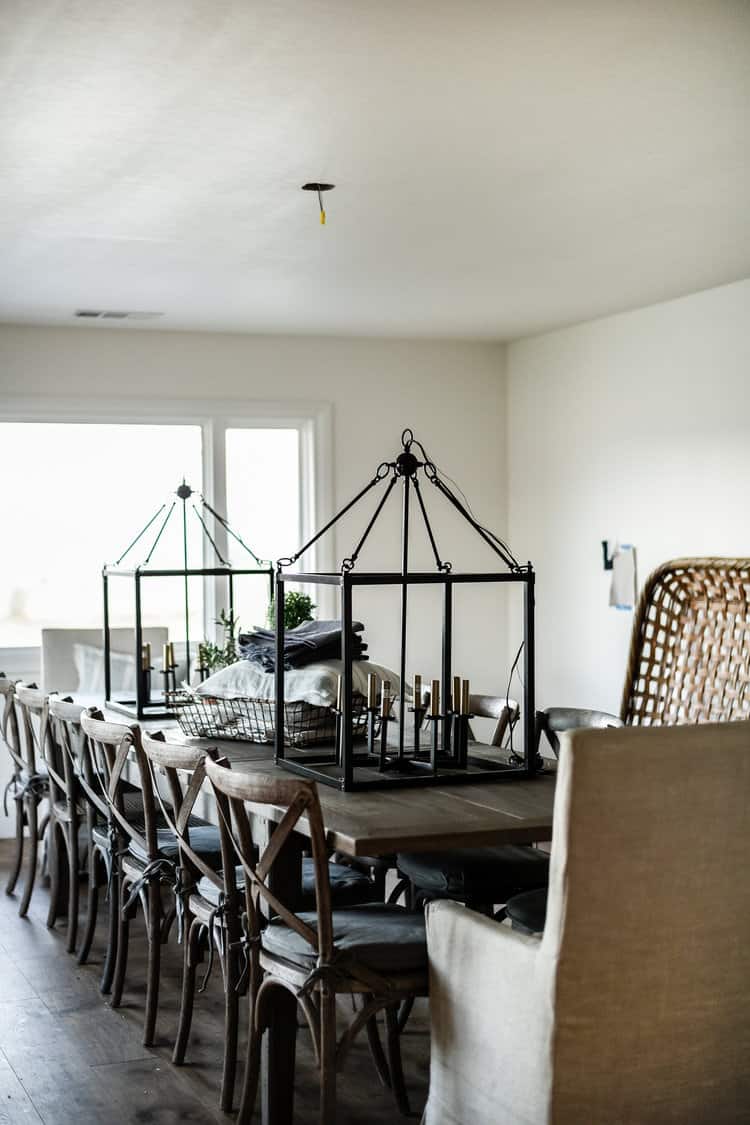 Okay, they are incredible. They are from LampsPlus, and really, they are beyond beautiful, and exactly what I envisioned except for one tiny little detail: their size.
They. Are. Huge.
Initially I had envisioned three fixtures hanging above the table. After opening the boxes up, this will clearly not be possible as they would completely take over the entire room like little lantern monsters. In fact, I'm considering swapping them out for something else, but I'd love your opinion…
It is possible to keep two of them and hang them on either end of the table. They will definitely be a statement; however, I think the room is large enough to accommodate them. Keep in mind, the room is 22 feet long, and the dining table is nearly 14 feet long. I have opted out of placing any additional furniture in this room aside from the table, chairs, and open shelf along the north wall. These lights would really be the only dramatic piece in the room (well, except for the pink paint and 22 foot long open shelf… :O).
Since they are open and airy, I don't think these lights would be "too much", in fact I think they could read "cool statement piece"; however, it is also possible for me to return them and select something else. I'd be pushing it for time, but I think I could make it work.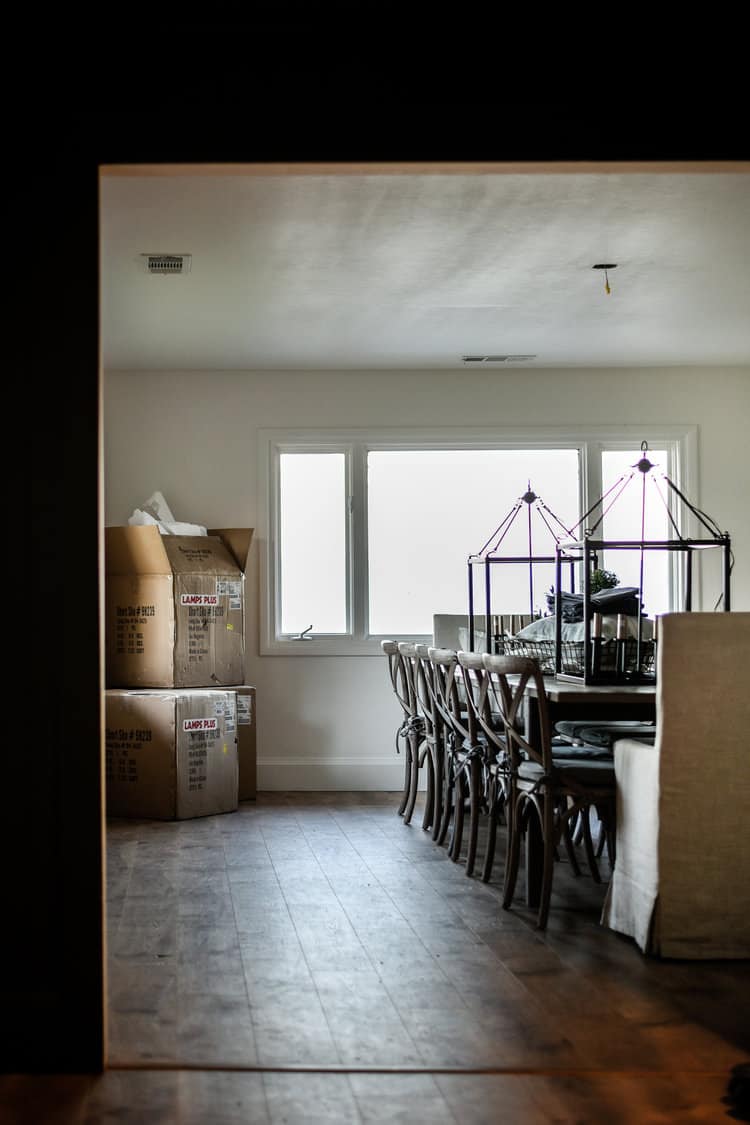 Light fixtures, for some reason, are the biggest challenge for me whenever I am designing a room. It's sort of like the menu at Cheesecake Factory – there's just too many options. Selecting these fixtures took me days, and I feel like I've exhausted my search efforts. These are the perfect design for what I want the space to look like, just a little bigger than expected, 20 1/4″ looks a lot bigger in person than it did when I measured.
Maybe they are perfect, and I'm just surprised by their size, thus thinking they aren't perfect? I'm not sure, I'm going to give myself a few days with them, sitting on the table, before I make my decision, but I am leaning towards: cool statement piece rather than box up and return.
Now, if I do decide to go with these two fixtures rather than the three I initially pictured, I am going to have to have our contractor come out to patch the existing wiring placement (which he installed for me only a few months ago), because it is in the center of the room. We will need to then add two new wiring outlets for the lights to hang on either end of the table. This isn't all that big of a deal, but something to keep in mind.
And now we wait…
I am feeling a little bit of pressure to get everything wrapped up in time after glancing at my calendar this morning. Finding man power out here isn't always easy, so I'm on a waiting list for paint work, light install (giving me time to decide), trim paint and installation, and open shelf installation. Really, this work won't take very long, but I'm hoping that I'm not waiting until the last week to tie these up, because that just might give me reason to panic.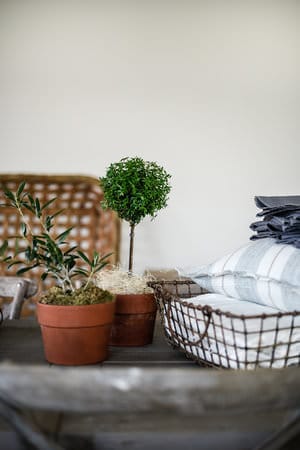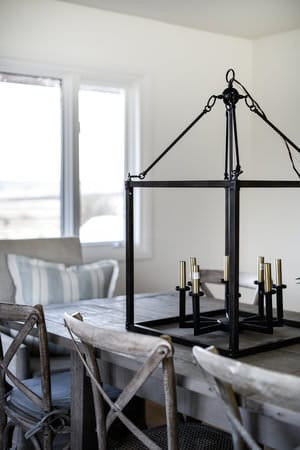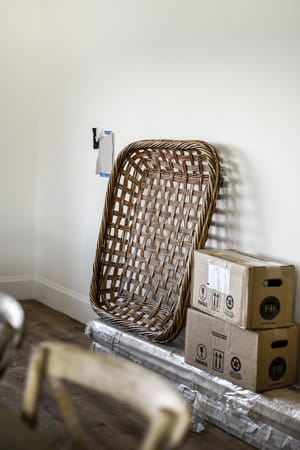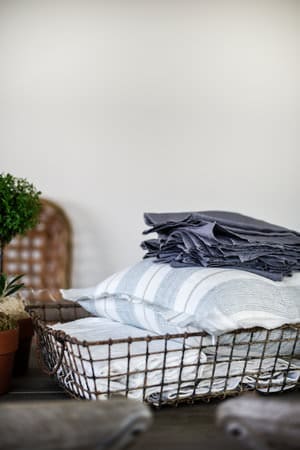 I also wanted to share a few photos of a couple of the decor pieces I've sourced so far (you can click on the photos to enlarge them). I found this incredible basket at a shop in Reno called Rock Farm, I picked up a few topiary plants while I was there too. As much as I love terra-cotta, I will swap out their containers for something with more gray tones.
The linen pillows and napkins from Pom Pom at Home arrived this week as well, and what a difference swapping out the pillows on the chairs made! The chairs came with a tiny little lumbar pillow, and the simple swap adds so much to them. I initially thought I'd stick with all navy tones for the accessories, but I decided to throw in different shades of blues and grays, and I am so happy with them. I am such a sucker for high end linen, and these are incredible!
PS: I just got a shipping notification for the rug, can't wait to share photos next week!
---
dining room game plan
custom curtains – TonicLiving
an extra long dining table for the whole crew – existing
pink paint – Farrow and Ball (next week!)
open shelving with lots of glassware, beautiful accessories, and artwork – on the hunt for wood!
oversized vintage rug – Hayneedle
crown molding – Metrie
a series of light fixtures – LampsPlus
custom artwork – Jenny's Print Shop & Simply Framed
linen textiles – Pom Pom at Home
---
be sure to visit the others taking on the one room challenge!
Coco & Jack | Design Manifest | Dwell with Dignity | The House That Lars Built | Little Green Notebook | The Makerista | Making it Lovely | Old Brand New | Old Home Love The Painted House | Megan Pflug Designs | Pink Pagoda | Erica Reitman | Sacramento Street Simply Grove | Jill Sorensen | Sugar & Cloth | Vintage Rug Shop | Waiting on Martha
Media Partner House Beautiful | TM by ORC