A French Country Inspired Dining Room | ORC Reveal
This post may contain affiliate links, please read my disclosure policy.
The time has come for the dining room reveal of the 2017 fall One Room Challenge! The past seven weeks have flown by, and today we get to see all of the beautiful reveals! If you need a quick recap, you can revisit the previous ORC posts here: week one, week two, week three, week four, week five, week six.
Can we start by taking a moment of silence to acknowledge what this room used to look like…
Scary, I know.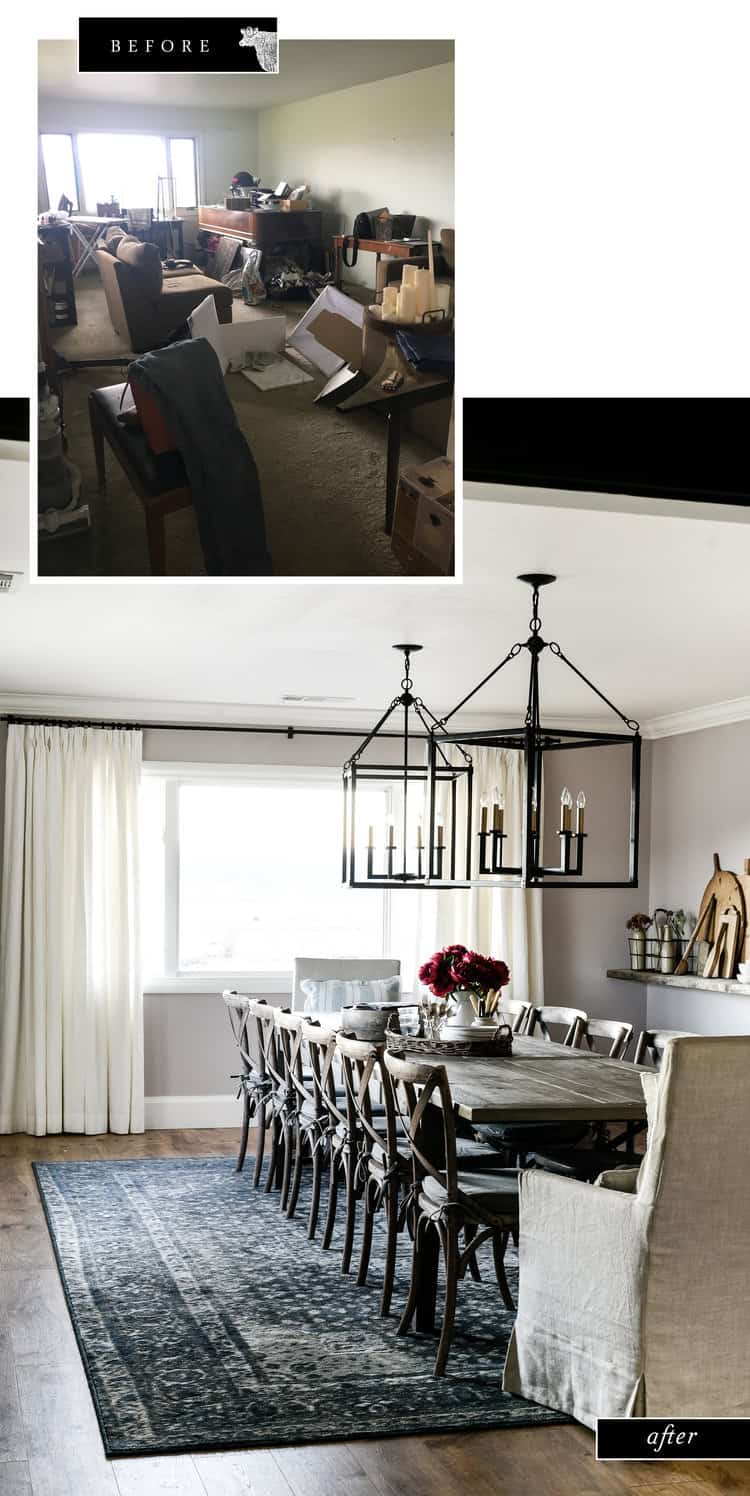 The room used to be my craft room, which served as a horrible entrance for visitors. I hate clutter, but as any fellow crafter knows, clutter & messes are inevitable, so having my craft room directly off our entryway was a terrible idea on all accounts.
When we remodeled our kitchen, we removed the dining area from the living room, and my craft room quickly became our dining room. We tore up the old carpet, added thick baseboards, and painted the room white. We purchased a super long table and chairs, and there they sat.
Since this is one of the first areas you see when you enter our home, I knew I wanted to do something a little dramatic. I also wanted to play off the black wood paneling in our entryway. My first thought was to paint the room a rich emerald green, but I didn't think that would look good (like, at all) next to the black entryway.
I then thought I might add interesting trim along the wall where the floating shelf now rests, which I still think would have been a nice option. Ultimately, as you know, I decided to simply go with a floating shelf along the length of the 20+ foot wall, plus beautiful crown molding from Metrie (which we have in the rest of our house as well).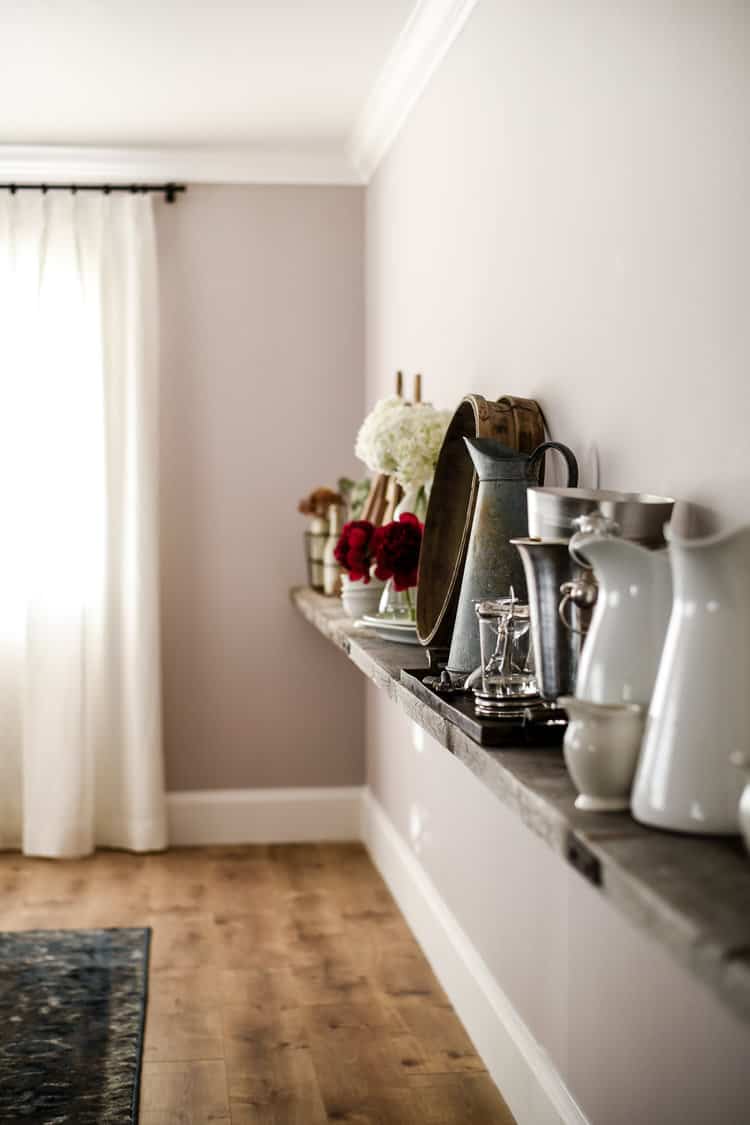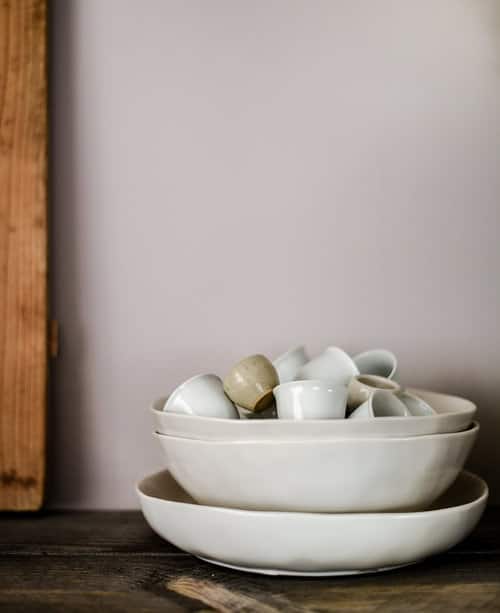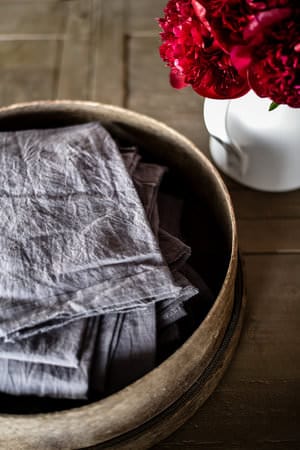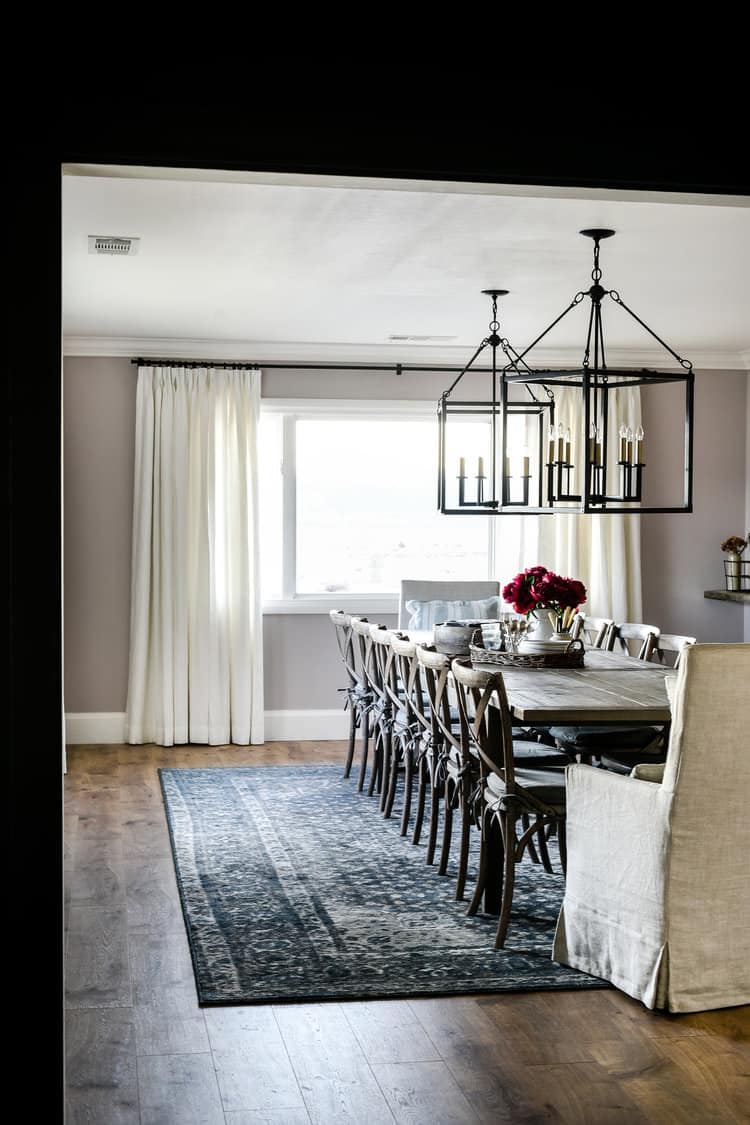 rug | paint | curtains | decor | lighting | crown molding | throw pillows
Although the room had been freshly painted white, I decided to re-paint the room a soft pink/lilac color (Farrow & Ball's Peignoir) to play off of the black entryway. I hadn't ever used Farrow and Ball paint before, but I am 100% converted after seeing the outcome of this room. The quality is incredible, and the depth of color is really apparent.
I used blues and grays alongside the pink walls and opted for black hardware to draw some of the black in from the entryway. I couldn't have dreamt of a better rug for this room – it is from Hayneedle, and surprisingly very budget friendly, especially for the size!
I had initially planned on sticking to all navy blue tones (did you see those beautiful navy napkins above?), but am so happy I decided to add in a lighter shade of blue with the throw pillows from Pom Pom at Home at the head seats of the table. The additional pattern, texture, and color adds a lot to the room. I think you can always throw in an additional pattern or texture so long as you keep a streamlined color scheme. PS: The pillows are a favorite of any guest we've had, I definitely suggest ordering an insert with the cover. This pillow is also one of my favorite!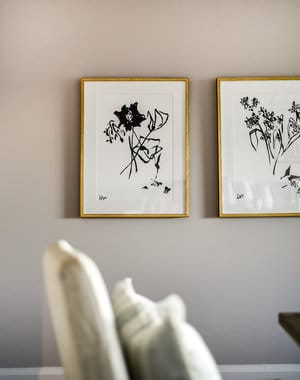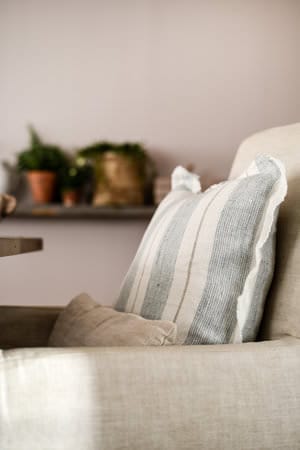 ---
artwork
---
I selected prints from Jenny's Print Shop which were framed by Simply Framed for this room. I can't tell you what a huge difference artwork makes in any space; having a professionally framed piece of artwork elevates a room beyond measure. I worked with Simply Framed to mount the prints, and they did an incredible job. Simply Framed is an affordable and easy way to add custom work to a room. Their Print & Frame service makes it so easy to upload digital files, select the frame style you want, and receive gorgeous custom framed artwork in the mail with a quick turnaround.. They are so beautiful, I will never frame anything myself again after seeing the difference a professional framing company makes.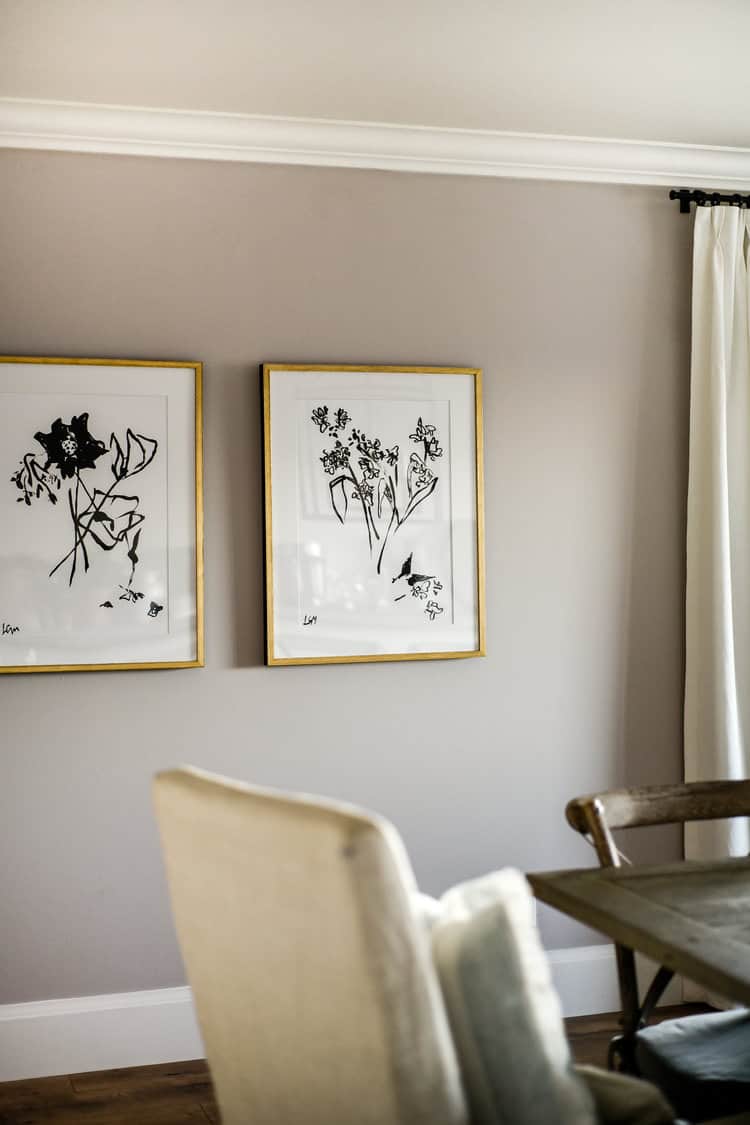 paint | curtains | crown molding | throw pillows | artwork (frame, print)
If you've been following along, you may notice that one of the biggest additions from my last ORC dining room update is the curtains. I don't think I can accurately put into words how much I love these curtains…If you've ever had custom curtains made, you know what I'm talking about.
While custom curtains are an investment, they are 100% worth it. Save on an inexpensive rug, or inexpensive artwork… but splurge on the curtains. I worked alongside Janine, owner of Tonic Living to design these curtains, and the experience from start to finish was a dream. I simply emailed my measurements and paint color, and she sent back photos of different colored linen placed beside the paint sample. I loved being able to see the paint and linen color next to each other which took the guess work out of narrowing down my fabric selection.
I loved working with Janine, and love being able to support a fellow lady in business. Her shop, Tonic Living is stunning, and I wholeheartedly recommend her for any textile needs you may have.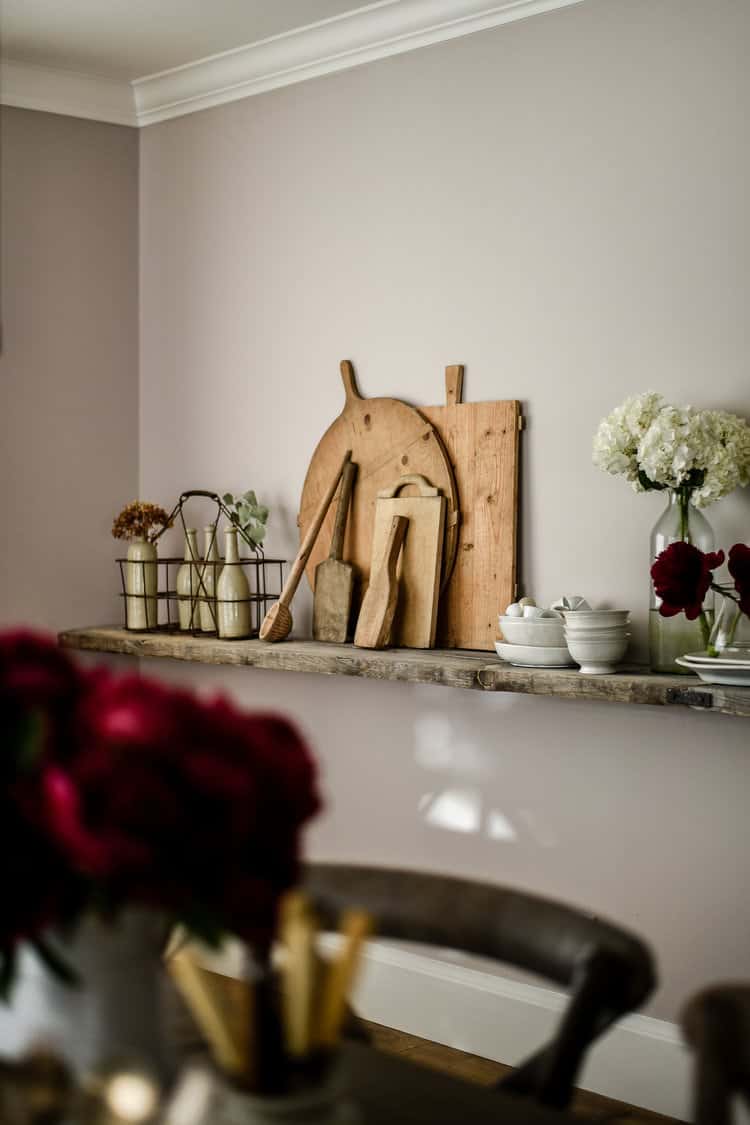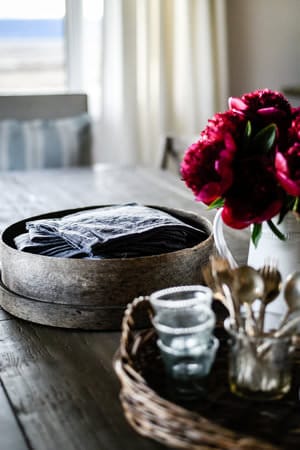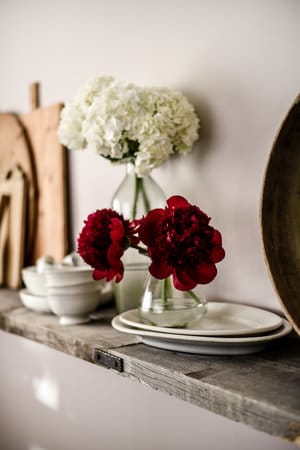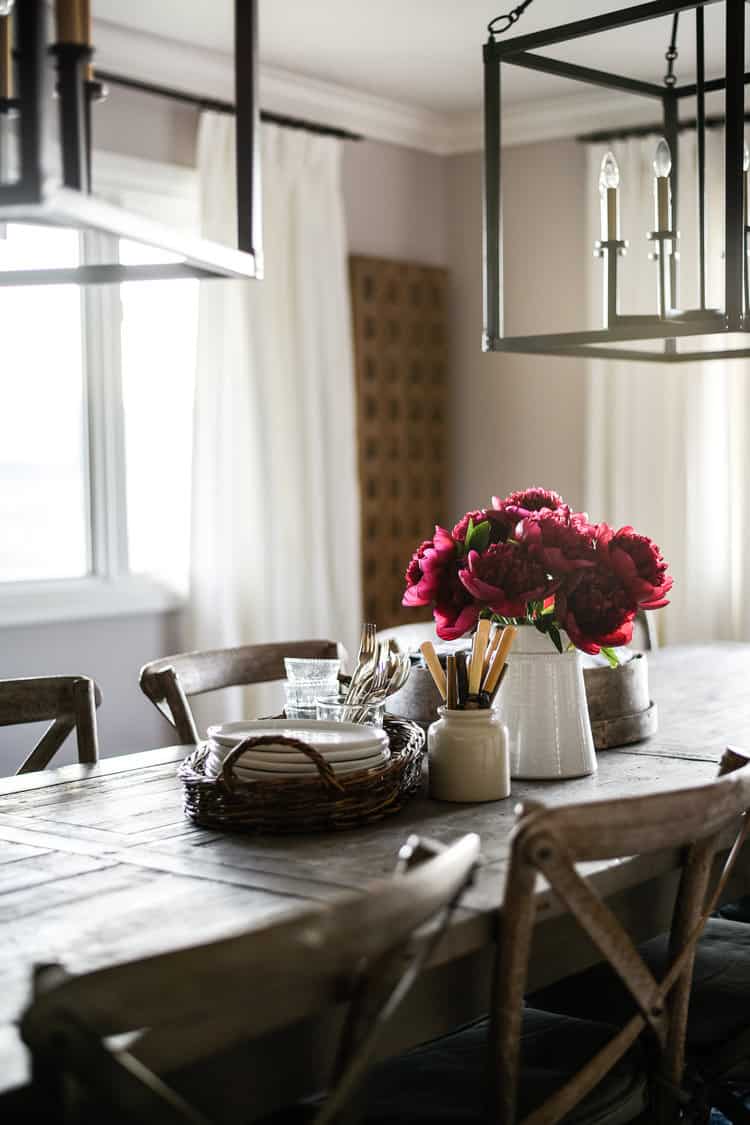 ---
dining room decor
---
Styling and finishing a room is by far the most fun part of the project! I sourced decor from my own home, and a few other big box shops, but the majority of these pieces came from one of my very favorite shops: Chateau Sonoma. Sarah, the owner has become a very good friend of mine, and I work there behind the scenes helping with their marketing. Sarah was so kind to send me products to use for the reveal – like the breadboards, grain sifter, and bottle rack. The shop is full of French antiques, and if you love French decor as much as I do, then I know you will love Chateau Sonoma. I fell in love with it the first time I ever visited, and am so excited to be able to share it with you!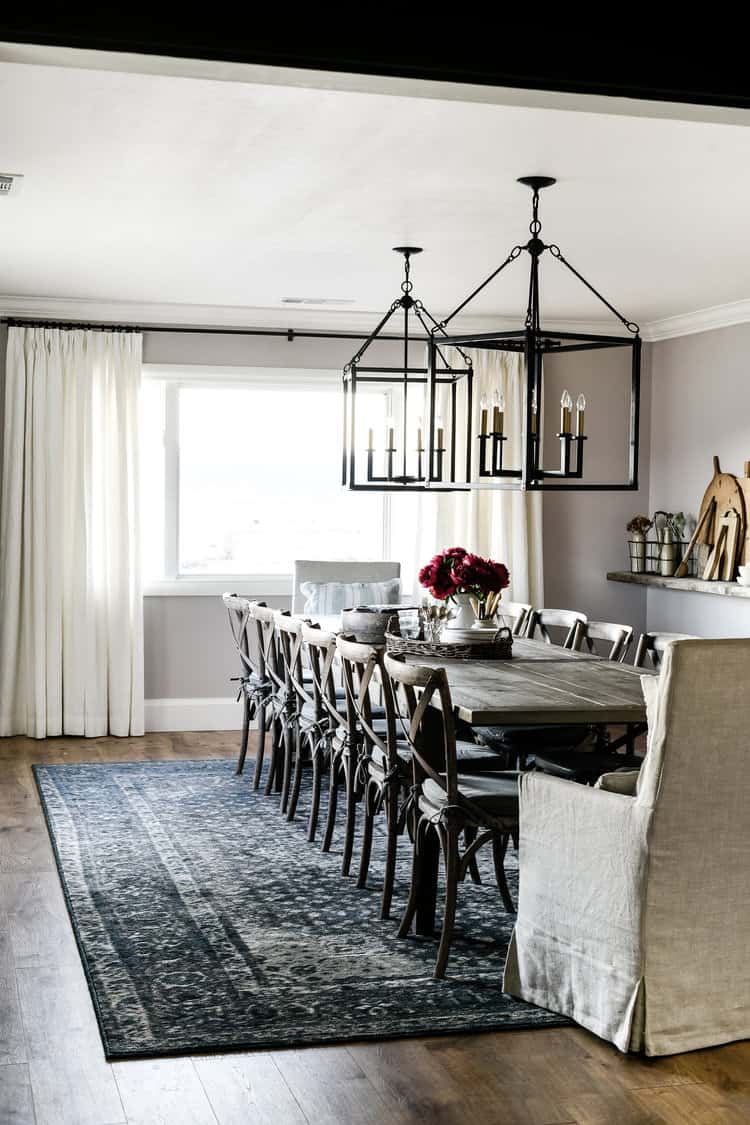 And that's a wrap! A really big thank you to all of the sponsors of the One Room Challenge, they are so generous and believe in our visions from the start. I am grateful to Linda, Calling it Home, for including me in the One Room Challenge, it was a huge honor to create this space alongside so many talented designers. Thank you to House Beautiful Magazine for sponsoring the ORC, but most importantly, thank YOU for following along over the past 7 weeks as this room has come to life. Your comments, suggestions, and support have meant the world to me. I hope you will continue to visit my little part of the web!
---
sources
---
art // simply framed • jenny's print shop
paint // farrow & ball
crown molding // metrie
curtains // tonic living
decor // chateau sonoma
throw pillows & linen napkins // pom pom at home
---
be sure to visit the others taking on the one room challenge!
Coco & Jack | Design Manifest | Dwell with Dignity | The House That Lars Built | Little Green Notebook | The Makerista | Making it Lovely | Old Brand New | Old Home Love | The Painted House | Megan Pflug Designs | Pink Pagoda | Erica Reitman | Sacramento Street | Simply Grove | Jill Sorensen | Sugar & Cloth | Vintage Rug Shop | Waiting on Martha
Media Partner House Beautiful | TM by ORC