All Calves go to Heaven | The Circle of Life
This post may contain affiliate links, please read my disclosure policy.
It's never easy to lose an animal, but Annabelle's life was not in vain. How we used her as an organ donor to save the life of another.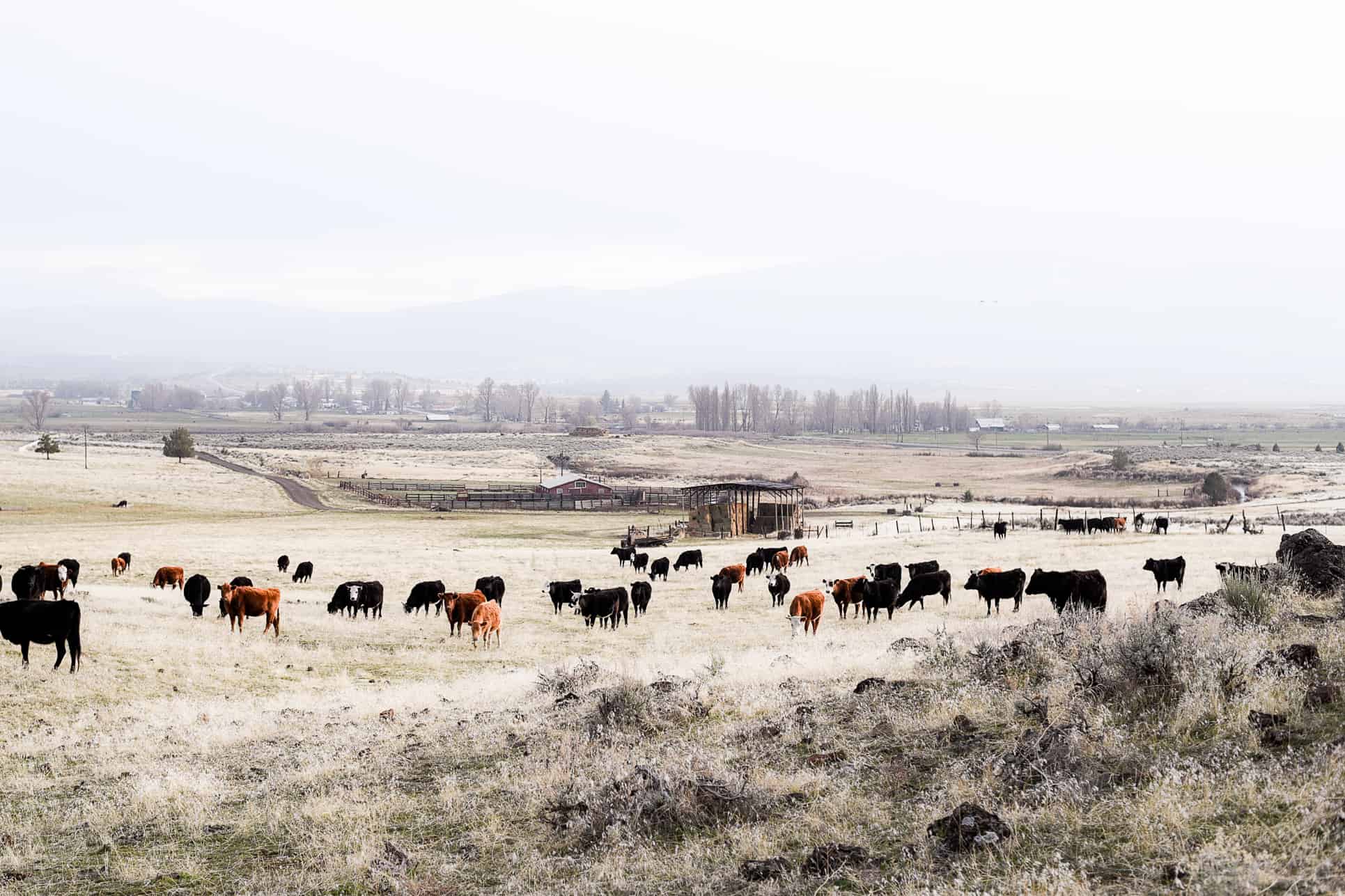 This week we all fell in love with Annabelle. She had a rough start to the world, and was quite feeble. She was too weak to stand, and her head was very swollen, almost like it was full of water. We weren't quite sure what was wrong with her, but over the next few days we realized that she was unable to use her right front leg. We figured this was due to getting pulled.
The term "pulling a calf" means that the mother was assisted during birth. This usually happens to heifers (first time moms) because their bodies have never been through birth before. Cows generally don't need help during birth because they know the drill.
All of our heifers are kept in a single field and get checked on multiple times throughout the night. Each night, a different crewmember takes turns for 'heifer watch'. On Tuesday night, it was Greg's turn – he saw, who would become Annabelle, being born, but he made the call that everything was going smoothly. A few hours later, Alex checked on the pair, and realized they were in a great deal of stress, so he decided to pull her in the field.
Usually, we would bring the heifer into the barn, but there wasn't time for that. Alex tied bailing string to Annabelle's front legs, and began pulling. He said that he almost wasn't able to do this on his own, but finally, Annabelle was born. He knew right away that she was at risk, so after letting her mom get to know her (bond to her smell), they took Annabelle into a heated room for a bottle.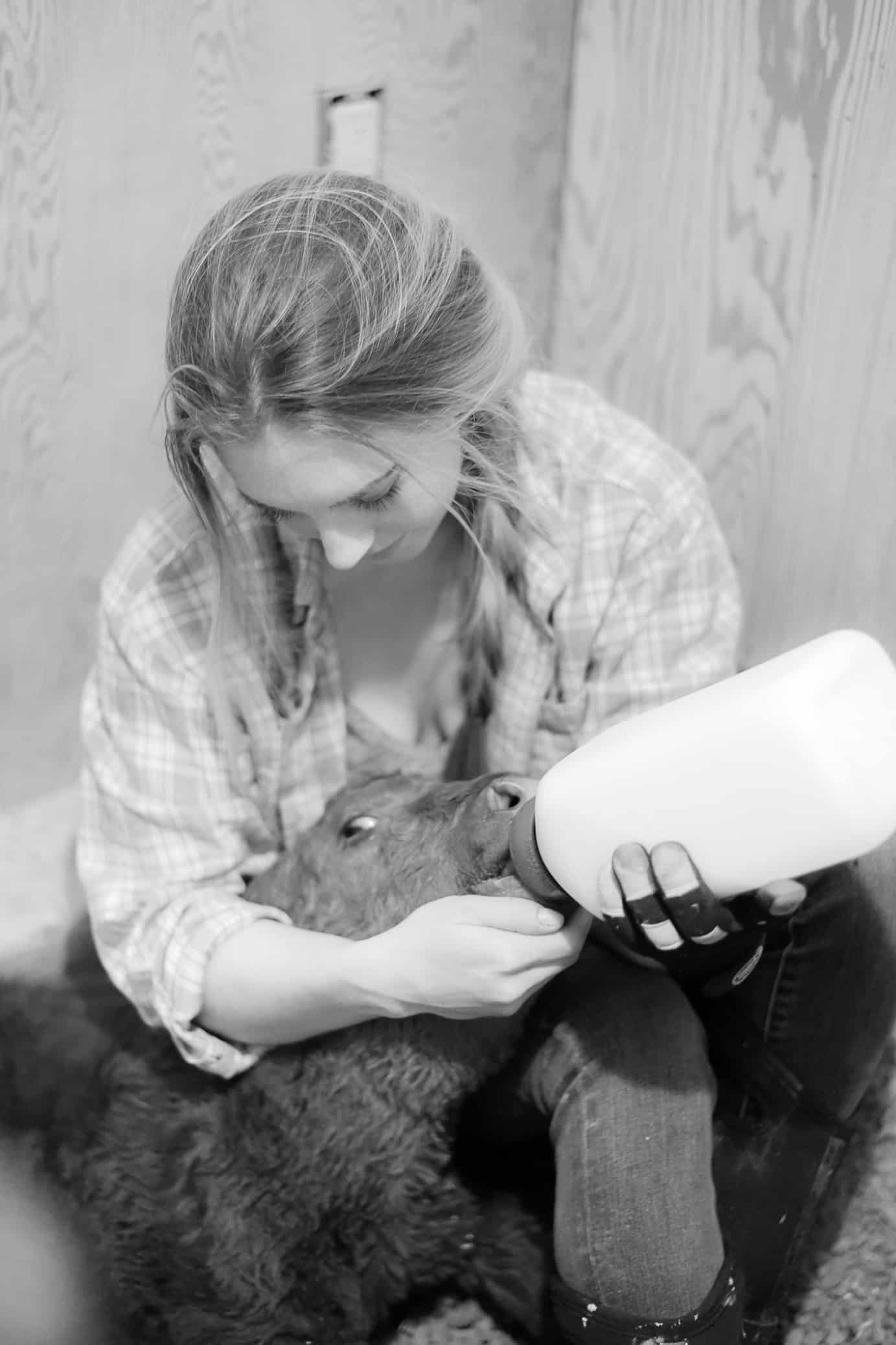 We decided to give her just a small amount of milk – enough to spark her appetite and give her an incentive to stand up and nurse – giving her instincts a little bit of help. Later that evening, we placed Annabelle out in the heifer field, and within seconds, her mom left the feed rack (where all of the other moms were eating their dinner), and went to Annabelle. It's an amazing thing to see the animal's instincts in action.
It was a great sign that Annabelle's mom was giving up her dinner to care for her. Heifer moms are always a hit or miss – sometimes they reject their calf simply because they don't know what's going on. Yet, Annabelle's mom was proving to be an excellent new mother.
We began to realize that Annabelle's right front leg wasn't working very well. We figured that something was hurt during the pulling process, but assumed that it wasn't anything serious and would heal overnight. We propped her up, but she continued to fall right over. It was a huge let down for us and for the pair. Everyone was trying their best, but their best wasn't quite enough.
Because she wasn't able to stand and nurse from her mom, we decided to give her a full bottle. Hoping that it would give her strength to stand on her own. We milked one of the milk cows that had also just given birth – important because Annabelle needed the Colostrum.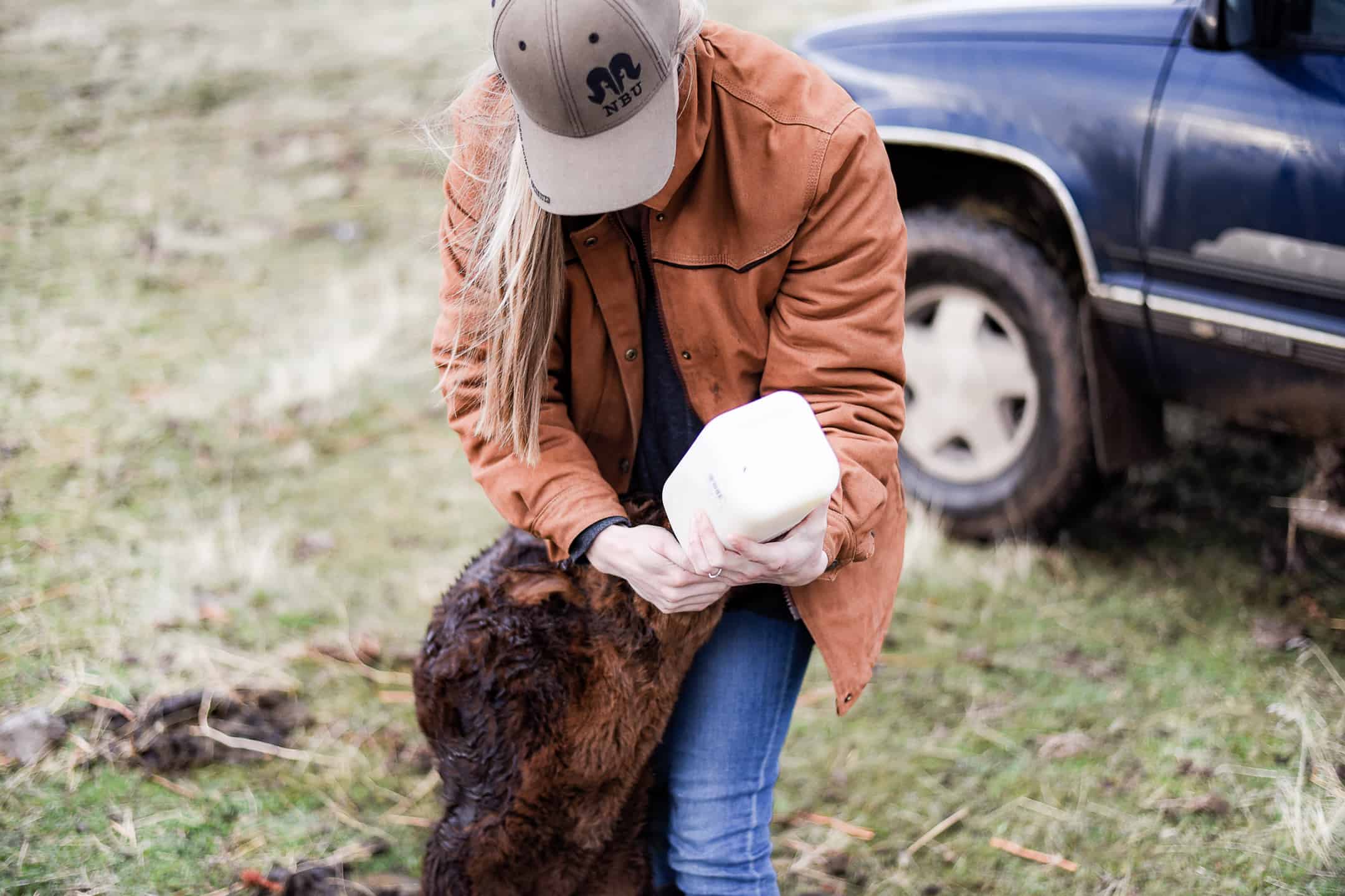 The next morning we started over, attempting to stand her up, only for her to fall again. We began to think that her leg problem wasn't an external injury from being pulled. We remembered how swollen her head was, and started to piece things together, thinking that she most likely had neurological damage as well as nerve damage (or something to that degree). We decided to doctor her anyways (give her medicine), and continue to help her as best we could.
Over the next few days, that cycle continued. I convinced myself that she was going to make it, she was happy to nurse, and seemed very lively whenever I gave her her bottles. I was hopeful that I would be able to coach her on how to use her bad leg.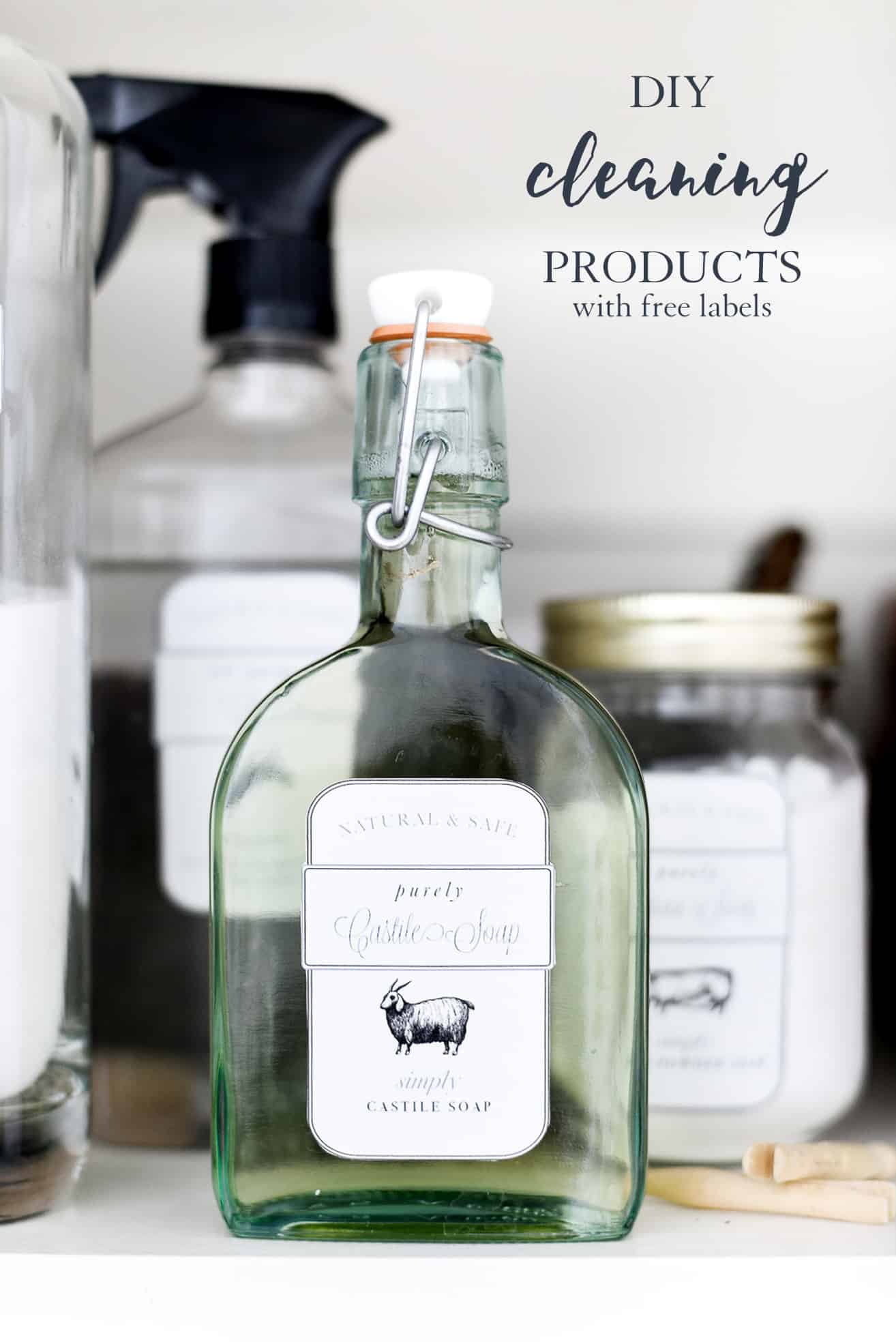 Last night, I visited her before I left for a trip to visit my sister. Annabelle was hungry and seemed okay – I called my husband and asked him to do whatever he could to get her through the weekend. My plan was to give her lots of attention and help when I got home from my trip. He assured me that she would be fine and would be waiting for me when I got home.
Yet, this morning I got the call that she didn't make it through the night. I had half prepared myself, but was also so sad at the news. In a way, her going in her sleep was really the best alternative to her having a miserable existence. Although we want the animals to live, we also must keep in mind their welfare. For her to not have made it through the night signals that her leg was the least of our worries- there was something deeper, most likely neurological, that caused her to go.
I had some people ask why we didn't take her to the vet? Very rarely do we take an animal to the vet – and it's in extreme circumstances that require special equipment (c-sections, amputations, etc…). Our cattle boss is very educated in animal science, and although there are things I'm sure he doesn't know, when it comes to cattle, he is just as effective as a vet would be.
The silver lining
The circle of life continued today, when we lost a mom during birth, and left with an orphaned calf in need of a mother. Since Annabelle's mom was such a good mom, we will attempt the adoption process with the orphaned calf. Annabelle will serve as an organ donor to the new calf – her skin will be used as a coat ('grafted') to the orphan calf. This will make the calf smell like Annabelle and cause her mom to take the new calf as her own.
It's always hard to lose an animal; because of the emotional toll it takes on you, but also because it's our livelihood. Producing and caring for healthy animals is how we provide for our families. The agricultural industry is not an easy one to survive in, as Greg's uncle said to me the other day, "it was a hard time…there were lots of hard times." Yet, the passion for raising and caring for animals continues to drive you through those hard times. We are so fortunate that Annabelle is one of the only calves we have lost this year, and that we were blessed with an abundance of water over the winter. There were many ranching families that lost everything this year due to fire – and my heart breaks for them. Although it makes me so sad to have lost Annabelle, I continue to be grateful for the abundance that we do have.
Wow, this has turned into a three page word document, and if you've made it this far into my story, thank you so much for your support. If you follow me on instagram, I want to say thank you so much for all of your words of encouragement. Thank you for following along my journey as a city girl gone rogue, I hope you enjoy little snippets from life on the range.