Spring Decorating Ideas for the Home: Gingham
February 15, 2017
Add ginham to your home this spring for a twist on traditional blue & white.
---
I stopped by my local Pottery Barn last week to plan a little pop-up DIY booth (if you're in Reno, join me this Saturday 2.18.17 from 2-4pm) and didn't want to leave. Their beautiful displays of gingham for spring actually caught me by surprise.
As we all know, I have a deep, deep, affection for blue and white. I love anything blue & white, whether it be transferware, linens, plates, or vases. But, I rarely reach for gingham. I'm more traditional, and love ginger jars and oriental prints. However, gingham has unexpectedly taken center stage in my design inspiration this season.
While writing this post, I fell down a rabbit hole of gingham design inspiration, and quickly decided that gingham has a place in our home. From pillows to drapes, gingham is a classic print that is easy to work into any style.
I'm not sure if I can commit to drapes (simply because that's a lot of sewing for something I'll probably want to swap out this fall), but I think I will make a few pillows and maybe a table runner. This fabric has a beautiful soft blue color that I think would be great on our couch.
Style at Home | Muskoka Living Interiors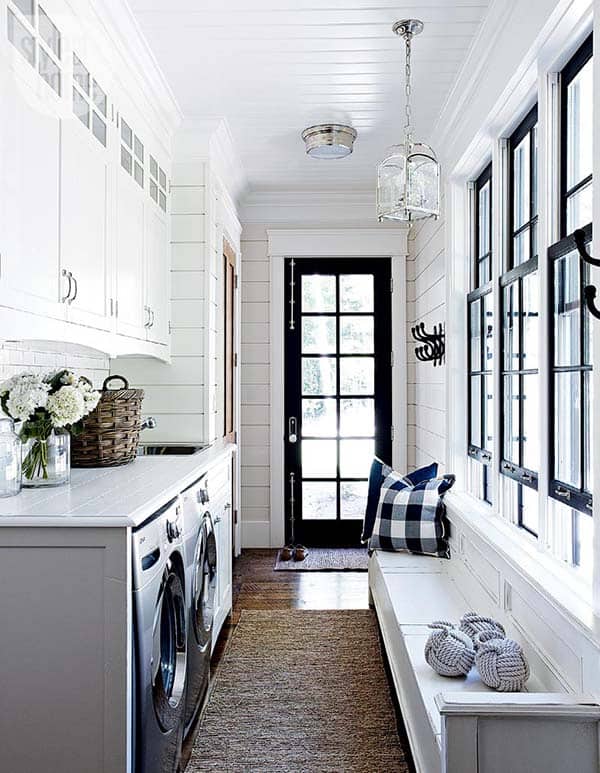 Muskoka Living Interiors did a great job adding small elements of gingham in this home tour. I love the shiplap walls paired with the classic gingham pillows with black and gray. Side note, how beautiful is the molding? I've got that saved for our contractor – I especially love the trim around the door.
kate marker interiors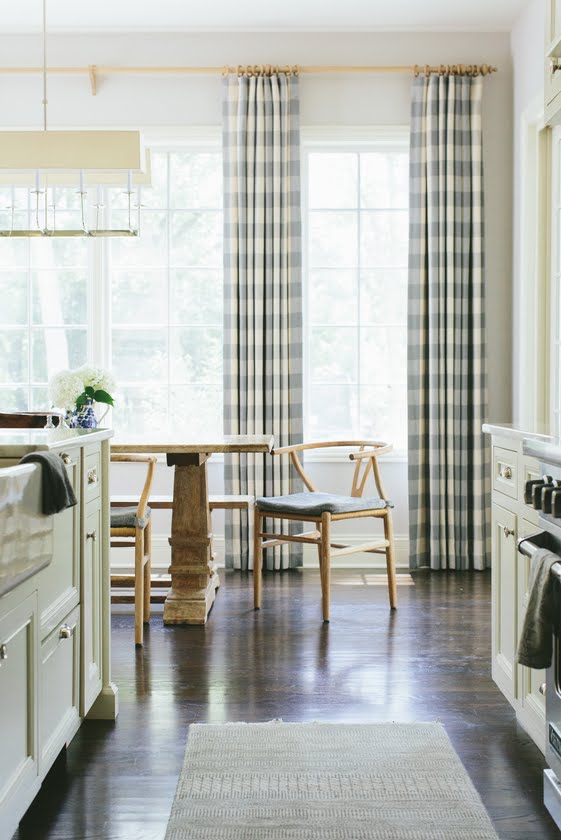 Kate Marker has to be one of my very favorite designers; I could spend my entire day going through her portfolio. I mean those chairs paired with that table? I would never be brave enough to try that, but it looks incredible. I love the combination of the blue and white vase on the table and the gingham curtains. Perfectly done. So maybe I'll consider curtains…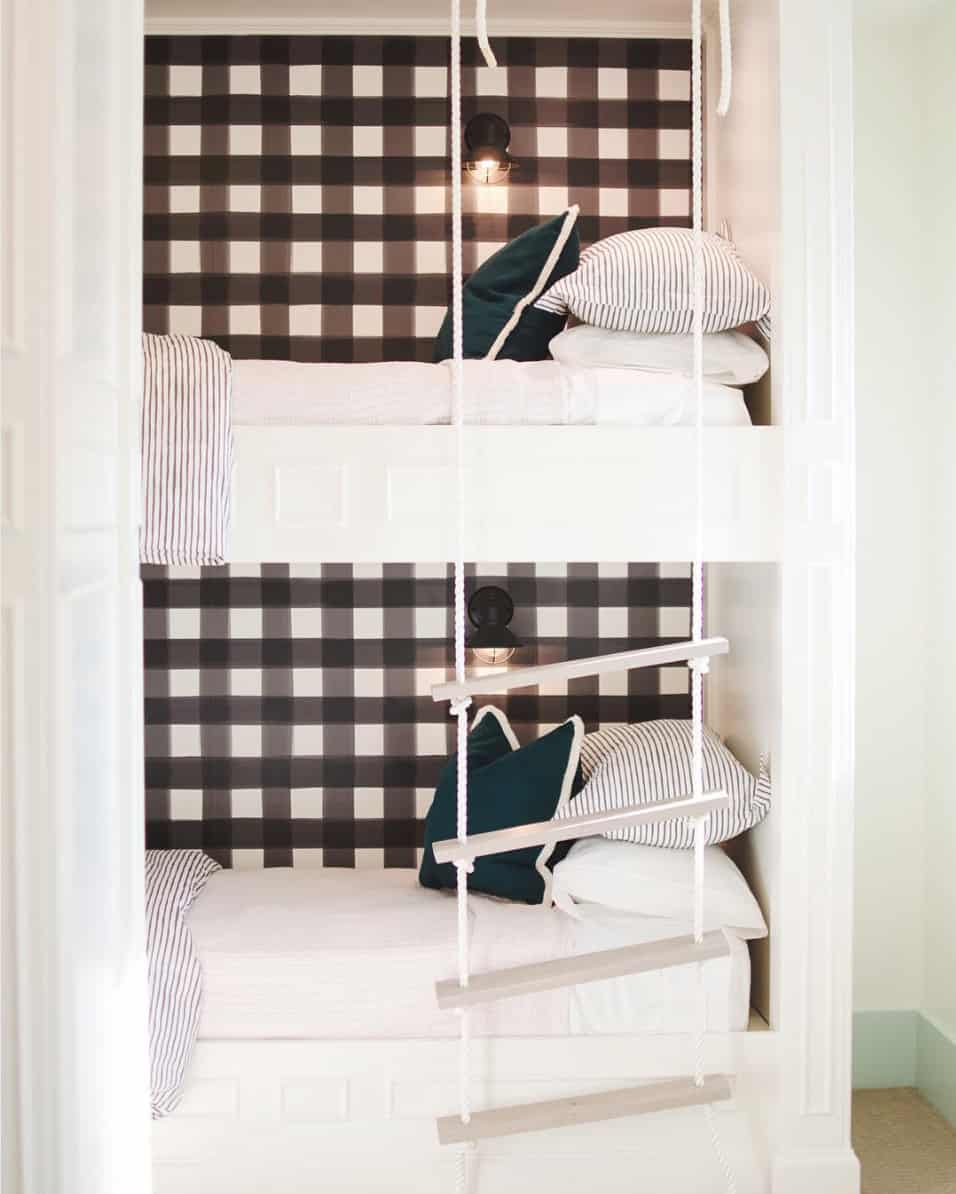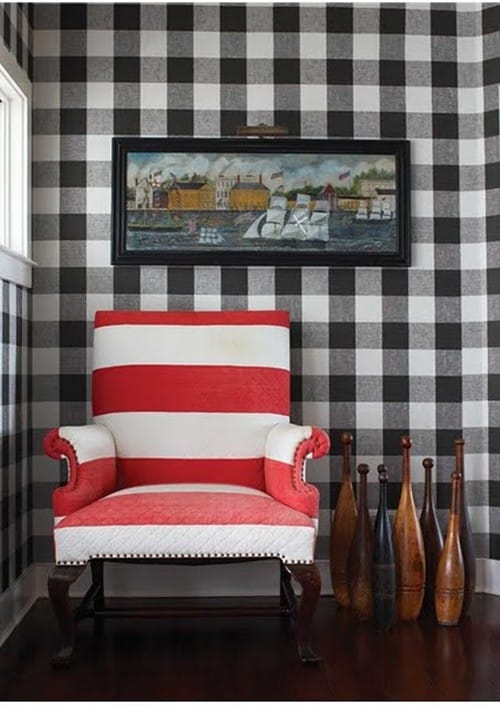 Wallpaper is having a major moment, and half of me wants to jump on the bandwagon, but the other half of me is terrified that in 5 years I will be spending months peeling the trendy sticky paper off of my walls. However, these two pretty spaces plead a convincing case for printed wallpaper.
---
shop the look
---
1. anthropologie top $88 | 2. pottery barn duvet cover $99 | 3. serena & lilly gingham bedding $188 | 4. terrain linen print napkins $14 | 5. mark & graham ceramic plates $49 | 6. draper james gingham cap $50 | 7. ethan allen gingham chair $1,150 | 8. brooks bros gingham blouse $19 | 9. jcrew tank $80 (sale!)