The Academy France Day Four & Five | #BonJourBoxwood
This post may contain affiliate links, please read my disclosure policy.
After the styling portion of our workshop we spent our final days visiting the surrounding towns of the Chateau. We shopped the open-air market in Perigeux and walked the hills of Saint-Émilion – both of which are UNESCO world heritage sites.
The open-air market in Perigeux was similar to a farmer's market in the states, except there was a hustle and bustle that we usually don't see in America. All of the people were shopping quickly to purchase their fresh veggies for the week. There were also eggs, fish, pastries, and flowers…all that was missing was cheese & wine. I loved the egg stand, and began taking photos of the egg-man's fresh eggs. He stood back and watched us quizzically as if he could not understand what was so interesting about eggs.
The city of Perigeux was quite large – but the historic center was preserved to remain as it was with cobblestone streets and all of the charm. My new friends Hannah, Nina, and I spent hours walking the streets and eyeing the beautiful homes surrounding the historical section. We found a few abandoned chateaus that I wish we could have toured, but instead found a darling pizza restaurant in one of the hidden squares of the city. We chatted and enjoyed pizza & wine while listening to live music and watching the French dogs play while their owners ate. It was magical.
On our last day, we spent the morning in the prehistoric town of Saint-Émilion. I don't quite know how to describe the town besides: moving. The outlaying geography is full of incredible chateaus – some inhabited, some abandoned – and sprawling vineyards. The town itself is preserved, and houses an incredible church and rolling hills of cobblestone streets dotted with small tasting rooms and darling little shops. The moment we walked up to the view overlooking the town, we were moved to tears. It was as if we couldn't believe something that incredible actually existed.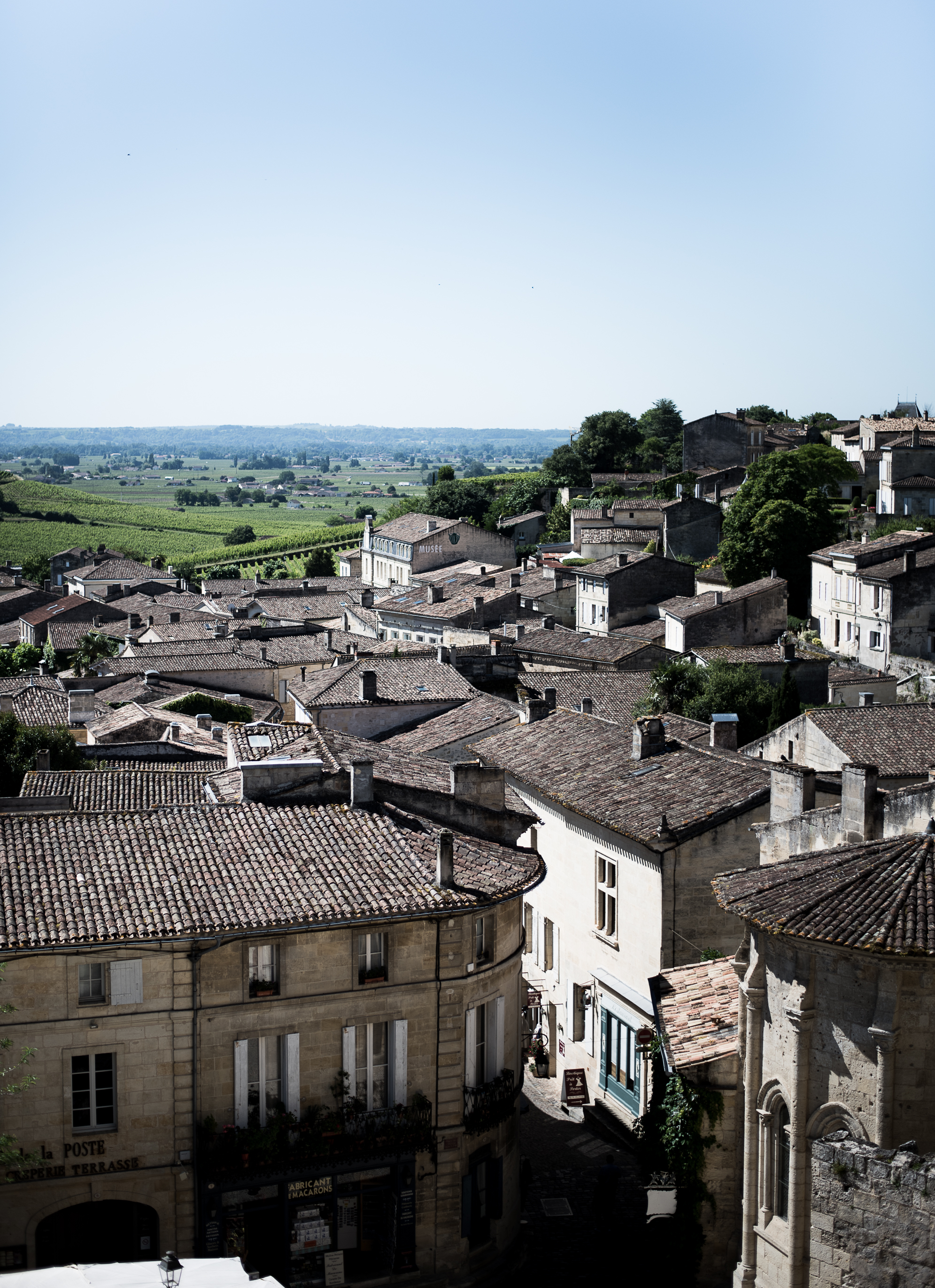 I walked around the town in complete awe. Really, it was the most beautiful place I had ever been. I suppose I haven't been that many places, but Saint-Émilion was truly breathtaking. We enjoyed a picnic lunch prepared by Jill & Haley, and afterwards, I laid down on the picnic blanket facing the sky. I stopped to breathe and take in the weight of the moment, and just how special it was. I think I will remember that feeling forever.
After our picnic, we headed back to the chateau and spent the afternoon cooking (and photographing) Heather's strawberry-rhubarb & balsamic pepper jam. We practiced photographing lifestyle imagery and I loved her tip on directing the model with a series of actions to capture natural movement. The photos came out much more realistic than singular poses – a tip worth its weight in gold.
The trip ended with a farewell dinner in the chateau's barn. The barn does not have electricity, so we relied on candlelight and laughter. Haley set the table beautifully with tea candles in saved glass yogurt jars and lots of greenery – we even had calligraphed place settings made by Jill. After the fabulous dinner, we convinced the rest of the girls to disco dance in the candlelight, and I don't think I need to say anything more than that.
It was an incredible trip – and I learned so much, but more importantly, I made new friendships with fun, fearless females (FFF) from all over the world. Like Alissa from Amsterdam renovating a historic Dutch home, Hannah from North Carolina studying interior design, Liz – our favorite comedian, Annette the artist, and so so much more. I loved listening to their stories and what inspires them; I am coming home with a full & grateful heart and a recharged creative battery.