This Week on the Ranch | No. 11
This post may contain affiliate links, please read my disclosure policy.
"This Week on the Ranch" is a weekly series sharing snippets and stories from life on the range.
We are starting to wrap up calving season here, and have turned most of our cows out onto our summer rangeland. The summer rangeland is land we lease from the BLM which we are permitted to use throughout the summer for our cattle to graze. Each year, we turn the cattle out around this time, and spend the summer pushing them from field to field back towards the heart of the ranch. By fall, all of the cattle will have grazed the rangeland down and have made their way back to the ranch for the winter. In a way, turning out marks the beginning of a new year.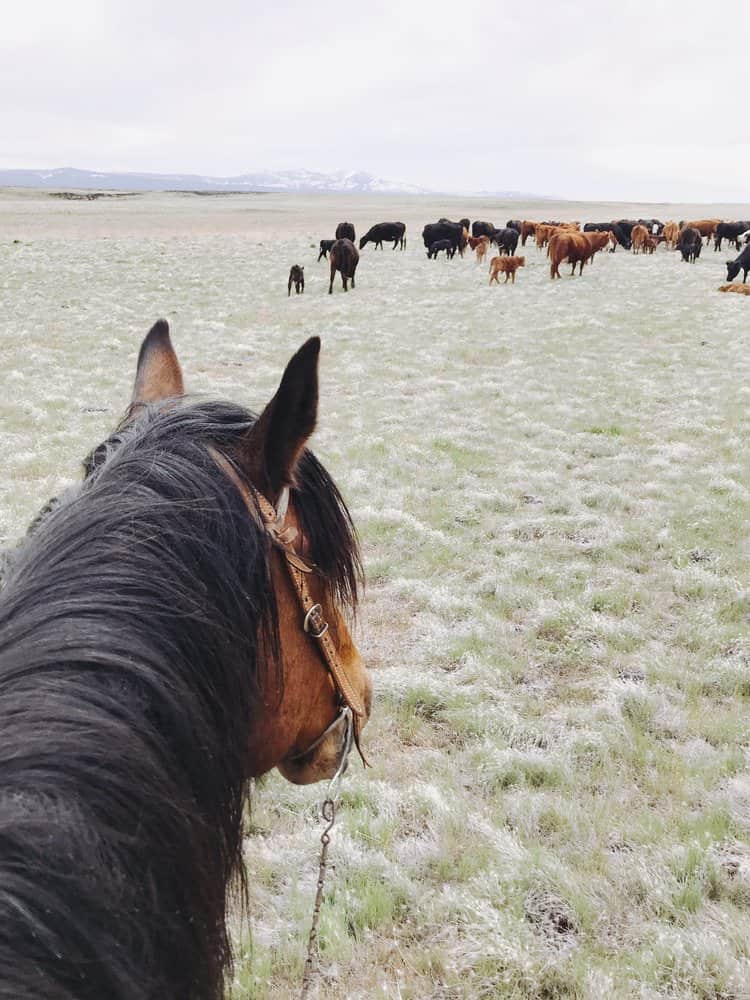 Truffles has been settling in so well. It was a tough couple of days getting adjusted, but now she and her brothers & sister are getting along very well. Of course, there is still the occasional headbutt, but that is to be expected. Truffles has been spending quite a bit of her time inside, because I know that sooner rather than later she will be too big to come inside. I remember how sad I was when Elderberry & Buckwheat no longer wanted to cuddle me, so I am soaking up every moment with little Truffles.
I think the question I get asked the most about her being inside is the potty question! To answer – she is still too little to really go potty all that often, so we are able to avoid accidents (I take her outside every 20 minutes to go if needed). She seems to know that when she hits the grass it means potty time. I am sure as she gets older this will change, but right now, I am thankful that we aren't having accidents in the house, and I am able to keep her inside with me.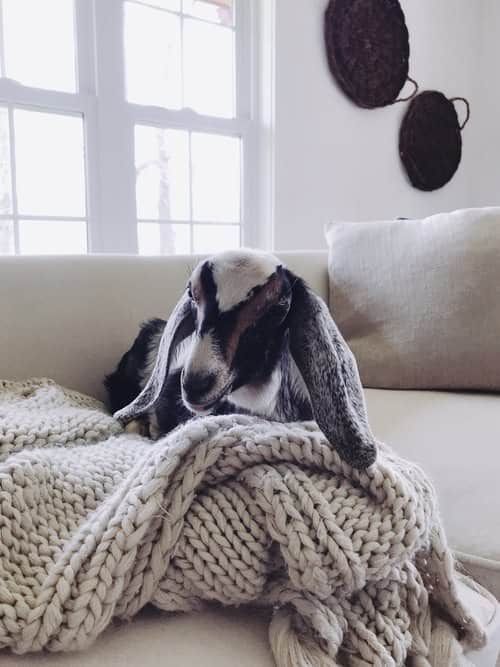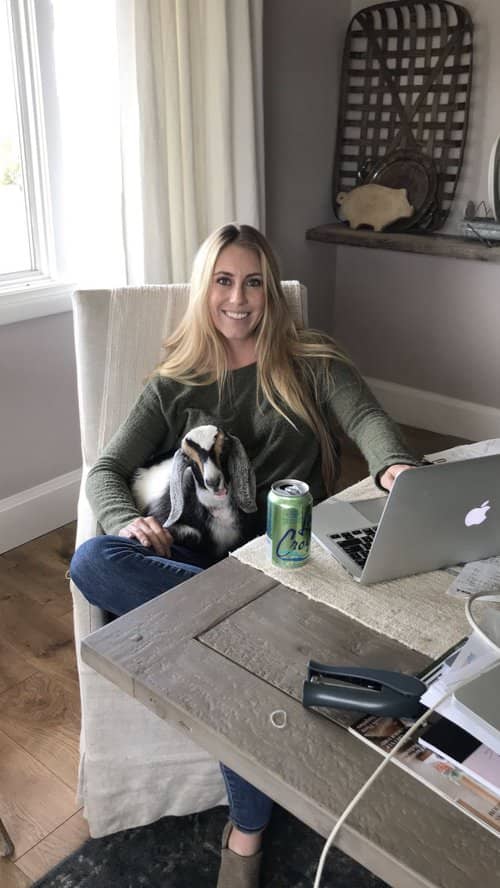 Earlier this week I headed up to help the guys sort some of the older cows on the ranch. These cows were all 10+ years old, and a few of them didn't end up taking this year. We gathered them up and sorted out the dry vs. heavy and put them each into different fields. A dry cow means that she did not get pregnant, and a heavy cows means that she will give birth soon. I think I should write a blog post about all of the terms I've learned since moving up here, it would be very long and very funny.
We also had a small branding this week at what we call "The Cow Palace" , and afterwards, we gathered up the bunch and turned them out for the summer. I really wanted to go, so Greg let me borrow his favorite horse, Willard. He jokes that he loves Willard more than anyone, so this was a big moment. We made our way to 395, and got ready to push the bunch over the highway. This always makes me nervous ever since the truck almost hit us, and since we didn't have highway patrol with us this time, my heart was beating fast. The moment before we open the gate to the highway always feels like a "there's no going back now".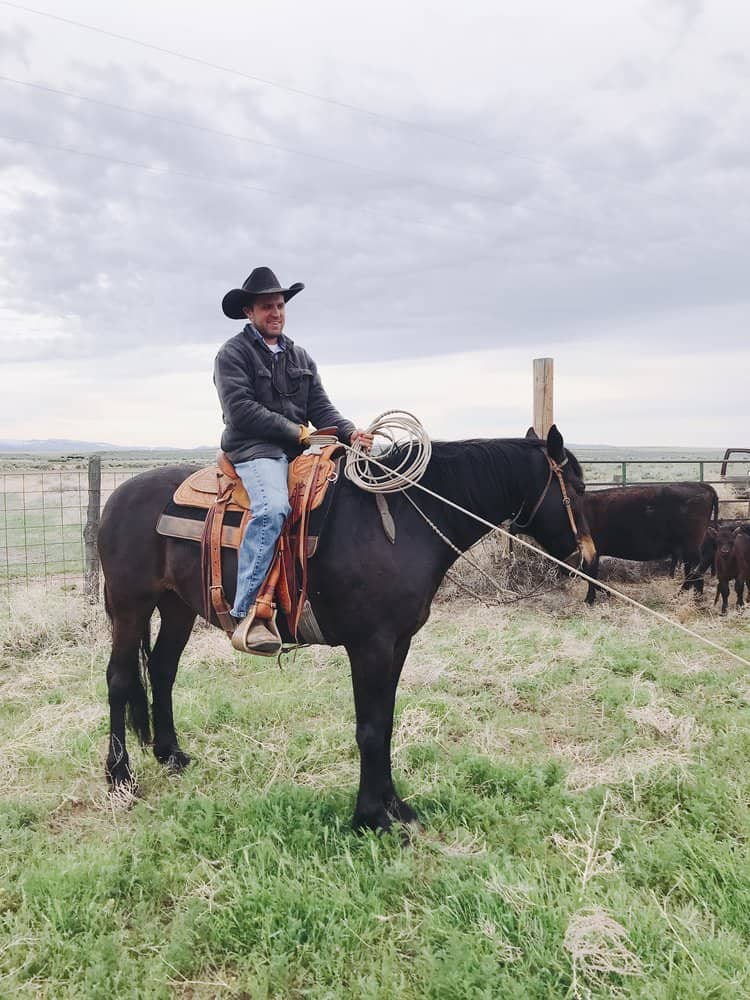 Luckily we had an easy push and everyone made it safely across the highway… That was until two calves decided to turn back, and Greg, Joel, and Emiliano spent about 15 minutes trying to round up the one confused baby that was headed back towards the branding pen. The boys finally got a handle on her, and we were on our way again.
After we got back from turning out the pairs, we had two very angry cows to deal with. One of them was a calf & cow that had gotten Lupin poisoning during pregnancy. This was a first for me, I didn't realize Lupins were poisonous to cattle, but if it happens, the calves most likely do not survive. We decided to keep this pair back at the barn rather than turning them out so that the calf could get some strength. The mom was not happy about all of this, and was on. the. fight. An animal that weighs as much as a cow is always a bit scary "on the fight"…especially when she has horns.
We began to gather up the two cows to push them into the trailer, and the guys had me get off my (Greg's) horse to assume gate duties. I quickly realized this was the more dangerous job when Greg told me, "If she hits that gate HOLD ON!" The guys were worried that the two cows would jump the weak fencing in the branding pen, but my riderless horse Willard decided he would take charge and ended up working the cows into the trailer by himself… It was hilarious and amazing, and if Greg didn't love that horse already…well, he sure loves him now! We joked that we like to train our horses to be able to work cows by themselves, in reality I thought that he and I could have done the job by ourselves and we didn't need the boy's help!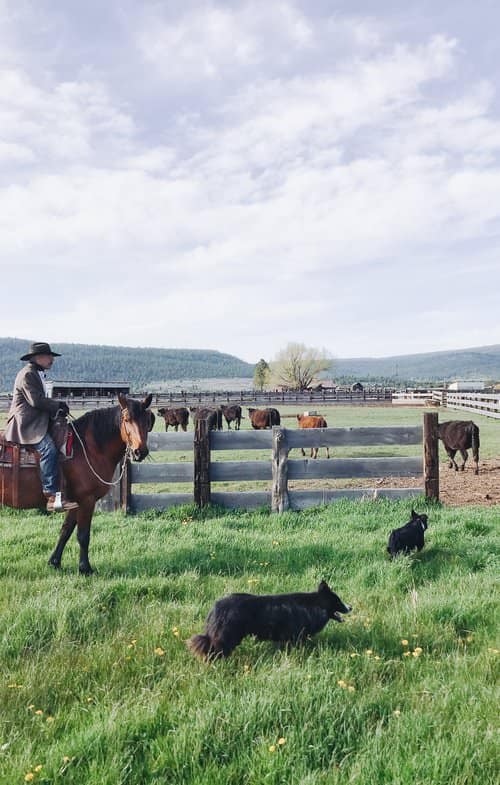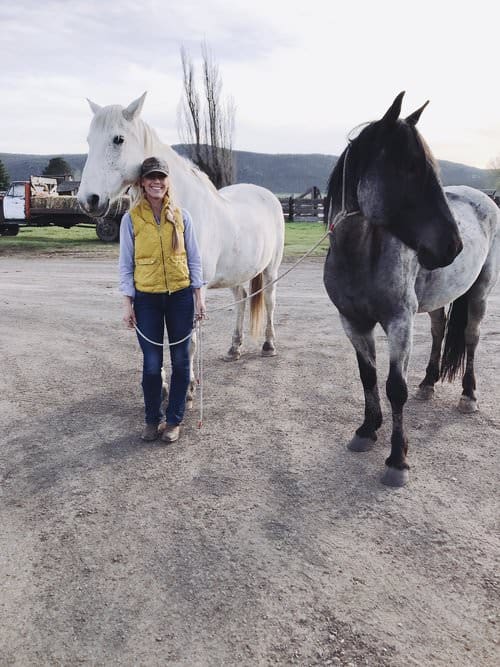 It is my birthday tomorrow, and after our eventful afternoon we headed over to a dear friend's house for cake and champagne, and I felt very very loved. Tomorrow, my two neighbors/girlfriends are hosting a birthday brunch for me, and I am very excited! I wish you a wonderful week, and as always, thanks so much for stopping by!
READ MORE
---