Welcome Butternut & Alfalfa
This post may contain affiliate links, please read my disclosure policy.
After a few weeks of settling in, I am excited to introduce you to our newest family members, Butternut and Alfalfa!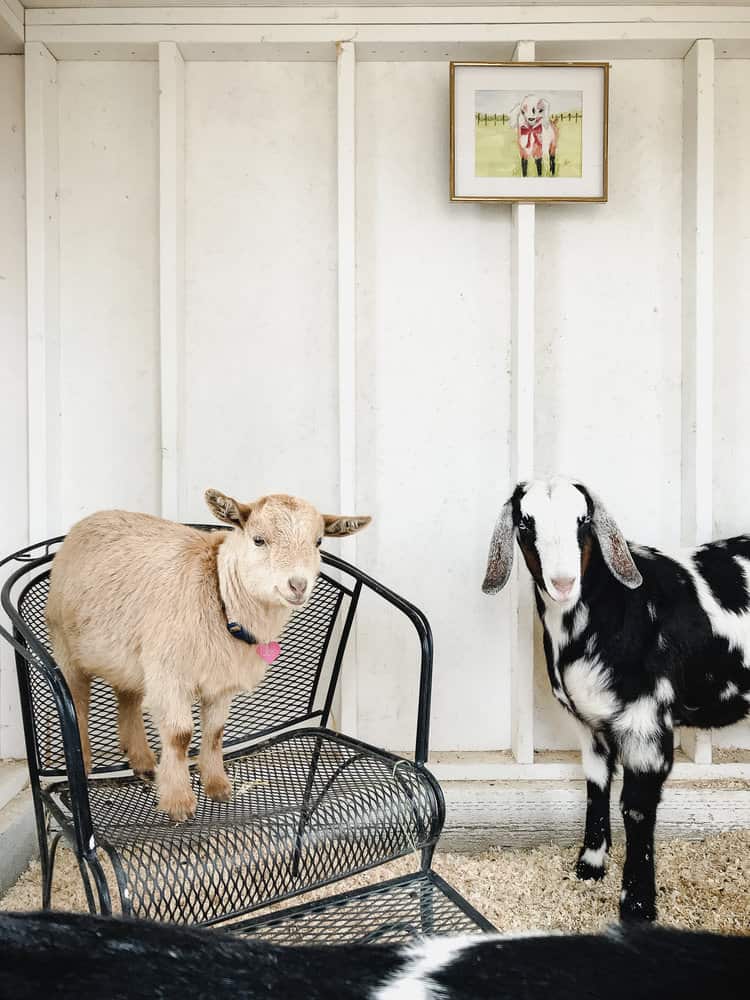 I've been terrible about posting "this week on the ranch", but I wanted to introduce you to the newest members of our family: Butternut & Alfalfa.
After Elderberry passed away, I knew we needed to find a friend for Buckwheat as soon as possible. Stress onsets Copper Toxicity symptoms, and since Buckwheat has experienced copper toxicity in the past, keeping him stress free was my main priority. I couldn't stand the thought of going through what I had just gone through with Elderberry again with Buckwheat.
The first few nights were tough for poor Buckwheat. I spent as much time as possible in the Love Shack with him. We even watched a movie together, and I loved being able to spend some one-on-one time with him. He fell asleep in my lap, snoring, and it was a little slice of heaven.
I searched high and low for another miniature Nubian friend for Buckwheat. I wanted a baby because I wanted to be able to bottle feed and bond with it; however, most babies aren't born until later in the spring, so I had a hard time finding the perfect fit.
I reached out to some mini Nubian farms in Northern California, and although a few of them had fully grown does available, I wasn't overwhelmed with any of them, so I kept searching…
Throughout Elderberry's sickness, my friend Ally helped keep me stable. When your pet is sick, you get a bit frantic wanting to do all that you can. It's really hard to be idle, and Ally listened to me go on and on when I am sure she had many other things to be doing. When Elderberry didn't make it, she even offered to sell me one of her sweet boys, but we both decided he probably wasn't the best fit for our family. Ally sent me a photo of a Facebook listing for a few pygmy goats. I hadn't considered getting a pygmy, but in the listing it said: "Baby pygmy doe, lives for snuggles and watching TV."
I was desperate for a little one that was just as friendly as my others, so I kept my fingers crossed that she was still available. It turns out, she was! We had a friend coming up from Quincy, where she was located, and the deal was done. Her name was Lady previously, but we decided to rename her "Butternut". The previous owner was very sad to have to give her up (she was no longer able to keep her), but I was happy to be able to give her a new home.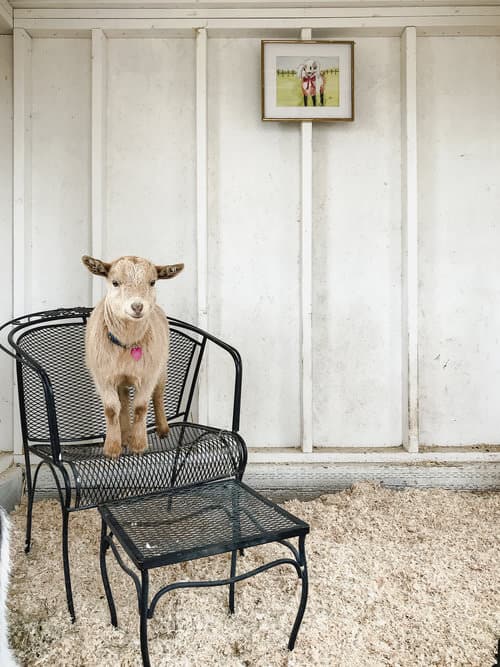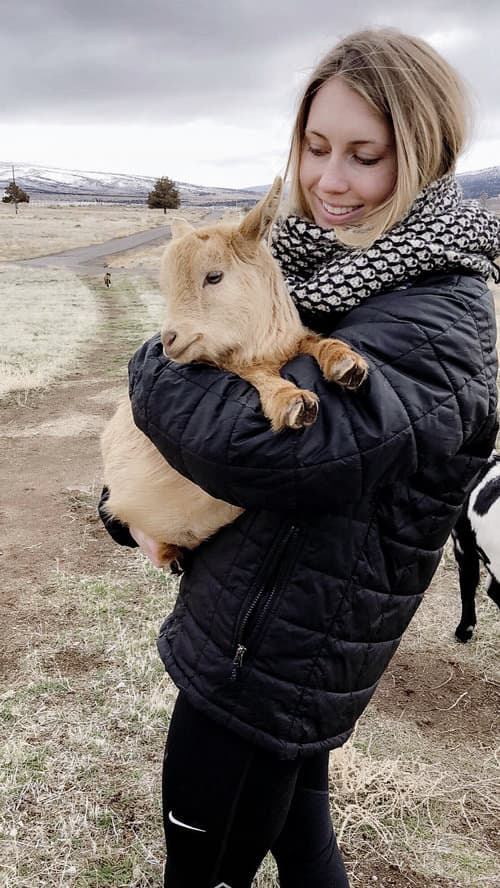 When she got here, I fell in love right away, but Buckwheat wasn't so sure.
Elderberry had always been the alpha goat while Buckwheat played sidekick. Where Elderberry went, Buckwheat followed, but when Elderberry left, Buckwheat became the alpha, and he really loved to exercise his new found power on Butternut.
Little Butternut loves Buckwheat with her whole heart, and loves to follow him around, but Buckwheat doesn't quite understand why his new little sister won't leave him alone.
During my search for the perfect baby, I had responded to a craigslist ad for an eight month old mini Nubian about 7 hours north of us. He looked like Elderberry, had blue eyes, and I desperately wanted him to become part of our family. I didn't get a response until a few days later, but he had already been promised to another family.
A few days later, I received an email saying that we could purchase him if we were still interested! Oh I was! I had planned to drive up to get him, but Greg was able to take the day off and drove up for me. He got home late at night, and I was hesitant to introduce the new little man to Buckwheat in the dark. He was in a large dog crate, and at first, he didn't want to get out of it. He hadn't ever been away from his mom, and I think the crate was where he felt safe. I gave him some hay and water, and lots of scratches, but he was clearly very scared. I wanted him to settle in on his own, but it started to rain, and I also didn't want him to get sick. I decided I would introduce him to the other goats so that he didn't feel as scared, and luckily it went really well.
Buckwheat instantly liked him. They spent about five minutes sniffing and head butting, and Alfalfa quickly backed down and let Buckwheat keep his spot on the totem pole. Alfalfa keeps Buckwheat's attention off of Butternut, and now we seem to have the perfect balance in the herd.
It's funny because Alfalfa is quite a bit bigger than Buckwheat. The craigslist ad showed a picture of Alfalfa as a baby, so I wasn't expecting him to be so big. When he arrived I thought, oh my gosh what did I get myself into?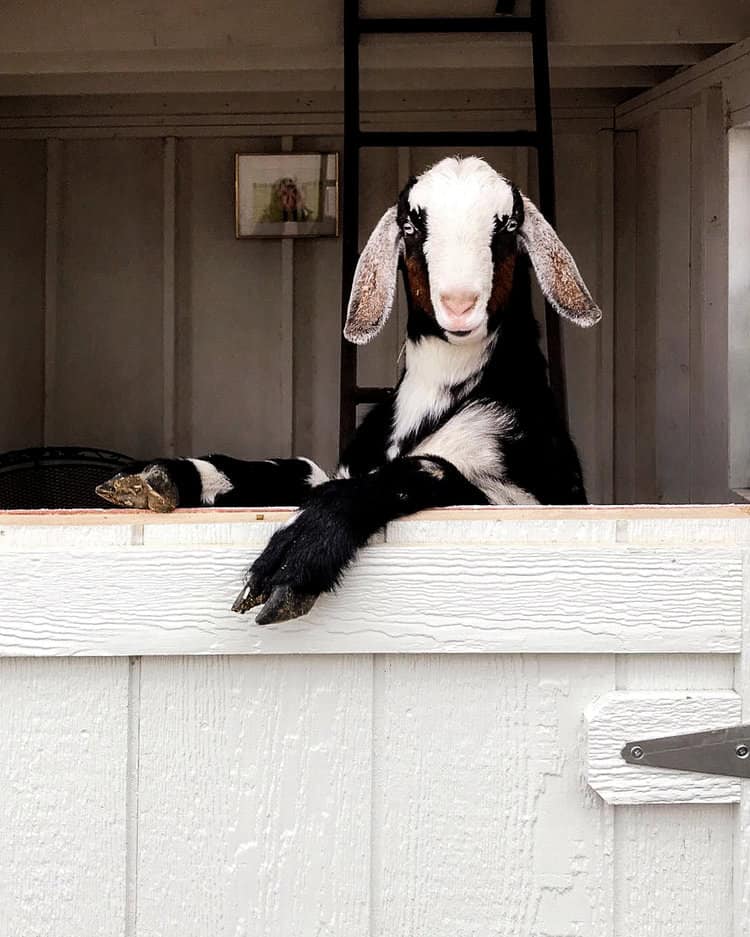 Since he's gotten here I've learned that Alfalfa is a gentle giant. He is the biggest of the family, but the most reserved. When he speaks, it sounds like a little bird chirping, it's very cute and very quiet. He seems to have eyebrows, so when he looks at you, he shows expressions the way a human would. He doesn't like to be touched very much, and is terrified of Cody (our dog), but we are working on that. He's starting to let me touch him and loves to be scratched and eat grain.
We've gone on a few walks now, and things have gone great. Cody leads the way, Buckwheat follows, and Alfalfa and Butternut aren't quite sure how to handle such freedom, but they stay close to Buckwheat and are learning how we roll.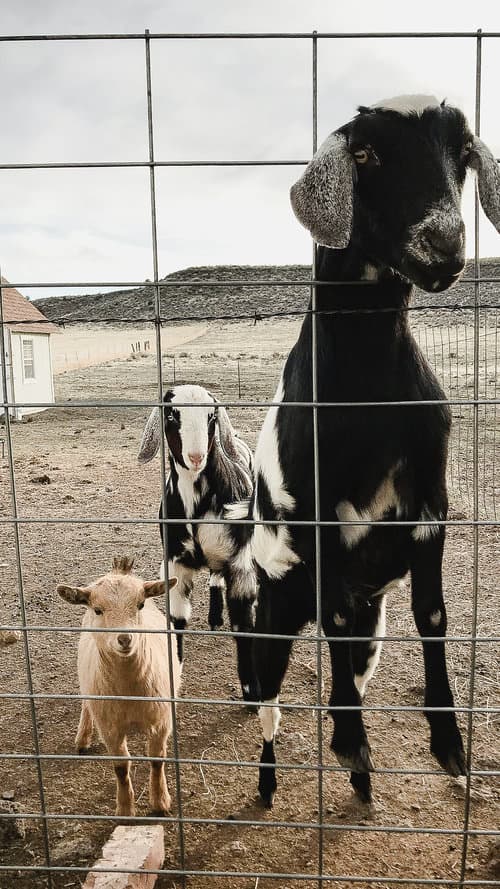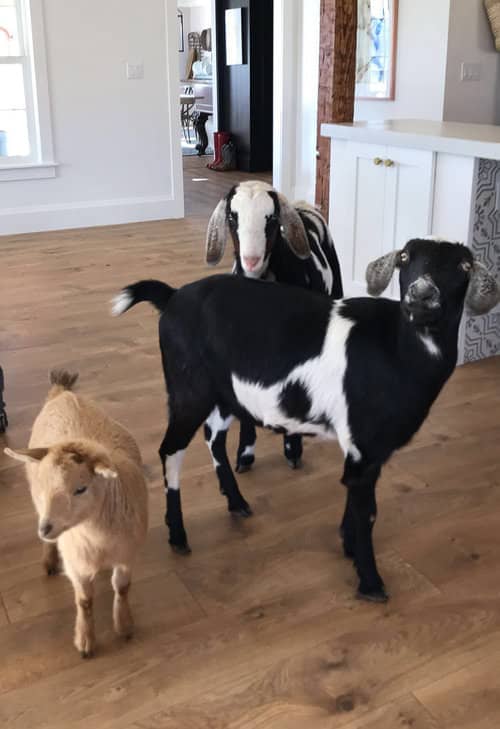 Each night, I head out to tuck everyone in, Butternut spends a bit of time in my lap, and Buckwheat and Alfalfa sleep right on top of each other as if they are old friends. Buckwheat is thriving as the alpha, and Butternut and Alfalfa are settling into their new home. I am also very excited that we will be welcoming a new little girl later this spring, I am not sure when she will be born, but we are expecting sometime in March.
Although I still miss Elderberry so much, I am happy that Buckwheat has new friends to play with, and that I am able to love Butternut and Alfalfa.
Thank you to everyone who continues to reach out and send me their condolences and love, it has meant so much to us. We are so grateful for you!