Where it all started
This post may contain affiliate links, please read my disclosure policy.
It was my 18th birthday, Greg and I had just moved in together, I was on the outskirts with my family, but my aunt stopped at nothing to make the day special. She's like a mother to both my sister and I, she's filled the cracks for us, making sure we've never fallen apart.
I remember how excited she was for me to open my gift, as if she was the one who was getting a present (thinking back now – the gift has deepened our bond in so many ways, maybe it was her who was receiving the gift). As I opened it up, I was slightly disappointed. A sewing machine? From the thrift store? A 1980 "FashionStitch" singer. Not exactly the Nordstrom shoes I had in mind.
For months it sat untouched, I liked to craft here and there, but sewing just seemed so mundane. Outdated. Later that year, my aunt had the brilliant idea to make every single female family member an apron, made from fabric that had been passed down by my great aunt. She came over to our place and we sewed. And sewed. And sewed. I think it was at that point that I fell in love with it. As my love for sewing grew, so did my love of making.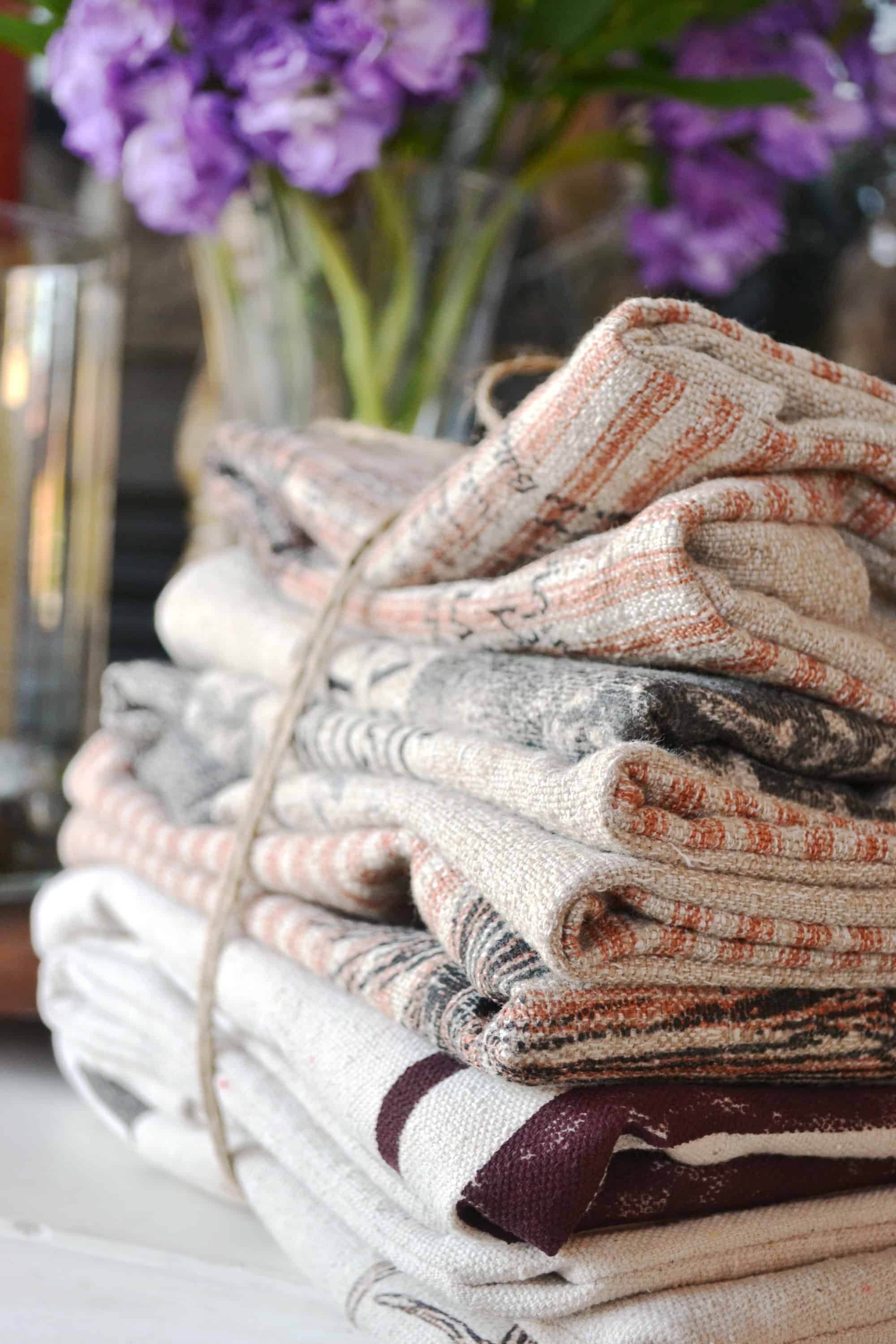 The first pillows I ever sold in a store front.
Taking bits of fabric, cutting them up into pieces, and creating something entirely new and useful. It became a true love. I started to think, I could make money off of this right? It was at the time when graphic pillows were just starting to be cool, and I figured pillows were easy and cheap to make, why not turn it into a business? So I opened up "Pearls and Petit Fours". I transferred images onto fabric, turned them into pillows, and sold them on Etsy. Eventually, it became too much for me to keep up with, during Christmas, I was having to produce at least 8 pillows a day. I decided it was time to switch over to something that was less labor intensive. So I started reselling ribbon. Why ribbon? Honestly, it was the only thing I could get at wholesale without having to have a resale license (don't worry, I have one now!).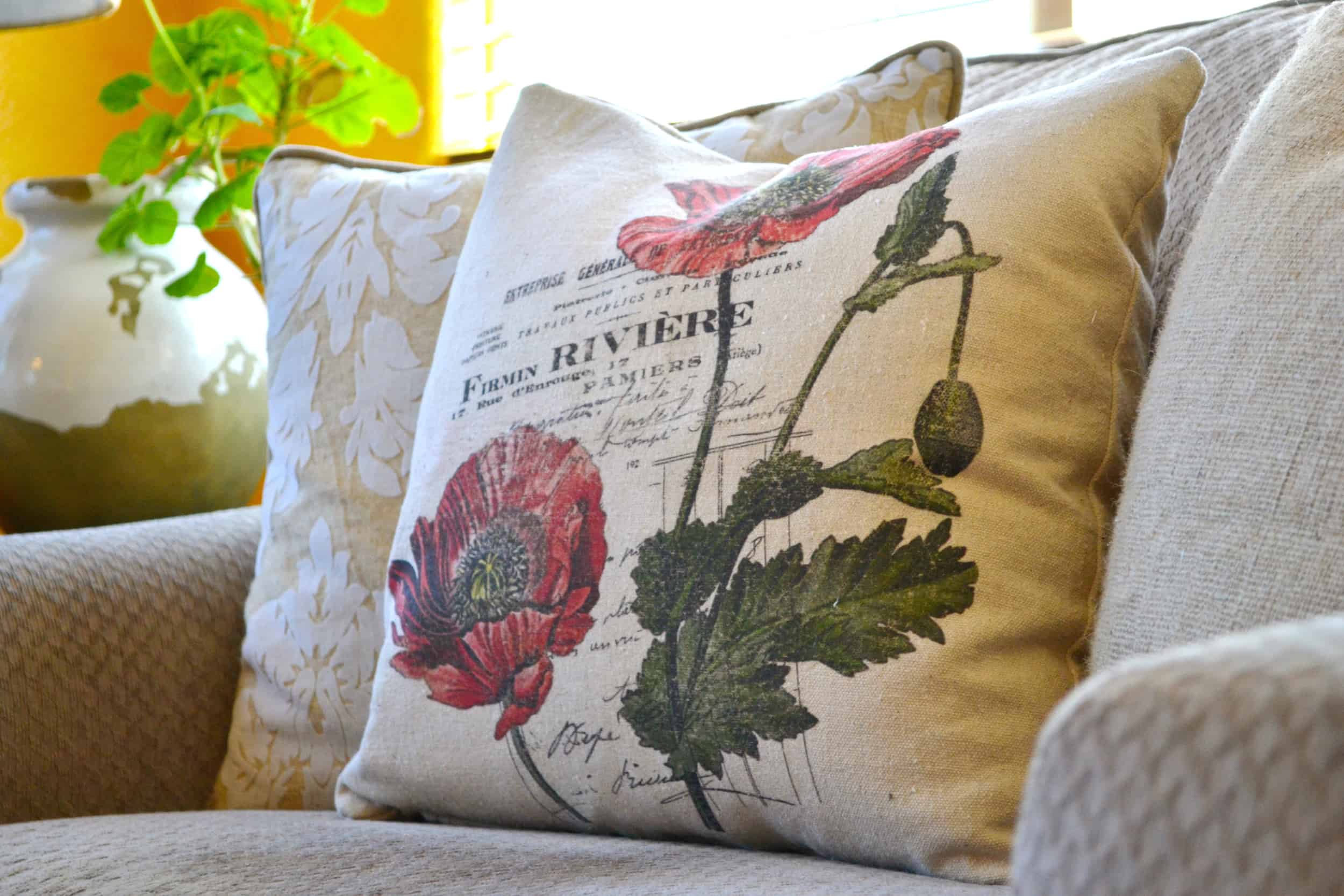 One of my pillows – oh, how styles have changed!
I was sad to see the pillows go, but knew it was time to move on. I shut down Pearls and Petit Fours the month we moved up to the ranch, and switched my shop name to Boxwood Avenue. I chose the name Boxwood Avenue because I love how classic a boxwood is, and I imagined a quaint farmhouse, lined with boxwood, sitting at the end of an avenue. I wanted a name that reflected a classic home, because it was my goal to open up a home decor shop.
Well, if you've ever thought about opening up a home goods shop, it costs a lot of money, money I didn't want to spend just starting out, so I stuck to selling ribbon, and decided to start writing about the projects I was already making behind the scenes.
With that, Boxwood Avenue turned into a blog. Funny, I actually don't like the term blog, because to me, it is a portfolio. I can look back and see how much I've grown, regarding writing, photography, or simply as a person. I love seeing the changes in my personal and creative style, and I love going back and reading about what was going on in my life. It's like a high tech diary for the creative.
I have some amazing friends up here on the ranch, but blogging allows me to purge my thoughts and ideas, and connect with other like-minded women. I can't tell you how many incredible friendships I've made through blogging. I hope that you enjoy my portfolio of ideas, and while you're here, take some time to read about the ranch. It's a wonderful journey to have been on, and to think – it all started out with a 1980 FashionStitch.