Fall Decorating Ideas: Easy Fall Centerpieces & Table Decorations
This post may contain affiliate links, please read my disclosure policy.
This year we've teamed up with some wonderful friends to share all of our fall decorating ideas. We started with our fall kitchens, and now we're sharing ideas for easy fall centerpieces and table decorations to inspire you as you welcome family and friends into your home this season!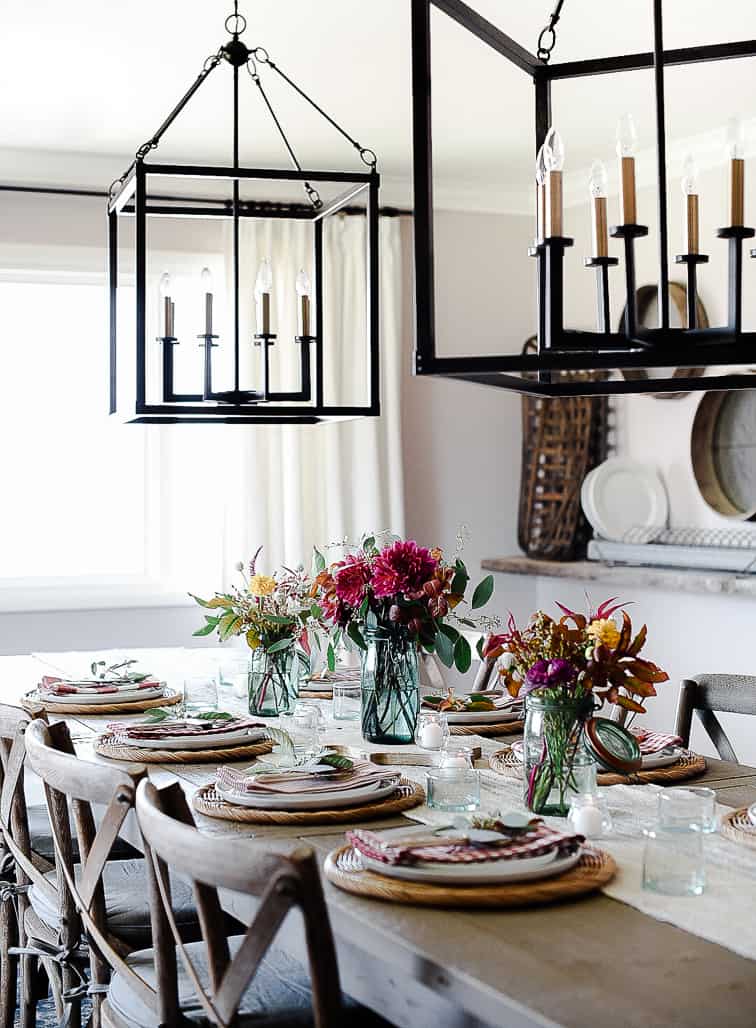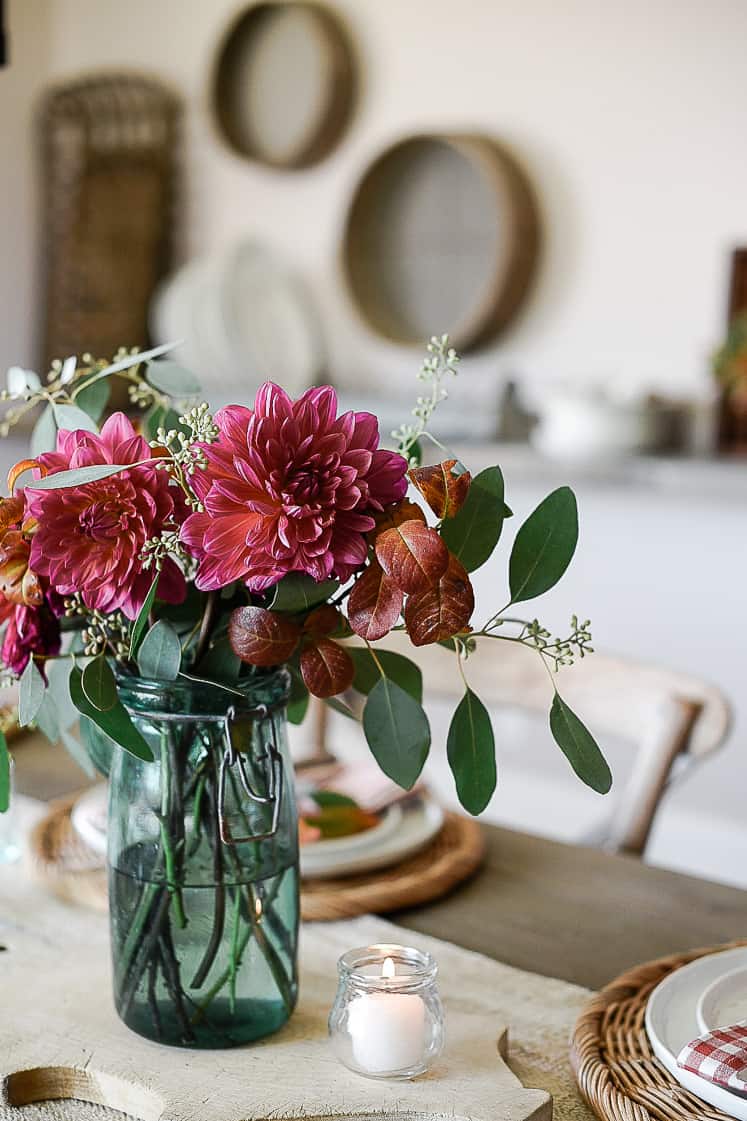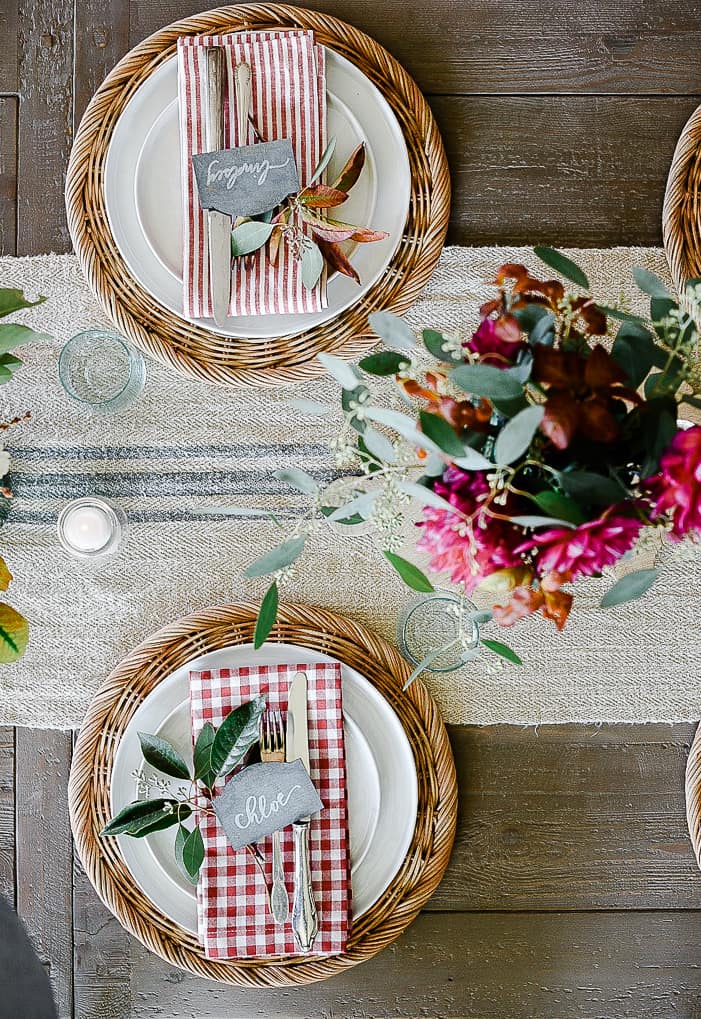 I am very inspired by pops of color and texture this year, I find myself adding splashes of red or pink and natural texture from woven textiles or branches throughout our house.
When I think fall table decorations or centerpieces, my mind instantly gravitates to pumpkins and gourds. I think of beautiful eucalyptus running down the center of a table dotted with apples or blankets draped against the back of chairs. So dreamy and beautiful right??
Instead of going with what I was initially inspired by, I decided to try using some color and simplifying everything so that the table felt approachable and fun! I want to inspire anyone reading this to let go of any pressure you might feel to create a beautiful tablescape, and to simply have fun with it, use what you have, and let nature take the lead!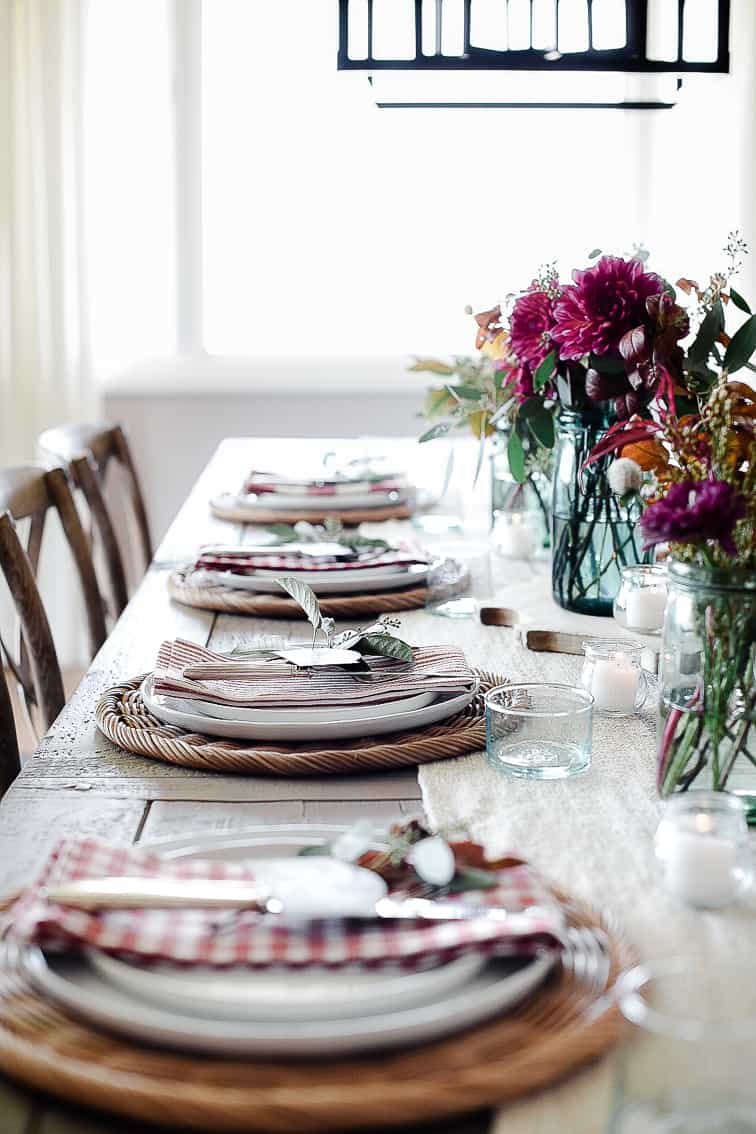 We used different patterns of the same color to break up the cookie cutter feeling of a tablescape while still making everything feel uniform. I think we tend to do this with other textiles (think bedding & pillows), so why not on the table too? I really loved the way this turned out and think I will try this approach again and again!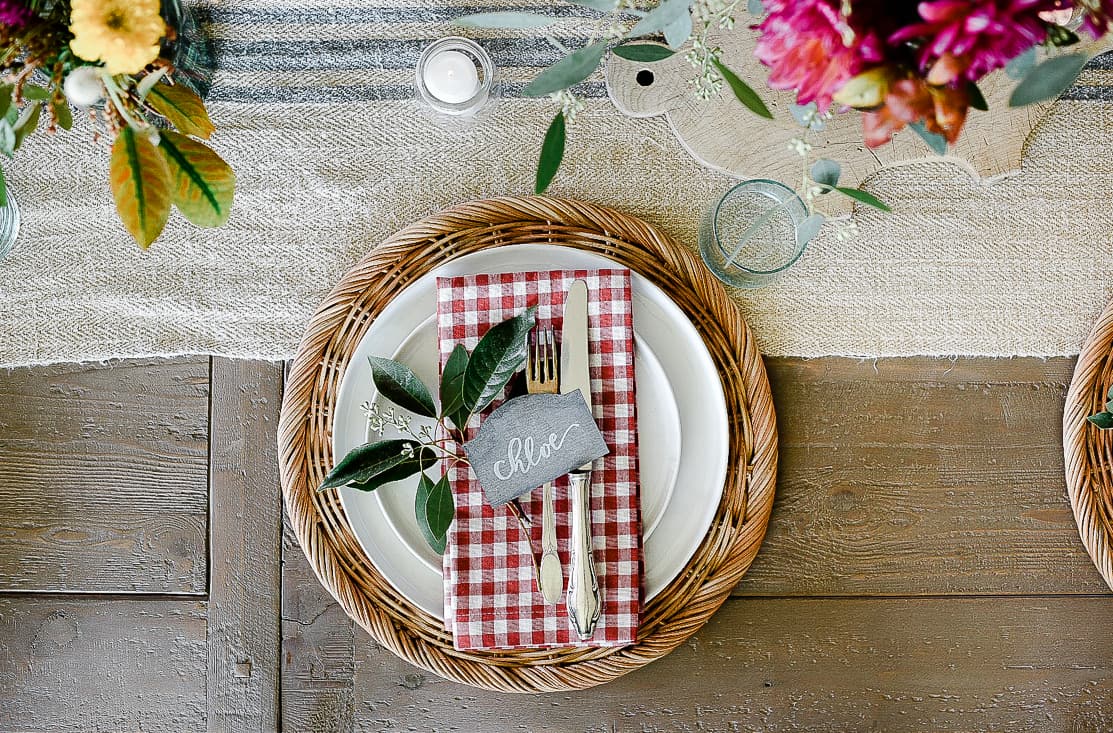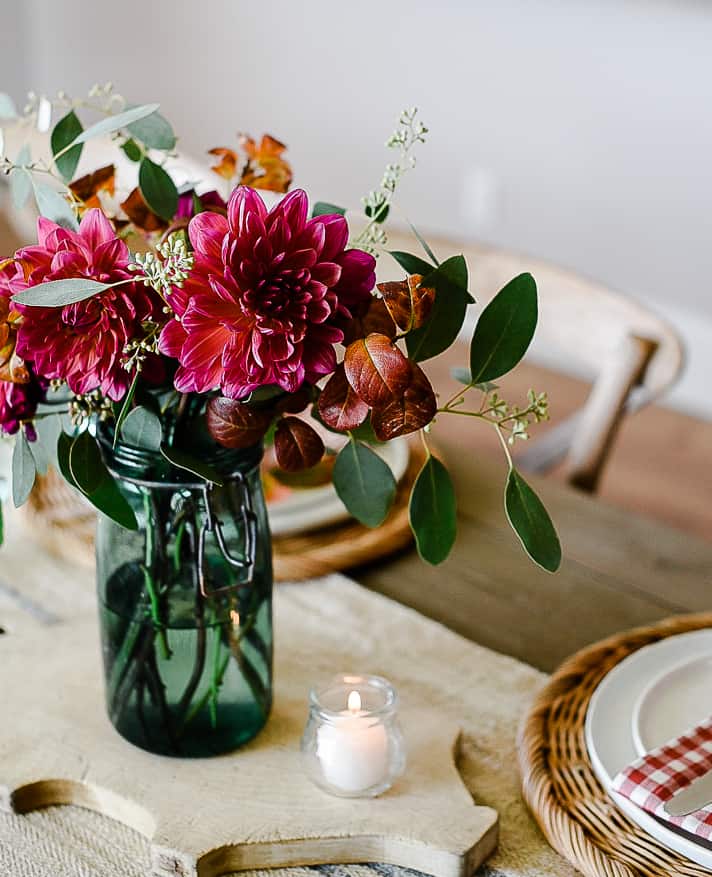 Our simple centerpieces were created with dahlias, eucalyptus, wild flowers, and foraged branches from around the yard. I love Dahlias, especially this time of year when other flowers have already peaked. Dahlias are the shining stars of fall – pair them with some greenery, and you're set!
My dining table is very long, so we used three vintage french mason jars as our centerpieces. I always think it's nice to work in odds when putting something on display – this is even true when it comes to taper candles or votives (we used our vintage cupping jars here).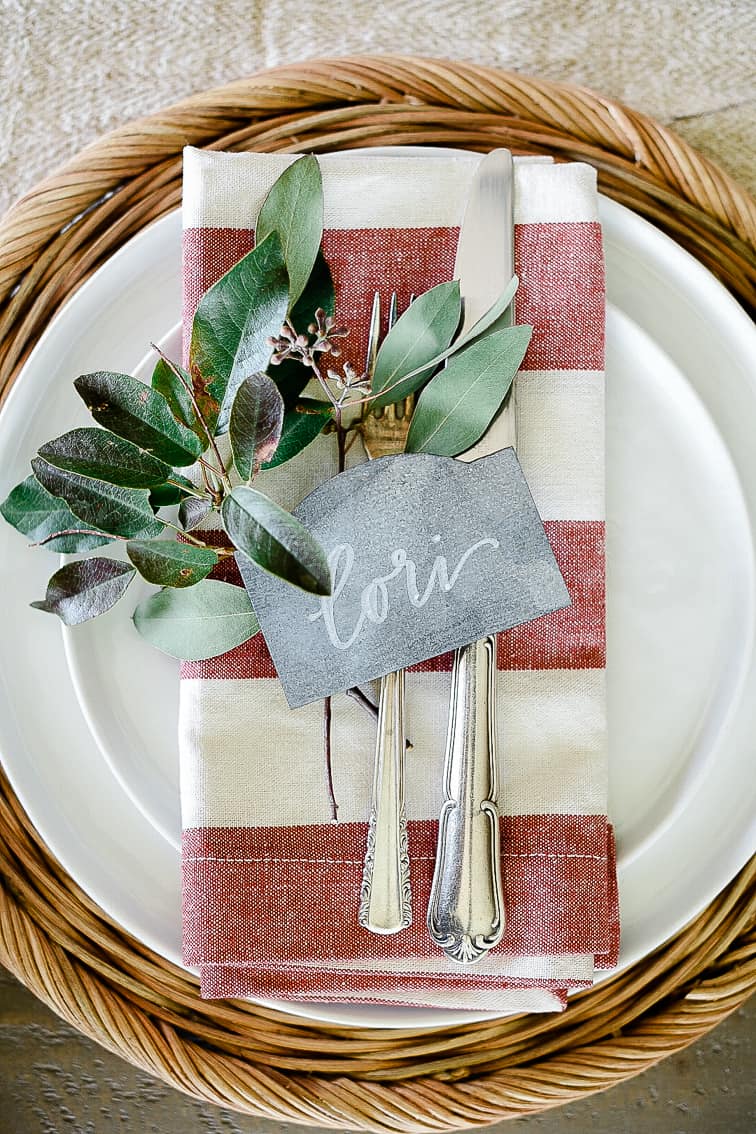 ---
I love these chalkboard galvanized place settings which we carry in our shop – they are one of my go-to's when having friends over. Not because I want anyone to feel like they've been assigned a specific seat, just to simply make them feel special and thought of!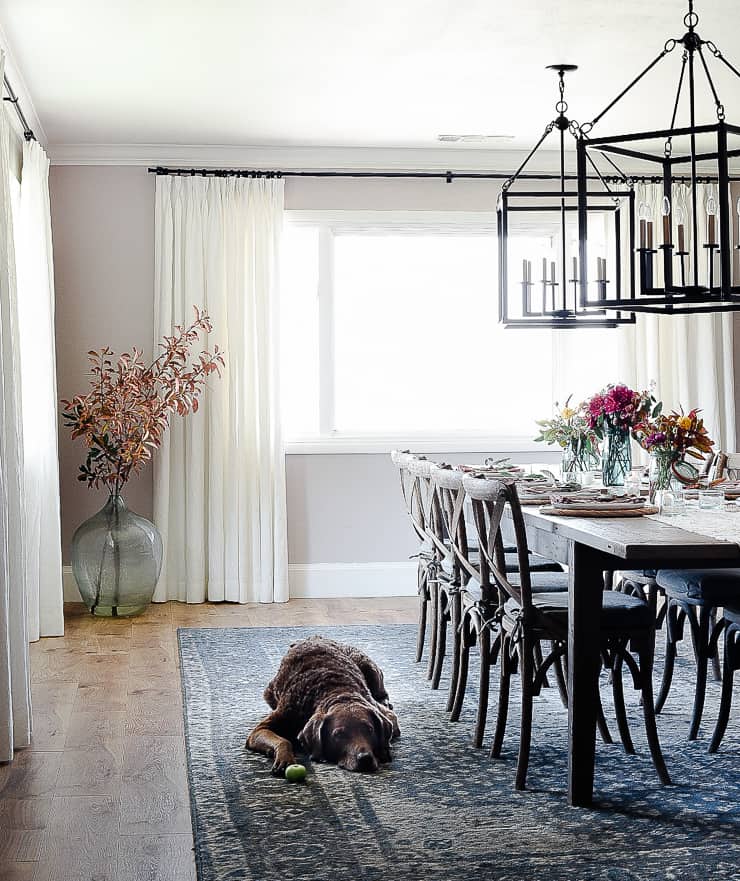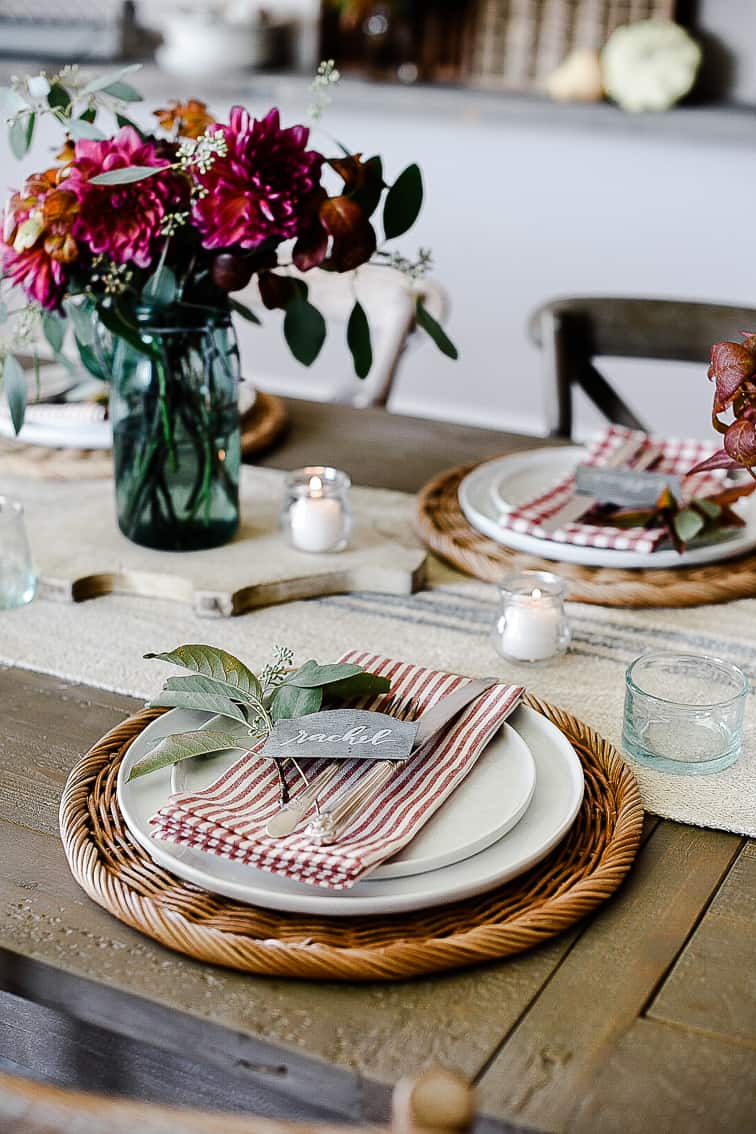 Now that I've shared some of my ideas with you, I'd like to share some of my friend's ideas! Below are links to 19 other inspiring fall centerpieces & table decorations! I know you will love visiting each of their blogs! I hope you leave here feeling inspired to try something new this fall on your table as you welcome friends and family into your home!
---
more fall decorating ideas…
fall centerpieces & table decorations
---



Zevy Joy | Nina Hendrick | Liz Marie Blog | My Sweet Savannah
Julie Blanner | French Country Cottage | Boxwood Avenue | Rooms for Rent