Baked pumpkin donuts are a fall tradition! Filled with pumpkin puree, pumpkin pie spice, and drizzled with a sweet glaze!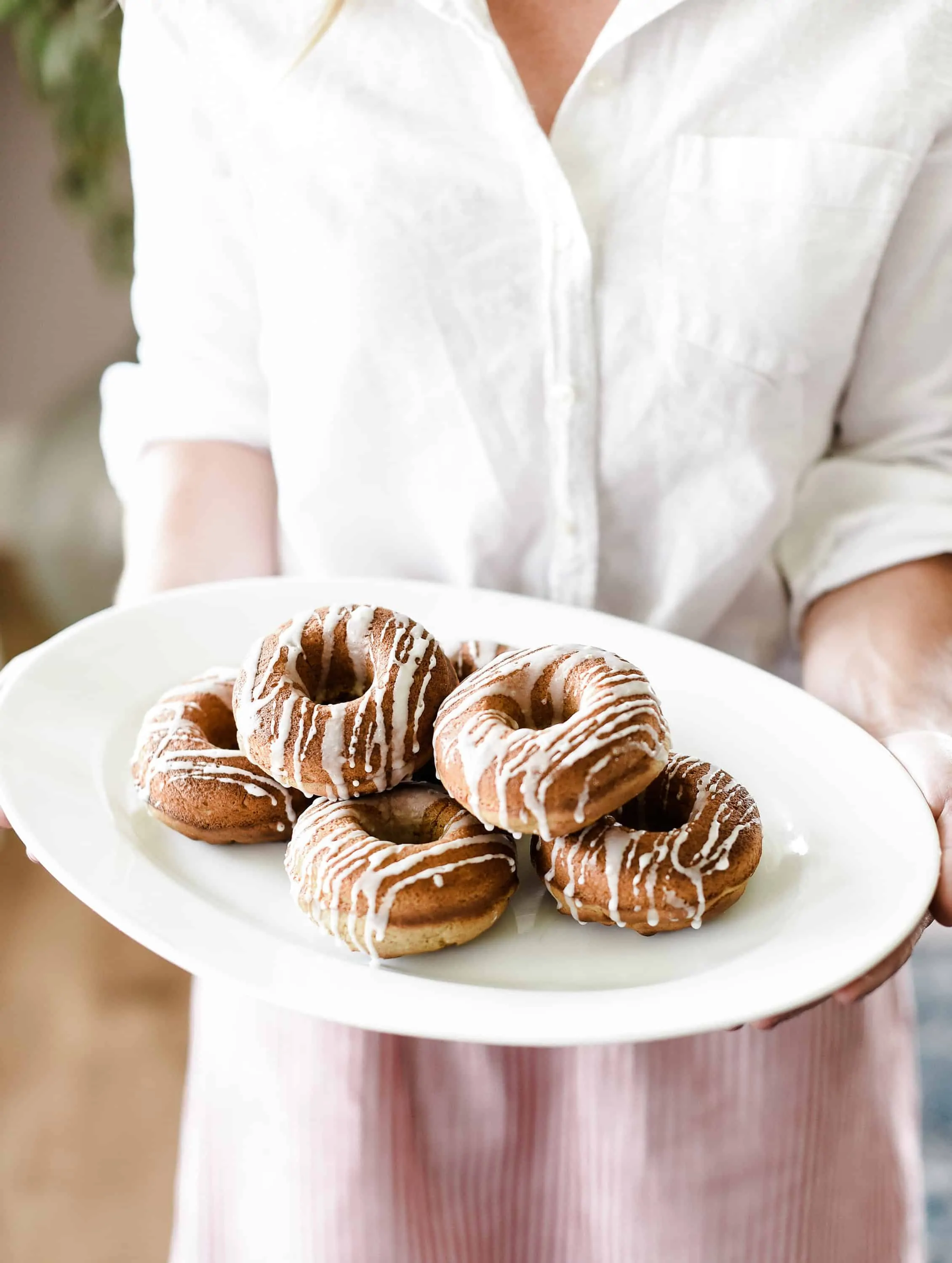 Baked Pumpkin Donuts
I recently purchased a donut pan and have been dying to try it out ever since!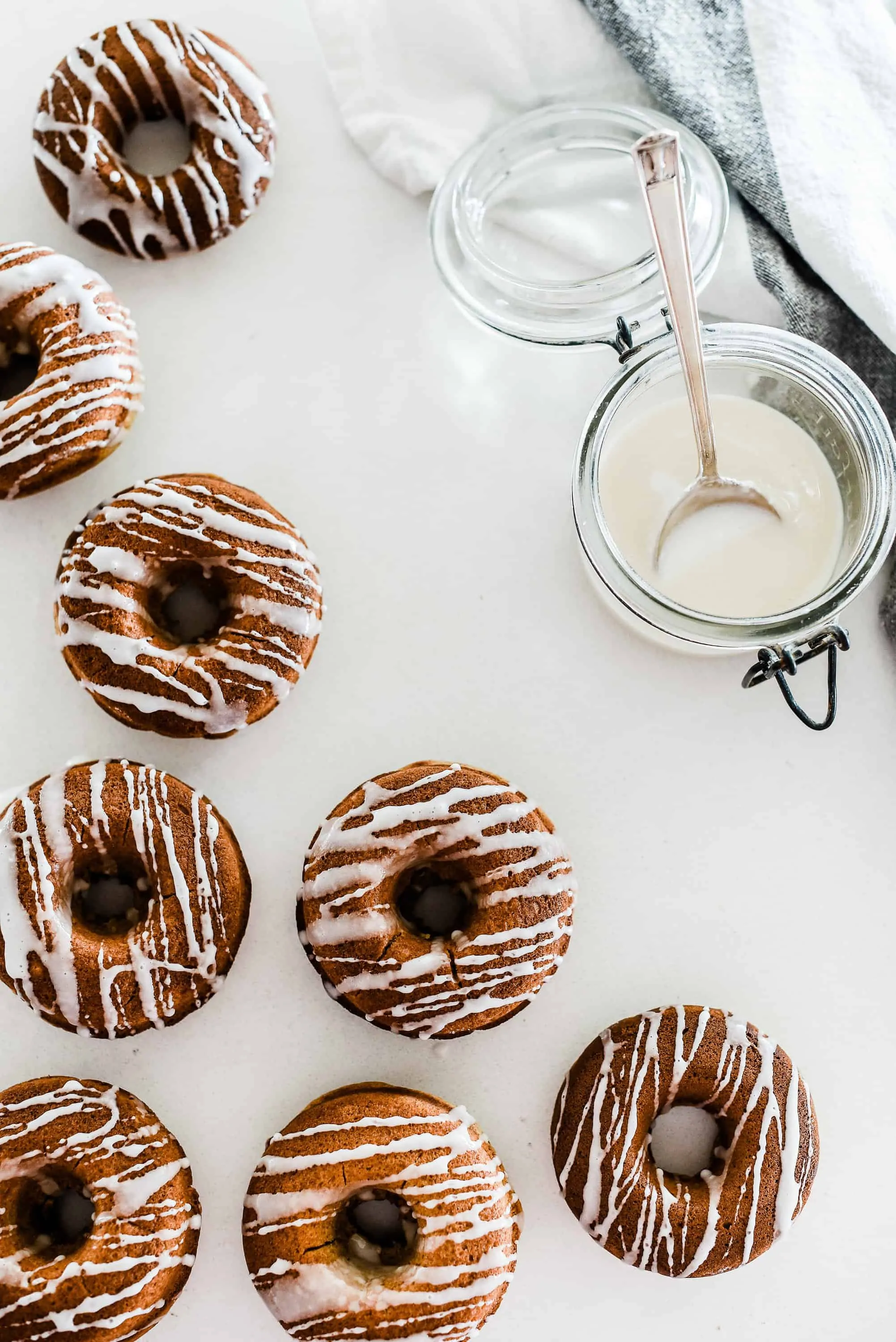 Sometimes when you start dreaming of a recipe, you fail a few times before nailing it. A little too much sugar or a little too much milk…This happened recently with some popsicles, which now that I think about it, we totally gave up on.
These pumpkin donuts though? We nailed it on the first try. These are *so* good. Not too sweet, and just the right amount of dense to satisfy, yet still fluffy and delicious!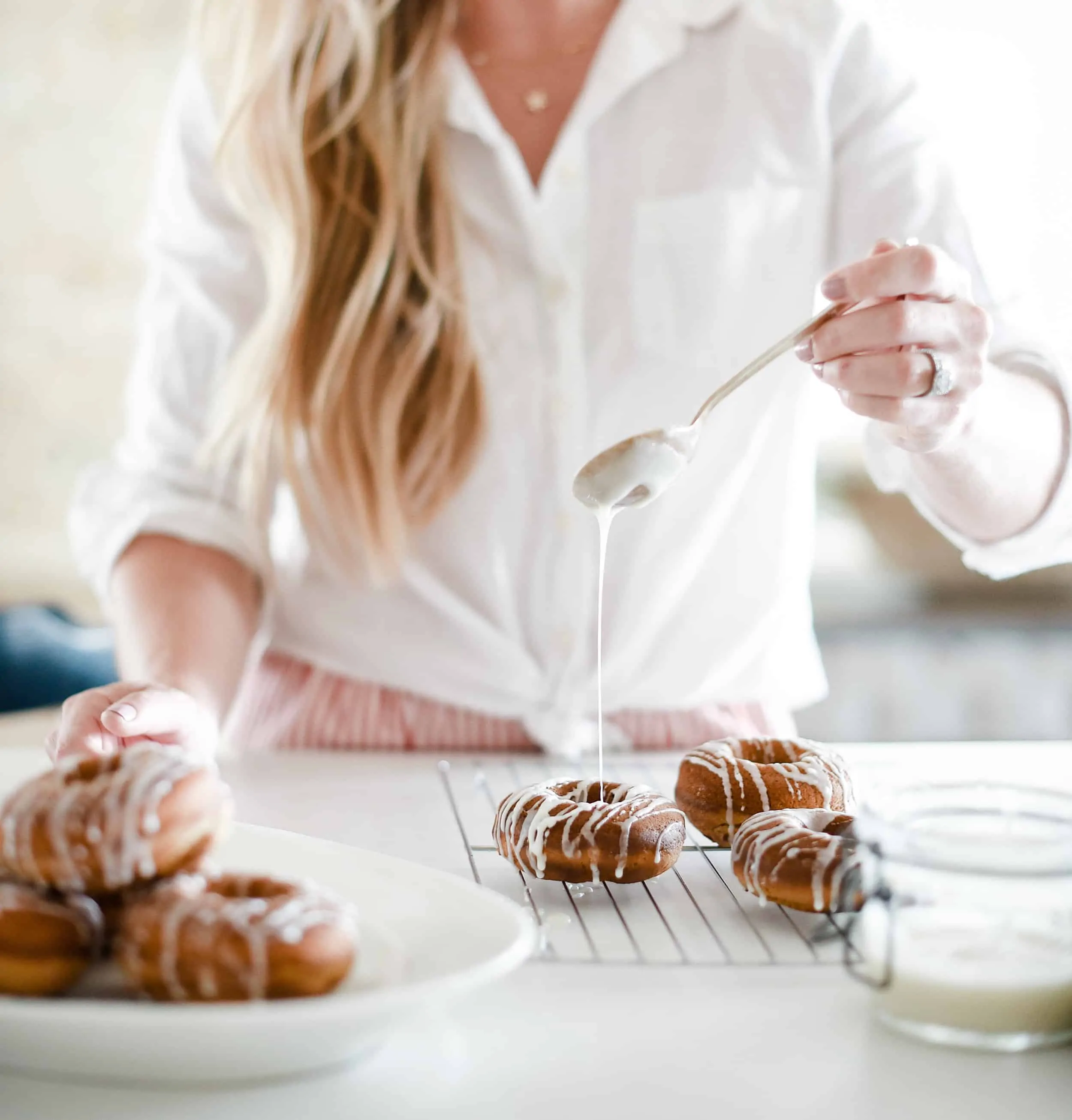 While I researched this recipe and referenced other baked donut recipes, I couldn't believe that the temperatures called for 400-425 F. Yet, I decided to give it a go. Turns out, 400 F is the perfect temperature for baked donuts – just for future reference. Now I'd like to make baked donuts for every dessert!
While baked donuts are really just cake in cute packaging, there is just something so fun about the entire process of making them!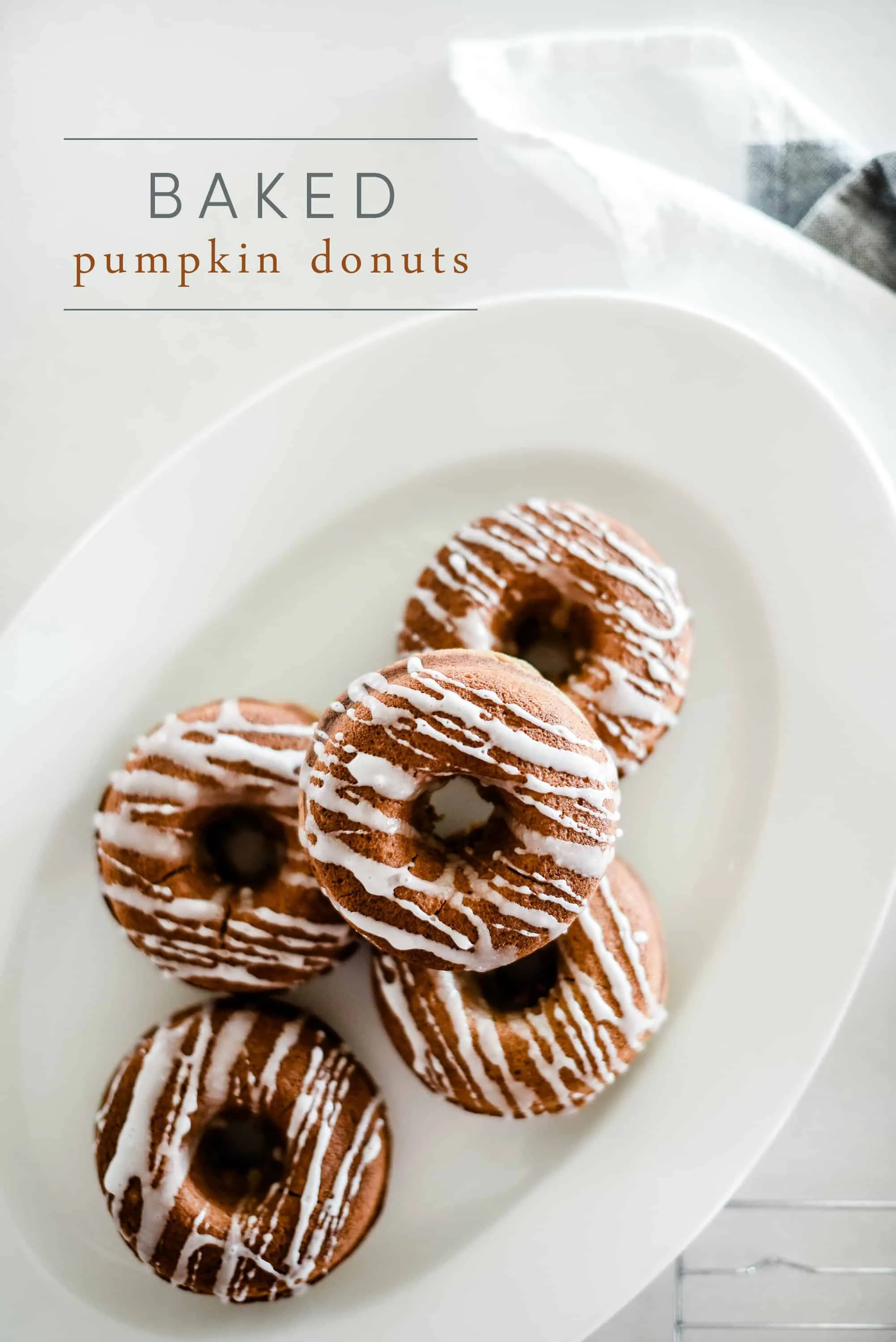 If you like the taste of pumpkin pie spice, you will LOVE these baked pumpkin donuts. If you don't have pumpkin pie spice on hand, simply combine cinnamon, allspice, cloves, and ginger (that's what we did!).
Can I make baked donuts without a donut pan?
If you don't happen to have a donut pan, not to worry – these could easily be made in a mini muffin tin! Also, if you don't want to pull out a piping bag to pipe the batter into the donut pan, you can simply spoon the batter into a large ziplock baggie, then cut the tip off and voila; a makeshift piping bag!
I hope you enjoy these baked pumpkin donuts, and I encourage you to visit my other friends (links below), I know they'd love for you to stop by and say hello! As always, thanks so much for stopping by!
---
on top of these baked donuts!
---
The Recipe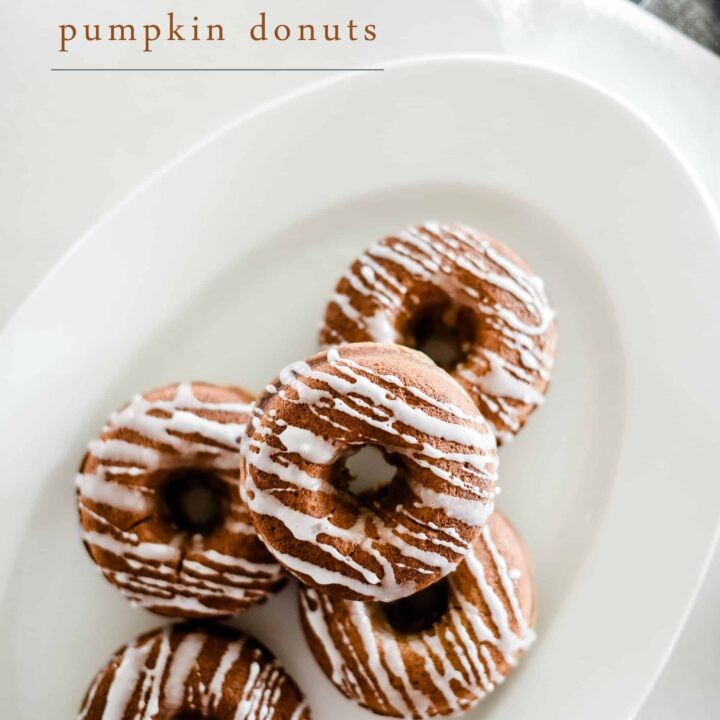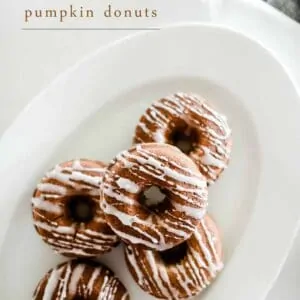 Baked Pumpkin Donuts
Baked pumpkin donuts are a fall favorite! Filled with pumpkin pie spices and drizzled with a sweet glaze!
Ingredients
1/2

cup

1 stick butter, softened

1/2

cup

granulated sugar

1/2

cup

brown sugar

2

eggs

1

tsp.

vanilla

3/4

cup

+ 2 T milk – divided

1/2

cup

pumpkin puree

2

cups

all-purpose flour

pinch

of salt

2

tsp.

baking powder

1

tablespoon

pumpkin pie spice

1

cup

powdered sugar
Instructions
Preheat oven to 400 F

1. In a large bowl, beat butter and sugars together until light and fluffy.

2. Add eggs and vanilla to the butter & sugar and beat until light and fluffy again.

3. Add 3/4 cup milk and the pumpkin puree into the same bowl as the butter & sugars, beat until thoroughly combined.

4. In a separate bowl, stir together flour, salt, baking powder, and pumpkin pie spice.

5. Using an electric mixer, gradually combine the flour mixture into the pumpkin mixture. Beat until just thoroughly combined.

6. Use a piping bag to transfer batter into a donut pan. Bake at 400 F for about 10 minutes, or until golden brown and cooked through.

7. Allow the donuts to cool completely. Drizzle with glaze and enjoy!

For the glaze: Sitr together 1 cup powdered sugar, 1 tsp vanilla extract, and 1 T milk. Add more milk as needed in 1 tsp increments until the consistency reaches that of glue.