Preserve ripe apples to be enjoyed all year long with this delicious homemade apple pie filling recipe!
This post is sponsored by Ball® Fresh Preserving.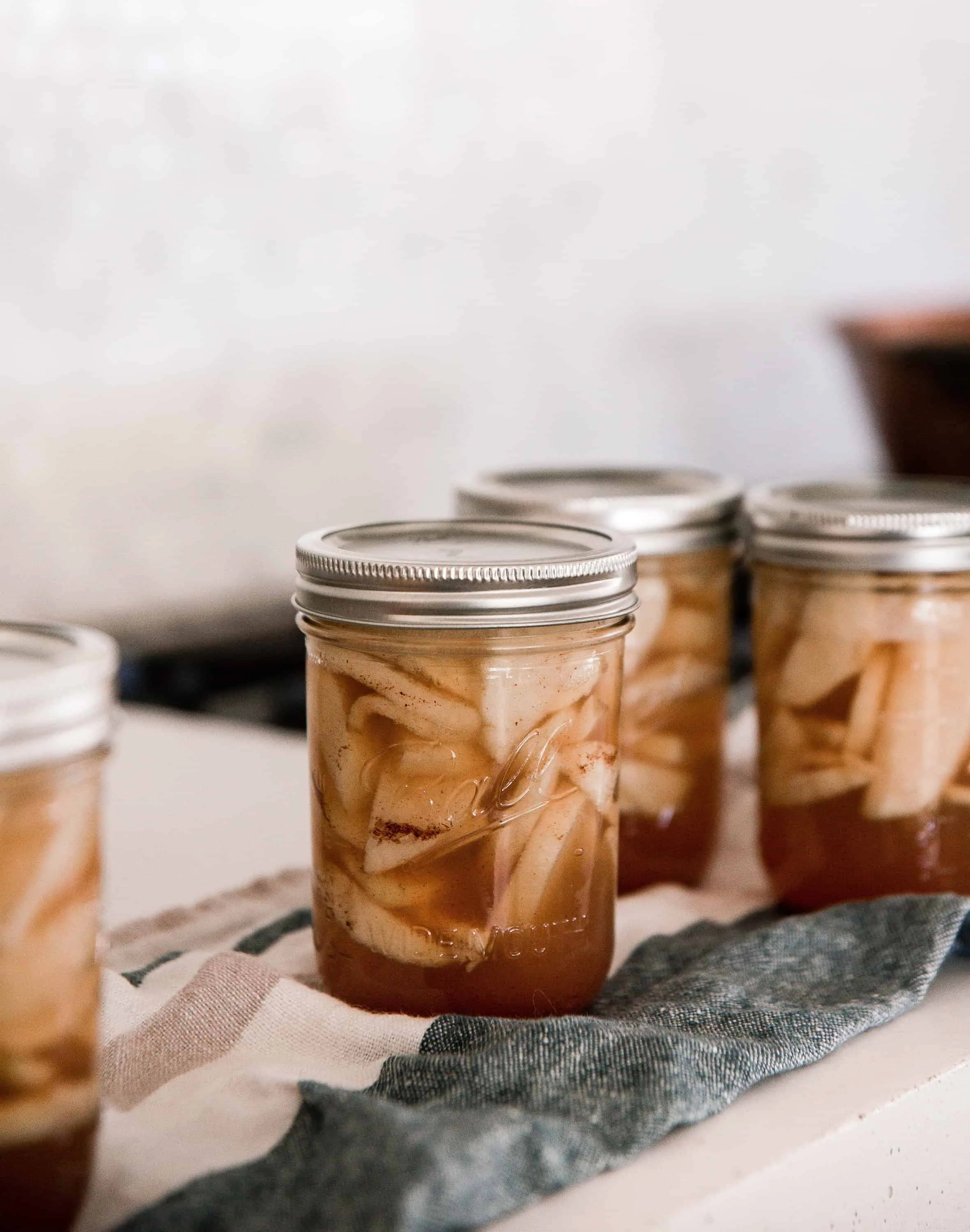 Homemade Apple Pie Filling Preserves
Having apple trees, or even friends with apple trees, is such a treat not only in spring when the trees burst into a beautiful spray of delicate white flowers, but also in the late summer when the trees gift us with sweet ripe fruit!
Like other fruit trees, apple trees produce an abundance of fruit…all at once! If you have apples coming out of your ears and need a way to preserve them to be enjoyed not just in the fall, you're in luck!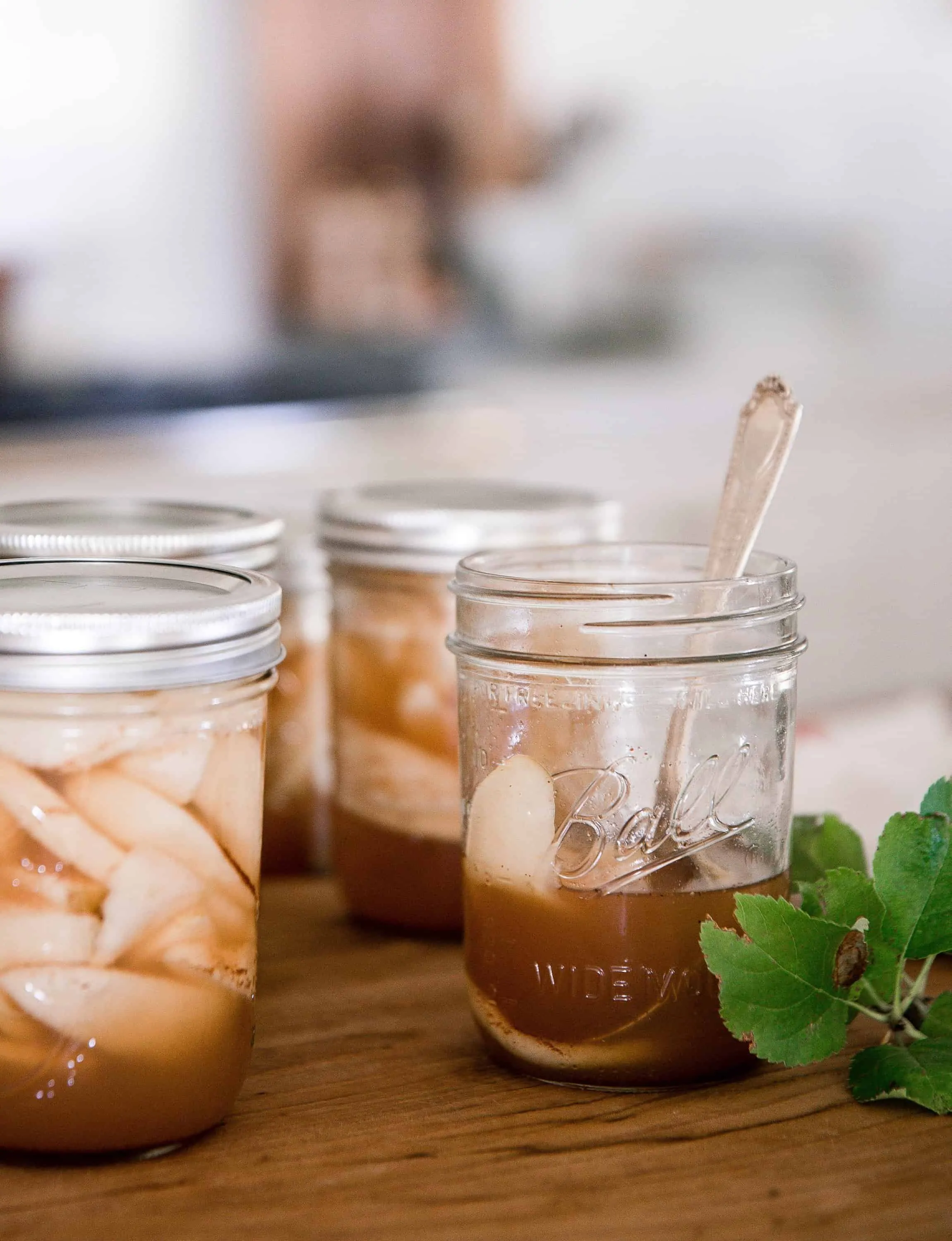 This delicious homemade apple pie filling recipe is a great way to can ripe apples to be used up throughout the year!
One of the best reasons to preserve your own apple pie filling is having the ability to select any apple variety you'd like for the filling. Plus, you can adjust the flavor of the filling to your liking by adding a mix of spices!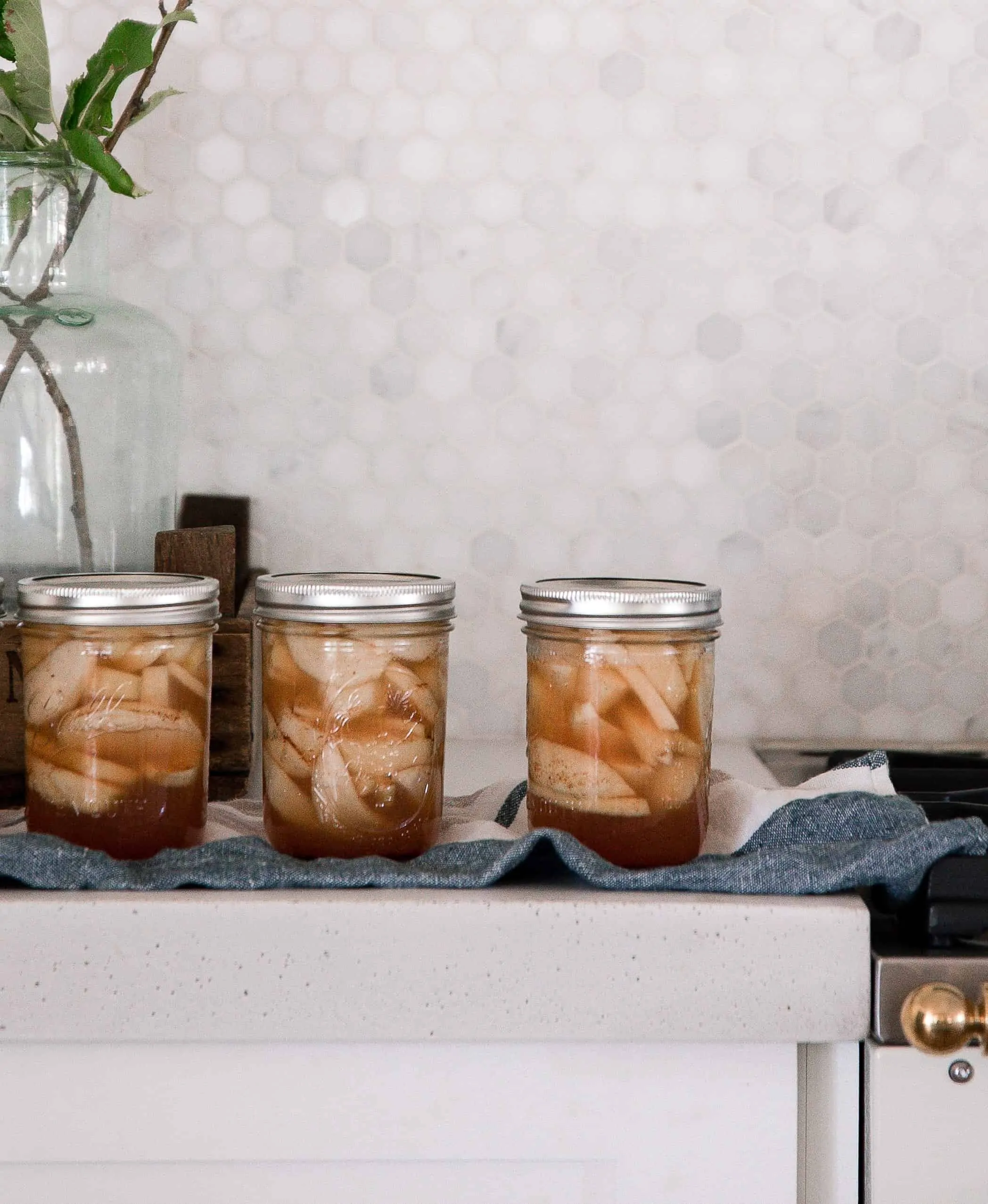 Taking the time now to preserve a batch of apples will provide you with delicious fruit to be used up in seasonal recipes throughout the rest of the year. Plus, this makes a great gift for friends and neighbors during the holidays! A can of homemade apple pie filling paired with a hand written recipe for your favorite apple pie is a wonderful holiday present for neighbors and friends!
Don't let the title "Apple Pie Filling" corral your imagination for the uses of this recipe! This homemade apple pie filling can be used so many different ways! Enjoy slices right out of the jar, or use in this no-churn apple pie ice cream, serve fresh slices alongside pork tenderloin, or try out my apple pie scones!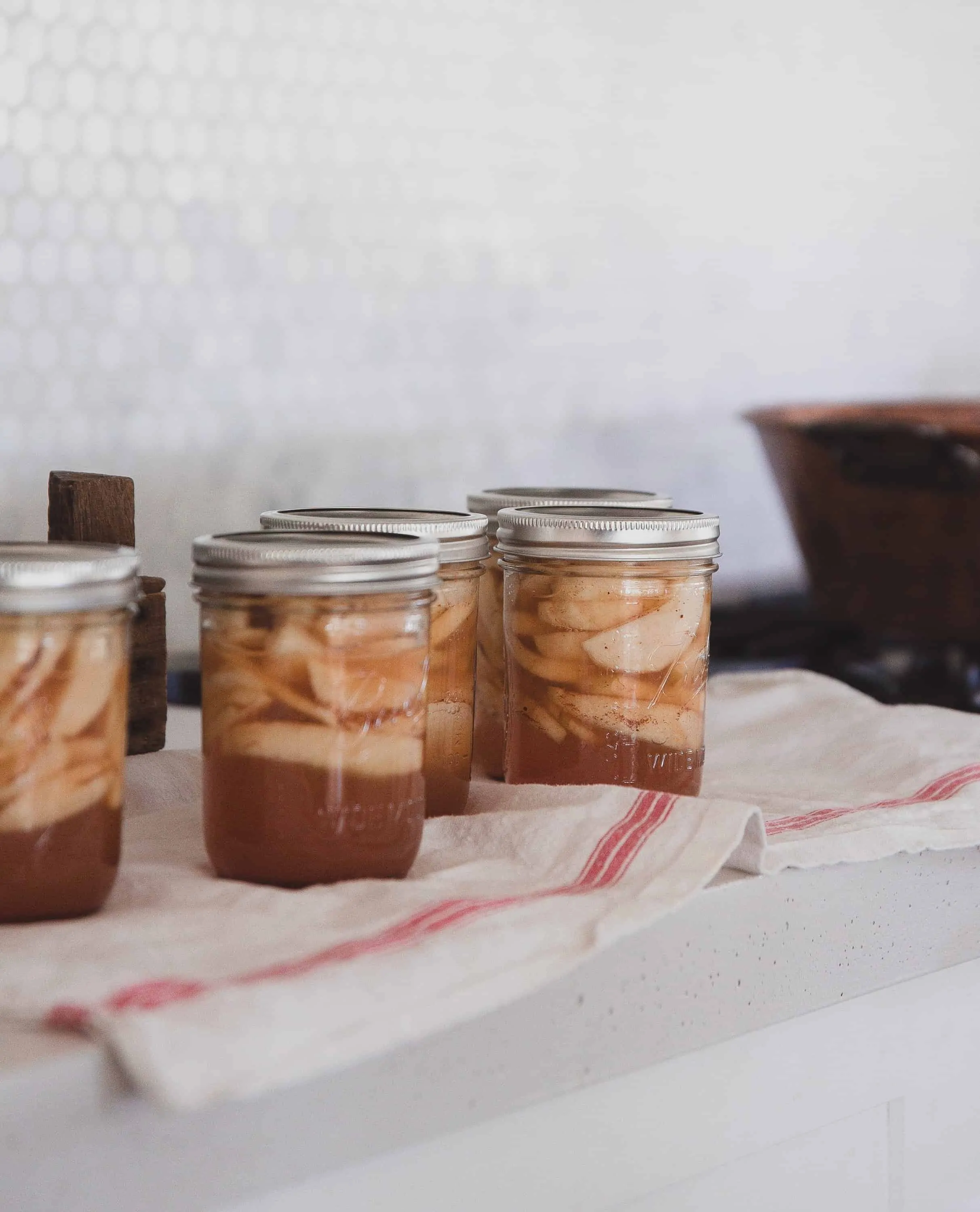 Enjoy Apple Pie Filling in these Recipes: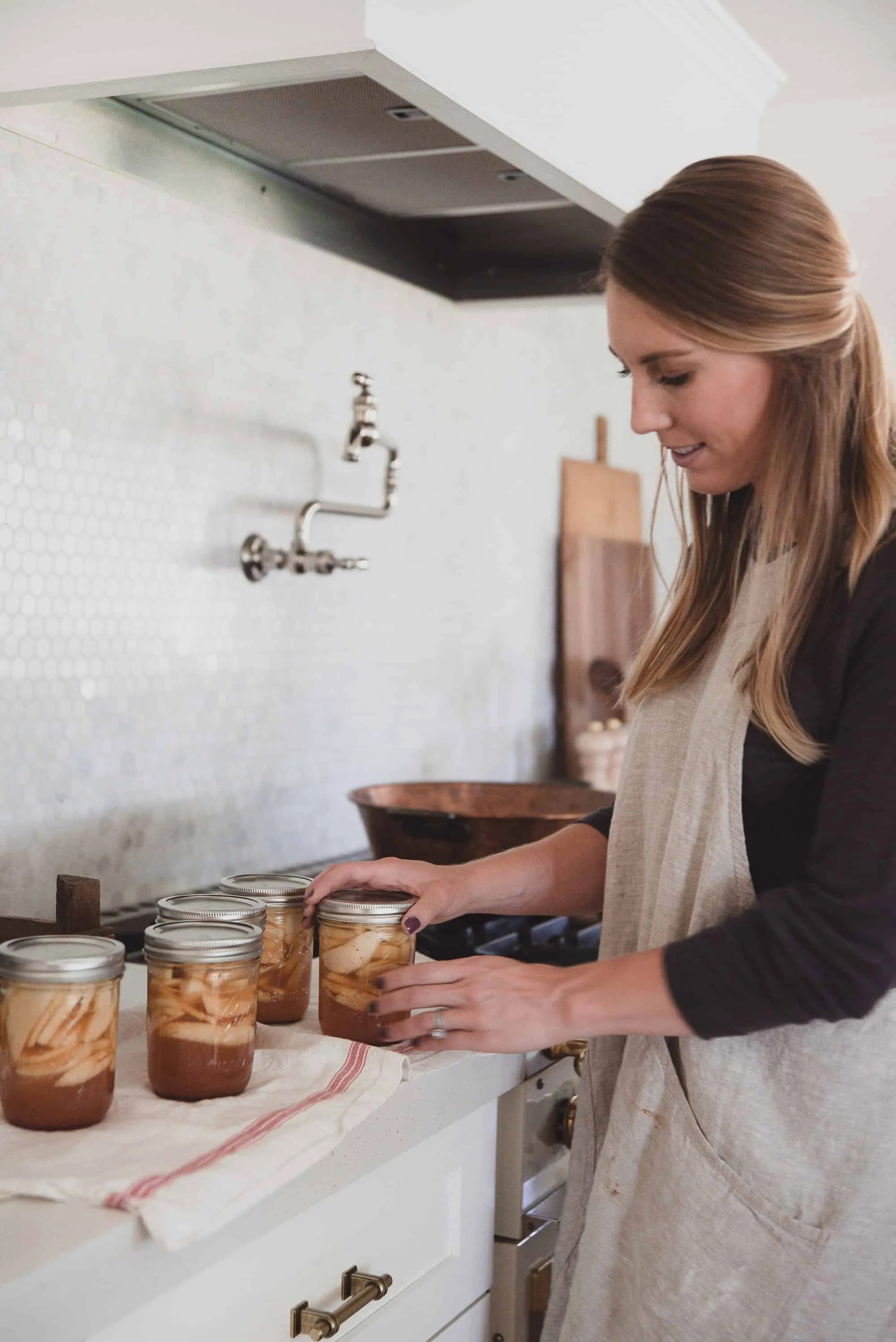 To make homemade apple pie filling, you will need one very important ingredient: ClearJel® . ClearJel® is a special thickening agent that is safe to use in preserves.
While you may be tempted to use cornstarch, tapioca, or flour to thicken your apple pie filling…don't use these if you are preserving the pie filling to be used at a later date!
Why can't I use cornstarch in homemade preserves?
Cornstarch, tapioca, and other thickeners you'd typically use in pie or cobblers will turn into a clumpy mess when they experience high temperature changes multiple times.
You see, once the preserves cool after their canning bath, they will become clumpy when reheated to make a pie or other recipe if you use cornstarch, tapioca, or flour. This will produce poor results in your end product.
So, simply plan ahead and order some ClearJel®, keep this in your pantry to be used to preserve other pie fillings that need a thickening agent.
Now, onto the good stuff, the recipe! I hope you enjoy this delicious homemade pie filling recipe!
For more seasonal canning recipes, be sure to visit ballhomecanning.com!
Pin the image below to save this recipe for later!
The Recipe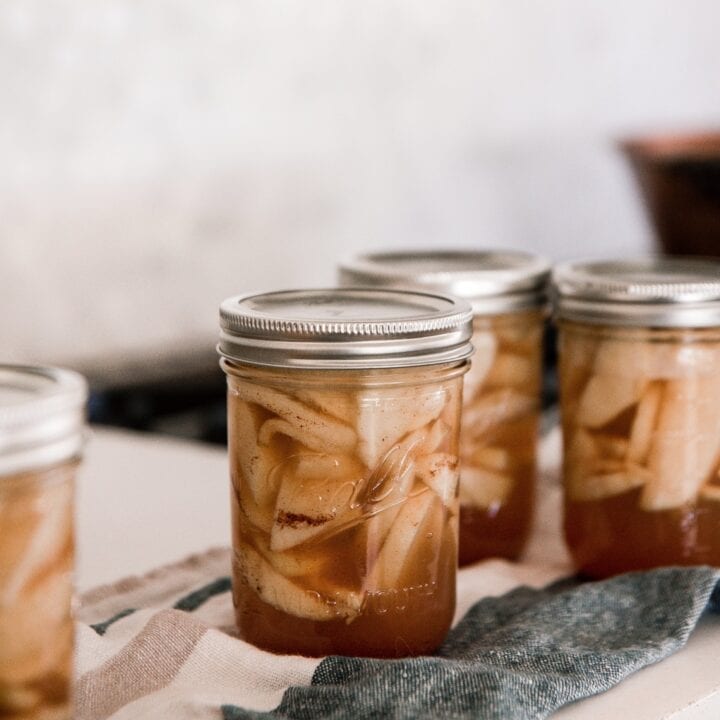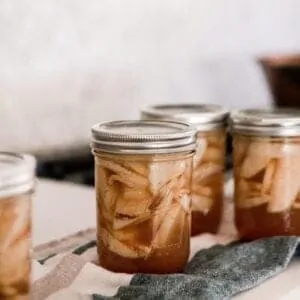 Homemade Apple Pie Filling Recipe
Preserve ripe apples to be enjoyed all year long with this delicious homemade apple pie filling recipe!
Ingredients
12

cups

sliced

peeled and cored apples

Water

2-3/4

cups

sugar

3/4

cup

ClearJel®

1/2

tsp

ground cinnamon

1/2

tsp

ground nutmeg

2-1/2

cups

unsweetened apple juice

1-1/4

cups

cold water

1/2

cup

lemon juice
Instructions
To treat apple slices to prevent browning, apply Ball® Fruit-Fresh® Produce Protector according to the manufacturer's instructions or submerge cut apples in a mixture of 1/4 cup lemon juice and 4 cups water.

PREPARE boiling water canner. Heat jars in simmering water until ready for use. Do not boil. Wash lids in warm soapy water and set bands aside.

BLANCH apple slices, working with 6 cups at a time, in a large pot of boiling water for 1 minute. Remove with a slotted spoon and keep warm in a covered bowl.

COMBINE sugar, ClearJel®, cinnamon and nutmeg in a large stainless steel saucepan. Stir in apple juice and cold water. Bring to a boil over medium-high heat, stirring constantly, and cook until mixture thickens and begins to bubble. Add lemon juice, return to a boil and boil for 1 minute, stirring constantly. Remove from heat. Drain apple slices and immediately fold into hot mixture. Before processing, heat, stirring, until apples are heated through.

LADLE hot apple pie filling into a hot jars leaving 1 inch headspace. Remove air bubbles. Wipe rim. Center lid on jar. Apply band until fit is fingertip tight. Place jar in boiling water canner. Repeat until all jars are filled.

PROCESS both quart and pint jars for 25 minutes, adjusting for altitude. Remove jars and cool 12-24 hours. Check lids for seal, they should not flex up and down when center is pressed.