The Best Homemade Meatballs Baked in the Oven
This post may contain affiliate links, please read my disclosure policy.
Today we're talking all about meatballs! If you're a fan of ground Beef for its versatility, you're going to love this recipe! This is a quick and easy weeknight meal that can be thrown together in minutes. On top of that, you can also make a large batch to be saved at a later date. This makes a great freezer meal for those nights when you just don't have time to worry about dinner!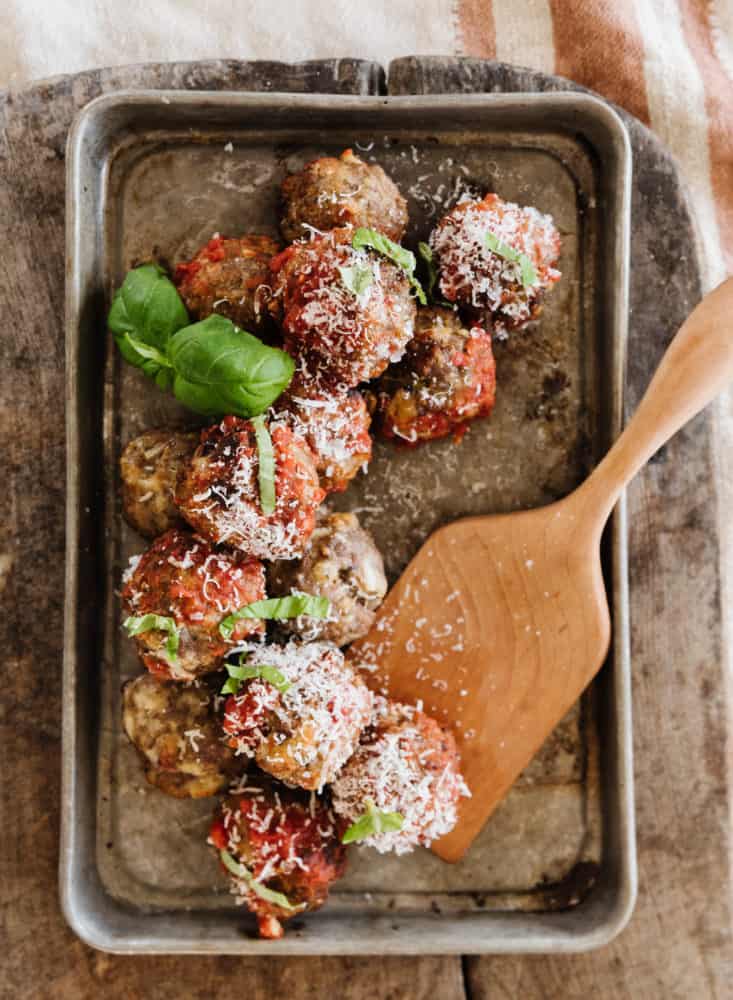 Enjoy these meatballs on a sub, with pasta, or even as an appetizer. The secret ingredient to making this delicious meal? Hot dog buns! Read below to learn how to make the best meatballs that your family with devour!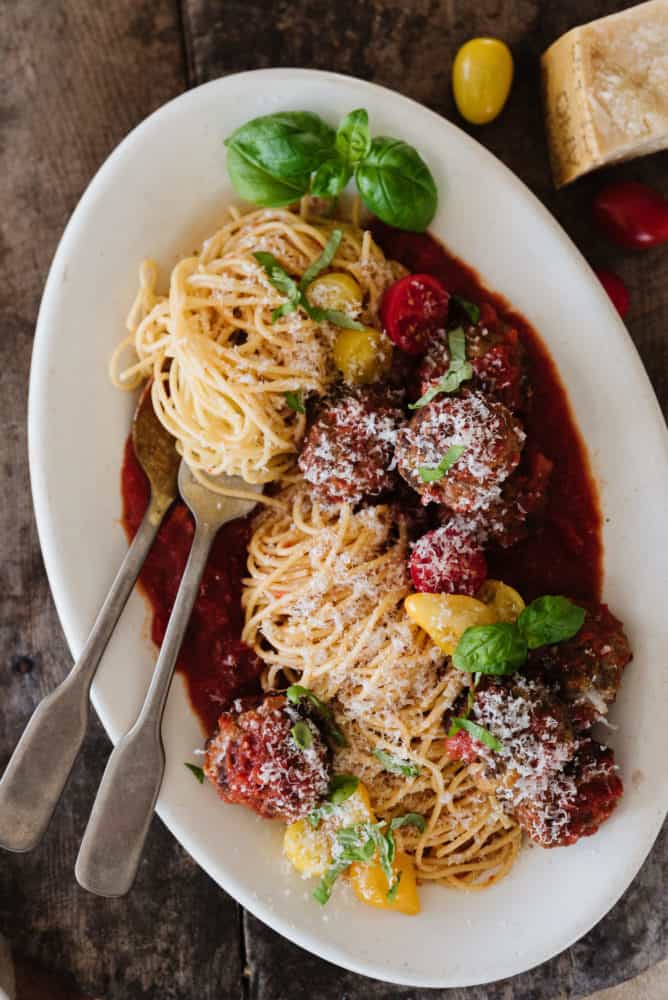 How to Make Homemade Meatballs:
Start by combining all of the ingredients in a large mixing bowl, then use a spoon to thoroughly combine so that all of the 'mixins' are evenly distributed.
Once mixed, form the mixture into evenly sized balls. About the size of a golf ball. You can certainly make them larger or smaller depending on how you'll be enjoying them. Smaller is great for appetizers, while larger meatballs make for a more hearty meal.
Place each formed ball onto a lined baking sheet, spaced about two inches from one another. This will allow the meatballs to evenly cook.
Bake in a 400 F preheated oven for 15-20 minutes or until each meatball registers 160 F internally at the center.
Once cooked, remove from the oven and cool for a few minutes. Serve hot and enjoy!
For make ahead and storing suggestions, scroll down!
Baking Meatballs in the Oven:
If you're wondering what is the best way to cook meatballs? That is a debate we must save for another day. However, my personal opinion is: the oven!
I love baked meatballs because the exterior of the meatballs gets nice and crispy and forms a brown crust that is absolutely delicious!
To bake meatballs in the oven, you will simply place each meatball on a parchment-lined baking mat and cook at 400 F for 15-20 minutes, or until the center of each meatball reads 160 F.
The Secret Ingredient for the Best Homemade Meatballs!
I once read in a magazine that adding hot dog buns to meatballs was the key to AMAZING meatballs…it's been my go-to "secret ingredient" ever since!
The delicious sweetness of hot dog buns adds a wonderful flavor to the meat mixture, and I think you will love them just as much as my family does!
If you don't have hot dog buns handy, hamburger buns or pretzels buns will work great too! You can also try crusty french bread!
What to Eat Meatballs with?
Wondering what to eat with meatballs? Enjoy these delicious meat patties with pasta, sliced on a hoagie roll, or simply on their own as an appetizer!
The most traditional way to enjoy it is with pasta, try spaghetti, penne, or any other type of pasta that your family enjoys.
If you're not one for pasta, meatballs are delicious on a sub sandwich as well! Smother them with pomodoro or marinara sauce and top with Italian cheese, then pop in the broiler for a few minutes until everything is nice and melty!
Meatballs are also a delicious appetizer to serve to a crowd! When serving as an appetizer, you may opt to make smaller balls to serve more people in smaller portions.
Tips for Making Meatballs:
Wondering how to make the best meatballs ever? Here are some tips and tricks for perfecting them!
Use a cookie dough scoop to make evenly sized meatballs. This will help each ball cook evenly!
Use high quality ingredients! Remember, the finished result will come together with the ingredients you use! Opt for high quality Beef and cheese!
Don't under cook, meatballs should read 160 F internally at their most dense point (the center) before removing from the oven.
Storing Meatballs & Tips for Making Ahead:
You can make meatballs ahead of time as a quick weeknight dinner or an easy appetizer to throw together last minute.
To make ahead, bake meatballs as directed above. Remove from the oven and allow to cool slightly.
Once cooled, place the meatballs on a clean parchment-lined baking sheet or cutting board and place in the freezer for 1-2 hours, until just frozen.
Remove from the freezer and divide the meatballs into storage containers (plastic freezer bags or freezer-safe storage containers), label with the date, and store until ready to enjoy.
To defrost, preheat the oven to 350 F. Place the frozen meatballs on a parchment-lined baking sheet and bake uncovered until the internal temperature reads 160 F.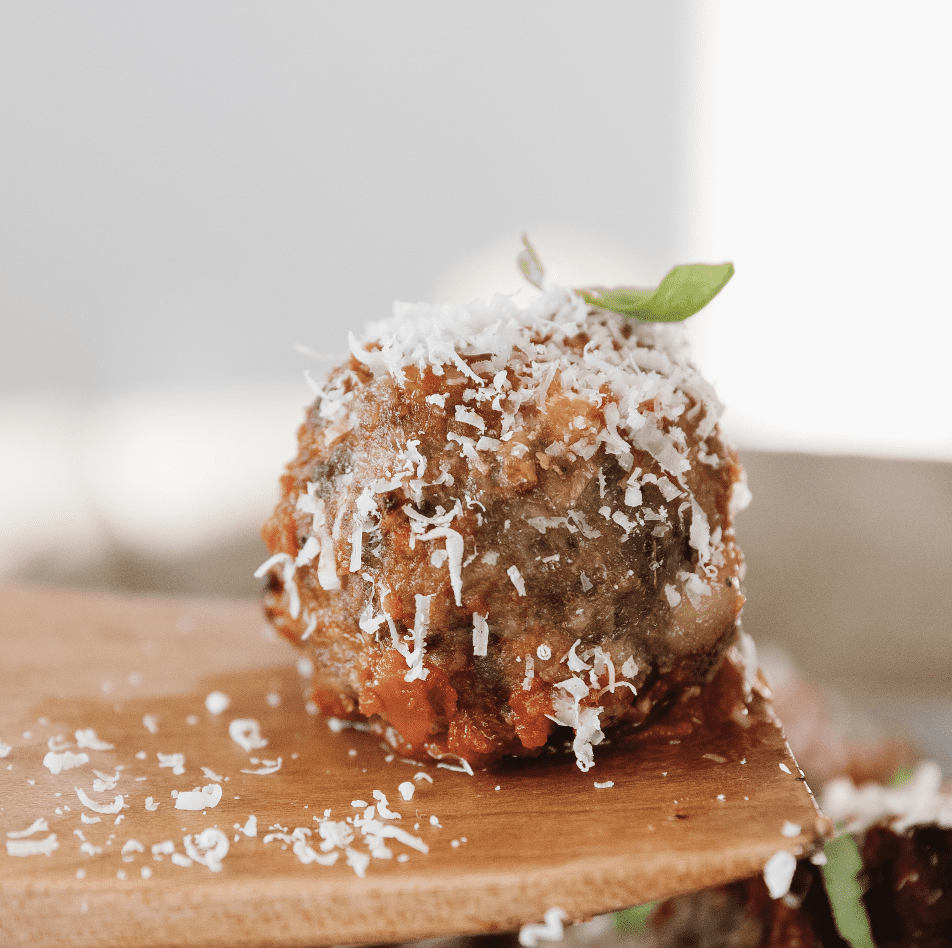 The Best Homemade Baked Meatballs
Additional Time:
5 minutes
Delicious meatballs baked in the oven are just a few ingredients away! Your whole family will love homemade meatballs!
Ingredients
1 pound ground beef, lean 80%
1/4 cup finely diced onion 
2 cloves garlic, minced
1 egg
2 hot dog rolls, diced
1/3 cup whole milk 
2 tablespoons Italian seasoning blend
1 cup shredded Italian cheese blend (Parmesan, Mozzarella, Romano)
Instructions
Preheat oven to 400 F. Line a baking sheet with parchment paper or silicone mat.
Combine all ingredients in a large bowl, mix until thoroughly combined.
Shape the mixture into 24 balls, about 1 1/2" in diameter.
Place on the baking sheet 1" apart.
Bake uncovered for about 20 minutes, or until the internal temperature reaches 160 F, as measured by a thermometer.
Enjoy served over Pasta Pomodoro, but these meatballs are delicious on their own!