Baked Peppermint Bark Christmas Donuts
This post may contain affiliate links, please read my disclosure policy.
Baked peppermint bark Christmas donuts are the perfect treat to serve this holiday! These are fluffy, chocolatey, and have just the right amount of peppermint.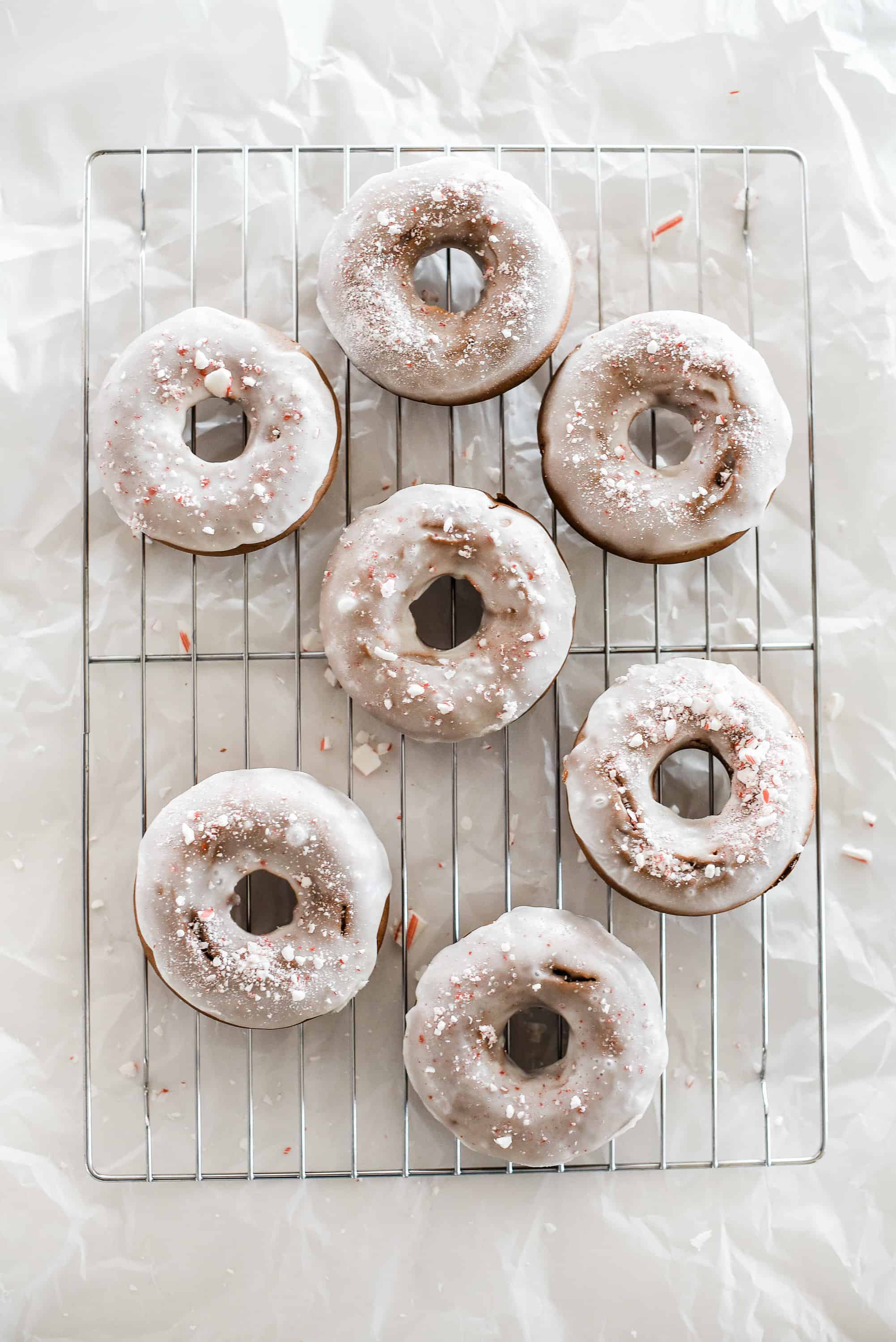 This year I really wanted to come up with a delicious Christmas donut recipe. My initial idea was to go the egg nog route, but while eating a few pieces of my homemade peppermint bark, I was faced with the reality that I really don't like egg nog. Then it hit me – why not peppermint bark donuts?
Since we were out of egg nog, and I had all of the ingredients to test the recipe, I got to baking. I based this recipe off of my baked pumpkin donuts, but skipped the pumpkin spice & went with peppermint schnapps & cocoa powder instead.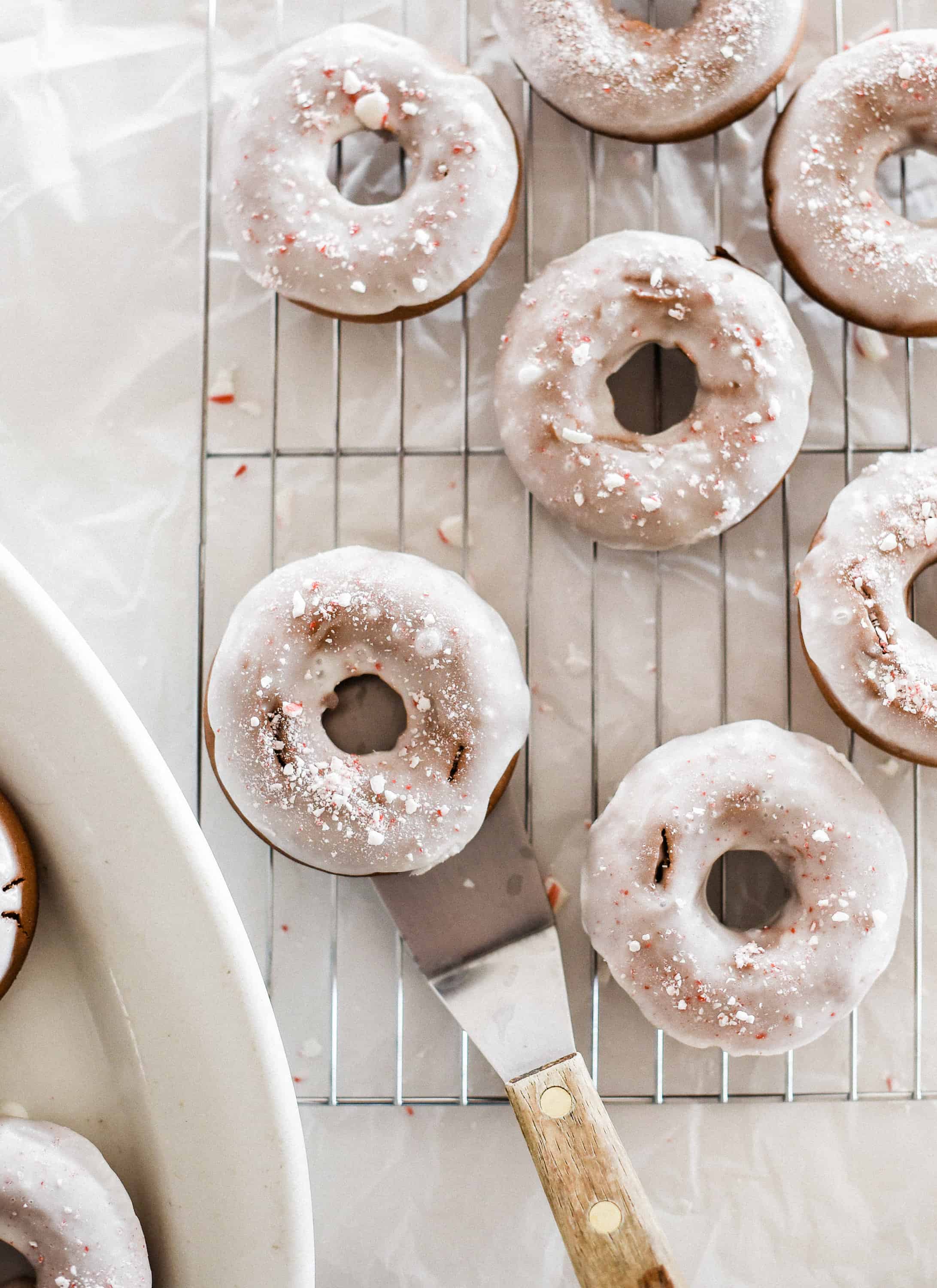 My first batch was a major failure…I couldn't figure out where I had gone wrong. My Christmas donuts were anything but jolly. They were flat, dense, and flavorless. I re-calculated my steps and thought that perhaps they needed more butter. It was honestly disappointing because I really wanted to share the recipe with you!
I referenced a few cookbooks, and compared my recipe to other fluffy baked donut recipes, but I couldn't quite figure out where I went wrong.
Then I realized, I had forgotten to add baking powder!! It's funny what 2 tiny teaspoons of something can do to a recipe. In this case, the absence, completely ruined it.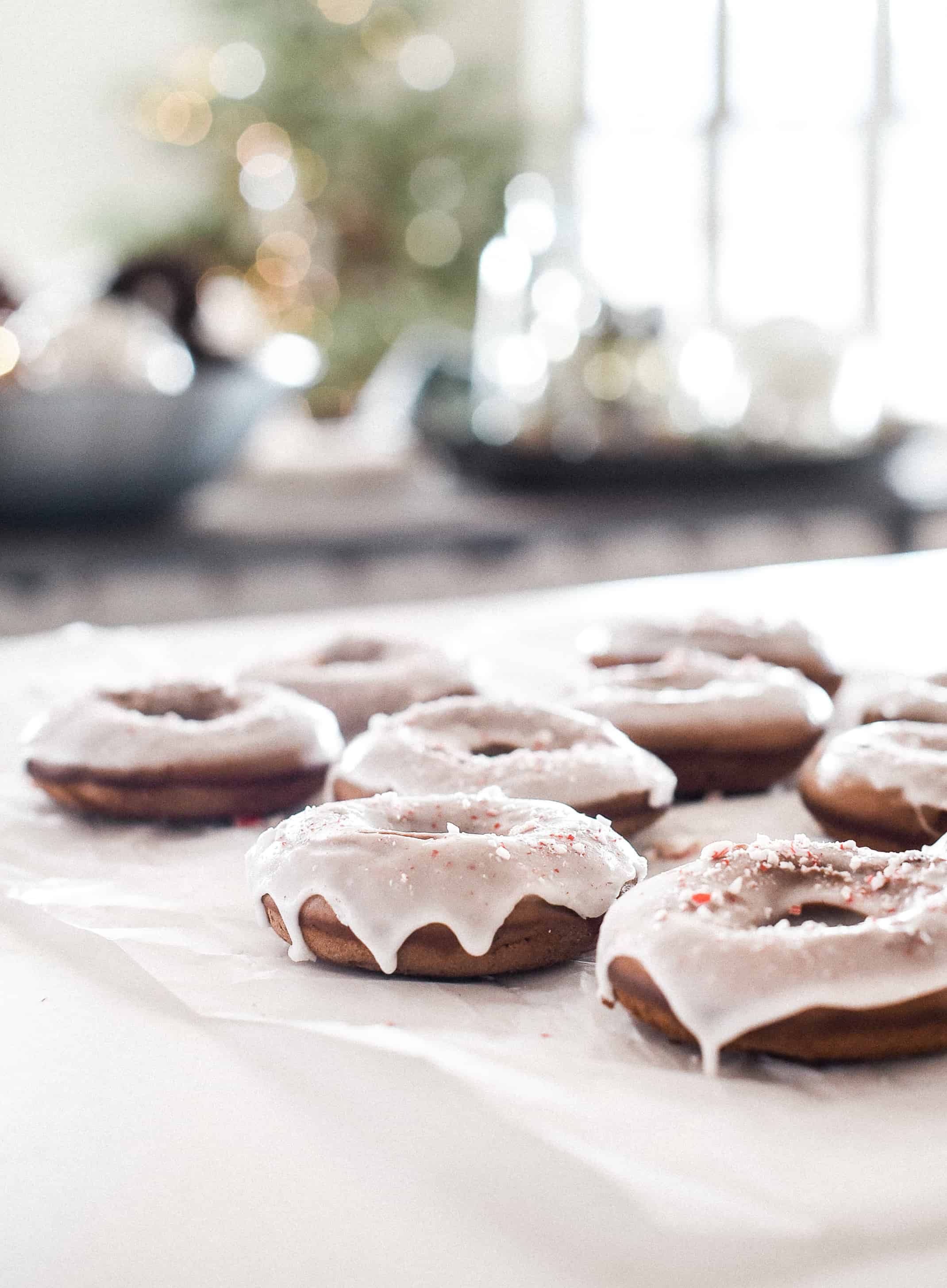 So I made a second batch, this time adding some peppermint schnapps, and the results, I must say, are truly delicious. These donuts are the perfect treat to serve on Christmas morning to enjoy with some hot cocoa while opening presents.
The texture is very light and fluffy, yet remains chocolatey and rich. The peppermint hits in all the right places, and the crushed candy cane topping is the cherry on top so to speak.
more Christmas treats…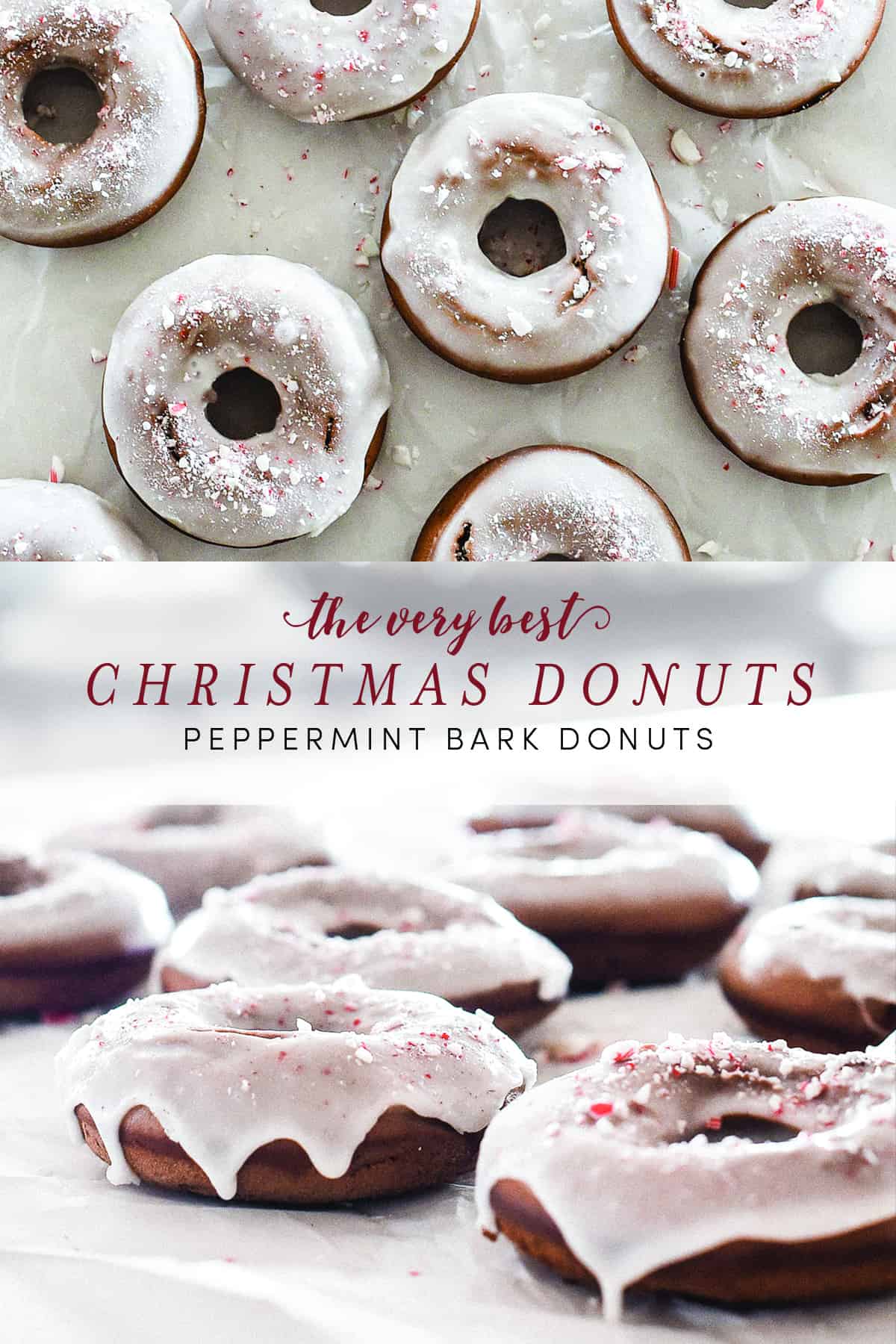 Alcohol Free Donuts:
If you do not consume alcohol or would like to skip adding the peppermint schnapps, just use peppermint extract instead. Use 1-2 tsp. peppermint extract in the batter (depending on how pepperminty you like your donuts), and 1/2 tsp. in the frosting.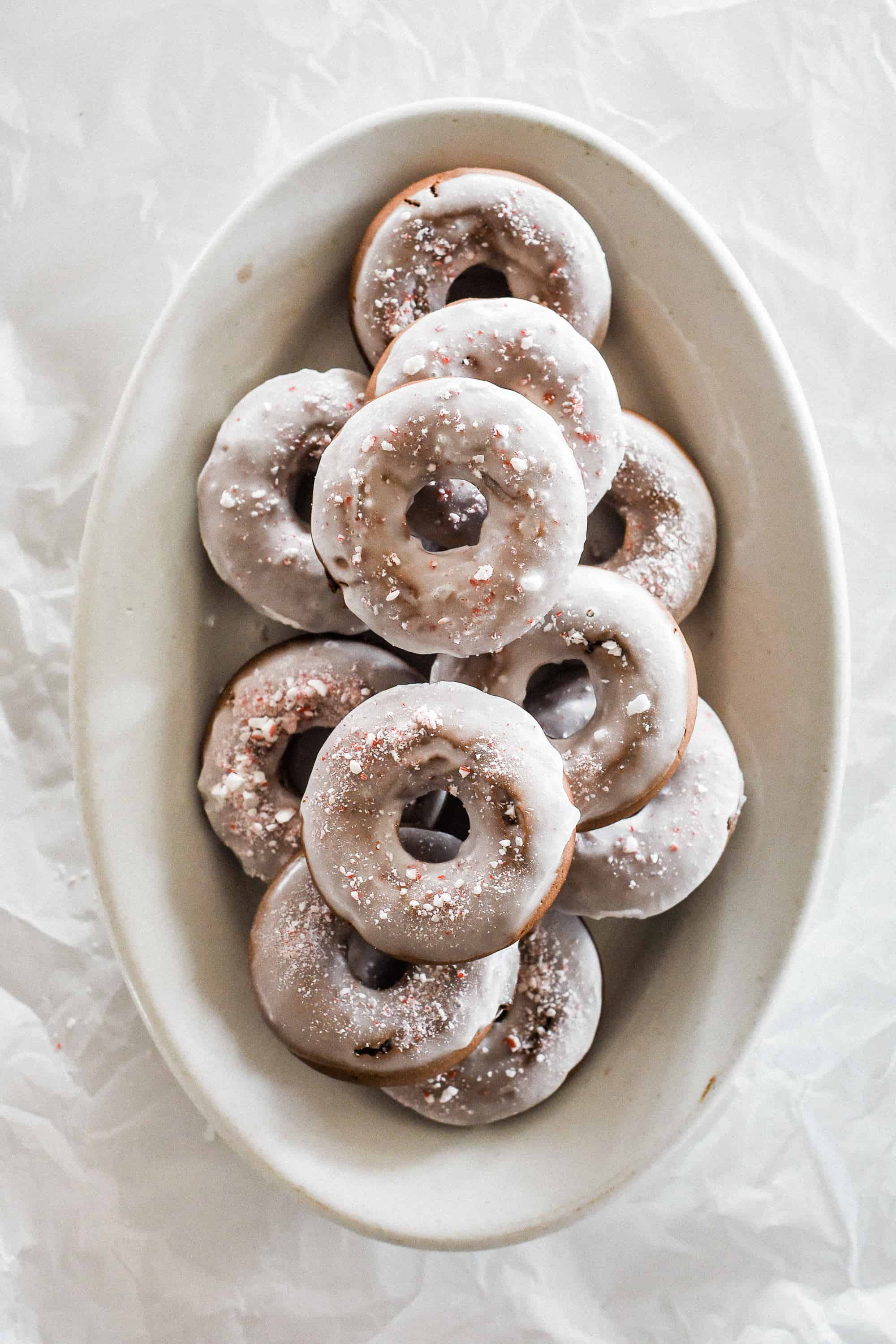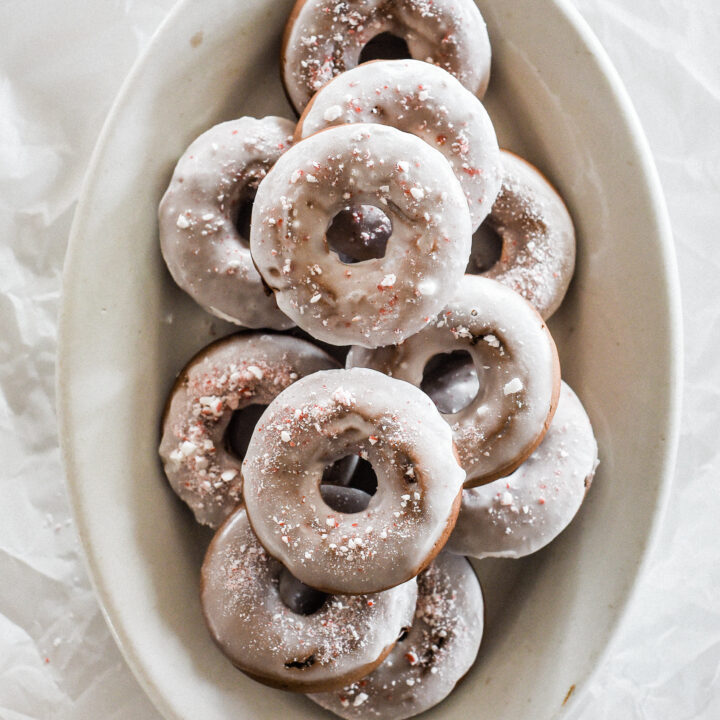 Baked Peppermint Bark Christmas Donuts
Baked peppermint bark Christmas donuts are the perfect treat to serve this holiday! These are fluffy, chocolatey, and have just the right amount of peppermint.
Ingredients
DONUTS
1/2 c butter
1/2 c granulated sugar
1/2 c brown sugar
2 eggs
¼ c peppermint schnapps (can sub with 2 tsp. peppermint extract)
3/4 c milk
2 c all-purpose flour
pinch of salt
2 tsp. baking powder
3 heaping tablespoons of cocoa powder
3 candy canes, crushed
1 c chocolate chips
FROSTING
2 c powdered sugar
1 tsp peppermint schnapps (can sub with 1/4 tsp peppermint extract)
3 tsp milk (may need a bit more to get it to the proper consistency)
Instructions
Preheat oven to 400 F
In a large bowl, use an electric mixer to beat butter and sugars together until light and fluffy.
Add the eggs to the butter & sugar and beat until light and fluffy again.
Add 3/4 C milk and 1/4 C peppermint schnapps to the same bowl as the butter & sugars, beat until thoroughly combined.
In a separate bowl, stir together flour, salt, baking powder, and cocoa powder.
Gradually pour the flour mixture into the sugar mixture. Beat until thoroughly combined.
Add in chocolate chips & 1 tablespoon crushed candy canes. Stir to combine thoroughly.
Use a piping bag (or zip lock) to transfer batter into a donut pan.
Bake at 400 F for about 10 minutes, or until fluffy and cooked through.
While baking, prepare the frosting. Combine powdered sugar, 3 tablespoons milk, and 1 tsp. peppermint schnapps (can substitute with peppermint extract for children). Stir well. Add more milk as needed in 1 tsp increments until the consistency is slightly thicker than glue.
Once the donuts are finished baking, allow them to cool *completely*. Dip each donut into the glaze and give it a little swirl to coat the entire "face" of the donut. Sprinkle with crushed candy cane. Enjoy!