Blackberry Jelly Crumble Bars
This post may contain affiliate links, please read my disclosure policy.
I wanted to create something for a bake sale that wasn't the typical cupcake. I love a great cupcake of course, but I wanted something that wouldn't send someone with diabetes into a tailspin. This recipe does call for sugar, but you don't need to add as much as I put in, because the jelly also sweetens the bars.
The butter cereal combo is really so delicious, it's tempting to add butter into my cereal every morning. Just kidding, I don't even eat cereal. I'm lucky if I get my coffee before noon hits. But if I did eat cereal – butter would be a viable option for me. These crumble bars are fantastic, and the perfect alternative to a cake or cookies for a bake sale!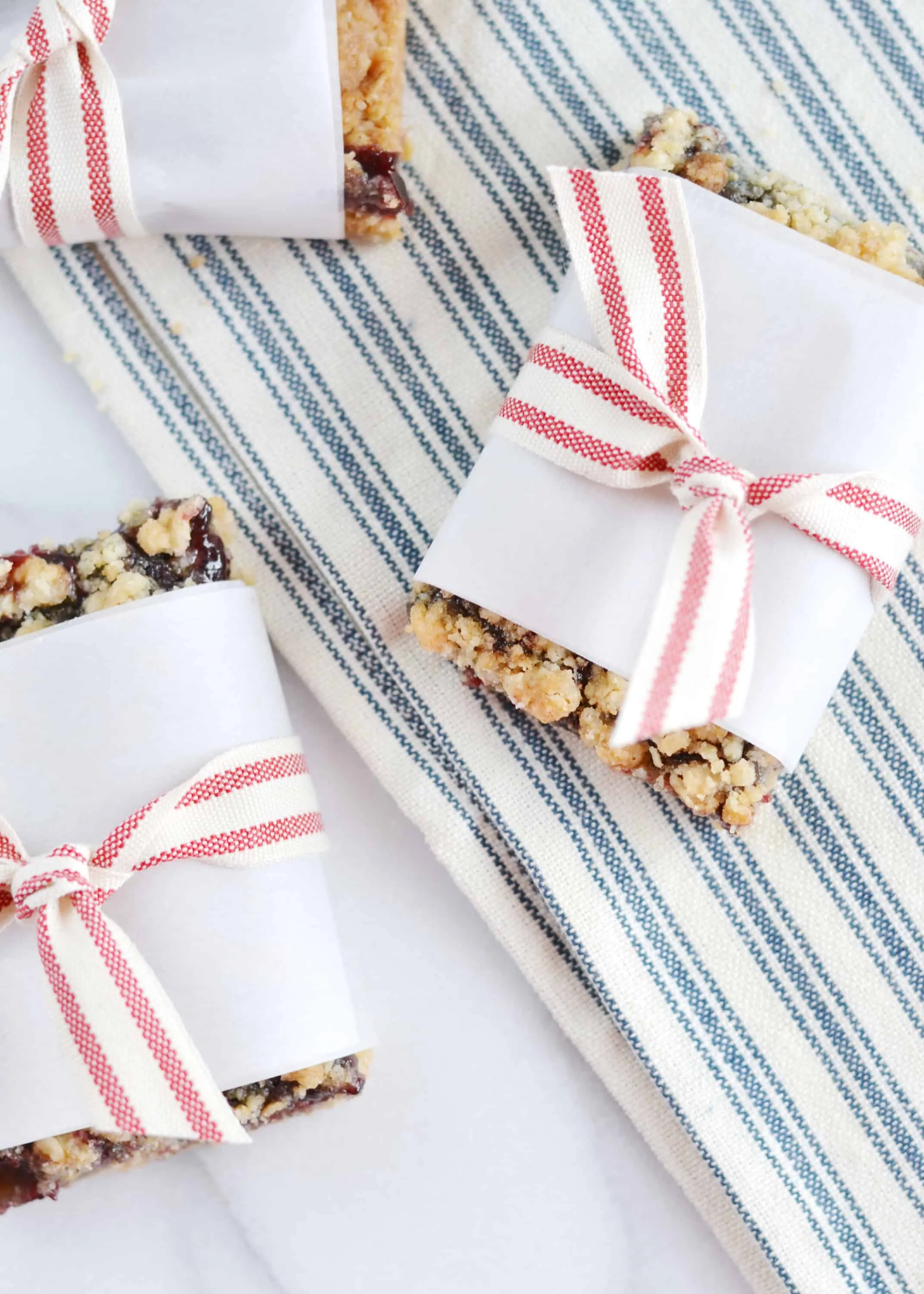 Blackberry Jelly Crumble Bars
1 cup rice crispies
2 cups flour
1 cup butter, softened
1 cup oatmeal
1/2 tsp salt
1/4 cup brown sugar
1/4 cup granulated sugar
1 tsp vanilla extract
1 cup canned jelly
1 tablespoon water
Step 1: Stir together sugars, flour, oatmeal, salt, and Rice Crispies. Then add in the softened butter and vanilla. Using your hands, break the butter down into small pea size pieces until all of the ingredients are thoroughly combined and dough like. Add 1 tablespoon water if needed (this will help the mixture become more cookie dough like).
Line a 13×9″ baking pan with aluminum foil or parchment paper, press 3/4 of the 'dough' into the pan to form the bottom crust.
Top the crust with a thin layer of jelly (don't use too much, or else you will be left with jelly and no bar), leaving a 1″ margin of crust along the outside (the jelly will spread as it bakes).
Top the jelly with the remaining dough, and gently press the crumbles into the jelly.
Bake at 350 F for about 20-25 minutes (the crust will be golden brown, and the jelly will be bubbling).
Remove from the oven and allow to cool before cutting the bars into squares.