One of life's little delights is freshly preserved blackberry tomatillo jam. There's nothing quite like it. Probably because once you have preserved your own fruit, you understand the love that goes into jam making. It's a process that isn't all too tedious, but just tedious enough to be something that becomes an appreciation. An art.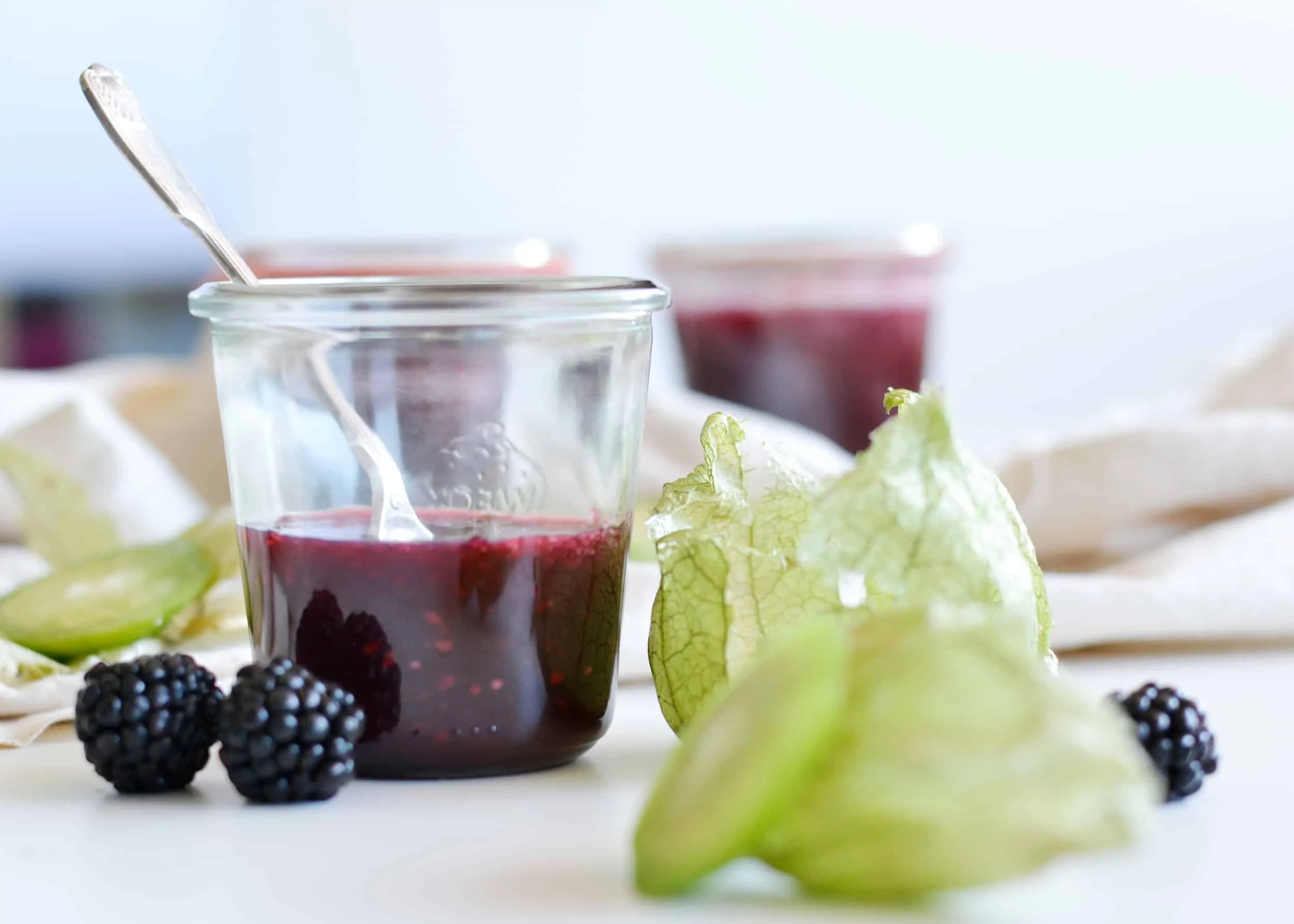 Every time I break out my jam making supplies, I know I am in for an afternoon of contentedness. Watching the fruit bubble into jam is a form of therapy for me.
This recipe is a fabulous one because it's not quite as sweet as your typical jam. The tomatillos cut into the sugar in all the right ways, leaving you with savory preserves that are almost fig-like. This jam was made for cheese pairing, bread pairing, and drink pairing. Consider it your new best friend for every gathering you've got planned this summer! Blackberry Tomatillo Margaritas are a great beverage for gatherings, too!
PS: I love giving preserves as gifts with a tea towel and some recipe cards!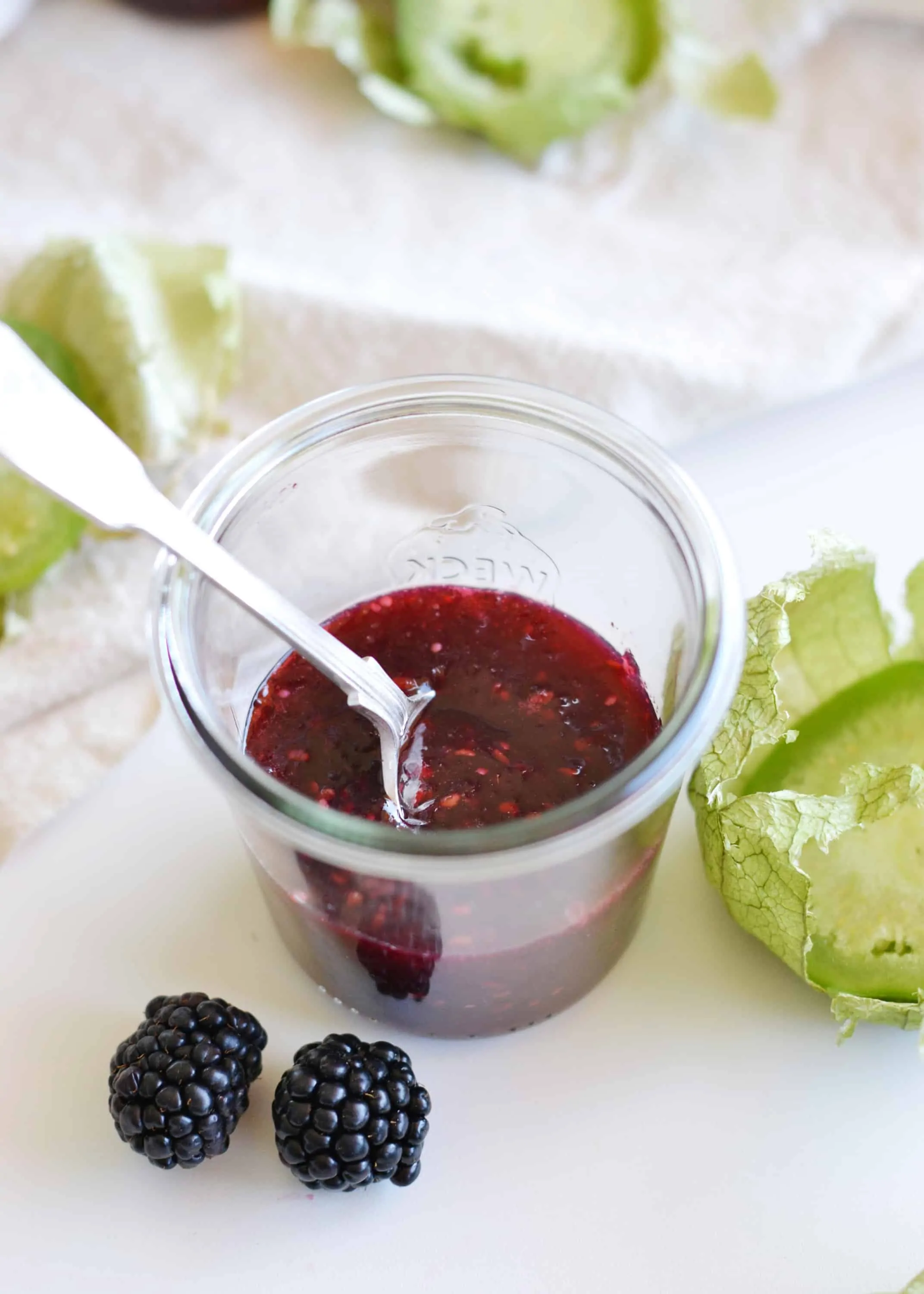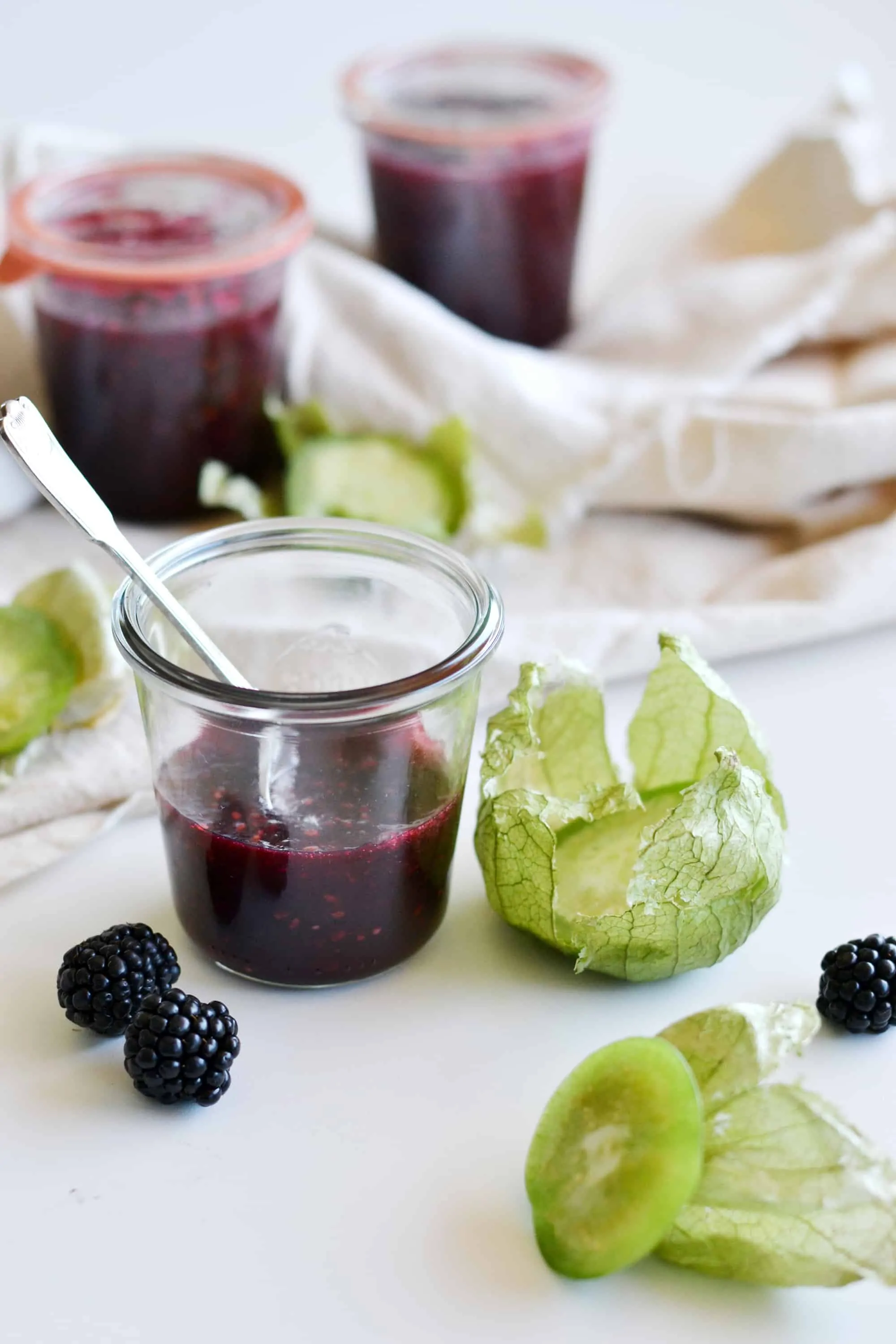 The Recipe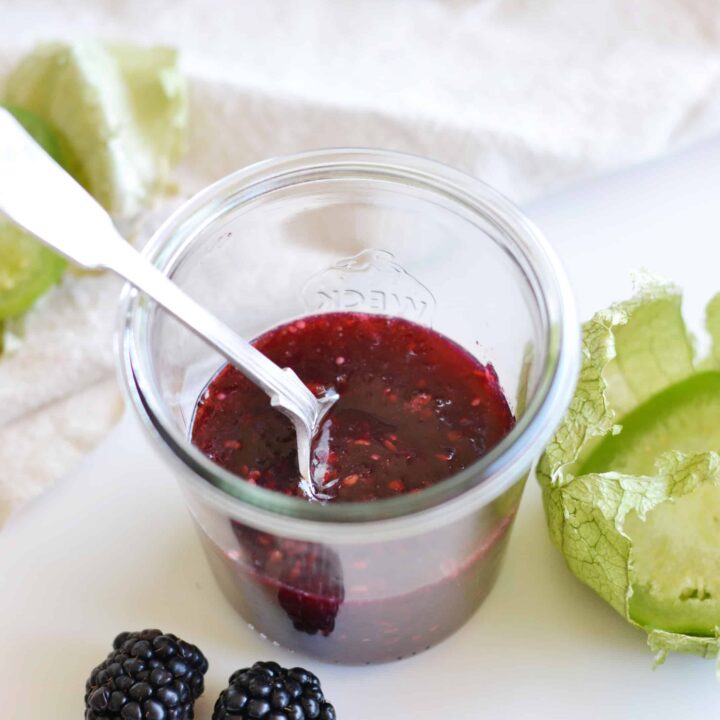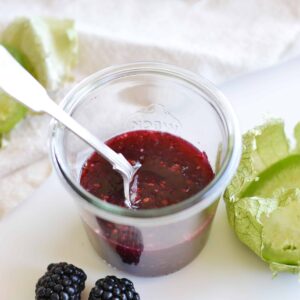 Blackberry Tomatillo Preserves
One of life's little delights is freshly preserved blackberry tomatillo jam. There's nothing quite like it.
Ingredients
4

large

ripe tomatillos

2

small 6 oz. packages blackberries

2.5

cups

sugar

Juice from 1 lemon
Instructions
Blackberries have enough pectin in them to gel without adding any extra pectin to the recipe. With that said, if you'd like to keep these preserves less 'jelly-ish', don't allow the mixture to come to a rolling boil. 

Place a spoon in the freezer. Peel and chop the tomatillos. Combine blackberries & tomatillos in a blender or food processor and puree until smooth (should be about 2.5 cups of fruit). 

Mix 2.5 cups sugar (equal parts sugar:fruit), and the pureed fruit in a saucepan. Add the lemon juice, and stir the mixture; allow it to come to a full rolling boil for one minute, then decrease the heat and continue to cook for an additional 15 minutes.  

Remove the spoon from the freezer, and dip into the preserves. Hold at least 12 inches above the saucepan and turn the spoon to pour the preserves back into the pan. If the preserves sheet together, and hang off the side of the spoon, the jelly is ready.

See this trick in more detail here

. 

Skim any foam off the top, and pour the preserves into 2-3 8 oz. jelly jars. Since this recipe has not been scientifically tested, I suggest keeping it refrigerated for up to three weeks.