Favorite Christmas Desserts Tour: Christmas Cookies & Bars | Pumpkin Caramel Oatmeal Bar
December 6, 2016
A tour of 8 of our favorite Christmas cookies & bars (and much more) to try this holiday season! From Crockpot fudge to cranberry cream puffs, we've got you covered.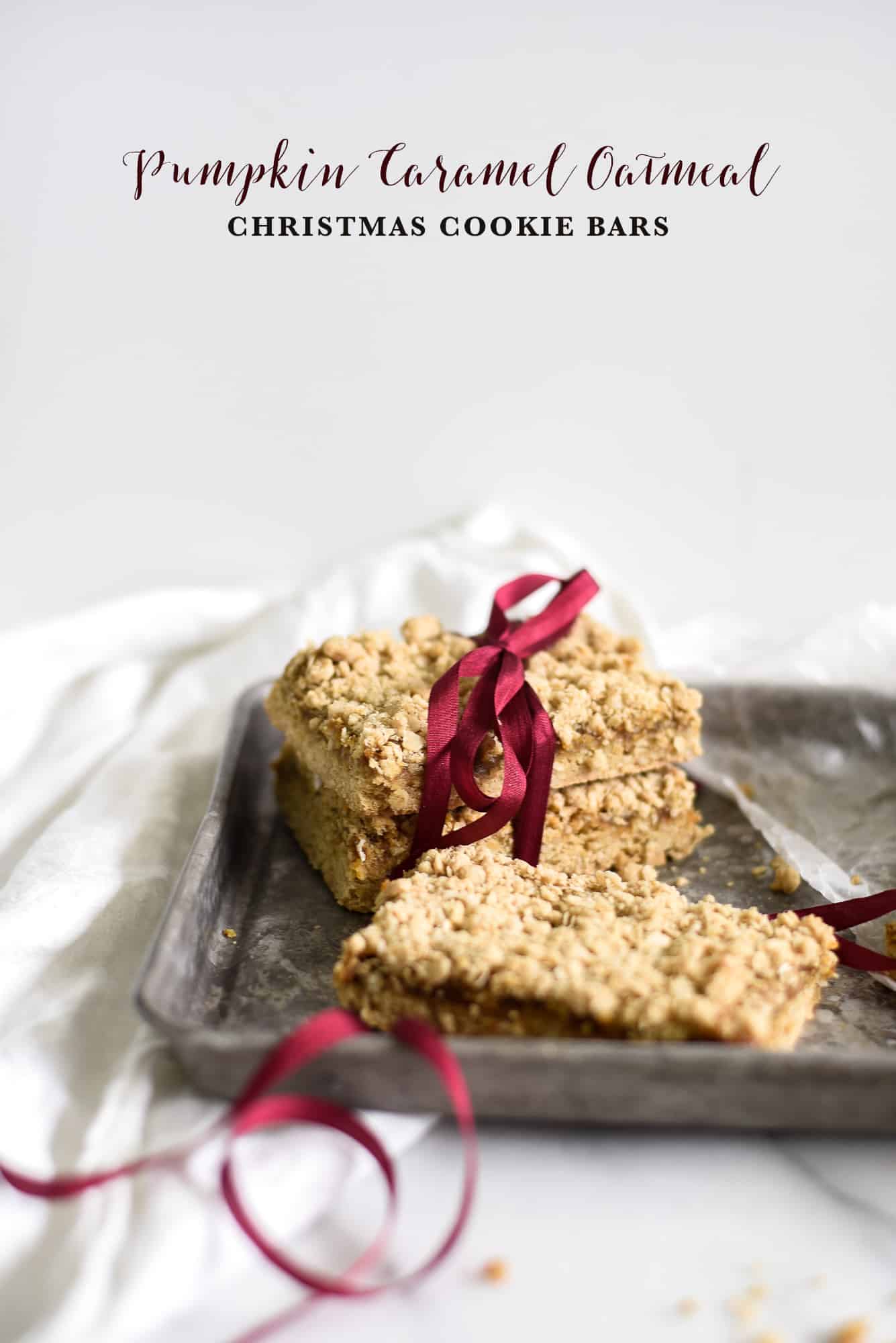 Welcome from She Leaves a Little Sparkle!I hope you loved Summer's cream puff recipe as much as I did – who could turn down that cranberry orange sauce? I am so very excited to be participating in today's Christmas desserts blog hop with some of my favorite blogging friends.
If this is your first time visiting, you can read more about my story here. The quick and dirty of it is that I moved from the city to a cattle ranch in a dusty old cow town of 99 people. Since moving I have discovered how passionate I am about slow living, forgotten traditions, and goats. I blog about all of those things here on Boxwood Avenue.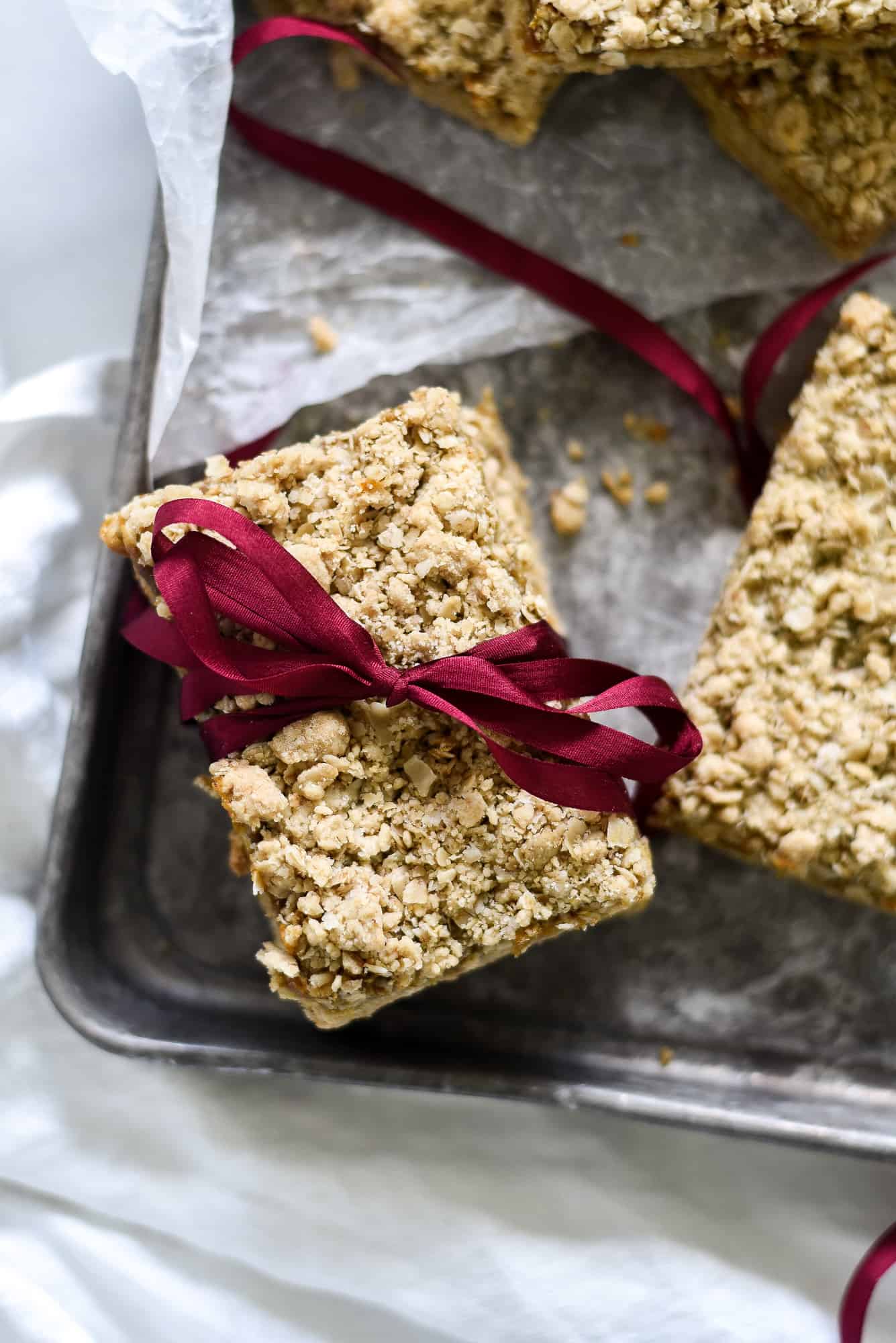 Can I get an amen for stretchy pants and oversized sweaters? I am feeeeling the holiday spirit in more ways than Christmas carols on repeat. But, I am not about to restrict myself from any festivities including (but not limited to): candy canes for breakfast, Elf on repeat, or Christmas cookies! Today, I am sharing an oatmeal bar recipe that my husband named "the best dessert I've ever made".
Every year, I love making Christmas cookies and bars, especially with Michael Buble playing in the background and butter in my hair. This year, I had some left over pumpkin puree (I am sure all of us can attest to that), and I wanted to use. it. up. So I tweaked my blackberry crumble bar recipe and created this yummy pumpkin caramel oatmeal bar.
I used Wether's Caramels in this recipe, but let me tell you straight from the horse's mouth, it would have been much easier with soft caramels. If you want to splurge, my favorite soft caramels are from The Simple Farm (but, I think the 11th commandment is thou shall not melt Simple Farm caramels and put them in a recipe… just eat them straight. all at once. and cry when they're gone…).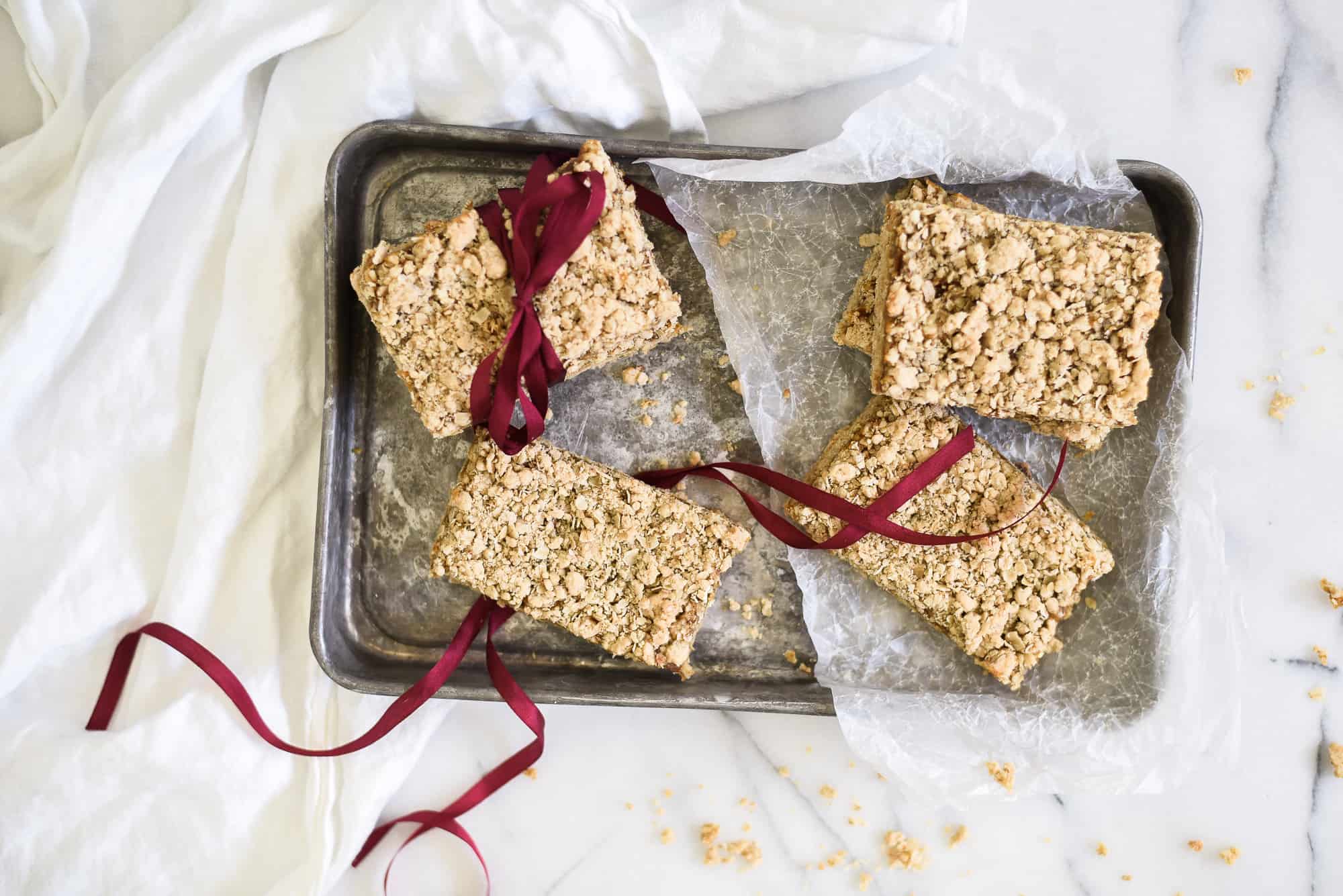 Pumpkin Caramel Oatmeal Bars
1 bag (about 30) caramels, wrapping removed

1/4 cup pumpkin puree

1/4 cup milk

2 sticks butter, softened

2.5 cups oatmeal

2.5 cups flour

1 egg

1 cup brown sugar

1 cup granulated sugar

1 tsp. baking powder

1 tsp. baking soda

1/4 tsp. salt

1 tsp. pumpkin pie spice

1 tsp. Vanilla extract
Preheat oven to 350 F
Step 1: Line a 13×9″ baking pan with foil or parchment paper and set aside. Then, prepare the dough by creaming butter and sugars together until light and fluffy (about 2 minutes).
Step 2: Add the egg & vanilla to the butter & sugar and beat until light and fluffy.
Step 3: In a medium bowl, combine flour, oats, salt, baking powder, and baking soda. Stir until combined. Gradually add this to the butter mixture, using an electric mixer between additions.
Step 4: Your dough should resemble very loose cookie dough. It should look like little peas, and hold together like a snowball when squeezed with your hands. If it is too sticky, add more flour or oats until you have a pea size mixture. At this point, you have the option to grab a spoon, throw in the towel, and eat until it's gone. Or…
Step 5: Press 2/3 of the dough into the lined baking pan to form a crust. Place in the oven for 8-10 minutes (or until just barely cooked).
Step 6: While the crust bakes, prepare the caramel filling. Place the caramels and milk in a microwavable bowl. Melt the caramels in 45 second increments, stirring between each heating.
Step 7: Once melted, immediately add 1/4 cup pumpkin puree & pumpkin pie spice, stir very well. Set aside until the crust is ready.
Step 8: Remove the crust from the oven. Pour the caramel-pumpkin sauce over the top, then crumble the remaining dough over the top. Gently pressing it into the caramel.
Step 9: Place the bars back into the oven and cook for an additional 15-20 minutes (or until the top is golden brown). Allow to cool for at least 1 hour before removing from the pan. Slice into bars, and wrap with ribbon for a festive gift!
I hope you enjoy this Christmas bar recipe, and once you're finished here, you can 'hop' on over to my friend Laura's blog – she's got a salted caramel butter bar waiting for you!
---
Favorite Christmas Desserts Tour: Christmas Cookies & Bars (and more!)
---
SheLeavesALittleSparkle| Cream Puffs with Cranberry Orange Sauce
Meaningful Spaces | Salted Caramel Butter Bars
Lillian Hope Designs | Cranberry Cream Cheese Ball
Our Vintage Nest | Red Velvet Crinkle Cookies with Cream Cheese Frosting
Home Stories A to Z | Chocolate Strawberry Christmas Trees
Tonality Designs | Caramel Glazed Cookie
Kara's Party Ideas | Crockpot Fudge