This homemade Elderberry Syrup Recipe is used to help prevent colds and flus by boosting your immune system and can help prevent illness!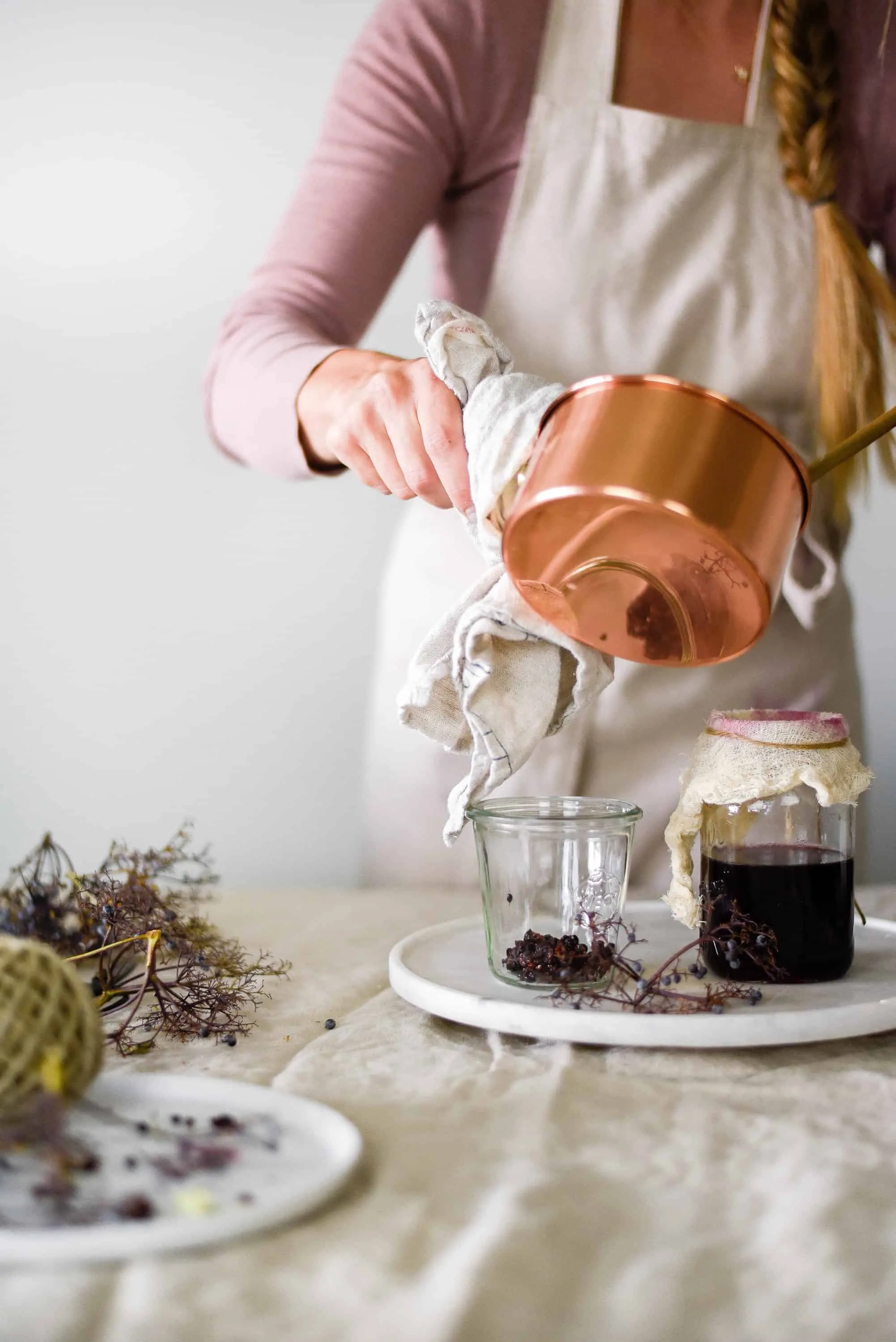 Elderberry Syrup Recipe
Elderberry syrup has been used for hundreds of years to treat flus, colds, diabetes, and much more!
The berries begin as blossoming white flowers known as Elderflowers, and you may have tasted some if you've ever drank St. Germain elderflower liquor!
As the berries ripen, they become a rich navy/purple color and form in large clusters. They are ready to harvest in the late summer/early fall similar to blackberries or other fruit. If you're looking for Elderberries, you can spot them by searching for the clusters of dark berries or for leaves that look like peach tree leaves.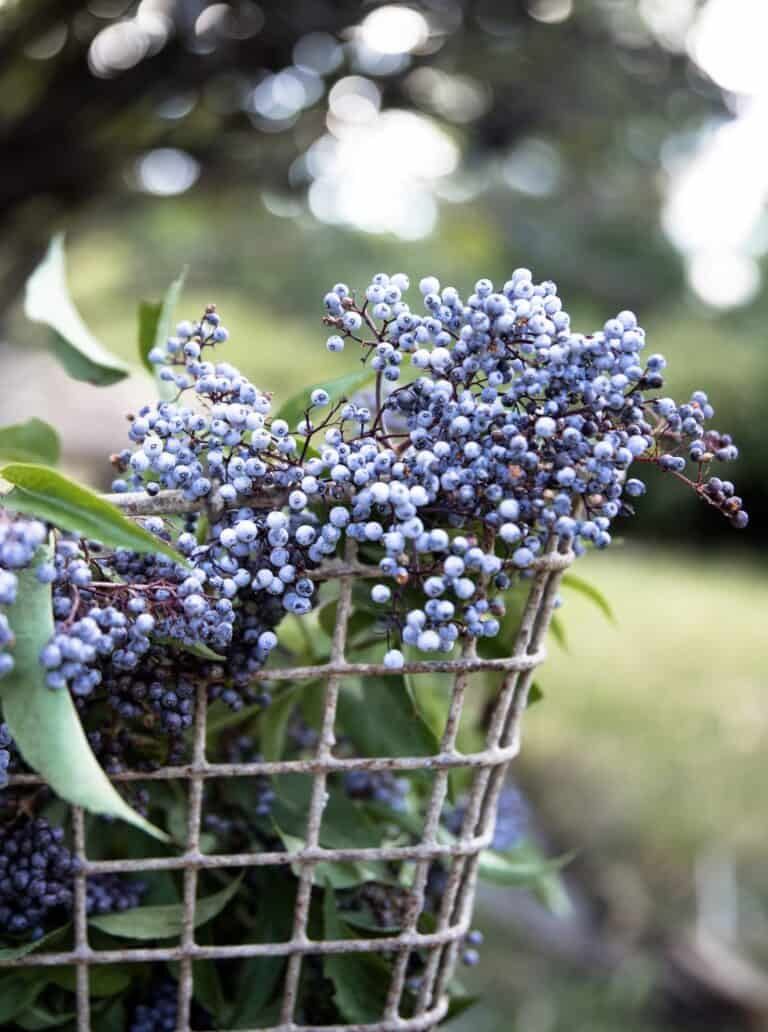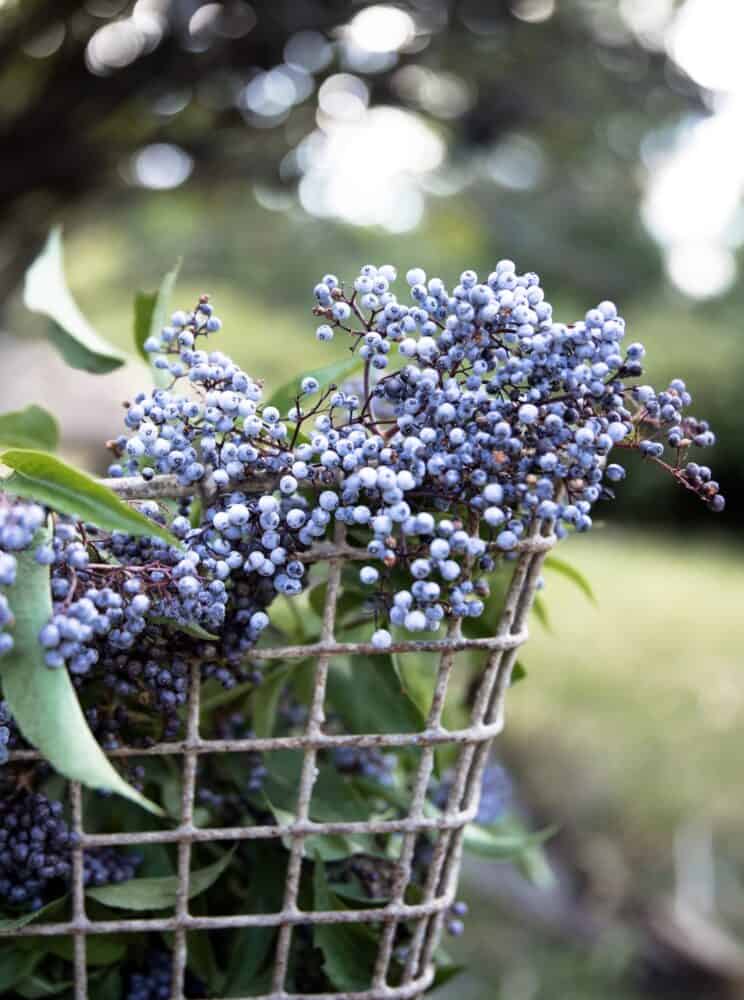 Aside for the folkloric stories of the juice being used to treat flus, colds, and diabetes – does Elderberry syrup actually work?
In short, yes. Here is a great study that explains in depth how it works, and supporting findings showing the results, but I'll summarize here:
How exactly does Elderberry syrup work to treat colds and flus?
Elderberries contain phenolic acid, flavonoids, catechins, and proanthocyanidins – all of which trigger an immune system boost by increasing the body's production of cytokines by monocytes. Since Elderberries contain cyanidin-3-glucoside and cyanidin-3-sambubioside (the main anthocyanins), the are incredibly rich in antioxidants.
In addition to increasing the body's immune system, the consumption of Elderberry juice or syrup has been shown to actually prevent viruses from clustering and attaching to the host cells!!!! Hello!!!! This is amazing stuff! (source)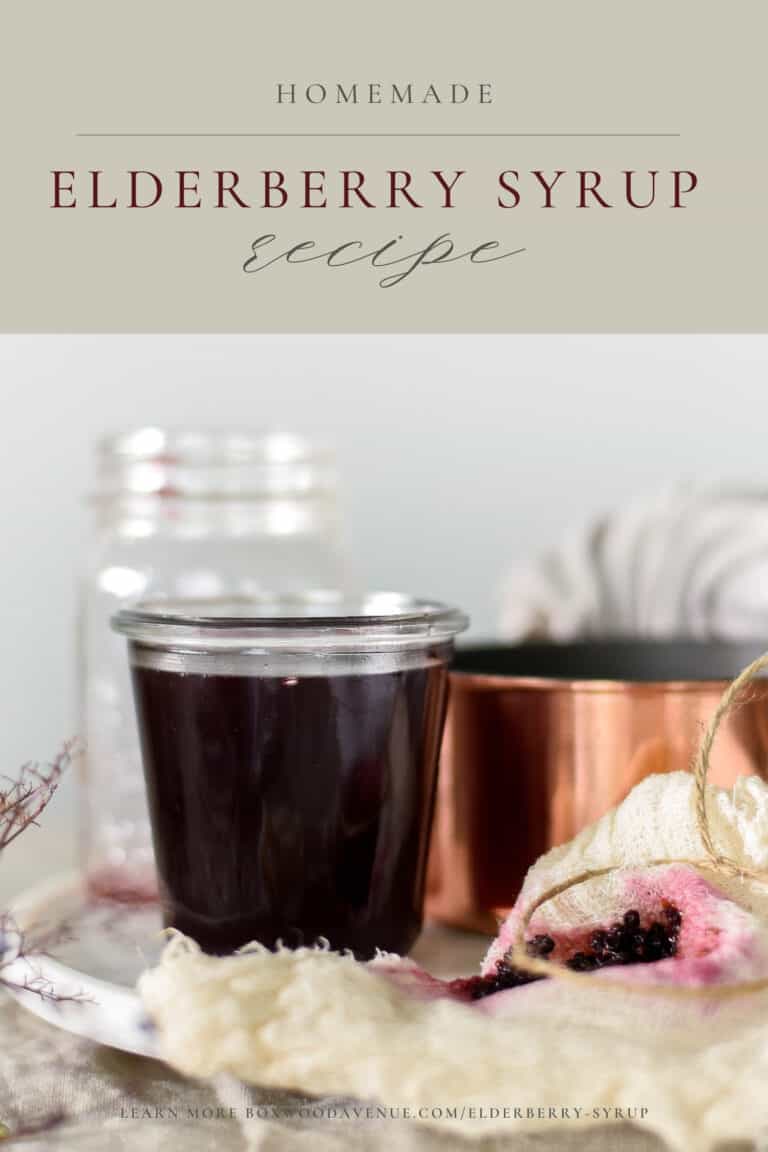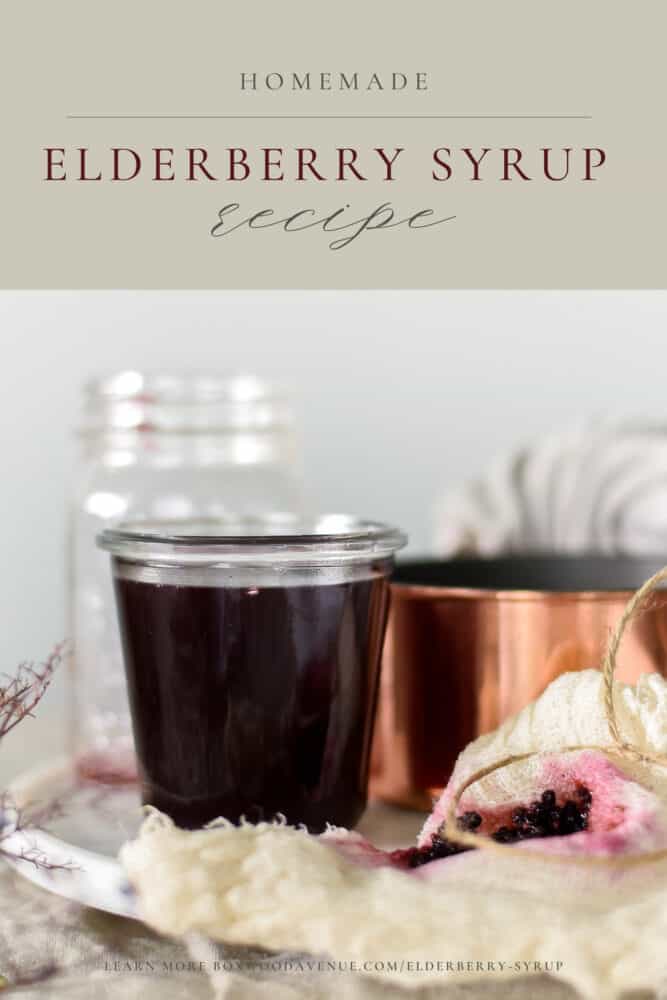 Your Elderberry Syrup Questions Answered:
Elderberry Syrup with Honey:
Honey has been recognized as a safe and inexpensive over the counter treatment to ease the symptoms of the common cold by coating the back of the throat and reducing coughs in adults and children. (source | source). Keep in mind, honey is not safe for children under 1 year of age.
Are Elderberries Poisonous?
You may have heard that Elderberries are not good for you, or are poisonous. Is that true?
Historically, elderberries were used to induce vomiting and have been known to cause nausea and be used as a diuretic. If raw berries are consumed in bulk, it can cause you to become sick.
Elderberry bark, seeds, and unripe berries have what is called Lectin, which can make you sick if you consume too much.
This is why we consume the cooked extract or juice of elderberries! Do not use the leaves or bark when cooking elderberries as they can cause you to fall ill.
Is Elderberry syrup okay for breastfeeding or pregnant women? What about children (babies, toddlers, infants)?
With anything while pregnant or breastfeeding, it's best to consult with your doctor to determine what is safe for you and your baby/body. Sorry I can't be of more help with that one!
Is Elderberry syrup better than Elderberry Gummies? Elderberry Syrup vs. Gummies:
If you're not into making your own homemade syrup, the gummies might be a great option for you! They are extra potent and contain 100mg of Elderberry extract in each serving. If you're feeling sick and using Elderberry as a treatment, this is a high dose that will be very effective. Just be sure to purchase gummies that don't contain preservative, high-fructose corn syrup, etc…
Elderberry Syrup and Diabetes:
Not only do these berries boost the immune system, they are also known to help regulate blood sugar! If you wish to consume Elderberry syrup, but you have diabetes, going to an unsweetened extract is probably your best bet. Be sure to consult a physician before consuming or adding any treatment to your regimen. I am not a doctor, these are my personal experiences with elderberries.
Elderberry Syrup with honey or sugar:
Most of the time you read about syrup or gummies, that is because Elderberries are tart and not very sweet. However, with just a teaspoon needed a few times/day to treat illness, most can get by without added sweetener to syrup.
I personally like to add raw honey to my Elderberry syrup for the added medicinal benefits. You can skip adding sweetener all together, but the syrup will not last as long in the refrigerator. You can freeze it though! Use an ice cube tray or small silicone mold to freeze and preserve your extract.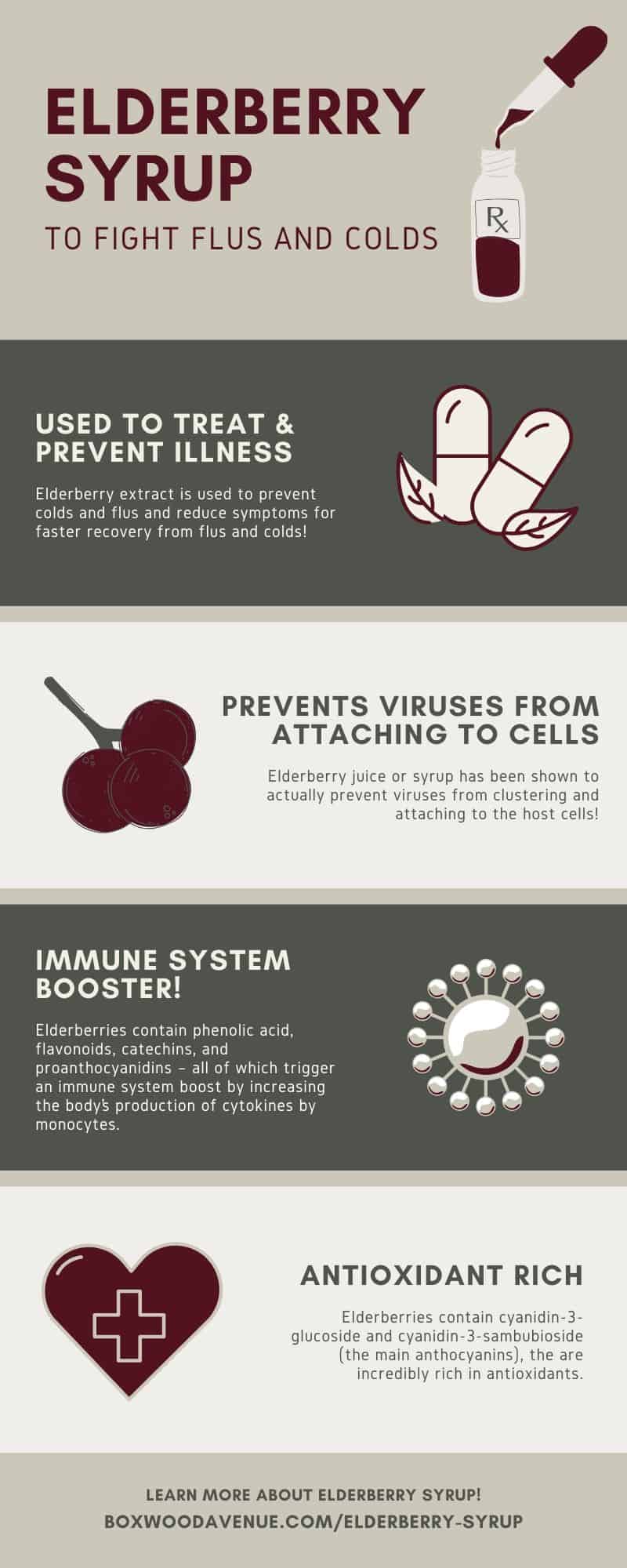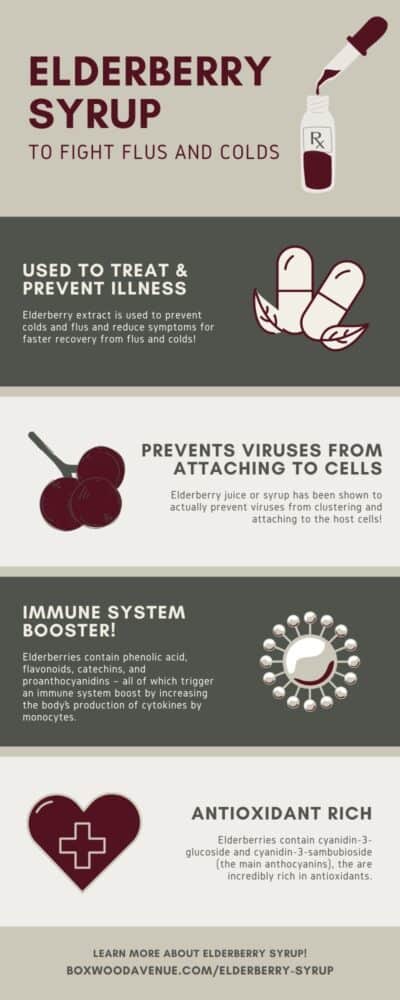 Elderberry Syrup Dosage (How much to take? How much is too much?):
From reading this study, they found that mice given 10mg/d of Elderberry syrup recovered better than mice given 5mg/d. So we may be able to deduct: more is better. However, keep in mind, Elderberry is also used a diuretic so, you don't want to over-do it. Most OTC brands suggest 1 tsp four times per day if ill, and 1 tsp twice a day as a preventative.
I like to take 1 tablespoon mixed with soda water and turn it into an elderberry soda "cocktail"!
Where to buy?
There are lots of different ways to consume elderberry juice: in gummies, pure extract, in syrups, jams, jellies…even wines!
Most often, you'll be able to find pre-made syrup at your local grocery store or health food store. You can also find on Amazon or Walmart.
With so many options, which is best? If you are not making your own homemade elderberry syrup, I would suggest purchasing 100% pure elderberry extract. That way you know that you are not consuming anything questionable. ;)
You can also purchase dried Elderberries! This is a great option if you'd like to make your own syrup: simply rehydrate these berries in about a cup of warm water and then follow my same recipe below.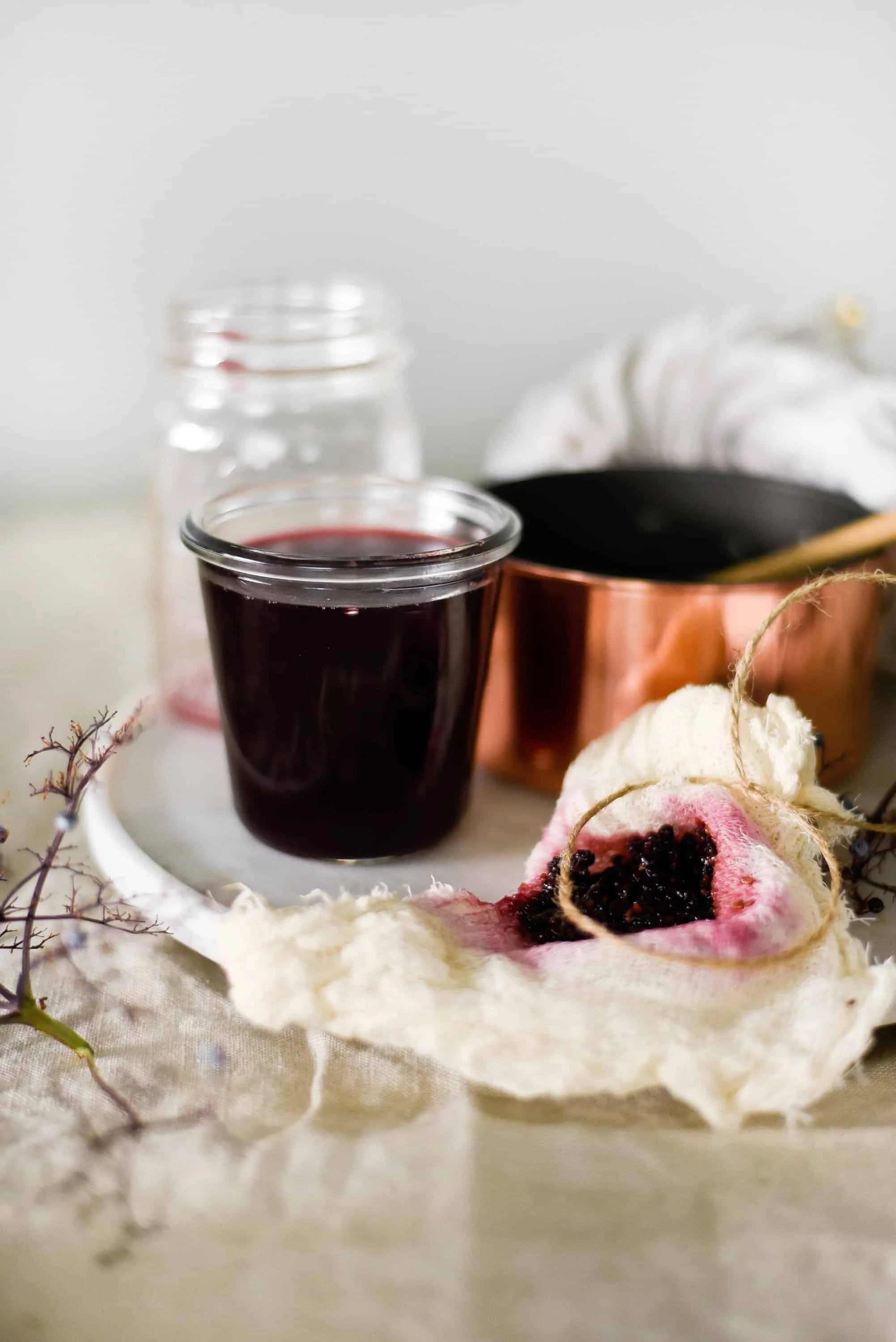 The Recipe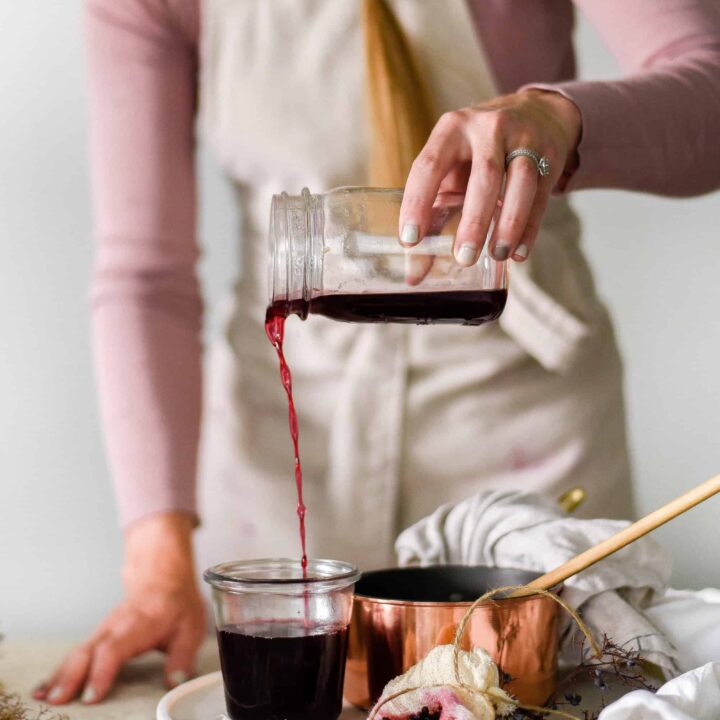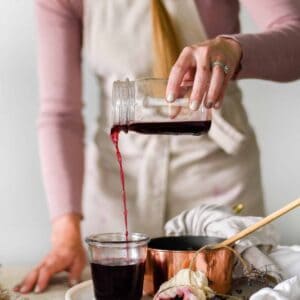 Elderberry Syrup
Elderberry syrup is a wonderful all natural medicinal syrup used to help treat flus and colds during the winter months.
Ingredients
7

cups

Elderberries

1

cup

Honey

Herbs of Choice

cloves, ginger, turmeric, cinnamon

2-3

cups

Water
Instructions
In a large pot, combine berries and 2 cups water.

Turn on low heat and simmer for 5-10 minutes, just enough for the berries to release all of their juices.

Use a potato masher or the back of a spoon to crush the berries and release the juice.

Once the berries have been thoroughly crushed, strain them through cheese cloth or a fine mesh sieve, saving the juice. You may press gently to speed up this process, but you may find a few seeds in your syrup.

Discard the crushed berries.

Return the elderberry extract to the pot, add honey and herbs. Try cardamom, or turmeric for medicinal purposes, cloves are also great.

Turn on low heat and just barely simmer for 5-10 minutes. You may add more water to dilute the syrup if you desire. (I add about 1 cup of water more, but this isn't necessary.)

Once the sugar is dissolved,transfer the syrup to small mason jars. Refrigerate for up to three months (maybe even longer). Can also be frozen in ice cube trays to last throughout the season!
Video
Notes
If you have dehydrated berries, simply rehudrate them in a cup of warm water and follow the same process.
---
MORE ELDERBERRY RECIPES
---