Garlic Greek Yogurt Sauce
This post may contain affiliate links, please read my disclosure policy.
This delicious garlic greek yogurt sauce is my weekly go-to for anything and everything! I drizzle it over roasted vegetables and serve it with grilled meat!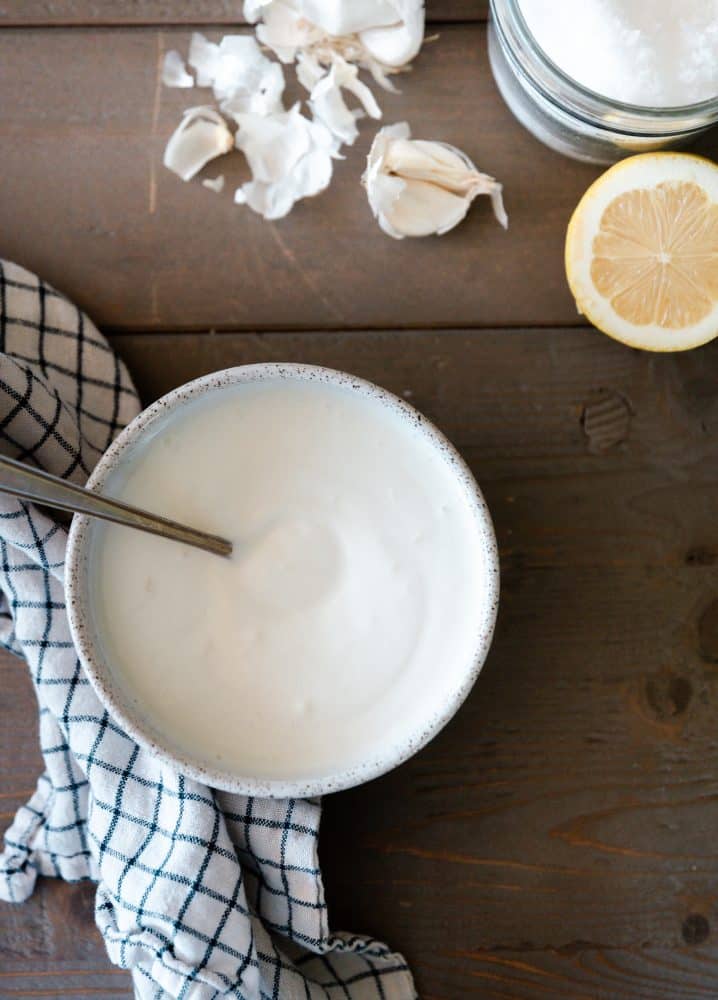 Garlic Greek Yogurt Sauce
I recently shared a little snippet of this yummy sauce on Instagram, and I received so many questions about it. How much yogurt? How much garlic? How long does it last?
Truth be told, I had never measured out the ingredients before! I've always eyeballed it! I have been making this sauce weekly for probably a year, and eating it with anything and everything.
When I ran out of my last batch, I figured I'd take the time to measure and photograph this sauce so that it had a spot to live in my recipe box here on the blog.
That way you can easily revisit, print, and save this recipe to make for your family!
This garlic greek yogurt sauce is incredibly delicious. It's packed with flavor and dresses up grilled chicken, roasted meat, and even breakfast sandwiches!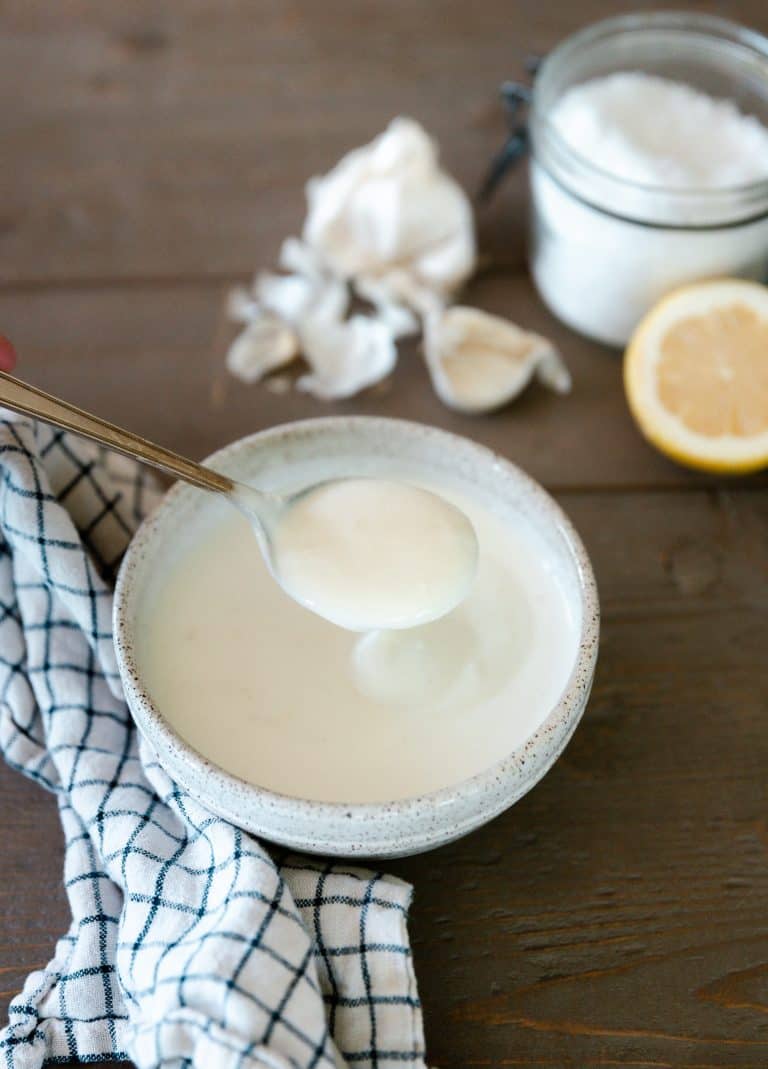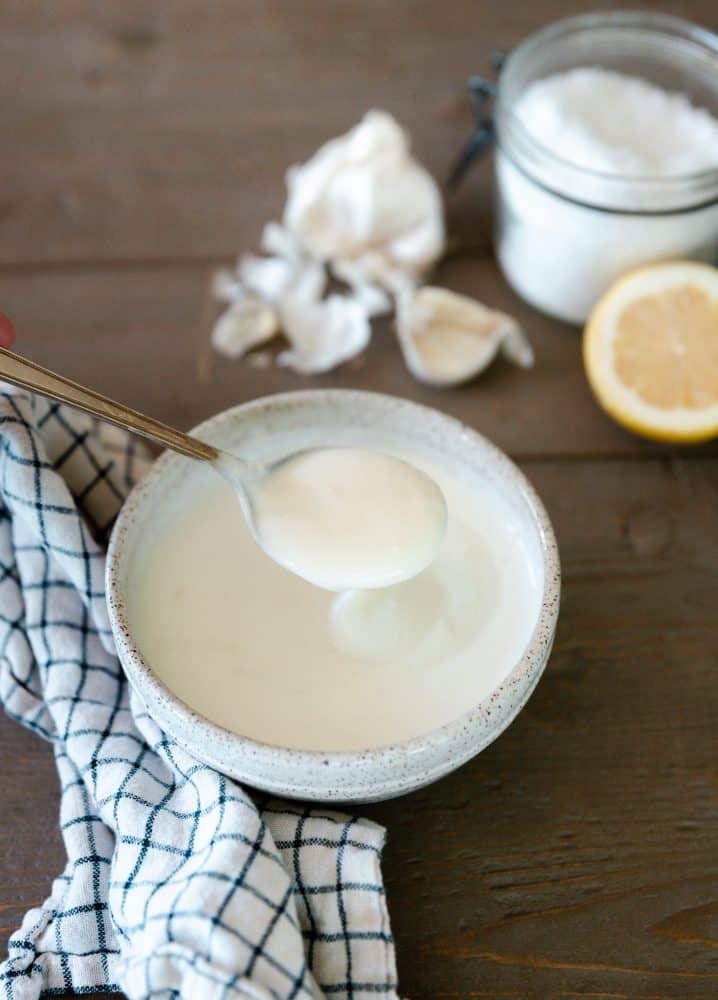 Ingredients you'll need for Garlic Greek Yogurt Sauce
Greek Yogurt
Garlic
Lemon Juice
Milk (You can use any type of milk – or even water – just to make the sauce your desired thickness.)
Champagne or White Wine Vinegar (I have tried Apple Cider & White Vinegar and didn't love the results.)
Salt
What to use this sauce for?
I love drizzling this sauce over roasted vegetables. In fact, that's probably my favorite use for it. It's also delicious when served with grilled lemon chicken.
I also love slathering this sauce over an english muffin on breakfast sandwiches! It's great used as a salad dressing, you can definitely get creative with it!
---
Adapt this sauce!
---
I say this with an exclamation mark because this sauce is soooo versatile! It can be used on so many things in so many different ways. I've adapted this recipe to fit my taste buds.
I love garlic, and I love lemon (see my basil pesto recipe). So I love this sauce. Your taste buds might be a little different than mine, so taste this sauce as you go, and tweak to your specific preferences.
If you love lemon, add a little more lemon juice. If you don't care for lemon, you can skip it altogether.
You can easily make a Mexican inspired version of this sauce by adding a little cumin, paprika, chili powder, and lime juice & zest.
Make it a little more Mediterranean by stirring in some Za'atar.
The possibilities are endless, and I would love to hear what you come up with!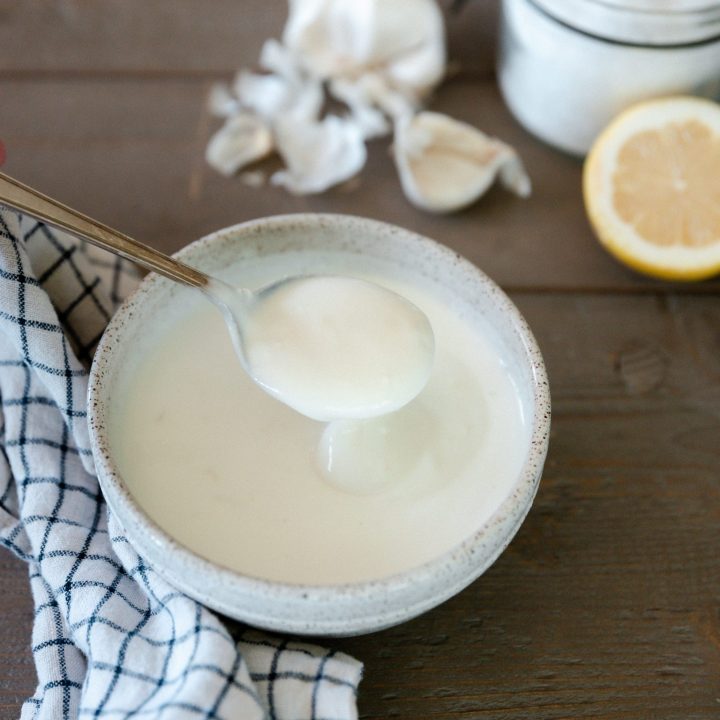 Garlic Greek Yogurt Sauce
This delicious greek yogurt sauce is packed with flavorful garlic and lemon juice!
Ingredients
1 cup 0% Greek Yogurt
1/3 cup Milk
Juice from 1/2 Lemon
3 tablespoons Champagne or White Wine Vinegar
3 Cloves Garlic, Minced
Salt
Instructions
Combine all ingredients in a mason jar or bowl and shake or stir well until thoroughly combined.
Give the sauce a taste and tweak until it's just right.
Notes
Fresh minced garlic tastes best in this recipe. The greek yogurt is a bit sweet, so I've found that it needs to be salted pretty generously; however, do not over salt. It's always easier to add more than to take away.