Laundry Room Remodel | Quartz Countertop Update
This post may contain affiliate links, please read my disclosure policy.
It's been almost two months since I've shared an update on our laundry room, but I am finally back to share some photos with the quartz countertops installed.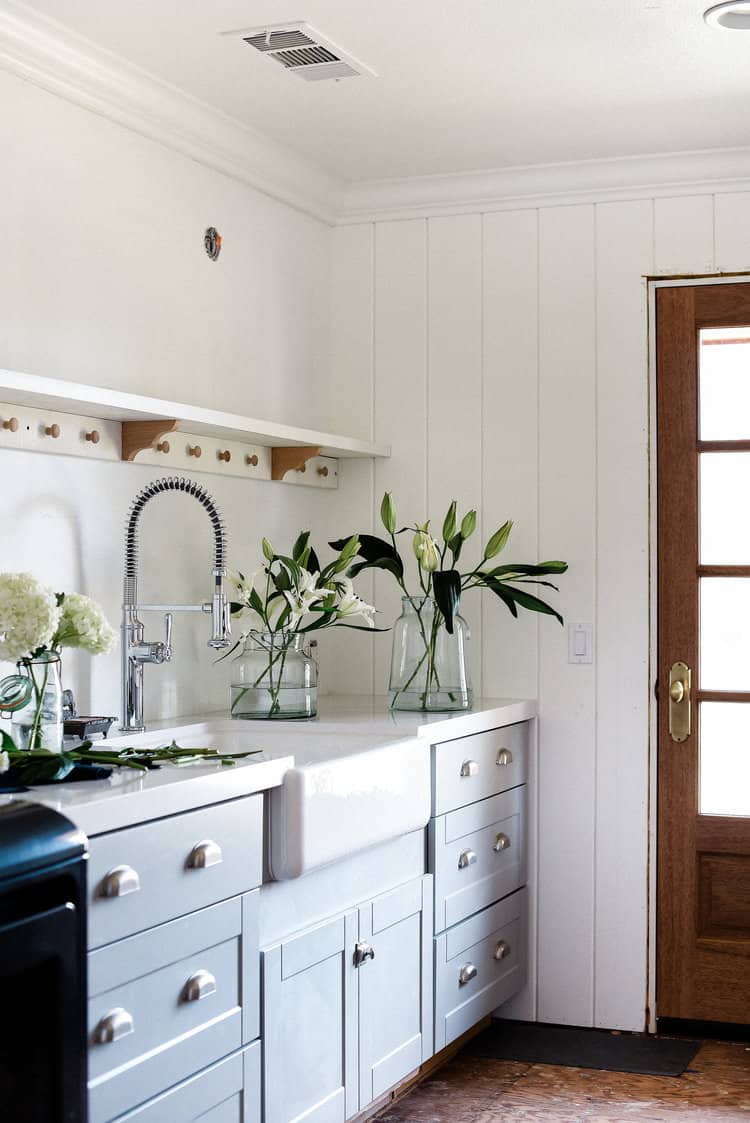 In case this is your first time stopping by, I will fill you in a little bit: I am working with my friends at The Home Depot to refresh our laundry room this spring! We gutted the space and have replaced everything in the room to make it more functional for us! You can see "before" photos of our laundry room here!
The project was supposed to be wrapped up by the first week of February, but our countertop selection has held us up for the past 8 weeks. Luckily, our washer and dryer have been functional, so I've been enjoying the half finished room nonetheless.
I love our new washing machine and dryer, and having cabinets instead of a closet has been wonderful – we have so much more storage than we did with the closet. I am always a fan of using a space to its fullest capacity, and taking out the linen closet was a great choice for us.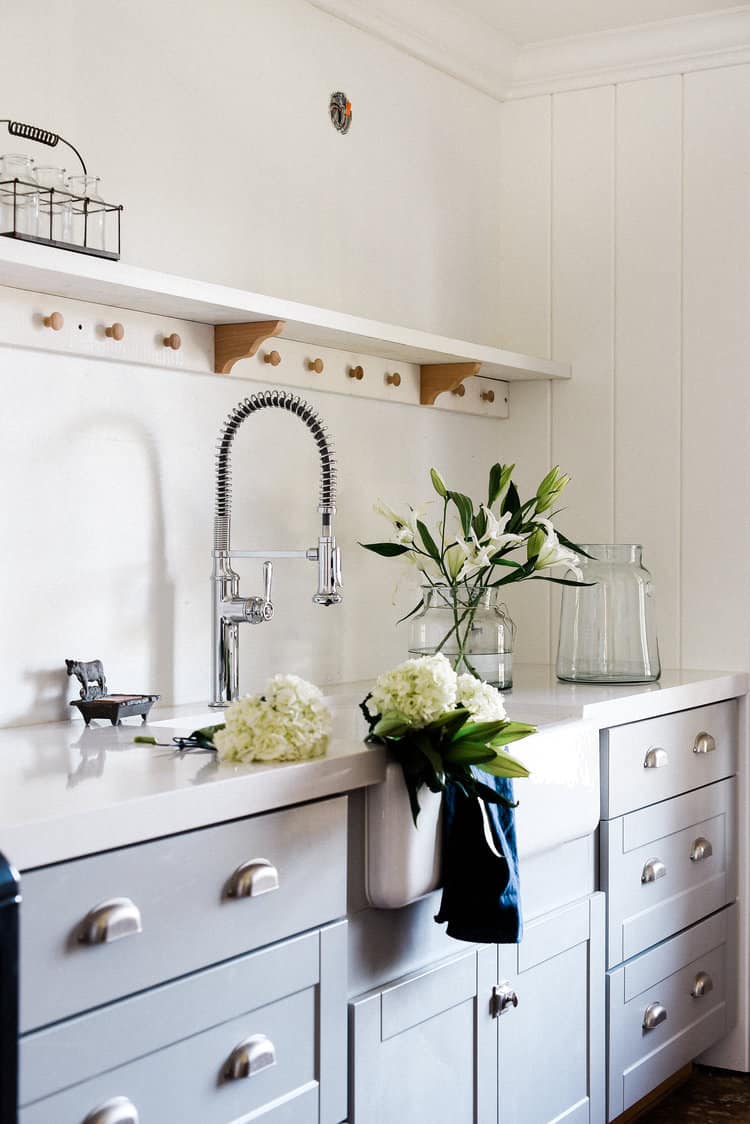 This week, the countertops were finally installed! We went with a thick cut quartz from Silestone called "Statuario" available at the Home Depot. After doing quite a bit of research on colors and brands of quartz, Statuario was my first pick for the countertops. I was very excited to be able to source them from Home Depot!
The countertops were installed yesterday, and I love the way they turned out! Since this is a utility room, I wanted a thick face on the quartz. I wanted the countertops to be very durable looking rather than dainty; however, if this were a kitchen, I probably would have opted for a thinner face.
The color itself is perfection. I couldn't have hoped for it to be any better. It has the faintest veins running throughout the slab and really looks like marble. If you are looking for a great quartz that resembles marble, this is a great option! The white is very crisp and clean, and the veins are a wonderful shade of gray that ties in the cabinets, hardware, and faucet.
Speaking of the faucet…it is a piece of art. This Kohler faucet is exclusive to the Home Depot and I couldn't be happier with it. Initially, I thought I might like a bridge faucet in the room because we skipped that in our kitchen; however, Home Depot presented this faucet to me, so I decided to go for it. I am so happy we did! It is sturdy, durable, and beautiful. I am always amazed when form and function collide into perfect unison, because often, we are stuck with one or the other: form or function.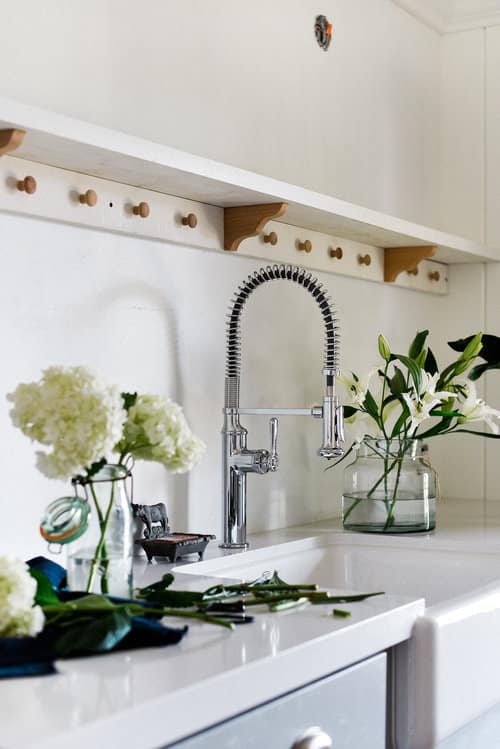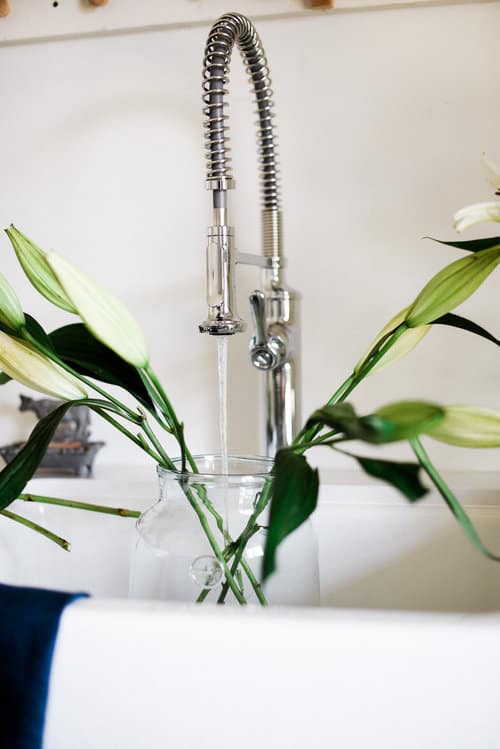 I picked up a few bundles of flowers on my way home from Reno last night, and couldn't resist playing with them in the laundry room. I am so excited to have a space to arrange flowers, fold laundry, and store linens! I am also so excited to have an exterior door in this room so that I can easily access the back of the house where the apple trees are. I am very grateful to Home Depot for supplying us with all of these wonderful items to share with you all!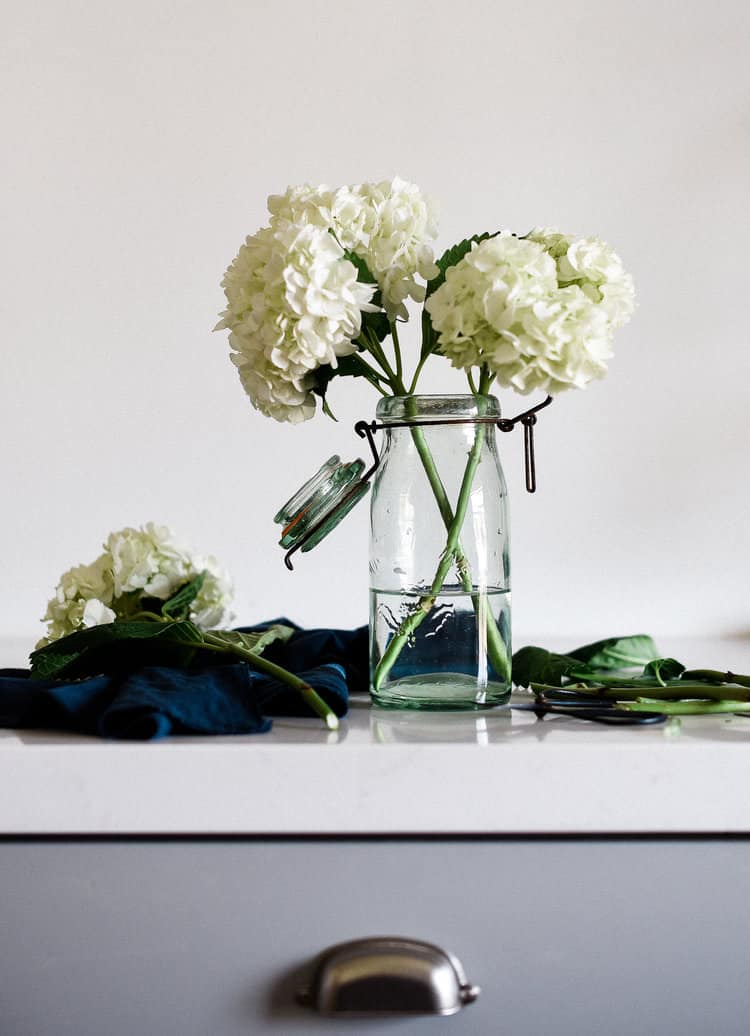 I will save more details for the final reveal, which I am planning for the 16th of April. I am off to help feed the heifers and then going to a friend's for dinner to celebrate Good Friday. Do you have any plans this evening? I wish you a very happy Easter, I hope you have a nice weekend relaxing with family and friends and enjoying this wonderful holiday!
PS: Did you see my announcement on Instagram? We are expanding the shop this May! We will now carry goods for your home! All of the vases (and even the soap dish) in this post are part of our new inventory! I can't wait to share more with you soon!