No Churn Pumpkin Spice Ice Cream
This post may contain affiliate links, please read my disclosure policy.
An easy pumpkin spice ice cream recipe that requires no churning!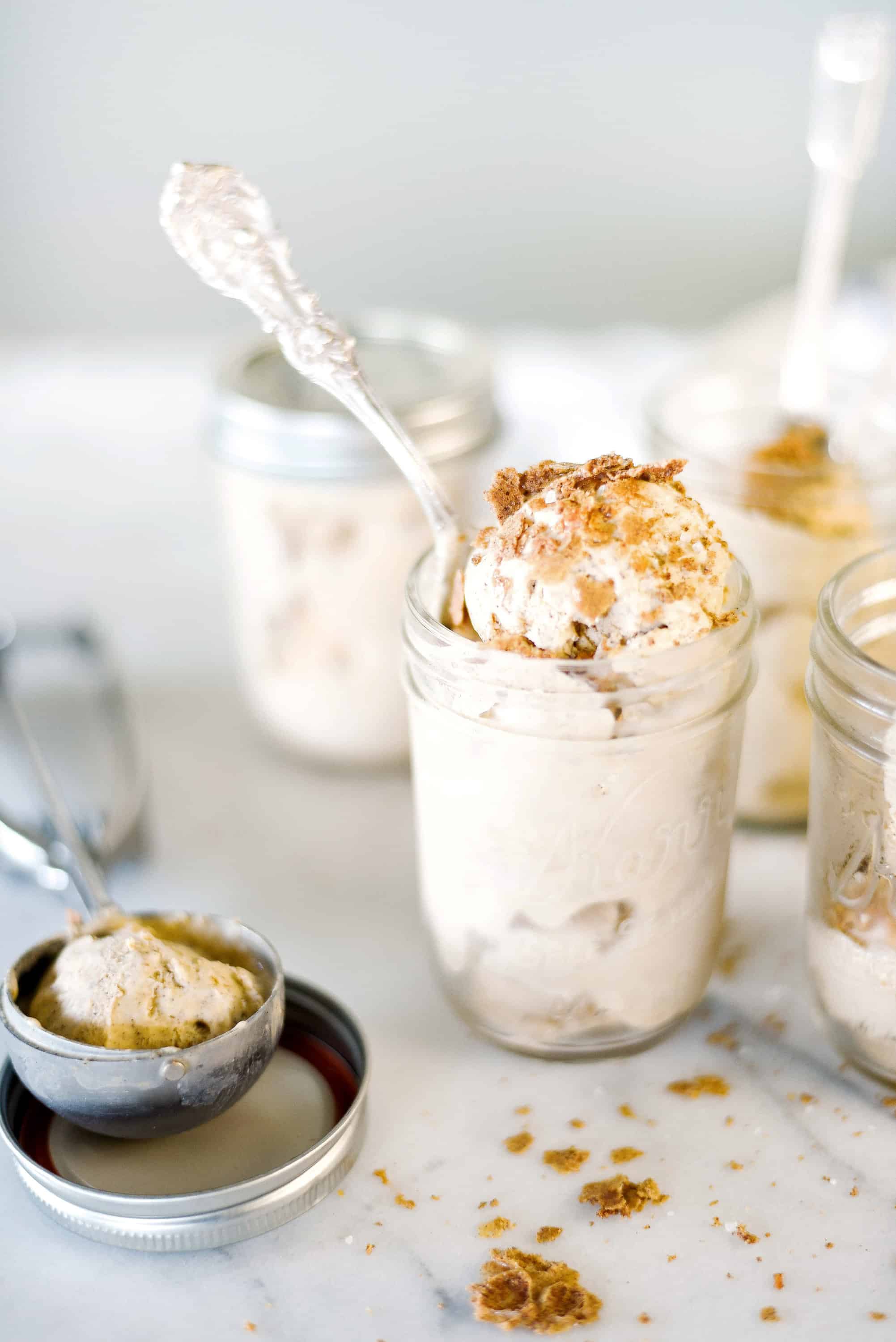 We received an ice cream maker for our wedding, and I've been dying to use it. The problem with this, is that it requires some planning, and if you are a regular reader, then you know, I am not a planner.
I am a spur of the moment kind of gal. I usually create my menus and recipes while in the grocery store, and lists generally turn into sketch pads of ideas. So the thought of having to plan 24 hours in advance to make ice cream has kept me from making any.
Actually, I did set out to make ice cream with our ice cream maker once, but I forgot to put the churn-er in the freezer (which is the 24 hour step)… I literally put a yellow sticky note on the fridge that said, "put churner in the freezer", and I still forgot. Proof that I'm really not cut out for a life of pre-set plans or menus. 
I am the girl scrambling with a papaya in one hand and coconut milk in the other hand, aimlessly walking down the candy aisle with an idea for making candied coconut papaya slices. I envy those people who can meal plan and take a grocery list to the store (and stick to it). I see "those people" walking calmly through the aisles with their lists and pens, gently checking 'milk' and 'half & half' off as if they've never forgotten both the milk and half & half when it was the only reason they went to the store to begin with. Which reminds me, we need milk.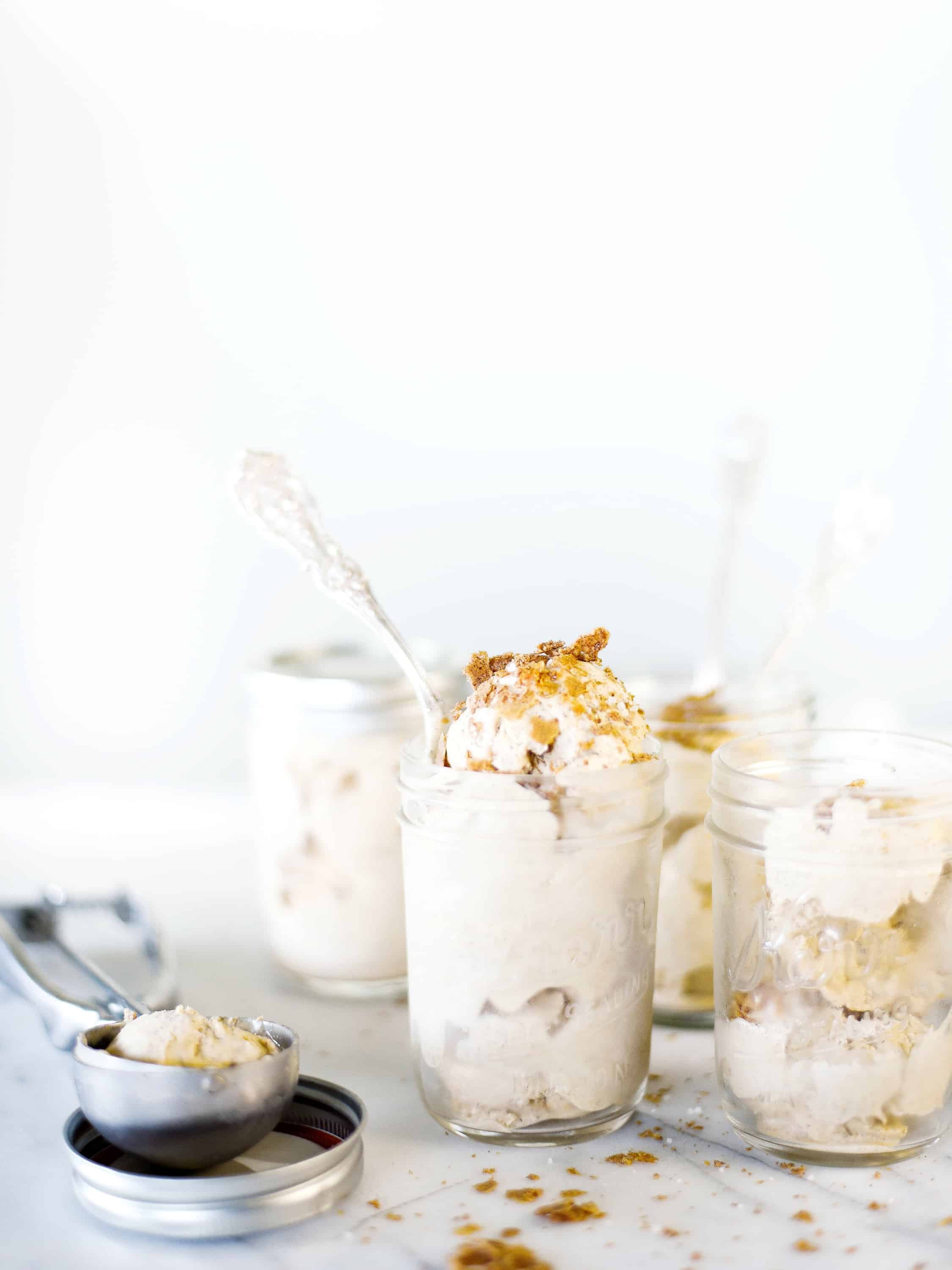 I came across a 'no-churn' recipe for making ice cream on the internet, and I quickly scrolled by it thinking, "there's no way". No way that it would be as good as real ice cream, so why waste the time or calories? 
After seeing similar recipes pop up more and more, I finally decided to give it a go. And guess what? The no-churn recipes are just as good. Rich, creamy, and delicious – it's magic to my little non-planning ears.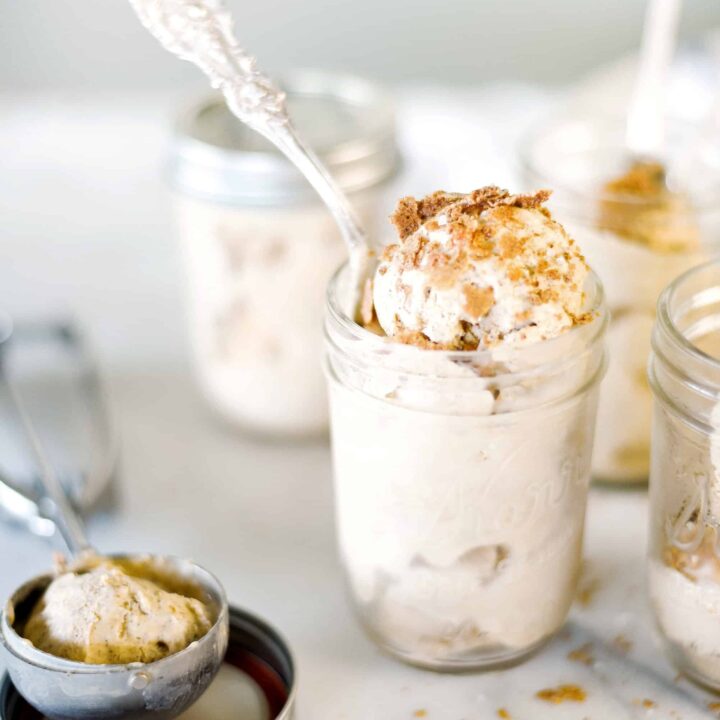 No Churn Pumpkin Ice Cream
Total Time:
2 hours
15 minutes
An easy pumpkin spice ice cream recipe that requires no churning! 
Ingredients
2 cups heavy cream
1/4 cup pumpkin puree
1-2 tablespoons pumpkin pie spice
1 14 oz. can sweetened condensed milk
Instructions
In a bowl, whip the heavy cream until stiff peaks form.
Combine pumpkin puree, condensed milk, and spices in a separate bowl. Stir until combined.
Use a spatula to fold the sweetened condensed milk mixture into the heavy cream. Careful not to break down the cream.
Once thoroughly combined, pour the mixture into a dish lined with parchment paper. I used a loaf pan, but you can use whatever you'd like!
Place in the freezer until frozen, and enjoy!