This oven roasted chickpea recipe will change your life!
I have quite terrible will-power when it comes to food. It's the kind of will power that causes me to eat 5 donuts in one sitting, or an entire American dinner-sized pasta portion for lunch. Bread? Don't even get me started? Cheese AND bread? Done.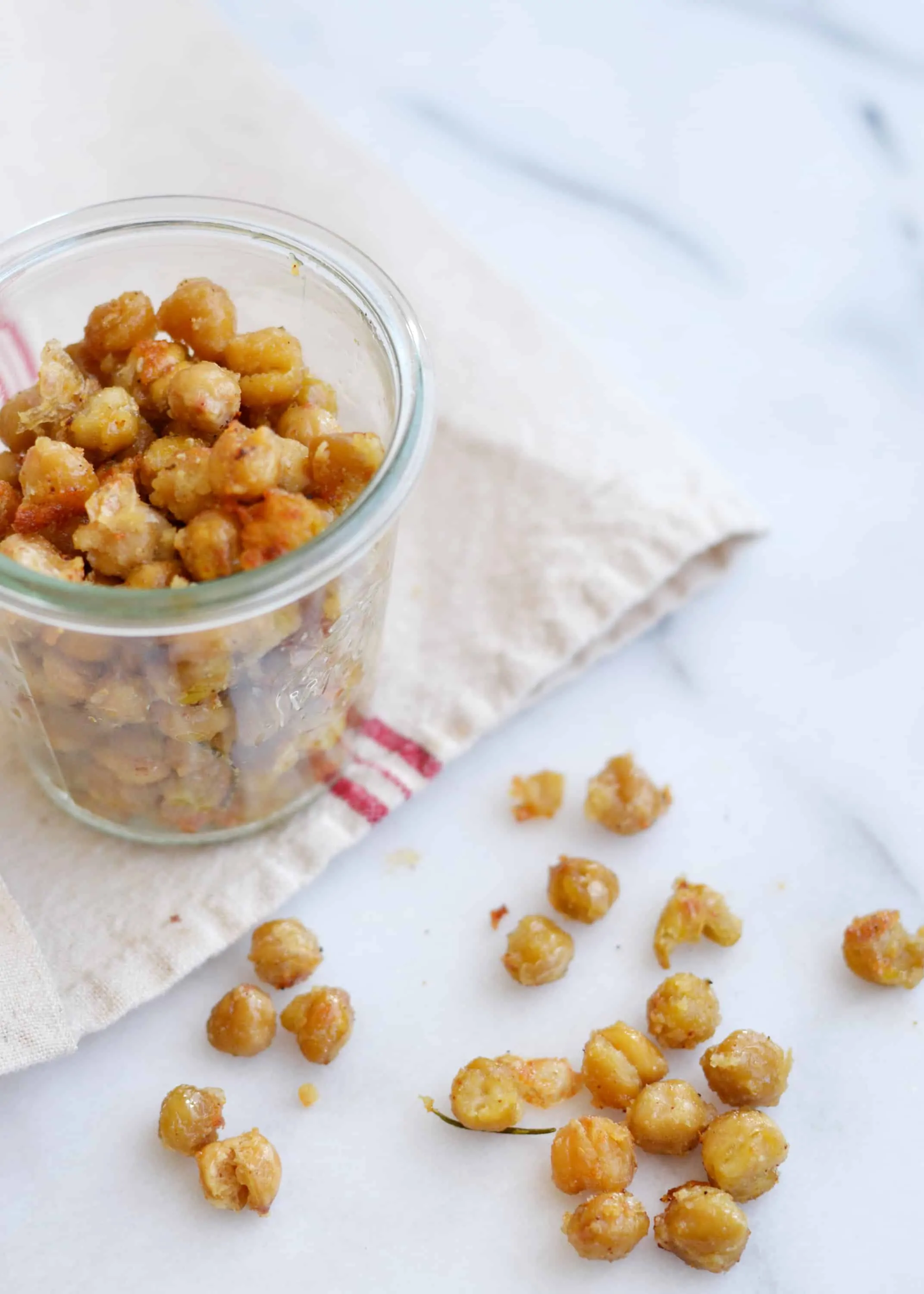 When Greg and I first started dating, I gained 30 pounds due to this. Yes, you read that correctly. THIRTY pounds. When I look back at photos I can't believe it either. 
I had always been able to eat whatever I wanted to my entire life, and never worry about my weight, but when Greg and I got together, we spent many a nights at the ultra fancy Olive Garden, and the pre-made cake section of the grocery store.  
When I could no longer fit in my pants comfortably, I knew I needed to make a change – and completely changed the way we were living. I started exercising and watching what I ate (no more mushroom steaks & potatoes for us). I became an advocate for Paleo eating, and yes, even joined a cult: CrossFit. ;) 
I loved it because I saw results fast, and the workouts were only 20 minutes long. It was glorious. After a year of hard work, I was back to my high school weight, and have sat right around there for the past few years.
Since moving up to the ranch, I don't exercise the way I used to. I am a high school coach, and do conditioning with my girls, but I am no where near as dedicated as I used to be. So, I have to be very conscious about what I eat.   
I like to eat a very balanced diet, but allow myself to eat the damn cheese if I really want it. I have fallen comfortably into the non-deprivation, healthy eating lifestyle. Every now and then I will serve pasta for dinner, or go out to eat at one of the few restaurants in town, but for the most part we eat a 'Primal' diet (mostly because I can't stand the thought of life without cheese). 
These chickpeas are my go-to recipe for when I'm feeling like I need something starchy, but don't want to cave into the pasta craving. They are perfectly crunchy, salty, and delicious! I will often just have these for dinner, and call it Meatless Monday (even if it's Thursday). Chickpeas are packed with protein, but do come with a high calorie content (just like Almond Butter, my one true love), so think of these as a meal rather than a snack if you're being mindful about calorie intake.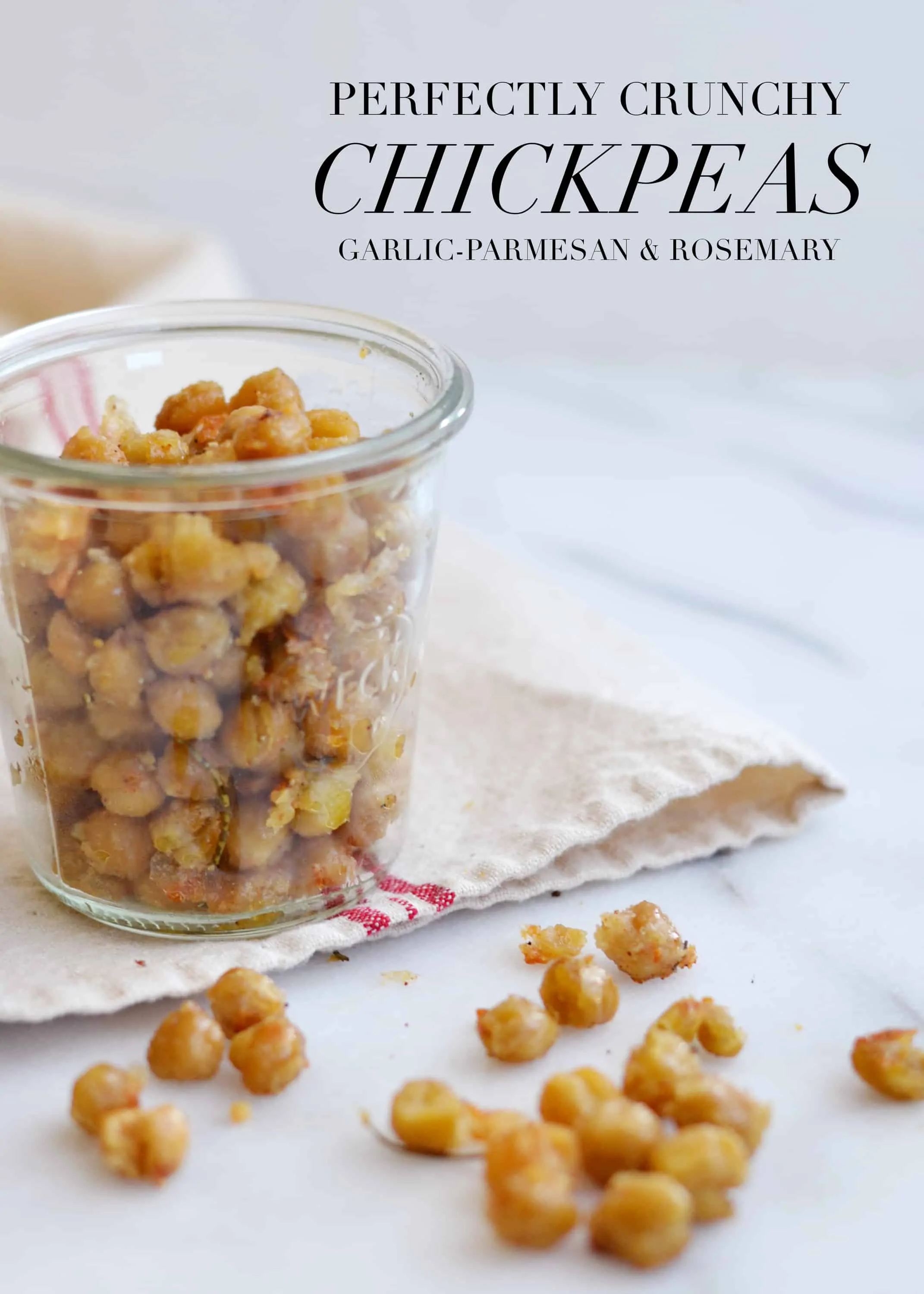 The Recipe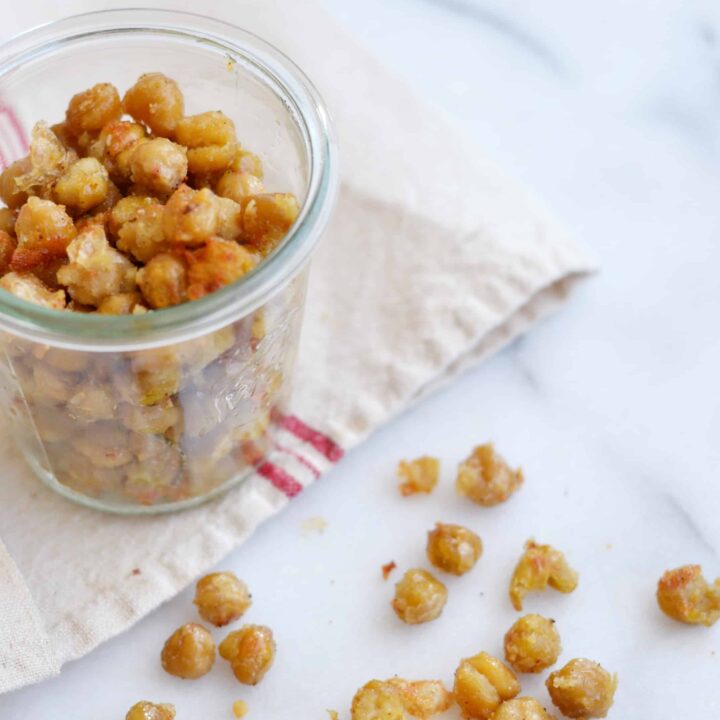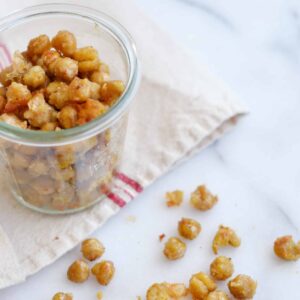 Oven Roasted Garlic Parmesean Chickpeas
Perfectly Crunchy Chickpeas make for the perfect side dish or appetizer!
Ingredients
1

can chickpeas

rinsed

1/4

cup

shredded Parmesan

Salt

garlic & onion powder to taste

Fresh Rosemary Sprigs

3

tablespoons

olive oil
Instructions
Preheat oven to 425˚ F.

In a large bowl, combine all ingredients and toss to coat the beans thoroughly. Spread evenly on a cookie sheet, and place in the oven for 20-25 minutes, checking on them regularly. 

Once they are crispy, and look like they are right on the edge of "crispy" and "burnt", take them out. Scrape them into a bowl, sprinkle with fresh sea salt and a dash of Parmesan, and fall in love. 
OTHER GO-TO RECIPES:
Triscuit Recipes to Serve at Your Next Party
Easy Appetizer Recipes for Fall: Featuring Warm Brie with Candied Walnuts