These salted caramel shortbread bars are dangerously delicious! Be prepared for them to become a house favorite!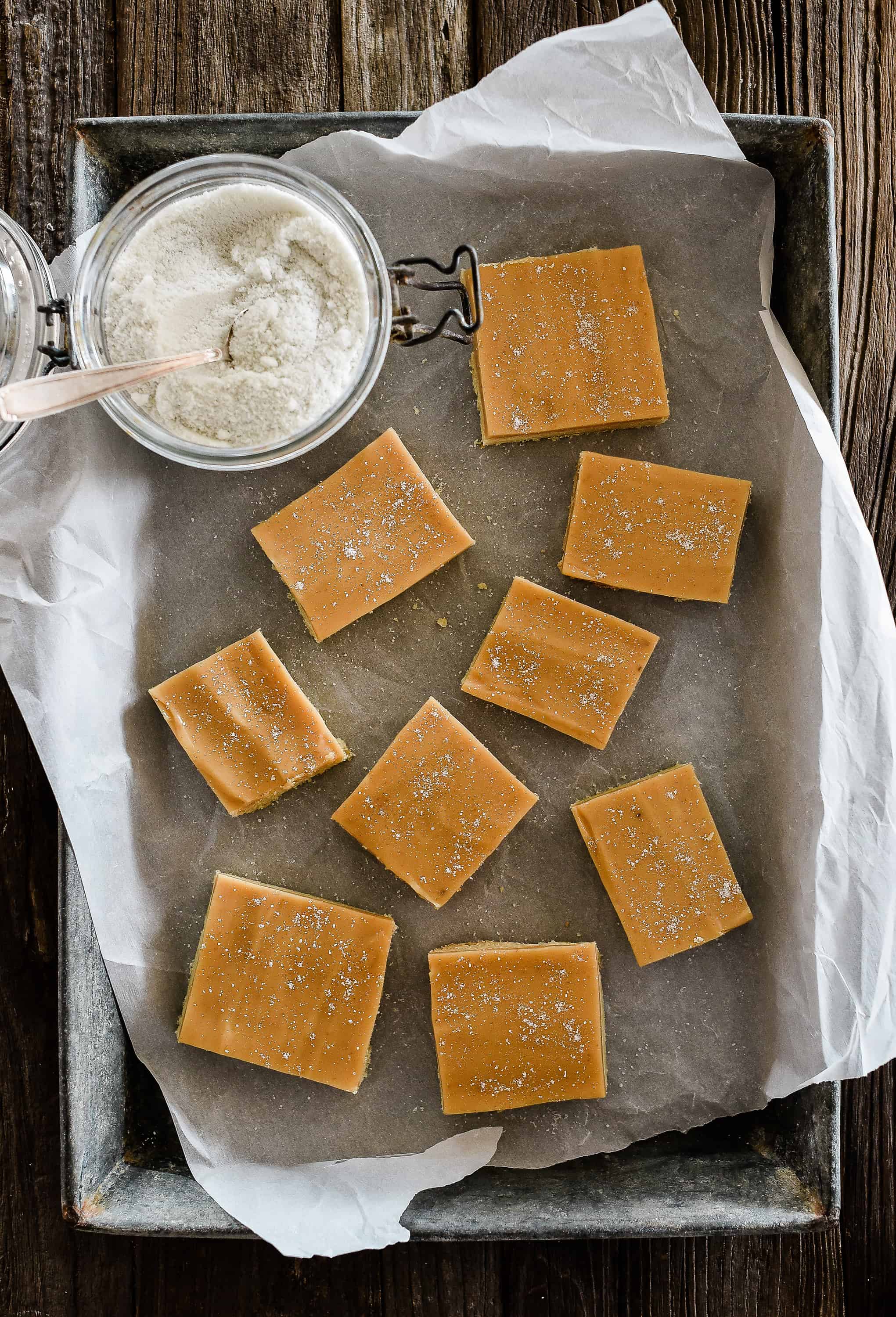 Salted Caramel Shortbread Bars are the Best Christmas Treat!
Now that it is officially December, I think it's appropriate to have my mixing stand ready to use at all times, don't you!? I love baking during the holiday season – I don't worry about calories throughout the month of December, I have January for all that yucky stuff.
I have joined together with some of my friends from Instagram to bring you a delicious virtual cookie swap! Once you're done with these salted caramel shortbread bars, just scroll down to visit my friend's blogs to get their recipes!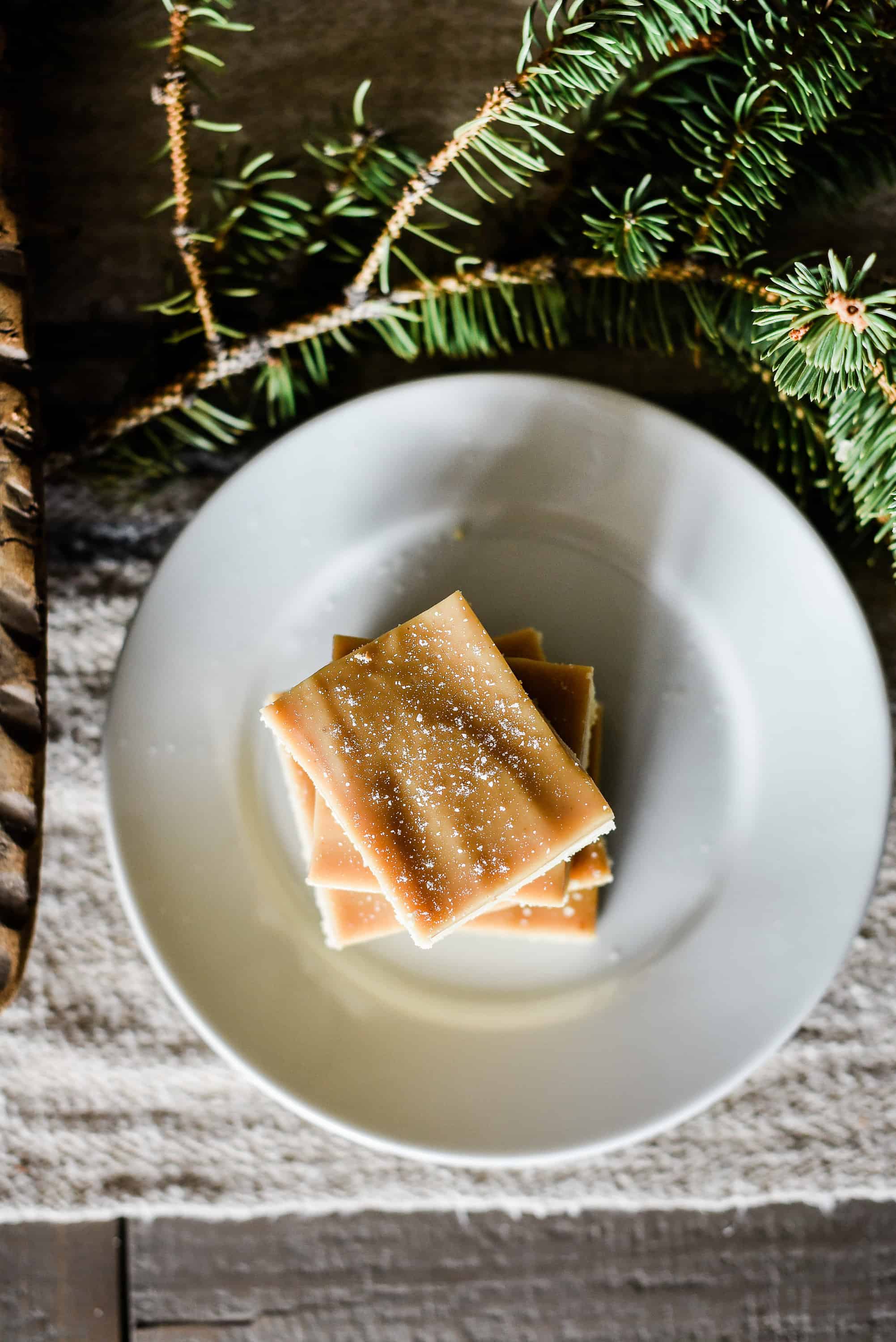 These salted caramel shortbread bars are one of those recipes that I know I will keep going back to. They are so buttery and delicious and are actually quite easy to make, they just require a little babysitting while they're being prepared! Here are a few tips for getting the perfect bars:
How to Make Christmas Shortbread
Christmas shortbread is one of my favorite holiday treats! I love the combination of butter, sugar, and flour. I also like a pinch of salt in shortbread so I tend to use salted butter. The flaky, delicious cookie is the perfect base for these salted caramel shortbread bars!
Check out my Christmas shortbread cookie recipe for tips when making shortbread! For an extra light cookie, you can use powdered sugar, but this recipe works great with granulated.
When making shortbread, use cold butter and work the dough minimally. Shortbread is very similar to pie crust!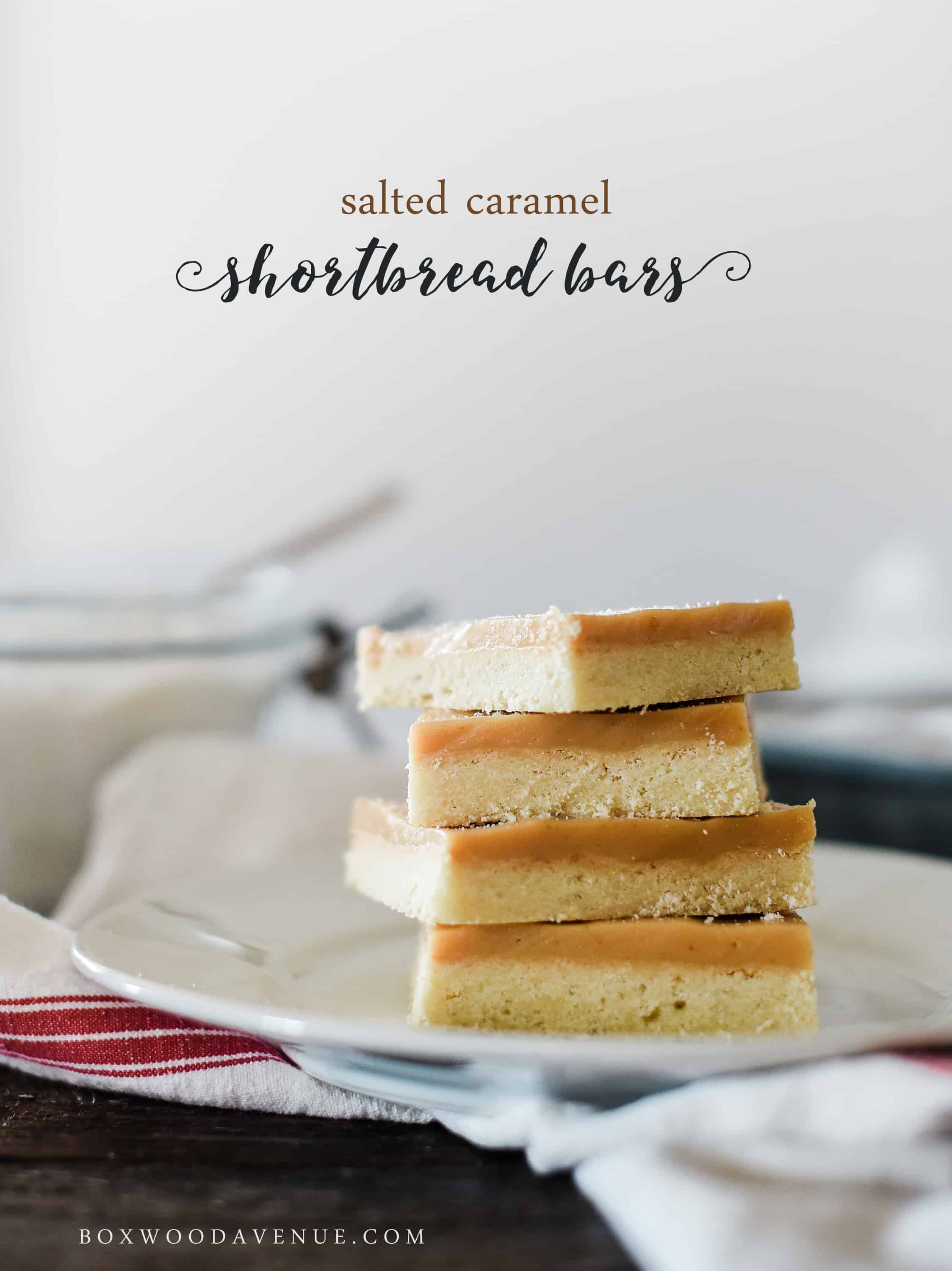 What if My Caramel Doesn't "Set"?
Caramel can be one of those temperamental things that scares people off from making it. Luckily this recipe is very easy and doesn't require a candy thermometer! The caramel recipe for these salted caramel shortbread bars is originally from this easy 4-ingredient soft caramel recipe.
When making this recipe, it is important to continuously whisk the caramel mixture while it is heating. This will provide even heat throughout the ingredients and will prevent burning. Don't be tempted to walk away from the mixture while it simmers – the bottom will burn quickly!
It's also important to use your best judgement when it comes to your caramel's finish line. You will know it is getting close as it begins to thicken and pull away from the pan. The mixture will have reduced quite a bit and have achieved a beautiful caramel color.
If the caramel mixture isn't pulling away from the sides of your pan, and is still light in color, give it a few minutes. My personal trick is that once I think the caramel is ready, I give it 2-3 more minutes just to be sure.
Looking for a caramel dipping sauce? Try my crockpot one-ingredient caramel sauce!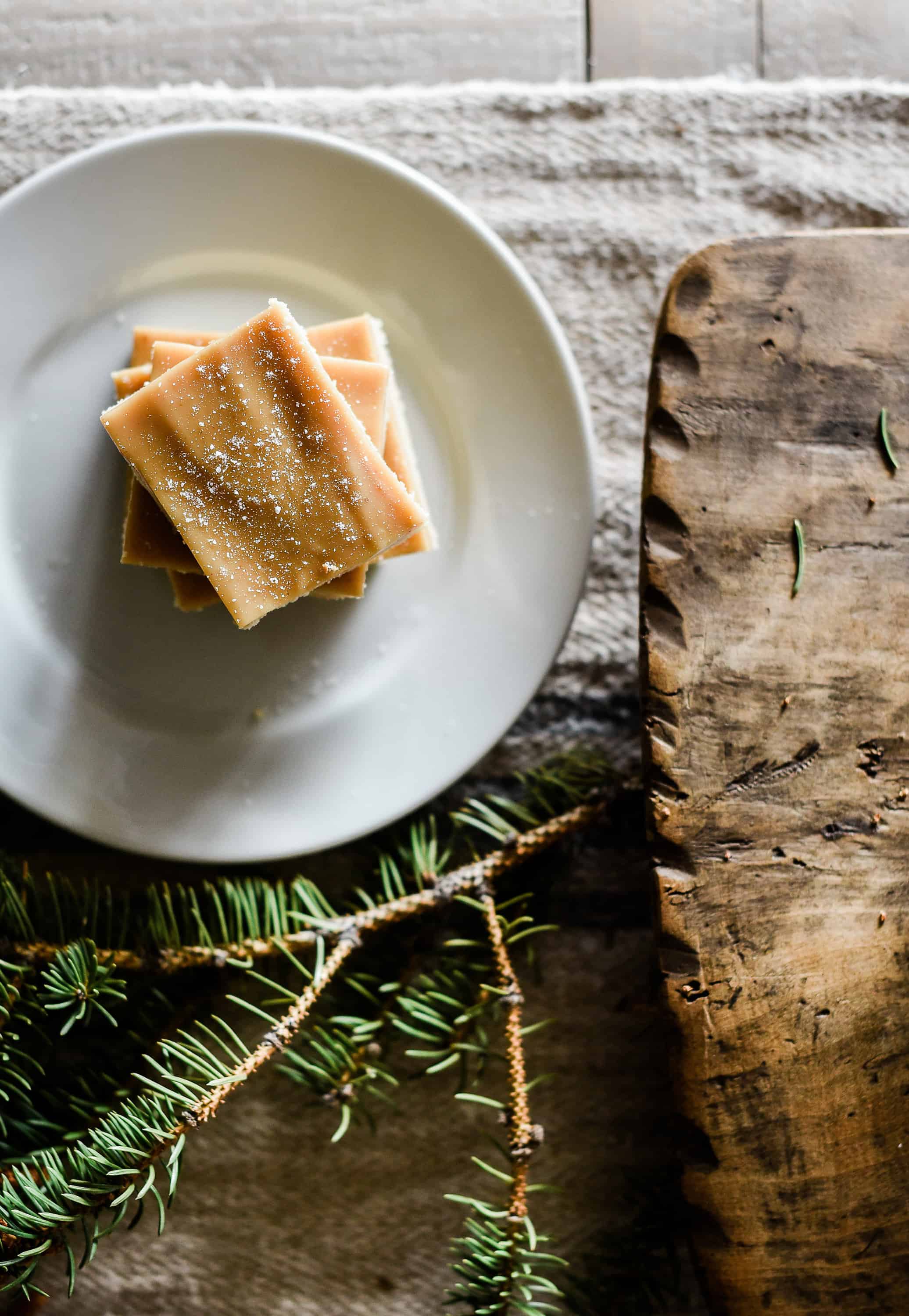 ---
The Recipe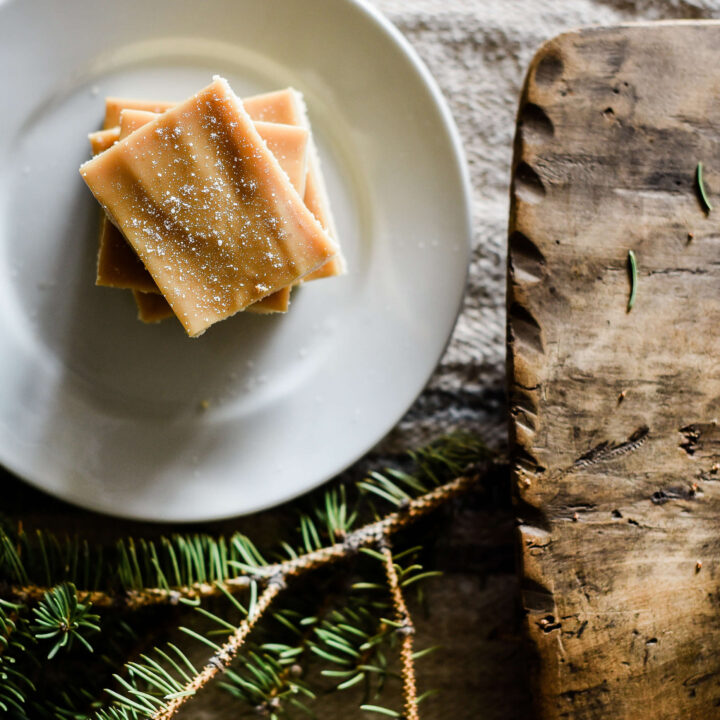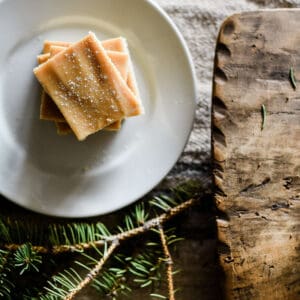 Caramel Shortbread Bars
These salted caramel shortbread bars are a delicious holiday treat recipe that you'll find yourself making year after year!
Ingredients
FOR THE SHORTBREAD

1

cup

2 sticks salted butter

3/4

cup

granulated sugar

2

cups

all-purpose flour

FOR THE CARAMEL

3/4

cup

1 1/2 sticks butter

1/2

cup

granulated sugar

3

tablespoons

light corn syrup

14

oz.

sweetened condensed milk

sea salt

for topping
Instructions
Preheat oven to 325 F

Prepare the shortbread: In a large mixing bowl, cream 1 cup butter & 3/4 cup sugar together until light and fluffy.

Blend in 2 cups flour and beat until thoroughly combined. Press the shortbread dough into a 13×9 baking dish.

Bake the shortbread dough for 25 min (or until golden brown). While the shortbread bakes, prepare the caramel topping.

In a medium pot, melt 3/4 cup butter over low heat. Once the butter is melted, add 1/2 cup sugar. Whisk to dissolve.

Once the sugar has disolved, turn heat to high, and pour in the 14 oz. of sweetened condensed milk and 3 tablespoons light corn syrup.

Bring the mixture to a full rolling boil that does not cease when stirred.

Once the mixture reaches that point, reduce the heat to a simmering level (medium-low heat).

Whisk the mixture at a simmer for 10-15 minutes – or until it reaches a caramel color. It is important to continuously whisk to prevent burning. You will know the mixture is ready once it begins to pull away from the sides of the pot. Do not remove from the heat early because your caramel will not "set" over the shortbread.

Once both the shortbread & caramel are ready, pour the hot caramel directly over the shortbread. Use a spatula to distribute evenly. Place into the freezer for about an hour.

Remove the caramel shortbread from the freezer and sprinkle salt over the top. Cut into small squares, and enjoy!
Notes
We have found that using a regular sized sauce pot to make the caramel works best. If foubling the recipe, use a large stock pot to make the caramel.
If using a non-teflon sauce pot, you can use an electric mixer with the whisk attachment to stir the caramel and save your forearms ;).