Sun Valley Idaho Travel Guide
This post may contain affiliate links, please read my disclosure policy.
Whether you're an avid wildness traveler or simply enjoy exploring new parts of the country, Sun Valley has a little bit of something for everyone! This year-round outdoor destination offers a variety recreations for families, couples, or solo travelers.
From hitting the slopes to the trails there is a 100% chance you will enjoy this amazing Idaho gem. Known for its wonderful winter activities (primarily downhill skiing), the area is perfect for snowshoeing, cross country skiing, hiking, and even horseback riding!
The Wood River Valley consists of a few towns: Sun Valley, Ketchum, Hailey, and Bellevue, often collectively referred to as "Sun Valley".
As one enters into the beautiful Wood River Valley, it's immediately apparent just how special not only the surroundings are, but the community along with it. The people of Sun Valley make the surroundings that much better, proven by the Stay Sunny campaign focused on preserving the land and ethos of the area.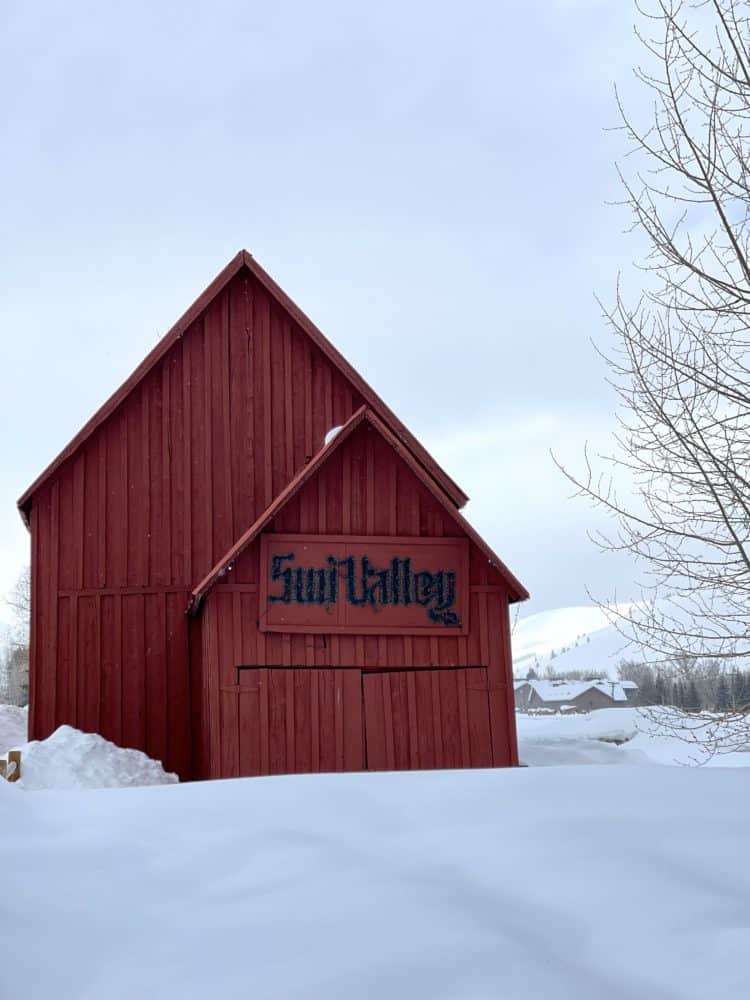 History of Sun Valley
Sun Valley, originally a mining town in the 1800s, became rich in agriculture when the remaining residents turned to ranching (cattle and sheep) as the mining boom subsided. Once known for ore, sheep became the primary product of the valley.
During this time, Union Pacific railroad continued its quest out west. Subsequently, a man by the name of Count Felix Schaffgosch arrived in the area in search of the perfect location for the first US ski resort. Alpine skiing was becoming a popular activity after the Lake Placid games in 1932, and there was opportunity to be had!
Upon arriving in Sun Valley, the Count noted that he believed it to be the perfect spot, better than anywhere he had been in Europe or America. He was impressed by the sun, snowfall, moderate elevation, and lack of wind.
At that, the land was purchased from the Brass Ranch family for an alleged $4 an acre, and construction on the resort began. Once completed in 1936, celebrities and notable public figures traveled near and far to experience the exciting new winter playground putting the area on the map. One of the more notable people being Earnest Hemingway!
To this day, Sun Valley continues to be one of the best ski resorts in the world!
Getting to Sun Valley Idaho
By Air
Many choose to fly into Sun Valley, especially if traveling from the east coast. There are daily flights to Sun Valley via Alaskan, Delta, and United from San Francisco, Seattle, Los Angeles, Denver, Salt Lake City, and Chicago.
You can also opt to fly into Boise, just a three hour drive from the valley. Or, Twin Falls – a two hour drive.
By Land
If located on the west coast, many people simply drive to the resort. Driving to Sun Valley offers picturesque high desert scenery with very little traffic! You can either pass through Boise or Twin Falls to find your way into Sun Valley.
The Best Hotels and Lodging in Sun Valley
There are many lodging options in the area ranging from hotels to condos and vacation homes. While you can certainly stay in Sun Valley proper, I recommend staying in Ketchum where you can walk to many restaurants and shops.
Condos & Townhomes
If you're bringing a family and need a bit more room and would like to stay within the village, the Sun Valley Cottages are a great option. Each cottage is unique and absolutely darling! You can check them out on their website to reserve one that fits your family's needs.
If you prefer a condo or townhome, check out SV's website for listings located within the town.
Of course, Air B&B or VRBO also has a range of beautiful options to choose from!
Hotels
This charming hotel is located in the heart of the village in Sun Valley.
The number one rated hotel in Sun Valley is the Sun Valley Inn. This beautiful newly remodeled inn is full of quintessential mountain charm! Conveniently located right in the center of the village with a great bar and restaurant! From $350/night.
The newest hotel listed, this is a great pick if you prefer a more contemporary mountain feel. With lots of amenities like a beautiful outdoor pool with fabulous views, airport shuttle service, live evening music, and a great bar! Starting around $500/night.
Summer in Sun Valley
Sun Valley is a year round haven to enjoy nature, and the warmer months offer wonderful opportunities to play! While many first think of the area as a great winter vacation spot, it's not to be missed in the summertime (spring and fall too)!
Hiking & Mountain Biking
The Wood River valley is home to some of the most beautiful terrain and trails. Winter skiing turns to amazing summer hiking trails! You can bicycle or hike all the way from Ketchum to Galena (just over 20 miles), with camping spots all along the way. If you visit in the spring, you'll see some of the most incredible wild flowers in the country. Or, if you visit in the fall, you'll witness some amazing autumn colors!
There are yurts available to rent on many of the trails, I recommend staying at the Galena lodge if this is your type of thing!
Fishing
If you love fly fishing, the Wood River valley is a must! Select from a multitude of streams like Wood River, the Salmon River, and the east fork of the Lost River. There are many outfitters to choose from to rent gear if needed.
There are many golf courses in the area to choose from ranging from private to public.
Other Activities
Beyond recreational activities, Wood River Valley is home to many other activities such as live music, the classic running of the sheep, and music festival
There are beautiful tiny towns outside of Sun Valley that are perfect for visiting in the warmer months. I recommend visiting the nearby lakes (Redfish, Petite, and Alturas), Stanley, and Galena. Redfish Lake is a popular destination where you can overnight to enjoy a day or two in the area.
Winter in Sun Valley
Known as one of the most amazing ski towns in the US, you will absolutely love Sun Valley no matter your snow sport of choice (even if that's lodge hopping!).
I personally found the various Sun Valley lodges and resorts to be some of the most organized, well thought, and perfectly decorated that I'd ever been to.
Skiing
Bald Mountain – also known as "Baldy" – is the primary ski resort in Sun Valley, and arguably one of the most premier mountains in the country. With a variety of runs for all skill levels as advanced as 70% grade or as mellow as a 3-mile run down the hill, there is something for everyone. Starting at $135 on weekdays.
Dollar Mountain is the secondary hill in Sun Valley. A much more mellow and family focused area, this mountain is for you if you prefer a casual, quiet and kid friendly skiing experience. The runs are much easier for those who still may be learning to ski or prefer something that isn't as much of a challenge. Starting at $109 on weekdays.
Snowshoeing & Cross Country Skiing
I recommend two options for snowshoeing or cross country skiing: Galena Lodge (and accompanying trails), or the Sun Valley Country Club.
Both offer lunch, but wildly different atmospheres. The Club is more of a country club aesthetic and formal (with a laid back energy), whereas the Galena Lodge is a true back country lodge. If you ask my personal opinion, I prefer Galena.
Other Winter Activities
If you dream of something to do outside of skiing, try snowmobiling or heliskiing! Both wonderful options in the area.
Exploring
We enjoyed simply driving around looking at all of the beautiful surroundings. One of my favorite drives was from Ketchum to Galena lodge where we stopped for a warm beverage before returning home.
The Best Restaurants in Sun Valley
Half the fun of a vacation is discovering new restaurants and enjoying delicious food! Ketchum, Hailey, Bellevue, and Sun Valley have many options to choose from. My favorites detailed below.
Breakfast & Lunch
Black Owl Coffee is a reader favorite, try the tuna melt!
Konditorei a delicious Austrian inspired bakery and cafe in the village. While it's a great spot to grab breakfast, I recommend stopping for lunch where you can enjoy something sweet, savory, and perhaps a peppermint schnapps hot chocolate! We spent the morning cross country skiing, and made our way to the village for lunch before heading back to the club. The perfect itinerary for a day in Sun Valley!
One of the best views you'll get is at the Roundhouse located half way up Bald Mountain. While the restaurant is open for dinner, I recommend visiting for lunch so you can soak up the gorgeous scenery. Get the fondue or warm up with a hot drink! The restaurant opened in 1939 and was the first on-mountain dining in the states. Reservations are needed.
Dinner
The Ram, SV's oldest restaurant, is the best dinner in the valley in my opinion. You'll definitely want to make a reservation – I suggest a bit later in the evening to enjoy the live piano music as the night dies down. Order a glass of good white wine, the fondue, and split a salad, you'll be more than full! After dinner coffee or wine is the perfect way to soak up the live piano music.
The Covey is a wonderful contemporary restaurant located in Ketchum. You'll find a great wine list, cocktails, and delicious fresh food. Reservations necessary.
Aprés
The Pioneer Saloon, also known as "The Pio" cannot be missed. A local's hangout and full of charm (you're greeted by a chap-clad spur-wearing gentleman) – it's the best bar in the area…if you like a little bit of flavor! You can also grab dinner here, but I recommend it for happy hour!
To truly experience SV, a stop into Grumpy's and Leftys is also encouraged!
The Best Shopping & Day Spas in Sun Valley
When you're not busy with activities, there's plenty of shopping and spa'ing to be had in the valley!
Where to shop?
Each town has a variety of darling shops, but you'll find the most to choose from in Ketchum and the Sun Valley Village. I loved Panache for clothing, the Elephant's Perch or "E Perch" for outdoor wear, and Brass Ranch for clothes and sportswear.
Where to spa?
Let's face it, a spa day is almost always on my vacation itinerary! If you're like me, then you will love the Spa at Sun Valley. You can even try a yoga class which is open to the public ($15 fee).
In conclusion, Sun Valley is an excellent area to visit year round with plenty for the entire family to enjoy! I am confident you will plan to visit more than once after experiencing the magic of the area!