Farmhouse Kitchen Inspiration with Kohler
This post may contain affiliate links, please read my disclosure policy.
This is a sponsored post in collaboration with Kohler, all opinions are very much my own. For more information about sponsored posts, visit my terms page.
When I first started sharing my plans for our kitchen remodel, I was approached by someone from the Kohler team to find out if I might be interested in collaborating with them in our kitchen. I was thrilled because I had already fallen in love with their extra wide, extra deep, extra beautiful apron front sink. I happily jumped on board, and spent many hours browsing their website selecting the other products for our kitchen.
I initially thought I would include brass elements throughout the kitchen – sink, faucet, stove, light fixtures… However, brass everything seemed a little to trendy for me. I was hoping to create a timeless feel in our kitchen, and after seeing this kitchen photographed by Alyssa Rosenheck & designed by Laura Burleson Interiors (two incredibly talented ladies you must check out!) featuring beautiful mixed metals with the same style stove we had purchased, I was sold on the idea. I love Kohler's nickel colored metal, because it has more of an antique look to it than traditional chrome.
When selecting our kitchen faucet, I was stumped. I know it seems silly, but I spent weeks selecting our faucet. I love a bridge faucet, but also love the simplicity of a single handle faucet. After seeing Doran Taylor's beautifully designed Olympus Cove home (which served as inspiration for a whole lot of our kitchen, and one of my favorite design studios), I made up my mind on Kohler's Artifacts faucet. Sometimes I still think about a bridge faucet…I think it's going to be one of those things that I dream about for years to come.
Later this week I will share photos of the finished look with all of the products installed. They turned out so nicely, and I will tell you all about out pot filler which has quickly become one of my most favorite accessories in the kitchen. Until then, I hope you have a wonderful week, thank you so much for stopping by!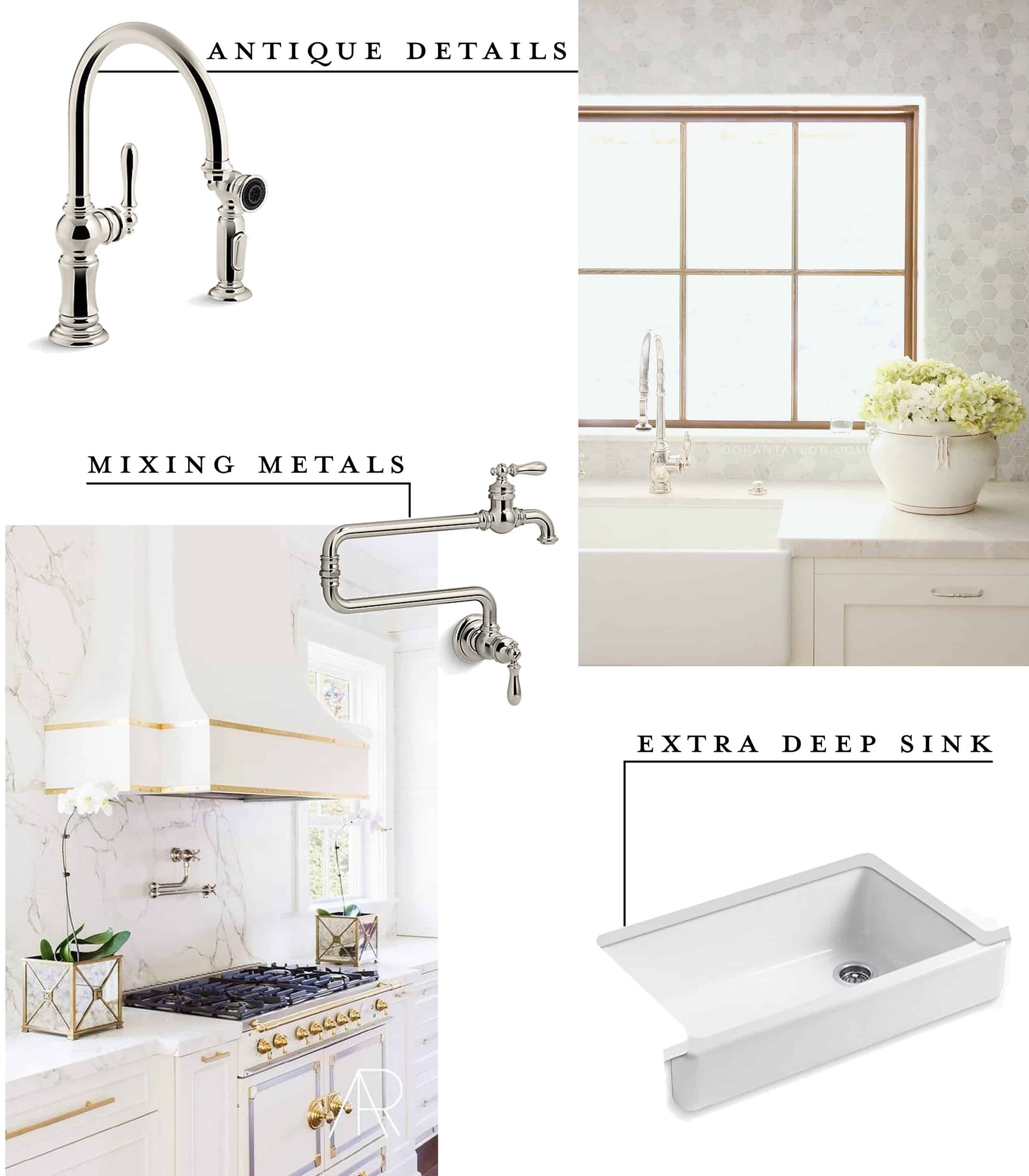 photo sources: doran taylor • alyssa rosenheck for laura burleson