This post is sponsored by The Home Depot.
Just in time for a nice deep spring clean, our laundry room remodel is complete! A big thank you to The Home Depot for making this laundry room renovation possible, I feel very very lucky to have the opportunity to work with such a wonderful company!
---
Farmhouse Laundry Room Remodel
If you're stopping in today for the first time, I have such an exciting project to share today! I've been documenting our laundry room remodel over the past couple of months, and the time has come to share the reveal, just in time for a nice deep spring clean!
We started with a 1964 laundry room with linoleum flooring, tube lighting, and a very heavy cast iron sink. The sink we saved for another time, the rest is history…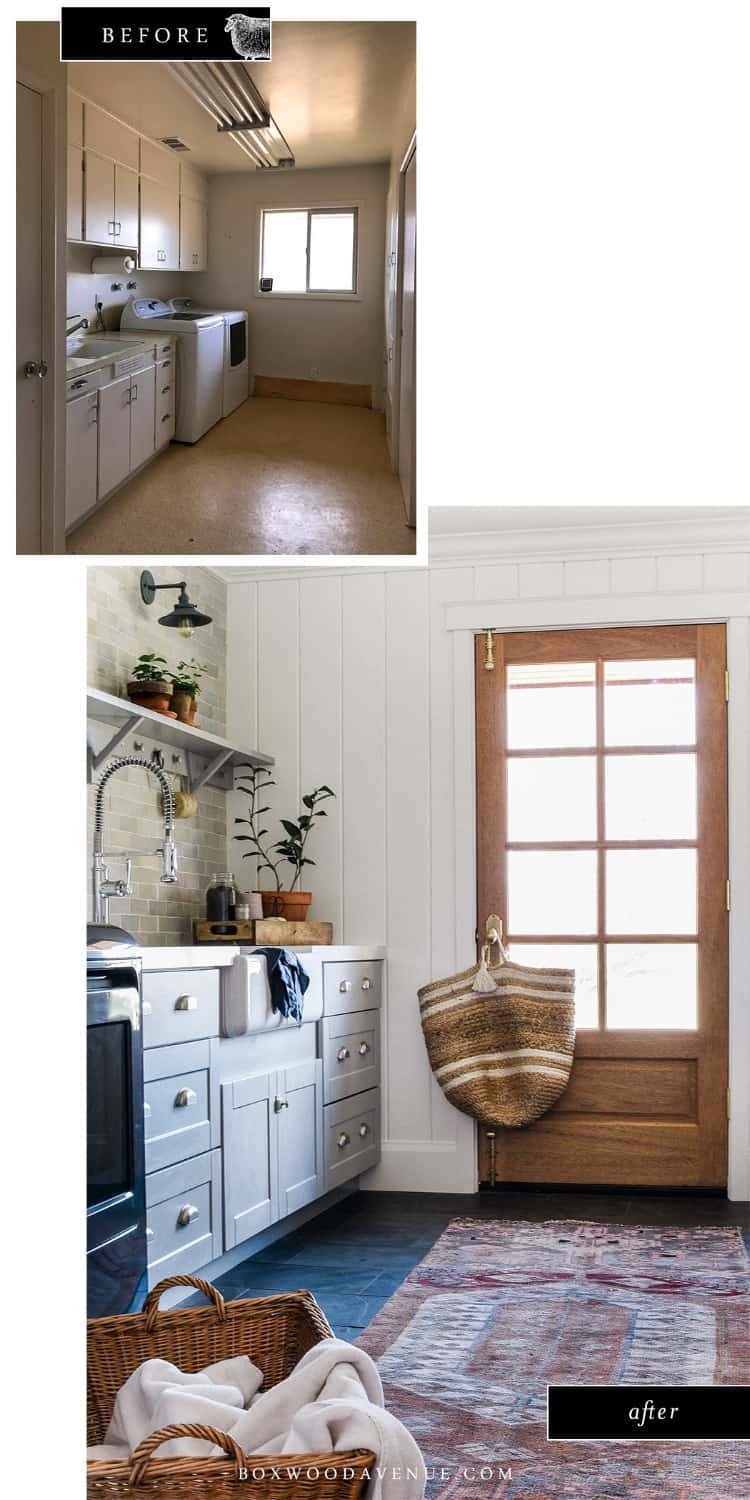 We began with a complete demo of the entire room. We even removed the closet spaces, leaving us with a 130 SF rectangle for me to dream back into a laundry room! The result has exceeded my expectations. I didn't realize how much I avoided cleaning & laundry because of our dreary laundry room. Now that the room is inviting, organized, and functional, I find myself taking joy in laundry and daily chores. The room is so well organized and laid out now, all of our cleaning supplies have a devoted home making it so easy for me to keep up with day-to-day cleaning.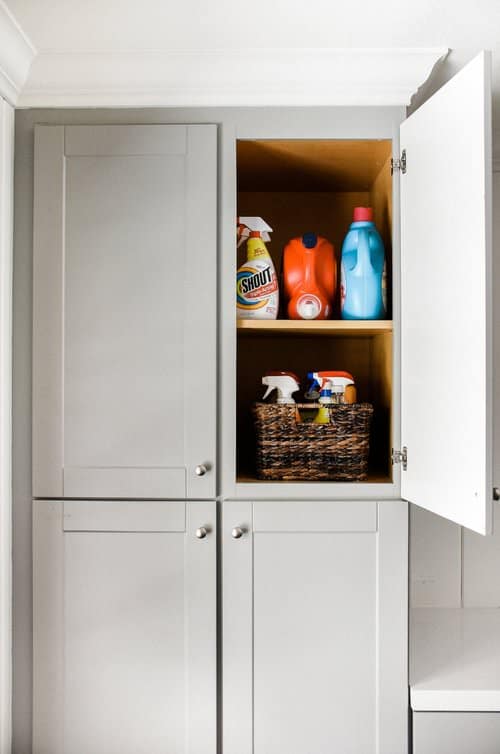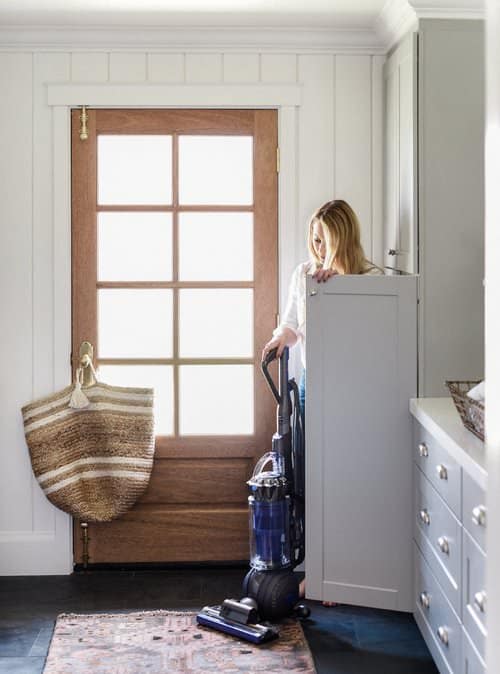 Home Depot's ready-ship shaker cabinets were the perfect budget friendly solution for this room. Since we removed the old closet, we were able to double our storage by adding an entire wall of built-in cabinetry where the closet once was. We recently removed a closet in another project as well, each time I love the outcome. I feel that closets often become hidden clutter zones of wasted space. By remodeling a closet into a more functional area, you can better use every inch of your home.
I also must mention the gray color of these cabinets. It is true perfection. The color is rich and classic, and I couldn't love it any more. I am so glad I didn't go with white cabinets in this room. The gray color pops against the white tongue and groove paneling, and it is stunning! Home Depot did a great job with the color of these cabinets, I am so pleased.
Rather than going with brass hardware, I decided to use Martha Stewart's Bedford nickel cup pulls on the cabinets. I added a latch below the sink, which I have a serious affection for. Who knew you could love cabinetry hardware so much?
interested in learning more about our wood doors? click here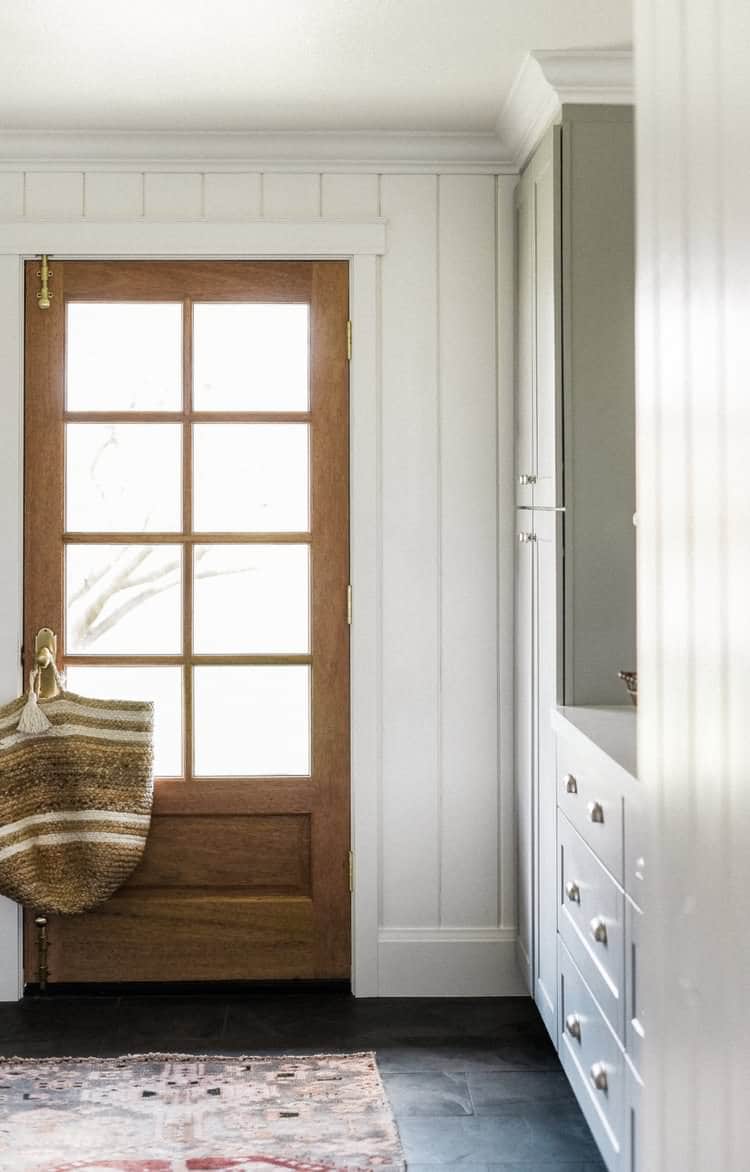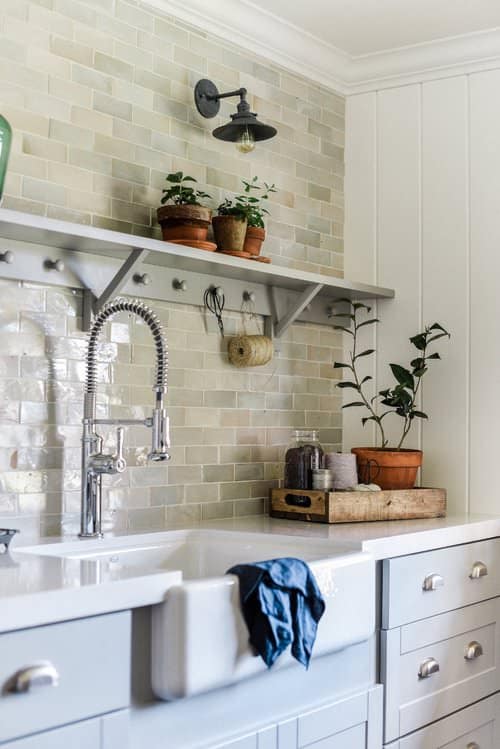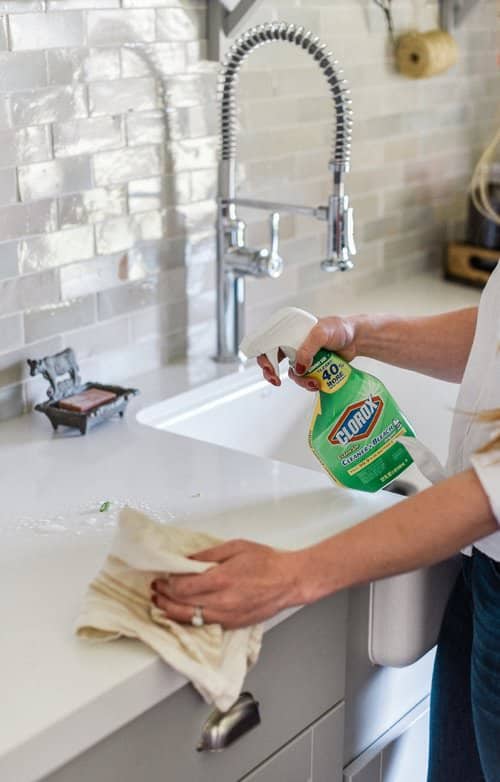 Nestled in the cabinets is a beautiful farmhouse sink from Kohler – we have the same on in our kitchen – and I love them both very much. I have dreamt of a farmhouse sink for so long, and to have one in our laundry room is such a treat! I have already used it to: pot plants, hand-wash a shirt, prep flowers, and wash goat supplies. This sink is not only the perfect kitchen sink, but also the perfect utility sink!
I have mentioned that I first thought I'd like a bridge faucet in the laundry room, but we ended up going with a semi-pro faucet from Kohler. This faucet truly seems like it should have cost thousands of dollars, I can't believe it is so inexpensive! It is very industrial & durable, yet beautiful and well designed. I get giddy every time I use it!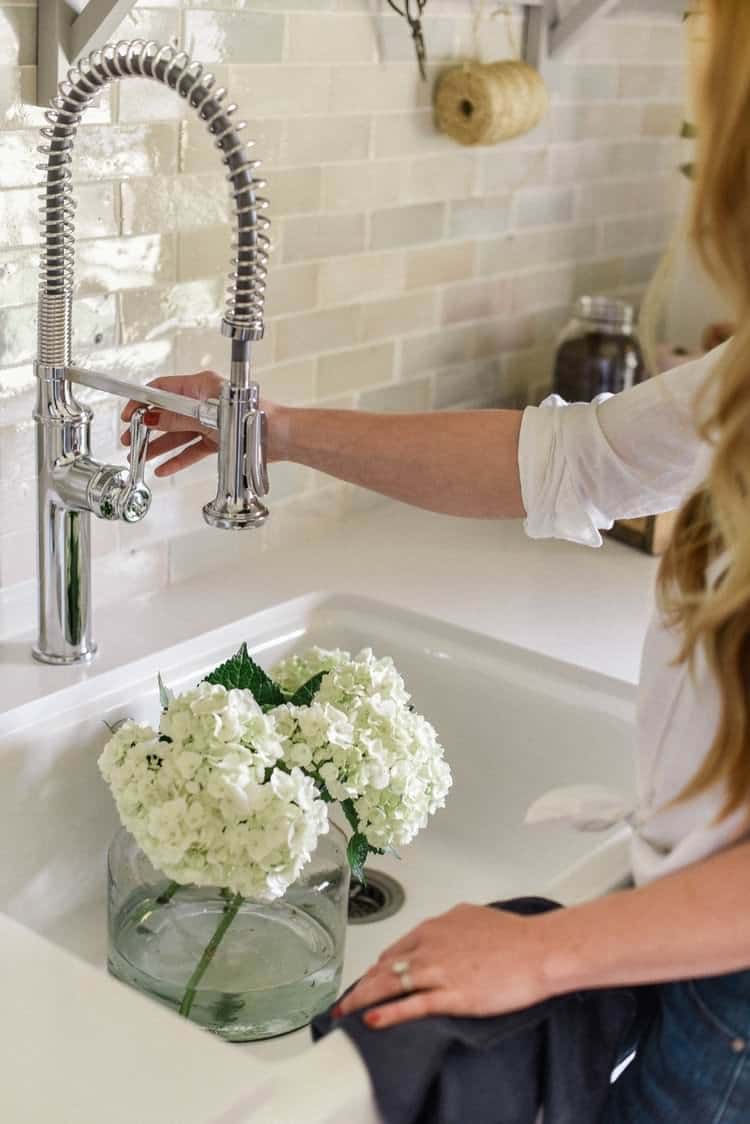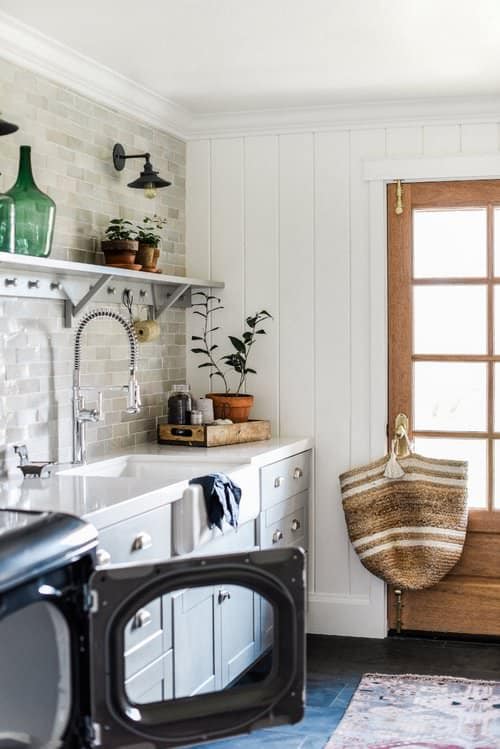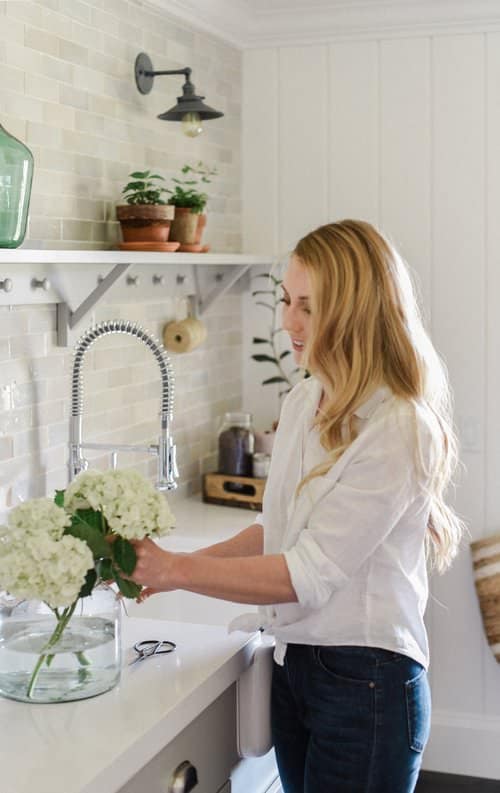 Rather than bringing in the wood floor we have in the rest of our house into the laundry room, I opted to add large format slate tile. This tile is one of my favorites, I especially love it in laundry rooms! It is inexpensive, classic, and generally in-stock at Home Depot. We applied an enhancing sealant on top of the tile to deepen the colors which I feel gives it a more luxurious look.
I love the way the backsplash pulls the blue undertones from the gray cabinets, and the new door (left natural) warms up the space. I remember I debated as to whether or not I should paint the door. I am so glad we left it natural! It is lovely and definitely warms up the room, which might have been too cool otherwise.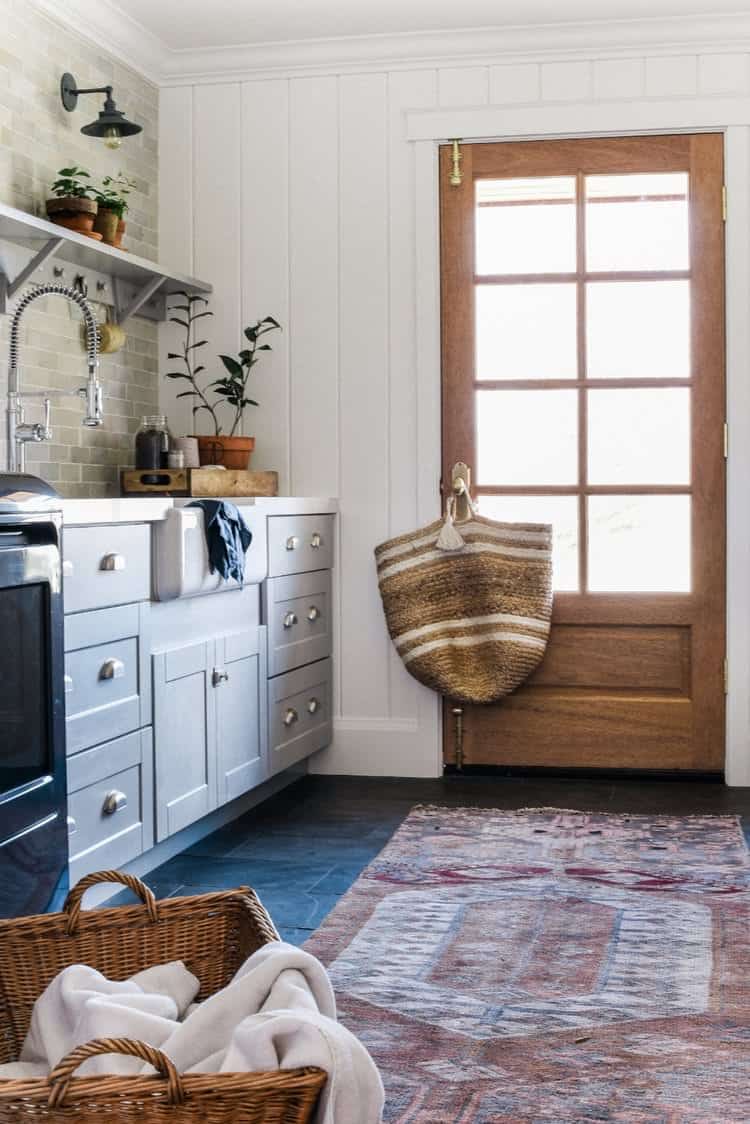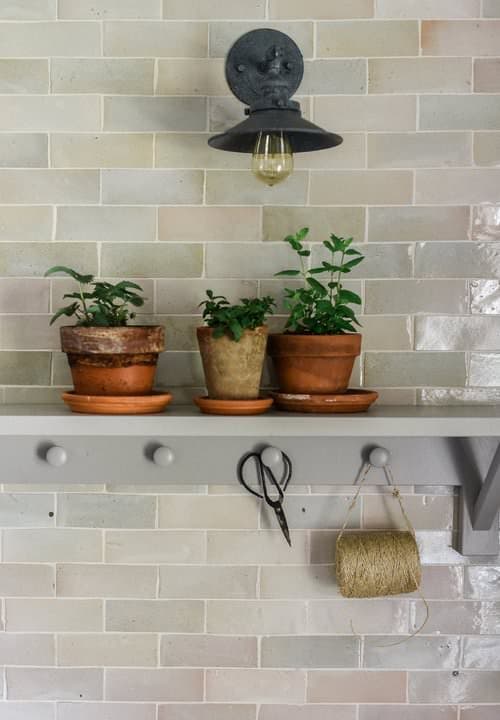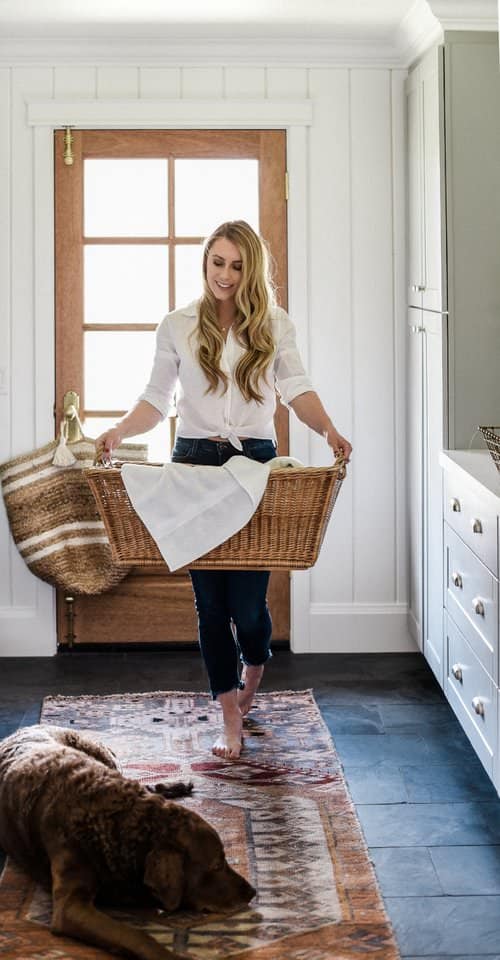 You might remember me talking about our old space ship washer and dryer? Our old appliances were from our college days, and with each spin cycle, our washing machine sounded like a space ship coming in for landing. People would ask, "what is that noise!?" …That noise is no longer! Our new GE washer and dryer are a major upgrade from our previous. I prefer top load washing machines, especially those with a large agitator. I feel that they clean clothes really well. Our new washing machine even has pre-programmed stain removing settings (that actually work). I don't think our clothes have ever been as clean as they are now!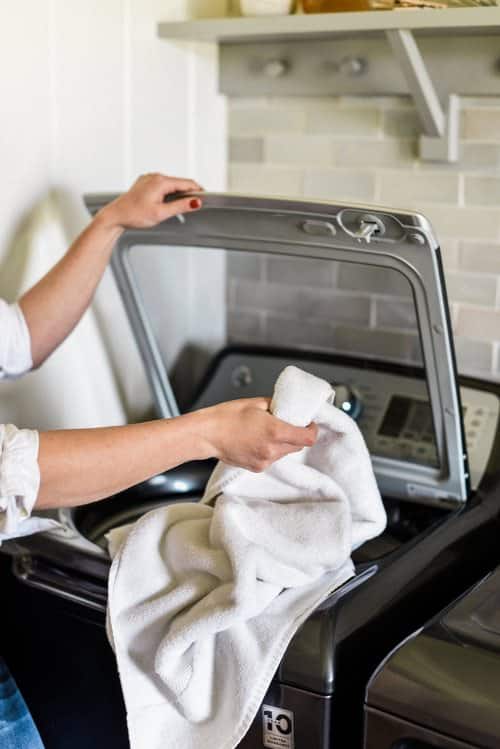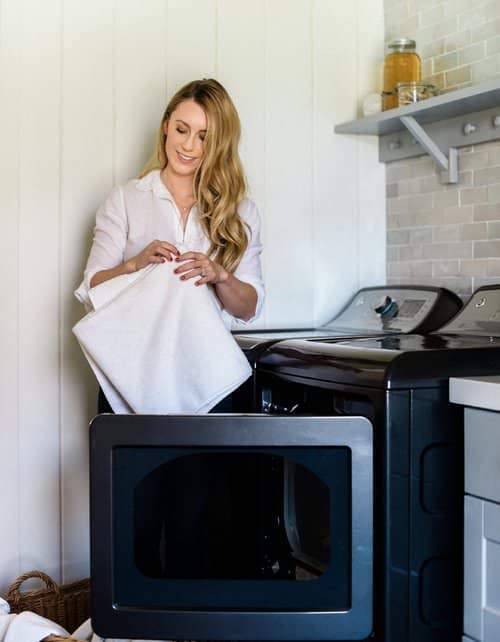 Oh, I cannot forget to talk about our vacuum! We've always had a Dyson, we are very loyal customers, I truly believe they are the best vacuums on the market. Like our washer & dryer, our old vacuum was from college. It was a mini Dyson, yet still very powerful, and even after vacuuming up nearly 10 years worth of debris, still worked well. Home Depot was kind enough to send us a new Animal 2 Dyson, and it is incredible! Even Greg was impressed with it! The suction power is terrific, and it seems to suck up every little speck of dirt. We constantly have muddy cowboy boots, dirty jackets, and yes, goats in the house – so a good vacuum is imperative. Dyson does not disappoint. That is a wholehearted review my friends!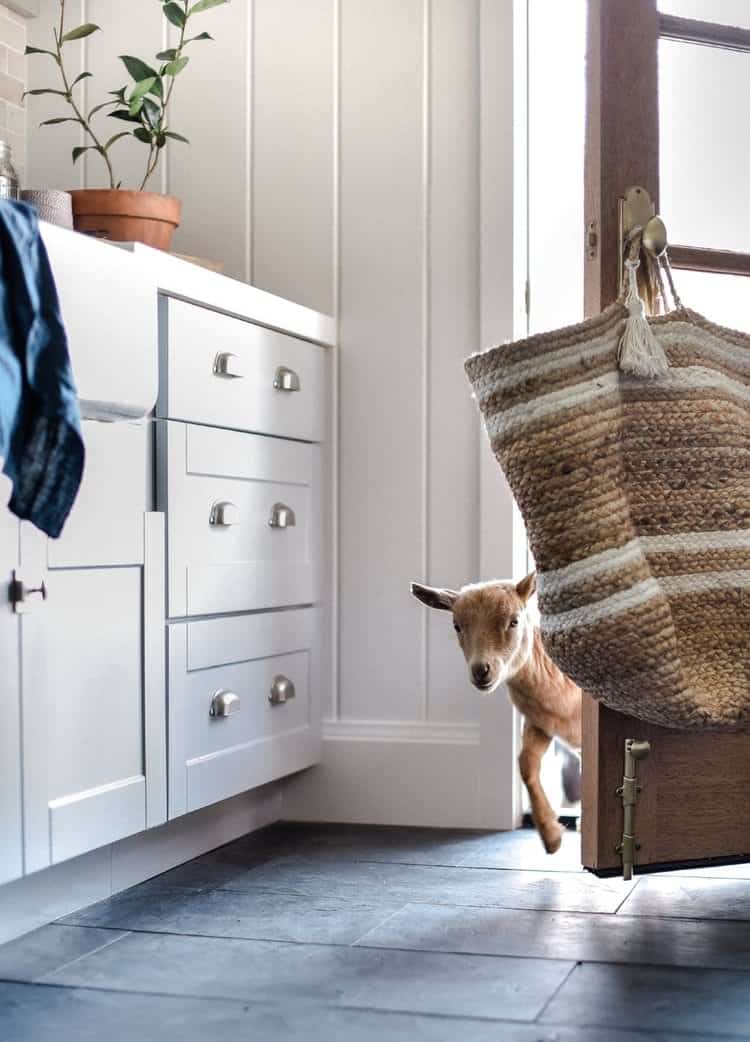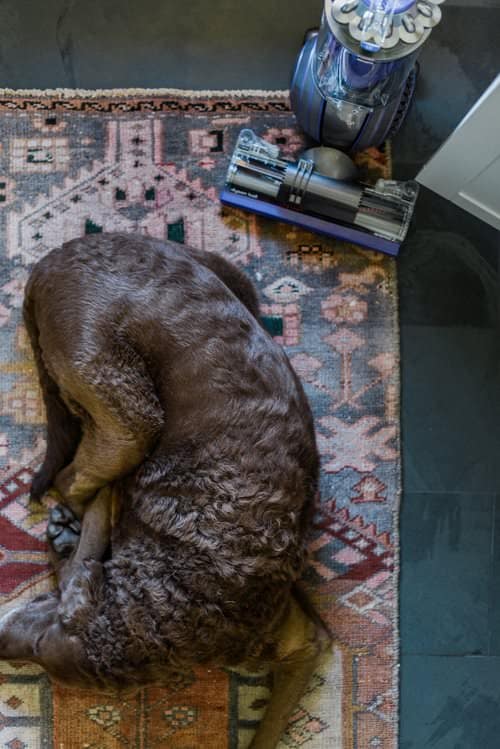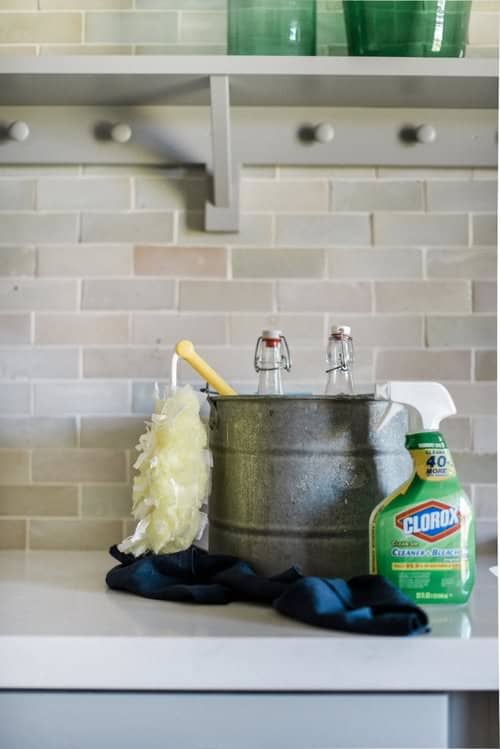 If you follow along our story, you know that I love my animals, and pets of all shapes and sizes are in the house on any given day. Keeping our house clean is important because we are always tracking in manure & mud, and hoof prints seem to dot the floors more often than not. You should know, I am a big fan of bleach. I know many people think it turns things yellow, but I love using it on our sheets and other whites. I also love Clorox and Swiffer products so very much. Yes, Home Depot sent me these products, but these are actual products that I use day in and day out. Getting rid of germs is not something I like to mess around with!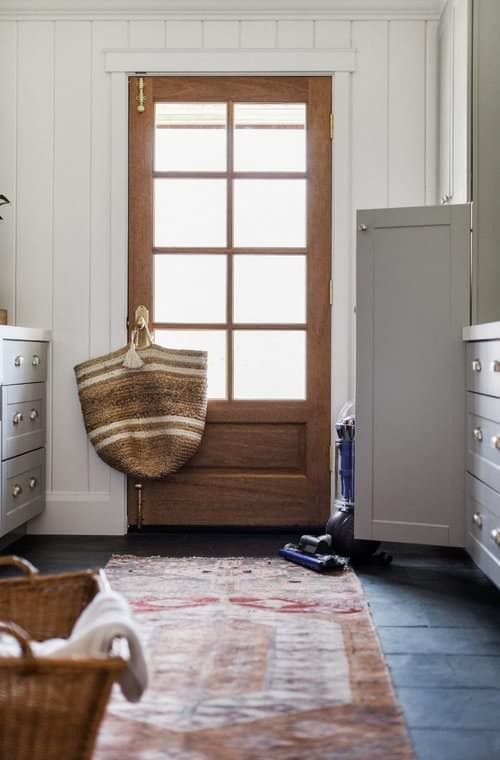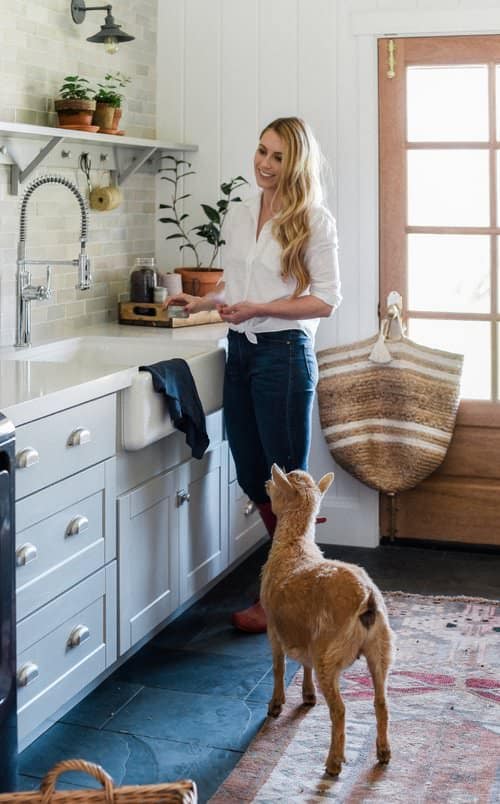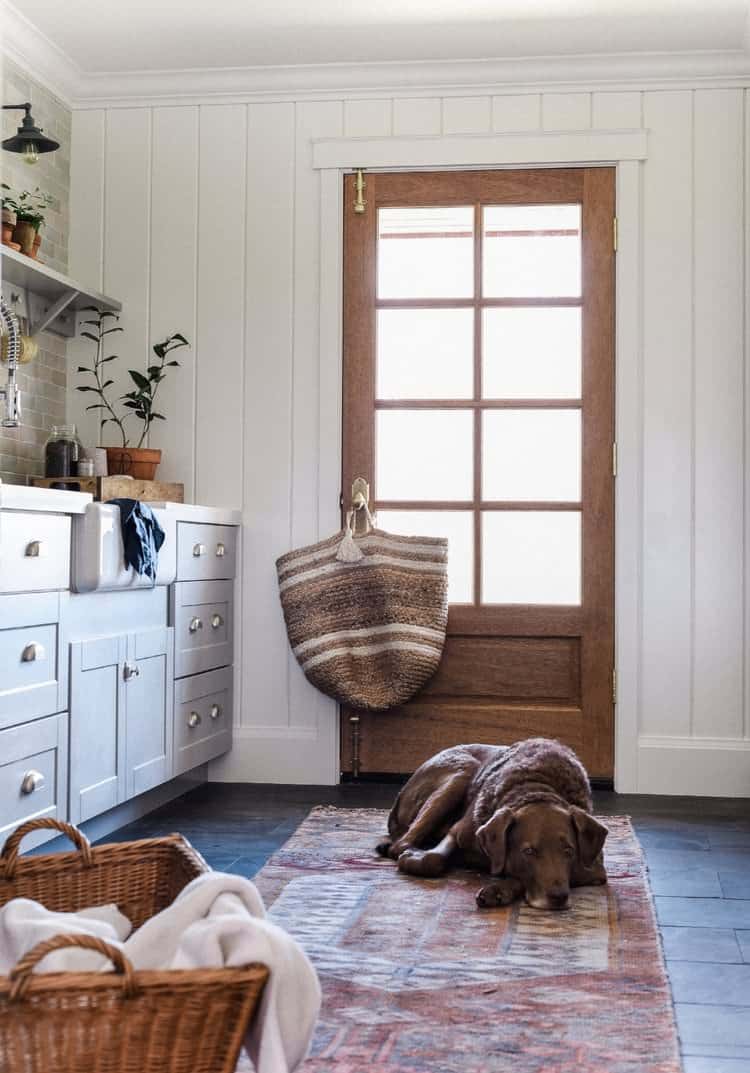 With goats in the house, cow manure on hands, and muddy paw prints on our floors, a good cleaning routine is something I've had to adapt to. Home Depot has everything we need to keep our house clean: Clorox, Swiffer, Dyson…they've got it all!
---
shop the post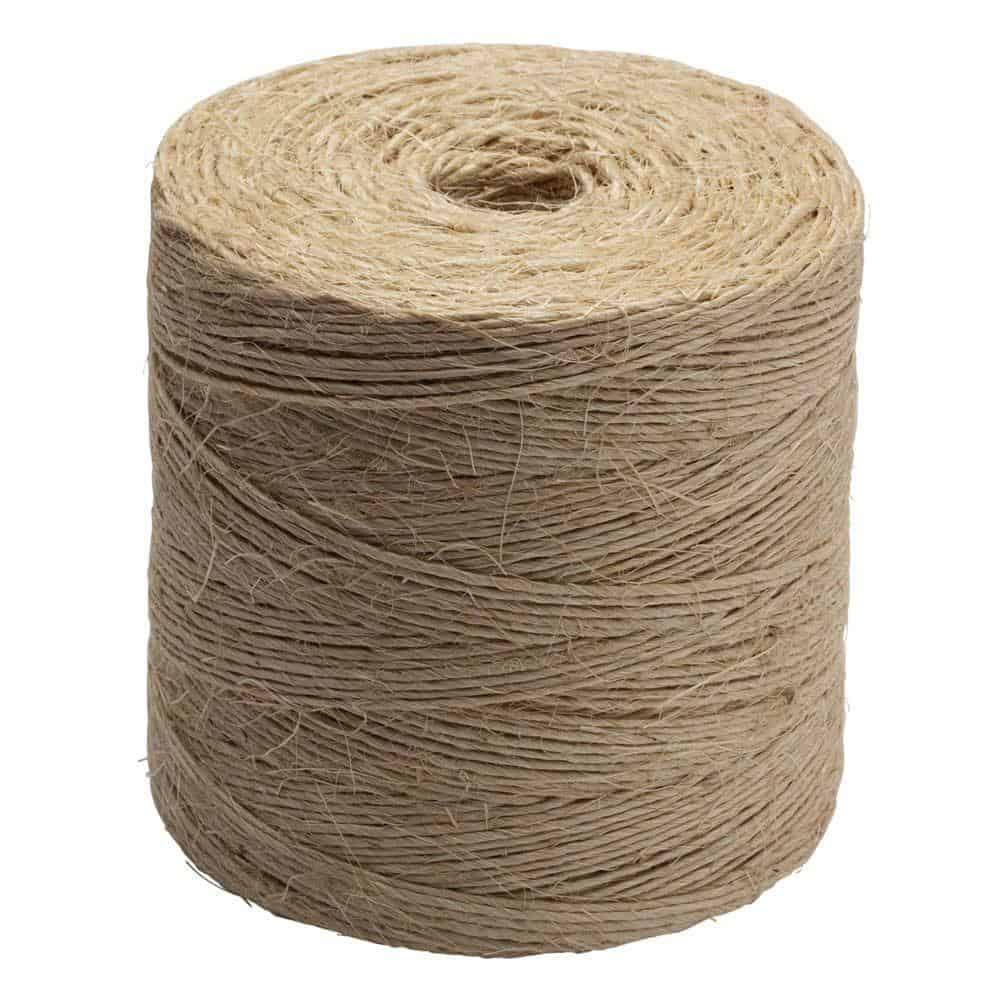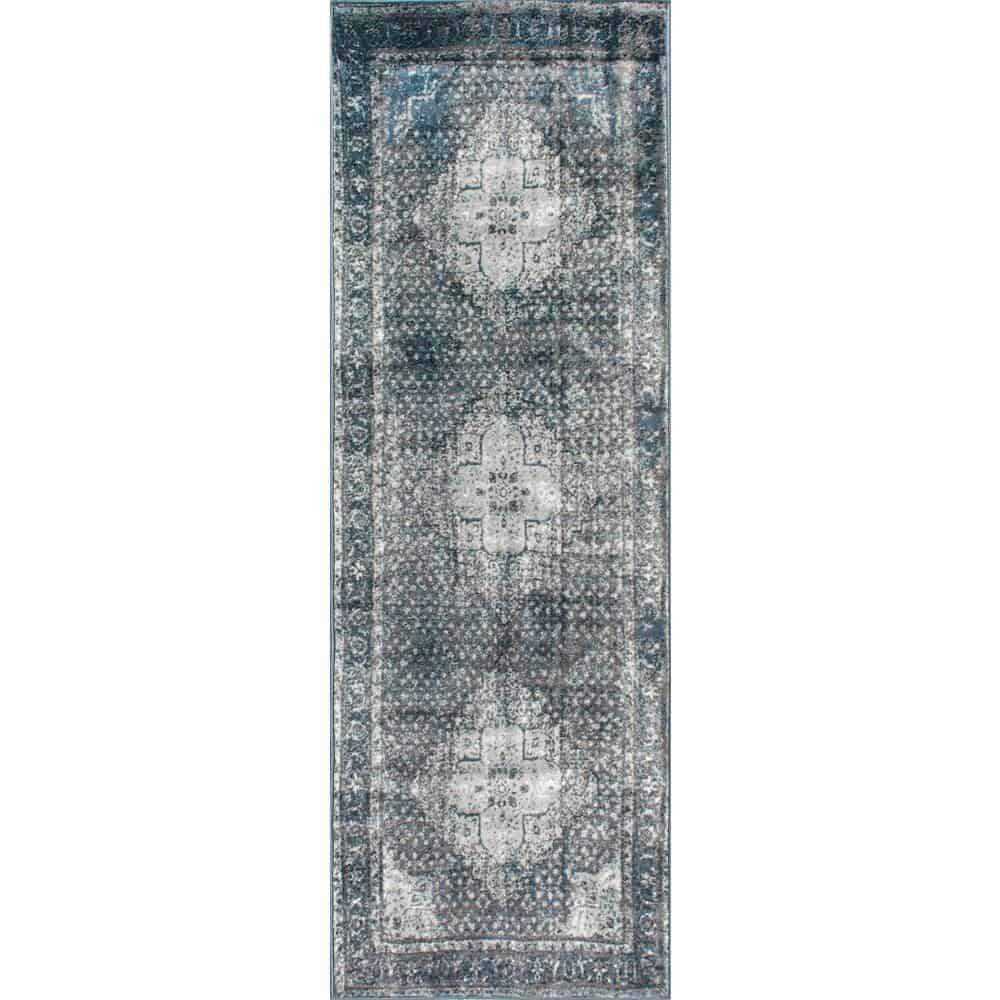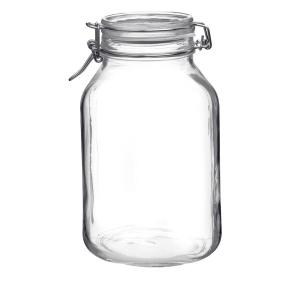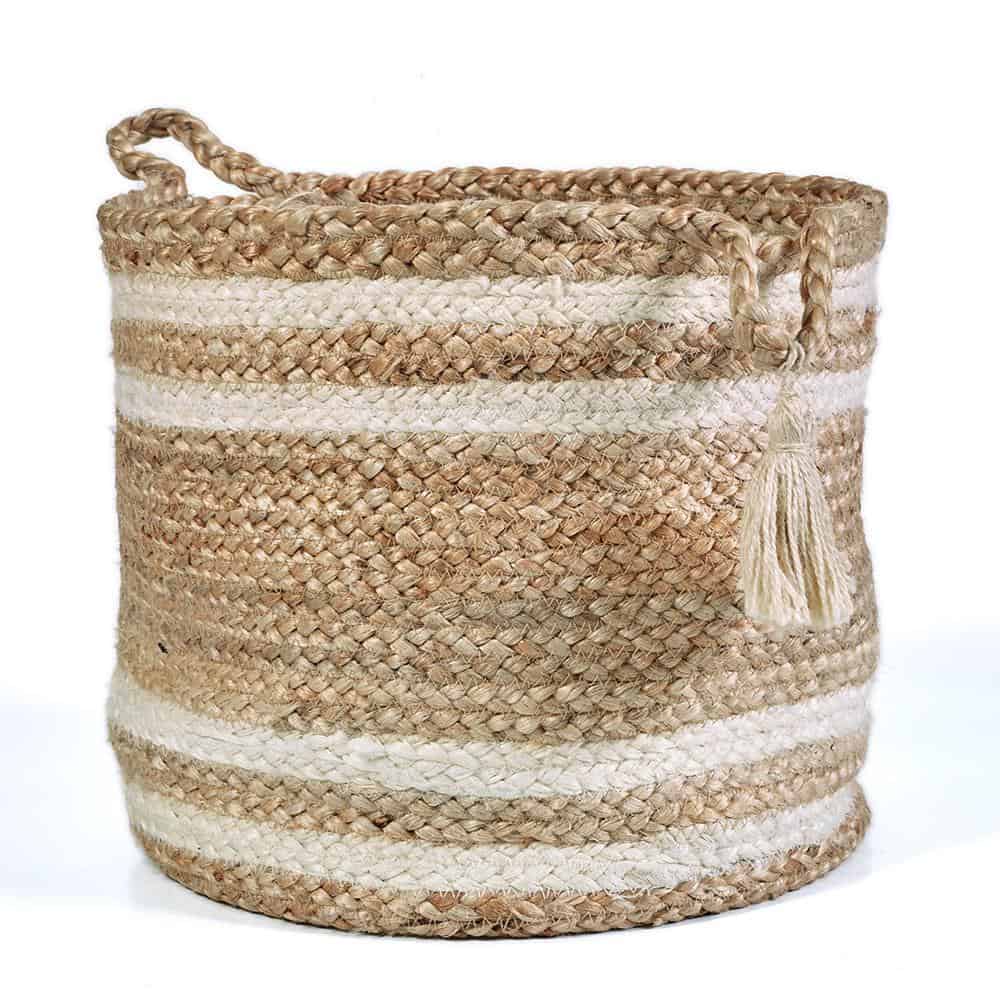 ---
sources
cleaning supplies:
swiffer, tide, downy, clorox spray
---
I acknowledge that The Home Depot is partnering with me to participate in the promotional program described above (the "Program"). As a part of the Program, I am receiving compensation in the form of products and services, for the purpose of promoting The Home Depot. All expressed opinions and experiences are my own words. My post complies with the Word Of Mouth Marketing Association (WOMMA) Ethics Code and applicable Federal Trade Commission guidelines