Homemade blackberry cobbler from scratch is definitely one of life's little luxuries! This dessert will become a classic that your entire family will ask for time and time again!
If you have blackberry bushes, chances are you're looking for recipes to use up some of those delicious berries! Or maybe you've been gifted some berries and want to whip up a cobbler. Whatever has led you to this recipe, I am so glad you're here! Let's dig in!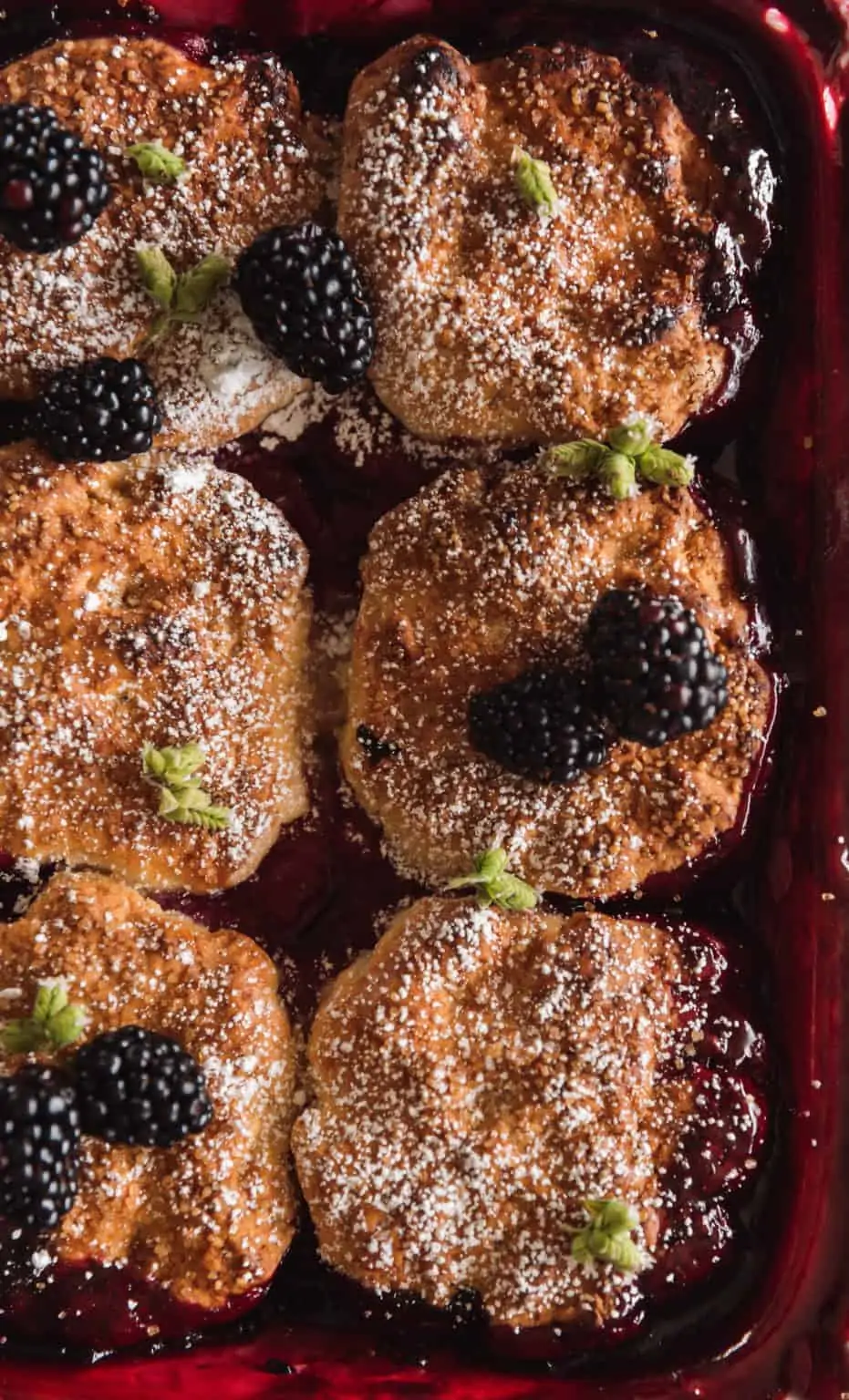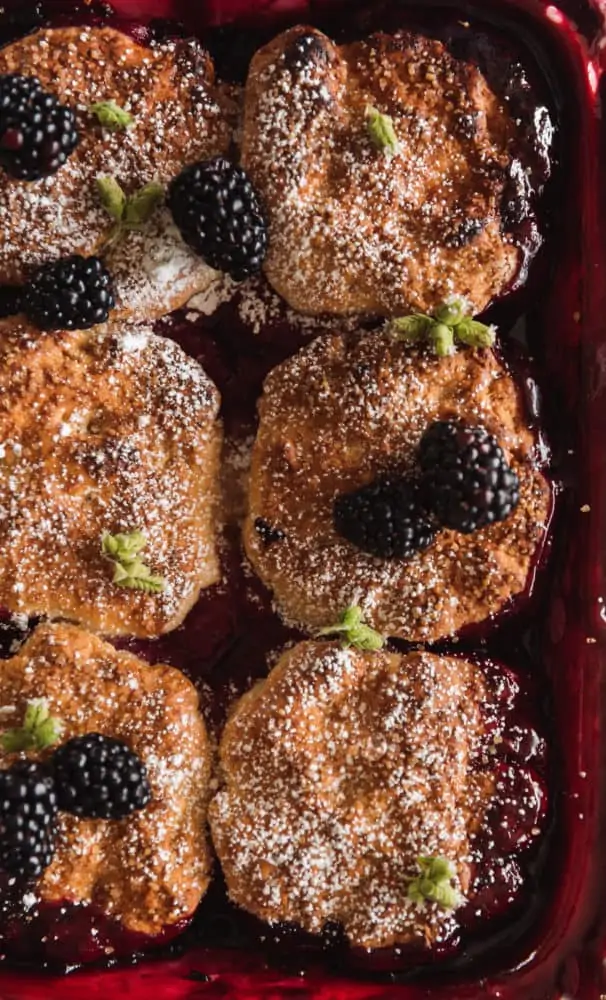 Homemade Blackberry Cobbler from Scratch
Occasionally a recipe comes along that is just *so good* I know it's going to be a favorite! This happens to be one of them! The beautiful berries bake into a sticky sweet filling that is perfectly sopped up by the fluffy cobbler biscuits. Dare I say it, but this is the BEST blackberry cobbler I've ever had!
There are two different types of "cobblers" you may come across in your lifetime. A cobbler like this, with more of a biscuit topping, and the alternative a more cake-like cobbler. This may be a polarizing topic, but in my opinion, a cobbler shouldn't be cake-like, nor should it be soggy.
I believe that each "cobble" should be crisp on top and delicately cooked on the bottom within the filling. It's actually quite an art to get it just right, and I think this recipe does just that! I hope you enjoy!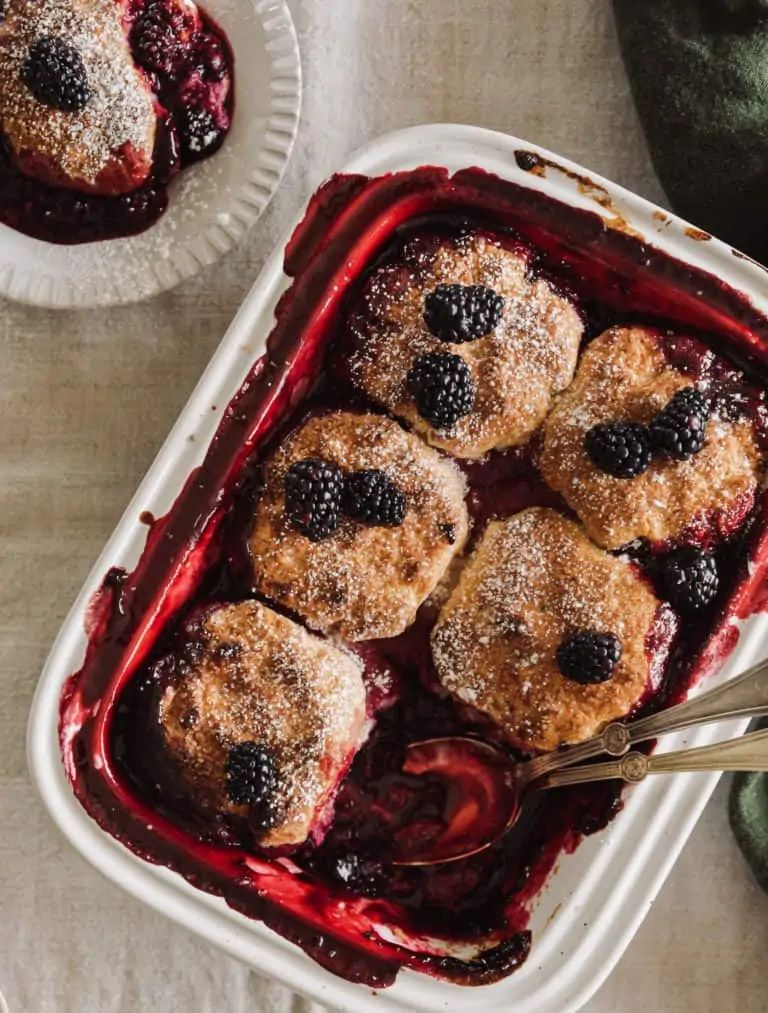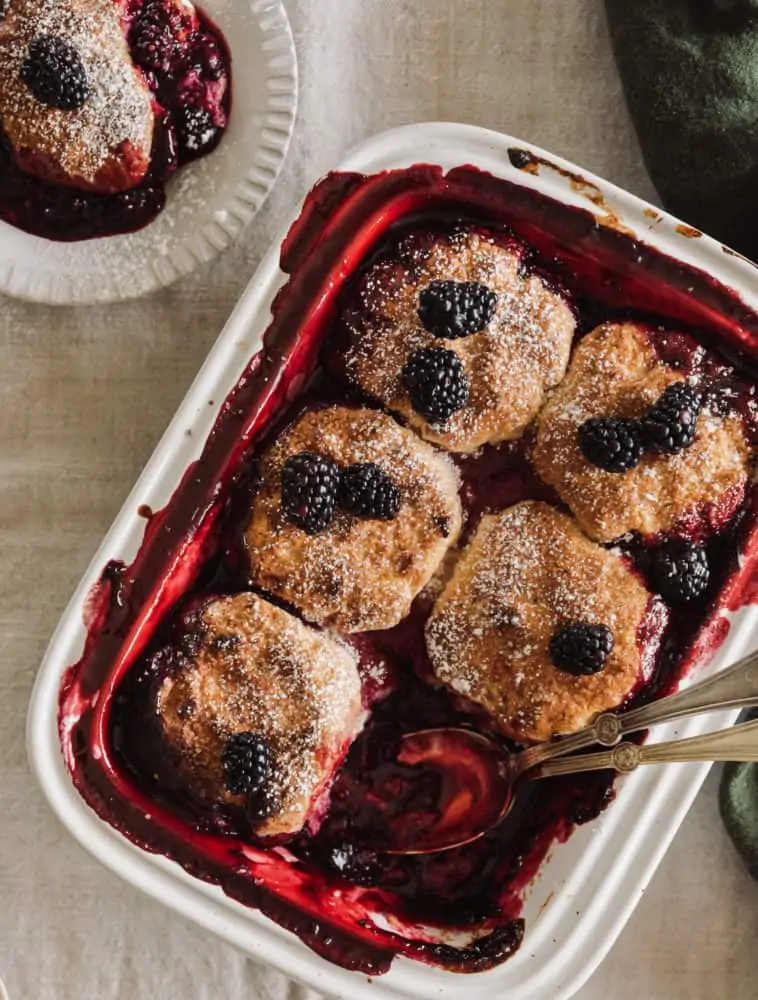 Cobbler vs Pie vs Crumble
While all equally delicious, they are unique in their own right! Each starts with a base of deliciously sweetened fruit, but finished with a different type of pastry:
A cobbler is made with sweetened biscuits. The biscuits dot the top of the fruit, leaving space between each to allow steam from the fruit to escape while baking.
A pie is made with unleavened crust. Known for its flakey and buttery yumminess, a pie is made with a base of crust, filling, and topped with a second crust. The crust will also have slits or gaps to allow steam to escape while baking.
A crumble is very similar to a cobbler. A crumble topping is made like a streusel with flour, butter, sugar, and sometimes oats or nuts.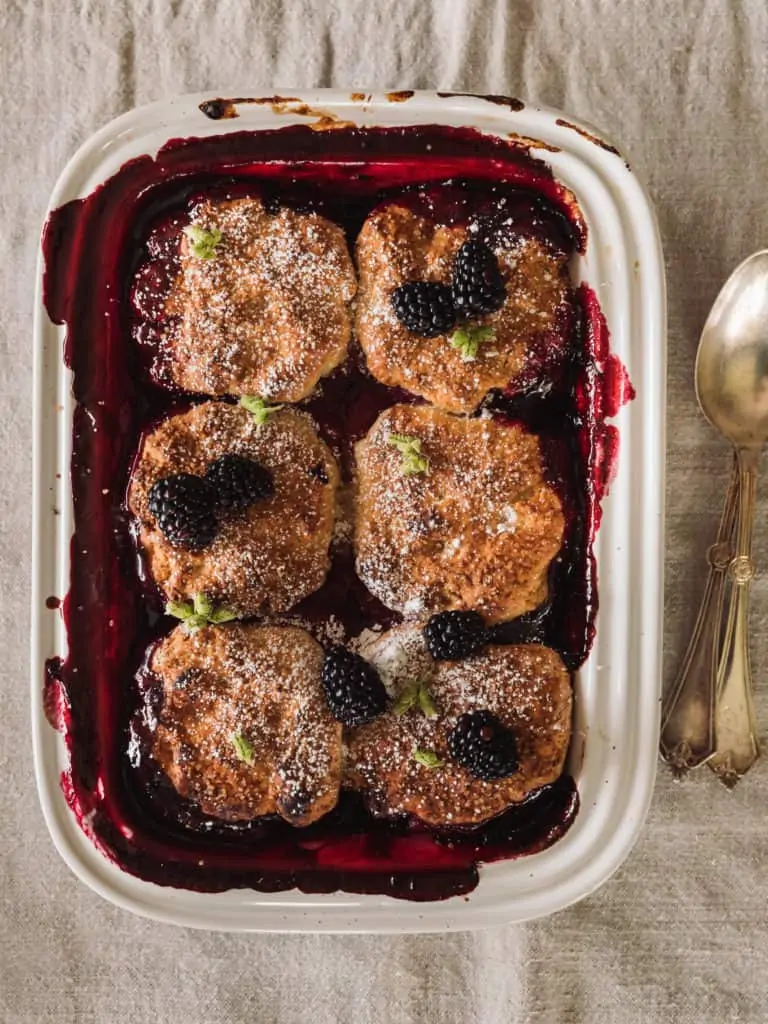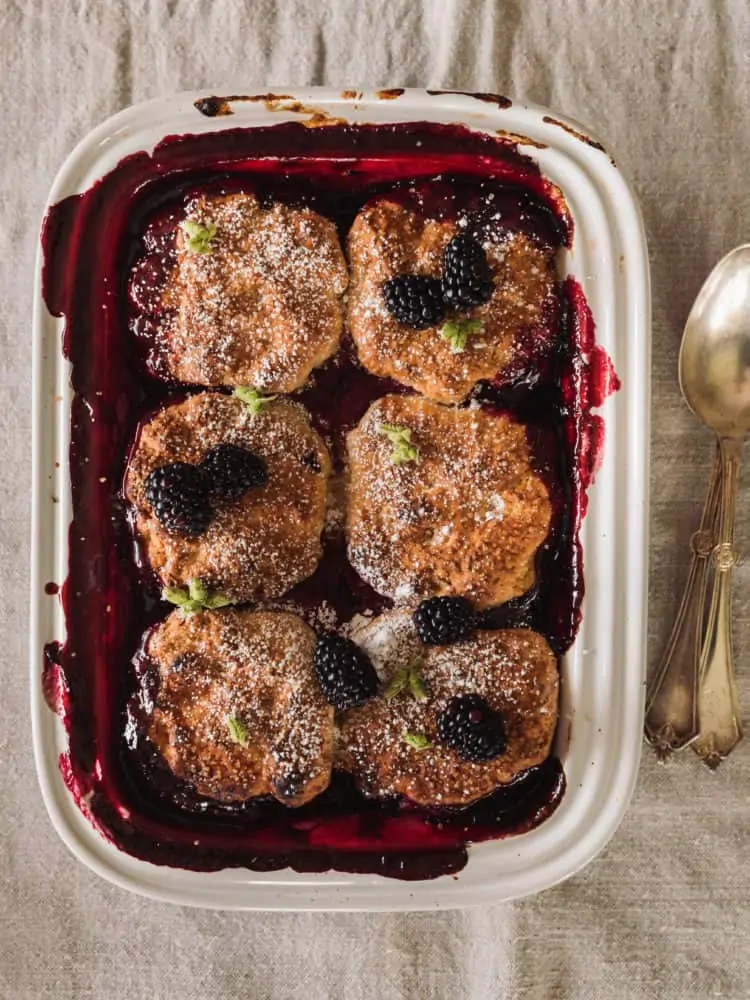 Ingredients
All-Purpose Flour: The base of the cobbler topping that creates a yummy biscuit!
Granulated White Sugar: Sweetens the biscuits and the filling.
Baking Powder: A leavening agent to help the biscuits rise.
Salt: Necessary to round out the flavors of the sweet dessert.
Lemon: Lemon helps balance out the added sugar in the dessert!
Butter: Does butter need an intro? The fat makes the pastry topping extra yummy! Unsalted preferably.
Heavy Cream: Helps bind the ingredients in the biscuits, with a high fat content, it creates a nice rich biscuit!
Ripe Blackberries: Fresh blackberries are best for this recipe (see my notes about frozen). Be sure to rinse and dry the berries.
Cornstarch: Will help thicken the berry filling.
Vanilla Extract: Adds flavor to the filling.
Substitutions
If you don't have any cream handy, you can just use milk. I've even used almond milk as a substitute in this recipe!
You can add more or less sugar depending on how sweet of a cobbler you like or if your berries are particularly tart. Increase in 1/4 increments, taste testing between.
I do not recommend subbing gluten free flour, the results will not be satisfactory.
If you don't have blackberries, you can use any type of berry in this recipe: blueberries, raspberries, strawberries, or even huckleberries!
Frozen vs Fresh Berries
This blackberry cobbler recipe calls for fresh berries, but it's also great with frozen blackberries.
Many readers reported that my recipe for blueberry scones was producing too wet of a scone. It stumped me! This is a well loved and tested recipe, so it took me a long time to realize that those home chefs were using frozen berries! The frozen berries produce more liquid while baking!
If you plan on using frozen berries, they will produce more liquid. A tip for preventing them from making a pie or cobbler too soggy is to allow them to thaw completely before baking. Drain off the excess juice produced while thawing. Then prepare the dish as you would with fresh fruit.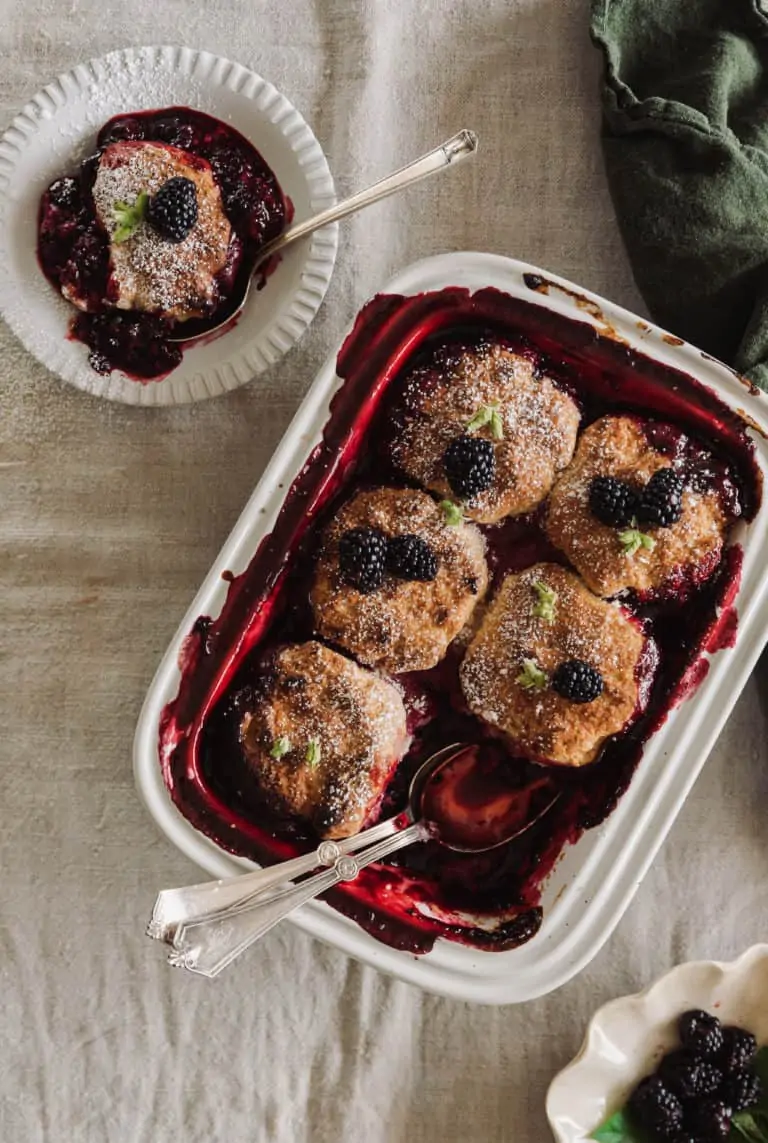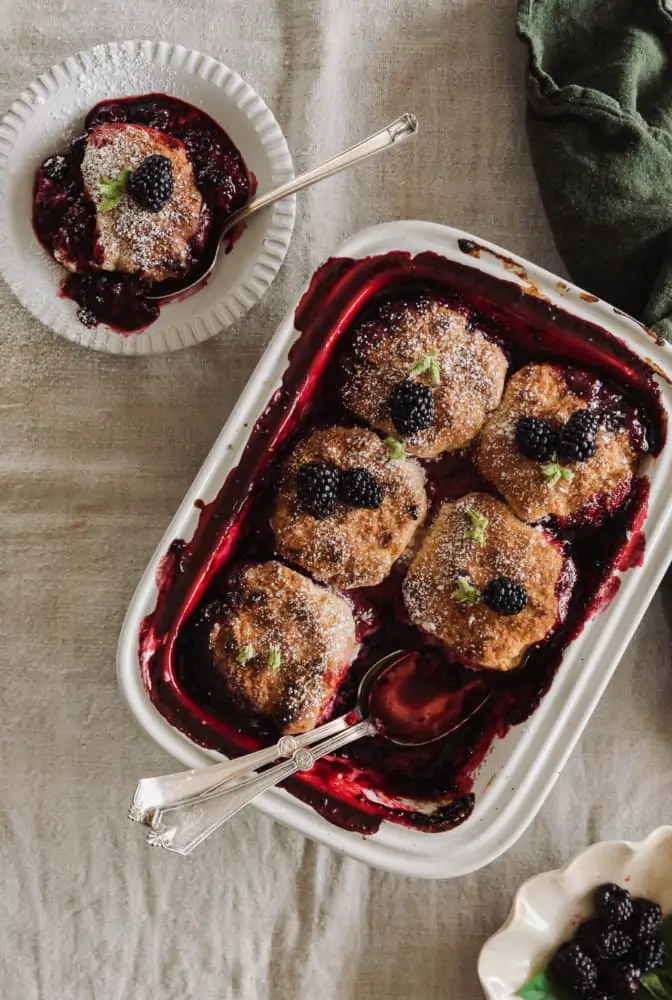 How to Make the Blackberry Cobbler
Be sure to scroll all the way down for the full printable recipe with more detailed steps!
Preheat oven to 400 F.
Combine the dry pastry ingredients: cubed butter, flour, salt, sugar, baking powder, and lemon zest if using.
Pulse until well combined. Slowly add the cream, mixing until a dough forms.
Use floured hands to divide the dough into 6 even size discs, about 4″ in diameter. Refrigerate for at least 15 minutes.
Gently toss the blackberries, corn starch, vanilla, salt, sugar, and lemon juice in a baking dish.
Remove the pastry dough from the refrigerator and evenly distribute over the filling.
Brush each pastry disc with a little cream and sprinkle with coarse sugar.
Bake for 35-40 minutes, or until bubbling. Tip: If the top begins to brown before the filling bubbles, cover with tin foil and continue baking until bubbly.
Cool 5 minutes and serve warm with vanilla ice cream!
Tips for Making the Best Blackberry Cobbler
Use fresh ripe berries!
Refrigerate the biscuit dough while making the filling, cold pastry dough will always produce better results!
Avoid using canned pie filling mixtures. This is best saved for pies and can cause a cobbler to be sticky and gummy.
If the top begins to brown before the filling bubbles, use tin foil to loosely cover the baking dish and continue to bake until the cobbler bubbles. Covering may cause the filling to bubble over so be sure to have drip tray below the dish to catch any filling.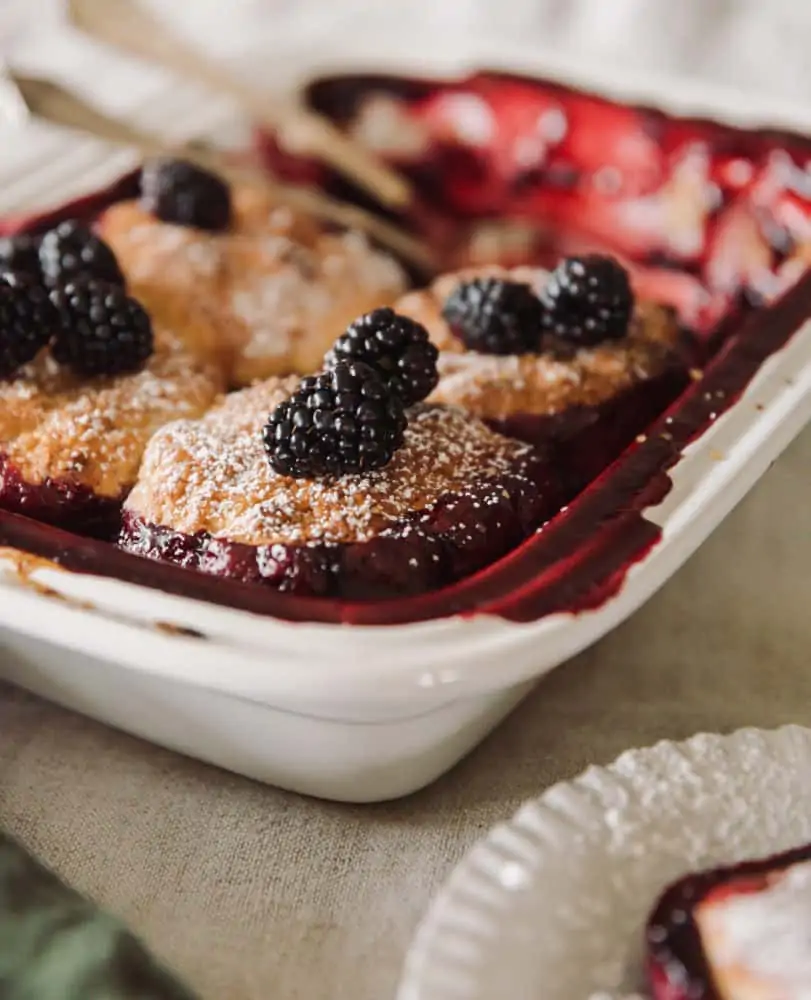 Runny Cobbler?
If you're wondering how to prevent runny cobbler, the answer is simple: add a thickening agent.
In this recipe, I call for cornstarch. It is my preferred thickener when making pies, cobblers, and crumbles. It's simply what I've always used.
Tapioca starch is another common thickener used in fruit dessert recipes.
Additionally, before removing the dish from the oven, check that the fruit is bubbling! Continue to bake until you see those delicious sticky fruity bubbles. This will ensure the corn starch is doin' its thing.
Other Baking Notes
Make up to 2 days ahead of time. Cover and refrigerate until ready to use. When ready to serve, warm in a 200F oven.
I do not recommend freezing this dessert.
Store in the refrigerator, covered. Will keep for about 4 days.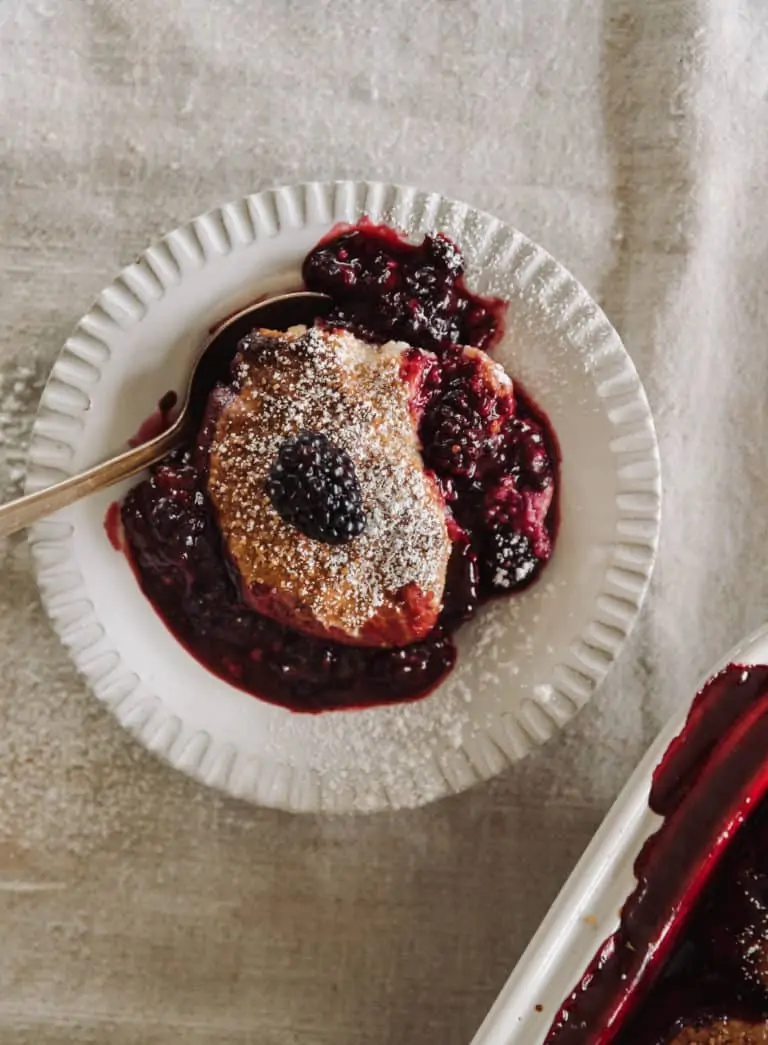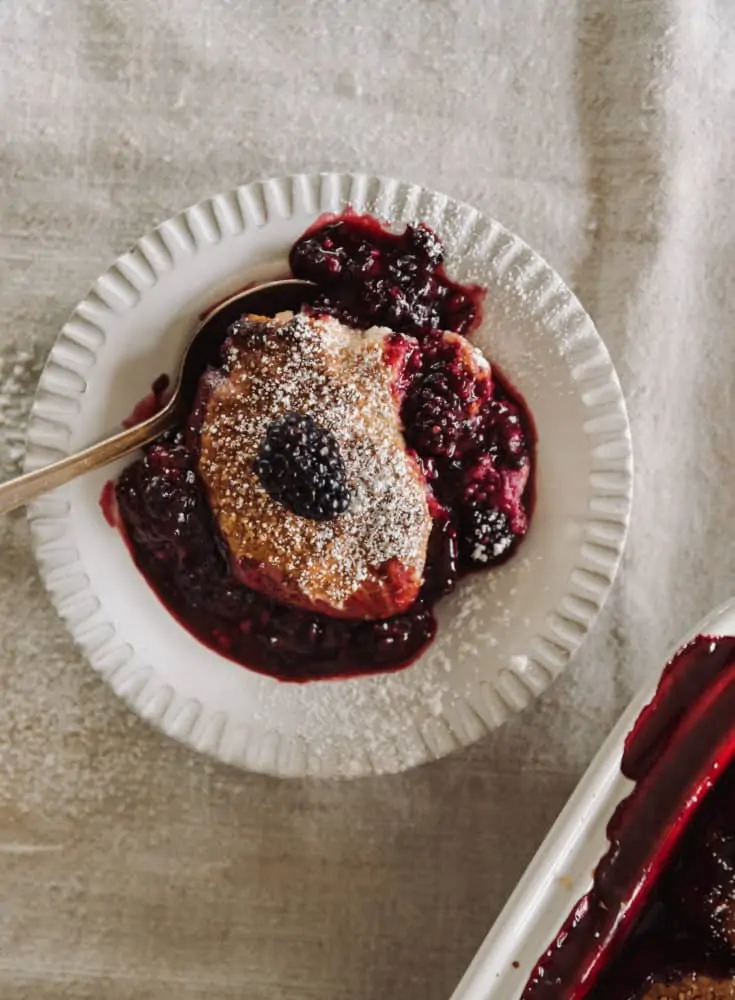 If you love simple baked goods, you'll love my blueberry lemon scones and strawberry muffins!
The Recipe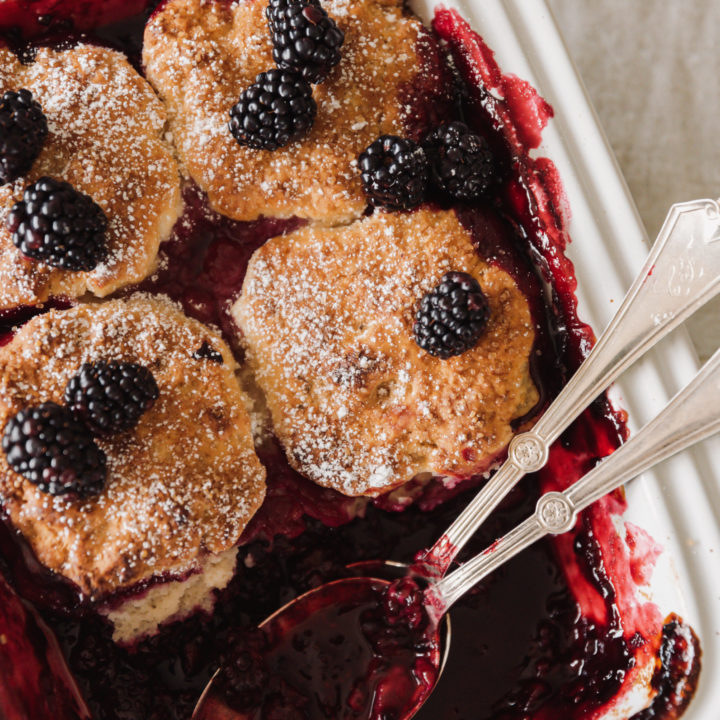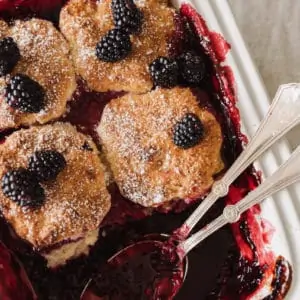 Blackberry Cobbler
This delicious blackberry cobbler recipe is made with sweet ripe blackberries and topped with a simple sweet biscuit! The perfect cobbler recipe for summer cookouts!
Equipment
Ingredients
Biscuits
2

cups

all-purpose flour

1/4

cup

granulated white sugar

2

teaspoons

baking powder

1/2

teaspoon

salt

lemon zest from one lemon

optional

1

stick unsalted butter

8 Tablespoons, cut into sugar cube size pieces

3/4

cup

heavy cream
Cobbler Filling
4

cups

ripe blackberries

rinsed clean and dry

1/2

cup

granulated white sugar

2

tablespoons

corn starch

1

tablespoon

lemon juice

1/2

teaspoon

salt

1

teaspoon

vanilla extract
Additional Ingredients
1/4

cup

heavy cream

for topping the biscuits

coarse sugar

for topping the biscuits
Instructions
Preheat oven to 400F.

Prepare the bisctuis: In a food processor combine flouor, sugar, baking powder, salt, lemon zest, and butter. Pulse until the mixture becomes crumbly and the consistency of sand. Drizzle in cream and pulse until the mixture comes together and is the consistency of snow.

Place the dough onto a parchment lined cutting or pastry board, break into six evenly sized pieces. Form each piece into a 4" disc shape about 1" thick. Cover and refrigerate while preparing the filling.

In a large mixing bowl combine blackberries, sugar, corn starch, lemon juice, salt, and vanilla extract. Gently toss to evenly coat the berries.

Transfer the berry mixture to a 14" oval baking dish, 12" round skillet, or 9"x12" baking dish.

Remove the biscuits from the refrigerator. Place the biscuits evenly over the top of the berries. Use a pastry brush to brush each biscuit with cream and sprinkle coarse sugar on top.

Bake at 400 F for 30-40 minutes.

Cool for 5 minutes and enjoy warm with vanilla ice cream!
Notes
If you do not have a skillet or oval baking dish, use an 9×12 baking dish.
If you do not have cream, you can use milk instead.
As a note, using frozen blackberries will produce more liquid in the baking dish.
You can easily halve this recipe, simply use an 8×8 baking dish. Prepare 4 biscuits during step 3.
If the top begins to brown before the filling bubbles, use tin foil to loosely cover the baking dish and continue to bake until the cobbler bubbles. Covering may cause the filling to bubble over so be sure to have drip tray below the dish to catch any filling.
This recipe serves 6 large servings or up to 12 smaller servings. 1-2 people per biscuit.