Blueberry & Lemon Scone Recipe
This post may contain affiliate links, please read my disclosure policy.
Blueberry scones with a lemon glaze are easy and delicious! A tried and true recipe to keep in your back pocket!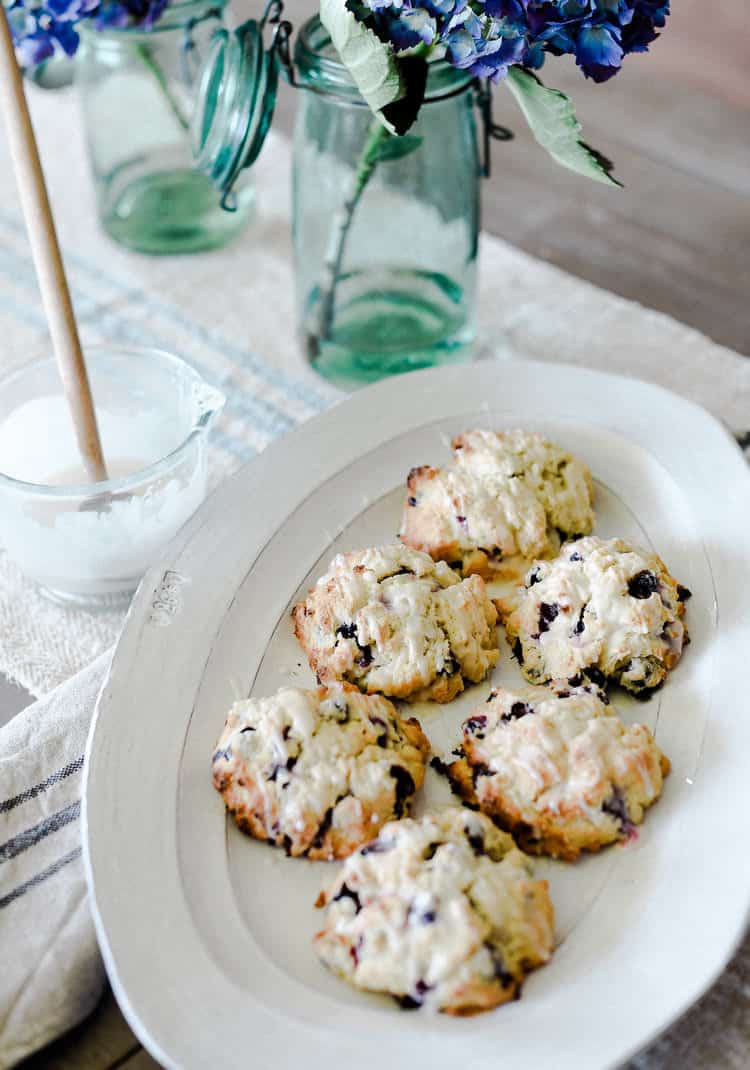 Blueberry Lemon Scone Recipe
These delicious scones are packed with sweet blueberries and finished with a sweet tangy glaze! The lemon blueberry combo is delightful and satisfying! One bite into this flaky scone, and you'll be hooked!
Scones are one of those things that I decide to make when I am short on time, but want to look like I planned ahead and baked something yummy from scratch.
I love scones because they are simple, like pie crust, but so delicious. I also love that I almost always have all of the ingredients I need to make scones – flour, butter, sugar, milk, and some sort of fruit… Really, they've become my go-to recipe because it only takes about ten minutes to put the ingredients together, and cleanup is really simple. They're just great, okay?
These scones were inspired by my friend Sarah. Lori and I planned to have her over for a birthday brunch, and we wanted to put together something savory and something sweet. Scones were the first thing that came to mind!
I really had wanted to make blackberry scones, but our grocery store didn't have any, so we opted for blueberry. The best part of about scones is that you can mix and match your fruit/nuts/glaze to create unique flavors (or to simply use up whatever fruit you have in the fridge).
This morning we enjoyed these scones as we sat outside on my patio and enjoyed a glass of rosé and egg casserole while celebrating Sarah's birthday. I am always so grateful that even in this tiny town, I am somehow surrounded by so many incredible friends.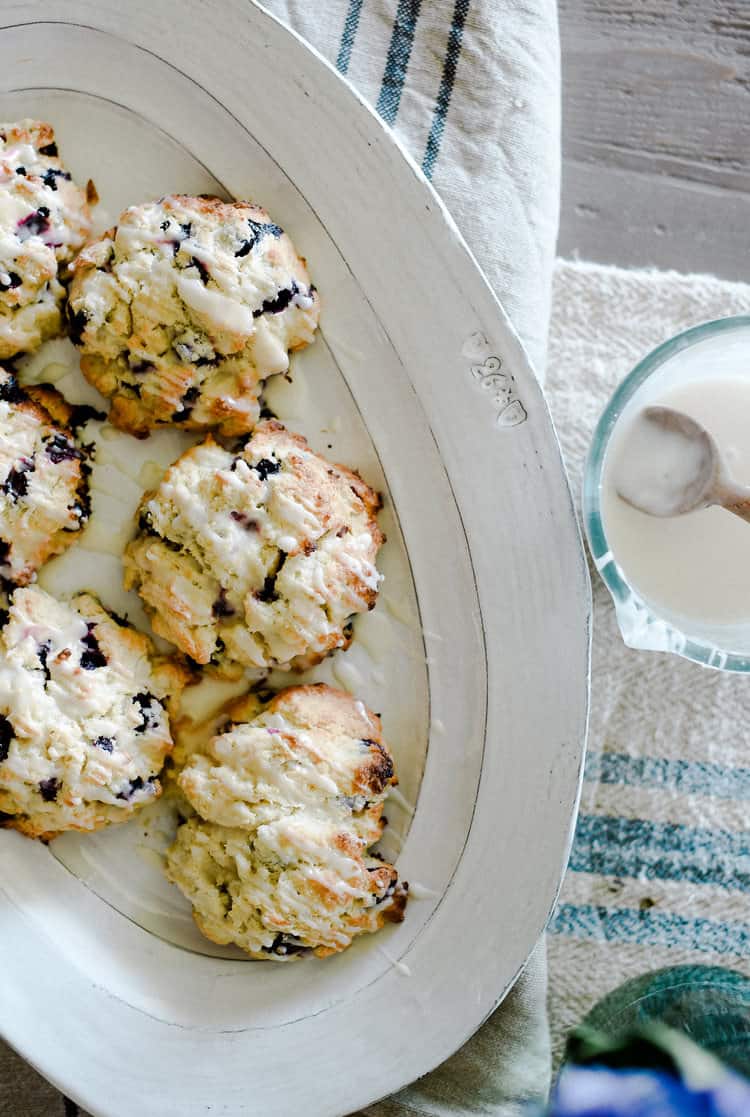 Frequently Asked Questions
Can I use a milk substitute in scones? 
Scones are typically made using a heavy cream, truly the most delicious, and the most traditional way to make scones. However, if you are lactose intolerant, or simply don't keep cream on hand, regular milk will do.

These scones can be made with milk, coconut milk, almond milk, or cashew milk. I bet rice milk would even work. 

For this recipe we used almond milk and they turned out delicious! 
We first tried this recipe using an entire cup of milk, but it was much too cake-like for us, we prefer the crumble of these scones with only 3/4 cup milk! 
Can I use frozen berries in this recipe?
Yes! This recipe is very adaptable and easy to tweak. If you only have frozen berries on hand, go ahead and use them. You may notice that the scones are not quite as flaky with frozen berries, but they should still be delicious!
---
---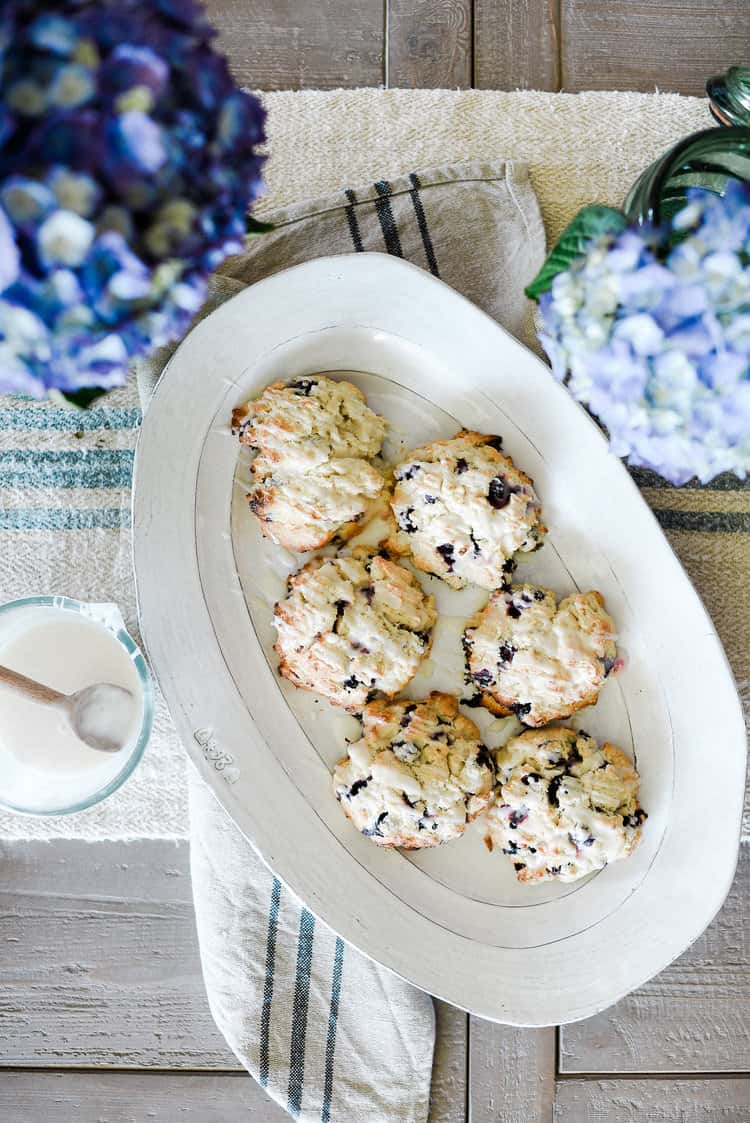 I hope you enjoy this delicious recipe! It is the perfect thing to make ahead and enjoy on Sunday morning. They are just as delicious the day after as they are right out of the oven!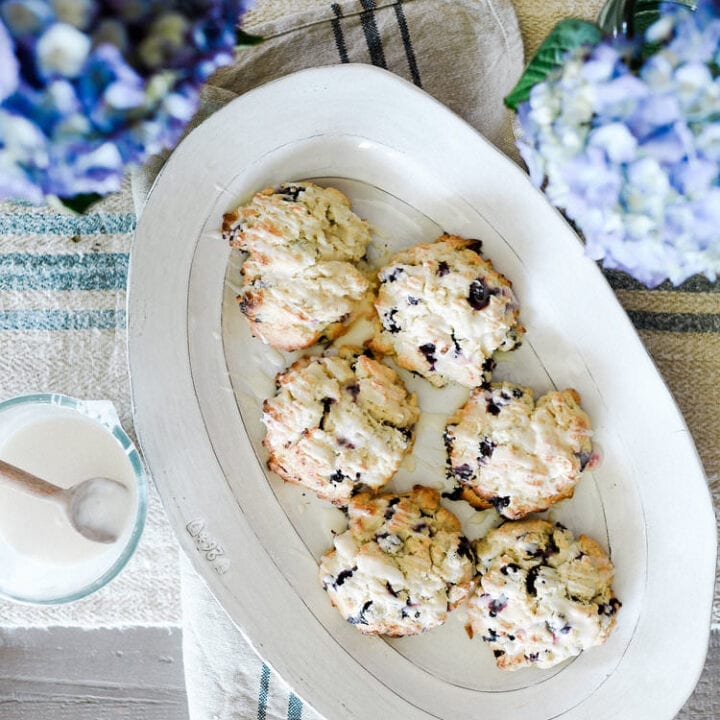 Blueberry & Lemon Glazed Scones
A delicious blueberry and lemon scone that melts in your mouth. Try to stop at just one, I dare you!
Ingredients
FOR THE SCONES:
2 cups flour 
1/4 cup sugar
2 teaspoons baking powder
1/2 teaspoon salt
1  stick butter (8 Tablespoons)
1 cup blueberries
lemon zest from one lemon
3/4 cup cream (regular milk or almond milk also works)
FOR THE GLAZE:
1 cup powdered sugar
juice from the zested lemon
1 teaspoon vanilla
Instructions
For the scones:

preheat oven to 400 F
Step 1: Prep the butter: use a sharp knife to cut butter into small sugar cube sized squares. Then, place the butter in the freezer for about 5 minutes.
Step 2: While the butter is in the freezer, combine flour, sugar, baking powder, and salt in a medium sized mixing bowl.
Step 3: Remove butter from the freezer and add to the flour mixture.
Step 4: Using a pastry blender (or your hands), break the mixture down until you have a coarse meal with pea sized butter bits.
Step 5: Fold in the blueberries and lemon zest - gently to combine.
Step 6: Stir in cold cream/milk/almond milk until the mixtures becomes dough like. The dough should be crumbly, do not over-work. If the dough is too sticky, add 1-2 tablespoons of additional flour. The dough should be the consistency of wet snow.
Step 7: If needed, coat your hands in flour. Break off tennis ball sized pieces from the dough and form into small disks.
Step 8: Brush each scone with a touch of milk and sprinkle with a pinch of sugar. Bake for 15-20 minutes, or until golden brown. Note: if the scones are not cooked through, but are browning on top, cover and cook until baked through.
For the Glaze:
While the sones are baking, combine powdered sugar, lemon juice, and vanilla in a small mixing bowl. Stir until thoroughly incorporated. If the consistency is too thick, add a teaspoon of milk. The glaze should be the consistency of wet glue.
Allow the scones to cool.
Drizzle the glaze over slightly cooled scones and enjoy!
---
Did you make this recipe?
---