The Best Blueberry Muffins with Crumb Topping
This post may contain affiliate links, please read my disclosure policy.
If you love blueberries, you're going to devour these absolutely delicious blueberry muffins! These muffins have a little lemon zest added in for a burst of flavor in each bite.
Finished with a yummy crumb topping, the top of the muffins are crisp while the inside is moist and fluffy! The perfect blend of texture and flavor.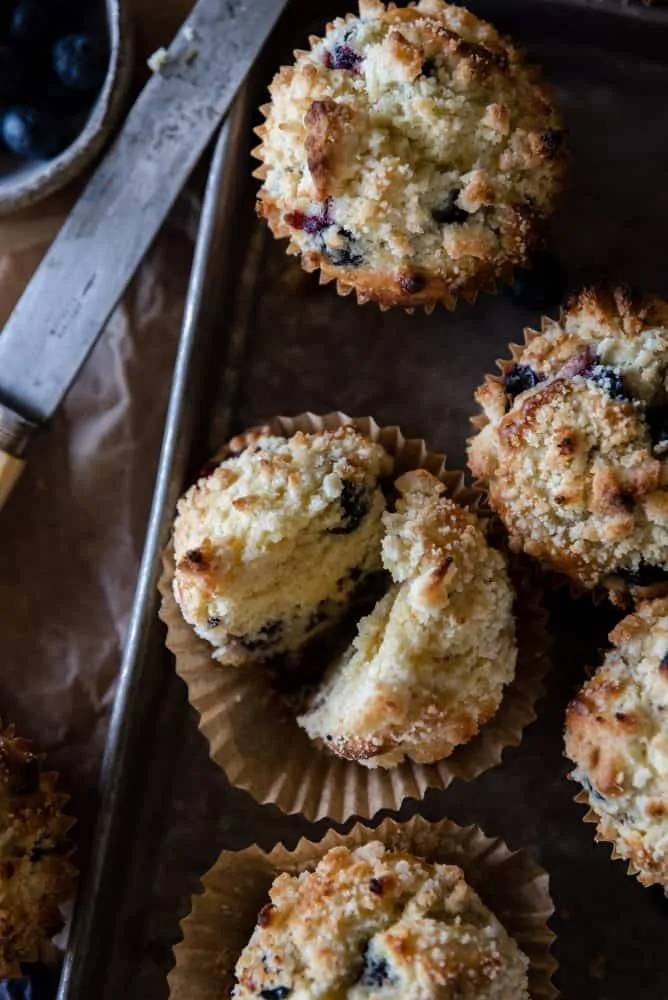 Blueberry Lemon Muffins Recipe
These blueberry lemon muffins are made from scratch! The sweetness from granulated sugar is the perfect combination of tart lemon zest and burst of blueberry flavor!
This delicious muffin recipe is very similar in flavor to my blueberry & lemon scone recipe. The scone recipe is a reader favorite made time and time again.
I am excited to share this new recipe with you. While it is similar in flavors, this muffin recipe is great if you're craving a light & fluffy blueberry muffin!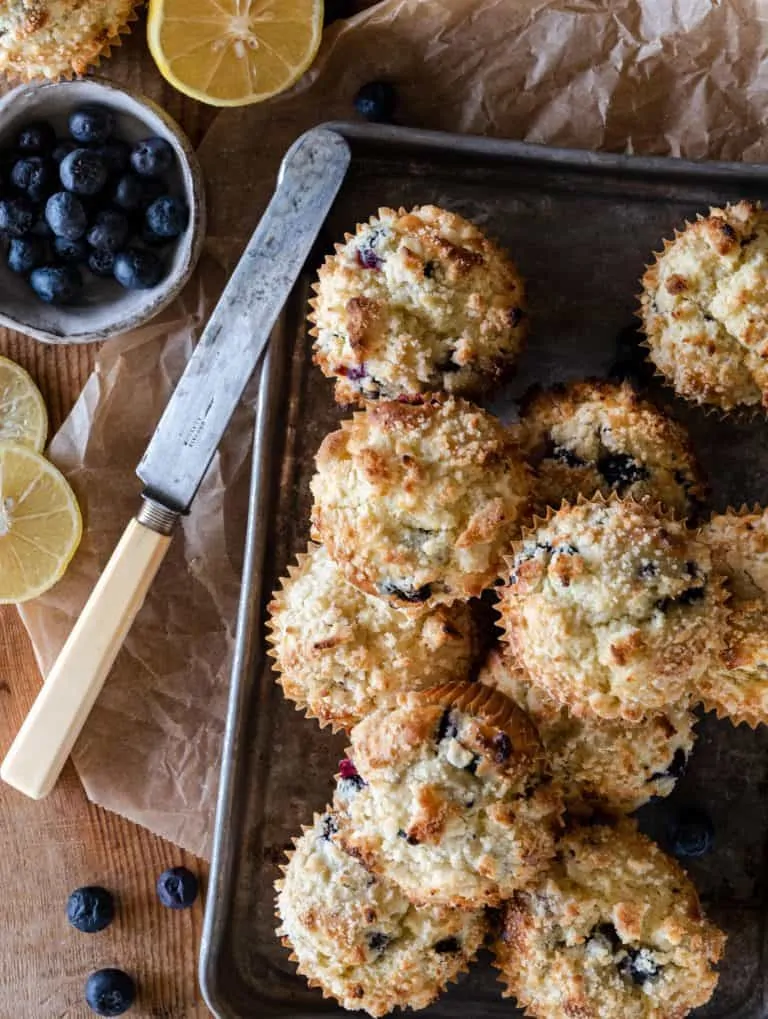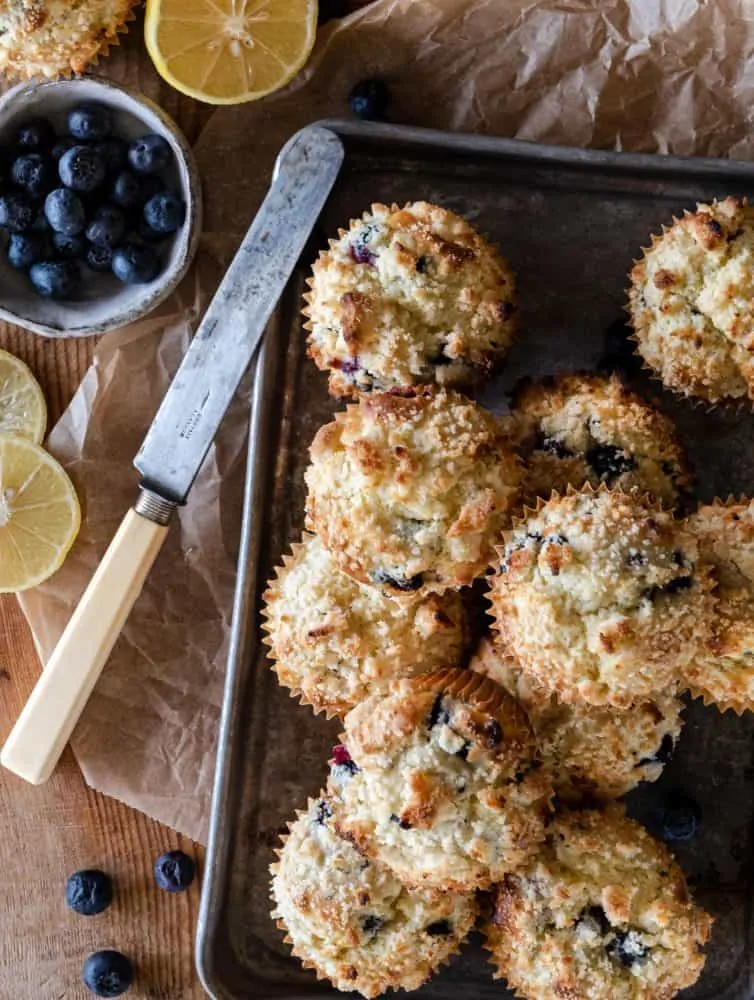 While creating my strawberry muffin recipe I did a little muffin research. After all, cooking is science. It's very helpful to know the reason behind the method. Especially when working with something as sacred as food.
During the process, I learned quite a bit about muffins and some key elements of a good muffin. Did you know oil is the preferred fat for muffins rather than butter? Or that over-mixing the batter can be detrimental to the recipe? I'm here to tell you all of the tips I have learned for making fail proof muffins!!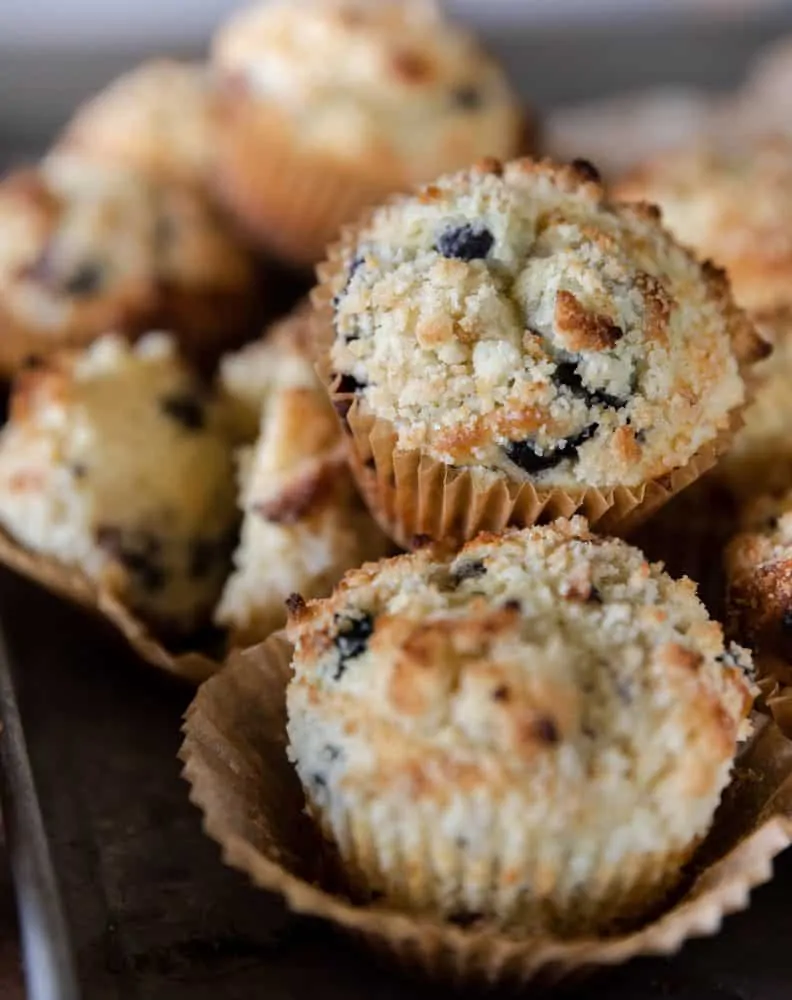 Here are some key muffin making tips that will help your muffins turn out delicious each and every time!
Muffins and cakes tend to have a better texture when made with oil rather than butter. I love using butter for cookies and scones, but I prefer oil for muffin, donut, and cake making.
Over mixing the batter is a recipe for…a very dense muffin. When you see a recipe note "mix until just combined", they mean it! Over mixing the batter causes the gluten from the flour to react and will produce very dense and chewy muffins.
Whisk wet ingredients and dry ingredients together in separate bowls, then add the wet ingredients to the dry ingredients, and mix until just combined. This will help your muffins stay nice and fluffy!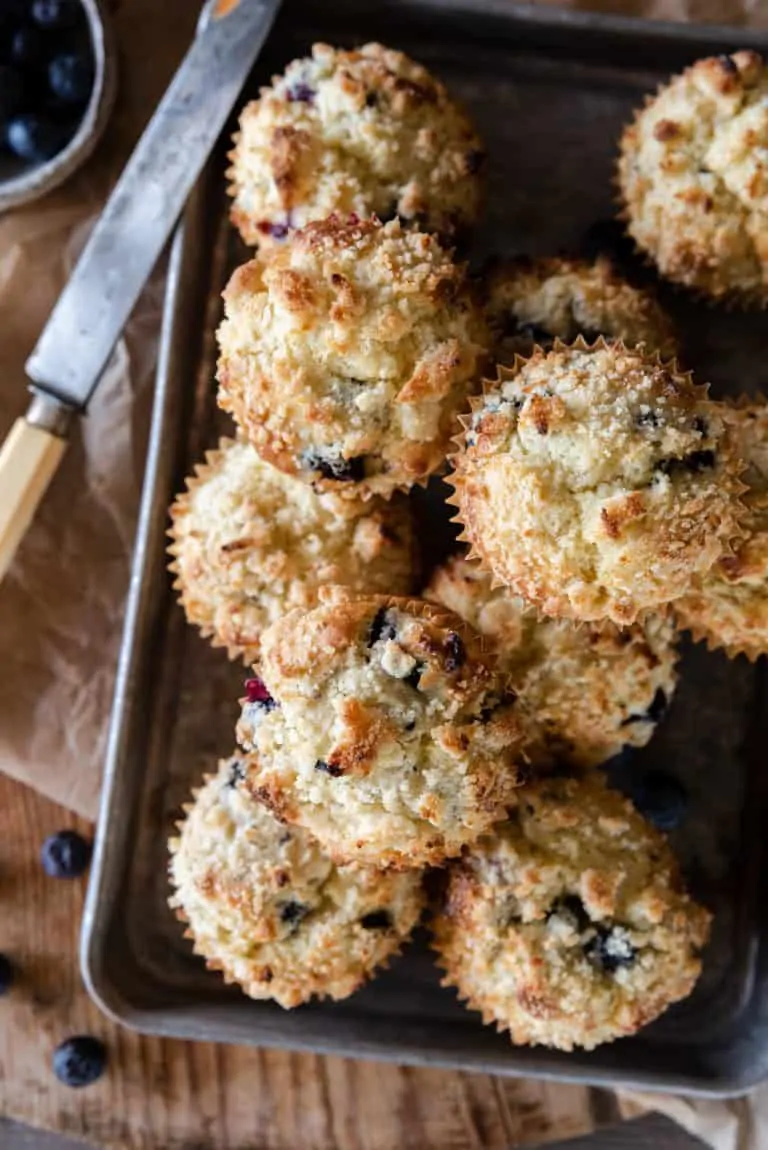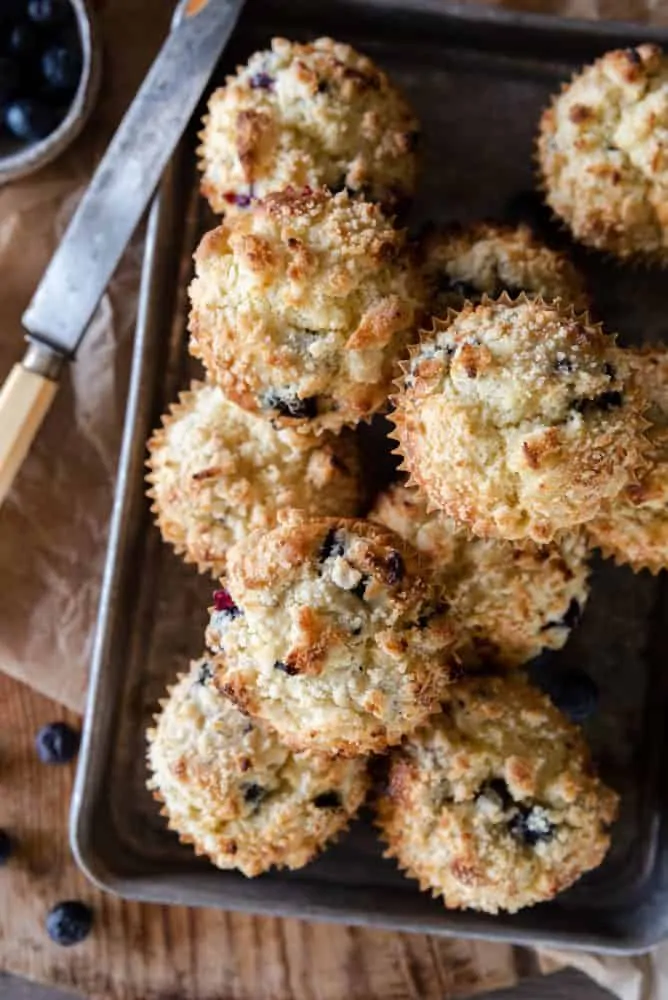 Frozen vs fresh blueberries:
Fresh blueberries will produce the best results in this recipe. However, you can use either fresh or frozen strawberries.
Generally speaking, you can use fresh or frozen berries pretty interchangeably when baking cakes, muffins, and cookies. Frozen berries will lower the temperature of the baked goods and may require up to an additional 5 minutes of baking time.
I have also noticed that frozen berries release more moisture than fresh berries. I always recommend reducing the liquid just a bit, in this case – milk – to prevent the recipe from becoming too "wet".
For this recipe, I recommend reducing the milk to 3/4 cup rather than 1 cup if using frozen berries.
How to make blueberry lemon muffins:
Preheat the oven to 400 F.
Prepare the streusel crumb topping and set aside.
Whisk together wet ingredients: milk, oil, eggs, and vanilla.
Fold in dry ingredients: flour, sugar, baking powder, and salt.
Fold in blueberries & lemon zest until *just* combined.
Scoop equal amounts of batter into a lined muffin tin. Bake for 17 minutes or until just golden on top.
---
More breakfast recipes to love:
Blueberry Scones with Lemon Glaze
---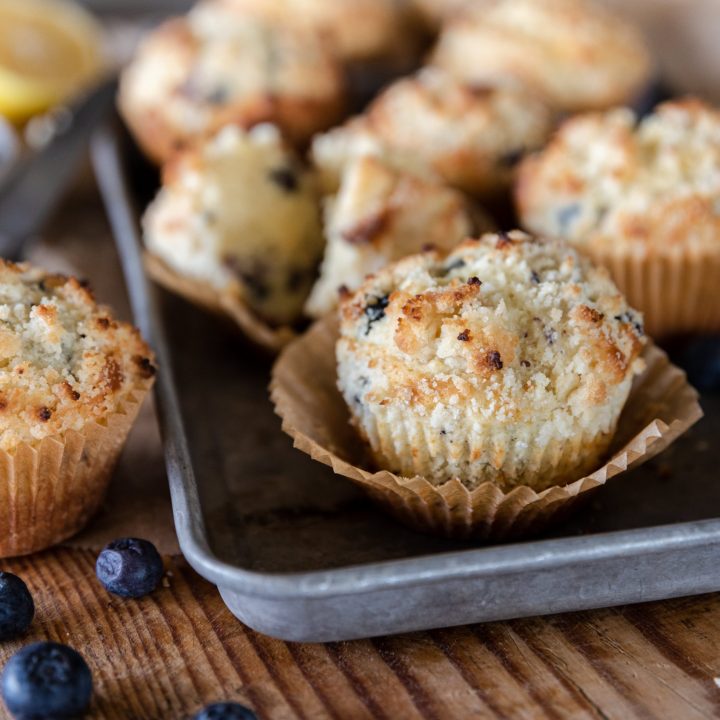 Blueberry Muffins with Crumb Topping
Blueberry muffins made from scratch are such a delicious treat! With a yummy streusel crumb crumb topping, this is sure to become a weekend favorite!
Ingredients
STREUSEL TOPPING:
2 tablespoons butter, softened
1/8 cup brown sugar
1/4 cup all-purpose flour
MUFFINS
2 cups all-purpose flour
3/4 cup granulated sugar
2 1/2 teaspoons baking powder
1/2 teaspoon salt
2 eggs
1 cup milk
1/3 cup vegetable oil
1 teaspoon pure vanilla extract
1 cup blueberries
zest from 1 lemon
Instructions
Preheat oven to 400 F, and line a cupcake tin with cupcake liners.
Prepare the streusel crumb topping: combine flour, butter, and brown sugar. Use a pastry cutter or fork to cut the butter into the flour until crumbly.
In a medium sized mixing bowl, whisk together the dry ingredients: flour, sugar, baking powder, and salt.
In a separate bowl, whisk together the wet ingredients: eggs, milk, oil, vanilla. Once combined, stir in the blueberries and lemom zest.
Pour the wet ingredients into the dry ingredients and stir until just combined. It is important to not overmix, a few lumps are okay.
Fill each muffin mold with batter 2/3 full. Sprinkle each muffin with streusel topping (approximately 1 tablespoon per muffin).
Bake at 400 F for 15-17 minutes. Or until muffins spring back like a sponge when pressed gently.
Notes
If using frozen blueberries, do not thaw. You may need to increase cooking time 2-5 minutes. Reduce milk to 3/4 cup.

This recipe makes 12-18 muffins depending how full you fill your muffin liners.