Announcing the launch of Boxwood Avenue Presets today! Enhance your photos with Lightroom presets inspired by nature!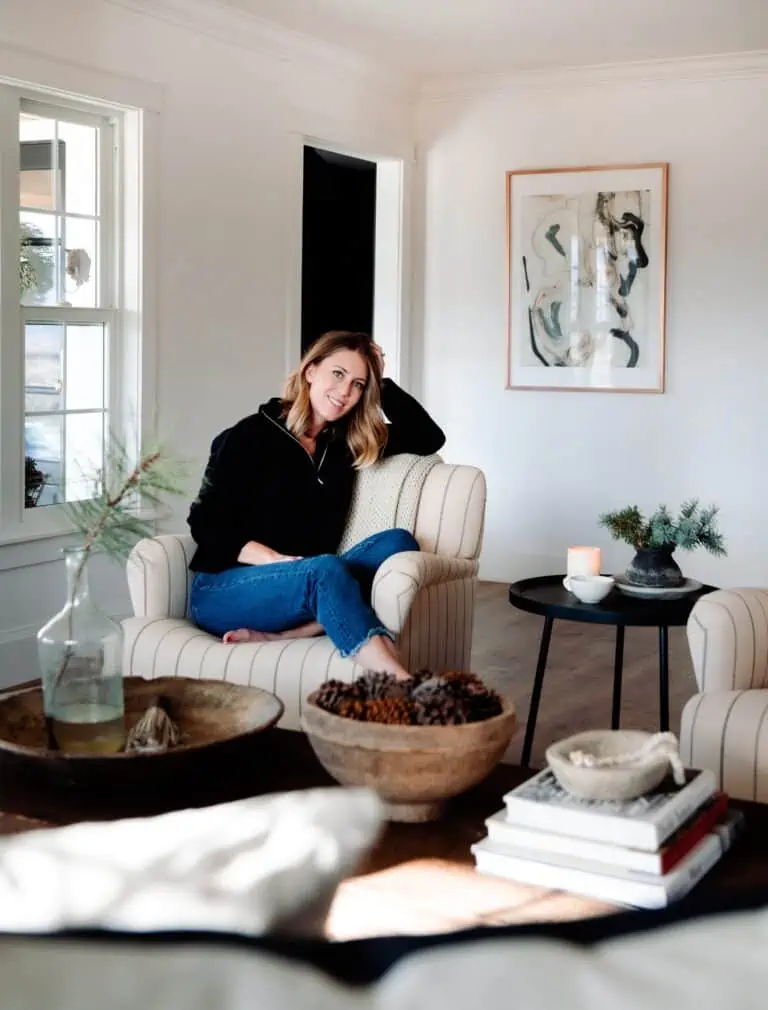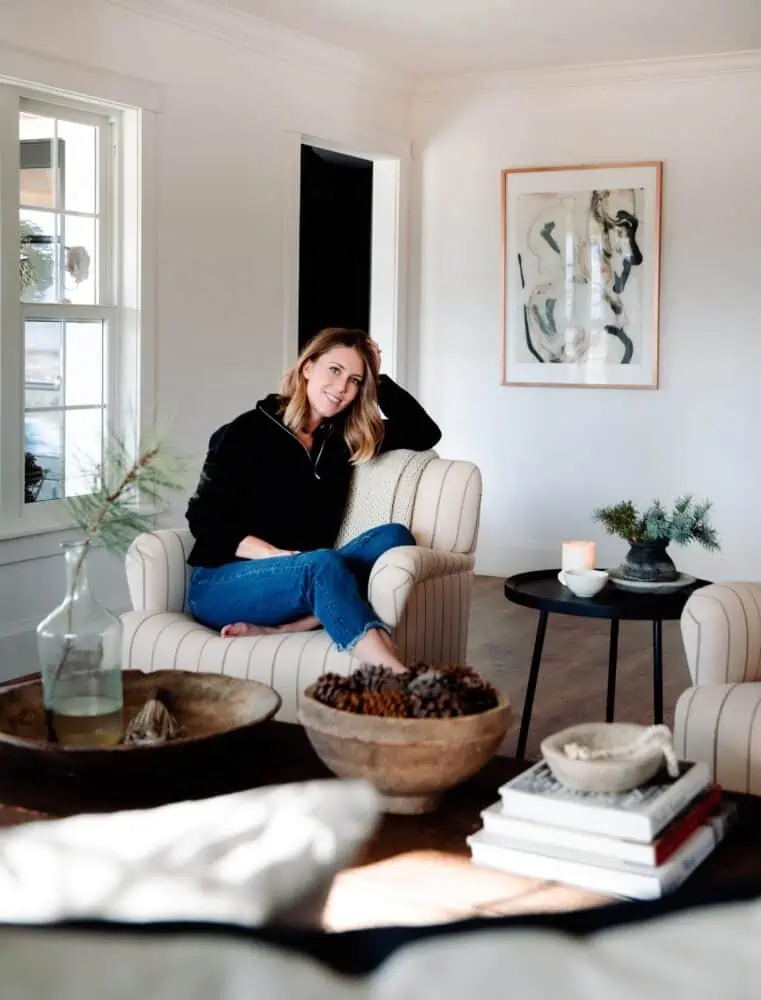 If there's an area in my business that I get asked about the most, it's photography. Followed closely by goats of course ;). I've been wanting to create and launch a set of go-to presets for years, so I am SO excited to finally announce the launch of these presets.
I've been using them to edit my photos for the past year and I hope they'll be as helpful to you as they have been for me!
Photography styles come and go, so my goal for these presets was to create something classic, natural, and timeless that will bring your photos to life. They are developed especially for crisp white interiors, dreamy portraits, and beautiful landscape photography!
For years I struggled to find presets that made the greens in my photos pop without distracting from the other colors. I needed something that would work well with crisp white walls, yet keep my skin soft.
When I couldn't find what I was looking for, I decided to make my own. I hope you love the boxwood presets, and find that they are just what you've been looking for to edit your photos with!
Don't forget to share and use the hashtag #boxwoodpresets so that I can see and re-share your photos!
Seven presets: The Alfalfa v1, The Alfalfa v2, Truffles, Buckwheat, Elderberry, Butternut and Rosemary. (Named after the goats of course!)

Video Tutorials showing you how to use the presets on both Lightroom Mobile and the desktop version!

A guide showcasing the story behind each preset along with editing tips and tricks!
IMPORTANT: Please be sure to read ALL of the instructions and watch the installation and editing videos. Remember, all photos are unique, so the presets will vary depending on the lighting, exposure, angle, resolution in each photo. Use the troubleshooting and editing guide to tweak the presets to fit each photo.
---
Photography & Preset Video Playlist
---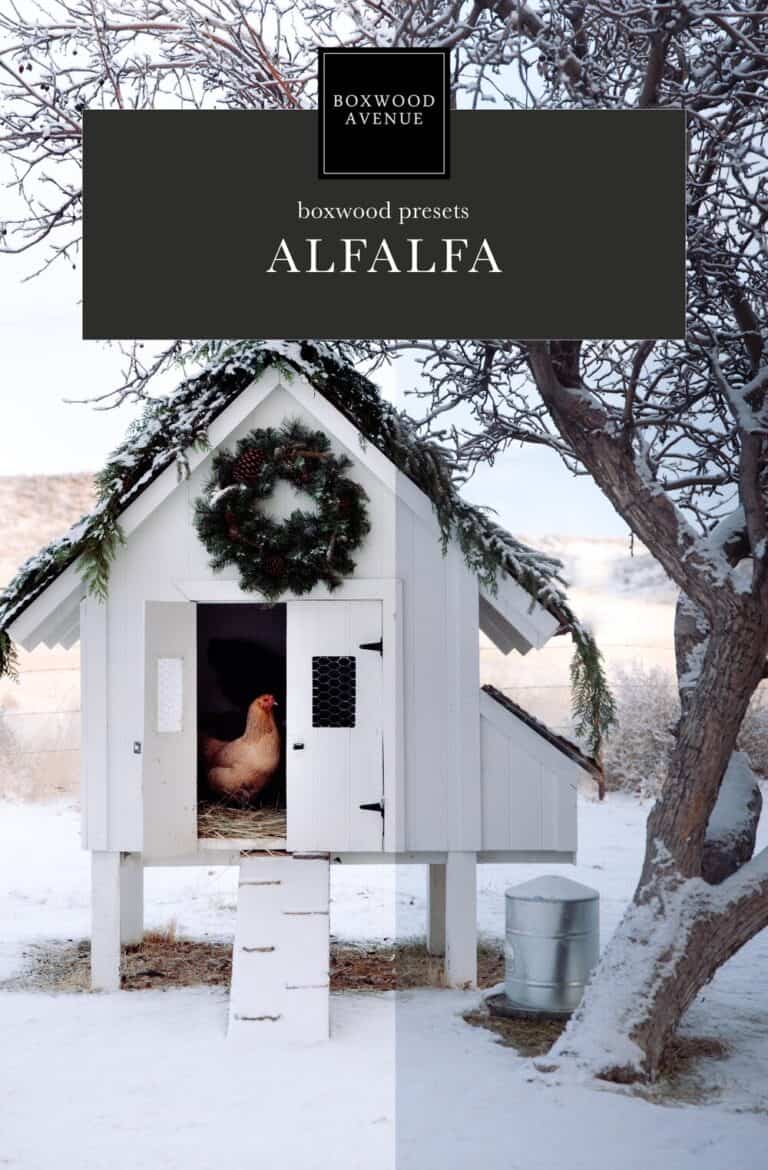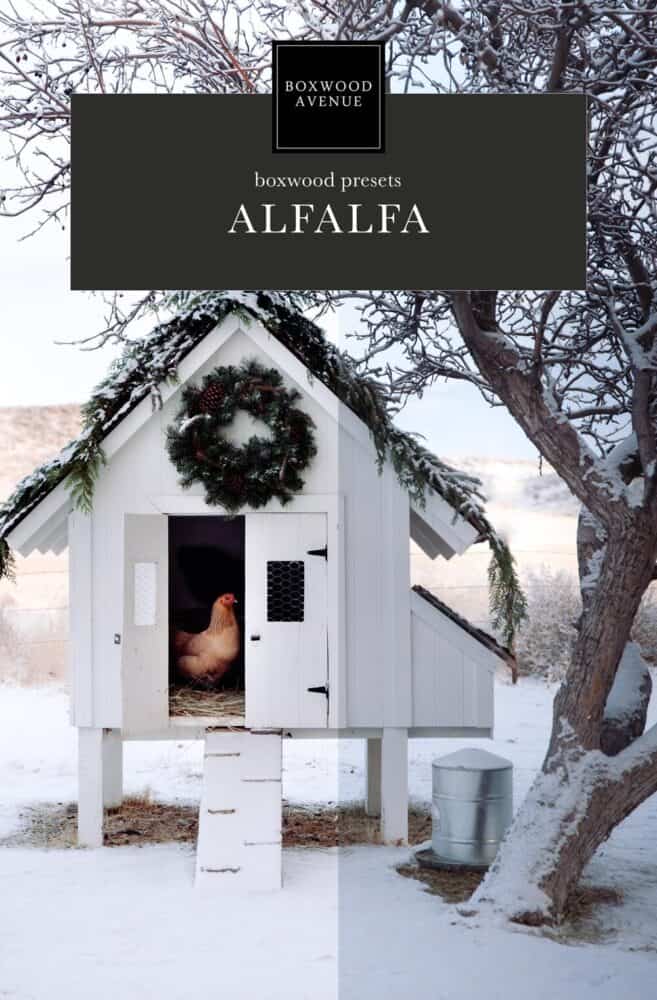 The classic alfalfa is the perfect preset for outdoor shots with lots of green. I worked hard to perfet the green undertones in this preset so that your outdoor photos shine!
Note: The shadows or black colors may be a bit too deep on some of your photos, to edit this, simply adjust the "shadows" and "blacks" under the light tab.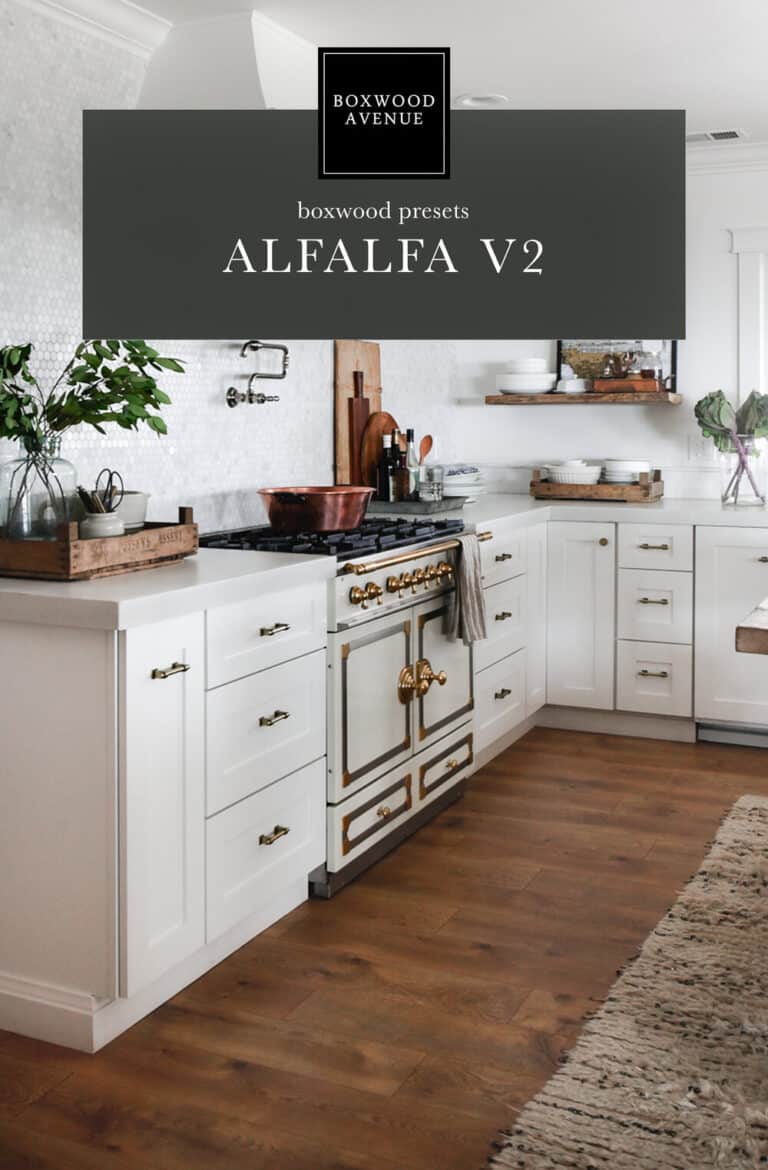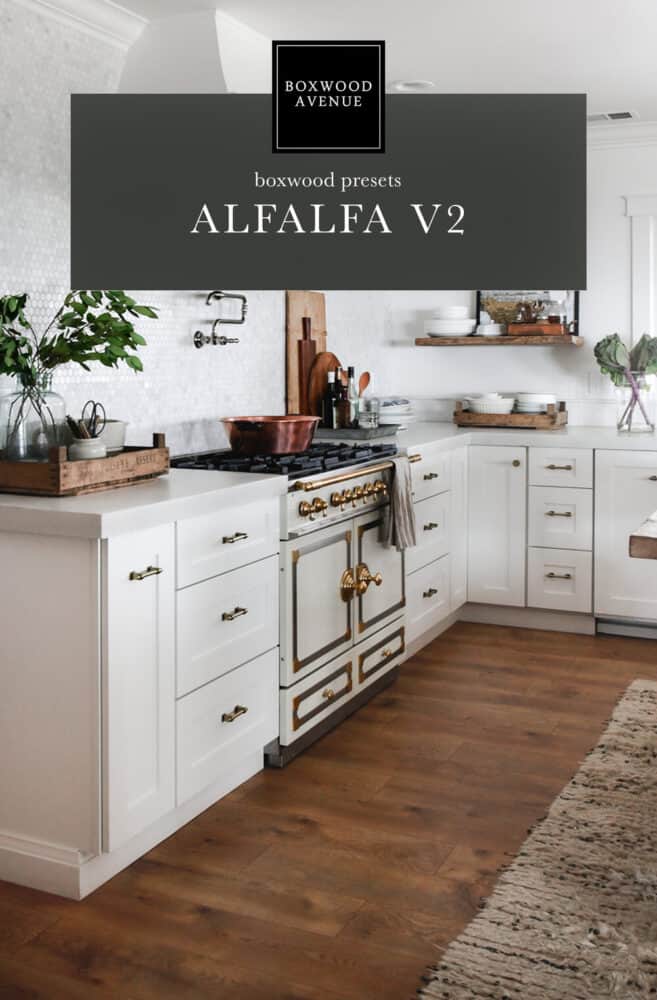 The second version of the alfalfa is one of my go-to presets for editing interiors. This preset makes the whites really pop and desaturates yellows and oranges making it perfect for photos with a white backdrop.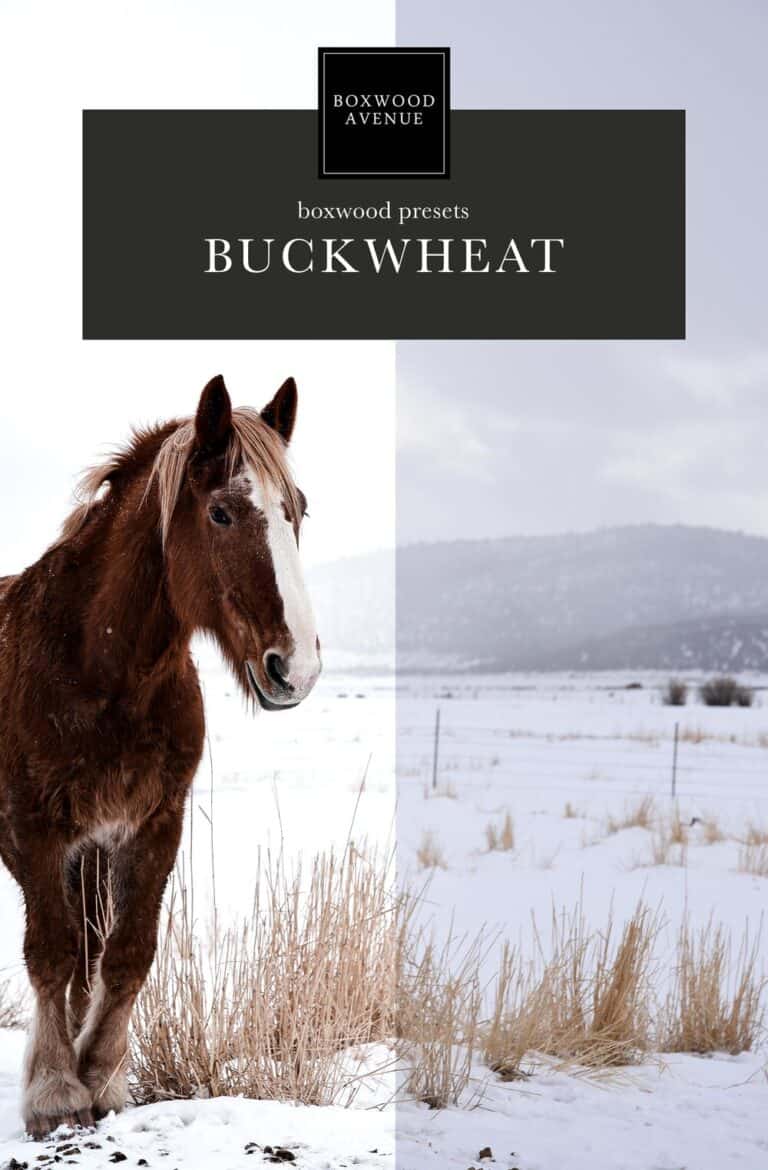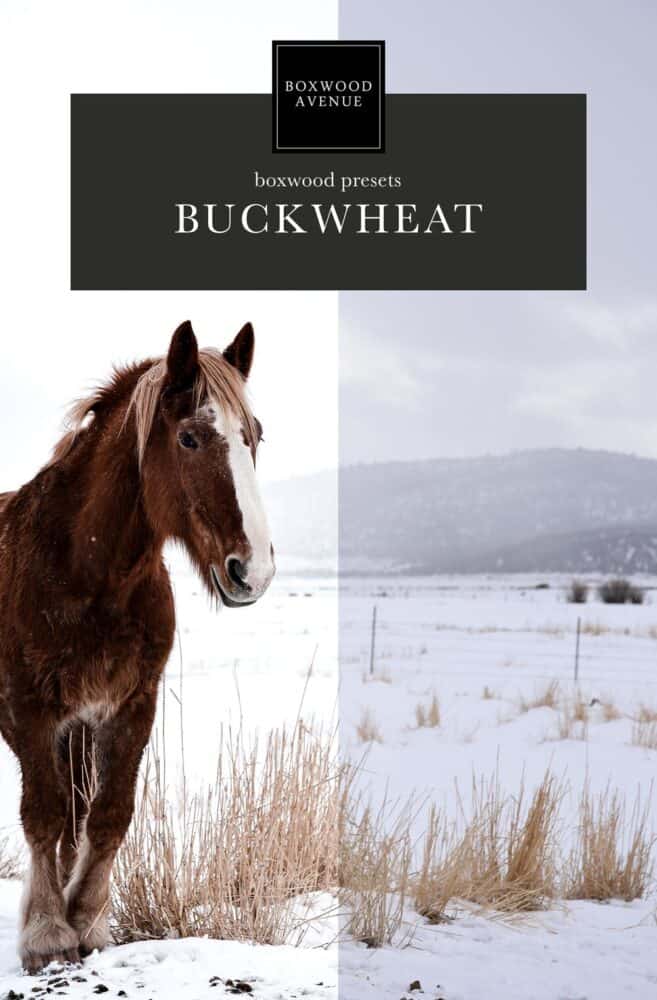 The Buckwheat preset is the most altering preset in the collection. This preset will dramatically desaturate and increase the texture and sharpness of a photo. I use the Buckwheat whenever I want a really moody look, such as in moody food photography. I also love this preset for animals with a snowy backdrop. This preset isn't as versatile as the others, but I love the way it adds an artistic and moody feel to the photos.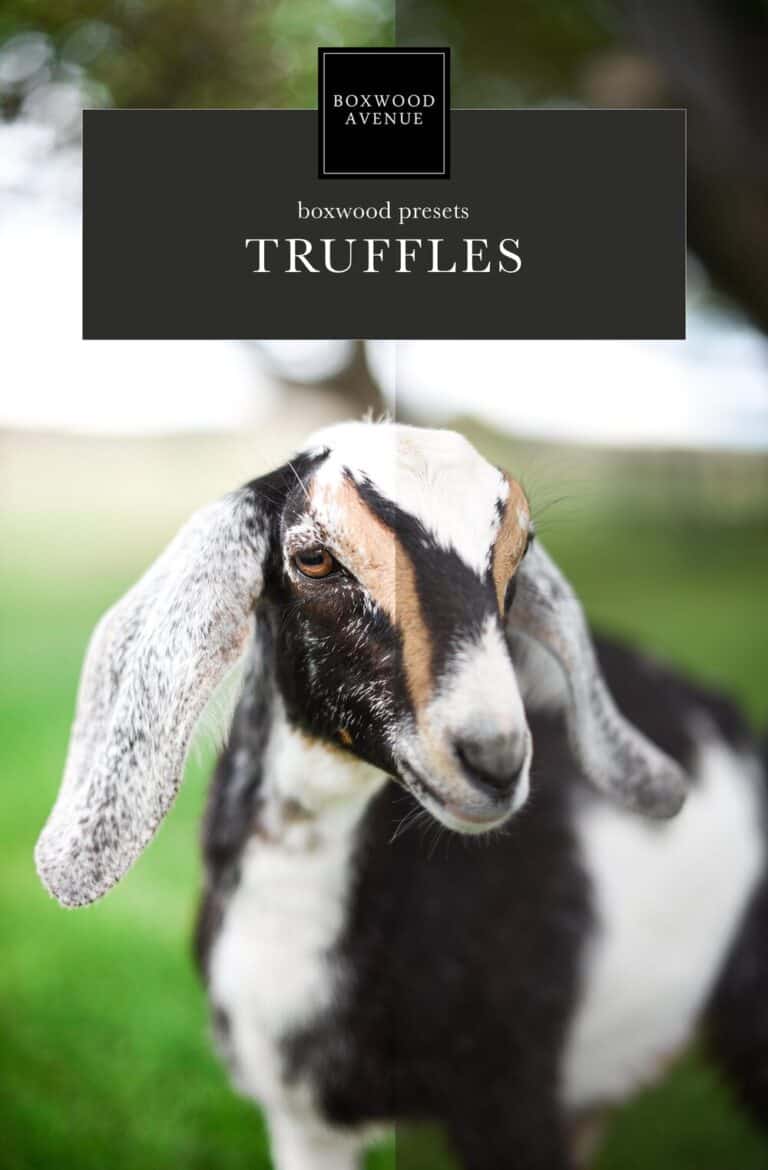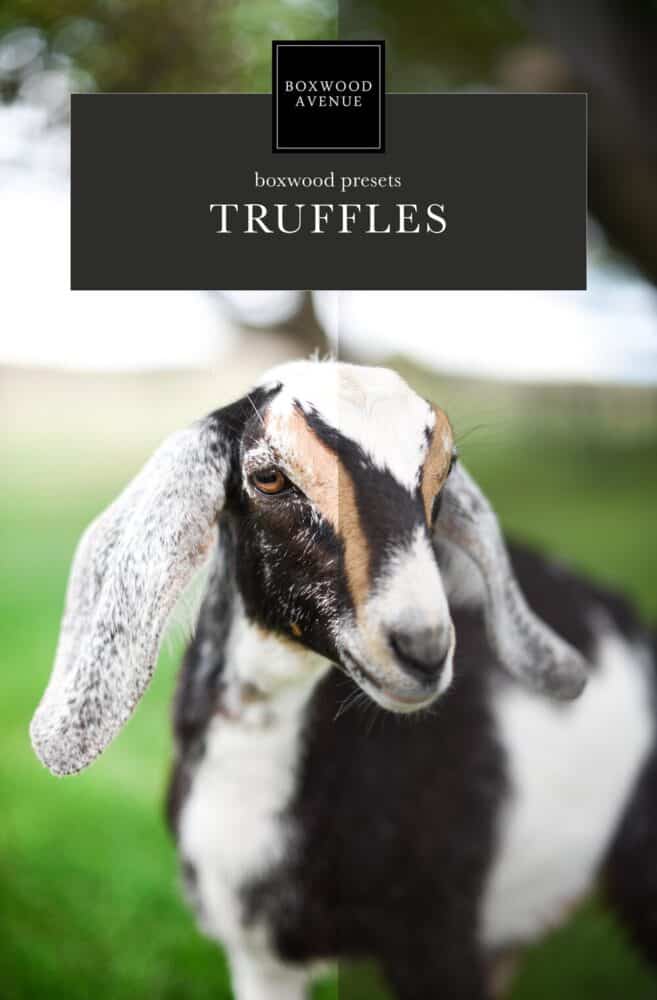 The truffles preset is a great all-around preset that adds luminance and texture to a photo! This preset increases the texture and detail in a photo making it great for photos of interiors and still life compositions. Due to the added texture in the photos, this isn't a great option for skintone.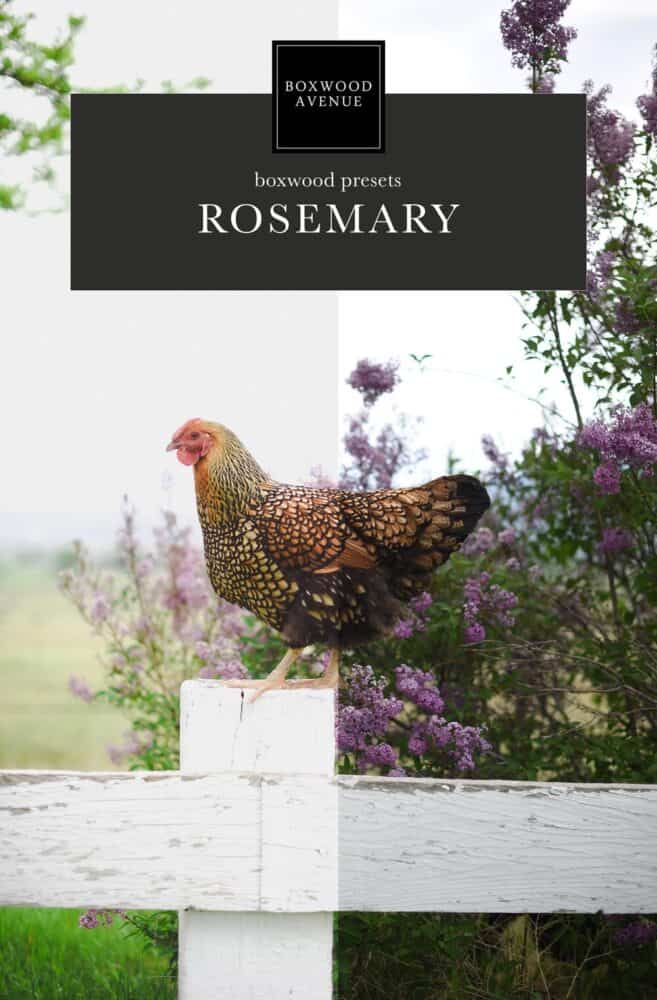 The Rosemary preset adds a light overlay onto the photo to mask imperfections. This preset is great for using on portraits or whenever you have a photo that wasn't taken in great light. This preset will help balance out harsh shadows and imperfections in the photo.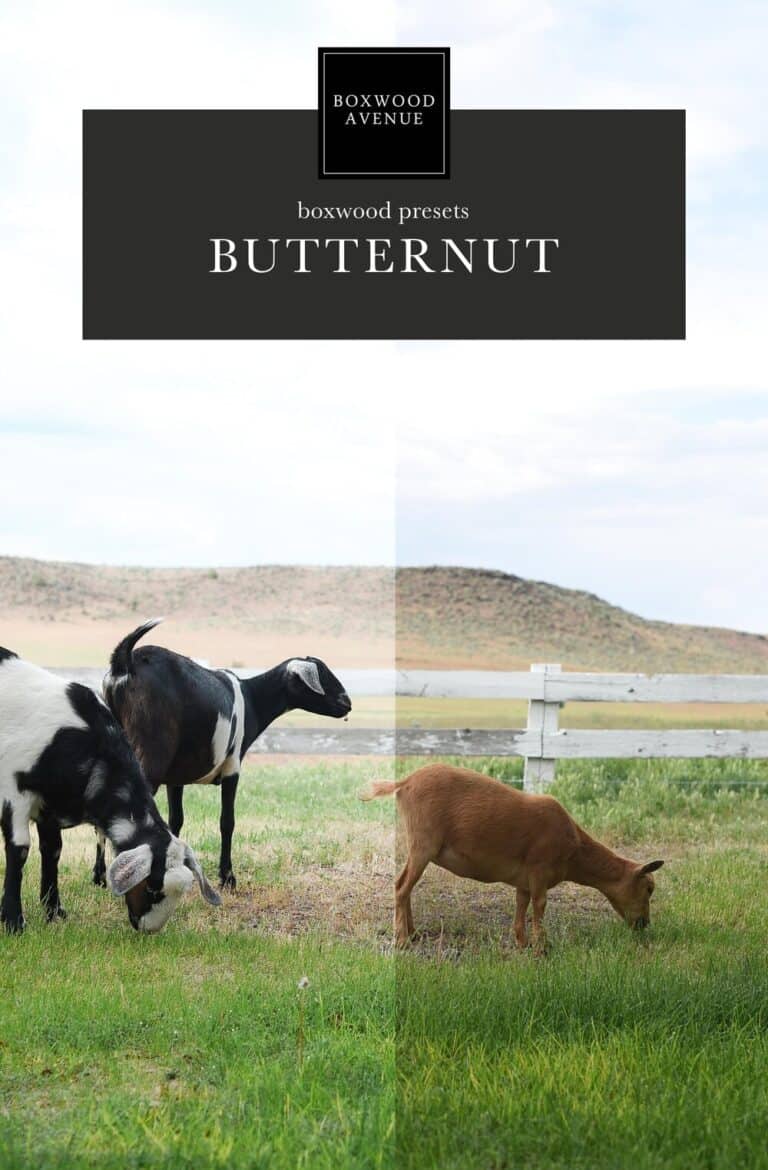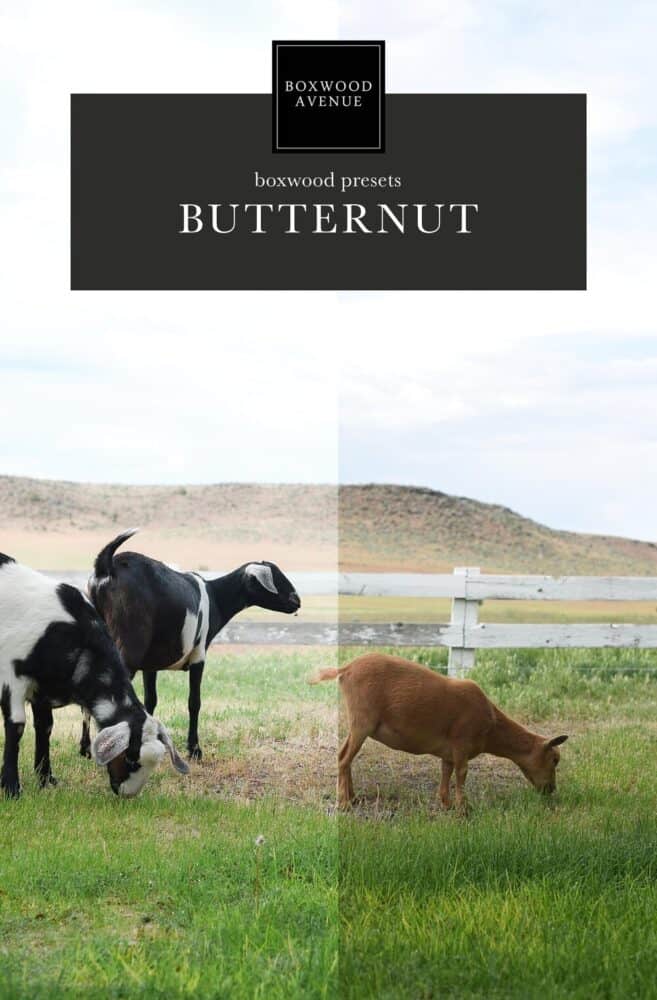 The Butternut preset is soft and warm. It will dramatically soften skintone and warm up the photo! This preset is a great option for getting that light and airy feel in your photos!
Note: If the preset adds too much warmth for your liking, simply adjust the temperature of the photo to get it just right!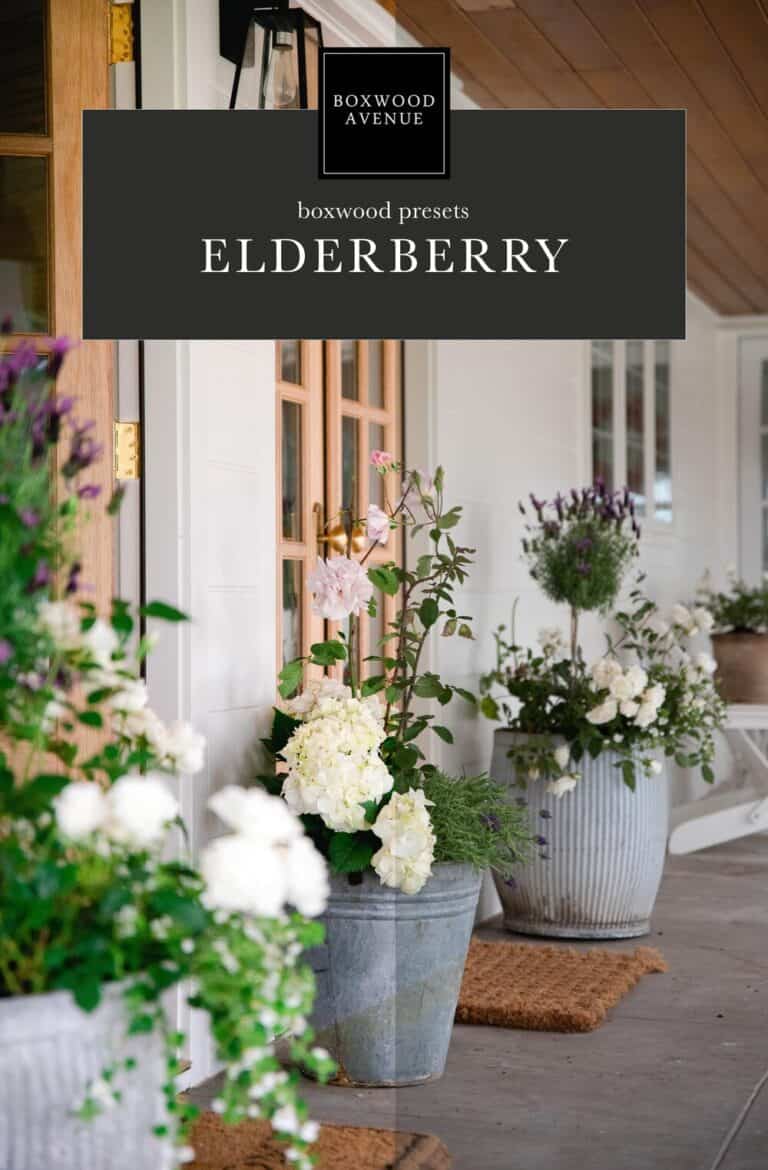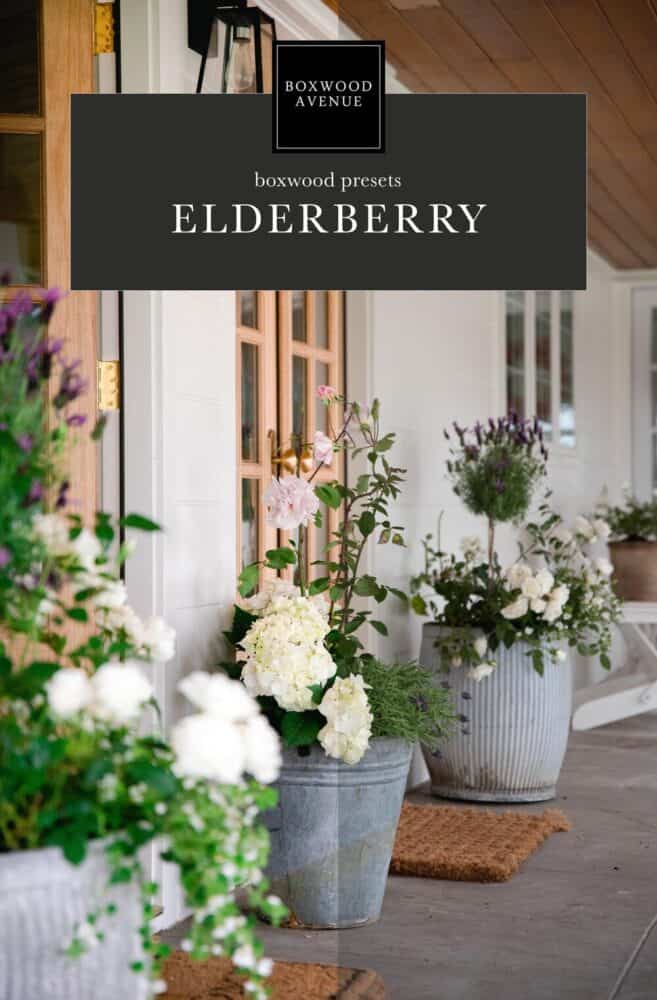 I love using the Elderberry preset to make the orange, green, and yellow colors really pop. The Elderberry preset is very similar to the Truffles preset; however, the Elderberry preset is a great option for photos with people in them! This preset softens skin tone and makes everything soft and warm!
---
PHOTOS FROM READERS using #BOXWOODPRESETS!
---