The Only Carpet & Upholstery Cleaner You Need!
This post may contain affiliate links, please read my disclosure policy.
A few years ago, I came home to a neon yellow mess my dog had left on my dining room rug. I thought the rug was toast, but I figured I'd order a BISSELL carpet cleaner to see if I might be able to save it. It magically removed the stain right before my eyes! Since then, I have become a huge fan of BISSELL products and love sharing them with anyone who will listen.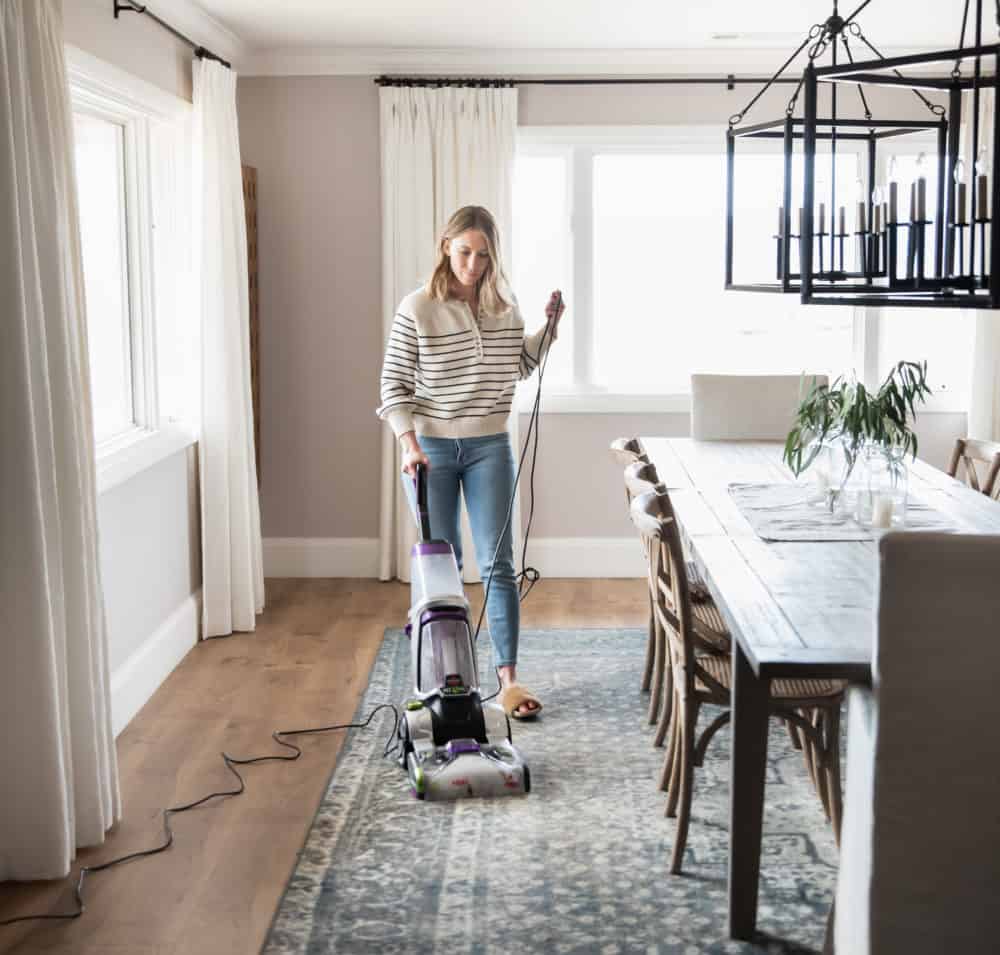 Between kids, pets, and daily living, chances are you've found yourself cleaning up messes on carpets and upholstery. Did you know that vacuuming your carpet, rugs, and upholstery only removes some of the dirt and debris? That's why it's important to treat those areas with a good deep clean throughout the seasons!
The best way to deep clean carpet, upholstery, and rugs is with an upholstery and rug cleaner. If you don't have one, it's a great investment for your home, and it's one of those things I wish I would've bought long ago.
My pup, Coders, loves to roll on the carpet in our home. It's one of his favorite things, so we just let him have his fun knowing we can always vacuum or clean the carpet. I vacuum the rug in our dining room about once a week, always pulling up lots of dog hair, and if you asked me, I'd tell you the carpet was pretty clean.
I decided it was time for a little spring-cleaning to freshen up all of the spaces in our home for the new season. There's something so satisfying about a nice deep clean of every crevice of the home. Washing the duvets and pillows, cleaning all of the nooks and crannies, and cleaning the upholstery and rugs breathes new life into my home!
I find myself cleaning my chairs and sofa just about once a month and am always surprised at how much better they look once they are clean! I really love having the ability to do this on my own rather than hiring someone to do it.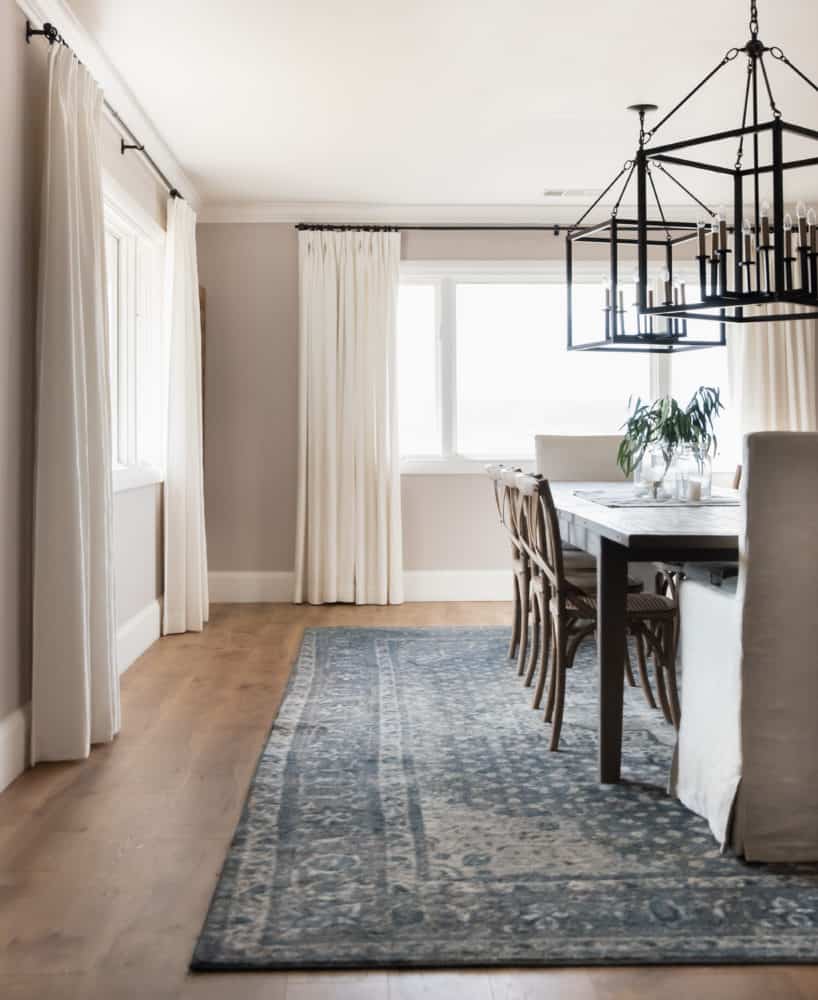 Spring Cleaning Checklist
Deep clean carpet and area rugs.
Deep clean upholstered furniture items.
Wipe down the cabinetry.
Dust and wipe down baseboards, trim, and walls.
Clean out and organize closets and cupboards, vacuum as needed.
Wash duvets and pillows.
Clean or replace air filters.
Clean the inside of the dishwasher and filter.
Wipe down and clean the oven hood filter.
Dry clean or wash drapery.
Clean windows.
Wipe down hard surface furniture: chairs, tables, and beds.
---
More Spring Cleaning Tips:
The Best Green Cleaning Products
---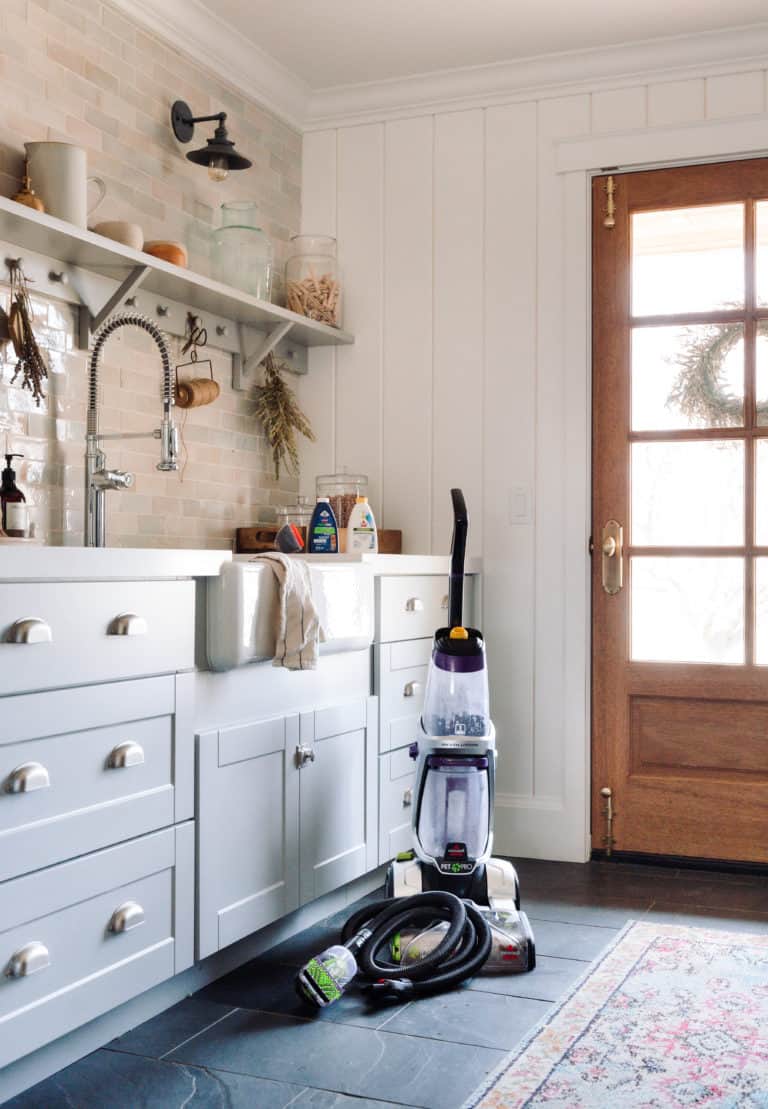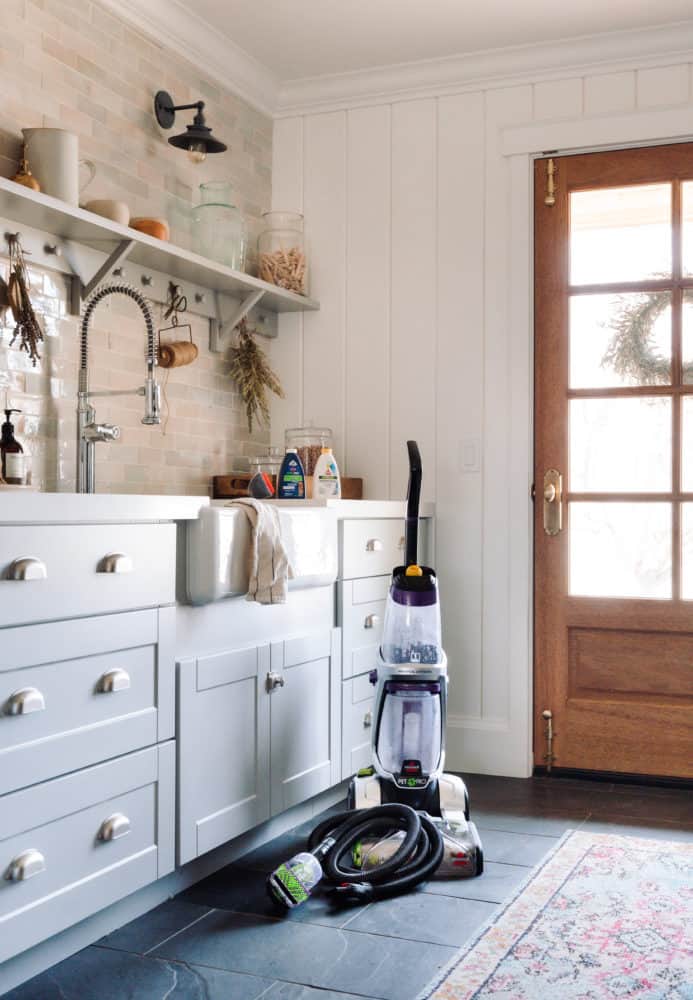 This spring, I was super excited to give the BISSELL® ProHeat 2X® Revolution® Pet Pro carpet cleaner a try because I love my BISSELL handheld spot vacuum so much! I really didn't think my carpet was that dirty, but when I saw the dirty water tank full of brown water I was amazed!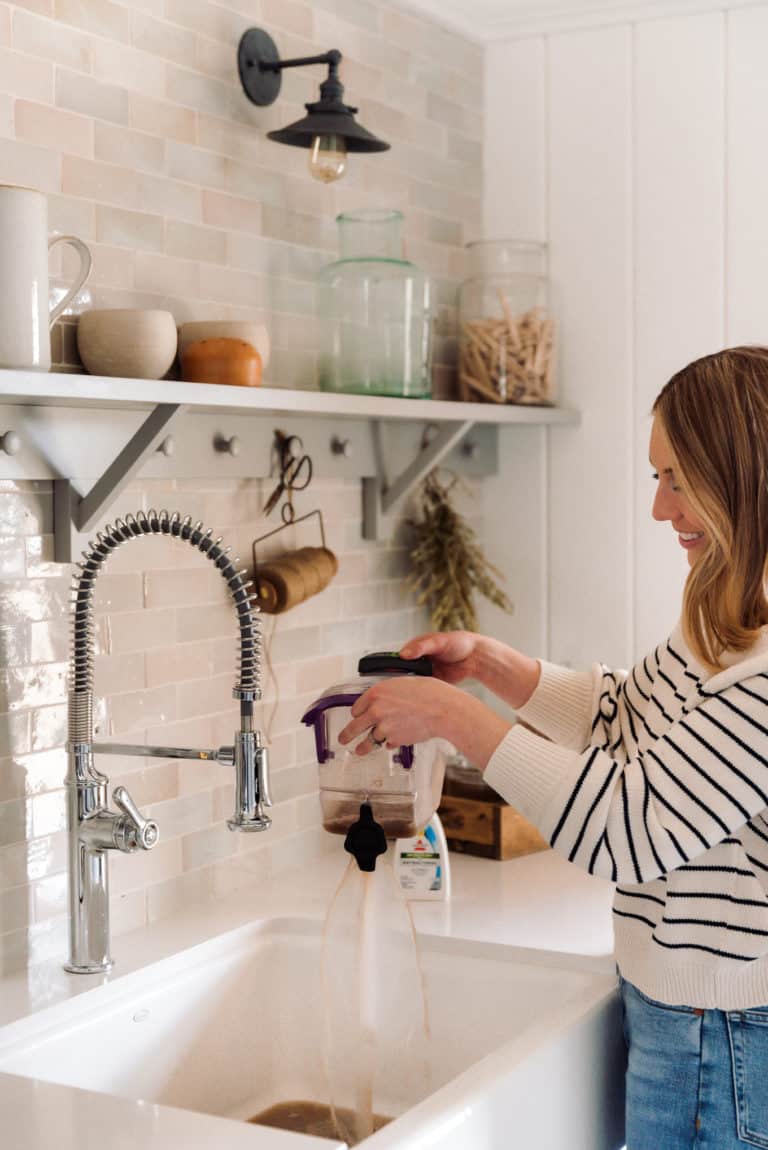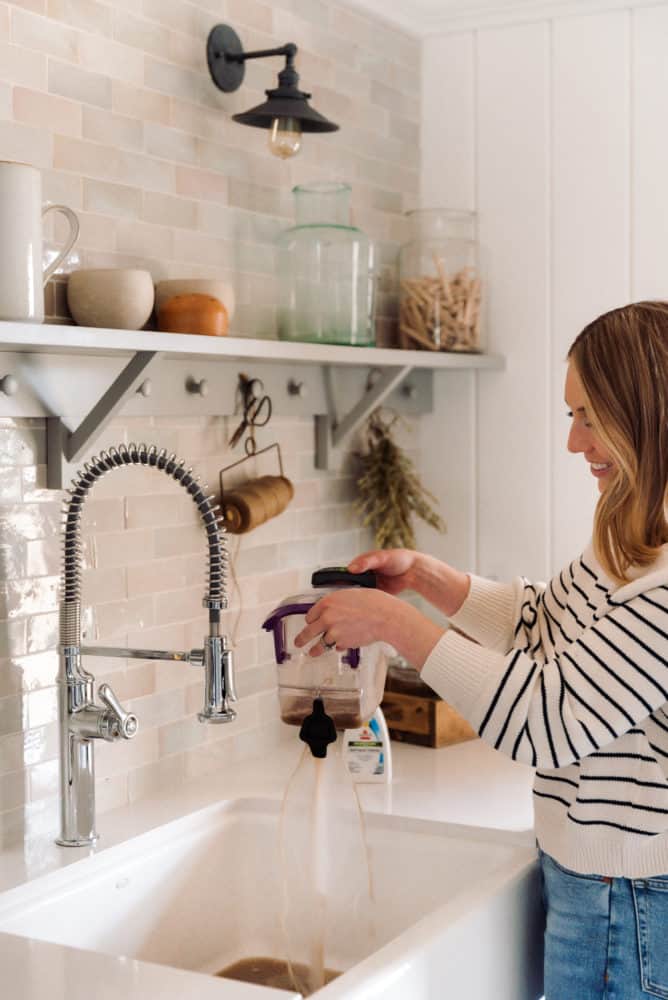 I think the brown water speaks for itself, but it has some additional really cool benefits:
Three modes of cleaning: MAX Clean Mode, Express Clean Mode, and Deep Clean Mode. The ProHeat 2X® Revolution® Pet Pro carpet cleaner has 12 rows of bristles on its brushrolls, delivering professional grade cleaning to remove deep down embedded stains, dirt and odors. The Express Clean Mode delivers dry carpets in about 30 minutes when the setting is used.
There is a CleanShot® pretreater which streams concentrated cleaning solution right where you need it to help remove the toughest stains.
It's super lightweight (less than 18 lbs.), and has a low-profile foot so it is easy to use and maneuver around furniture.
2-in-1 Pet Upholstery Tool removes pet hair, stains and odors from upholstery. This is one of my favorite features!
EZ Clean Brush Roll Cover makes cleaning the machine after a deep clean quick and easy.
Every Purchase Saves Pets™ and BISSELL® proudly supports BISSELL Pet Foundation® and its mission to help save homeless pets.
Where can it be used?
Low pile carpet, carpet, area rugs
Stairs, upholstery, pet beds
What will it clean?
Pet messes, such as paw prints or accidents
Drink spills (ex. coffee, wine, beer) and food spills
Dirty spots and stains
Embedded dirt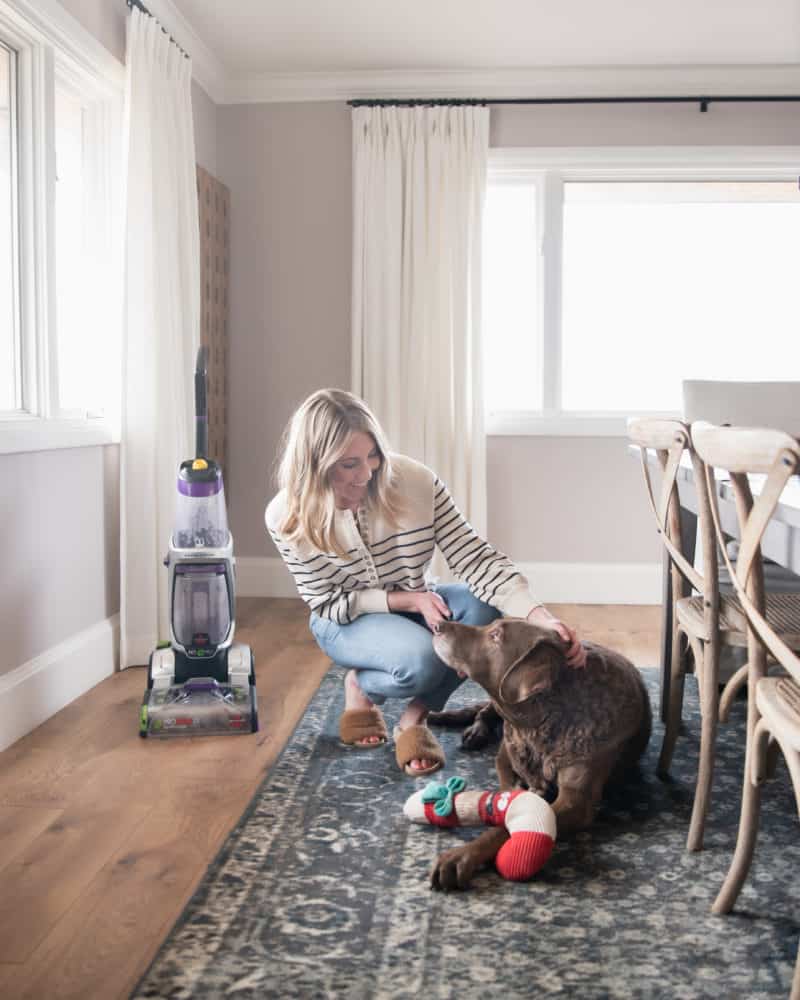 ---
---
Always be sure to do a test patch in a discreet area to make sure that the fabric doesn't discolor when cleaned. Some linen fabric does not tolerate spot cleaning well. If you notice a water spot left on the fabric after cleaning, you'll need to clean the entire surface of the fabric rather than just the dirty spots.
Need to deep clean your upholstery, rugs, or carpet?
Click here to order a BISSELL for your home!