Enjoy the benefits of switching to an all-natural cleaning system with the best green cleaning products! You don't need a lot of green cleaning products to clean your entire home!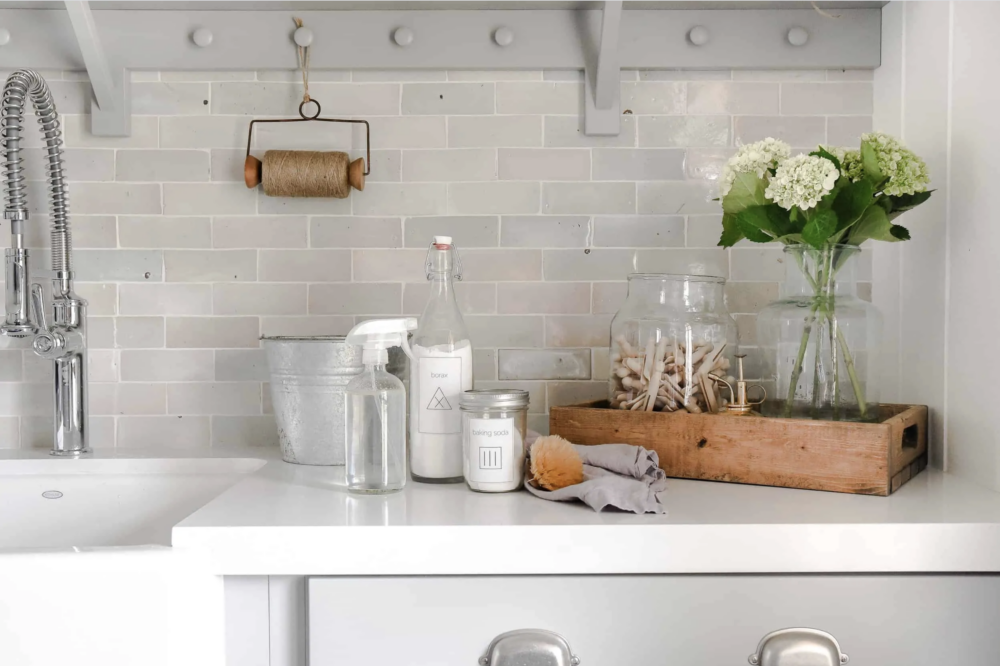 My Favorite Green Cleaning Products!
I recently received a message on Instagram asking to link a few products in my DIY liquid hand soap recipe. I thought it would be nice for me to link not only those products, but also my favorite green cleaning product for everyday cleaning.
In the liquid hand soap recipe, I share how I dilute castile soap to make everyday hand soap for my family. This has become something I continue to do after discovering the amazing benefits of castile soap.
I now use castile soap for nearly everything in my home, and when castile soap isn't quite powerful enough, I turn to Sal's Suds (castile soap's big brother). If you'd like to make your own household green cleaning products, I have some free printable cleaning labels for you to use!
When writing this post, I wanted to include links to many green cleaning products, like The Honest Company, Mrs. Meyer's, etc… But the truth is, you don't need all of those.
With the simple products I have listed here. You can clean your entire home without purchasing anything expensive. If I kept only two green cleaning products in my home, it would be Castile Soap and Sal's Suds, along with vinegar and baking soda.
How to test your green cleaning products? Visit the EWG website to check the product's rating!
---
the best Green Cleaning Products
---
Can vinegar and baking soda be mixed to clean? Don't mix vinegar and baking soda together. It's not dangerous, but the result of the chemical reaction is a diluted sodium acetate solution that won't have any cleaning power to it.
Green cleaning products from your pantry!
Baking Soda – Baking soda can be used to deodorize, degrease, and clean nearly everything in your home! Mix baking soda with a little Castile Soap to make a really wonderful soft scrub!
Vinegar – Vinegar is a great cleaning agent that can be used to get rid of build-up and soap scum. Use it to clean everyday items like blinds, floors, microwaves, and much more!
Hydrogen Peroxide – Hydrogen peroxide can be used to disinfect and clean your home. Use it to clean grout, or disinfect surfaces (like wood cutting boards).
Salt – Coarse Salt is a great green cleaning product that can be used to clean pots and pans or scrub down sinks!
Green Cleaning Products Supplies
Instead of using paper towels, I find that I like to use linen wash cloths for wiping down counters, drying dishes, and drying hands. This helps keep our paper towel use down. I find that we don't use paper towels more than necessary by keeping a pile of linen wash cloths handy for everyone!