This delicious apple galette recipe features a crisp all-butter crust that will quickly become a crowd favorite!
Did I ever tell you about the time I cooked pies for 140 people? I had help, but still. That many pies in one night was a feat for this non-pastry chef. I am much more comfortable with pie crust now, so there's a plus.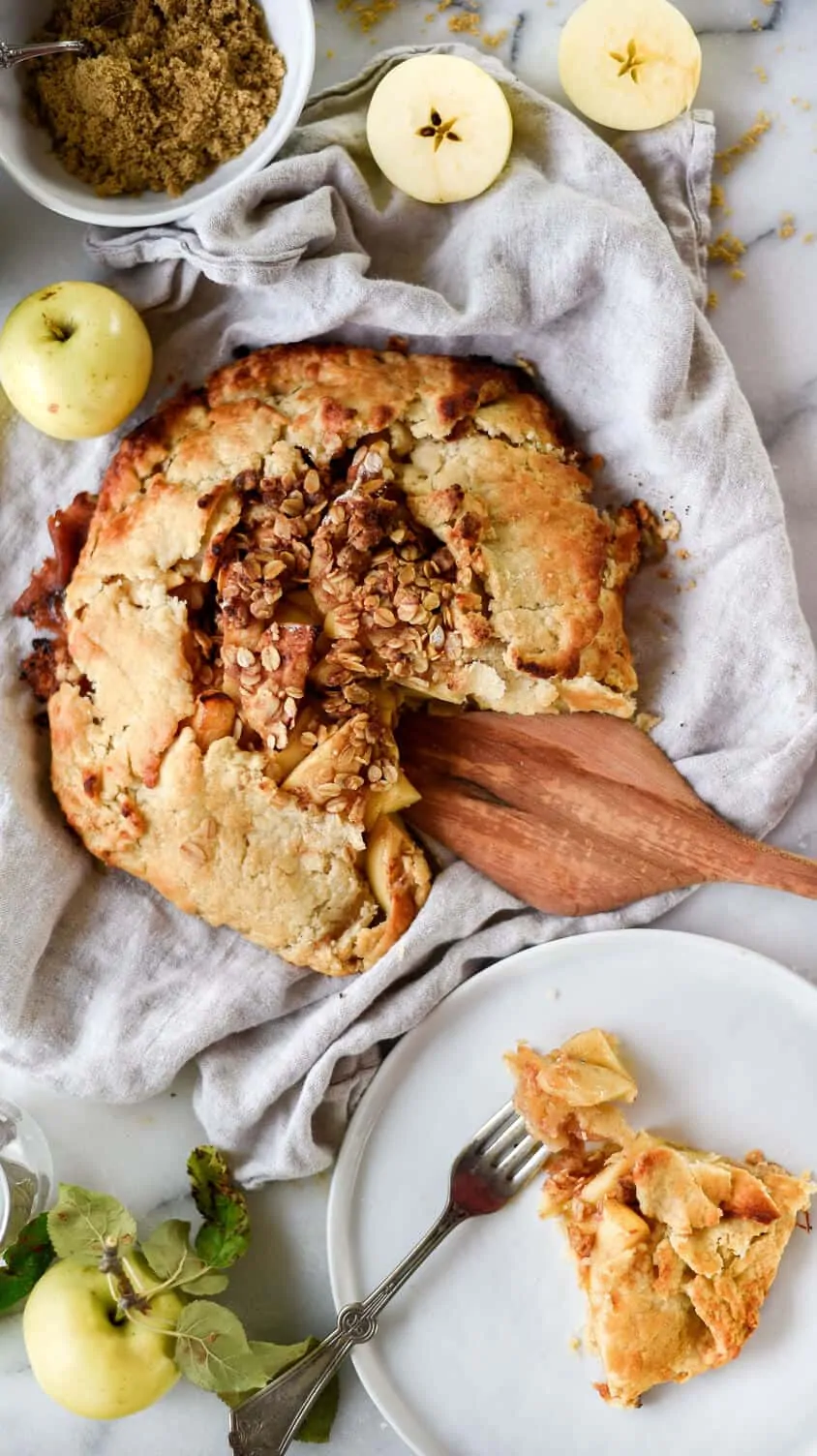 Why we love this recipe:
I remember when I was afraid of making pie crusts. I had heard so many horror stories of soggy bottom pie crusts (ain't nothin' worse than a soggy bottom pie crust), chewy pie crusts, etc… It was enough to keep me away from making pies. Then I actually made a pie crust and discovered it's easier than baking a cake. I guess that's why they say, "easy as pie" and not, "easy as cake".
You might be wondering why I am still referring to this apple galette as a pie. It's not a pie, it's a galette. Right? Au contraire my friend, this is what we call here in Likely, CA a 'lazy pie'. My aunt taught me how to make these gems of a dessert, and I haven't looked back since.
I made this for a dinner party this summer, and my neighbor-cousin, Gabby, asked me what the dessert was called. Without thinking to use its proper name, I simply said, "lazy pie!" Ever since then, the girls at the cook-house have been makin' lazy pies. Why? Because galettes – lazy pies – require half of the maintenance that a normal homemade apple pie requires. Simply slap that crust onto parchment paper, fold it over, and you're finished. There's no intricacy to these, and the more rustic, the better.
I almost forgot to mention, with only one crust, each slice is about half the calories of a normal apple pie recipe. Maybe I should call this skinny apple pie? I won't go that far ;).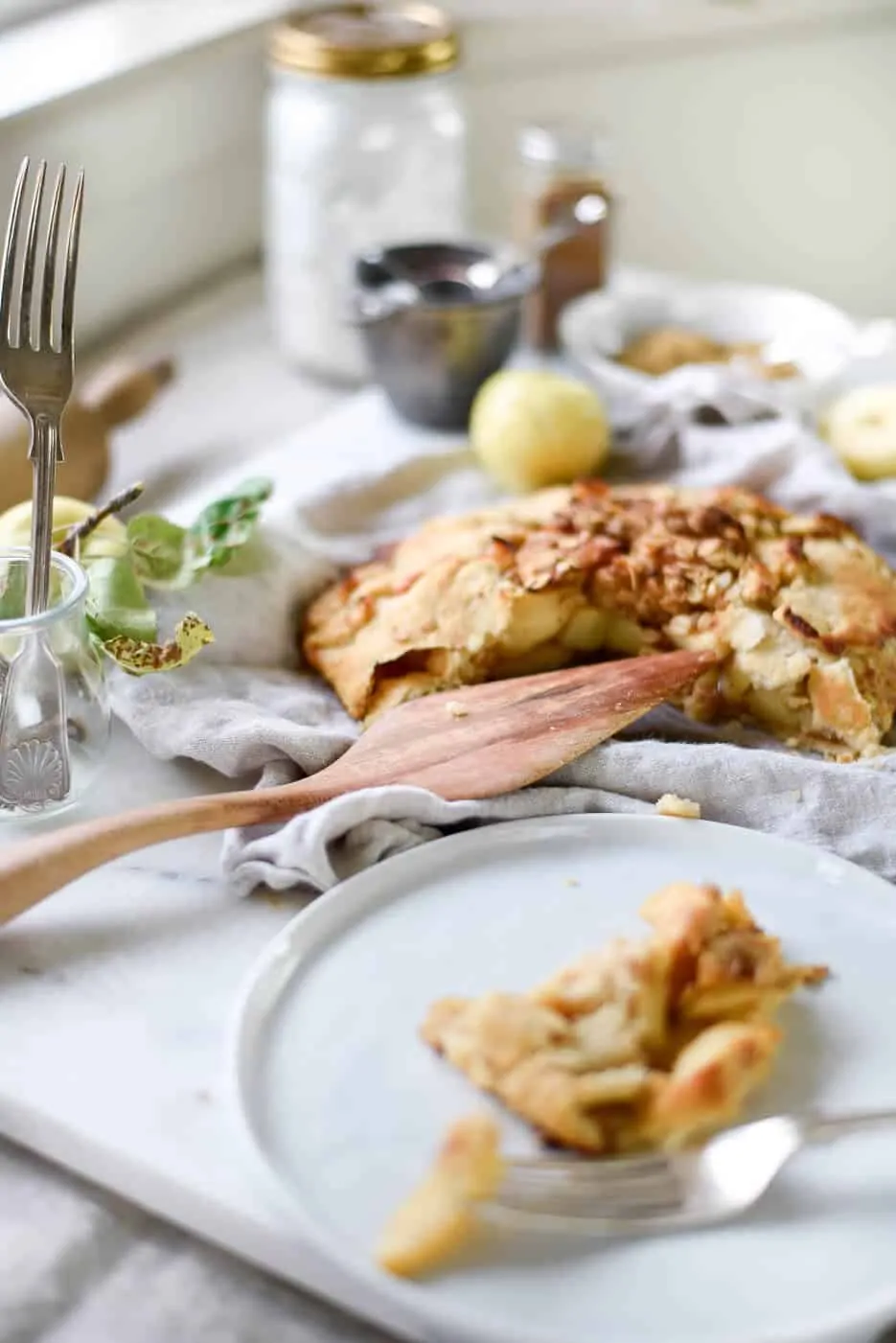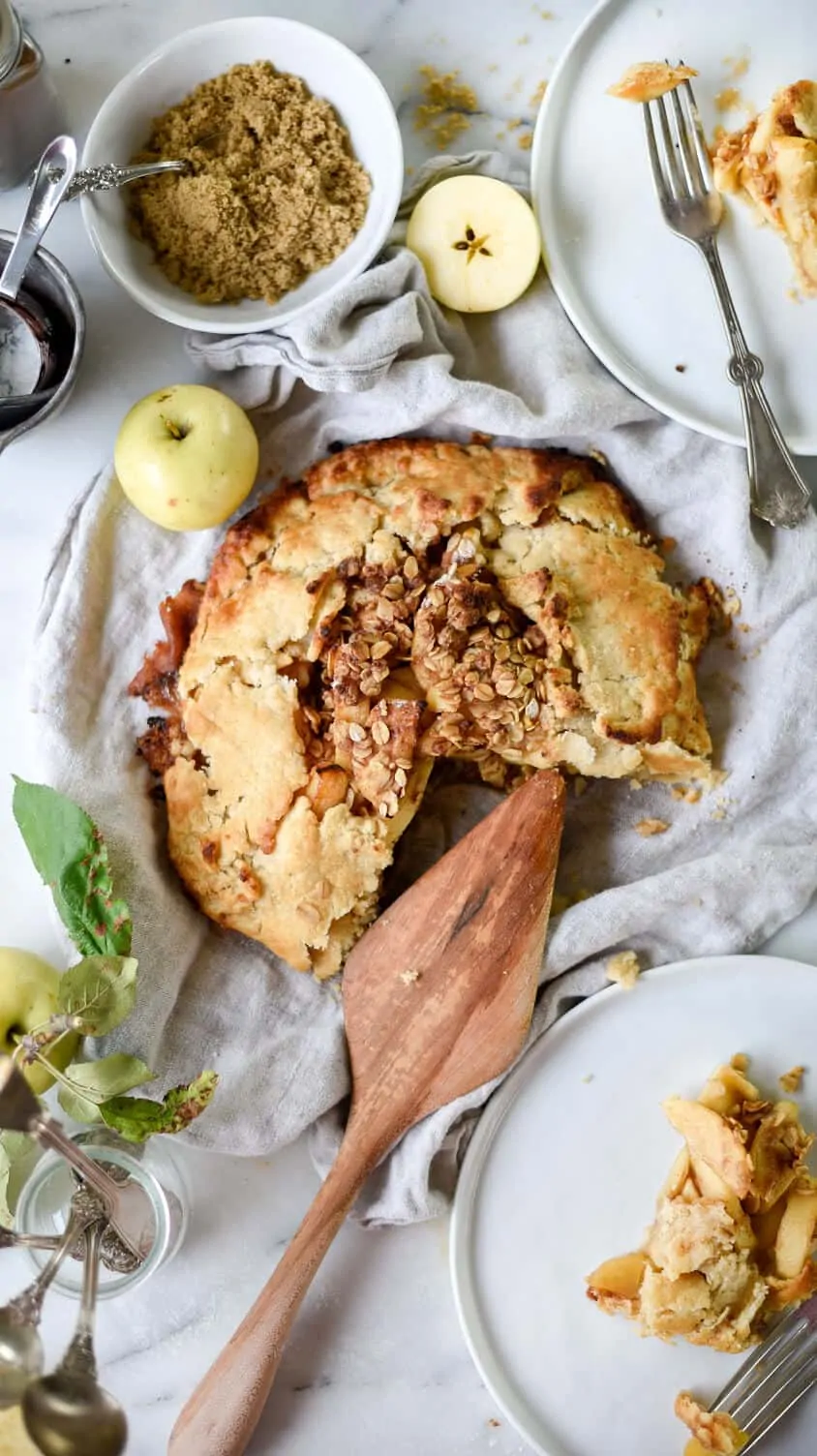 All Butter Pie Crust Ingredients
1 1/4 cups all-purpose flour
1 stick cold butter
1 tablespoon sugar
1/8 cup ice cold water + 1/8 cup white vinegar, combined
1 teaspoon salt
Step-by-Step Instructions for All Butter Pie Crust
In a medium bowl, stir together salt, sugar, and flour.
Use a sharp knife to cut the butter into pea-sized cubes. Place in the freezer for 5 minutes.
Add cold butter cubes to the flour mixture. Use your hands to break down the butter until it is well combined with the flour mixture.
Add half of the water-vinegar mixture. Using your hands, work the dough into a uniform mixture.
Add the remaining liquid, and work the dough into a ball. Work quickly so as to not melt the butter.
Place the dough onto a piece of plastic wrap. Press into a disc, and place in the fridge to chill for at least one hour.
Apple Pie Galette Ingredients
6 large green apples, peeled and sliced
Juice of half a lemon
1/2 cup brown sugar
1 tsp. Vanilla extract
2 tablespoons cornstarch
2 tsp. Cinnamon
1 chilled pie crust (recipe above)
Optional Streusel Topping Ingredients
1/4 stick butter, diced
2 tablespoons brown sugar
2 tablespoons flour
2 tablespoons rolled oats
1 tsp. Cinnamon
1 tsp. Vanilla Extract
Step-by-Step Instructions for Apple Pie Galette
Preheat oven to 400 degrees, and place an empty cookie sheet inside of the oven.
In a medium bowl, combine apple slices, and lemon juice and toss to coat. Add sugar, cinnamon, vanilla, and cornstarch. Stir until combined. Allow it to sit for at least 20 minutes so that the apples release a fair amount of liquid.
Combine the streusel topping ingredients in a small bowl, and using your hands, mix the ingredients to form a uniform mixture. Set aside.
Meanwhile, roll out the pie crust into a 1/4″ thick circle. Place onto a cookie sheet lined with parchment paper, or a silicone baking mat. Chill until the apples are ready.
Remove the crust from the fridge and place the apple slices into the center of the crust to form a heaping pile. Keep the remaining liquid from the apples.
Gently fold the exterior of the crust over the pile of apples. If you notice any tears, use a bit of egg white as 'glue', simply brush it onto the tears and use your fingers to patch them together.
Add the streusel topping to the apples peeking through the center of the galette.
Brush liquid from the apples generously over the entire galette.
Place the galette directly onto the hot cookie sheet in the oven. (You will have two cookie sheets in the oven, one directly on top of the other).
After 15 minutes of cooking, use a brush to add the remaining apple liquid to the streusel topping in the center of the galette. Allow it to cook for an additional 15-20 minutes. Once the crust is an even golden brown, remove it from the oven and let it cool for 10 minutes.
Tips for Success & FAQs
One really important step to remember for making pie crusts is to keep all of the ingredients really cold. Butter should be straight from the refrigerator/freezer. The water needs to be ice cold, literally put ice cubes in the water!
More Recipes for you to Try