Grilling made easy! Learn my best grilling tips, and print out this delicious Grilled Steak Kabobs with Chimichurri Sauce recipe to try at your next BBQ!
This post is a collaboration with Beef. It's What's For Dinner. on behalf of the Beef Checkoff. I received compensation, but all opinions are my own.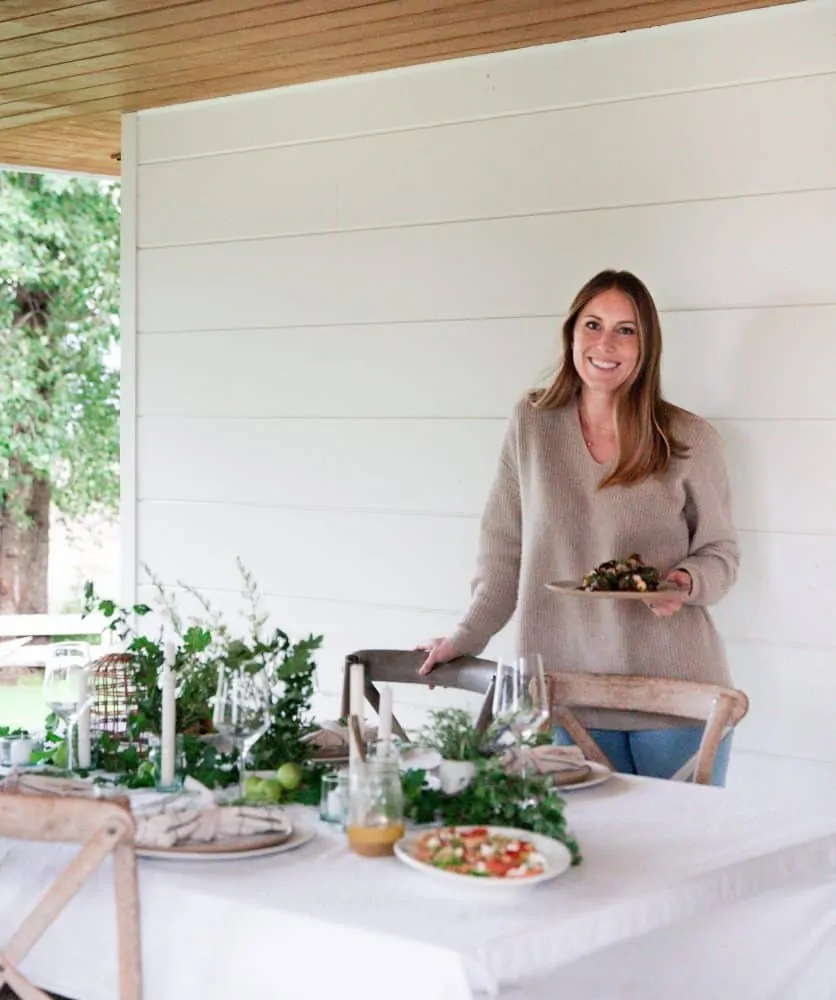 Grilled Beef Kabobs with Chimichurri Sauce
Let's talk about grilling shall we? Here are some of my tips for grilling delicious steaks, plus one of my favorite dinner recipes ever: Grilled Beef Kabobs with Chimichurri Sauce.
For more easy weeknight dinners, be sure to check out some of our favorite Ground Beef Recipes!
If you're wondering, what is chimichurri sauce? I beg of you to make this recipe simply so that you can taste one of the most delicious sauces in the world. A chimichurri sauce is a blend of fresh herbs, red wine vinegar, garlic, and olive oil. Some recipes call for a pinch of chili flakes. I leave those out when I make it because I do not care very much for spicy food. If you like a kick, add the chili flakes.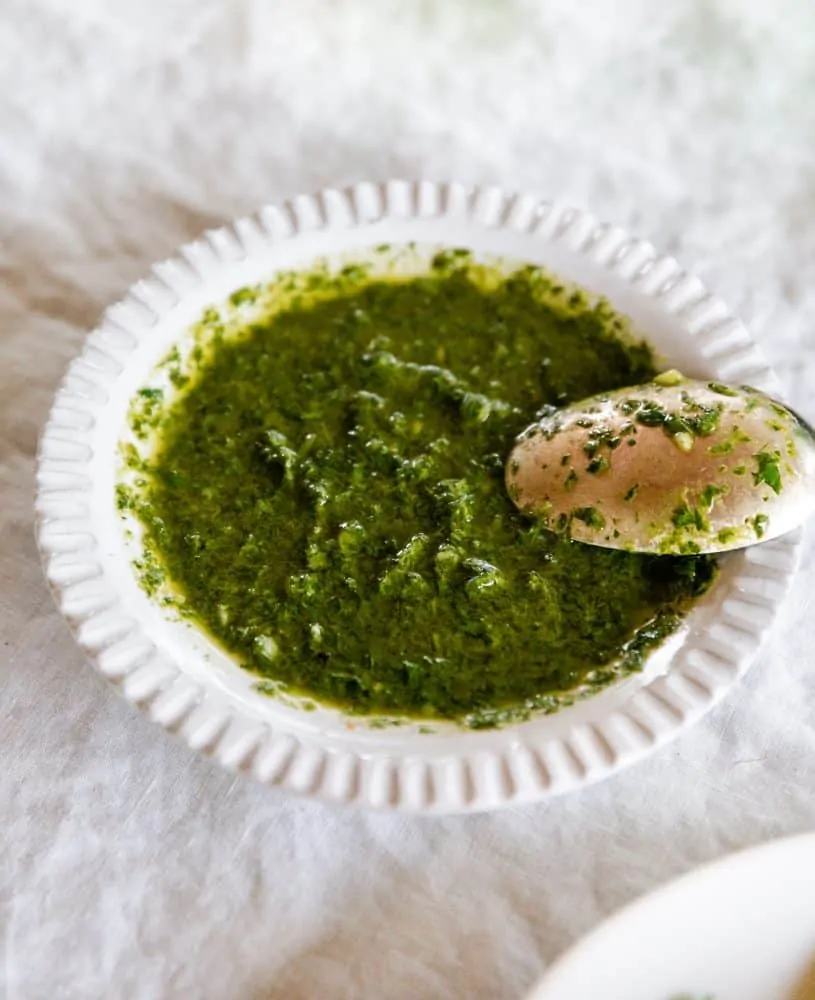 Chimichurri sauce goes well with pretty much anything and everything. I find myself making a batch each week to be enjoyed with lunch and dinner. Its robust flavor adds so much to a dish, and it tastes absolutely delicious on these beef kabobs!
Now that we've cleared that up, we can move on to these lovely little steak skewers. Flavored to perfection with cumin, paprika, garlic, herbs, and lime juice. It's the perfect pair with the above mentioned chimichurri sauce.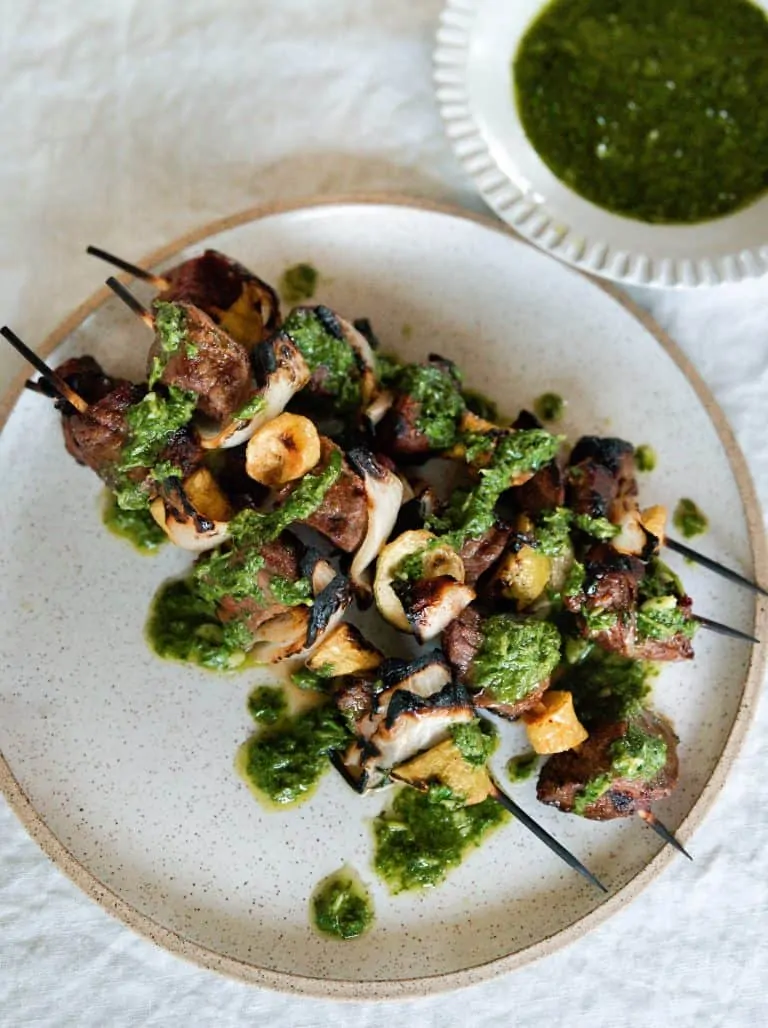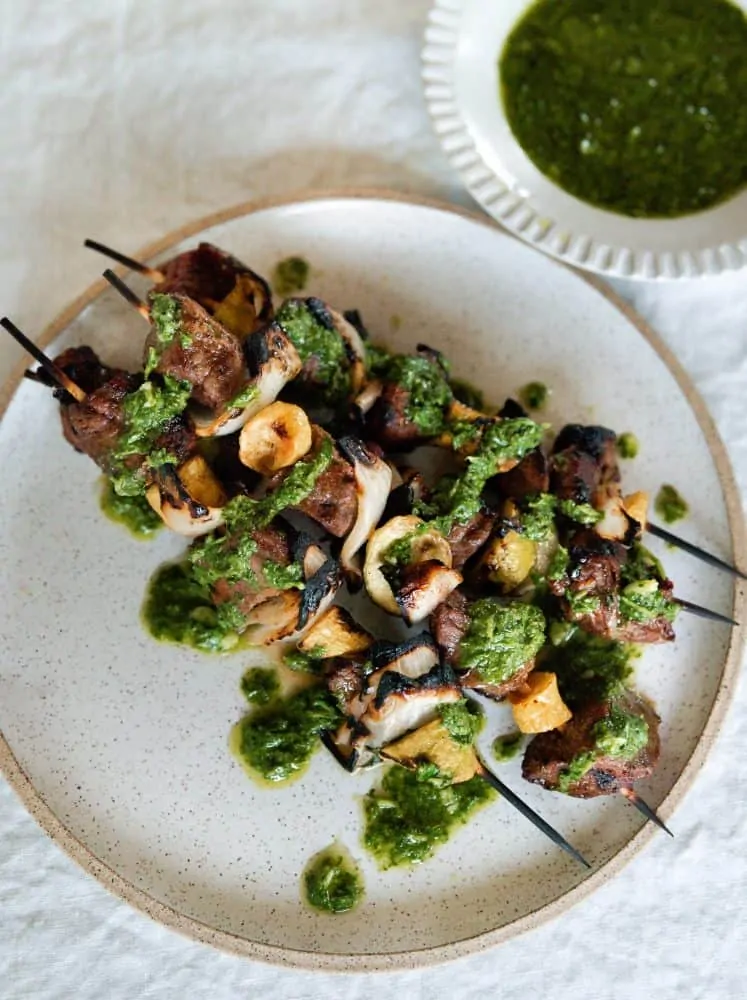 I like to purchase a whole steak and cut it into skewer sized pieces myself. I feel that this gives me more control over the cut!
Top Sirloin is my cut of choice for these kabobs, but you can also try sliced Flank Steak, Strip Steak, or any other tender cut of beef you enjoy. If you have leftovers, try making a steak salad!
This grilled kabob recipe is very simple: whip up the marinade and chimichurri sauce, let the meat marinate for a bit, chop up some veggies, then place onto skewers and BBQ them up! Enjoy with the chimichurri sauce drizzled on top.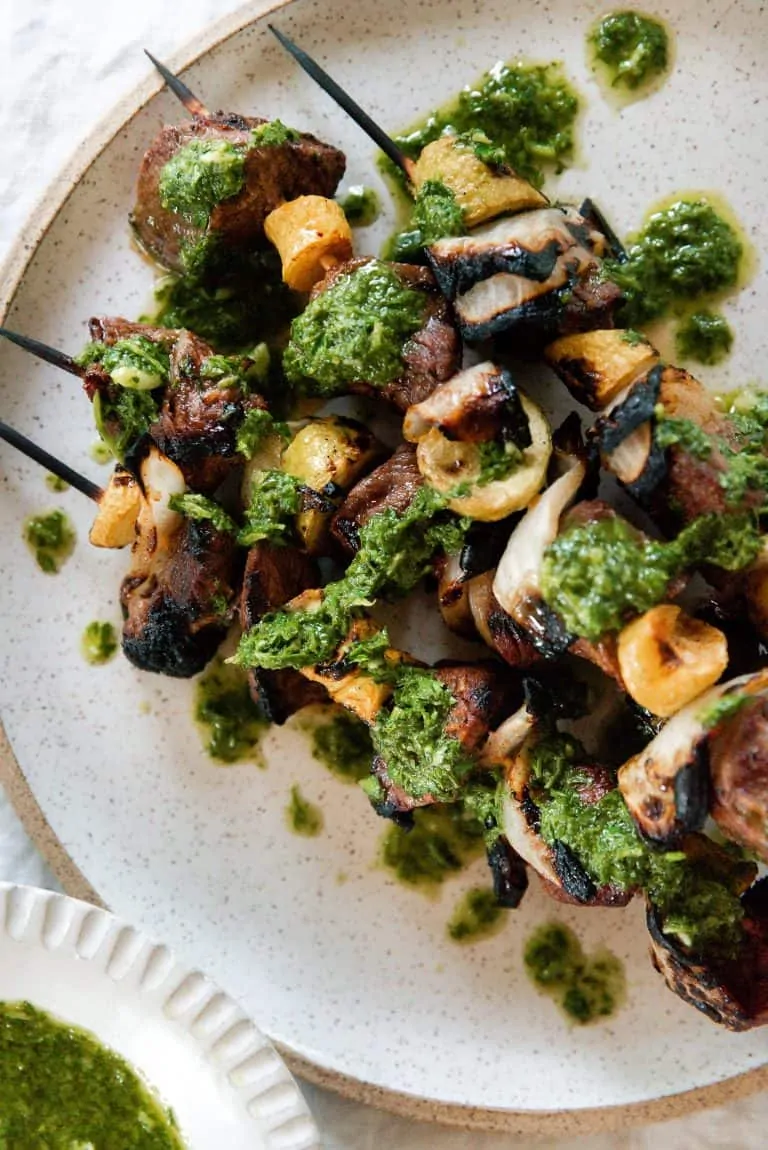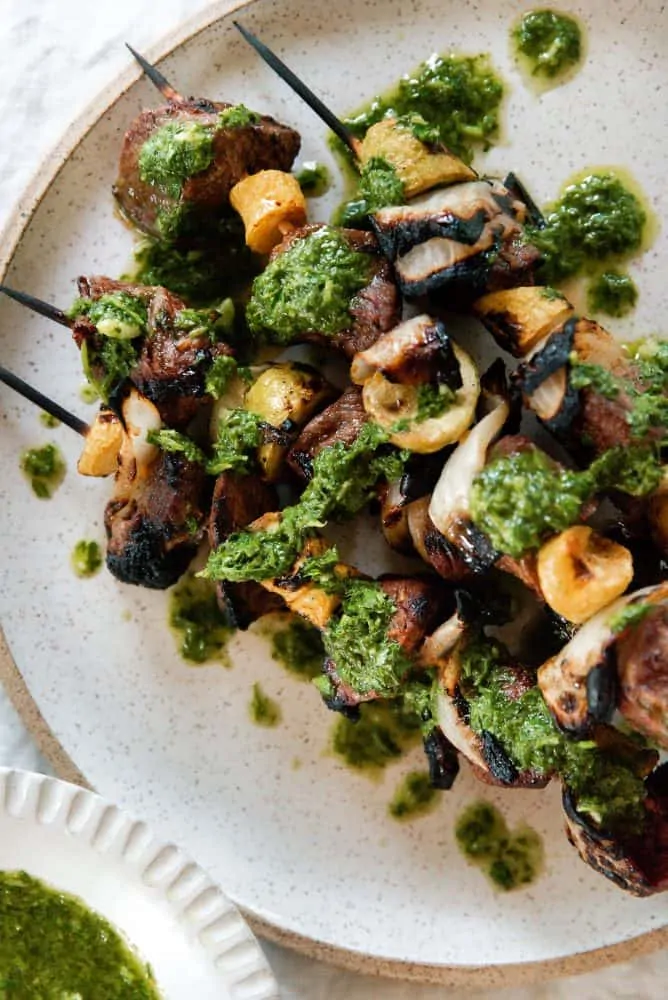 For the full recipe, scroll on down. You can even click "print recipe" to print it out and save for later.
Steak Grilling Tips:
Start with a great cut of beef! Here are some delicious options: 

STRIP STEAK
TOP SIRLOIN
FLANK STEAK
T-BONE STEAK
FILET MIGNON
TRI-TIP ROAST
PETITE SIRLOIN STEAK
PORTERHOUSE STEAK
GROUND BEEF

Season well! Try a spice rub or whip up a delicious marinade. I love using a marinade because it helps tenderize the beef even more! Rather than purchasing a pre-made marinade, you can get creative and make your own. Key ingredients of a marinade are: salt, acid, and flavor. Salt causes osmosis and helps keep the meat juicy, and acid breaks down the muscle fiber and collagen. Flavor can be added in any combination you like! Some popular combinations are: rosemary + lemon, sage + garlic, and cumin + lime. However, the possibilities are truly endless! 
Prep & patience pay off! Make sure to clean your grill well to prevent flare ups or the meat sticking to the grates. Additionally, allow the grill to warm up completely before placing food on it. This will help you get a great sear, optimizing flavor. 
Once you start cooking, just let it go! Resist the temptation to check the meat or flip the meat unnecessarily. In my high school cooking class, we learned to flip the meat only once. This will help you get those beautiful and delicious grill marks. If you start to see charring, burning, or flare ups simply turn down the heat or move the steak to indirect flames. 
Allow the meat to rest. Use an oven safe thermometer to check for doneness, and keep in mind that the temperature will rise slightly even after the meat is removed from the grill. Once finished, allow steaks to rest for about 5 minutes to keep in all the moisture! Then finish with any sauces or toppings you'd like, and enjoy! 
Wood Skewers vs. Metal Skewers
Metal skewers are a great kitchen staple to keep on hand. They can be used time and time again, and don't burn on the BBQ. However, wooden skewers are perfectly acceptable, you'll just want to soak them in some water for at least 30 minutes to prevent them from catching fire on the grill.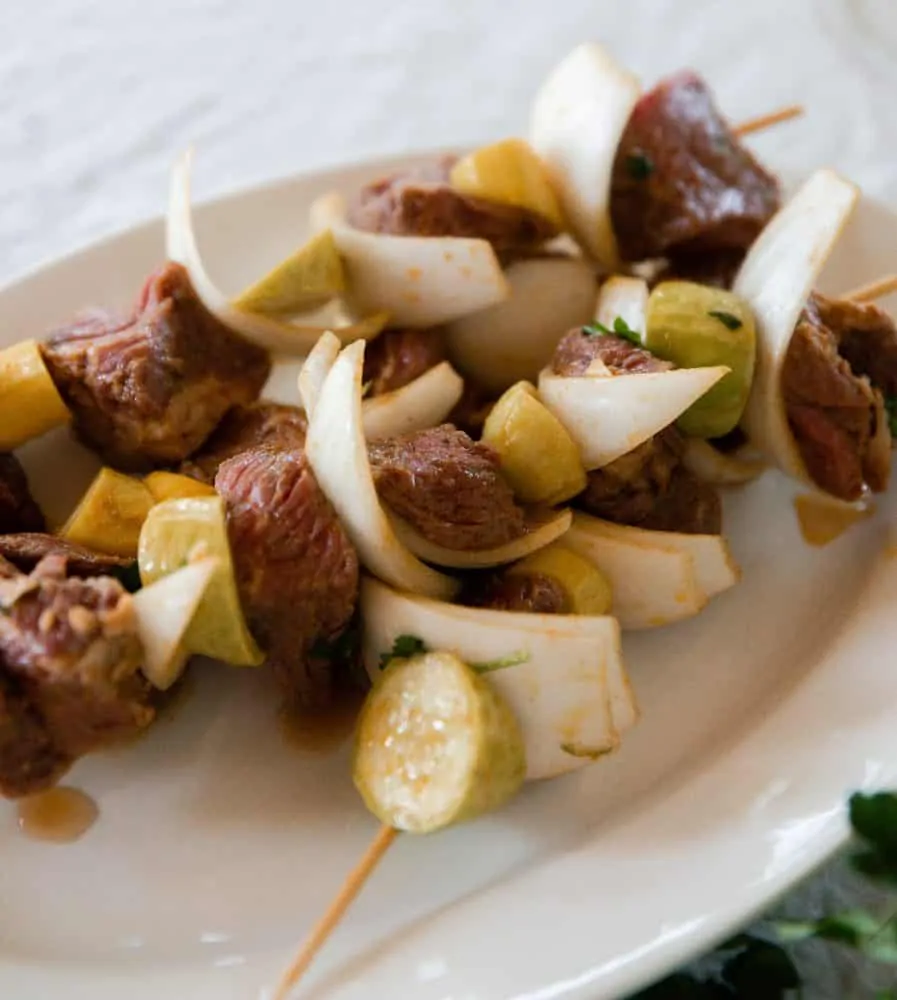 Marinade Tips
A marinade is made of salt, acid, and flavors. Additionally, fat and sugar are often added for crispness and flavor! Rather than purchasing a premade marinade, you can make your own custom marinade! Here are some tips for getting it just right:
Salt is a key ingredient. "Mar" from marinade comes from the latin word, sea. The salt acts as a bit of a brine to help keep the meat moist through the process of osmosis. First, the salt brings the moisture out of the meat, but then the magic happens. The meat reabsorbs the moisture, this time, bringing the flavors of the marinade in with it! The point of this story? Salt generously.
Acid is the next key ingredient. Acid helps break down the meat to make it nice and tender. Acid can be added in the form of vinegar or citrus juice.
Adding flavor: Use different combinations of spices to give the meat lots of flavor! You can get really creative here and the possibilities are endless!
Fat and sugar. While fat and sugar aren't necessary for a great marinade. I like adding a little oil and some sort of sugar (maple syrup or brown sugar).Make sure to drain off all excess marinade from the meat before grilling, especially if you use sugar & fat in your recipe which can cause flare ups on the grill.
A marinade that is used on meat shouldn't be reserved for basting or used as a sauce. If you'd like to reserve some marinade, simply set aside a small dish of the liquid before you add the meat to it. Discard any marinade that's come in contact with raw meat.
How long should meat be marinated?
"Longer is better" is a common myth of marinating. This isn't always the case! In actuality, a marinade isn't going to soak very deep into meat. That's why a marinade is usually best for thinner cuts of beef such as steaks and skewer meat. If you're simply looking to add flavor, a spice rub might be a better option.
A marinade is great for tenderizing and flavoring meat, but if left too long, it can break down the meat too much. In most cases 2-6 hours is more than enough time to marinate a steak. Only marinate meat overnight if the meat is less tender and very thick, such as a thick tri-tip or large roast.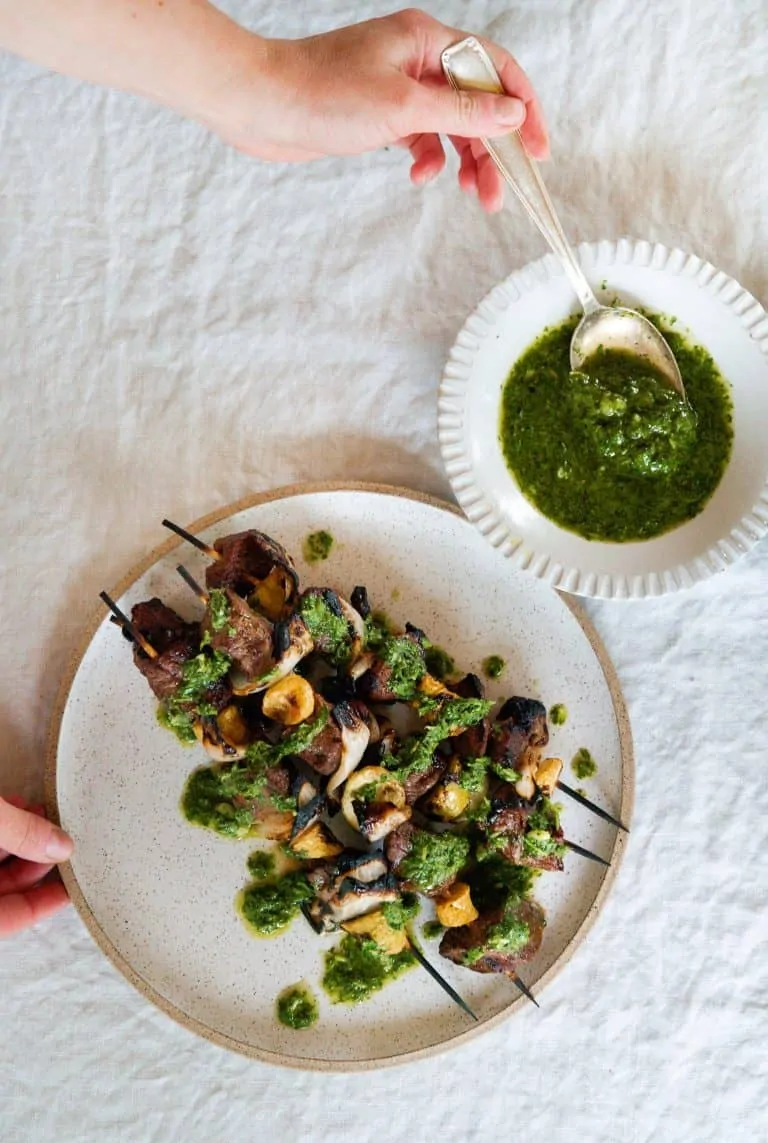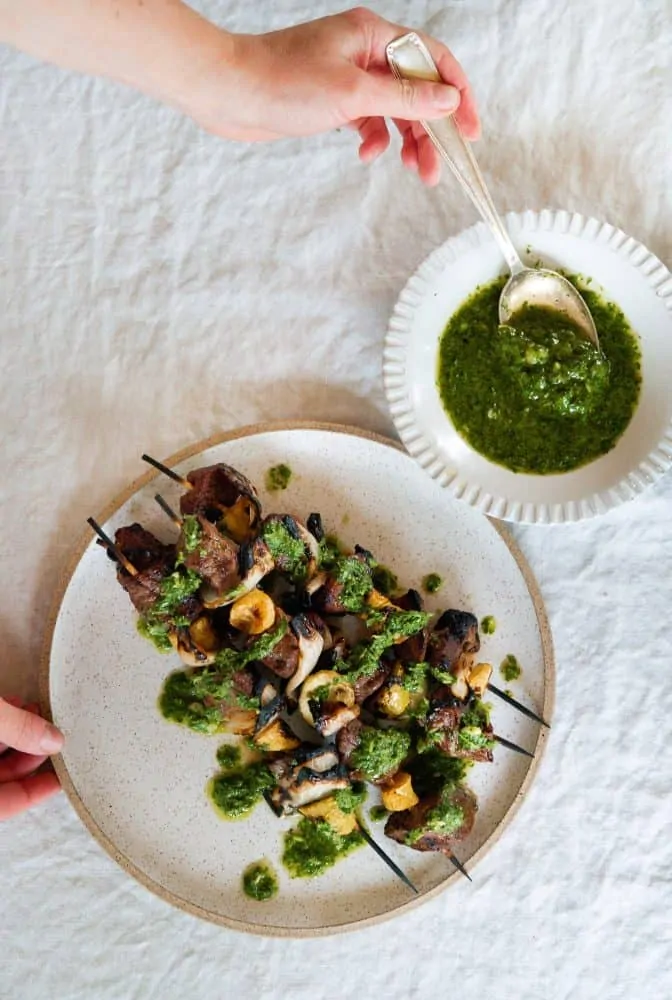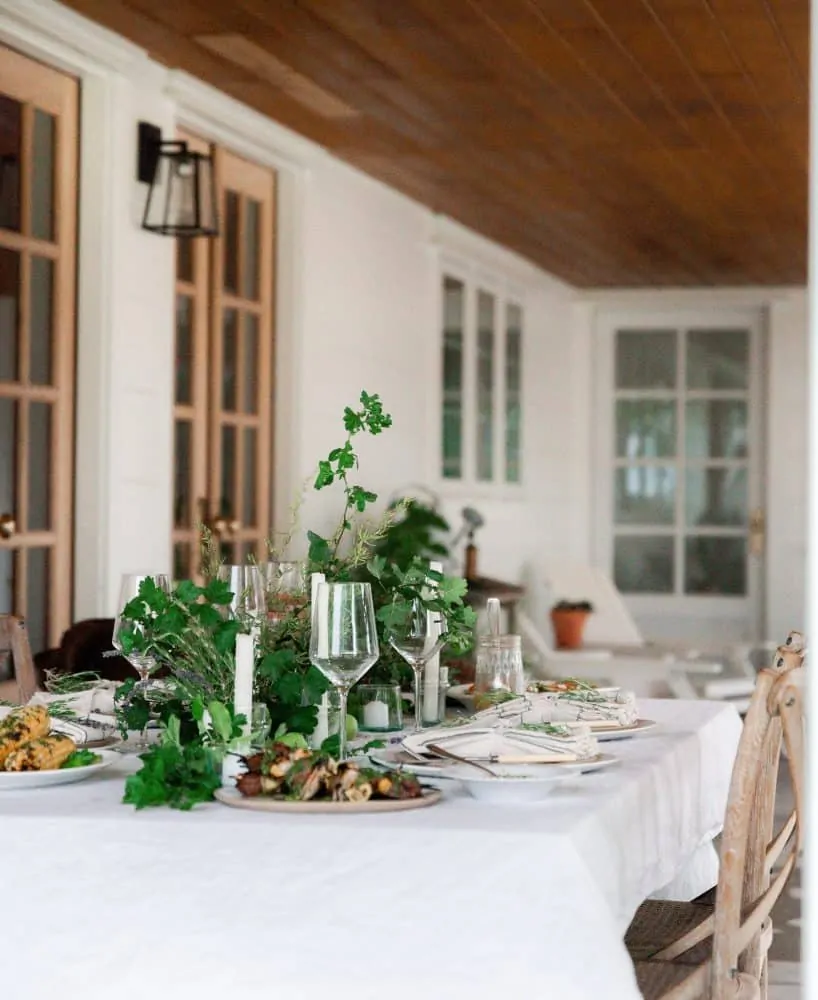 Outdoor Entertaining Ideas:
If you're planning to dine alfresco, I love using fresh herbs from the garden to dress up the table! Try rosemary, lavender, tarragon, or sage!
Make the most of your time by prepping sauces and sides ahead of time when it's cool out! Then, when your family is ready to eat, all you need to do is grill! This keeps the kitchen cool in the hot summer afternoons and allows you to enjoy time with your family outdoors!
During this time, you can make a weekend meal feel more special by planning to set the table and enjoy a thoughtful meal together. Even though we are all spending a lot of time together as families, it can easily become routine. Shake things up by creating a fun menu the whole family can get involved with and enjoy together!
The Recipe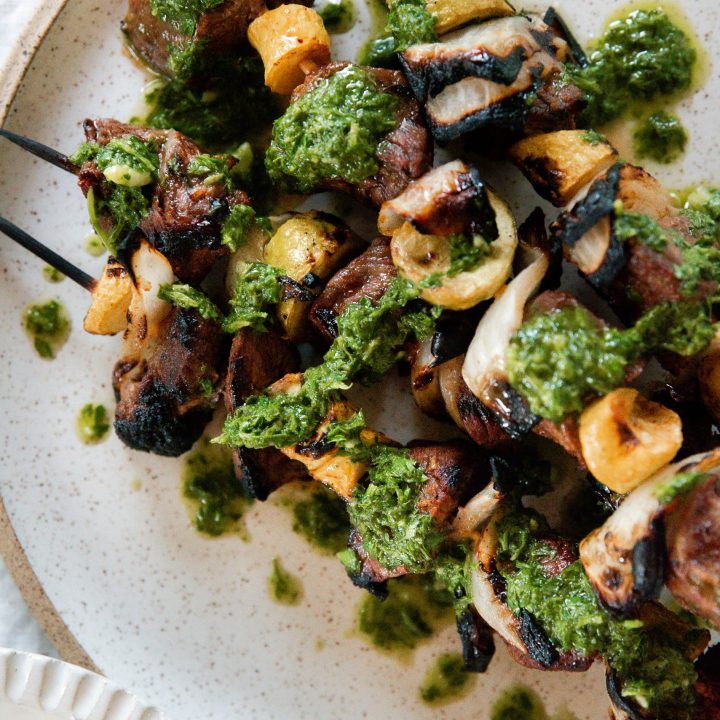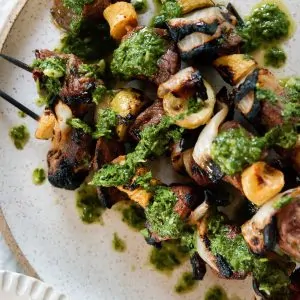 Grilled Beef Kabobs with Chimichurri Sauce
Ingredients
Kabobs:
16

ounces

Top Sirloin Steaks

2 steaks

2-3

cups

vegetables of choice

mushrooms, squash, bell peppers, onions, peppers, or cherry tomatoes are all great options
Marinade:
¼

Cup

Extra Virgin Olive Oil

Juice and Zest from ½ Lime

1

Tablespoon

Maple Syrup

3

Tablespoons

Red Wine Vinegar

2

Cloves

Garlic

roughly chopped

¼

Cup

Chopped Cilantro

¼

Cup

Chopped Parsley

1

Teaspoon

Cumin

1

Teaspoon

Paprika

Salt

generously

Pepper
Chimichurri Sauce:
Large Handful of Fresh Cilantro

Large Handful of Fresh Parsley

3

Cloves

Garlic

½

Cup

Extra Virgin Olive Oil

⅓

Cup

Red Wine Vinegar

Salt to Taste

Pinch

of Red Chili Flakes

if desired
Instructions
Prepare the Chimichurri:
Combine all ingredients in a food processor or high-powered blender. Pulse / blend until a thick sauce forms. Cover and refrigerate until ready to use.

Prepare the Marinade:
Combine all ingredients in a large bowl and stir well to combine. Give it a taste and tweak as desired. Note: A marinade should be salted generously as the salt is a key factor in the tenderizing process.

Prepare the Steak:
Cut the steaks into roughly 1×1" cubes. Place the cubes in the marinade and stir to combine. Cover and refrigerate for at least 15 minutes and up to 2 hours.

Prepare the Veggies:
Note: Vegetables shouldn't marinate as long as meat, so start this step about an hour before grilling.

Cut your desired vegetables into bite size pieces. Cherry tomatoes can remain whole. Mushrooms are nice cut in half, squash should be about ½" thick, onions can be cut into smaller quarters, etc…

Add the sliced vegetables directly into the marinade, stir to combine. Cover and refrigerate for 1-2 hours.

Meanwhile, if you are using wooden skewers, place them in some water to soak. This step prevents them from catching fire on the BBQ. Alternatively, metal skewers can be used.

Prepare the Kabobs:
Assemble the kabobs by sliding them onto skewers alternating meat and vegetables until the skewer is full.

Tip: Do not pack the skewer tightly, rather let each item on the skewer have a small bit of space between each other so that everything cooks evenly.

BBQ The Kabobs:
First, clean and preheat the BBQ to 400○F. Once hot, place each skewer directly onto the BBQ for 10-15 minutes, or until the meat reaches your desired doneness. Use an instant read thermometer to check the internal temperature (145○F is medium rare and 160○F is medium).

Once cooked, remove the skewers from the BBQ and place on a platter to rest for five minutes. Finish with a generous drizzle of chimichurri sauce and enjoy!