Leftover Steak Recipes and Tips for Reheating Steak
This post may contain affiliate links, please read my disclosure policy.
Got leftover Steak? These recipe ideas and tips for reheating Steak will help you make the most of your food and reduce waste!
This post is a collaboration with Beef. It's What's For Dinner. on behalf of the Beef Checkoff. I received compensation, but all opinions are my own.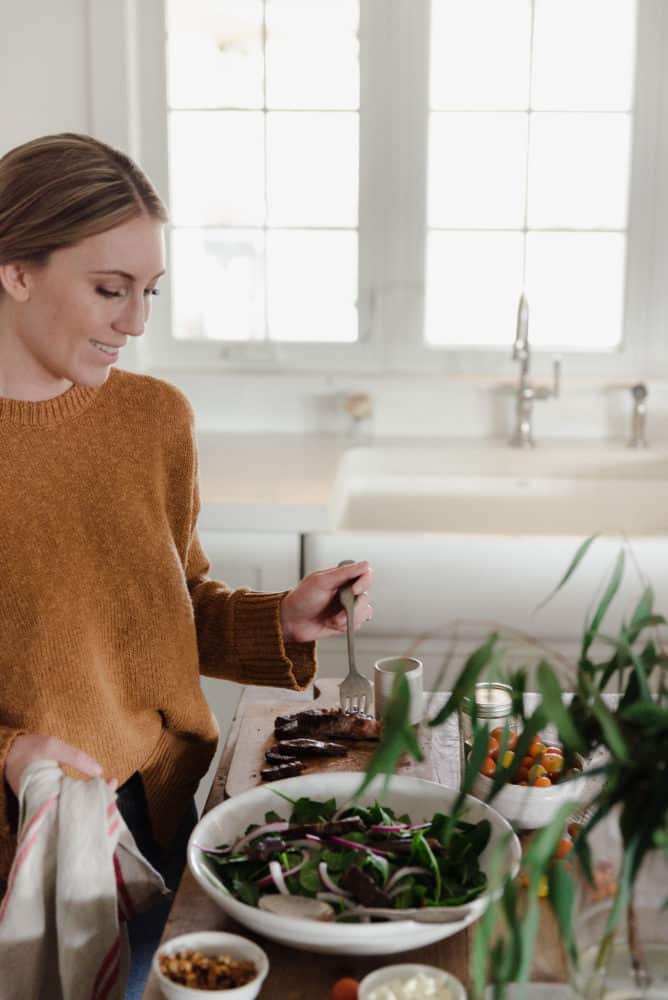 I recently dined out with friends and ordered a large Steak for my meal. I enjoyed half of the Steak and saved the other half for leftovers to have the next day. I know I can't be the only one who has had a perfectly cooked Steak placed in front of me, delicious and tender, but a little too large to eat in one sitting.
It leaves one wondering, what is the best way to reheat Steak and what are some good leftover Steak recipes?
I learned that Beef is one of the least wasted commodities, but Beef sustainability could increase by 10% simply by cutting waste in half! There are tons of ways to use up leftover Beef, you can make so many delicious meals to use up all of the food and avoid waste and support Beef sustainability efforts.
To use up the leftover Steak, tacos or a soup come to mind and if you're craving something light, a salad made with leftover Steak is delicious – scroll down for the recipe to this yummy Steak salad!
The wonderful thing about eating leftover Steak in a salad is that you can absolutely enjoy the Steak cold. So if you don't have time or don't want to reheat your leftovers, you can whip together a refreshing salad full of fresh vegetables.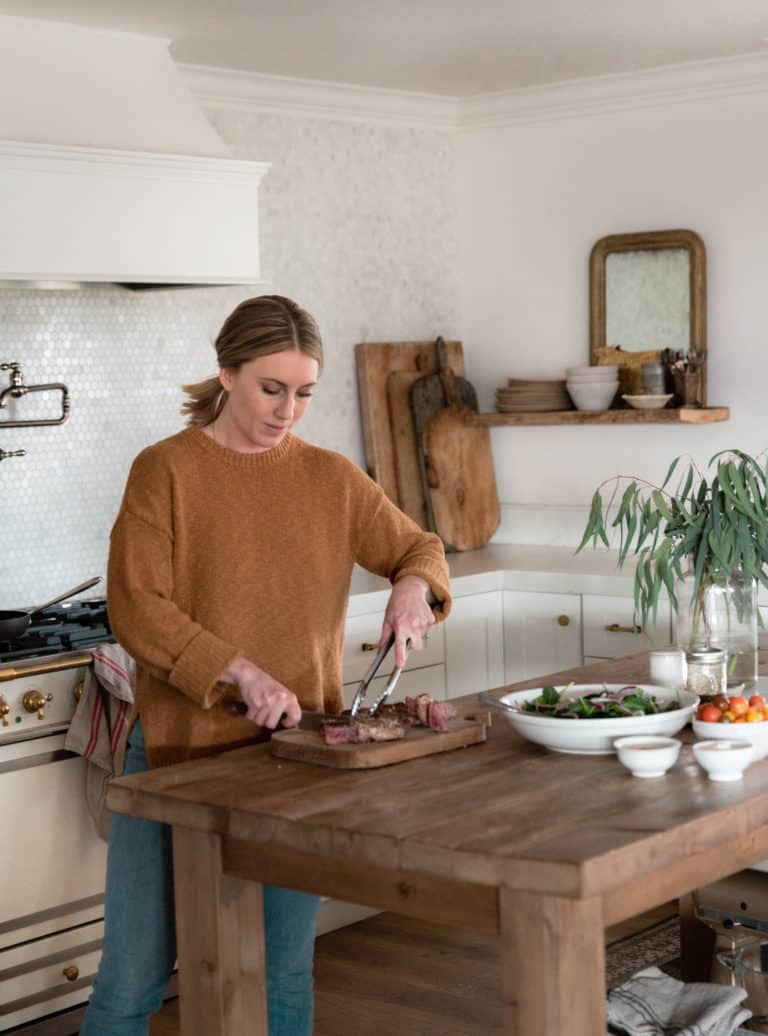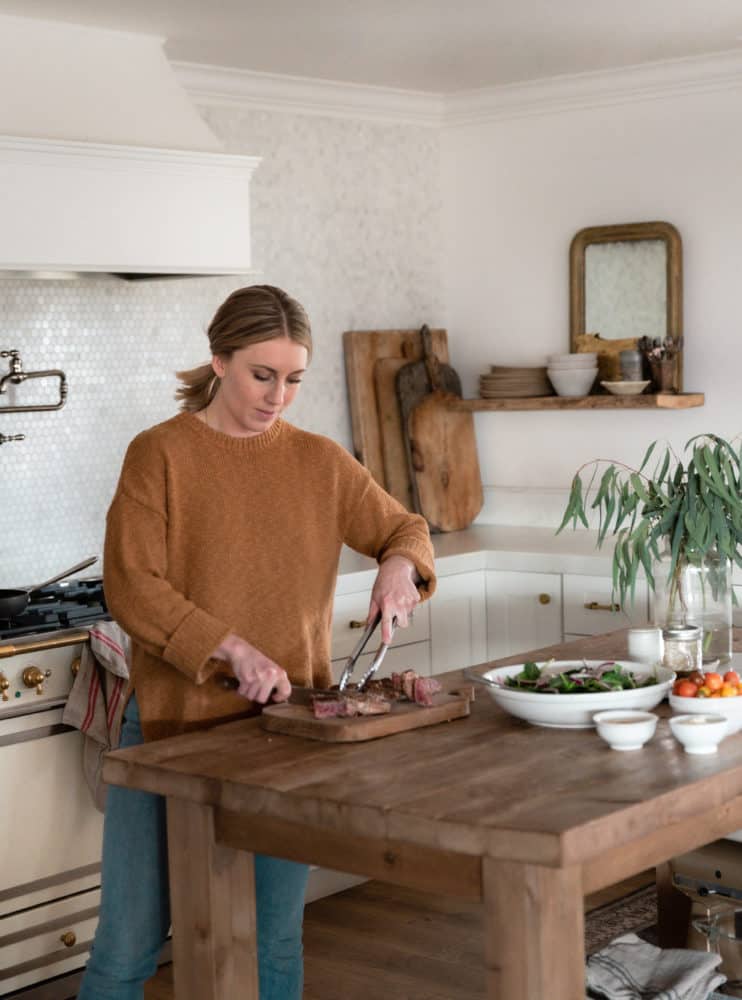 More Beef Recipes:
Leftover Steak Recipes:
Steak Salad (full recipe below): Enjoy leftover steak cold or warm in a light and refreshing steak salad!
Steak Tacos: You can easily reheat ground Beef or Steak for tacos throughout the week! Simply prepare the Beef separately from the taco toppings and combine when ready to be enjoyed.
Soup: A Beef soup is a great dish that can be made with leftover Beef, perfect for lunch or dinner!
Beef Stew: A Beef stew will leave you with delicious tender Beef, and is the perfect way to make the most of leftover Steak.
Steak Sandwich: A Steak sandwich is so delicious, especially if you love cold cuts!
Beef Panini: A great lunch option to use up leftovers is a grilled Panini with cheese, vegetables, and steak!
Beef Casserole: A casserole is the perfect thing to make at the beginning of the week for quick weeknight meals; casseroles are sometimes even better the next day!
Steak & Eggs: Pan-fried Steak and eggs is one of our favorite breakfasts to make with leftover Steaks, bonus if we have some potatoes to throw in too!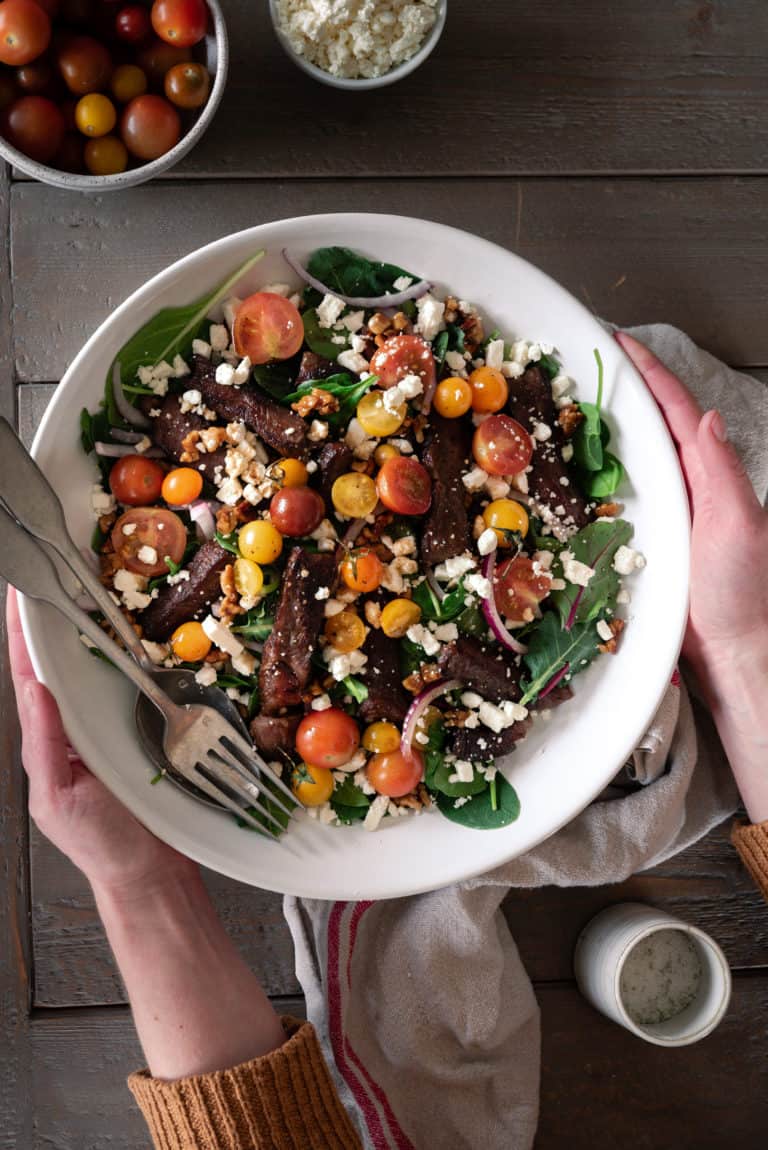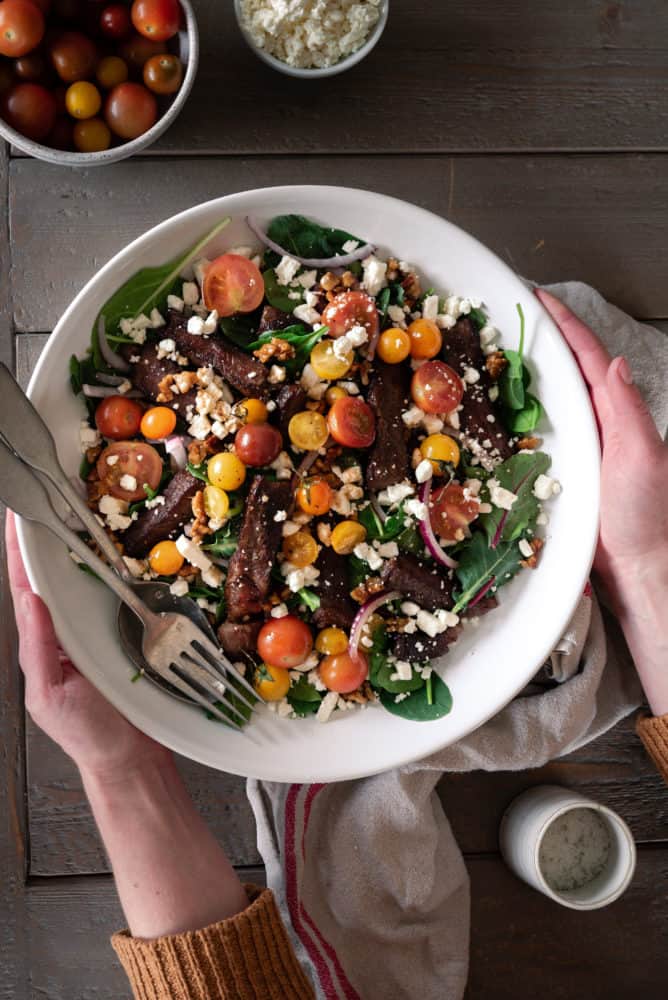 How to Reheat Steak:
Method 1: In the Microwave
Steak can absolutely be reheated in the microwave, and is great for warming up a meal quickly! Place the Steak in a dish 2-3" deep, and then add a little broth or juice to the base of the dish (you can even use a little bit of water if you don't have broth). As the meat heats, the liquid will evaporate and prevent the meat from drying out.
Microwave in 30-second intervals until the meat is heated through, the total length of time will depend on the size of Steak.
Method 2: In the Oven
Reheating Steak in the oven will keep the meat juicy and tender! Preheat the oven to 275 F. Place a wire rack inside an oven safe baking dish, and place the Steaks right on top of the wire rack. Elevating the Steak off of the dish will help the Steaks heat evenly on both sides.
Like the microwave method, you can add a little broth, gravy, or even water to the dish. The liquid will turn into steam and keep the meat moist!
Once the oven is fully preheated, place the dish in the oven and warm the Steaks until they are heated through, anywhere from 10-30 minutes depending on the thickness and size of beef. The internal temperature should read 165 F.
Read More: Determining Beef Doneness
Method 3: On the Stovetop
Reheating Steaks on the stovetop is perhaps my favorite way to use leftover Steaks. I love this method because it provides a nice sear on the outside of the Steak. Warm a frying pan over medium high heat, and once it is HOT, place the Steaks on the pan. Keep a close eye on them and do not cover.
Remember, you're reheating, not cooking the Steaks. Use an instant read thermometer to check for doneness, as soon as the center reaches 165 F, remove from the skillet and enjoy while it's hot!
Tips for Reheating Steak
If you know you're going to have leftovers, cook your Steak to 145 degrees to be enjoyed first, that way once it is reheated it doesn't become more well done than you prefer.
You can also opt to reheat the Steak in a recipe that blends flavors and textures where the doneness of the Steak isn't as high of a priority. Soup, stew, and casserole recipes are a great option!
Learn More About Beef Sustainability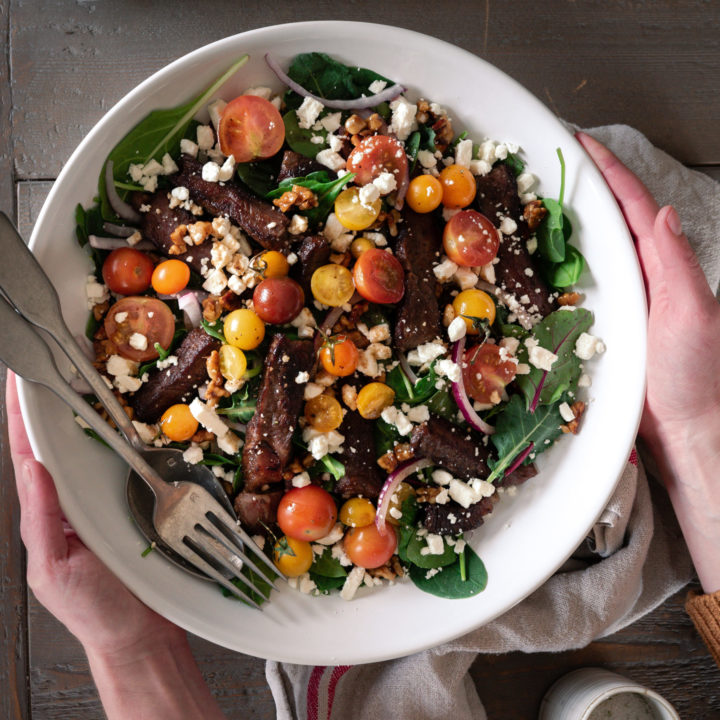 Steak Salad with Feta & Candied Walnuts
To use up the leftover Steak, tacos or a soup come to mind and if you're craving something light, a salad made with leftover Steak is delicious – scroll down for the recipe to this yummy Steak salad! 
Ingredients
For the Salad:
16 oz. Steak, cut into ½" strips
12 oz. spring mix (or any lettuce you like)
1 cup cherry tomatoes, halved
¼ medium red onion, slivered
1 cup feta, crumbled
Candied Walnuts:
½ cup walnuts, roughly chopped
1/8 cup pure maple syrup
pinch of salt
For the Dressing:
½ cup high quality extra virgin olive oil
1/8 cup (3-4 tablespoons) balsamic vinegar
1 teaspoon Dijon mustard
salt & pepper to taste
Instructions
To prepare the dressing:
Combine all ingredients in a 8 oz. mason jar (a bowl will work just fine too!).
Cover with a lid and shake well to combine – if using a bowl, whisk until combined. Taste and adjust to your liking.
If you'd like it to be a bit more acidic, add more vinegar. If it's too acidic, add a little olive oil or even a teaspoon of maple syrup or honey. Set aside while prepping the salad.
To prepare the candied walnuts:
Roughly chop the walnuts and place in a medium frying pan. Pour in the maple syrup, sprinkle in a pinch of salt, and turn the heat to medium low.
Keeping a close eye on the mixture, stir gently as the maple syrup caramelizes on the nuts, about 5 minutes. Do not let them burn, it can happen quite quickly!
The nuts are ready when the syrup becomes sticky and coats the nuts like a thick caramel.
Remove from heat, place the nuts in a small bowl or plate until ready to use.
Prepare the salad:
Heat a large skillet over medium high heat. Slice the Steak into strips about ½" thick. Use tongs to place the Steak strips on the frying pan, about 2 minutes. Then, flip each strip and cook until done, another 2-3 minutes more.
Once cooked, remove the Steak from heat and set aside until ready to use.
In a large salad mixing bowl combine feta, slivered onion, candied walnuts, Steak, and lettuce.
Drizzle the dressing over the top and toss well to combine.
Notes
Note: If reheating leftover Steak, follow the same steps. The Steak may not take as long to reheat through. Use an instant read thermometer to check the internal temperature, which should read 165 F.