Who doesn't love bean dip? If you don't..hold your tongue, because we can't be friends if I know that you don't appreciate the finer things in life. ;)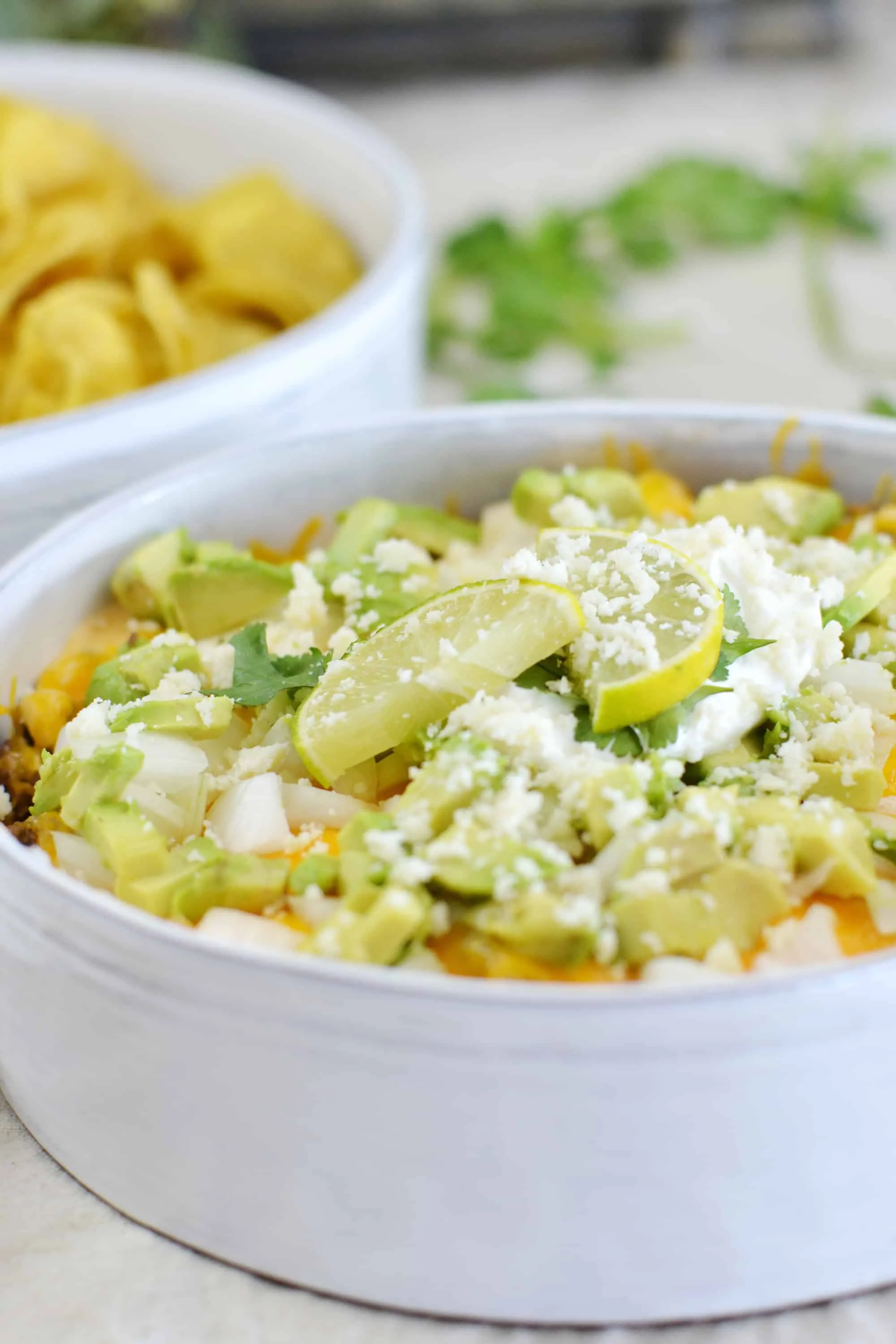 My aunt and uncle are like parents to me. They've been there for me from the beginning (obviously), but have stuck by both my sister and my side throughout our parents' divorce, and supported me through my wild high school rebel stage. My aunt is also the one who taught me to sew, and that yoga is better than anti anxiety medication.
To say I love them, would be an understatement.
They come up to visit us periodically, and we visit them as often as we can (they live just outside of Reno). Greg and my uncle love to ride motorcycles and watch football together. I guess you could say it's their idea of the perfect man date. Last year during a heated football game I decided to make them some bean dip: sautèd black beans and queso. It was simple, but a HUGE hit.
Ever since then, Greg has been begging me to make it again. I act like it's the hardest recipe I've ever made in my life. Why? Well, it's pretty darn unhealthy. I don't think queso dip is on Whole30, and I have no self control around bean dip.
But, In the spirit of my aunt and uncle making a trip up to visit us, I decided to remake this recipe once more, and turn it into a full blown meal. In the process of this, I may or may not have ended up eating my weight in the dip, and saying hello to the three pounds I had said goodbye to this year. It was worth it.
When I popped a dipped chip into my mouth, I literally said, "Oh that's goooood," even though I was home alone.
I also happened to send a snapchat of this dip with '#paleo' overlaid…as a joke. My gullible husband did not catch on to my sarcasm, and spent a few days believing the Paleo gods had blessed him with something gooey, cheesy, dippy, AND Paleo. It wasn't until he came to congratulate my genius innovation that I had to break the news to him: cheese is in fact, not Paleo.
The look on his face…such a let down.
So for the record – this dip is not Paleo. But it is good. I'm willing to say it's one of the best things I've ever put in my mouth. It's the perfect recipe for those football loving guys and gals who need something hearty to get them through the game. It also actually makes for a great dinner alternative…because you're a cool mom right?
Ingredients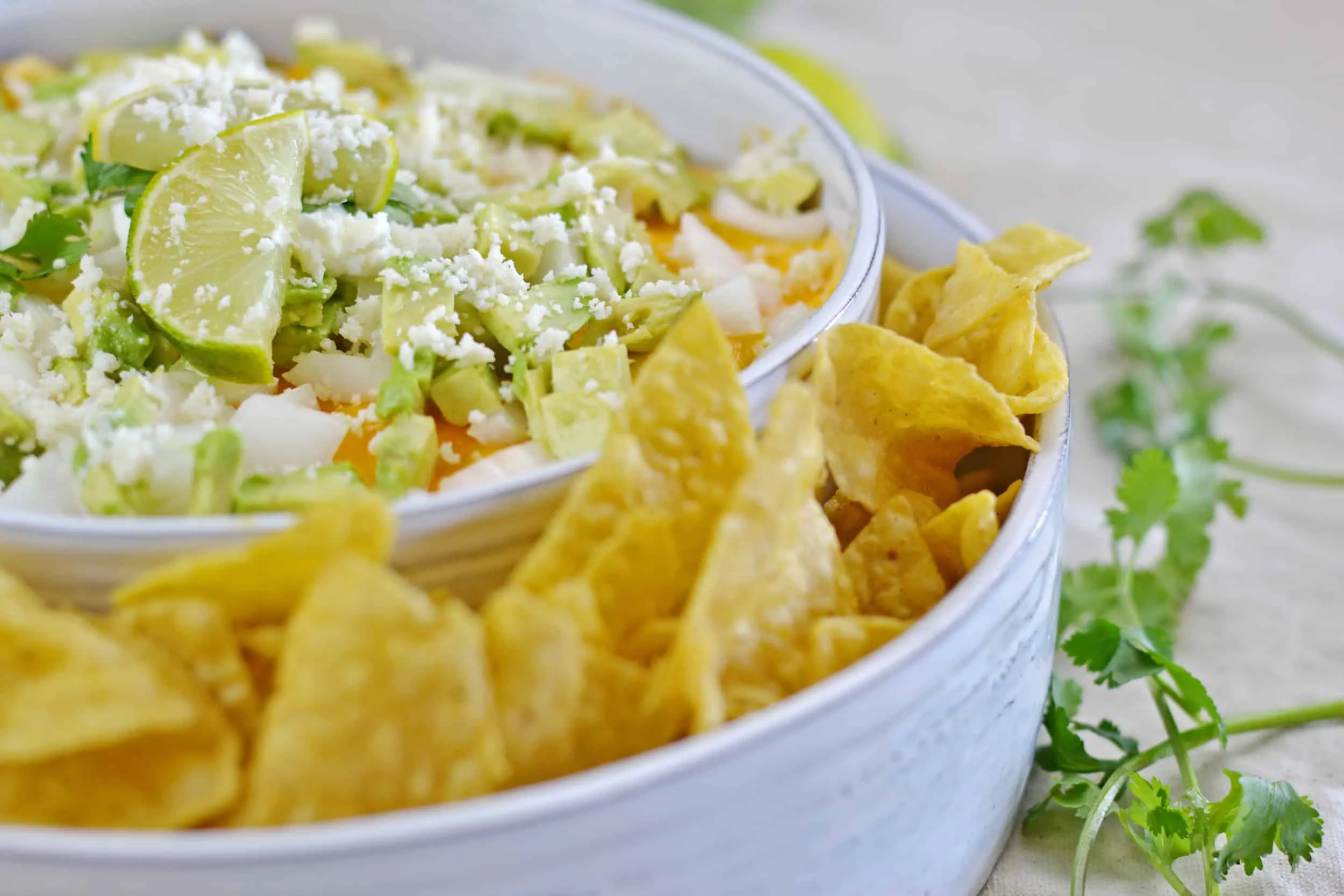 1 package ground beef

1 can organic black beans

Cumin, garlic powder, onion powder, chili powder to taste

8 oz light cream cheese

4 cups 2% Mexican blend cheese

2 tablespoons milk

1 avocado, diced

1/2 white onion, finely diced

Cilantro, limes, light sour cream, Cotija cheese for topping

Optional: diced jalepenõs or diced green chilis
When I decided to make this, I wanted to make it somewhat healthy, so I made my own queso dip, and used organic ingredients where I could. If you want to make this even healthier…I suggest you don't eat it.
Step 1: Sautè beef in frying pan with generous amounts of cumin, garlic powder, onion powder, and chili powder. Once browned, remove and reserve in a small casserole dish.
Step 2: Drain and rinse black beans, then sautè them in the same pan as the beef to pick up any flavor left behind. Add cumin, salt, onion & garlic powder, and chili powder to taste. Once warmed through, add into the casserole dish.
Step 3: In a small saucepan combine cream cheese, 2 cups Mexican blend cheese, and 2 tablespoons milk. Heat until the mixture can be easily stirred and resembles queso dip. **In this step add jalepenõs or diced green chilis if you like a spicy dip!**
Step 4: Pour the queso into the casserole dish, over the beans and beef. Use a spatula to distribute it evenly over the dish.
Step 5: Top with the remaining cheese, and place in a 350 degree oven for 10-15 minutes.
Step 6: Remove from oven, and top with diced onion, avocado, sour cream, cilantro, and crumbled Cojito cheese.
Step 7: Serve with chips, and enjoy!