Healthy Pumpkin Bread with Chocolate Chips
This post may contain affiliate links, please read my disclosure policy.
Looking for a delicious healthy pumpkin bread recipe? You'll love this healthy pumpkin bread sweetened with maple syrup and made with almond flour!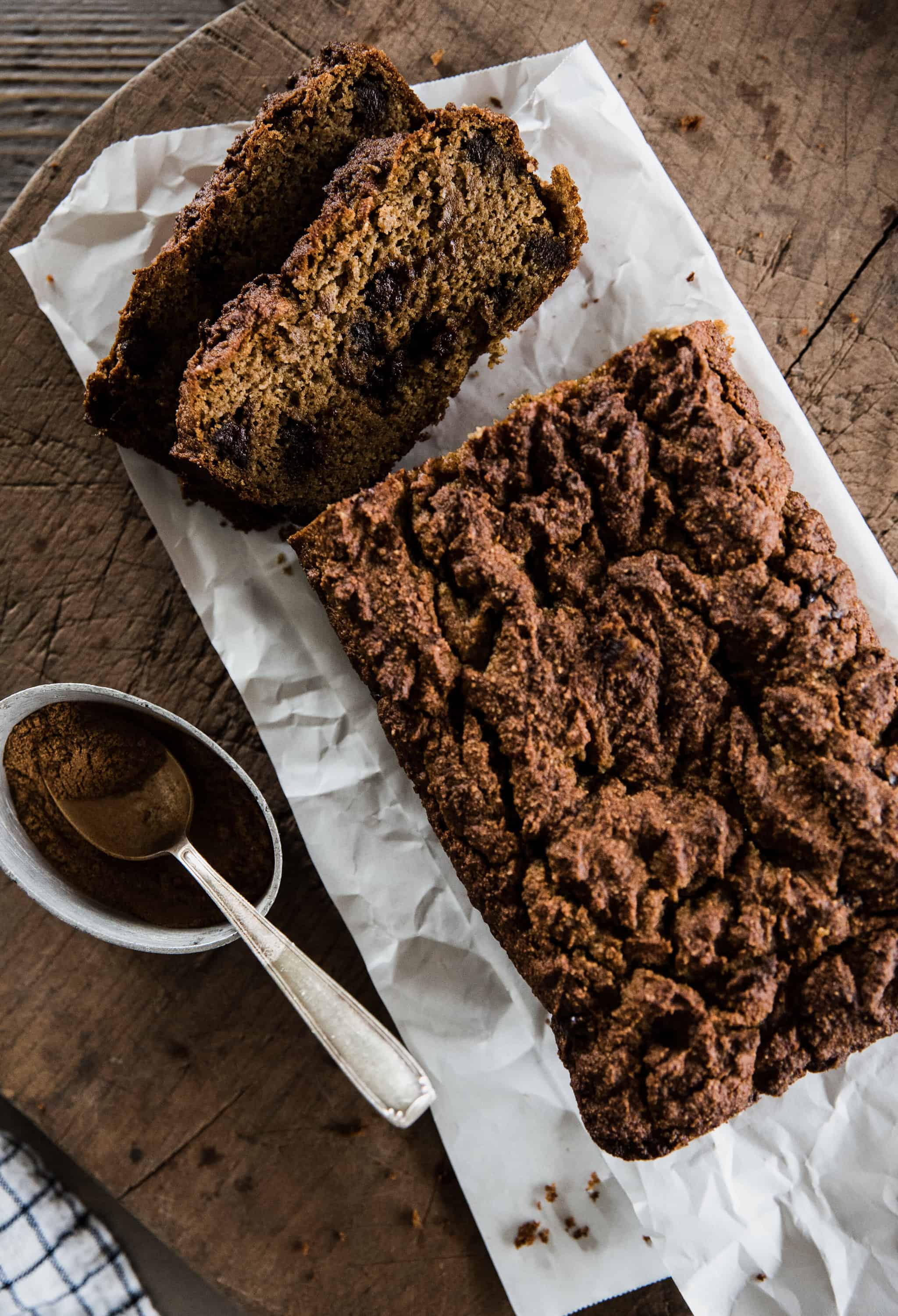 Healthy Pumpkin Bread
This recipe combines a variety of lovely fall flavors to create a delicious healthy pumpkin bread! Sweetened with maple syrup, the bread is rich in flavor and robust with a combination of spices.
By adding pumpkin pie spice to the pumpkin puree, you will taste clove, ginger, cinnamon, and nutmeg. I recommend adding a dash more cinnamon for even more flavor!
This healthy pumpkin bread is made using Lily's semi-sweet baking chocolate chips which are a great alternative to regular chocolate chips. Lily's chocolate chips do not contain added sugar and are sweetened with stevia.
This was my first time using Lily's, and I must say – the results far exceeded my expectation. They are truly wonderful! However, if you do not have Lily's or another similar brand, using regular chocolate chips or dark chocolate baking chips will work out just fine.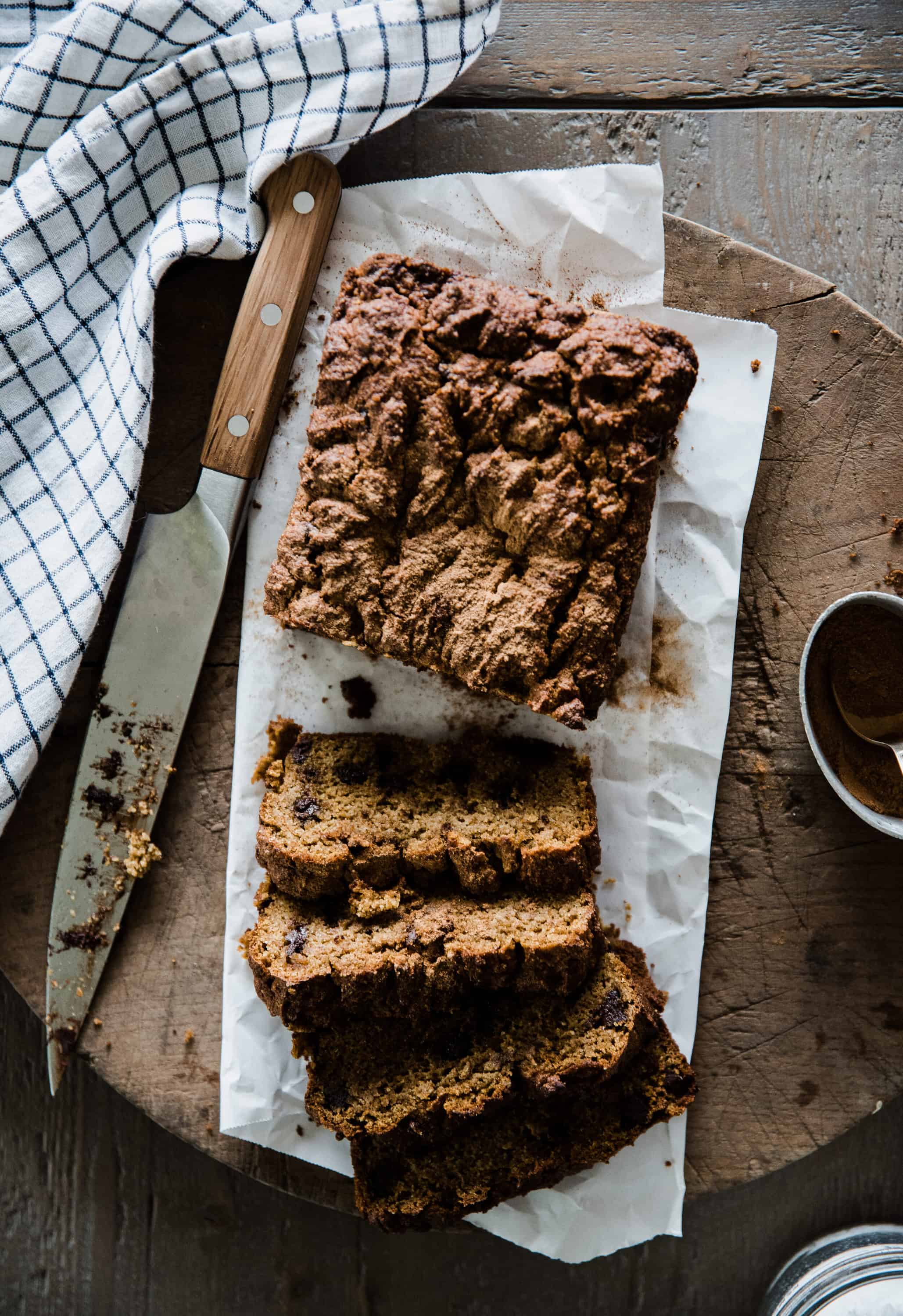 I recently began experimenting with almond flour. After years of no longer eating a Paleo diet, I don't typically keep almond flour in the house. However, I have been doing my best to eat a bit more healthy lately.
Tips for baking pumpkin bread with almond flour:
Make sure to use almond flour and not almond meal. They are not the same thing and not interchangeable.
Almond flour is best when it is ground "super fine", this is available at almost all grocery stores. Bob's Red Mill is a very good brand!
Almond flour is full of fat and moisture, so adding a lot of wet ingredients or additional fat isn't necessary. This is especially true for pumpkin bread, because the pumpkin puree will naturally create a moist bread.
Pumpkin bread made with almond flour can become a bit too dense if the ingredients aren't balanced. Pumpkin is moderately acidic, so just using baking soda will work; however, I have found it best to add a bit of baking powder too as an additional leavening agent. This will help you achieve more of a fluffy texture, rather than an overly dense bread.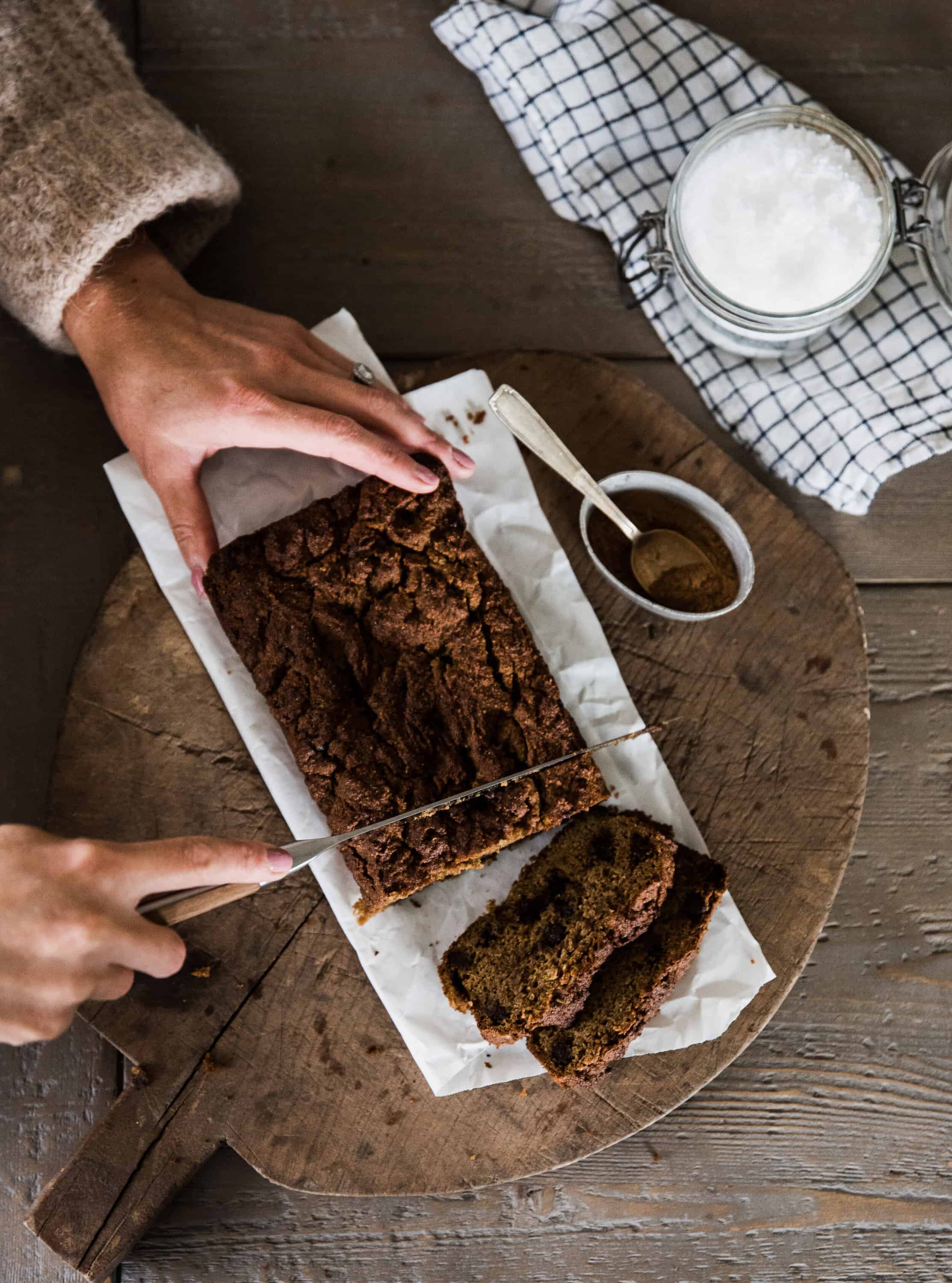 What type of salt is best for healthy pumpkin bread?
Pumpkin can often result in a bland flavor if you do not add enough salt and spices. I highly recommend using a high quality coarse sea salt in this recipe.
This will give a nice flavor balance of salty and sweet, and keep the bread from tasting bland. Especially since this recipe does not call for much added sugar. I really like Maldon Sea Salt Flakes, which make a huge impact (in a good way) in this recipe.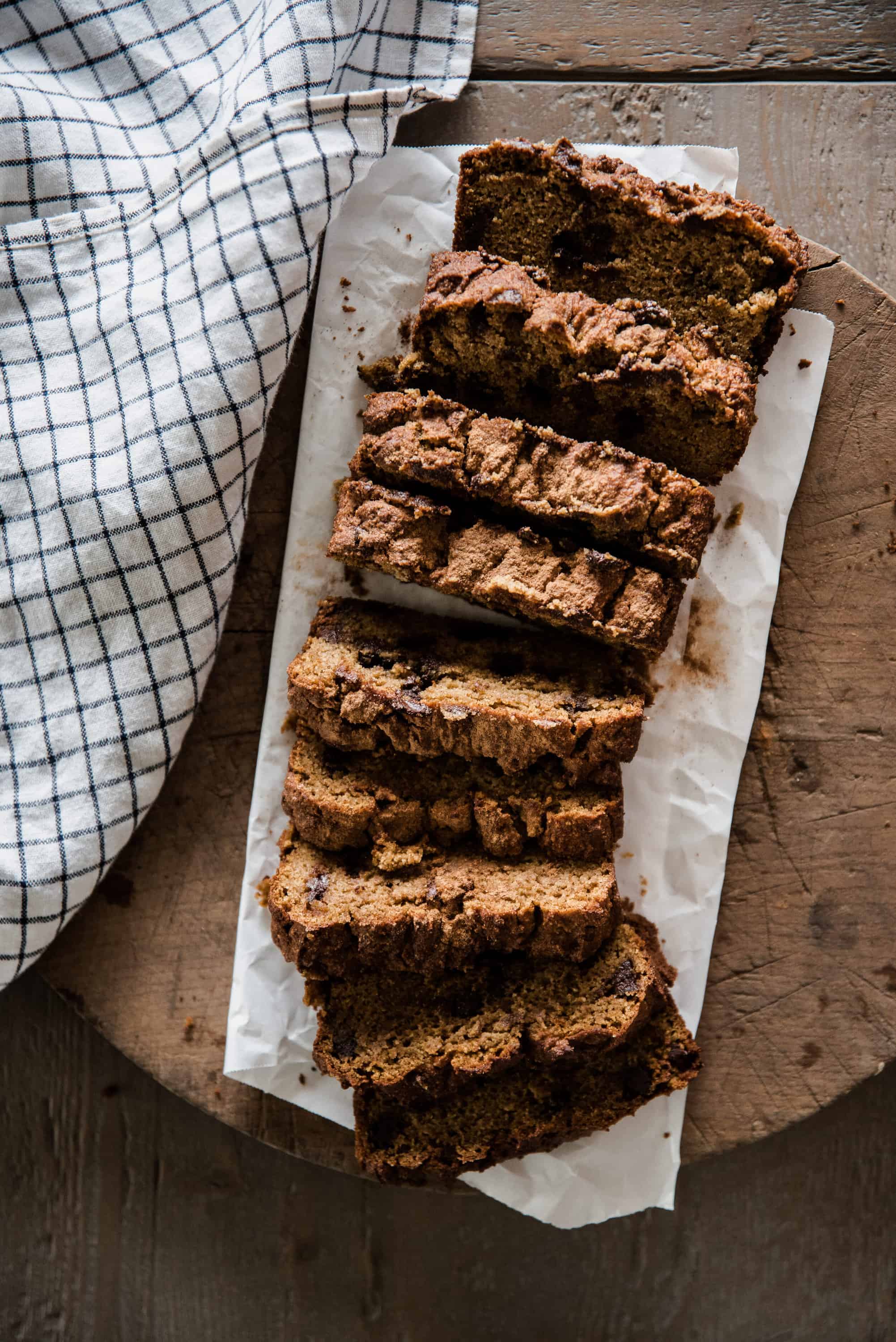 What is pumpkin pie spice?
Pumpkin pie spice is a blend of spices that is typically used to make pumpkin pie, and other pumpkin flavored goods. I use pumpkin pie spice in these baked pumpkin donuts, and it tastes wonderful!
Cinnamon, cloves, nutmeg, and ginger are the spices used to create a pumpkin pie spice mixture. If you don't have pumpkin pie spice, you can always make your own pumpkin pie spice mix by combining these different spices.
I also like to add a bit more cinnamon to this recipe for additional flavor. Like I mentioned before, I often find pumpkin recipes to be a little bland, and the cinnamon helps round out the flavors for a delicious healthy pumpkin bread!
Want more pumpkin recipes?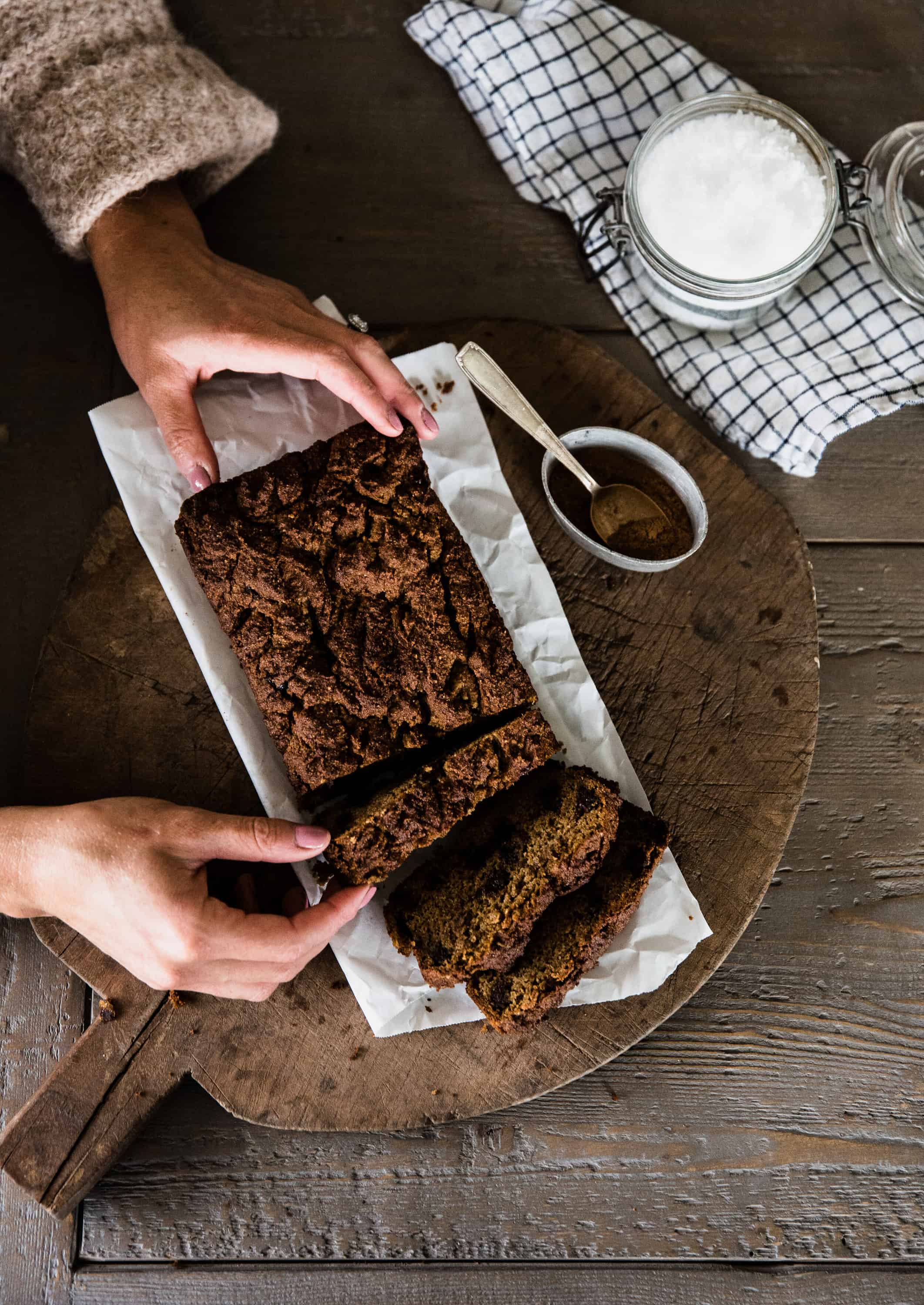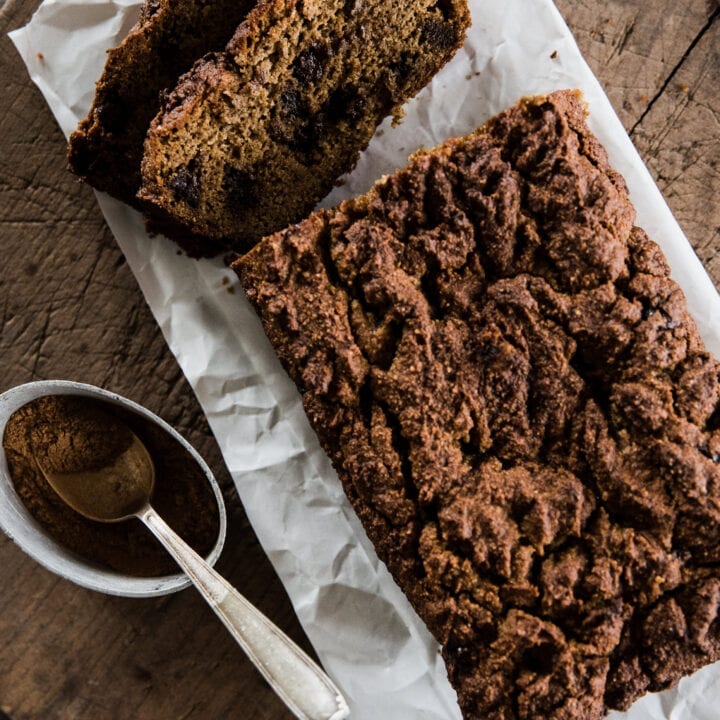 Healthy Pumpkin Bread with Chocolate Chips
Looking for a delicious healthy pumpkin bread recipe? You'll love this healthy pumpkin bread sweetened with maple syrup and made with almond flour!
Ingredients
3 eggs (room temperature)
2/3 cup pumpkin puree (room temperature)
1/2 cup maple syrup (room temperature)
1 teaspoon vanilla extract
2 cups almond flour
½ teaspoon coarse salt
1 teaspoon baking soda
1/2 teaspoon baking powder
1 1/2 tablespoons pumpkin pie spice
1 teaspoon cinnamon
1 cup low or no-sugar chocolate chips (such as Lily's)
Instructions
Preheat oven to 350 F
In a medium bowl combine, eggs, pumpkin puree, vanilla, and maple syrup. Make sure all ingredients are at room temperature. Whisk until thoroughly combined.
In a separate bowl, whisk together almond flour, salt, baking soda, baking powder, pumpkin pie spice, and cinnamon.
Gradually, add the dry ingredients to the wet ingredients, and stir until thoroughly combined. Taste to see if any spices need tweaking, and if the sweetness is to your liking. Add more maple syrup (or a little stevia) if desired. Add more cinnamon if more flavor is needed.
Stir in the chocolate chips.
Spray or grease a standard loaf pan. Pour the batter into the greased loaf pan, and bake for 30 minutes, check with a toothpick to see if the loaf is cooked through. If not, cover and continue to cook until cooked through. Most likely, you will need to cook for an additional 10-15 minutes depending on your oven.
Notes
When baking with almond flour, things have a tendency to stick. Make sure you allow the loaf to cool completely before removing it from the pan. Be sure to grease the pan well, or line with parchment paper.
Be sure that the center is completely baked through before removing from the oven, if you remove it from the oven too soon, the middle will deflate and the bread will be gooey.
More Delicious Pumpkin Recipes