Make Pizza Sauce from Scratch with This Easy Recipe!
This post may contain affiliate links, please read my disclosure policy.
Making pizza sauce from scratch is just as easy as making homemade pizza dough! This recipe for pizza sauce is quick, inexpensive, and packed with flavor!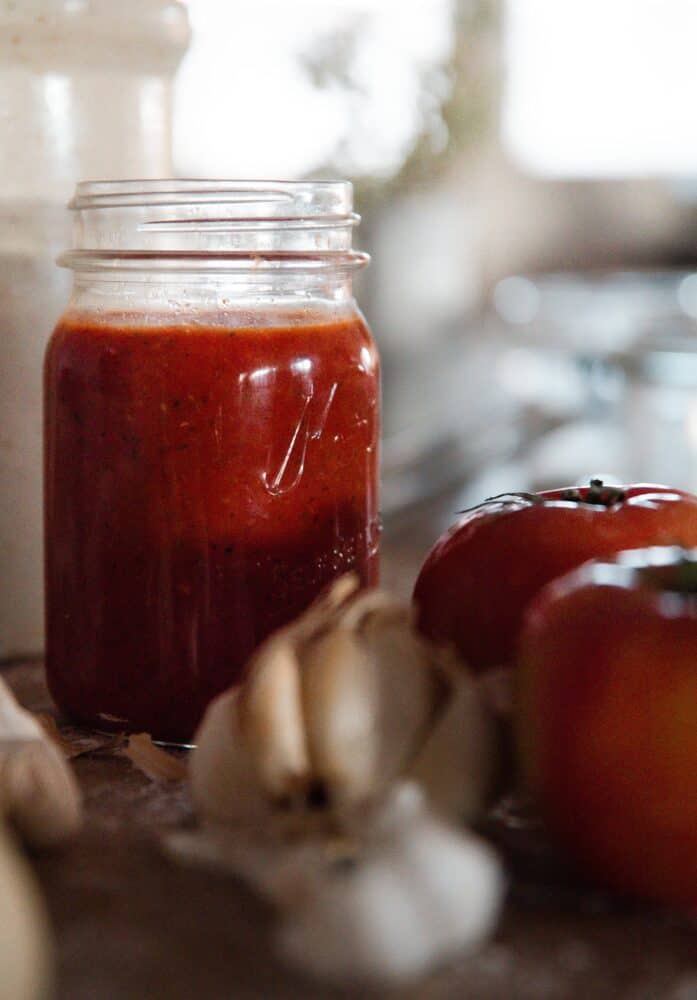 If you're here because you're making homemade pizzas and are looking for the best homemade pizza sauce recipe, you've come to the right place!!
This recipe for pizza sauce is made with only a few basic ingredients and is ready in ten minutes!
Ingredients for Homemade Pizza Sauce
Fire Roasted Tomatoes – crushed tomatoes will also work
Garlic
Dried Oregano (optional)
Basil (optional) – make sure it's fresh!
Olive Oil (optional)
Salt
Pinch of Sugar
Planning pizza night? Grab my homemade pizza dough recipe!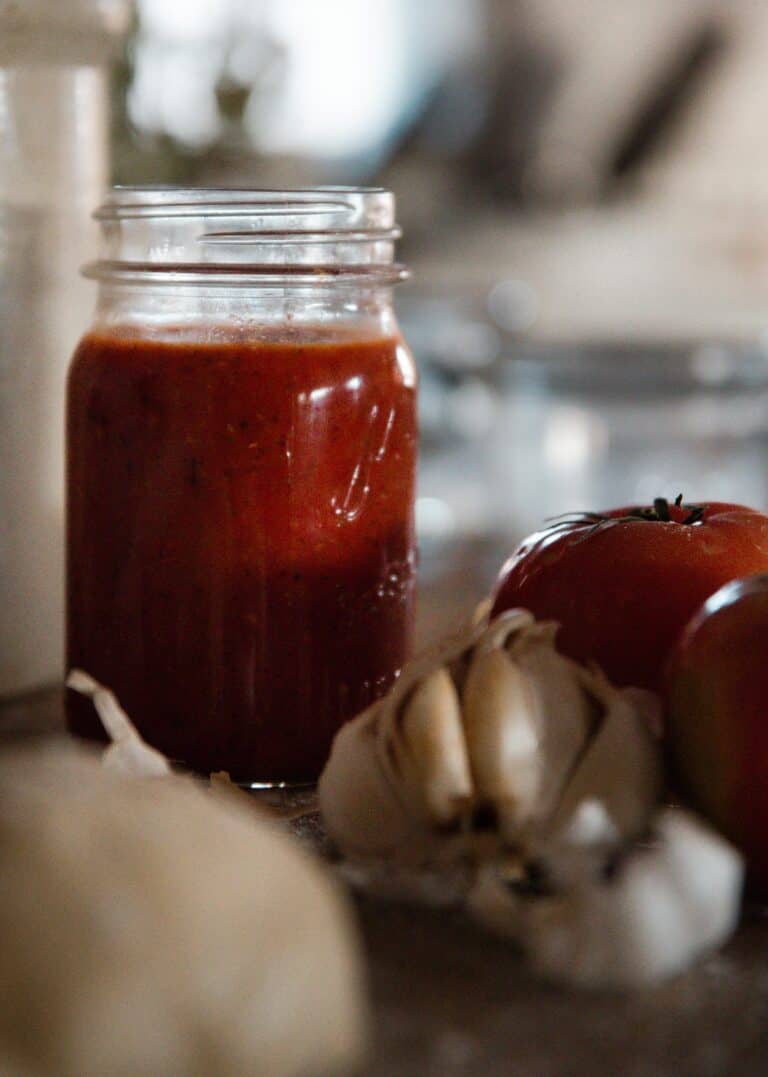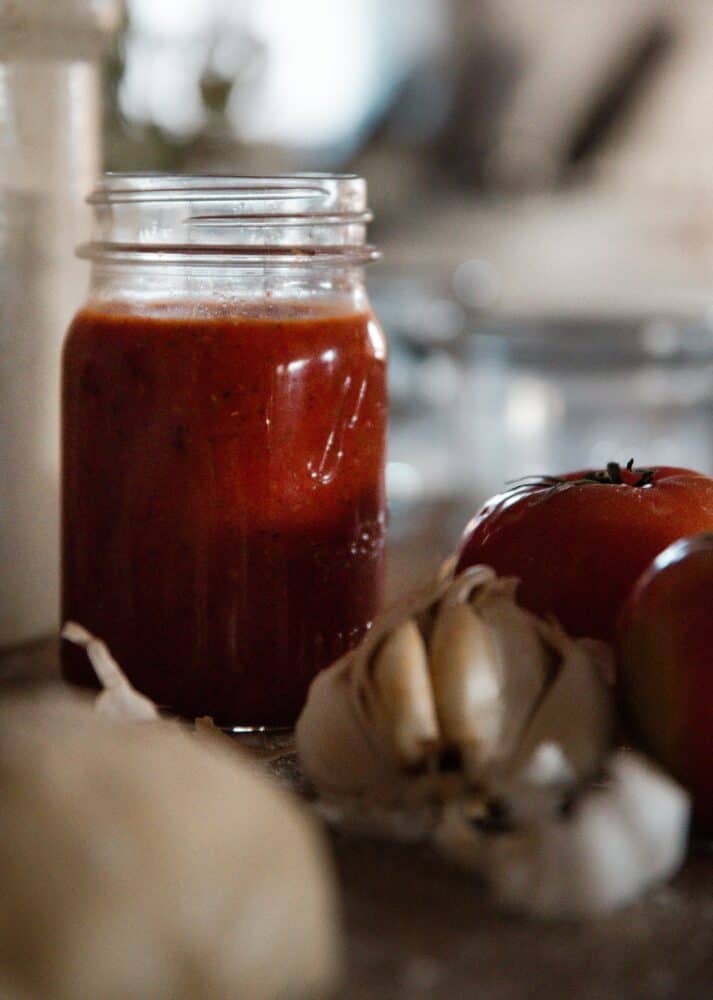 ---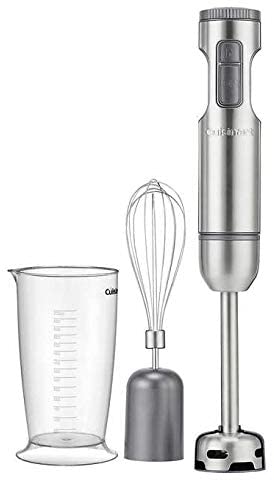 Immersion Blender
This kitchen tool is so handy, and compact! Use it to make soups, sauces, and much more!
---
FAQs for Making Pizza Sauce from Scratch
Immersion Blender vs Blender for sauce:
Wondering if you can use a blender instead of an immersion blender for this recipe? Yes! You could also use a food processor, you just might need to divide the can of tomato sauce in half because the entire can may not fit inside the food processor.

If you do not have an immersion blender, don't worry – just blend all of the ingredients, then place them in a small sauce pot and simmer.
What if I don't have fire roasted tomatoes?
I like to use fire roasted tomatoes for the added flavor. If you don't have fire roasted tomatoes, crushed tomatoes, or tomato sauce will absolutely work here!
You can also use fresh tomatoes, you will just need to strain out the liquid from the tomatoes by halving them first and removing the watery bits. You will also need to simmer the sauce a bit longer to thicken it up up.
Why add sugar to homemade pizza sauce?
Sugar might seem like an odd ingredient to add, but the pinch of sugar in pizza sauce doesn't add sweetness! Instead the sugar balances the acidity of the tomatoes and helps the sauce develop a caramelized flavor when you simmer it! The sugar really helps bring out the flavors of the tomatoes, and adds a great element to the sauce! You can certainly skip it if you wish to make this paleo or keto.
Can I preserve pizza sauce?
You can absolutely preserve this pizza sauce. Follow the proper sanitization process of your jars and use a pressure canner to process. If you'd like to do this, you'll probably want to triple this recipe so you have enough. This recipe makes about two pints worth of sauce.
How to thicken pizza sauce?
If you're finding your pizza sauce to be too watery, you need to reduce it more. To reduce a sauce, turn up the heat! Get the sauce boiling, stirring constantly to prevent burning, until the sauce reaches the desired thickness.
Want pizza sauce without oregano or basil?
The beauty of making pizza sauce from scratch is that you're in charge of the flavors! If you detest oregano or have an aversion to basil, you can skip these ingredients! Or maybe you really love garlic, you can add an extra clove or two! Get creative with this recipe and have fun!
I much prefer reducing the sauce myself rather than going the tomato paste + tomato sauce route. I think the flavor develops so much more nicely by spending that 10 minutes on the stove, in my option, it is worth the reduction time and effort!
However, if you do not have fire roasted tomatoes – you can substitute them with tomato sauce. Follow the reduction process the same way.
How Much Sauce Will This Make?
This will make enough sauce for about four pizzas with a little left over for dipping. This works out perfectly for the four pizzas my homemade pizza dough recipe makes. If you don't need that much sauce, cut the recipe in half.
How to Make A No Cook Pizza Sauce
If you really don't want to reduce the sauce, you can make a no-cook homemade pizza sauce by adding some tomato paste which will thicken the sauce.
Use one 6 oz. can of tomato paste with 1 15 oz. can of tomato sauce. Combine the tomatoes, herbs, oil, salt, and sugar in a blender and puree until smooth. In my opinion, the no-cook method is not as flavorful! So much of the flavor develops during the reduction period!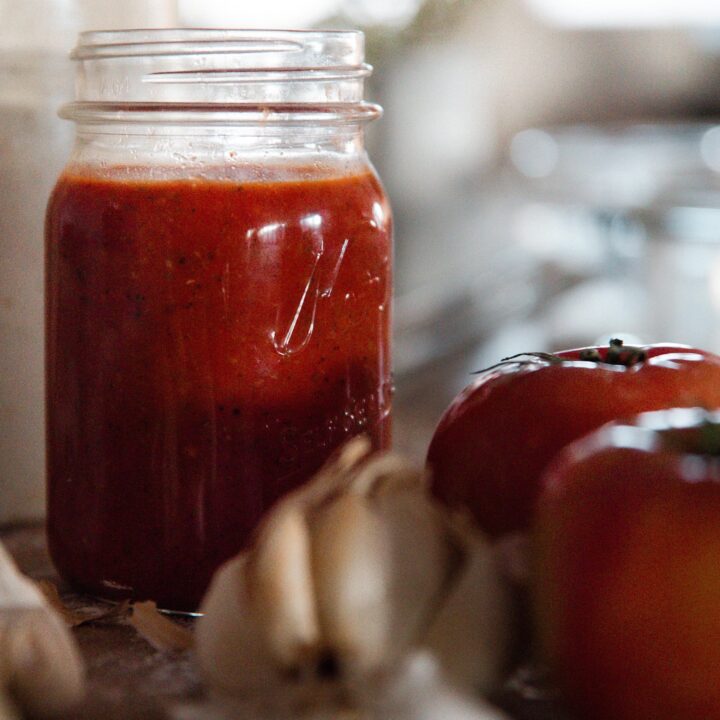 Homemade Pizza Sauce
Enjoy delicious homemade pizzas with this rustic homemade pizza sauce! Just a few simple ingredients makes this wonderful and fresh pizza sauce!
Ingredients
Fire Roasted Tomatoes (1 28oz. can)
4 Cloves Garlic
2 Tablespoons Extra Virgin Olive Oil
Basil - fresh or dried (to taste - 2-3 teaspoons)
Dried Oregano (to taste - 2-3 teaspoons)
Salt (to taste)
Pinch of Sugar
Instructions
Combine tomatoes, olive oil, garlic, dried oregano, basil, sugar, and salt in a blender and puree until smooth. Alternatively, combine all ingredients in a small sauce pan and use an immersion blender to puree.
Place puree in a small sauce pan, and turn heat to medium-high. Bring to a rolling simmer and allow the mixture to thicken, stirring constantly to prevent burning. About 10 minutes.
Taste for any flavor tweaking: add more salt, oregano, or basil until the taste is just right.
Remove from heat, transfer to a clean mason jar and store until ready to use.
Notes
Keeps in the refrigerator for about a month. If desired, use a pressure canner to preserve the homemade pizza sauce to be used at a later date!