Homemade Pizza Dough – Easy and Fun Family Dinner
This post may contain affiliate links, please read my disclosure policy.
Homemade pizza dough is so much fun to get the whole family involved! You'll never believe how easy it is to make your own pizza dough at home!!!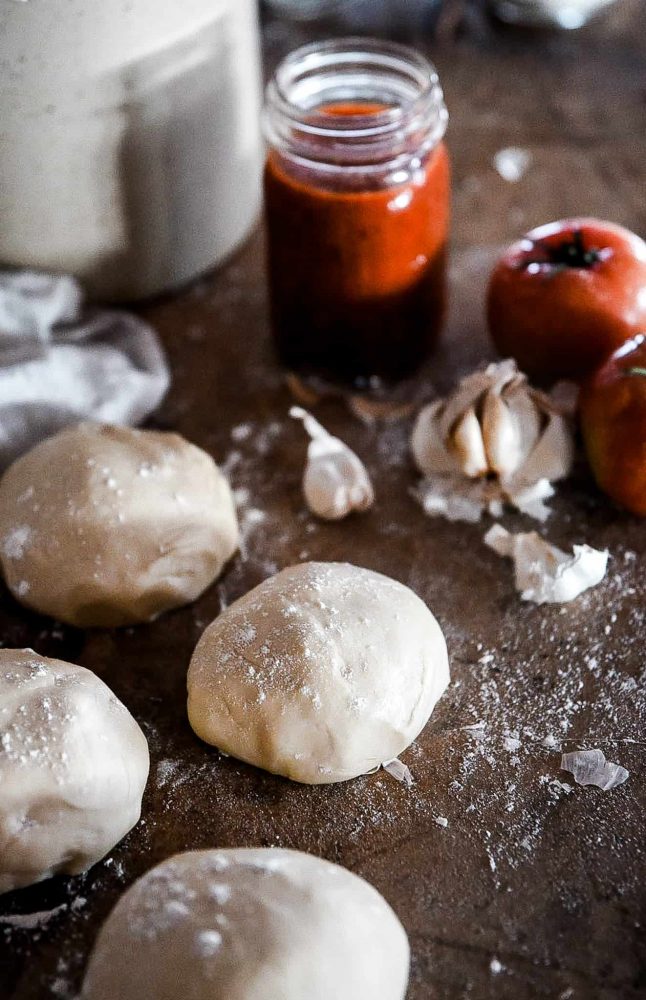 Homemade Pizza Dough
If you've never made your own pizza dough before, you won't believe how easy it is to make! Pizzas for an entire family can be so expensive, but did you know you can make your own for pennies on the dollar?
That's right! Homemade pizza dough doesn't require eggs, milk, sugar, honey, or any special ingredients! With just flour, yeast, and a little olive oil – you'll have your own homemade pizza dough in no time! In fact, if you don't have olive oil, you really don't have to add it to the dough, I just like to add it for flavor!
Making your Own Pizza Sauce
I also love making my own sauce for homemade pizzas – homemade simply just tastes better! Homemade tomato sauce is incredibly easy to make with just a can of crushed tomatoes, garlic, and herbs! While I love a traditional tomato sauce for pizza, I also love homemade Basil Pesto. It's easy and adds such aromatic and exciting flavors!
What sauce is best for homemade pizzas?
I like to make my own homemade pizza sauce with this dough, but you can get creative and use any type of base that you'd like, some ideas are:
Alfredo Sauce
BBQ Sauce
Olive Oil & Herbs
Tomato Sauce
What toppings are best for homemade pizzas?
While you'd typically think to reach for the pre-shredded mozzarella or "pizza blend", homemade pizzas taste infinitely better with freshly shredded and artisan cheese! Here are some of the best pizza topping combinations:
Pear + Arugula + Pecorino Ramano + Bacon Bits + Honey Drizzle
Sausage + Chili Flakes + Fresh Mozzarella + Olive Oil Drizzle
BBQ Sauce + Chicken + Avocado + Roasted Corn + Mozarella
Fresh Burrata + Heirloom Tomatoes + Olive Oil Drizzle
Mushrooms + Onion + Tomato + Parmesan + Pecorino
Homemade Pizza Dough Ingredients
Flour – 00 Flour makes a smoother and lighter dough, but all-purpose flour works great!
Dry activated yeast – Yeast is an essential ingredient to help the dough rise.
Warm water – To dissolve the yeast.
Olive oil – Olive oil adds a subtle flavor to the dough
Coarse salt – Salt brings the flavor of the dough forward.
How to make homemade Pizza Dough
Combine yeast and warm water – add the ingredients to the bowl of the electric mixer to dissolve and let stand for 1 minute.
Add flour, salt, and olive oil and knead until silky.
Divide and smooth the dough, then brush with olive oil.
Let dough rise for 1 hour.
Stretch dough out and place on to cooking surface
Add desired sauce and toppings
Preheat oven to 425 degrees F. Bake for 10-15 minutes, or until the crust is a nice golden brown.
I think you're going to love this homemade pizza dough without sugar or milk – it's just so simple to make!! If you don't have a mixer, just use your hands to knead. Get the kiddos involved and have them give a helping hand ;).
This recipe is really best when made a day ahead of time, although it's not necessary, the flavor will be much better on day 2 or 3!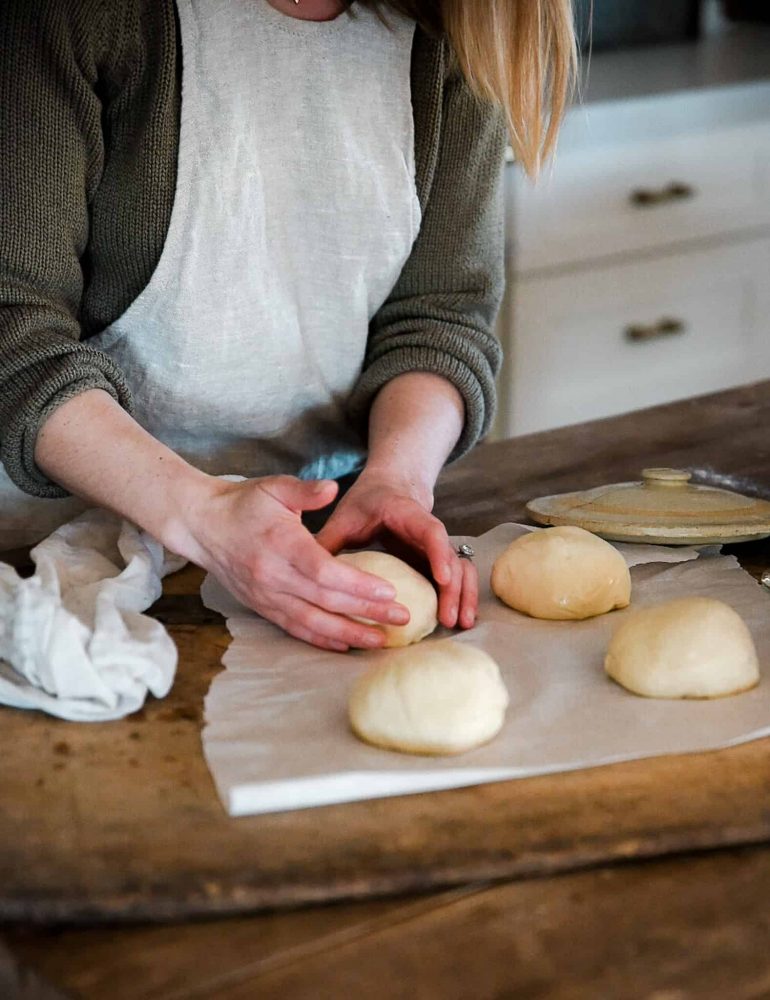 Homemade Pizza Dough FAQs
What flour is best for pizza dough?
00 Flour is best for making your own pizza dough; 00 Flour is simply more refined flour than all-purpose and is a finer consistency resulting in slightly smoother, light, and crisp Italian breads, crusts, and pastas. Most people don't have that type of flour as a staple in their pantry. Instead, you can simply use all-purpose flour and still achieve great results!
How to store homemade pizza dough?
Pizza dough actually tastes better if it's been stored for a day or two in the fridge! The gluten rests and the yeast fully reacts / rises! Store in a ziplock baggie or airtight container for up to 1 week!!

To prevent the dough from drying out, wrap the dough balls loosely in plastic wrap or seal in a ziplock baggie. Don't wrap too tightly within the first 2 days because the dough will still be rising in the refrigerator.

Personally, I do not wrap my dough, I simply store it in an airtight container.
Can homemade pizza dough be frozen?
Totally!! You can freeze homemade pizza dough for up to three months. To do so: make the dough as you normally would allowing it to fully rise. Once it has fully risen, place each dough ball into a small ziplock bag (or saran wrap). Ideally, you'd use a vacuum seal, but if you do not have a vacuum seal, simply squeeze allllll the air out of the bags and store in the freezer.

Make sure it's wrapped well to prevent it from drying out. When you're ready to use, thaw it completely (allowing it to come to room temperature) and prepare the pizzas as you normally would!
Can you make this homemade pizza dough gluten free?
I personally am not gluten intolerant, so I don't have much experience with gluten free flour; however, you should be totally fine to use the one:one gluten free flour in this recipe.

Since this is a simple flour+water+yeast recipe, you're not relying on much science here except for the yeast. If you give it a try, let me know how it goes!
Homemade Pizza Dough with KitchenAid or Food Processor?
I received some questions asking if this recipe can be made with a food processor. It's best to use your kitchenaid electric mixer for this recipe with the kneading attachment. If you don't have a kitchenaid, don't worry! Just use your good ol' fashion kneaders: your hands! Knead with your hands for 8 minutes.
Do I need to use yeast?
Yes, yeast is an important ingredient for this dough! Without yeast, the dough won't rise, and you'll be left with little hockey pucks. Make sure to use 100-110 degree F water, and use dry active yeast. If the dough doesn't visibly rise, it could mean your yeast has past its prime. Read more about yeast & pizza.
Can you flavor the dough?
Just like pasta, pizza dough is made primarily of flour, thus it's really not all that flavorful. The flavor truly comes from the sauce and toppings! I like to add a splash of high quality olive oil and really good salt (Maldon is my favorite).

However, if you'd like to add more flavor, you can absolutely add garlic powder, herbs, or other spices to the mixture at the same time you add the salt.
If I don't have a kitchenaid mixer, can I use a handheld electric beater?
Nope, a handheld mixer WILL NOT work for this recipe. You need the kneading attachment for the kitchenaid mixer which kneads the dough for you. If you don't have one, don't worry – just use your hands to knead the dough. Here's a great video demonstrating how to knead dough.
If I am refrigerating the dough, do I punch it down after it's risen, and then refrigerate?
If you're refrigerating the dough, allow it to fully rise after kneading. Then without punching it down, store in a ziplock baggie or airtight container. It will continue to rise for another day or two! So if you wrap it, wrap it loosely so that it has some room to expand.

If you do not wrap it, the edges will dry out a bit, but it will be totally fine once you start stretching it! Personally, I do not wrap my dough – I simply store in an airtight container.

TIP: use a piece of parchment paper to keep the dough from sticking to the container.
If you're looking for more easy dinners for the whole family, see more of my favorite recipes below:
Easy Prime Rib with Garlic Herb Butter
Greek Yogurt Chicken
Grilled Beef Kabobs with Chimichurri Sauce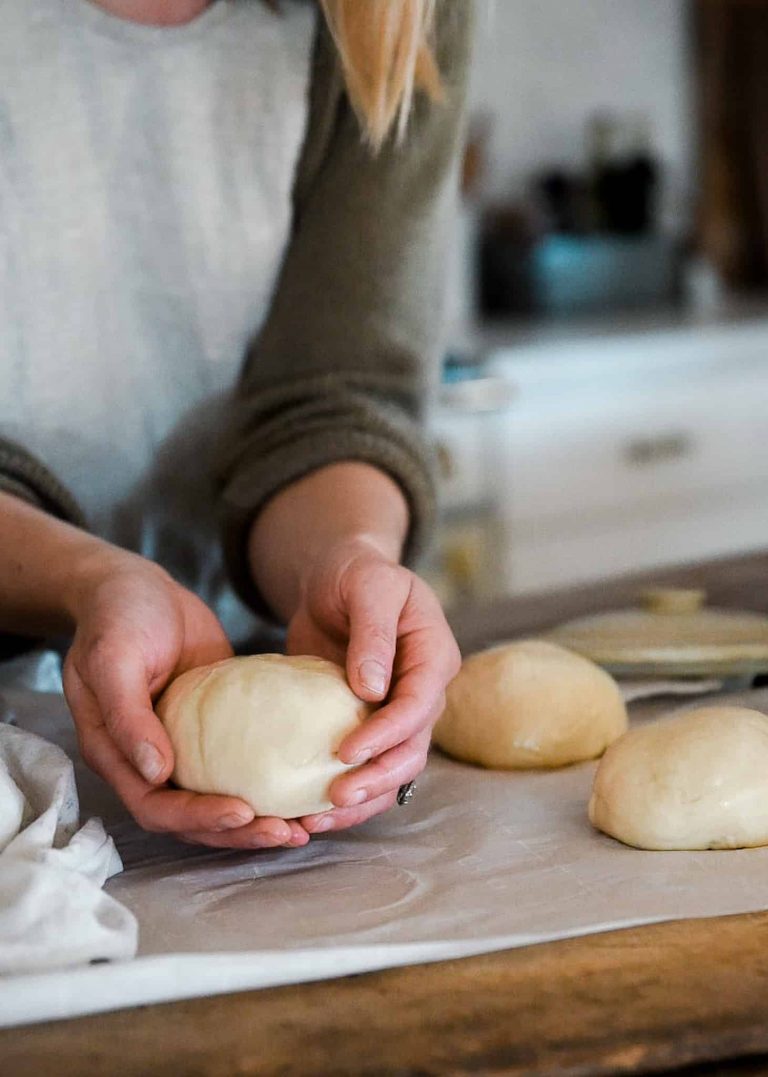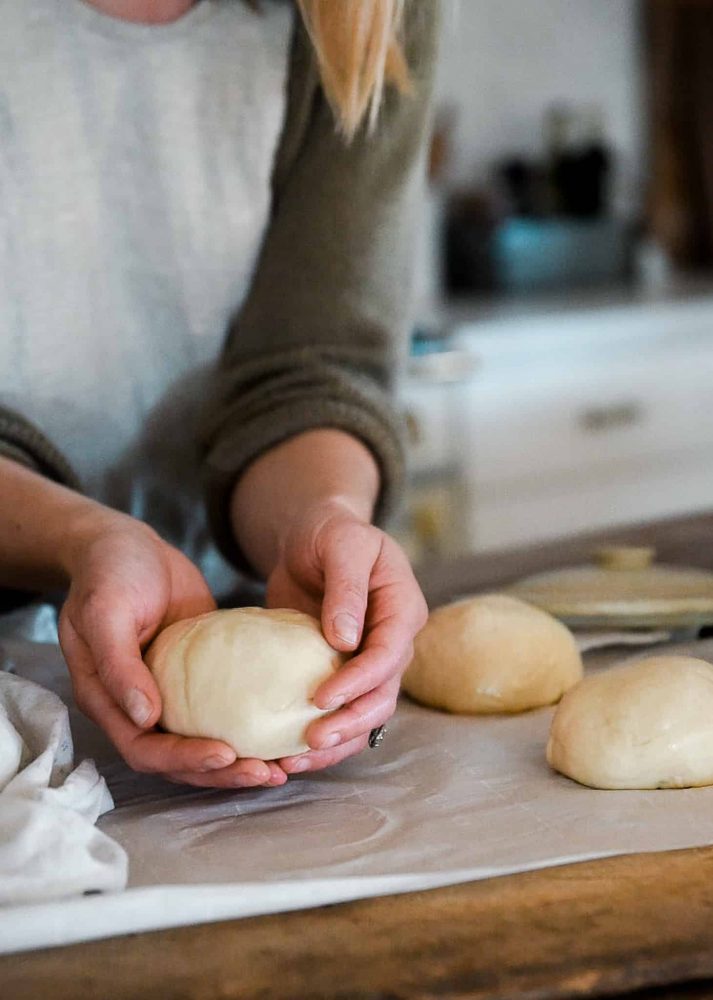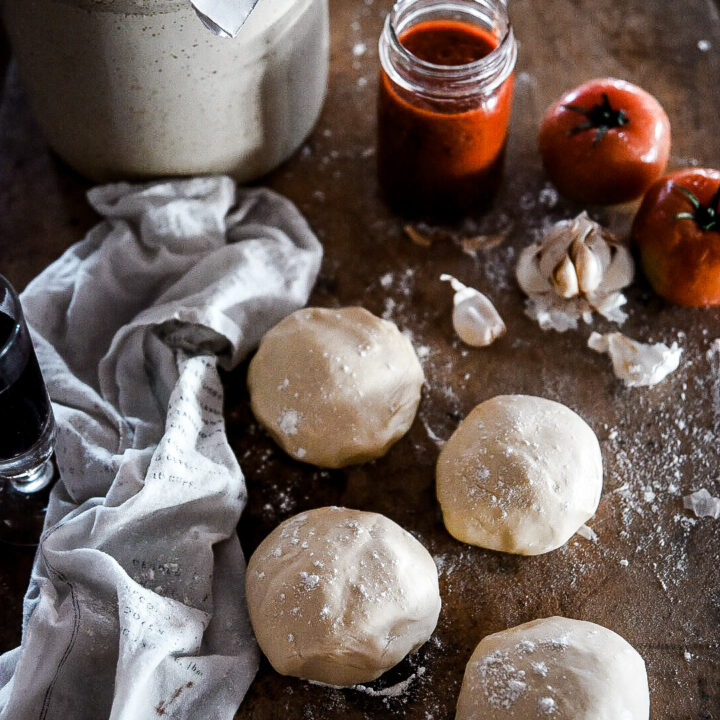 Homemade Pizza Dough
Total Time:
1 hour
22 minutes
This homemade pizza dough is easier to make than you'd think! You'll love the delicious taste of pizza with homemade dough!
Ingredients
4.5 cups all-purpose flour (or if you have it, use 00 Flour)
2.5 teaspoons (1 packet) dry activated yeast
1.5 cups warm water (105-110 degrees F)
2 tablespoons olive oil
1-2 teaspoons coarse salt
Instructions
In the bowl of an electric mixing stand, combine yeast and warm water. Stir to dissolve, let rest one minute.
Add flour, salt, and olive oil.
Fit the mixer with the kneading attachment, and knead for 8-10 minutes. The dough will become soft and silky. If it is sticky, add a little more flour.
Divide the dough into 4 softball size balls. Place each into a small bowl or on a cookie sheet.
Smooth the top of each dough, and brush with a touch of olive oil.
Cover with a kitchen towel, in a warm place, and let the dough rise for 1-2 hours, it should double in size. If it does not rise at all, your yeast is probably dead :(. You'll need to start over.
Meanwhile, prepare your sauce if making homemade pizza sauce.
After the rise, use floured hands to carefully stretch each pizza dough out to 1/4" thick discs about 10" in diameter. Place the dough onto the cooking surface. I like using Silpat baking mats, but you could use parchment paper too! Now, spread your sauce evenly over the homemade pizza dough, and sprinkle cheese and other desired toppings over, leaving 1/2" crust around the edges.
Preheat oven to 425 degrees F. Bake for 10-15 minutes, or until the crust is a nice golden brown.
Notes
Do not skip the rise process, it is important! You can make this a day ahead and store in a airtight container for best results!
If refrigerating for a day or two ahead of time, allow the dough to fully rise as if you were planning on making pizza that day. Then, without punching it down, transfer to an airtight container or zip lock bag.
To prevent the boules from sticking together/sticking to the bag or container, use a piece of parchment paper or plastic wrap to divide the dough balls. Wrap loosely because the dough will continue to rise in the refrigerator a bit.
If refrigerating: When you're ready to make the pizza, remove the dough from the refrigerator 30-40 minutes ahead of time. Allow the dough to come to room temperature before stretching.