Learn how to make pickled veggies! Refrigerator pickles are the perfect way to enjoy your summer garden harvest!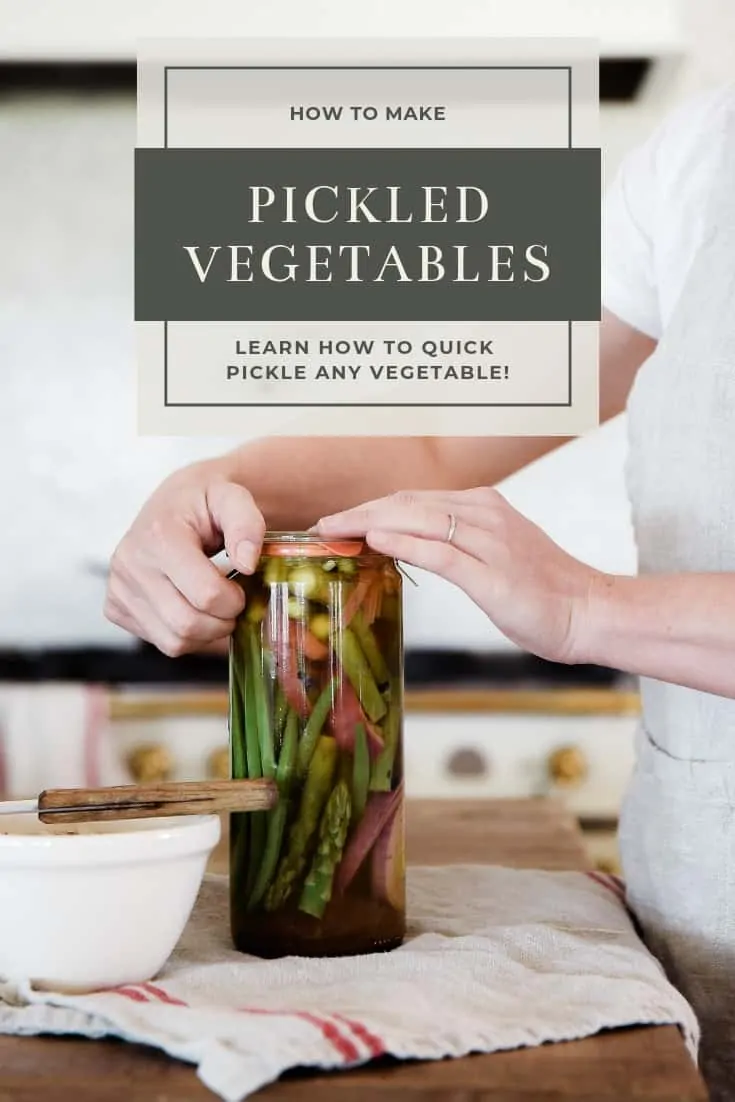 How to: Quick Pickle Vegetables
Recently, I was able to attend a pickling workshop with Chef Lara Ritchie from Reno's Nothing to it Cooking School. During the workshop, Chef Lara taught us all about pickling and how to make pickled vegetables!
I was very excited about this class because preserving and canning is something I am quite interested in. Yet it can often feel daunting because of the safety precautions involved.
I couldn't wait to learn from chef Lara! During the class, she taught us wonderful ways to quick pickle veggies of all kinds.
Pickled vegetables are so delicious when served with cheese and crackers or as a topping on tacos! Pickled veggies aren't the only delicious cheese pairing, pickled fruit also makes a wonderful accompaniment! I especially love pickled plums!
---
More Quick Pickling Recipes:
---
How to Make Quick Pickled Vegetables
Quick pickling, also known as refrigerator pickles, is quite easy to accomplish; you simply need vinegar, salt, water, and if desired, sugar! Using a mixture of herbs and spices is a great way to customize the flavor to fit the flavors of the meal!
The recipe below calls for some pretty specific spices; however, feel free to get creative with whatever you have on hand!
Below, I've compiled all of the information we covered in the pickling class I attended, I think you will enjoy reading all of Chef Lara's tips and techniques for quick pickling!
Learn how to quick pickle with delicious flavor!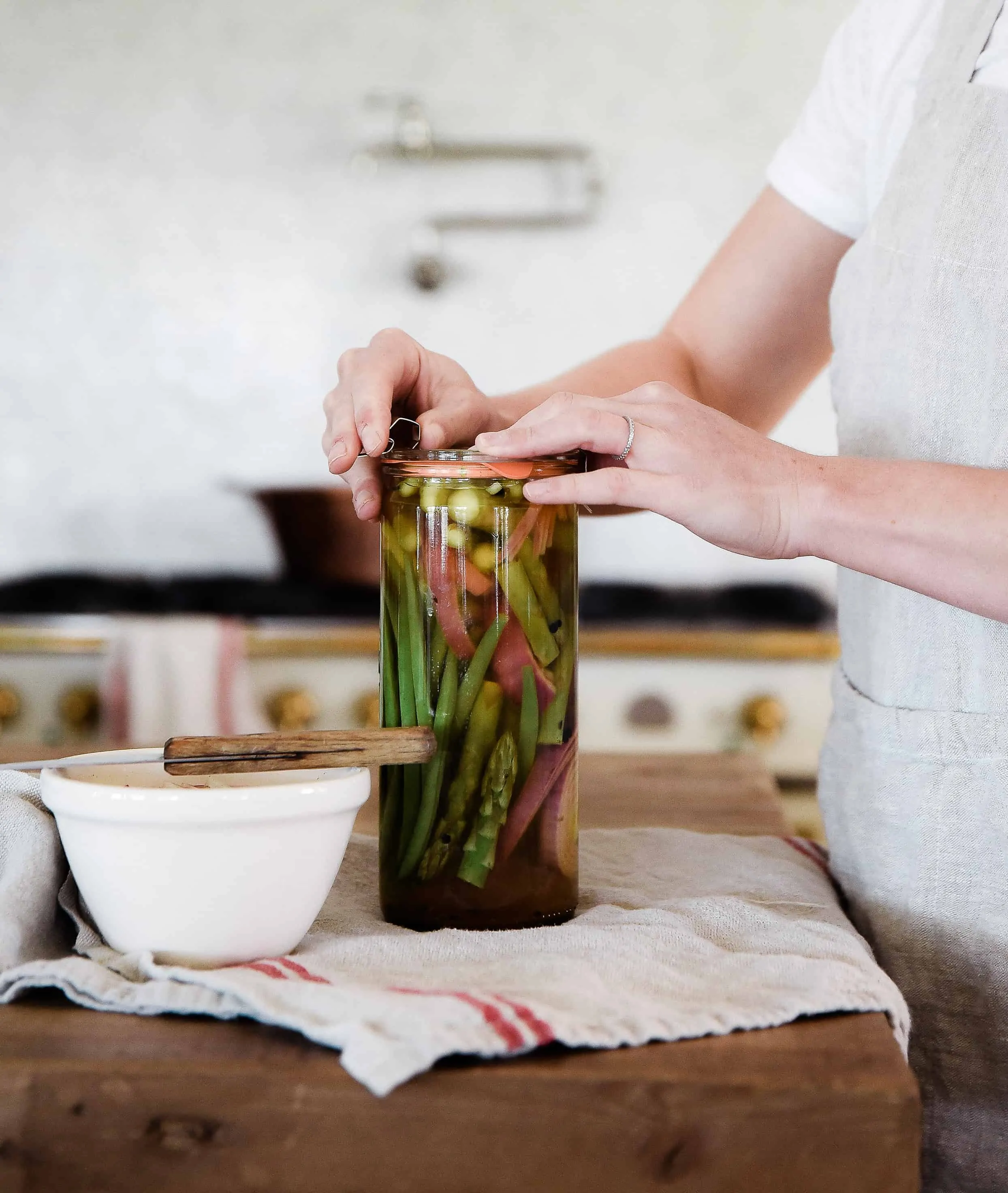 What is quick pickling?
Quick pickling is accomplished by brining fresh vegetables with salt, sugar, and vinegar; spices can also be added for more flavor.
Quick pickles, also known as refrigerator pickles, are a simple way to preserve fresh vegetables without the hours of work involved in traditional pickling.
Quick pickled vegetables are stored in the refrigerator and only take a few days to develop a delicious pickled flavor.
What vegetables can be quick pickled? 
Any vegetable can be quick pickled, some delicious options are peppers, cauliflowers, onions, cucumbers, and asparagus.
It is important to only select the best, most fresh and crisp vegetables to be pickled. The vegetables you pickle should be free of blemish, without bruising or browning. the acid and salt will degrade the food as it ferments.
It's important to thoroughly wash and rinse the veggies you decide to pickle. Especially veggies like leeks, carrots, garlic, and onions which generally hide dirt (bacteria) in their nooks and crannies!
When cutting the vegetables, cut them all to be about the same size so that they pickle at the same rate. Not sure what size to cut? Think about what you will be using them for: Pasta? Bite size. Cheese board? A little bigger.
Lastly, keep in mind that the vegetables are the stars of the show here, so you'll want to include the most attractive parts of them, and while stems can butts can be pickled, they won't be the most attractive when served.
favorite pickling jars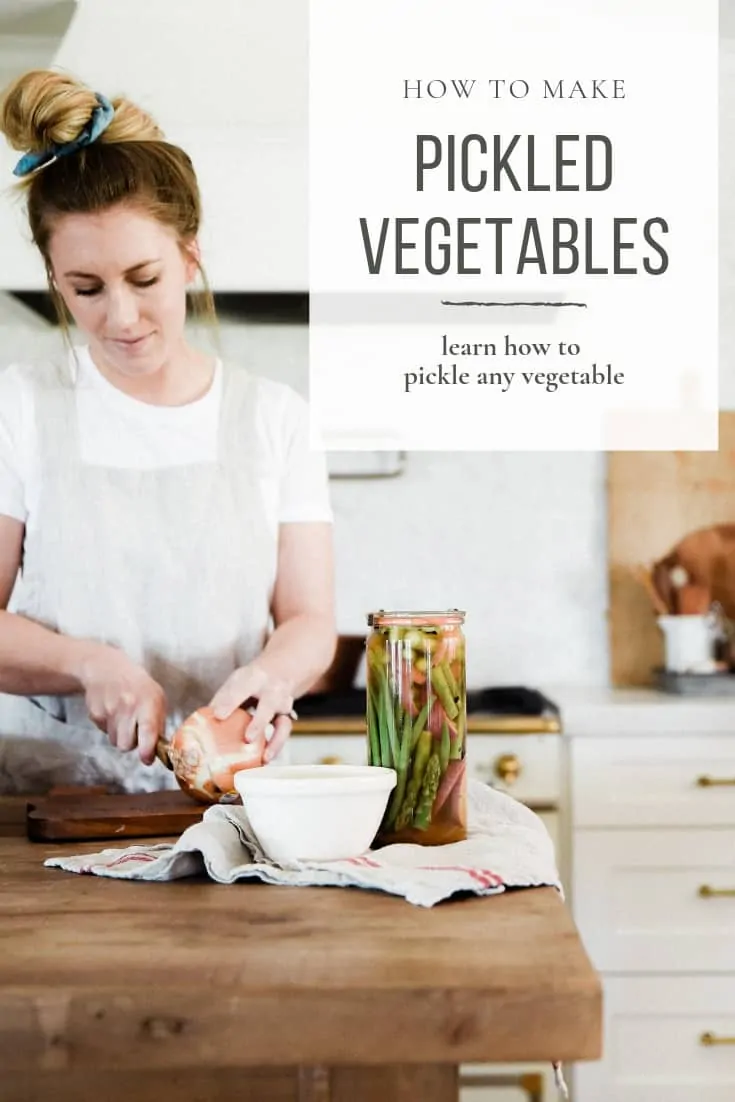 Pickling Brine: Vinegar, Salt, Sugar, and Spices
Vinegar
Any vinegar (apple cider, white, rice, etc…) will work for brining and generally a 1:1 ratio of water to vinegar is a good starting point; however, Chef Lara encourages creativity here.
Adding spices to your brine will only add flavor, and flavor is always a good idea, and splurging on fresh, fragrant spices is always worth it, especially when pickling.
Salt
You don't have to find the most rare kind of salt, just use a good, clean, pure Kosher salt. Avoid using table salt which has anti-caking chemicals added to it resulting in odd flavors when cooked.
When pickling, the salt acts as a preservative, making it hard for bacteria to live. Salt rounds out the flavor of the vegetables by not only adding saltiness, but also bringing out the natural sweetness of the vegetable.
"Salt is an amazing mineral from fresh or ancient sea beds: nearly all salt is sea salt. Don't brag about sea salt because everyone cooks with sea salt, but we want it to be as pure as possible: don't spend your whole paycheck, but get something that isn't iodized!" -Chef Lara Ritchie
Sugar
Sugar is optional in quick pickling recipes, but it adds a depth of flavor to the recipe. Avoid adding too much sugar as you don't want to create a syrupy brine. Add just enough to give the pickles a touch of sweetness.
Spices
Regardless of your recipe, cooking spices should not be over a year old! The flavor is held within the oil of the spice, once spices being to dry out, they lose their flavor.
Find a source for spices that will allow you to purchase in small amounts so that they remain fresh, especially for spices that don't get used all that often. When storing spices – store them away from heat and light! Chef Lara explained that keeping spices next to the oven actually cooks them, which is costing you money and flavor!  
A good indicator of spice freshness is their scent, even if you don't know what they're supposed to smell like, you should be able to smell a deep flavor, if you can't, your spices aren't good any longer.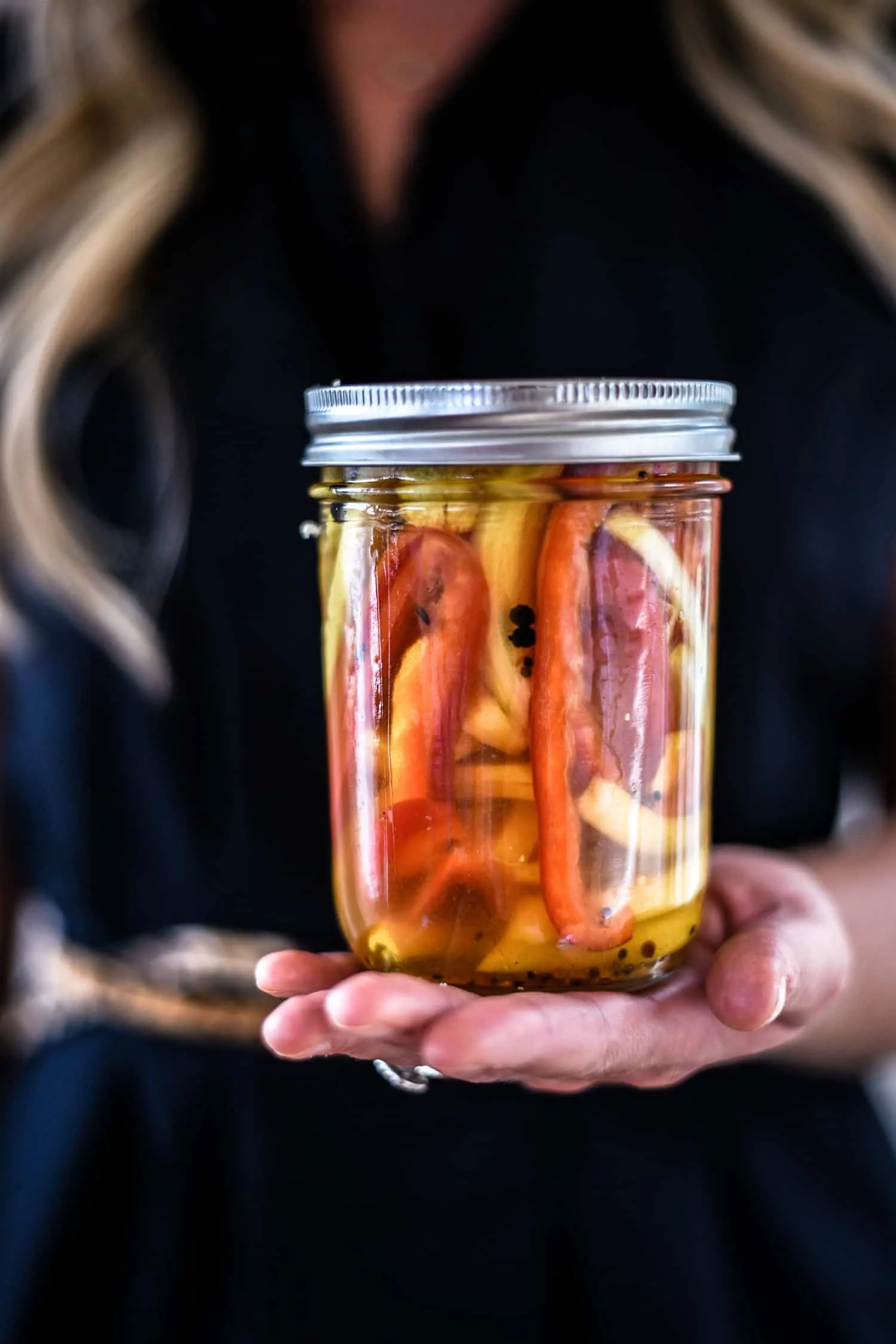 The Recipe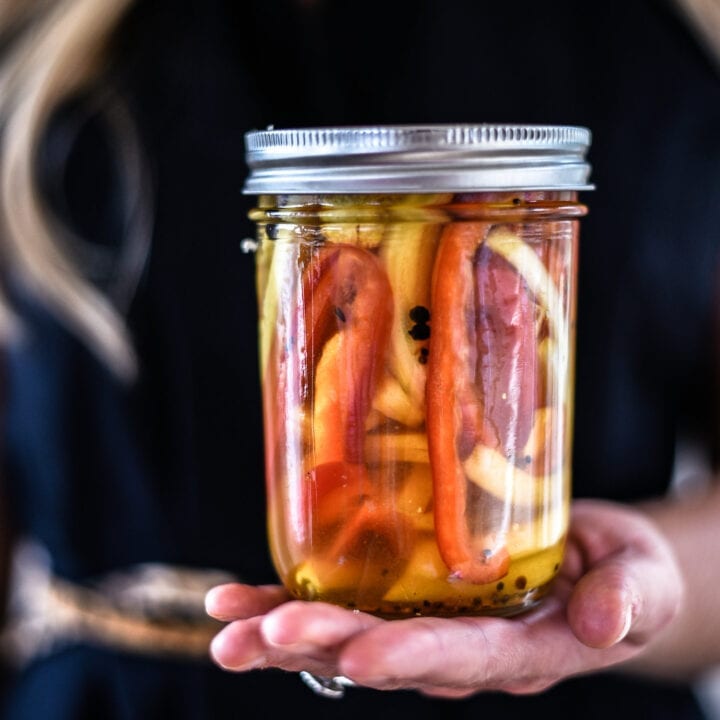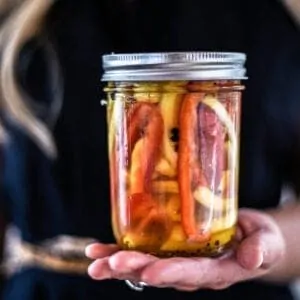 How to Make Quick Pickled Vegetables
Ingredients
Spices:

1

tsp

coriander seeds

1

tsp

black or brown mustard seeds

1/2

tsp

cumin seeds

1

tsp.

black peppercorns

1/2

tsp.

ground turmeric

1/4

tsp.

crushed red pepper flakes

The Brine:

2

cups

cider vinegar

1/2

cup

sugar

2

Tbs.

kosher salt

The vegetables:

5

medium garlic cloves

lightly crushed and peeled

3

slices

fresh ginger

about 1/4" thick

1/2

of one small yellow onion

thinly sliced lengthwise

1/2

of a head of cauliflower

peeled and sliced 1/2" thick on the diagonal (about 2 cups)

1/2

of one red bell pepper

cut into large dice (about 1 cup)
Instructions
PREPARE THE BRINE: Put the coriander, mustard, and cumin seeds in a small sauce pan. Toast the spices over medium heat, swirling the pan occasionally, until fragrant and slightly darkened, about two minutes.

Add the vinegar, garlic, ginger, onion, sugar, salt, peppercorns, turmeric, red pepper flakes, and 1 cup of water to the toasted spices. Bring to a boil.
PREPARE THE PICKLES:
If you have not cut the vegetables yet, do so as the brine comes to a boil. Sterilize jars, and thoroughly dry!

Divide the vegetables into the sterilized glass jars leaving 1/4″ head space. You can arrange the vegetables in an attractive manner if you plan on giving these as gifts!

Once the brine is ready, pour the hot liquid over the vegetables. Let cool to room temperature and then cover and refrigerate. The vegetables will be ready after about two days and will last upwards a month, after 14 days the vegetables may start to become a bit mushy.
Notes
*Note: the head space isn't completely necessary, but you must make sure the vegetables are completely submerged in the brine!