Sweet Pickled Radish Recipe
This post may contain affiliate links, please read my disclosure policy.
You'll love this sweet pickled radish recipe! Enjoy pickled radishes on so many things: salad, tacos, cheese plates, and more!
This post is sponsored by Ball® Fresh Preserving.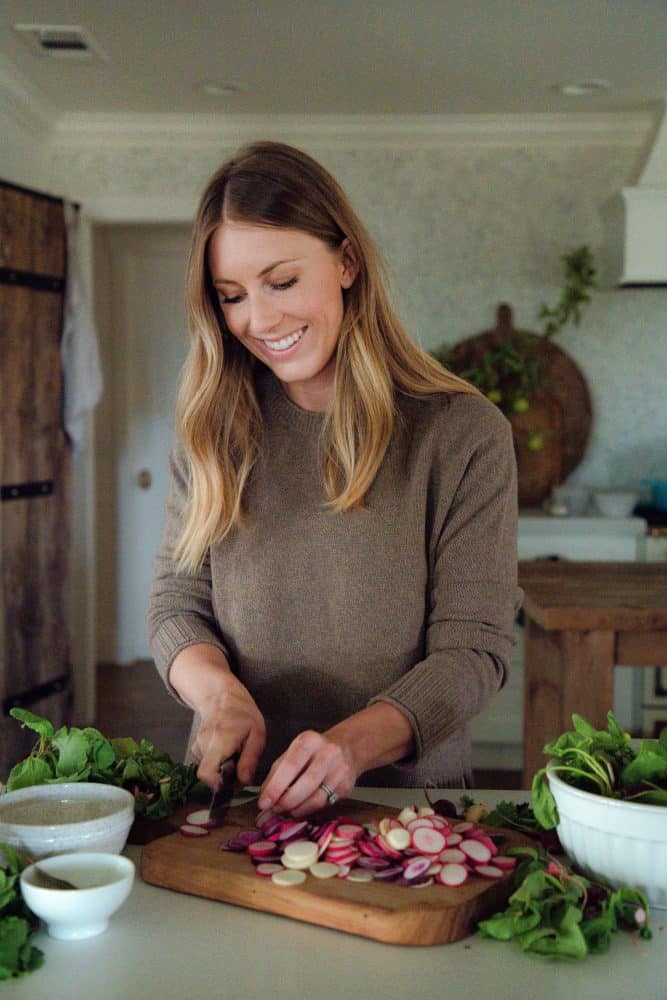 Sweet Pickled Radish Recipe
Quick pickling vegetables is a great way to preserve a garden harvest as summer fades away. While I love traditional dill pickles and bread & butter pickles, it was pickled cauliflower that really started my love affair of all pickled veggies.
Pickled vegetables are so delicious and a great way to enjoy preserved veggies from the garden. Jams and jellies are lovely for delicious home grown fruit (you can pickle them too, try my pickled plums), but with an abundance of freshly picked vegetables, pickling is my go to method for preserving.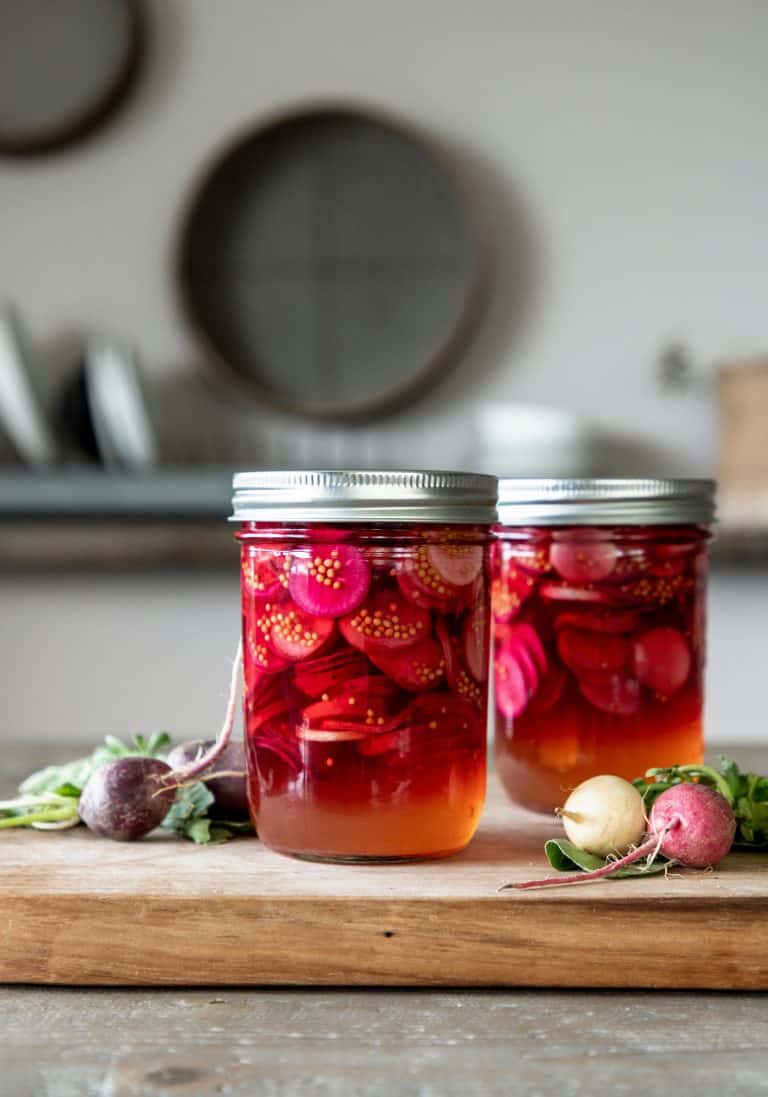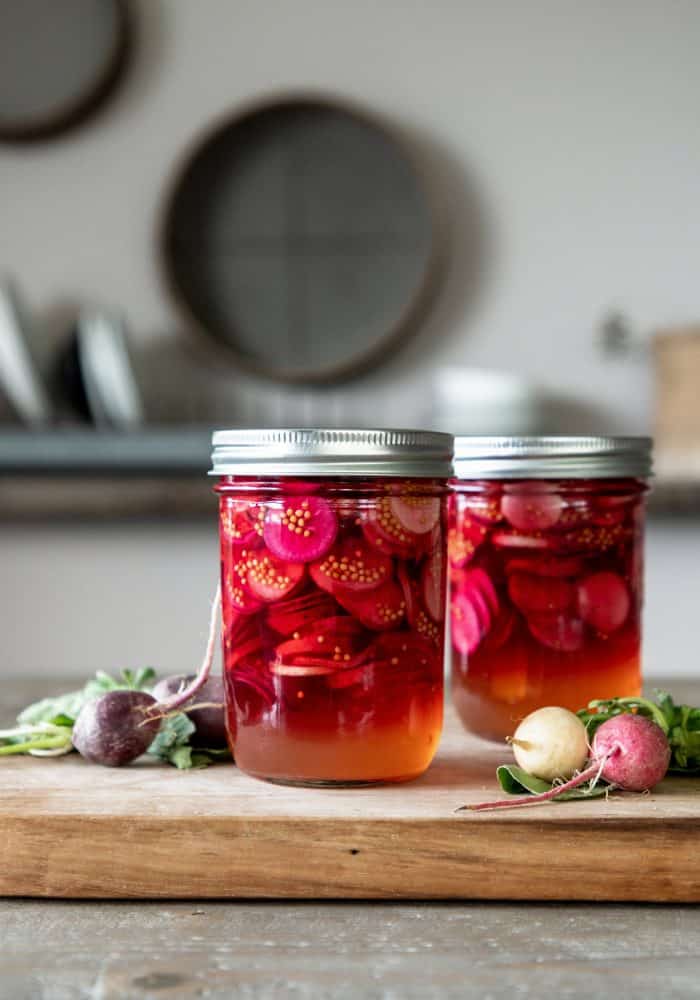 NEW TO HOME CANNING? HERE ARE SOME GREAT RESOURCES!
I love making pickles because they're so easy. They really don't require much effort, and they taste so darn good.
If you're looking for a great lesson on quick pickling vegetables, I actually took an entire class on the subject, ha! Enjoy my learnings, the blog post is linked above.
Today, I want to share this sweet pickled radish recipe with you. This is a recipe from FreshPreserving.com which is my favorite site to find preserving recipes from! All of the recipes are tested and are sure to be reliable!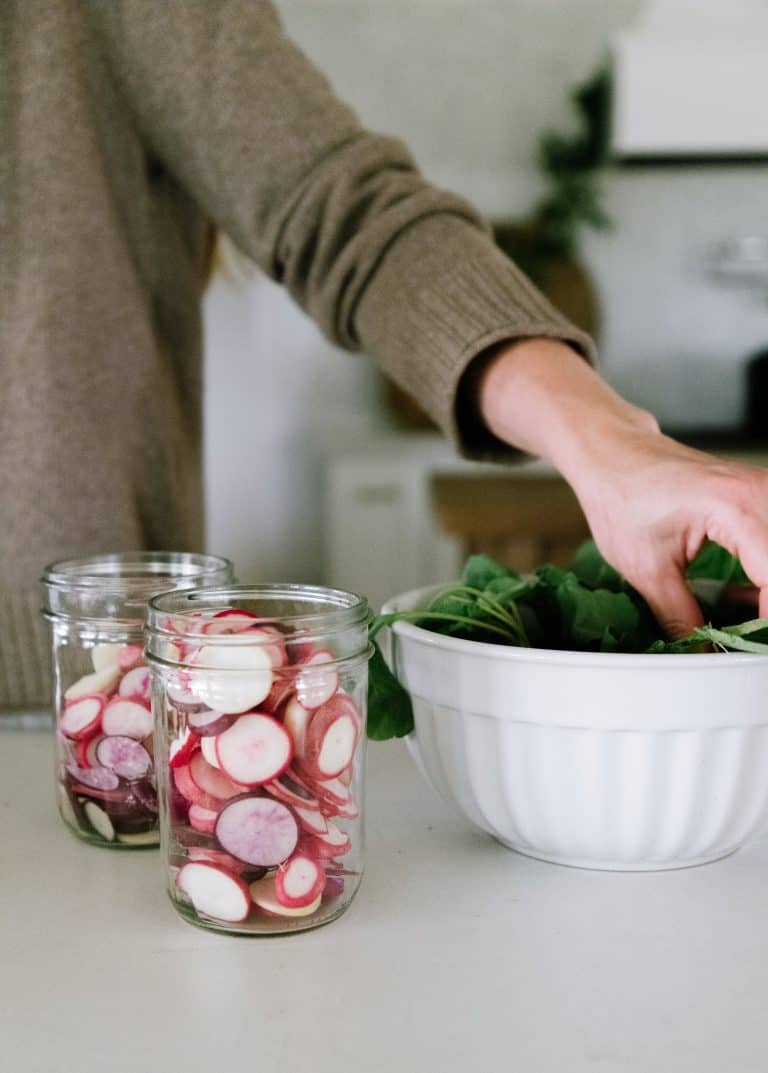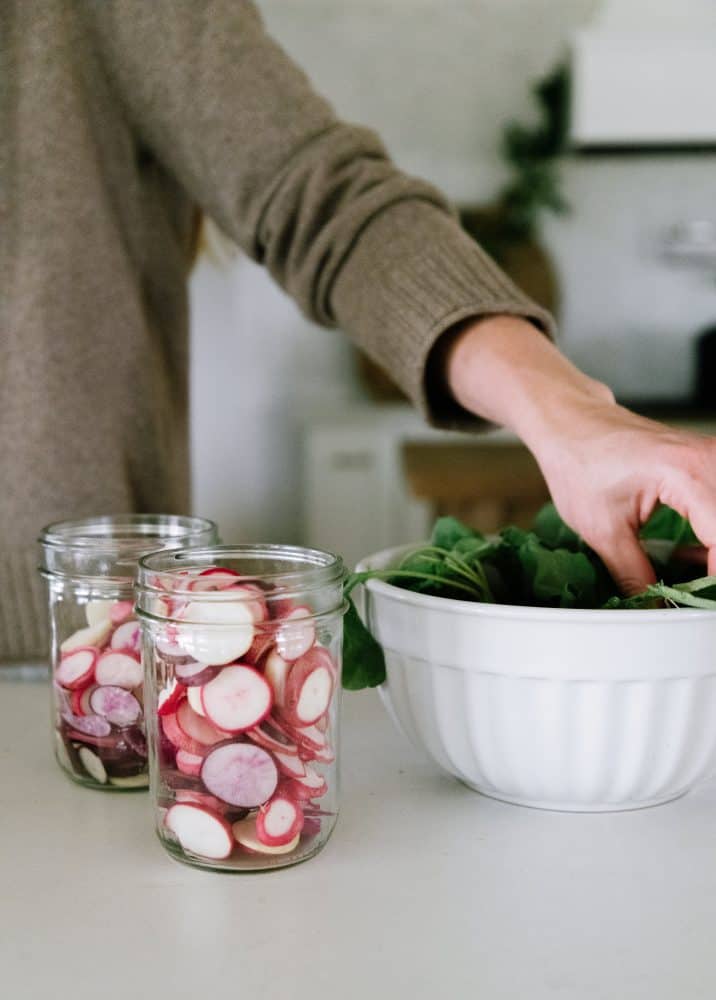 Did you know that in France, radishes are often served with butter and dipped in salt? Give it a try, I dare you. They're soooo good.
A bit healthier than dipping a vegetable in butter: pickling it. Pickled radishes are great with salads, cheese, tacos, rice bowls… the list goes on. There are countless ways to enjoy pickled radishes. Radishes have so much flavor to begin with, that once they're pickled, they really are out of this world good!
I hope you enjoy this quick and easy pickling recipe, I know I sure did!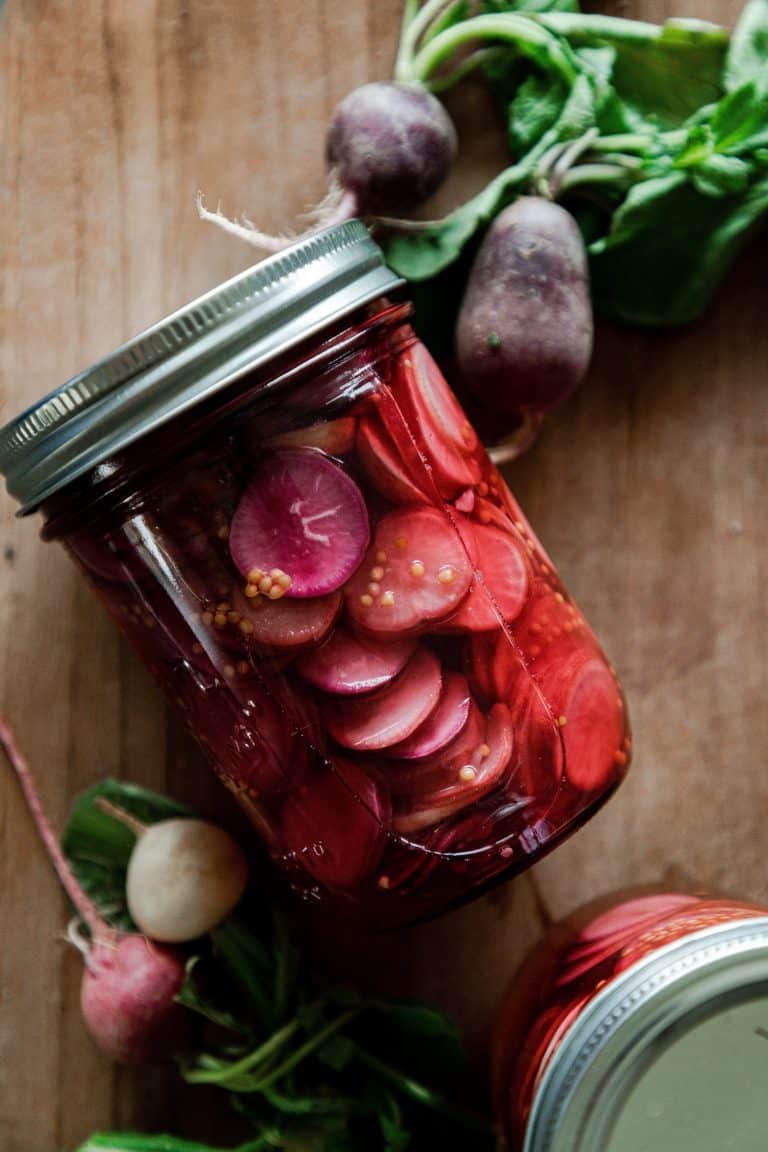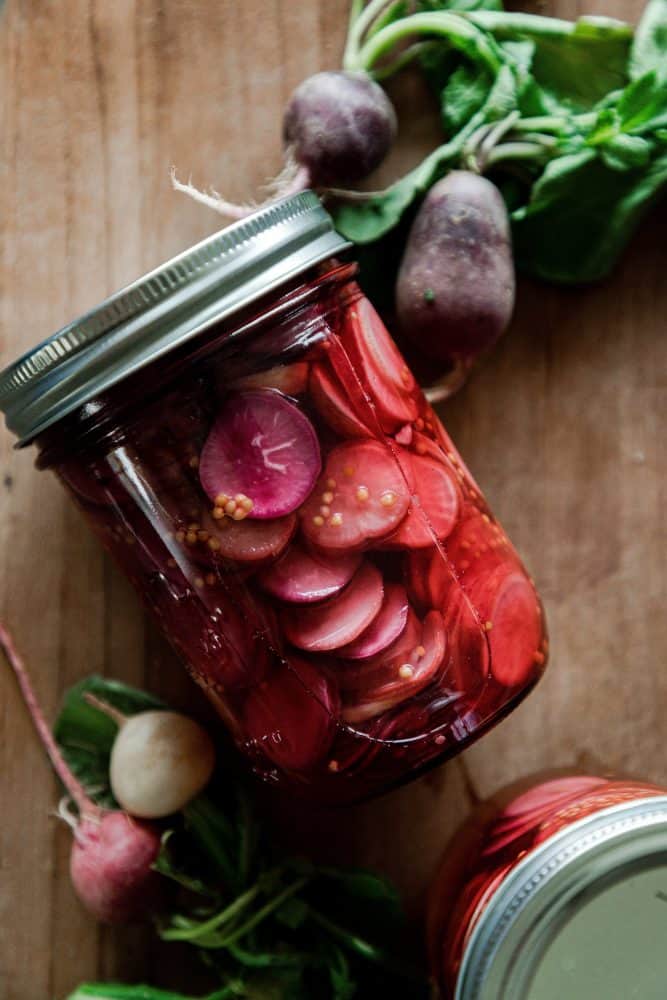 How long do pickled radishes last? 
These last up to 4 months in the refrigerator. Note, this recipe is a refrigerator pickle recipe, there is no processing required, but it does need to be kept in the fridge. 
How to eat pickled radishes?
Pickled radishes are a delicious snack on their own! They also go great with cheese, cured meat, tacos, salads, or rice bowls! You can get creative and use pickled radishes in endless ways!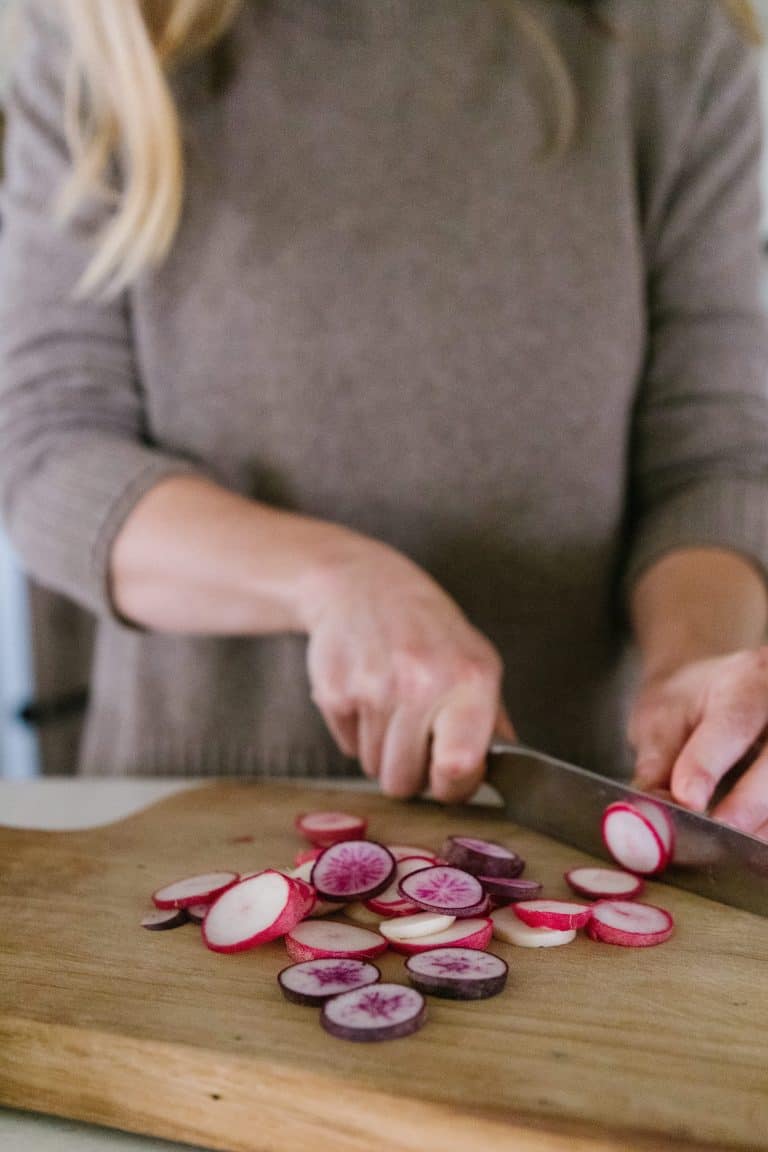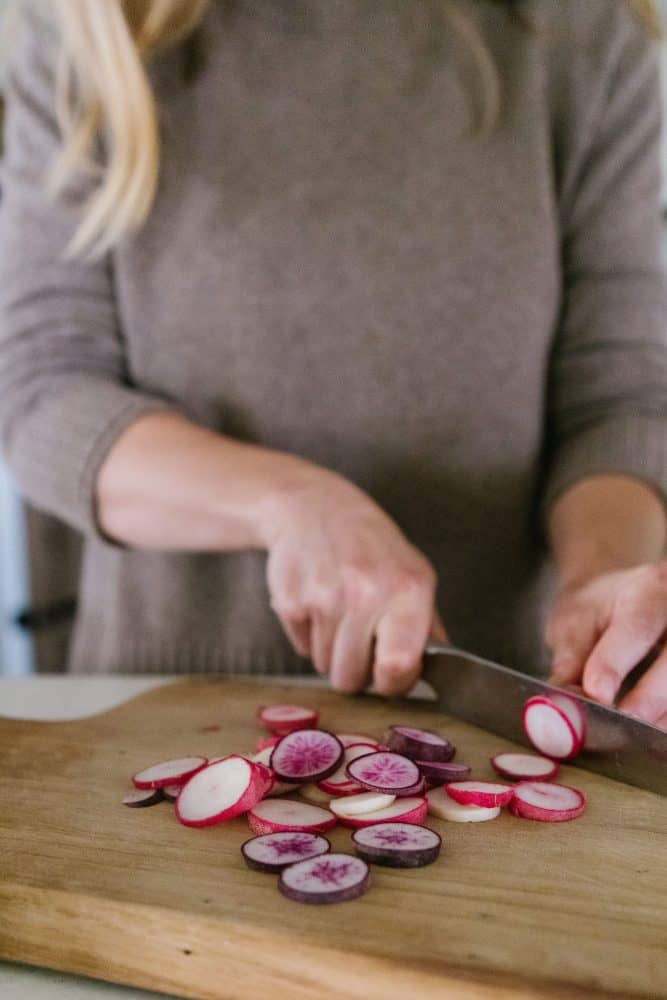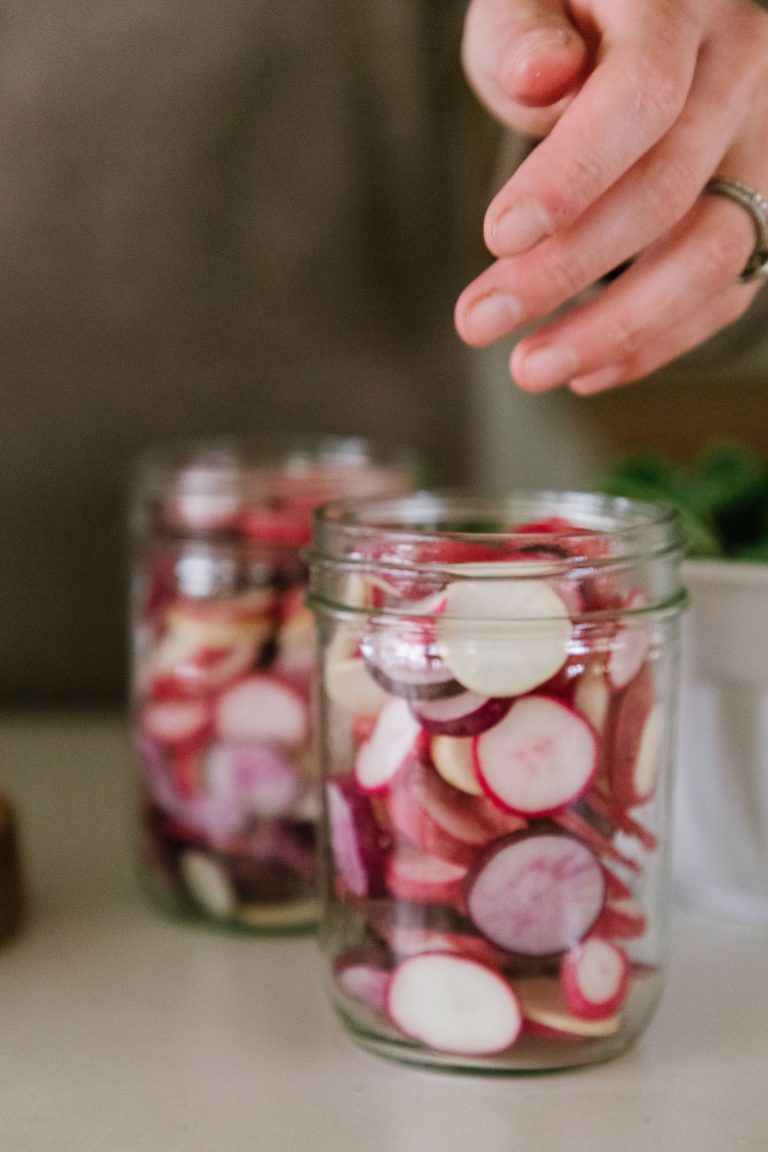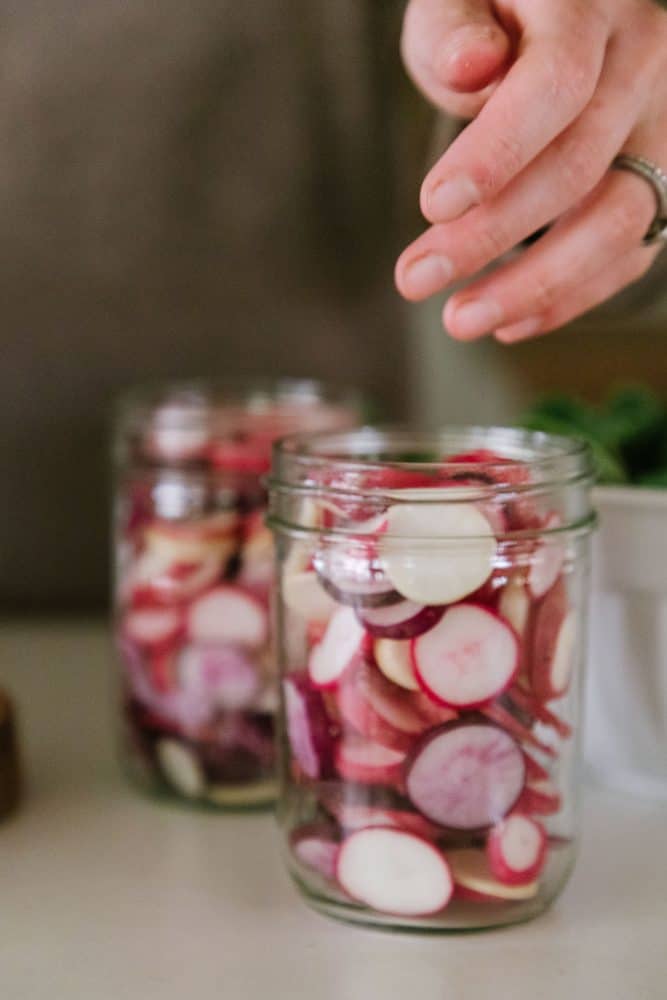 ---
---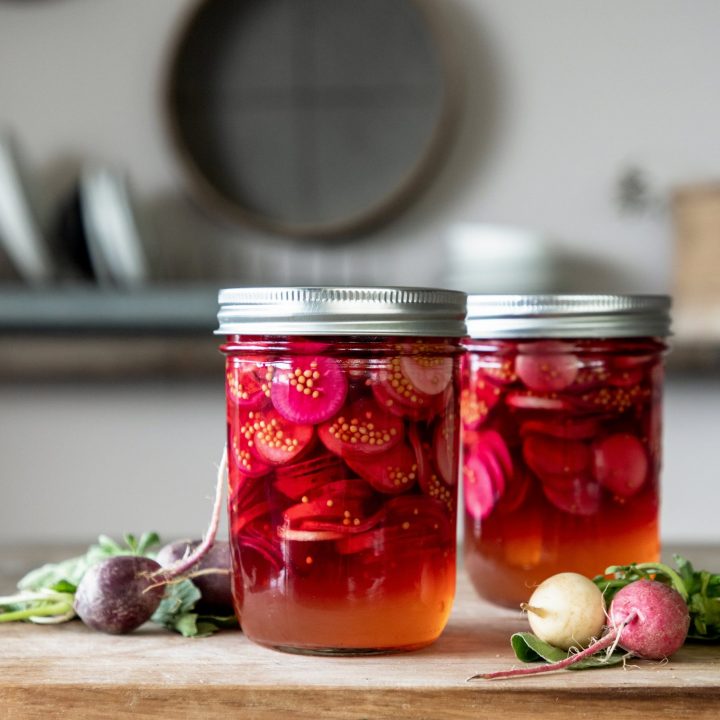 Sweet Pickled Radishes
Preserving Method: Non-Preserving
Fresh ruby red radishes, with their certain crunch and sharp flavor, make for delicious and easy refrigerator quick pickles. Recipe excerpted from The All New Ball Book of Canning and Preserving, published by Oxmoor House (2016).
Ingredients
1 bunch radishes (about a 1/2 pound), stem and root ends removed and cut into 1/8 inch slices
1/2 cup white or apple cider vinegar (5% acidity)
1/2 cup sugar
1/4 cup water
1 tsp. Ball® Salt for Pickling and Preserving
1 tsp. mustard seeds
1/2 tsp. ground black pepper
1 bay leaf
1/2 tsp. dried crushed red pepper (optional)
Ball® glass preserving jars with lids and bands
Instructions
Place radishes in a hot 1-pint jar. Bring vinegar, next 6 ingredients, and, if desired, crushed red pepper to a boil in a small stainless steel or enameled saucepan.
Ladle hot pickling liquid over radishes. Wipe jar rim. Center lid on jar. Apply band, and adjust to fingertip-tight. Let cool on a wire rack ( about 1 hour). Chill 6 hours before serving. Store in refrigerator up to 4 months.