I thought I wrote a post like this last year, but it turns out, it was two years ago that I last shared the best investments I made in my blog and business. I know many of you are not bloggers, but those of you that are may find this post helpful. I am a firm believer that we are all in this together, and I hope that you might learn a thing or two from my journey, and that I might learn a thing or two from yours.
---
9 INVESTMENTS I MADE IN 2017 THAT HELPED MY BLOG GROW
---
All of Brene Brown's Books
2017 was a year of growth not only for my business, but also for my faith and spirit. I spent countless hours listening to books on tape as I drove back and forth to Reno and Sonoma. I will forever be a fan of Brene Brown, and although her books aren't focused on business, I believe that a healthier you will result in a healthier work life. If I only had $50 to invest in myself or my business this year, it'd be in Brene Brown's books – audio preferably (The Gifts of Imperfection, Daring Greatly, and The Power of Vulnerability are my favorites). I also loved Oprah's new book The Wisdom of Sundays. On deck? The Untethered Soul.
A Full Frame Camera
Many people inquire as to what camera I use. I use a Nikon D750. I can't remember if I got it this year, or last year, but it has definitely changed the way I approach photography. I started off with a crop frame camera, which was a great teacher to me. As I learned more and more about photography, I realized that to really improve, I would need a full frame camera. You might be wondering what the difference is?
A crop frame camera, or a crop sensor, captures a cropped image (meaning, only part of the image). While a full frame camera captures the entire image. Since the sensor is the most expensive part of a camera, full frame cameras are more expensive; however, they are worth the additional investment. A full frame camera will capture the entire image you see – giving you maximum area whereas a crop frame camera cannot capture the full image because the sensor is smaller.
For reference: a 35 mm lens on a cropped frame camera will capture about the same area as a 50 mm lens will on a full frame camera. 
A Better Tri-Pod
While attending The Academy in France, I learned just how important a really good tripod is for capturing beautiful imagery. If you are a blog or business that primarily centers around interiors, food, or still life, a quality tripod will serve you well. The difference between photos taken with a tripod and without a tripod is astonishing.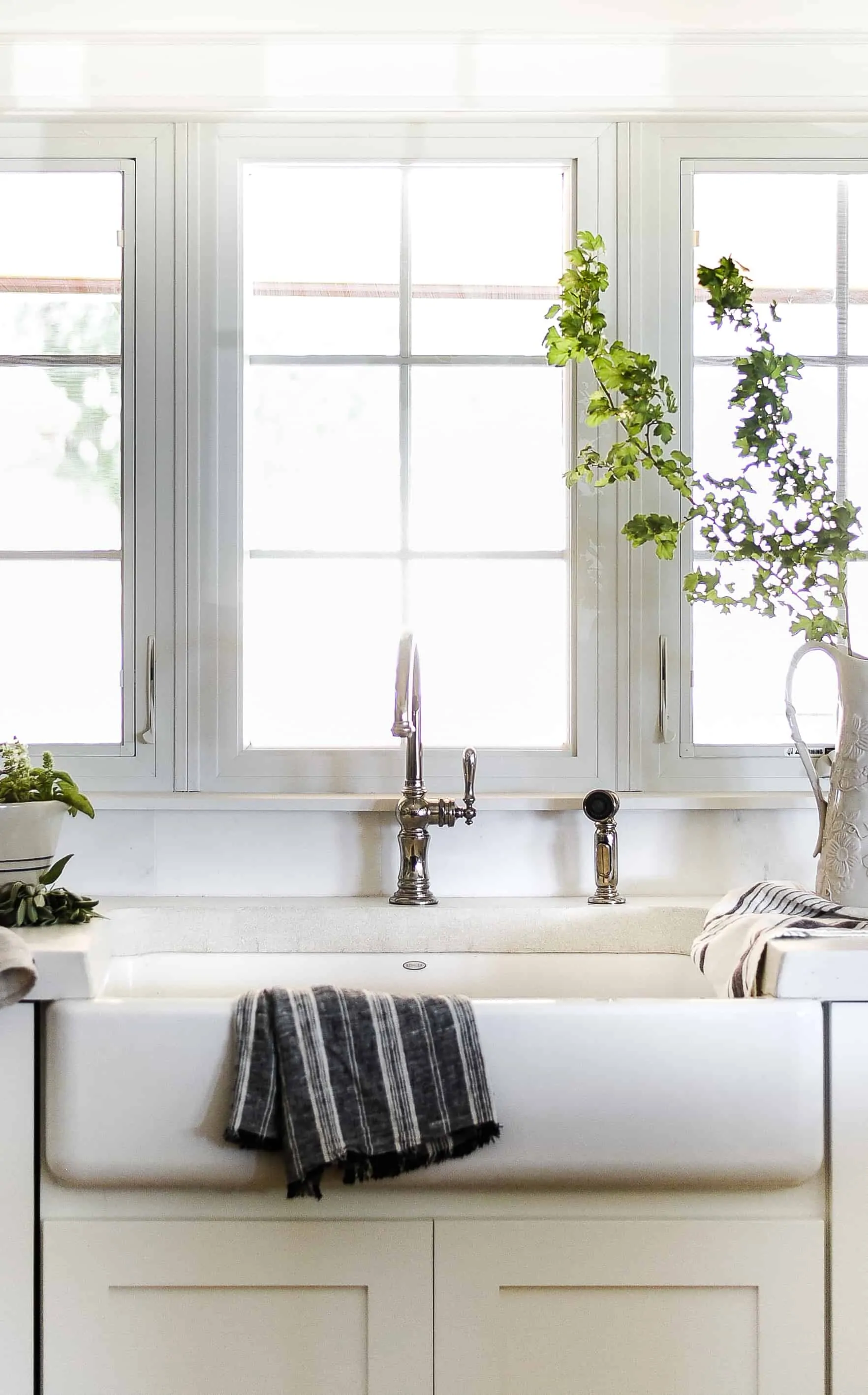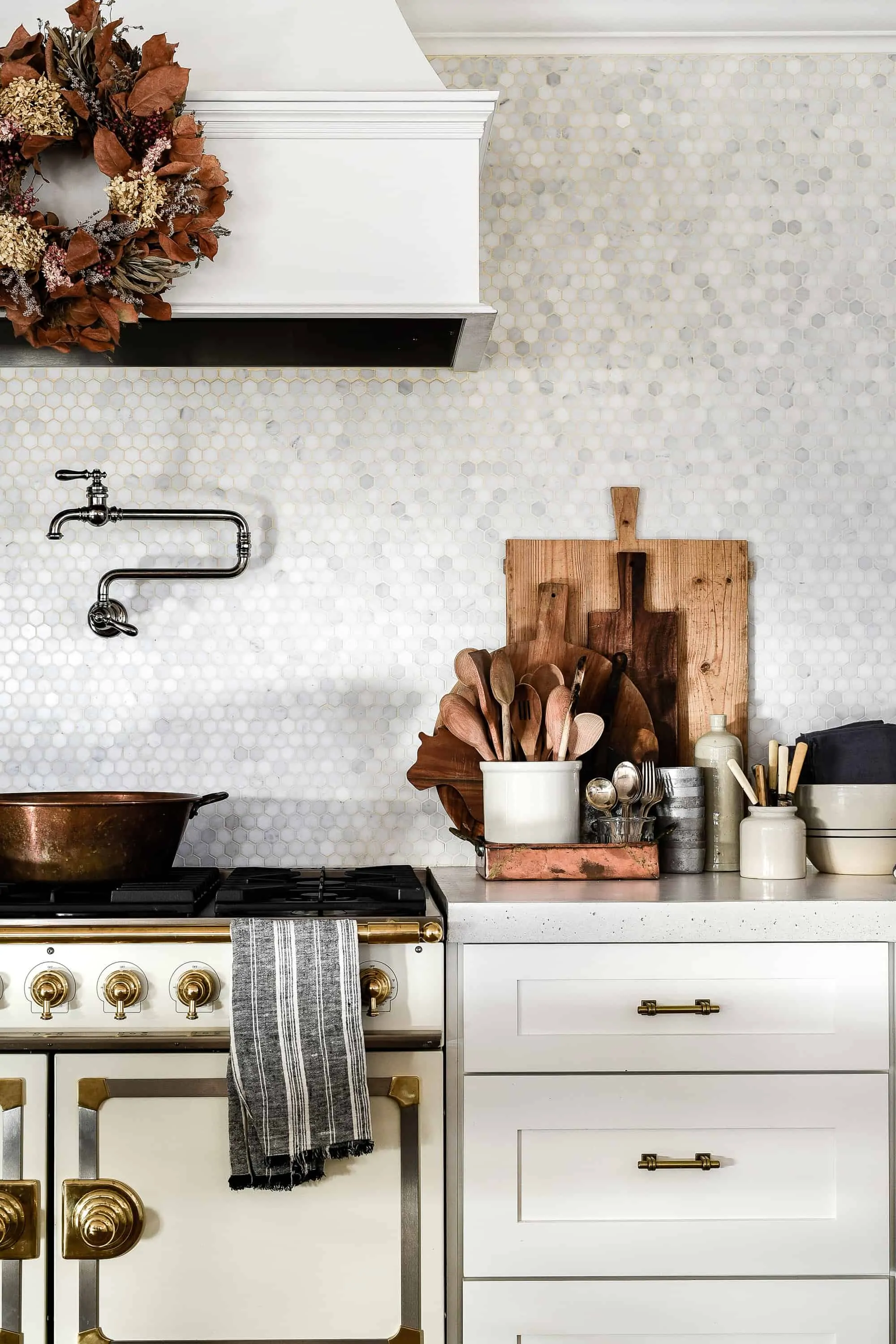 without tripod (left), with tripod (right) – notice how crisp and clear the right photo is? 
Photography Accessories: Light Boxes, Reflector, Tri-Pod
I mentioned this in my 2015 post, but I thought it was worth saying again. I love my light boxes, light reflectors, and wireless shutter release to help assist me when photographing interiors and still life. Although I will say that I am much less reliant on my light boxes now that I am comfortable with my tripod. I find that slowing down my shutter speed while using a tripod produces better photos than a faster shutter speed with faux light.
Attending a Conference or Workshop
I loved my time in France with Heather Bullard, and I always love my time in Sonoma at Oh So Inspired. I don't think a conference makes or breaks your year, and honestly, it's not the learning that I find so valuable, it's the networking. I loved connecting with others that are interested in similar things that I am interested in. Search for conferences in your area or start attending a Tuesdays Together in your community!
Hiring Help
This year I was fortunate enough to find someone amazing to help assist me with everything behind the scenes. From photographing, bookkeeping, prepping…she does it all. It is not easy to find someone that you can trust, or that has the right aesthetic for your business. However, if you are able to find someone that fits into your little corner of the world, they are worth their weight in gold. Even though it is an expense to have help, think of all of the additional things you can accomplish. For example, Lori helps me create affiliate round up posts which generally generate income. So even though I am paying her to help me, the work she is doing has a direct return.
JAXXY
I have paid for JAXXY for two years now, and I have become very reliant on it when generating blog posts with specific keywords. I am not sure if I have made money back from the expense, but it has definitely helped me improve upon SEO on my site. It is so simple for me to check keywords with Jaxxy, and it is so simple to understand. Perhaps there's a cheaper or better option out there, but for the ease of use, I happily pay for the service each year.  Here is a good video showing how to use Jaxxy if you are interested.
Squarespace Commerce
If you have a commerce SS website, I recommend upgrading to the commerce plan on Squarespace. I like this feature because it allows for you to contact many abandoned checkout customers to recover sales. I recovered more than enough sales with this feature to cover the cost of the plan, and then some. I also enjoy the additional analytics it offers!
Professional Email Template & Convertkit
Over the years I have been fortunate enough to gather a really wonderful group of subscribers. However it wasn't until this year that I decided to start contacting them. I had read time and time again about how important email subscribers are, so I kept a file of them, but I hadn't ever been diligent about sending out emails. I haven't had a return on this investment yet – but I made the jump from MailChimp to Convertkit, and asked Magnolia House Creative to design a beautiful email template for me (which far exceeded my expectations!). I am ready to tackle this goal in 2018 as I move more towards commerce. Convert kit is about the same cost as MailChimp but focuses more on segmenting subscribers so that you know exactly who your all-star customers or readers are.
I hope that some of these ideas might help you grow your blog and business this year! I would love to know some of your favorite apps or websites that you rely on to keep you organized and productive during the work day. Staying productive and free of distraction is my biggest weakness, I need all the tips!