Kitchen Organization Solutions
This post may contain affiliate links, please read my disclosure policy.
True words of wisdom:
"Organization isn't about perfection, it's about efficiency, reducing stress & clutter. It's about saving time & money, and improving your overall quality of life." ~Christina Scalise
When we installed our new kitchen, I knew that I was going to have to keep things very organized. Previously we had so. much. stuff. packed into our cabinets, it was like a treasure hunt trying to find anything. When we moved in, the cabinets were still full with Greg's grandmother's things, and although I donated a lot of it, there was still a whole lot of unnecessary items.
Packing everything up and moving it out of a space is one way to really cleanse the room; forcing yourself to go through every nook and cranny and evaluate if you really need that 6th frying pan (the one with scratches and peeling teflon).
So when we moved everything back in after our kitchen remodel, I was quick to donate. I think I actually donated more than I kept. I didn't want to put anything in our cabinets that I wasn't going to use.
Since we decided to ditch upper cabinets, we were concerned that we might not have enough room to store our kitchen necessities, but guess what? We actually have empty cabinets. Minimalism at its finest.
Sure, I have a pretty large kitchen, but I believe this can be accomplished in even the smallest of kitchens. The key is to keep things organized. I grew up with the thought process that 'everything should have a home', and that's stayed with me. If it doesn't have a home, we probably don't need it, and to the donation pile it goes.
Organizing your kitchen may take time up front (but there are plenty of tricks for a quick clean up!) , but it pays off in ten folds. Knowing exactly where the bills, snacks, pencils, sprinkles, etc… all go, will save you time and energy, and will create a less cluttered space, which honestly is the best pay off. When my house is cluttered, I feel out of whack and unproductive.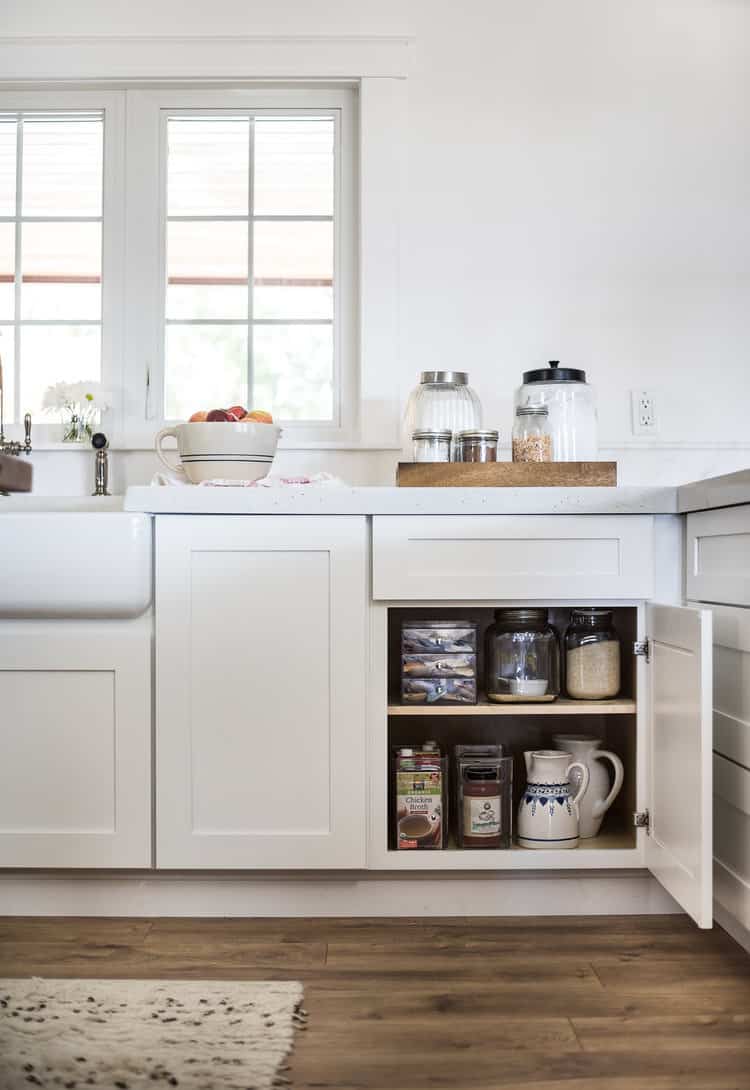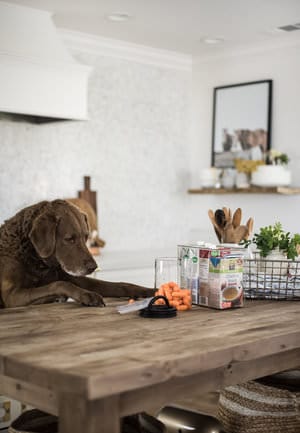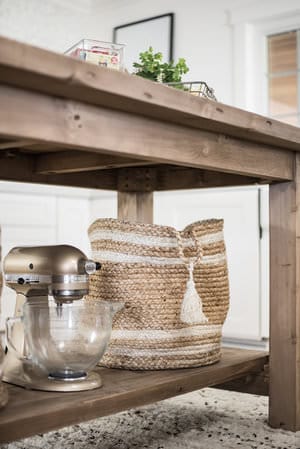 Using baskets and plastic containers to corral items is my very favorite way to organize things. Having a place to put granola bars, water bottles, table linens, and all other loose kitchen items streamlines the organization process.
When I found these baskets, I couldn't believe how cute they were (that tassel!). I keep them in my kitchen and fill them with table linens, it's so handy to have them readily available come dinner time.
Also, Rev-a-Shelf products are a life saver when it comes to organizing! They truly change the whole flow of a kitchen. From garbage can organizers, and utensil dividers, to spice racks, and shelf pull outs, there are options for everything you could ever want to help you organize your kitchen. They can be installed in an existing kitchen, and I promise you will love having them. I know we do!
Lastly, I think most of us are suckers for great packaging. Right?? It's just part of loving all things design…but for some reason kitchen items rarely come in beautifully branded packaging.
Having a mix of colorful and loud logos and boxes in my pantry and kitchen drives me nuts. It seems so overwhelming to me. I love using mason jars and large glass containers to house pantry items, and I like to keep my fruits and veggies in baskets and bowls in the refrigerator.
My friends joke that my fridge should have its own twitter account, maybe so, but keeping staple items in their own containers is a) more beautiful, and b) less cluttered.
Having a home for everything in our kitchen has made our new space that much more wonderful. Even with having our refrigerator in the pantry, the flow of the kitchen is perfect for entertaining and daily use. We spend countless hours in the kitchen, and I am so happy to finally have a space that is organized and efficient! If you have a small pantry, here are some of our favorite small pantry organization tips!
Do you have any favorite kitchen organization hacks? I'd love to hear them! As always, thank you for stopping by, and thank you for supporting these sponsored posts! I love working with The Home Depot, and I hope that you enjoy organizing your kitchen to work for you!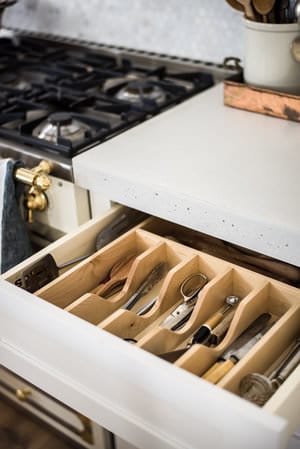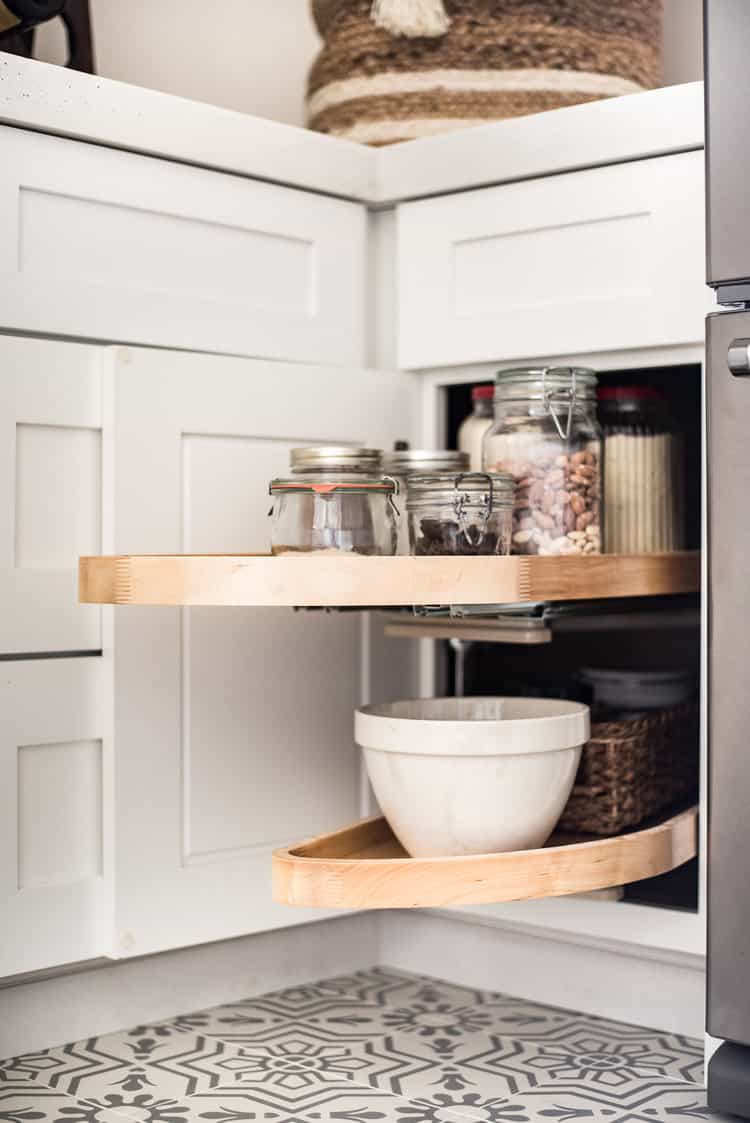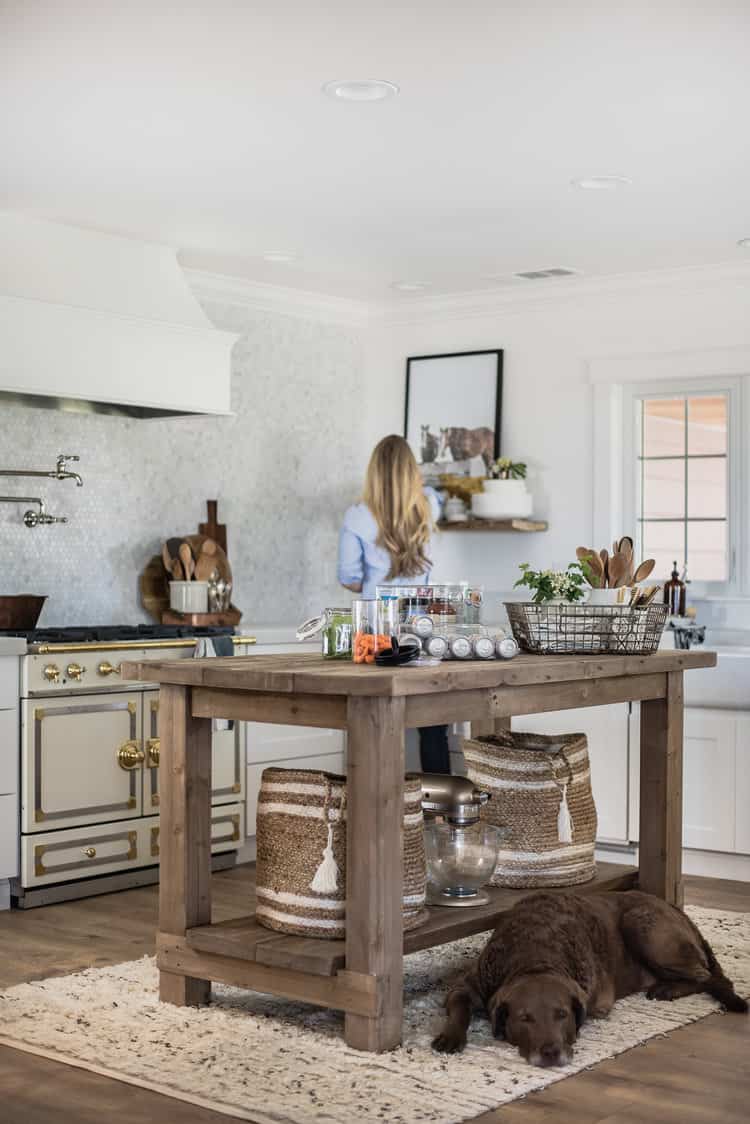 MY FAVORITE KITCHEN ORGANIZATION PRODUCTS