10 Minutes To A Clean Kitchen
January 6, 2016
I am currently writing from the guest bedroom of one of my best girlfriends' homes (like I said, we travel a lot, and therefore are 'house guests' quite often). Staying at one of your best friends' homes is slightly different than staying as an overnight guest elsewhere; it's not awkward to ask for a second helping of spaghetti, or walk around bra-less ;). Hey, that's what best friends are for right? Yet, it's still nice to walk up to your bedroom and see a lit candle, and a bottle of water. I am so grateful for my amazing friends!
Katie (of this home tour, and this recipe) recently stayed with us, and before leaving, she helped me polish up my kitchen. It was extremely thoughtful of her to do, as I was busy breaking ice for the horses and chickens since it was -10 degree out (if was pre-Ranger incident), and it made my morning that much easier! When I thanked her for it, she simply said, " A clean kitchen is one of life's little luxuries."
She couldn't have been more spot on!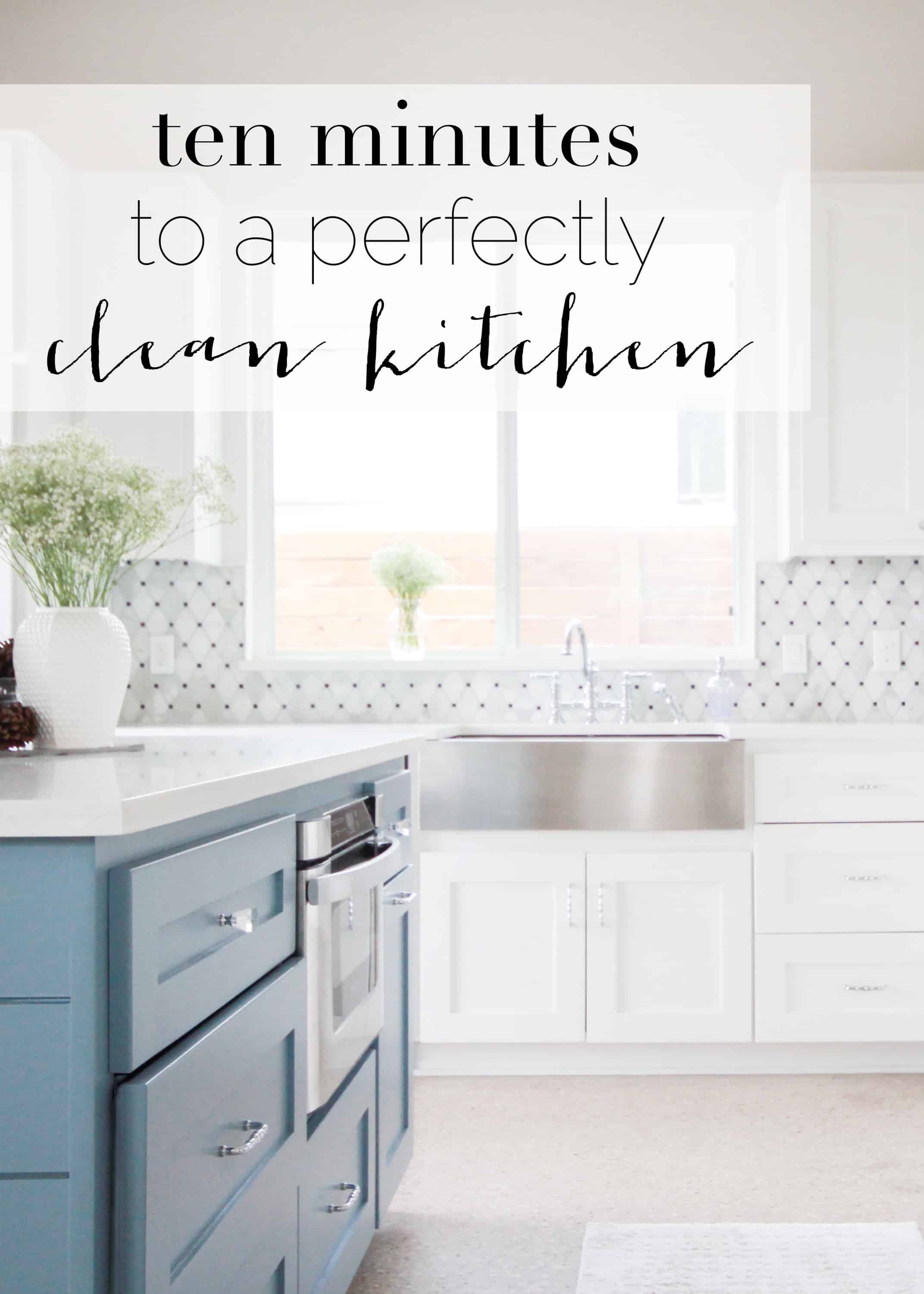 Deborah Stachelski of Society Letters
A clean kitchen is truly a luxury. If kept up with, it's something we all can enjoy with minimal effort. Here are my tips for achieving a clean kitchen in 10 minutes or less.
Minute 1: Remove and put away everything from the countertops that isn't an absolute necessity. Spray an all natural cleaning spray onto counter tops. Let sit.
Minutes 2-3: Load any dirty dishes into the dishwasher, and hand wash anything that was left to soak overnight. Start the dishwasher, and use a kitchen towel to dry any dishes that were hand washed, then return them to their proper cabinets.
Minute 4: Use a piece of scrap rag (I like to cut these into fourths) to wipe down the counter tops (paying close attention to the stove), anything that was stuck to the countertops should be loosened up by now. Allow any crumbs to simply fall onto the floor.
Minutes 5-6: Use the same scrap rag to dry up any water from washing the dishes. Wipe down any appliances, and if needed, the inside of the microwave. Make sure you also wipe down the faucets!
Minute 7: Sweep the kitchen floor, catching any crumbs or animal hair that may have happened to gather.
Minute 8: Check the trash can, if needed, empty and set the full bag aside. Deborah gave me a great tip for this – keep spare bags in the bottom of the trash, so putting a fresh bag in is a breeze!
Minutes 9-10: Grab your Swiffer (no, I am not getting paid to tell you that), and take care of any stubborn spills. Mop yourself of the room, and kiss your clean kitchen goodbye on your way out! Enjoy your day not having to worry about any kitchen chores!